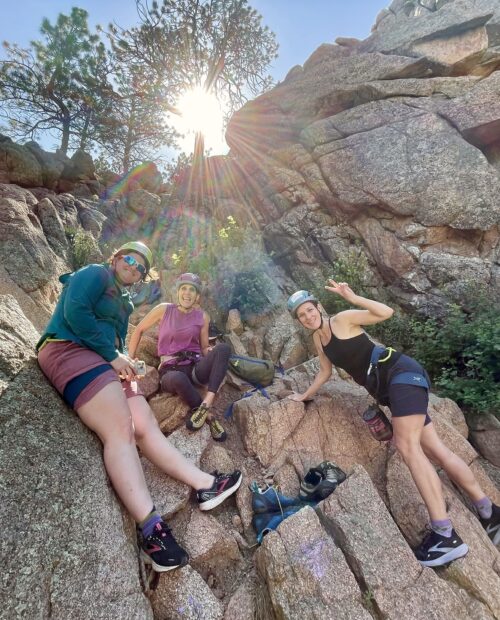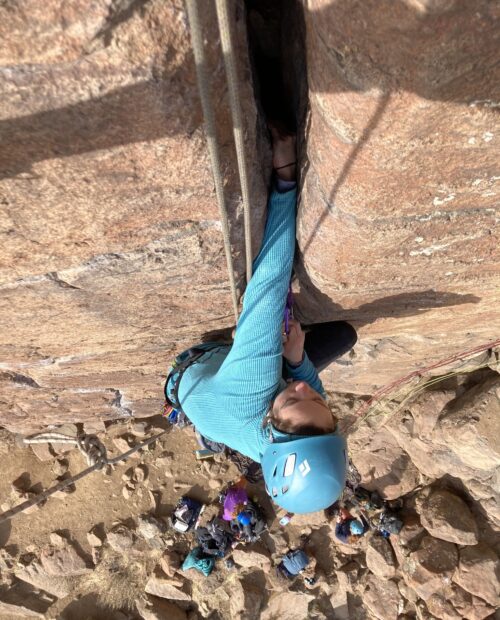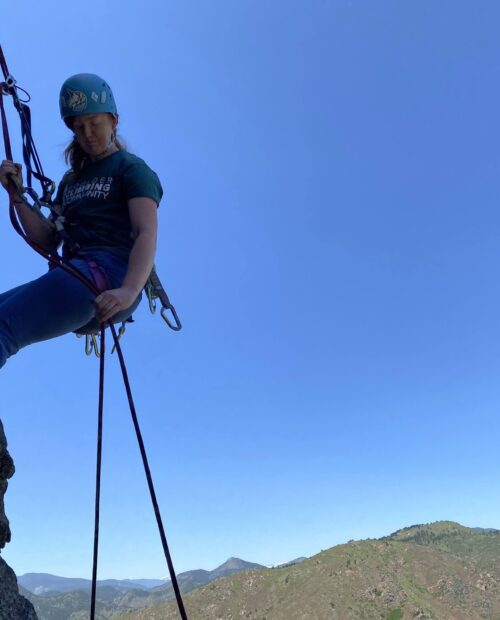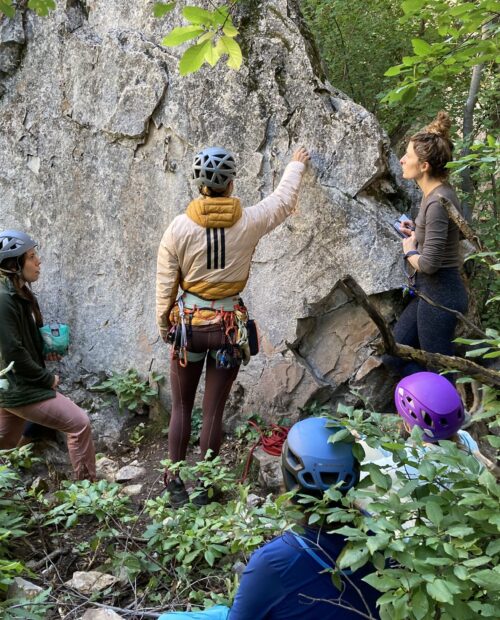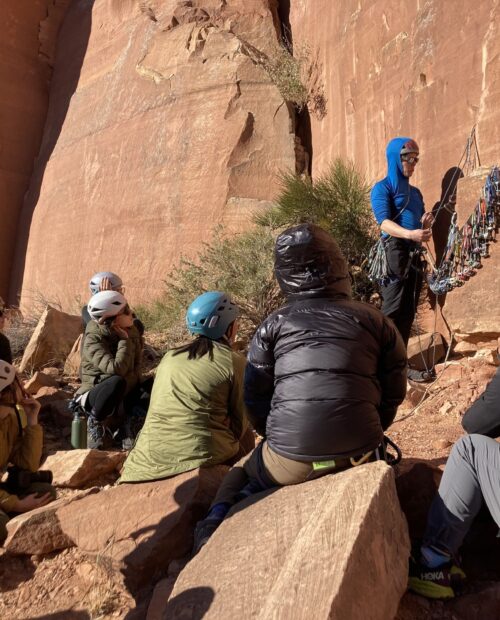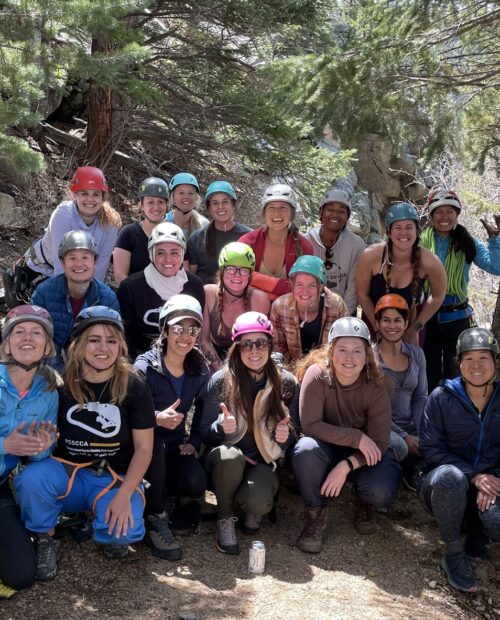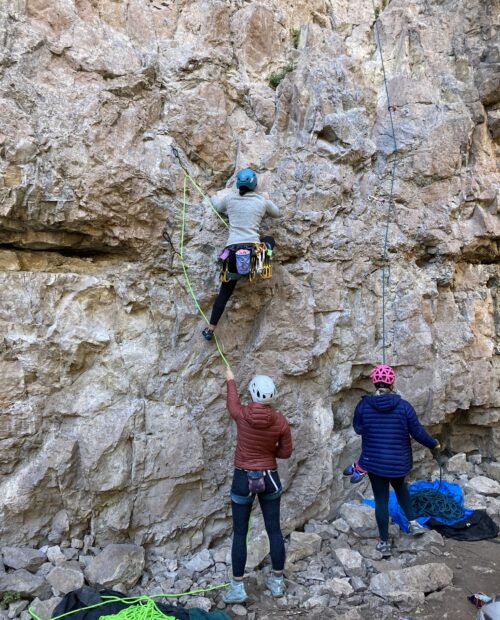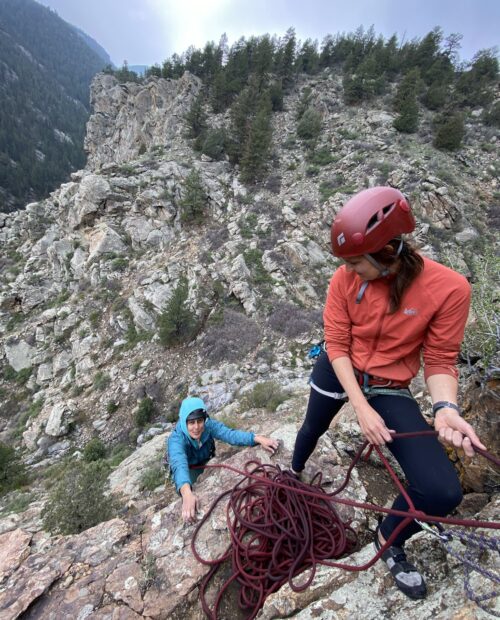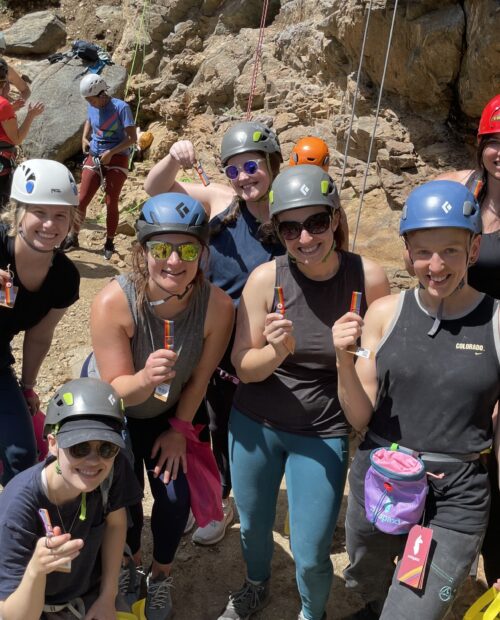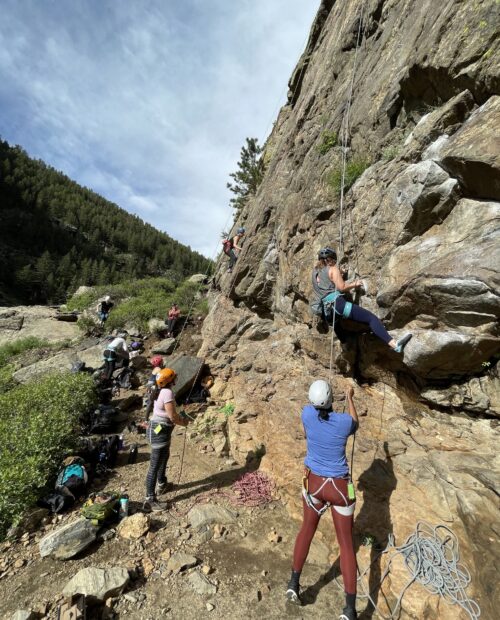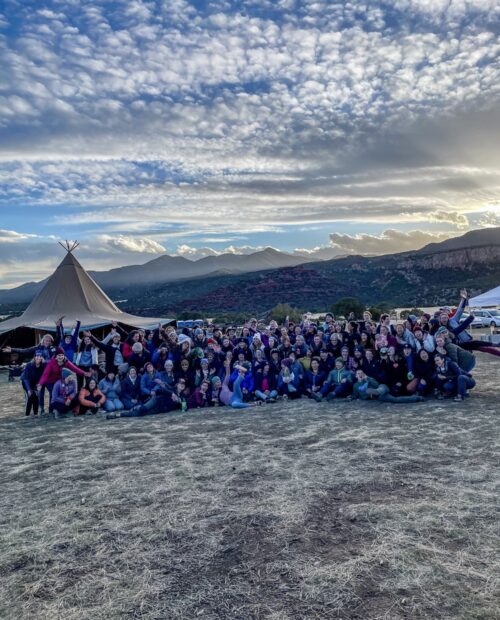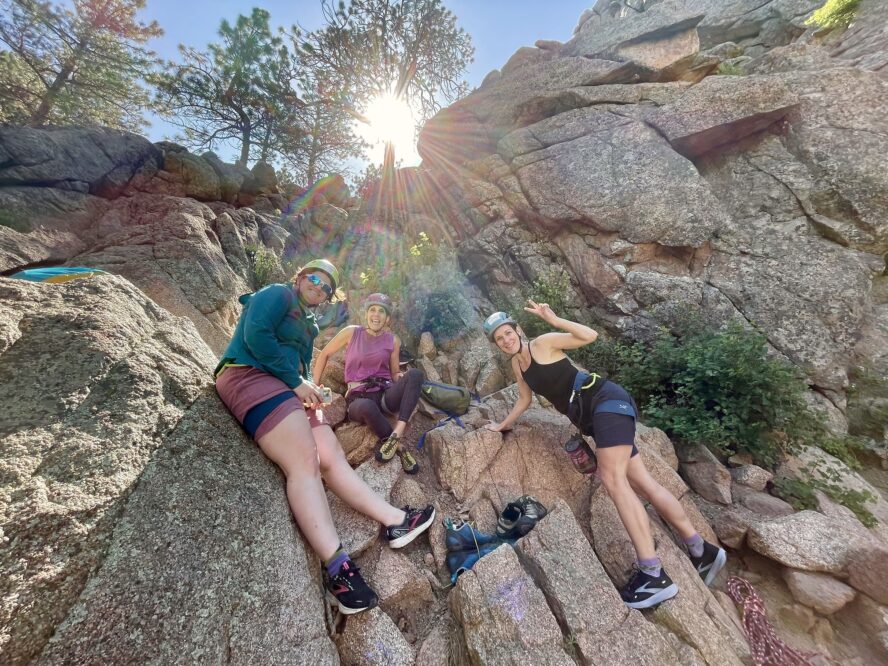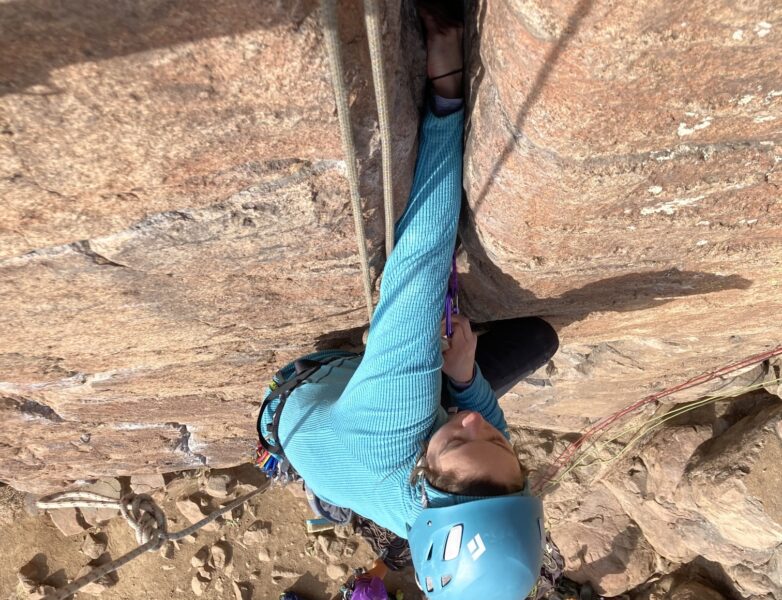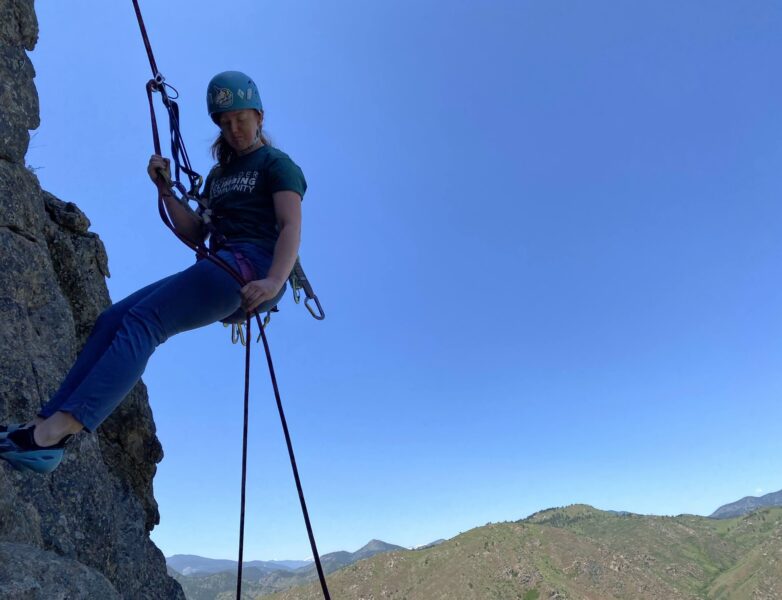 All-Women Rock Climbing in the Flatirons
5.00

()
Situated mere miles from Denver, the Flatirons offer easily accessible climbing—paired with up to 1,000 feet of exhilarating beginner to intermediate terrain! Like ancient sentinels against the azure sky, the sun-drenched rock formations of the Flatirons stand tall, beckoning you to immerse yourself in their awe-inspiring presence. Designed for women and genderqueer individuals, this tour provides a unique opportunity to connect with the solid rock beneath your fingertips, pushing your physical and mental boundaries to new heights. Overcome obstacles fueled by shared triumphs and unwavering support, fostering a one-of-a-kind camaraderie. Get ready to rock the Flatirons with a private and customizable climbing experience featuring classic routes and breathtaking vistas.
Have a go at classic Flatiron routes, such as First Flatiron's Direct East Face and Third Flatiron's Standard East Face

Enjoy the breathtaking beauty of the Flatirons, with towering rock formations and sweeping views

Experience the transformative power of climbing company of women, while breaking barriers and shattering stereotypes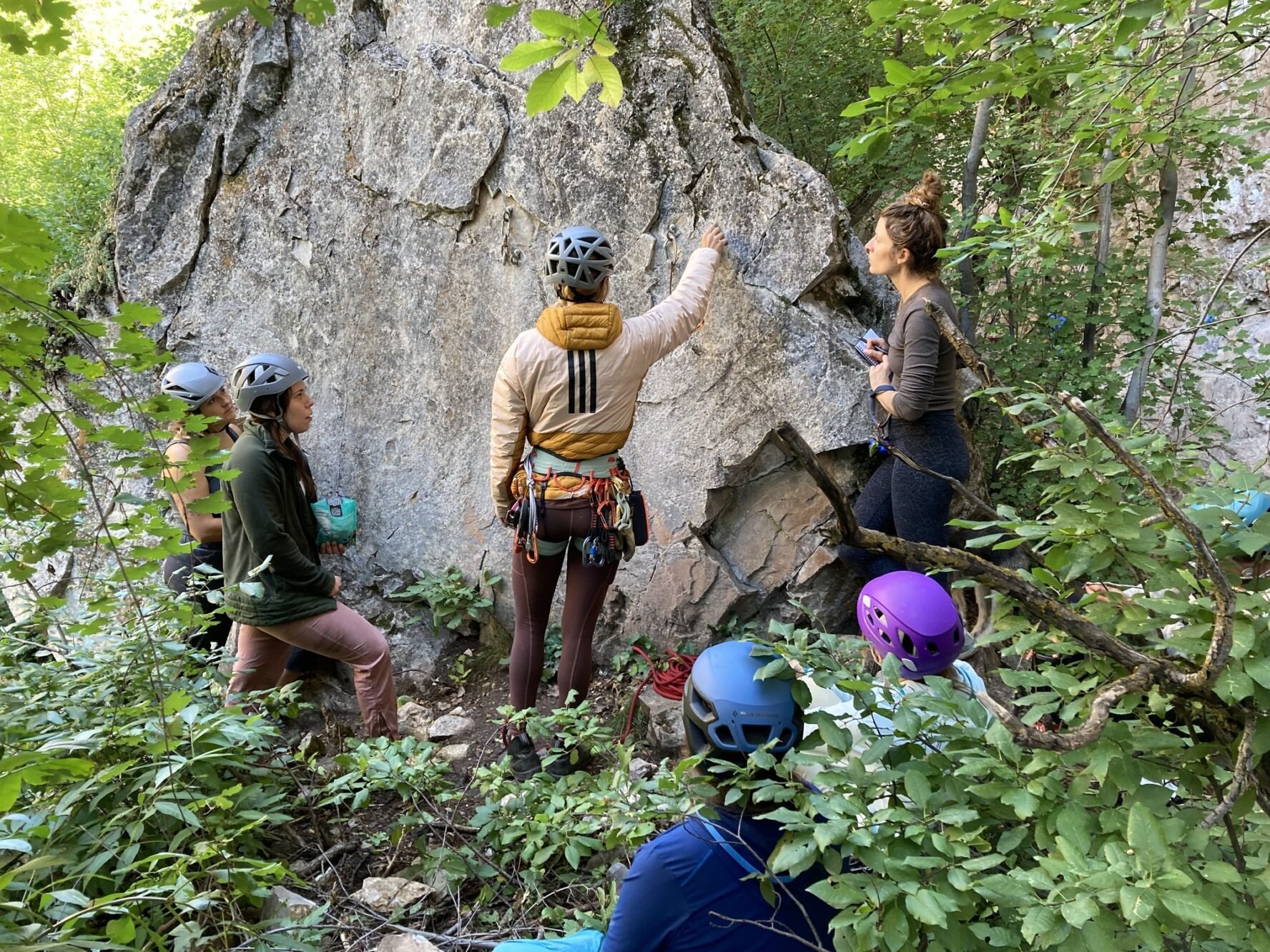 Itinerary
Embark on an unforgettable all-women/genderqueer rock climbing tour in Boulder's mesmerizing Flatirons. Conquer up to 1000 feet of captivating beginner to intermediate terrain, including iconic climbs like First Flatiron's Direct East Face, Third Flatiron's Standard East Face, and the Maiden's East Ridge. This 6-8 hour Flatirons guided adventure includes expert AMGA guide, group gear, and personal equipment if needed. Prepare for a day of orientation and superb climbing amidst awe-inspiring scenery. Discover the power within as you ascend, defying limits and embracing the thrill of scaling imposing cliffs!
Get free trip brochure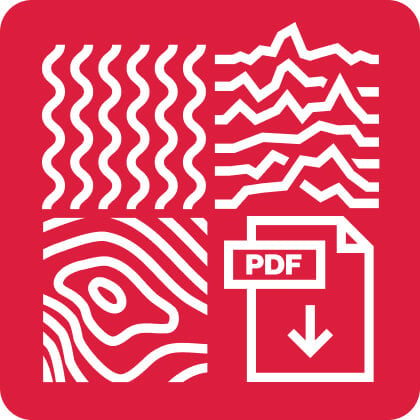 The brochure contains:
Adventure and location overview, itinerary, available dates, what's included, how to prepare, and much more.
Brochure sent, check your inbox
Talk with us
and let one of our adventure experts help you plan your perfect adventure.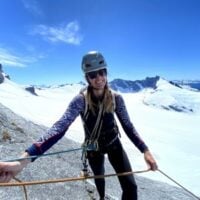 Meg Nickman
AMGA rock climbing guide
Meg is an adventurous guide who loves spending long days in the outdoors, forging unforgettable memories in breathtaking climbing destinations like the Mendenhall Towers, Cordillera Blanca, and Wind River Range. With a background in experiential learning trips, Meg is passionate about fostering an equitable climbing world, where diverse backgrounds come together to create a collaborative and inspiring environment for learning and growth.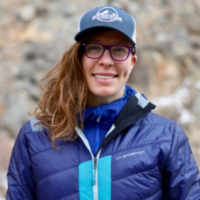 Carlyn Crispell
AMGA rock climbing guide
Carlyn is a true mountain enthusiast born and raised in the breathtaking landscapes of Colorado. From alpine climbing to skiing and mountaineering, their passion for the alpine realm knows no bounds. Specializing in alpine trad, ice, and mixed climbing, Carlyn brings a wealth of knowledge and experience to every adventure. With a MSci in Outdoor Education and completion of the AMGA Rock Guide Course, Carlyn has been leading expeditions since 2012.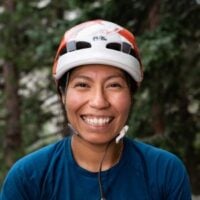 Ariana Antonio
AMGA rock climbing guide
Ariana is a Colorado native with a deep-rooted love for the outdoors. From car camping in Northern California to hiking and mountaineering in Colorado, Ari's connection to nature has shaped her life. As a guide with She Sends Collective and an advocate for outdoor access, Ari's weekends revolve around climbing, skiing, and mountaineering, while her weekday job focuses on education. Fluent in Spanish, Ari brings a diverse perspective and a passion for connecting with others through outdoor pursuits.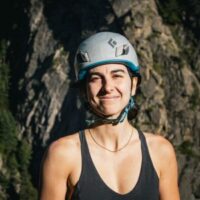 Ada Jones
AMGA rock climbing guide
With a preference for traditional and multi-pitch climbs, Ada's love for the sport is fueled by the stunning summit views. As a guide, Ada is committed to fostering inclusivity for queer and trans climbers, creating more space within the outdoor community. When not guiding, Ada can be found trail running with their dog or working on their van, always seeking new adventures on and off the rocks.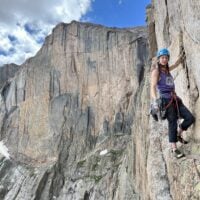 Becca Droz
AMGA rock climbing guide
Becca ia a passionate climber who started her journey in Boulder, CO in 2009. With a background in traditional and multi-pitch climbing from Warren Wilson College in North Carolina, Becca has honed her skills as a climbing coach and instructor at Movement climbing gym in Boulder. She specializes in women's group programming, helping climbers enhance their performance and mental resilience. Embracing an integrated approach to climbing, she recognizes the transformative power of the sport for personal growth and learning.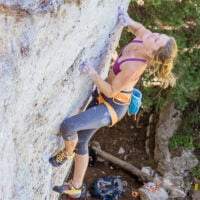 Chelsea Rude
AMGA rock climbing guide
Chelsea is a highly experienced climber with over 25 years of rock climbing and 19 years of coaching and teaching under her belt. As a supportive and encouraging guide, Chelsea takes the time to ensure you have the best possible experience, teaching you all you need to know. She creates safe spaces where women and marginalized gender identities can feel comfortable asking questions, embracing climbing as they are. Chelsea's greatest accomplishment and joy is teaching others to climb and providing them with a transformative experience.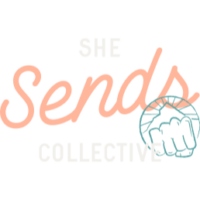 She Sends Collective
She Sends Collective
Founded in 2020, She Sends Collective is a guiding company dedicated to fostering femininity in climbing through access, education, inclusivity, community, and, needless to say, expert guiding. Their main goal is to empower women and genderqueer individuals to achieve their goals, whether climbing-related or not. What they offer goes beyond climbing, with workshops focusing on nutrition, self-love, and mindfulness, enhancing overall well-being for better performance and longevity in the sport. Join them in creating a supportive and empowering space for climbers to thrive.
Madden Brewster
(source: Google Reviews)
SSC is one of the best organizations that I have had the pleasure of working with. I can confidently say that they are incredible at making climbing and climbing education more inclusive and accessible to all in a very unique way. Their guides are super knowledgable in the techniques and skills they teach, but also work beyond these aspects to foster a safe and supportive environment to optimize learning, safety, and fun. If you're looking for the space to find education, support, reflection, respect, and a kickass time, any SSC event is the place!
Enakshi Shah
(source: Google Reviews)
A holistic approach to climbing, including insightful conversations around improving mental game, manage fear, and nourishing our bodies. I love the She Sends community. It's been such a safe, supportive space to learn and grow as a climber.
Michelle Schol
(source: Google Reviews)
Such a good time while also being extremely educational. Can't wait to put my new skills to use!
Melissa Ocariz
(source: Google Reviews)
All I can say is WOW!!!! Meg was such an amazing teacher/guide and was able to manage a group of 3 well enough where it made it feel like a 1 on 1 experience. I would definitely recommend this course if you are looking to expand your knowledge!
J Burns
(source: Google Reviews)
I had such a fun time climbing with our She Sends Collective guide, Chelsea! We hired her for two half-days of climbing while on vacation, and it was one of the highlights of our trip to Colorado. She was patient, flexible, and took the time to understand our needs in addition to being knowledgeable about what climbing would fit us in the area. She was also willing to set up routes for us that we side-eyed leading, which unlocked some more difficult yet fun new climbs. Added bonus is that Chelsea is a lovely human being, so we had a great time together.
In addition to this awesome experience, She Sends Collective's commitment to inclusion was obvious in all interactions with Chelsea. There's sometimes a bit of anxiety going into experiences like these as a member of the LGBTQ+ community, but that was absolutely not the case with this organization or Chelsea. The whole experience was top notch, and I couldn't recommend She Sends Collective more!
Things to know
What you get on this adventure:

An experienced, local rock climbing guide with extensive knowledge of the area
Full day of rock climbing in the Flatirons (6-8 hours) depending on your chosen itinerary
All group and personal rock climbing equipment (let your guide know if you need rock climbing shoes, helmet, and harness)

What's not included:

Transportation to the trailhead
Accommodations
Lunch
Guide gratuities — optional

If you can climb a ladder, you're good to go. Being in good shape is always a plus but far from necessary. Rock climbing is all about using good movement technique rather than muscling up a cliff using brute strength. To ensure you have a fun day, your guide will choose routes that best suit your skill and fitness level—whether you're a complete beginner, want to make a transition from indoor climbing, or have some experience and want to become a better climber.

If you're a climber with more experience looking for a challenge (including climbing multi-pitch routes), check out this all-women weekend climbing camp in Colorado.

No prior experience is necessary. Whether you've never donned a harness or you're a seasoned climber, a guide will help you meet your individual objectives. Above all, your instructor's number one priority is your safety. As long as you listen to the given instructions, you'll succeed in making some progress—or completing a route.

Flatirons boast plenty of options for beginner climbers. Whether you've never climbed before or are transitioning from the gym to outdoor climbing, your guide will customize the day to suit your skill level and objectives. With a guide by your side, you'll learn something new, stay safe on the rocks, and most importantly, have fun!

If you're an intermediate climber, your guide will discuss your objectives and customize the day to your goals. Let your guide plan the day so you can focus on developing your skills while climbing some classic routes in the Flatirons.

All technical climbing equipment will be provided by your guiding service. However, if you have your own gear, feel free to bring it. You'll need:

Helmet
Harness with a locking carabiner, belay device, and chalk bag
Ropes
Rock shoes (included in the price, but we recommend bringing your own if you have them)
Climbing hardware (quickdraws, cam devices, stoppers, etc.)

Here's a list of the equipment we suggest you bring:

Day pack large enough to carry all the items listed (around a 20L bag)
Water bottle
Food you can eat on-the-go
Toiletries (sunscreen, bug spray, toilet paper, etc.)
Sunglasses
Camera — optional

Dress comfortably and for the weather in clothes you can move in. We suggest bringing clothing appropriate for the season. Layers are best and don't wear jeans. If you're not bringing your own harness, helmet, and shoes, please notify your guide before the tour! ,

Group sizes and prices:

For this private adventure, the maximum client-to-guide ratio is 4:1.
The cost per person decreases as the group grows, so it's the perfect opportunity to hike with friends and family!

Rock climbing in the Flatirons, Colorado can be arranged for larger groups. Contact us to make arrangements.

Min. age requirements:

If you are older than 18, you're good to go.
Minors younger than 18 may be permitted to join the hike on a case-by-case basis.

If your group has climbers under the age of 18, contact us prior to booking to make arrangements.

To get to the Flatirons, most people fly into Denver International Airport, which is half an hour away. From there, you can rent a car or take a shuttle service to Boulder, which is only a few miles away.

Once you and your guide agree on the details of your itinerary, your Flatirons rock climbing guide will suggest the best time (some time in the morning) and place to meet, whether that's at the guide shop in Boulder or a predetermined location near the climbing routes. The guide will choose the appropriate terrain dependent on conditions and the ability of the group.

57hours is committed to providing safe outdoor adventure experiences. We require all guides using our platform to have a COVID-19 safety plan and to make the details of that plan accessible to travelers. In most cases, group sizes will be reduced, guides will avoid overcrowded locations, and other safety measures will be met depending on the location and activity.

We also expect clients to respect local regulations and take measures to protect themselves, guides and the communities they're traveling to. For more information on COVID-19 measures in Colorado, please refer to Colorado's COVID-19 Travel Guidelines and Centers for Disease Control and Prevention.

Please contact us if you have any questions or require further information. We are happy to provide you with the most up-to-date information!
Get free trip brochure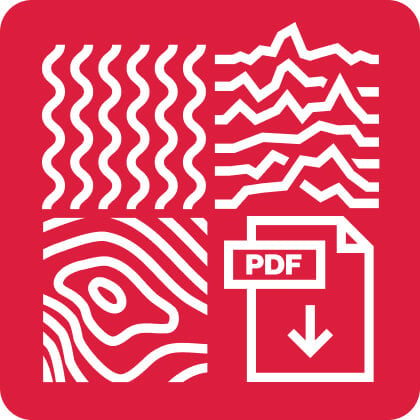 Adventure and location overview, itinerary, available dates, what's included and much more.
Brochure sent, check your inbox
Talk with us
and let one of our adventure experts help you plan your perfect adventure.
Other things to do in The Flatirons/Boulder Canyon