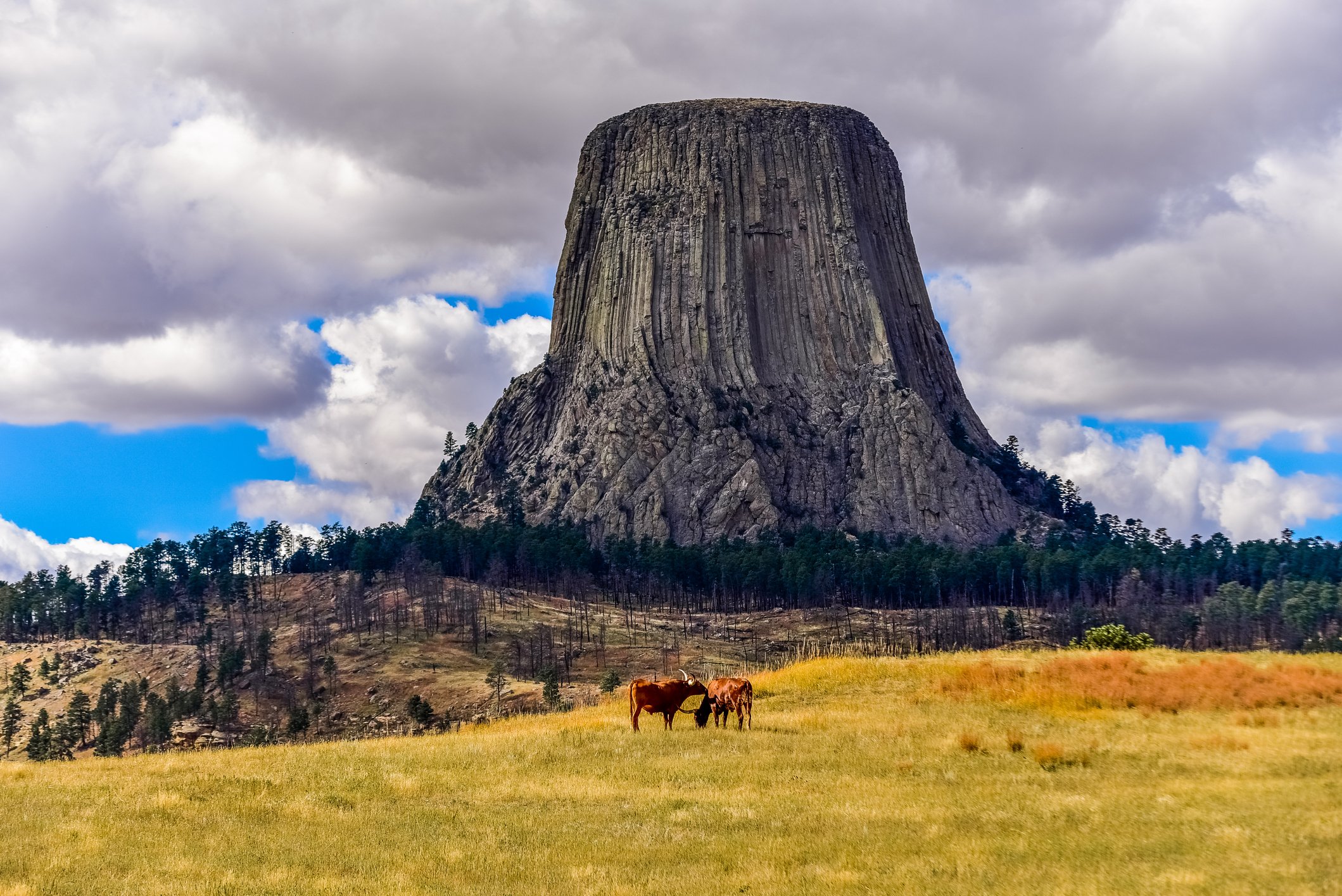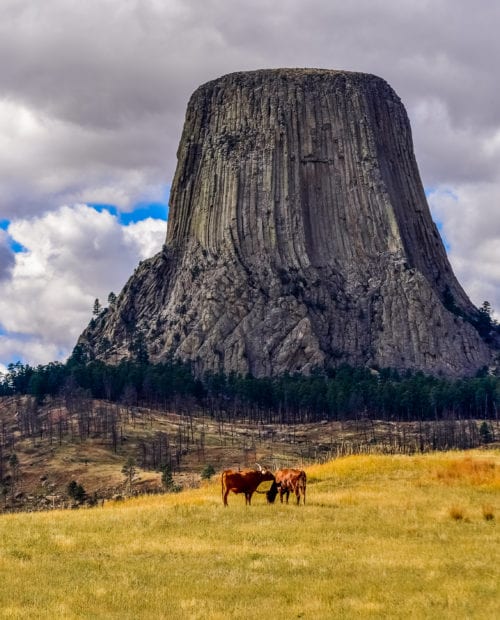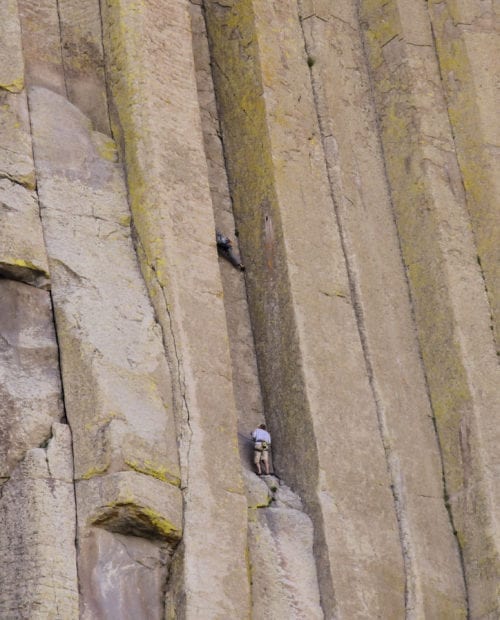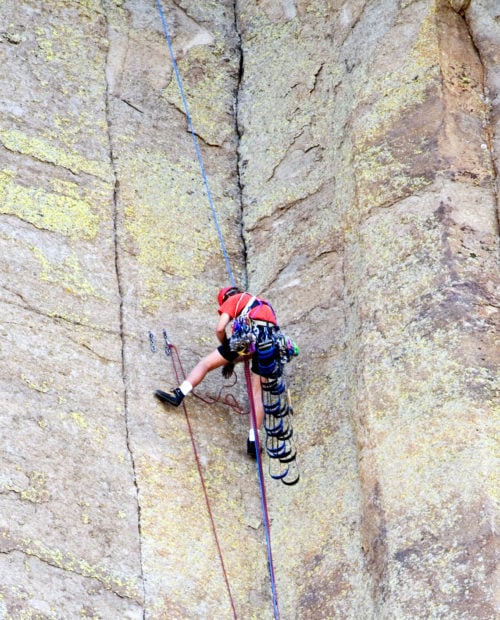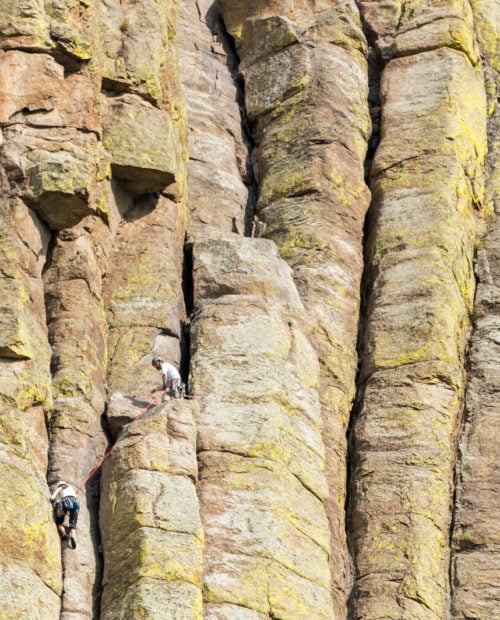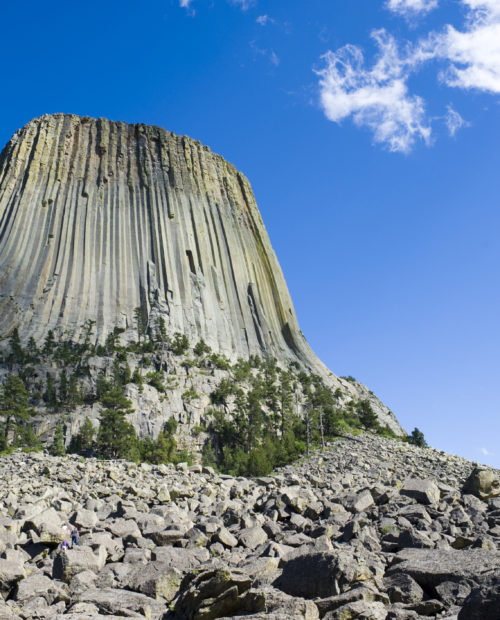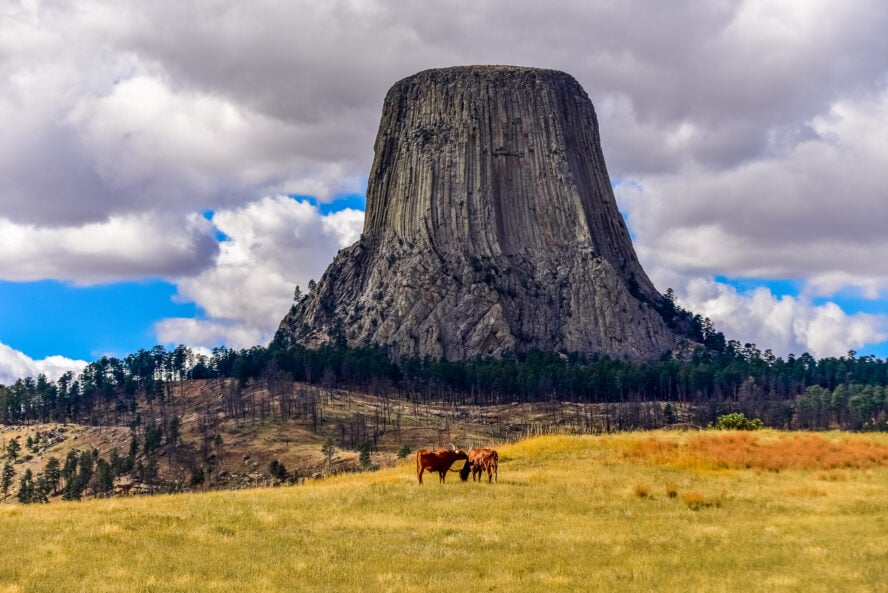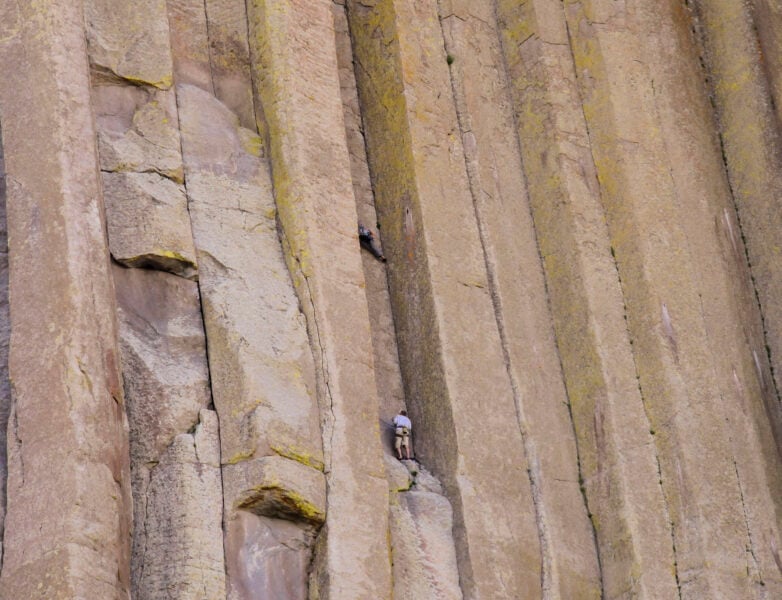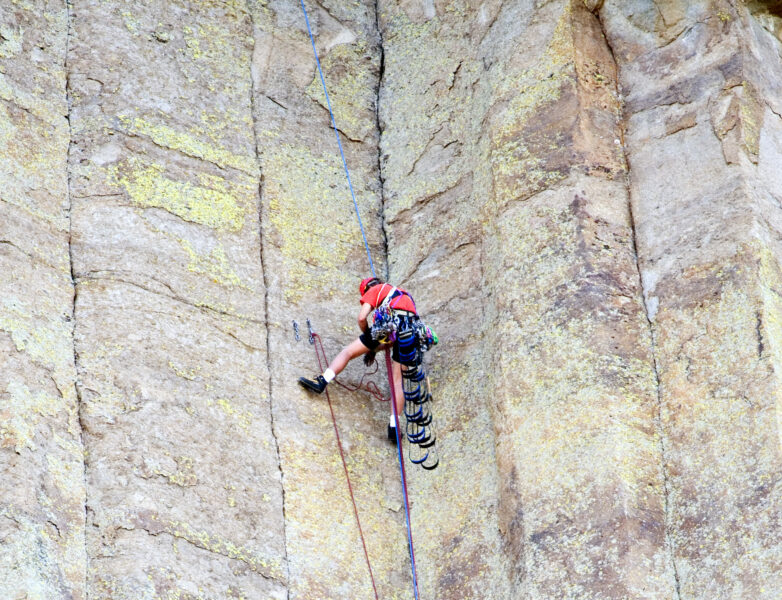 Rock Climbing at Devils Tower
5.00

()
The otherworldly Devils Tower, Wyoming, the country's first national monument, is also every local climber's pride and joy. Beautiful and uniformly shaped cracks that divide the 800ft behemoth into hexagonal columns make Devils Tower one of the best crack climbing areas in the world. The climbs here range from 5.7 to 5.13, and there's plenty of options to satisfy both beginners and experienced climbers. The unique cracks coupled with a majestic view from the top overlooking the surrounding green meadows and lakes, puts conquering this National Monument at the top of many climbers' bucket lists. With over 200 routes to choose from, ranging from easy to some of the most challenging crack climbs in the entire world, a day of professionally guided climbing will help you advance your skills and reach new heights. Come and see what this historic climbing destination is all about, and why is it one of the best climbing destinations in the USA.
If you're interested in climbing the Devils Tower, join the waitlist and we will connect you with the guide. Due to the complexity of the terrain, your guide will personally vet you and see which tour is most appropriate for your skill level.
One of the greatest crack climbing areas in the world

Admire the solemn beauty of Wyoming's prairies and grasslands

Learn to climb or hone your skills on Custer State Park's magnificent climbing routes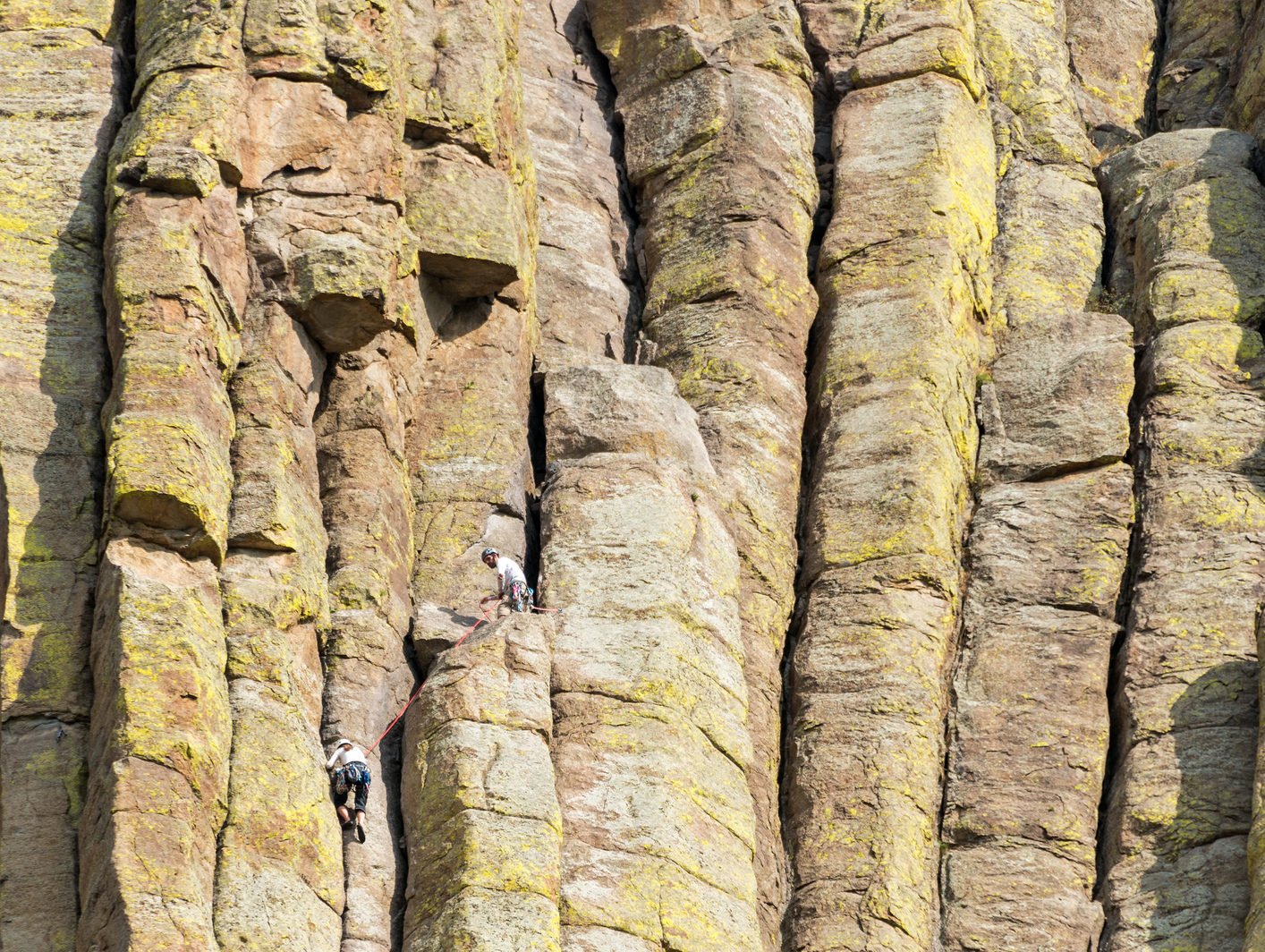 Itinerary
This two-day course will give you a chance to stand atop Devils Tower and enjoy the power and beauty found there. Spend at least one day in Custer State Park prior to your summit and prepare for the physical and technical challenges that come with tackling Devils Tower. Be ready for a serious physical challenge, and learn a lot of new skills in a very short period of time. At the end of the first day, see whether or not you have the skill and endurance for such an undertaking. There's more than one way to get to the top, and your guide will select the perfect route to ensure you have a successful summit. One of the options is the Durrance Route — listed as one of North America's 50 classic climbs. Once you reach the top, add your name to the list of conquerors and sign the Summit Log. This is a legendary and spectacular adventure and the rappel down is just as fun!
Get ready for one eight-hour or two six-hour guide days in Custer State Park, South Dakota, though the days could be shorter if you choose to save your energy for the main event. The two-day course is more appropriate for climbers with some gym or outdoor climbing experience. Your guide will focus on climbing efficiency in a multi-pitch setting. Your guide will examine your climbing skills in a multi-pitch setting, make an honest assessment and decide whether or not you are ready for a summit attempt.

If your guide determines that your skills are adequate for the climb, you will meet your guide at Devils Tower National Monument on the second day of your tour. The climb will happen very early (sometimes as early as 3:30 AM) to avoid the crowds and extremely high temperatures. If your guide believes that a summit attempt is not feasible, you get to spend a second day climbing in Custer State Park or Mount Rushmore National Memorial.
Get free trip brochure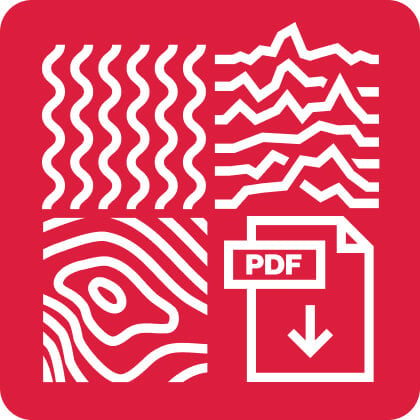 The brochure contains:
Adventure and location overview, itinerary, available dates, what's included, how to prepare, and much more.
Brochure sent, check your inbox
Talk with us
and let one of our adventure experts help you plan your perfect adventure.
Meet your guide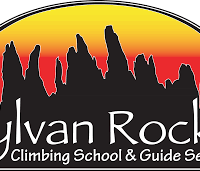 Sylvan Rocks Climbing School and Guide Service
Sylvan Rocks Climbing School has been accredited by the AMGA for nearly 30 years. They focus on fun while learning, teaching solid climbing techniques to build the skills needed for a lifetime of adventure.
On our family vacation (mom-46, dad-51, and daughter-11) from Texas. Had our first outdoor rock climbing adventure with our guide, Zane. To say he was amazing is an understatement. We booked the DiscoverTour (4 hours) and were paired with another couple for a total of 5 people per 1 guide (The website says a Max of 6 per 1 guide). I felt like this ratio is appropriate for the tour. For first-timers, he took the time to teach us the proper techniques for tying knots, connecting to the harness, and belaying. It was definitely a first-rate experience for us newbies. They were on time and ready to go at the meeting point. Very organized.
This was a completely amazing experience. We were a group of 6 adults and five small children aged in range from 5-8. Everyone got to climb. Jeff and Brandon were kind, patient, and encouraging with both the adults and children. They were firm when it came to safety. It truly is a wonderful experience for the children to have a sense of responsibility and accomplishment. Sylvan Lake is one of the most beautiful places I have ever been to. The small hike to the rocks was majestic. The area where we climbed was nicely in the shade on a sunny day. We have had a wonderful trip to South Dakota but this truly was a highlight.
Our only regret was not doing the 6 hour versus the 4. The area was beautiful. The guides were very knowledgeable and encouraging. It was definitely the highlight of our trip.
Things to know
57hours is committed to providing safe outdoor adventure experiences. We require all guides using our platform to have a COVID-19 safety plan and to make the details of that plan accessible to travelers. In most cases, group sizes will be reduced, guides will avoid overcrowded locations, and other safety measures will be met depending on the location and activity.

We also expect clients to respect local regulations and take measures to protect themselves, guides and the communities they're travelling to. For more information on COVID-19 measures in Devils Tower, WY, please refer to the Wyoming Department of Health.

Please contact us if you have any questions or require further information. We are happy to provide you with the most up-to-date information!

To climb Devils Tower, all climbers have to register before climbing. Registration is a legal requirement for anyone planning to climb or scramble above the boulder field and must be done before your climb. It can be completed at the climbing kiosk at the Visitor Center parking lot. Hang on to your return slip as you have to deposit it at the end of your climb. Failure to obtain a permit is subject to citation and fine. 

This mandatory registration is free and in the best interests of climbers and the climbing community: it ensures safety, documents use of the Tower as a climbing resource, and becomes part of a historical database.

Another important thing every climber should be aware of is that June is a voluntary climbing closure. Devils Tower is regarded as a sacred site for Native Americans and every June, the park asks visitors to voluntarily refrain from climbing the Tower or scrambling inside of the Tower Trail loop. 

What you get on this adventure:

An experienced, local rock-climbing guide with extensive knowledge of the area

Two full days of rock climbing 

All technical climbing gear

What's not included:

Snacks and meals

Transportation

Accommodation

This course is ideal for those who have experience with rock climbing in gyms, as well as those who have a little outdoor climbing experience. If your guide decides that a summit attempt is not possible due to your skill level, you will spend your second day climbing in Custer State Park or Mount Rushmore National Memorial.

For the more advanced climbs, you will need an excellent level of fitness as you will be moving for a minimum of three hours on the rocks plus some additional hiking. Climbs range from 5.7 to 5.13, although many climbers find some climbs more difficult than their original ratings.

Keep in mind that it can take up to six hours to summit Devils Tower and two hours to rappel. Even though rock climbing is all about using good movement technique rather than muscling up a cliff using brute strength, Devils Tower will test you. Be prepared for a full day of strenuous climbing.

Devils Tower and Custer State Park have plenty of options for beginner climbers. Whether you've never climbed before or are transitioning from the gym to outdoor climbing, your guide will customize the day to suit your skill level and objectives. With a guide by your side, you'll learn something new, stay safe on the rocks, and most importantly, have fun! Even if it turns out that you didn't reach the skill level required to summit the Devils Tower, you will spend your second day climbing in Custer State Park or Mount Rushmore National Memorial.

All technical climbing equipment will be provided by your guiding service. However, if you have your own gear, feel free to bring it. You'll need:

Helmet

Harness with a locking carabiner, belay device, and chalk bag

Ropes

Rock shoes (included in the price, but we recommend bringing your own if you have them)

Climbing hardware (quickdraws, cam devices, stoppers, etc.)

Here's a list of the equipment we suggest you bring:

Day pack large enough to carry all the items listed (around a 40L bag)

Water bottle

Food you can eat on-the-go

Toiletries (sunscreen, bug spray, toilet paper, etc.)

Sunglasses

Camera — optional

Dress comfortably and for the weather in clothes you can move in. We suggest bringing clothing appropriate for the season. Layers are best and don't wear jeans.

Group sizes and prices:

For this adventure, the max client to guide ratio is 2:1 and cost is per person. 

Costs per person will decrease as the group grows for private tours, so it's the perfect opportunity to climb with friends and family.

Climbing days can be arranged for bigger groups.

Contact us

prior to booking.

Min. age requirements:

If you are older than 18, you're good to go.

Minors as young as 5 may be permitted to climb on a case-by-case basis, but must be in the presence of a parent or legal guardian.

If your group has climbers under the age of 18, contact us prior to booking to make arrangements.

To get to the Custer State Park and Devils Tower, most people fly into Rapid City Regional Airport, SD. From there, you can rent a car. There is no public transportation available to Devils Tower National Monument. Enjoy a two-hour scenic drive through the Black Hills until you reach your destination. 

Before your day of climbing, your guide will let you know the best place to meet. In most cases, you will meet your guide at the Visitors Center. The exact climbing spot will be discussed after the booking as guides make that decision after considering the skill level of the group and factors such as crag traffic and weather.

In case you need lodging, Devils Tower Lodge offers accommodation from $110/night.
Get free trip brochure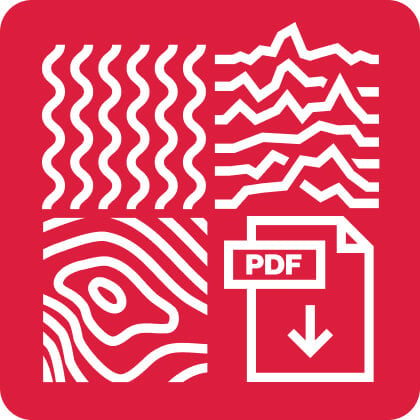 Adventure and location overview, itinerary, available dates, what's included and much more.
Brochure sent, check your inbox
Talk with us
and let one of our adventure experts help you plan your perfect adventure.
Other things to do in Wyoming