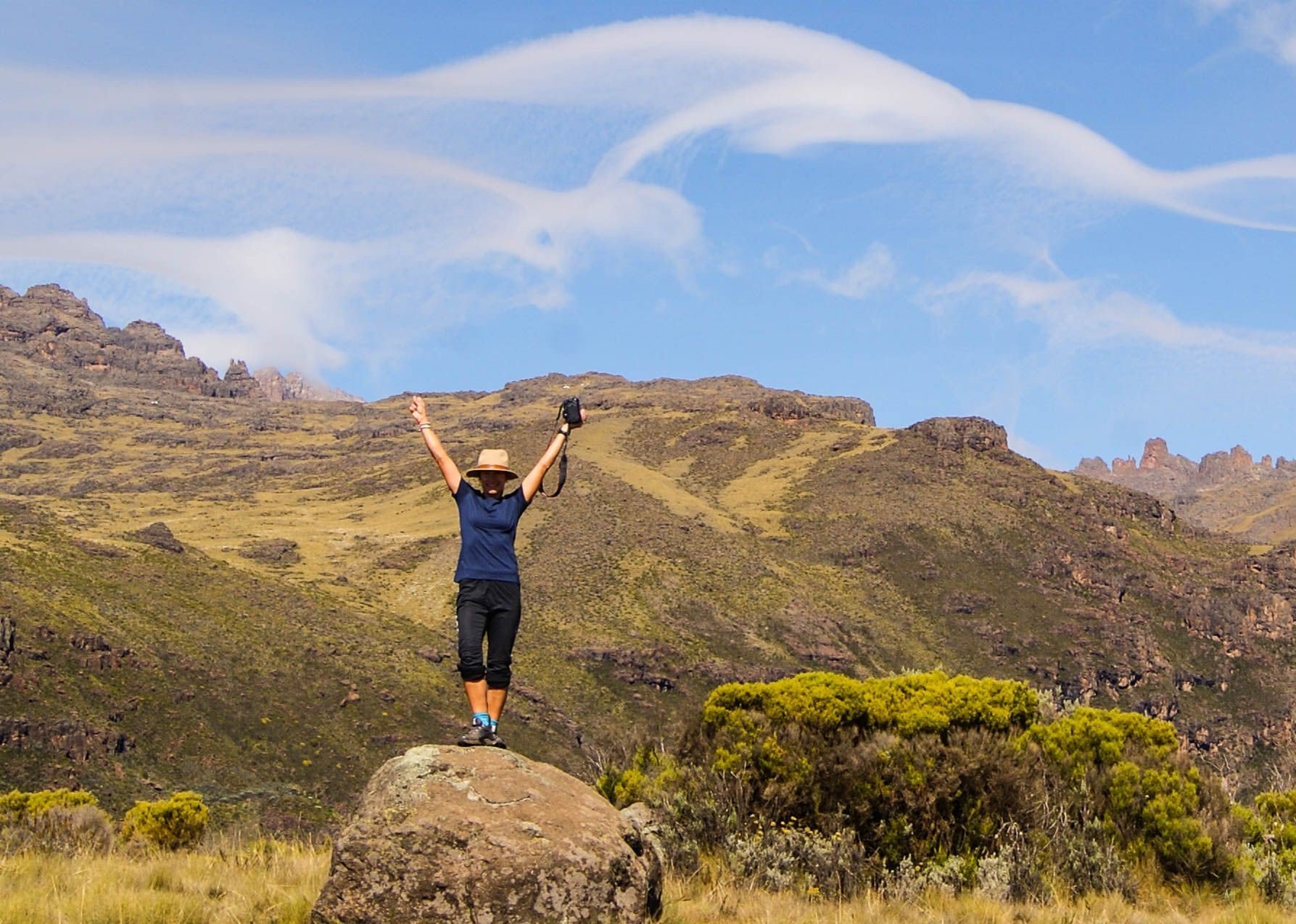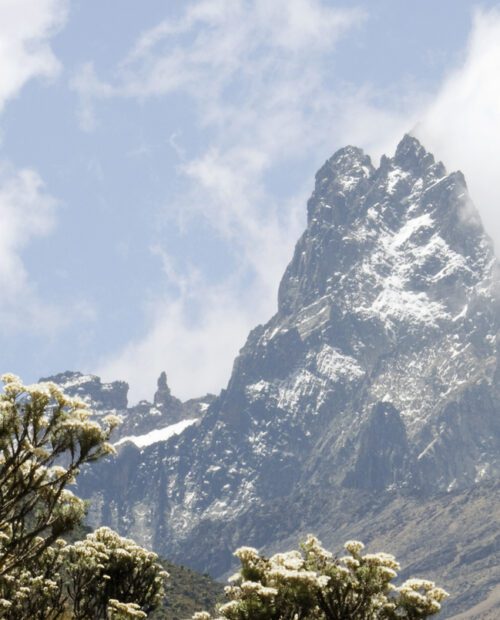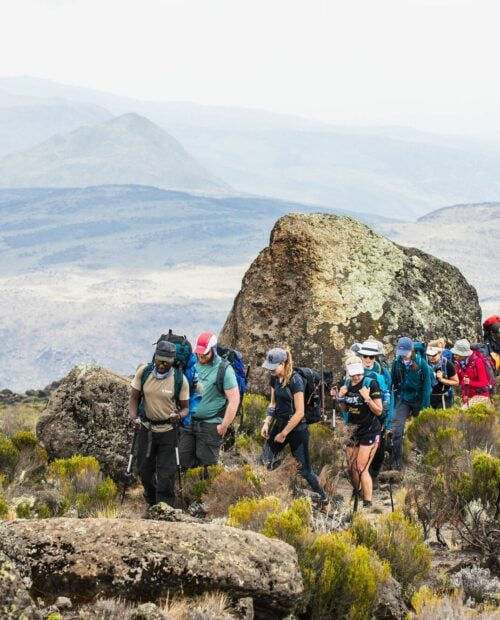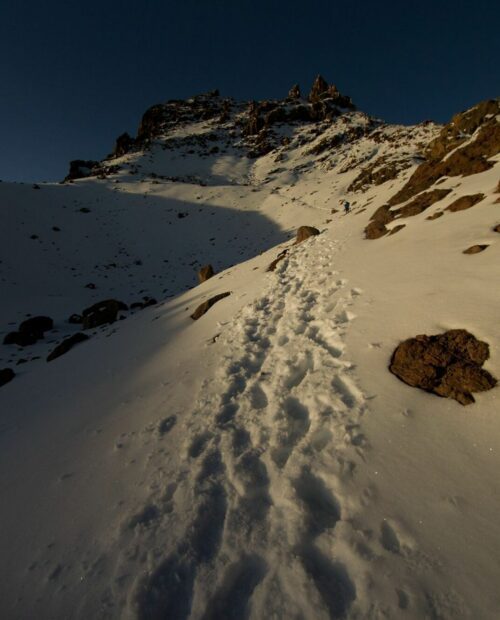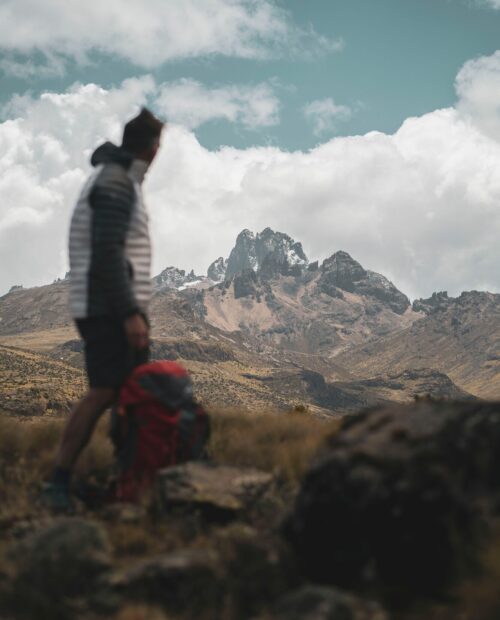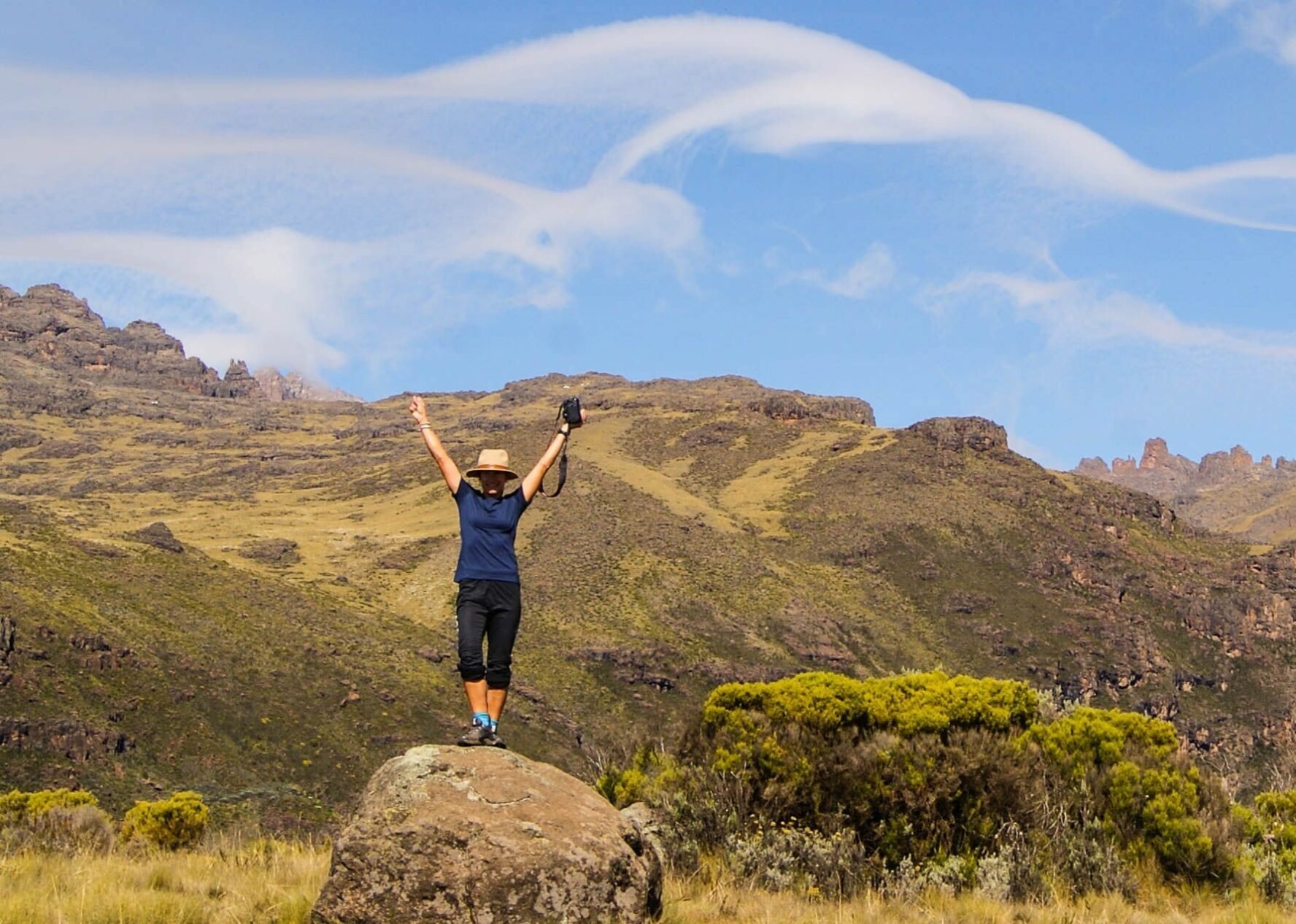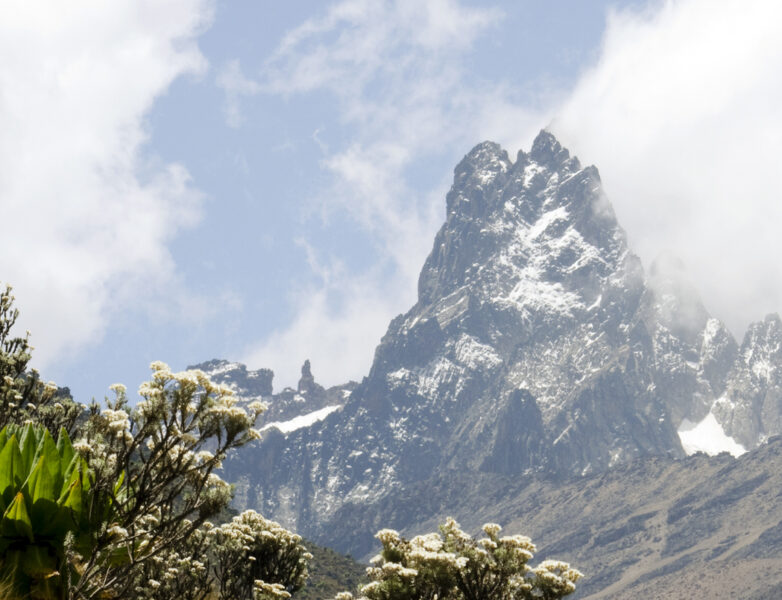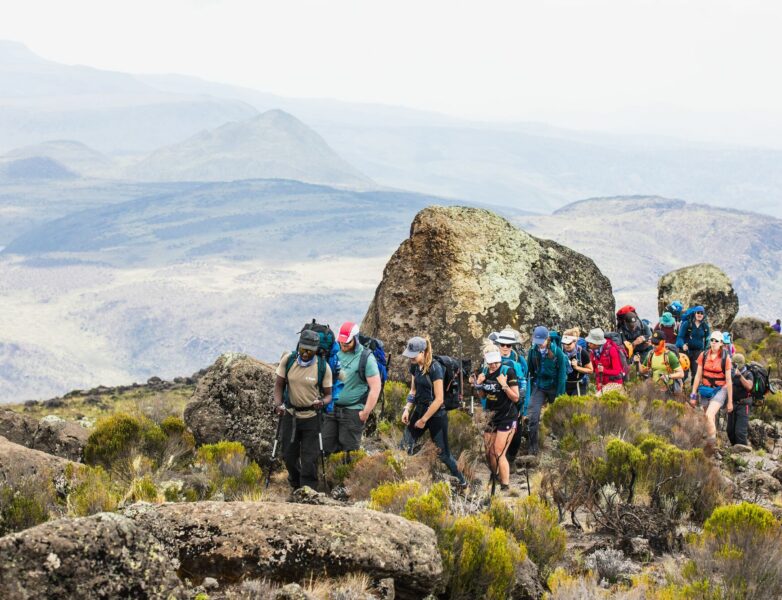 Climb the Chogoria Route on Mt. Kenya
5.00

()
Season
January through March, June through October
Nearest city
Nairobi and Nanyuki are 4 hours away
The second-highest mountain in Africa, Mount Kenya, hides arguably the greatest climbing challenges and alpine character on the continent. The 17,057 feet tall mountain, thought to have once been a 22,000 feet tall volcano, offers extreme terrain diversity—from lush Afro-alpine forests and sky-blue lakes to out-of-this-world glacial valleys and snowy peaks. And the best way to experience the mountain's exotic flora, fauna, and breathtaking vistas is by taking the Chogoria Route. This trekking route is quieter than the alternatives, making the climb an intimate experience between you and Africa's endemic wilderness. The route takes you through colorful farmlands, tropical forests, majestic waterfalls and so, so much more. And once you conquer the steep gravelly climbs of Point Lenana, you'll feel like you're on top of the world!
Enjoy the unique views from the second highest mountain in Africa

Test your luck fly fishing in Mt. Kenya's tranquil lakes

The "climb-high-sleep-low" is a major help with acclimatization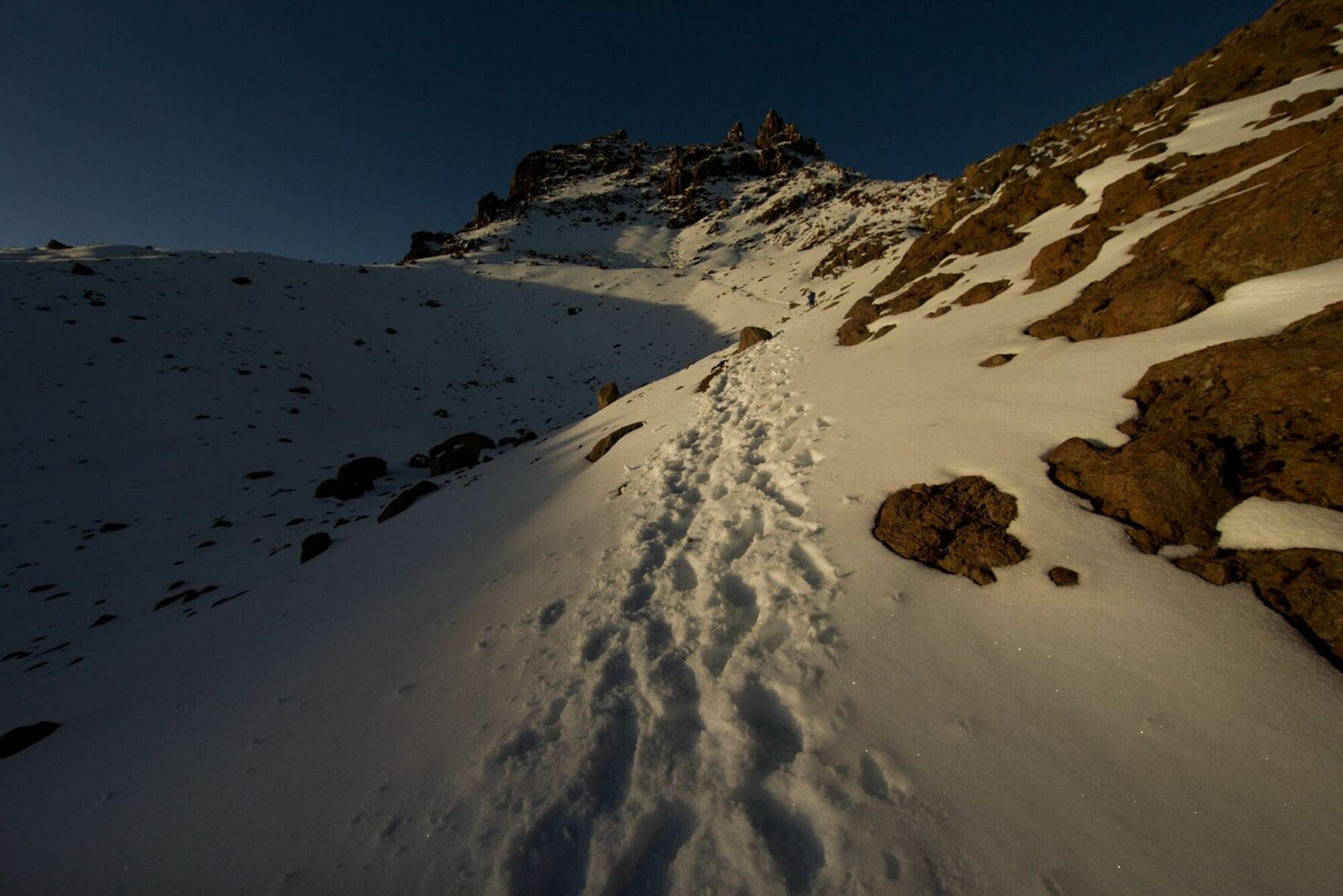 Itinerary
Head to Kenya for a hiking experience you'll never forget. Ascend the monumental Mt. Kenya on the scenic Chogoria route — the trek is long and gradual, which is perfect for acclimatization. Experience some of the most beautiful and serene sites on the mountain, such as the stunning Lake Michaelson and Gorges Valley, and enjoy views of the African continent all the way to Tanzania's Mt. Kilimanjaro! Travel with a seasoned local crew who will make sure you're well-accommodated, well-rested, well-fed, and ready for the climbs to come!
After an early breakfast, meet your driver who will take you to the start of the route. The first day's walk takes you up through the forest for about two hours. Check into the park at the Kenya Wildlife Service entrance and then walk another hour to the campsite. Enjoy the African landscapes, where the Afro-alpine forest ends and the moorland begins. Spend the afternoon exploring the area and acclimatizing to the altitude.
Elevation: 600ft / 170m
Distance: 6 miles / 10km
Duration: 5 hours

Enjoy some spectacular views of the rolling hills and the snow-capped peaks of Batian and Nelion. Take part in a short hike, after which you get to sit back and eat lunch with the magnificent views around Lake Ellis as the backdrop. "Climb high and sleep low" is the general rule of thumb for this tour, as it allows for better acclimatization. End the day with an evening walk to the nearby Mugi Hill. If you're up to it, you can even try spot-fishing in the lake.
Elevation: 3,100ft / 950m
Distance: 5 miles / 8km
Duration: 4 hours

Enjoy a beautiful walk taking you up along the ridge overlooking the Gorges valley to take in the views of Lake Michaelson. Have your lunch admiring the spectacular views of the lake, and continue on a mild traverse and descent to the Lake Michaelson campsite. Spend the afternoon resting or exploring around the lake — it's up to you.
Elevation: 2,600ft / 800m
Distance: 5 miles / 8km
Duration: 7 hours

The hike starts late, so you get to spend the morning relaxing. Day 4's plan is a short and steep hike to Simba Col. The hike is challenging, so find your pace and don't forget to enjoy the scenery as you walk out of the Gorges Valley. The Simba Col camp is nestled in a bowl on the shoulder of Point Lenana, so it's a great camp for an approach to the summit.
Elevation: 1,100ft / 360m
Distance: 2 miles / 3km
Duration: 2 hours

Depart for the summit early. Enjoy the expansive views of the mountainside, valleys, and all the way to Kilimanjaro, while sipping on a nice, warm drink.
After the climb, descend down the southern side of the mountain along the Sirimon route and have brunch in the Mackinder Valley. All that's left is a short walk down to the Old Moses, and you'll be back in the Nanyuki area in time for a late lunch.
Elevation: -5,282ft / -1600m
Distance: 11 miles / 17km
Duration: 2 hours
Get free trip brochure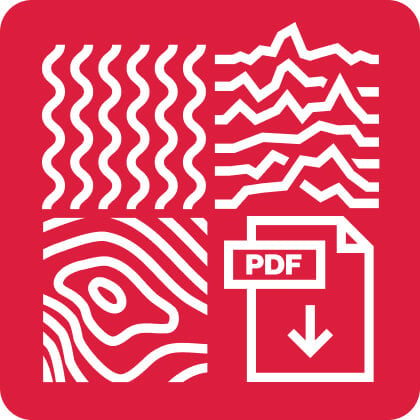 The brochure contains:
Adventure and location overview, itinerary, available dates, what's included, how to prepare, and much more.
Brochure sent, check your inbox
Talk with us
and let one of our adventure experts help you plan your perfect adventure.
Meet your guide Since 2012, African Ascents have been completely dedicated to creating unique trekking  and mountaineering experiences, first class technical climbing adventures, and unparalleled rock-climbing experiences in East Africa and around the globe.
Mt. Kenya Chogoria Route
Ian M.
(source: Tripadvisor)
Just come back from a great 5 days climbing Mt Kenya with my two sons and African Ascents.
The Chogoria route was great for acclimatization and views. We summited on the afternoon of the fourth day to take advantage of the clear weather. Returning by the Serimon route.
The overnight sites were all good with Lake Michealson at a high point.
Camps were well organized with good tents and sleeping bags (essential with the cold nights).
Jacob was an excellent guide and the food rustled up by the cook was remarkable with porridge and cooked breakfasts, and varied evening meals including curries, stews, and pasta dishes. All wolfed down. I would certainly recommend African Ascents
Highly recommended- easy planning, great food, environmentally friendly
Alaina R.
(source: Tripadvisor)
Went to Mt. Kenya with African Ascents in July 2021 on a custom trip for 12 days (Pt. Lenana, round-the-peak hike, and technical ascents of Batian & Nelion). Highly recommend using them. We found them to be cost-competitive with other outfitters and enjoyed our experience end-to-end. The owner, Julian, was collaborative on our trip planning, customizing it to exactly what we wanted to do. Our trail guide, Jacob, was very knowledgeable and clearly loves sharing his love of the outdoors with others. Our chef, Jonathan, made five-star meals every day. In all the restaurants we went to in Kenya, we didn't have as good food as we had on Mt. Kenya. The whole crew at African Ascents clearly prioritizes leave no trace ethics and does a good job with stewardship of the land.
Julian Wright organized and led a bespoke trip up Mt Kenya to Lenana peak. Excellent guide. Very experienced. Super safe and professional. Great logistics and a good kit. Definitely would recommend.
Things to know
57hours is committed to providing safe outdoor adventure experiences. We require all guides using our platform to have a COVID-19 safety plan and to make the details of that plan accessible to travelers. In most cases, group sizes will be reduced, guides will avoid overcrowded locations, and other safety measures will be met depending on the location and activity.

We also expect clients to respect local regulations and take measures to protect themselves, guides, and the communities they're traveling to. For more information on COVID-19 measures in the Chogoria Route, Kenya, please refer to the U.K. Government's travel advice for Kenya or the U.S. Embassy's COVID-19 information site for Kenya.

Please contact us if you have any questions or require further information. We are happy to provide you with the most up-to-date information

What you get on this adventure:

An experienced, local hiking guide with extensive knowledge of the area
5 full days of hiking and trekking
Camp crew, cook, and a team of porters
3 meals a day
Snacks on the trail
Drinks on the hike (water, tea, coffee & hot chocolate)
All relevant park fees
Medical evacuation in case of emergency
Supplemental oxygen and pulse oximeters
Accommodations during the hike
Transportation to and from the trailhead from Nanyuki Town

What's not included:

Transportation to Nanyuki, Kenya — available for an additional fee
Airport departure taxes
Hospital bills and international evacuation in the event of an emergency

The best thing about hiking the Chogoria route of Mt. Kenya is that it requires no technical climbing skills. This intermediate hike will see a little more change in elevation and hikes will start to increase in length, hiking anywhere between four to eight miles. This trek requires a well established fitness base but it is certainly one of the more adventurous and rewarding treks on the mountain. Keep in mind, the weather can change quickly and you'll also be packing a daypack filled with water and other things you'll need throughout the day.

Day pack large enough to carry all the items listed (around a 35-45L bag)
Rucksack with cover (around a 55-65 bag, for a porter to carry your main gear)
Dry bags
Hiking poles — optional
Water bottle or hydration bladder (2L capacity)
Warm hat and a buff or scarf
Sun hat
Warm gloves or mitts, and thin liner gloves are also useful
Waterproof jacket and trousers
Waterproof gaiters
Warm jacket – fleece or down jacket, potentially ski jacket
Waterproof jacket over the top
Fleece tops or hiking shirts/sweatshirts
Base layers or T-shirts
Pair of trekking trousers and shorts
Leggings or thermal bottoms or running tights
Several sets of underwear – cotton best avoided
Several pairs of good quality trekking socks
Waterproof trekking boots
Trainers or flip flops/sandals
Toiletries (sunscreen, hand sanitizer, bug spray, toilet paper, etc.)
Favourite snack bars
Headtorch
Power pack for charging phones etc
Wash kit — no showers on the mountain but you can have a bucket wash
Flask for hot drinks — optional, useful on summit night
Earplugs — optional
Sunglasses
Camera — optional (but recommended)

For camping, you need to bring:

Sleeping bag
Sleeping bag thermal liner
Pillow
Thick foam mat or self-inflating mat (like a Therm-A-Rest)

Dress comfortably and for the weather in clothes you can move in. We suggest bringing clothing appropriate for the season. Layers are best and don't wear jeans. Keep in mind that despite Mount Kenya being on the equator in Africa, it can get very cold. In the early morning hours the temperature can get to about -4 degrees Celsius and as high as 18 degrees Celsius during the day.
A porter can carry max 18kg/39.6Lbs, including food, accommodation, wages, etc. There will be multiple porters depending on the amount of baggage and in case your baggage weighs more, you can hire another porter for an additional fee.

Group sizes and prices:

For this adventure, the usual client-to-guide ratio is 8:1.
The cost per person decreases as the group grows, so it's the perfect opportunity to hike with friends and family!

Hiking in Mt. Kenya can be arranged for larger groups. Contact us to make arrangements.

Min. age requirements:

If you are older than 18, you're good to go.
Minors younger than 18 may be permitted to join the hike on a case-by-case basis, but must be in the presence of a parent or legal guardian.

If your group has hikers under the age of 18, contact us prior to booking to make arrangements.

Registration for an adventure with your guide requires a 50% non-refundable deposit. The balance of program fees will generally be due 90 days prior to the starting date of the program. It is your responsibility to adhere to the fee payment schedule. Late payment will result in cancellation of program reservations and forfeiture of all fees paid.

If your guide has to make an alteration to the time of departure or return to the your home exceeding 12 hours between the date of your booking and the date of departure to, you can decide no to proceed with the booking. In that case, you can:

transfer your booking to another trip without incurring a transfer charge but subject to an appropriate adjustment up or down to the sums payable
cancel your booking without penalty.

If your guide increases the basic price of the trip by 10% or more and you do not wish to continue with the trip, you may cancel your booking and get a full refund in respect of the basic cost of the trip but your guide will not be responsible for other incurred costs.

Should you cancel for any other reason the following charges will apply:

more than 30 days before the expedition – loss of deposit
20 to 29 days before departure – 30% of total cost
11 to 19 days before departure – 60% of total cost
less than 10 days before departure – 100% of total cost.

If your guide is forced to cancel your trip, you will be given the opportunity either to:

receive a refund of the basic cost of the trip paid to African Ascents
transfer to another trip without charge. If there is a difference in price between the cancelled trip and the trip to which you elect to transfer your booking, your guide will refund the difference if it is cheaper or invoice you for the supplement if it is more expensive.

If the reason for the cancellation less than 8 weeks before the advertised departure date is a lack of bookings, a compensation of $30 per properly booked person will be paid.

To get to the Chogoria Route, most people fly into Jomo Kenyatta International Airport in Nairobi. From there, you can rent a car and go for a 3-hour drive to Nanyuki. Local flight options are also available. Your guide also offers transfer services from Nairobi to Nanyuki, priced at 100$.

There are no direct flights from the US or Canada to East Africa. The fastest routes to Nairobi are usually two nonstop legs viaLondon or another European city such as Amsterdam, Frankfurt or Paris.

Once you and your guide agree on the details of your itinerary, your guide will suggest the best place to meet, whether that's at the guide shop in Nanyuki Town or a predetermined location. The guide will choose the appropriate terrain dependent on conditions and the ability of the group.
Get free trip brochure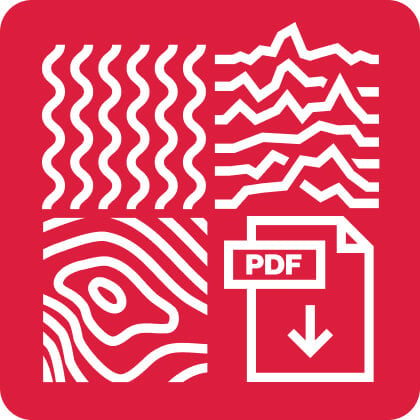 Adventure and location overview, itinerary, available dates, what's included and much more.
Brochure sent, check your inbox
Talk with us
and let one of our adventure experts help you plan your perfect adventure.
Other things to do in Mt. Kenya