This legendary mountain resort is one the world's most attractive vacation villages for a reason. Mountaineering, some of the best backcountry skiing in Europe, mountain biking, Zermatt is an outdoor tour de force. Above all, literally, is the is the backdrop. Matterhorn's striking fin rising into the sky is unbelievable. Here you might want to spend as much time marveling at the scenery as you would riding the trails.
Note that the landscape attracts its fair share of hikers, so it's important that we time our rides. But other than that, it's smooth all around. Even now, after years of coming here, we're still discovering fantastic surprises in the area, like the technical Fluhalp Trail or hammering through rocks in Zmutt Glacier. Then there's Sunnegga, whose fun, flowy trail is perfect for beginners.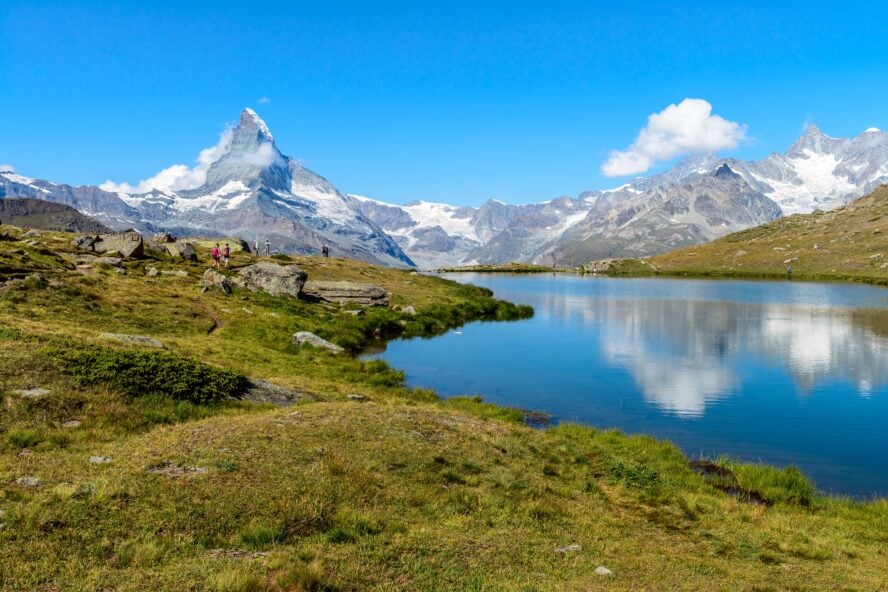 How I got my spirited start in Zermatt
I'll always remember our very first Zermatt trip. It was June with still a lot of snow. We were tired and freezing and struggling to ride on the slippery patches. Just as we were about to reach another difficult section, we came upon a local family living in a small home on the hill.
Their young daughter came up to us and said: "My father's never seen people riding bikes down this in his entire life! He wants to invite you in for a drink." Of course, we didn't think twice. They treated us to hot coffee and biscuits. Then the old man hobbled over and put down this bottle of crystal clear, homemade vodka on the table. "Drink dis!" he crowed. And, you know, when in Rome… So we enjoyed their hospitality until we were red in the face.
As we were saying our goodbyes, they informed us of another, much better trail only the locals knew about. We followed their directions and found the route, which turned out to be sublime. 58 switchbacks! We still ride it to this day.