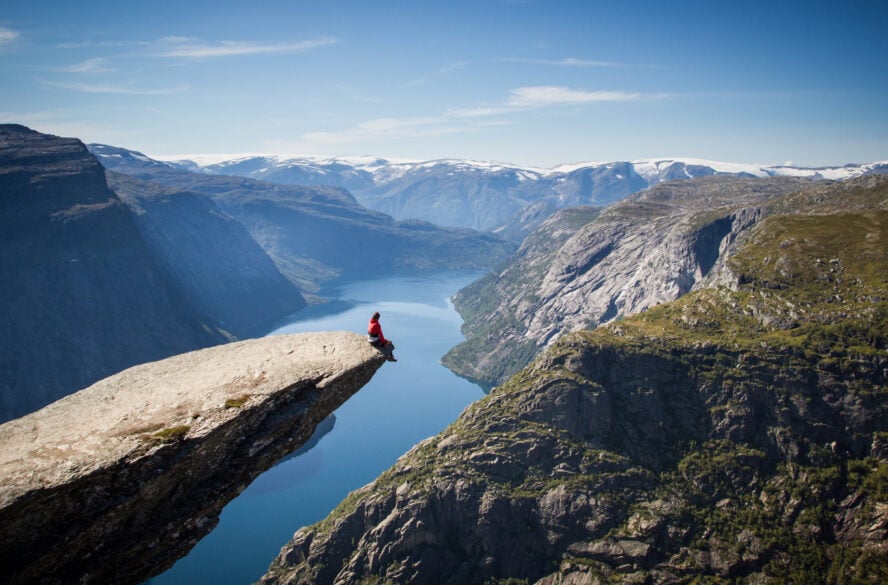 When it comes to trekking in Europe, the Trolltunga trail in Western Norway stands with the best of them. This scenic 28-kilometer (17.4 miles) out-and-back trail will take you through the Nordic wilderness and up to a majestic cliff jutting out 700 meters (2,300 feet) above Ringedalsvatnet Lake.
The trail can be challenging, especially during bad weather, as it involves some steep climbs and river crossings. However, most of the difficulty stems from the length of the trail. If you're planning on doing it one day, make sure to start early. But if you'd like to immerse yourself in the untouched nature, consider camping under the northern sky.
The name Trolltunga translates to Troll's tongue. Why, you ask? According to legend, there once was a troll who, thinking himself immortal, stuck out his tongue to mock the sun and was in turn petrified. As you journey through Norway's vast landscapes shaped by ancient glaciers, you will be humbled just the same. Deep fjords, valleys, and waterfalls—this unique hike has them in spades.