Sugar Bowl is one of the more ski-focused Lake Tahoe area resorts. Situated near Truckee, the understated resort has operated since 1939. Despite the initial investment by Walt Disney himself, Sugar Bowl doesn't have the Disneyland feel of other Tahoe resorts. It's never too crowded and rarely tracked out. The resort also has a great relationship with backcountry skiers. Sugar Bowl offers uphill passes and excellent lift access to off-piste areas via the Summit and Crows Nest. For beginners, dedicated courses are also availables, like introductory classes, avalanche classes, and tours of Anderson Ridge and the summit of Mt. Judah to Donner Lake. Regardless of whether you are using the resort's facilities, you can still get to the goods by parking in the lot and ski touring the old fashioned way.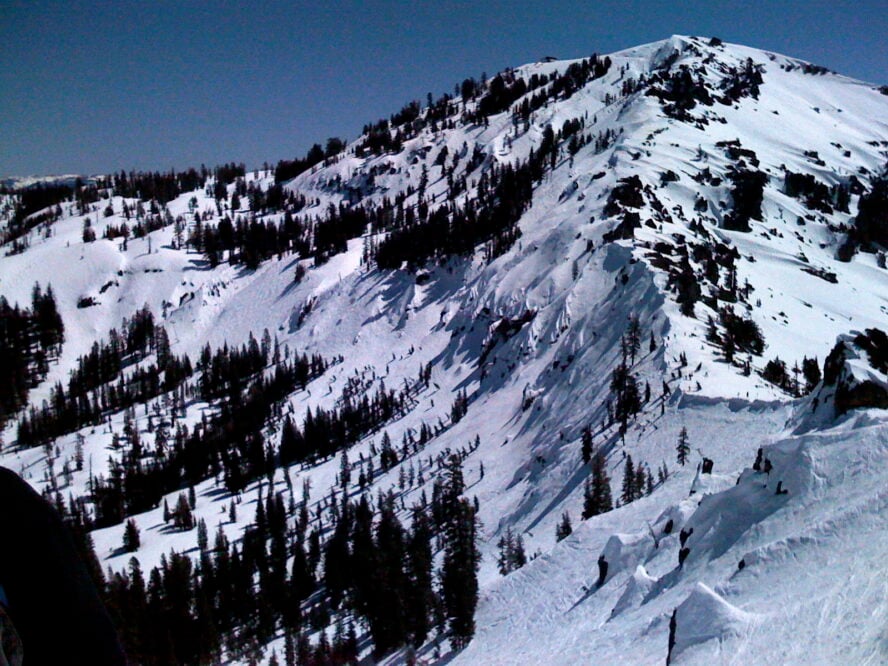 Don't miss the Heart down the north face of Donner Peak
There truly is something for every level of skier here. The resort has eight different backcountry gates, all of which provide access to diverse terrain. Be prepared when you leave the resort, as the outside areas are not patrolled and there's no regular avalanche precautionary control. One run worth checking out is the Heart, a line down the center of the north face of Donner Peak. Do look out for the cliff drop. Another well regarded line is the Lake Run, which offers a descent of 1,300 feet (400 meters) with the option to catch some air as you make your way down to Donner Lake. Sure, there are plenty of other places to check out in the Tahoe area. Sugar Bowl should still be at the top of your list for its charm and terrain.