4. Ann and Roy Butler Hike-and-Bike Trail and the Ladybird Lake Boardwalk
The Ann and Roy Butler Hike-and-Bike Trail and Ladybird Lake Boardwalk is considered "Austin's most recognized and popular recreation area." Locally called the "Town Lake Trail," it's one of the best hiking trails in Austin to see skyscrapers and lush nature. Since it's an urban path right along the river (and built over the water!), there are even opportunities to get off trail and jump in a kayak or paddleboard. Although the full trail is a ten-mile loop around the lake, this flat and well-graded 2.2-mile hike hits the highlights and is suitable for families and people of all ages and abilities.
Even if you've visited Austin before, the boardwalk is new as of 2014. It won a Texas Society of Architects award because it's designed to float and meander over the river like a hiking trail would do on land. The city commissioned artist Ken Little to decorate the boardwalk with western ranching-style belts cast in bronze with song lyrics from Texas singers and songwriters. This part of the trail is so fun that you can convince non-hikers to join you.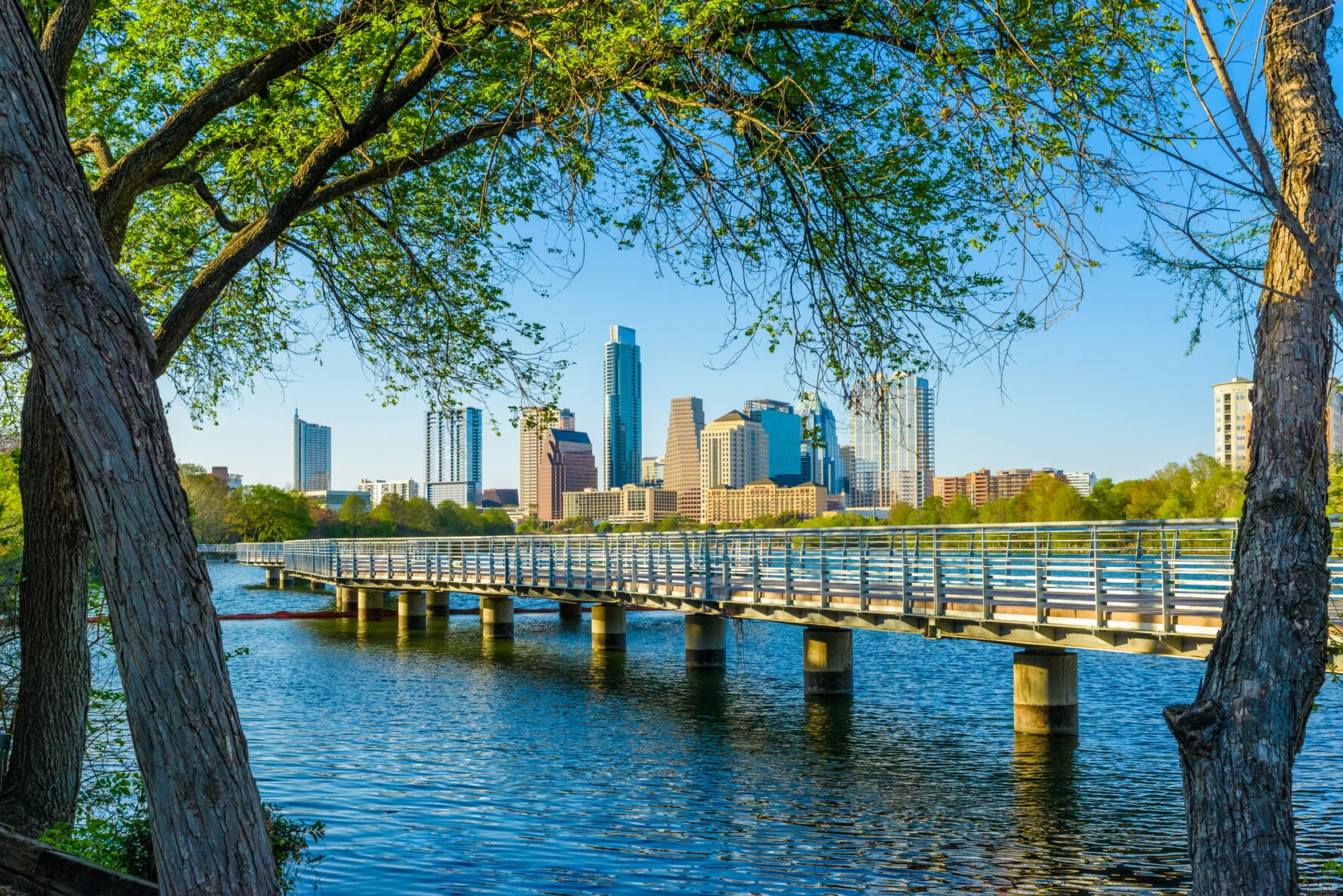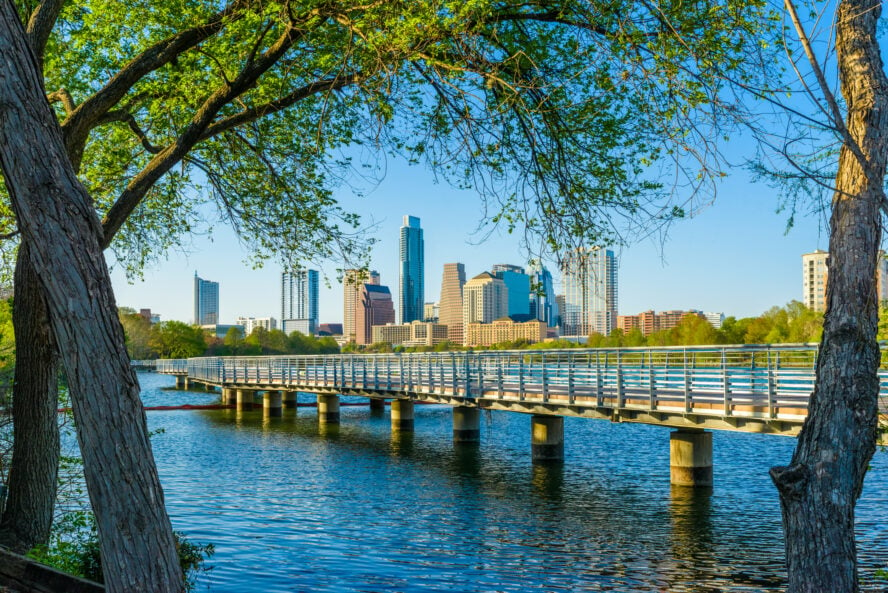 The Ann and Roy Butler Hike-and-Bike Trail runs ten miles around Lady Bird Lake (a dammed section of the Colorado River) — so you've got options of where to start and end. I like that the trail is in the middle of downtown, so it's easy to access and tie in with other activities in the area. I like that it takes you through forested areas, panoramas along the water's edge, and offers views of skyscrapers. The Ladybird Lake Boardwalk balances the feel of being in nature with the feel of being in Austin.
The best way to hike this trail
I recommend starting the trail at International Shores Park, dropping by Peace Point and heading west, ending at the Statesman Bat Observation Center 2.2 miles later. If you time it right, you'll walk into the sunset along the boardwalk and end at the Bat Observatory right as the bats emerge from under Ann Richards Congress Avenue bridge. Home to the world's largest urban bat colony, 750,000 to 1.5 million Mexican free-tailed bats fly out each dusk in the summer.
What I love the most about this hike is that it hits so many Austin attractions, but still feels like a way to get exercise and experience some peaceful nature. It takes you away from the cars and traffic stops and (best yet) is completely free. If you're strapped for cash or just need to stretch your legs, I recommend taking a boardwalk stroll and visiting the bats. It's a quintessential Austin experience.