Annapolis Rock/Black Rock Cliffs
If you've ever seen photos of an overlook on the Maryland section of the Appalachian Trail, they were probably taken at Annapolis Rock. I can't stay away from Annapolis Rock and Black Rock Cliffs — just one mile apart on the Appalachian Trail — due to striking views of rural Maryland. My go-to route for access to both of these views is hiking the Thurston Griggs Trail to the AT. We then head southbound, first to Black Rock and then to Annapolis Rock. The Thurston Griggs Trail is a moderate, rocky climb any time of year, but it can be especially tricky in the fall when fallen leaves can betray your footing. You'll also find several small water crossings along the way. If you enjoy peace and solitude on the trail like I do, this is definitely the route to take. For me, the soothing sound of trickling water and wildlife are icing on the cake.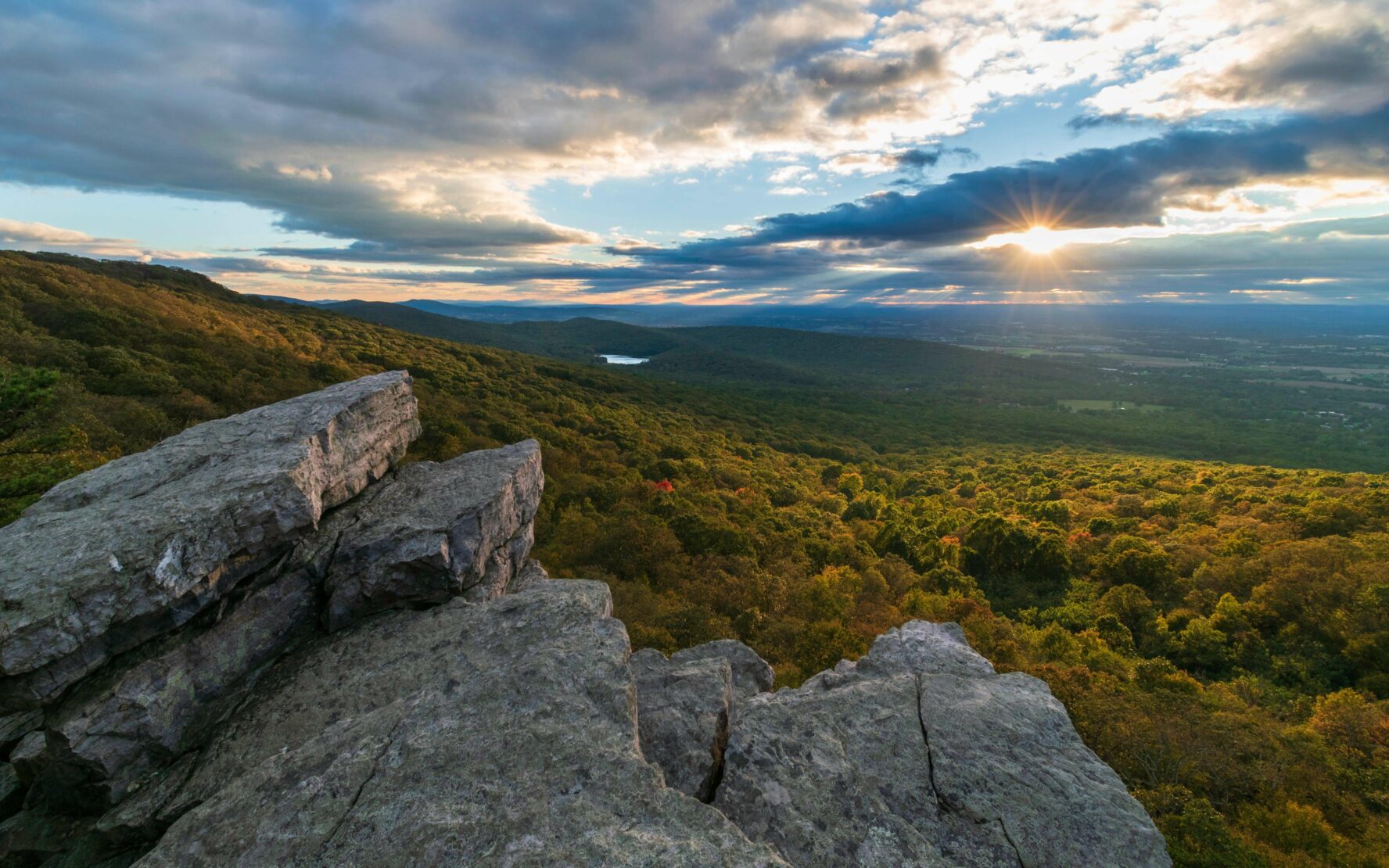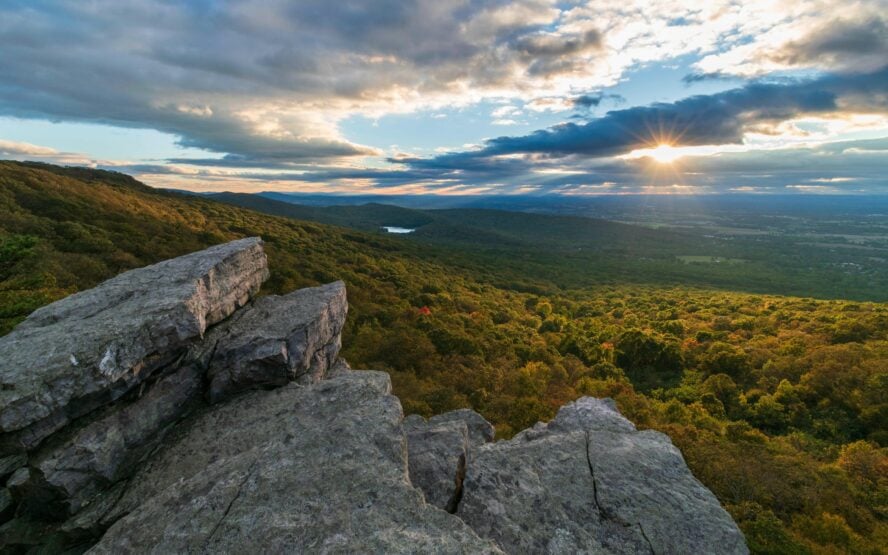 Annapolis Rock is a popular section of the Appalachian Trail
I recommend starting early or hiking to Annapolis Rock on a weekday because there are only a few parking spots at the Thurston Griggs trailhead, tucked away at the end of a residential street. The vast majority of hikers heading to Annapolis Rock start at the parking lot off of Maryland Route 40, just east of the entrance to Greenbrier State Park. Despite the large lot size, it fills at peak times, especially on Saturdays and whenever the weather is good. I find this also translates to a very busy section of trail on the AT, excluding cold and bad weather days.
Starting at Route 40 for the Annapolis Rock hike
My recommendation is to hike from Route 40 to Annapolis Rock, which is moderate and gradual with a few steep sections. You'll pass a low lying section that is frequently wet and muddy, depending on rainfall. Part of the trail often freezes and becomes a slick stretch of land during the winter months. Once you work your way up the mountain, the blue blaze side of the Annapolis Rock hike is well marked, whether you're hiking north or south on the AT. Once you turn onto the blue blaze trail, you'll pass through a small camping area before arriving at the top of the impressive rock formations, also popular with rock climbers. On a clear day, the southeast view from Annapolis Rock is beautiful, looking out over Greenbrier Lake.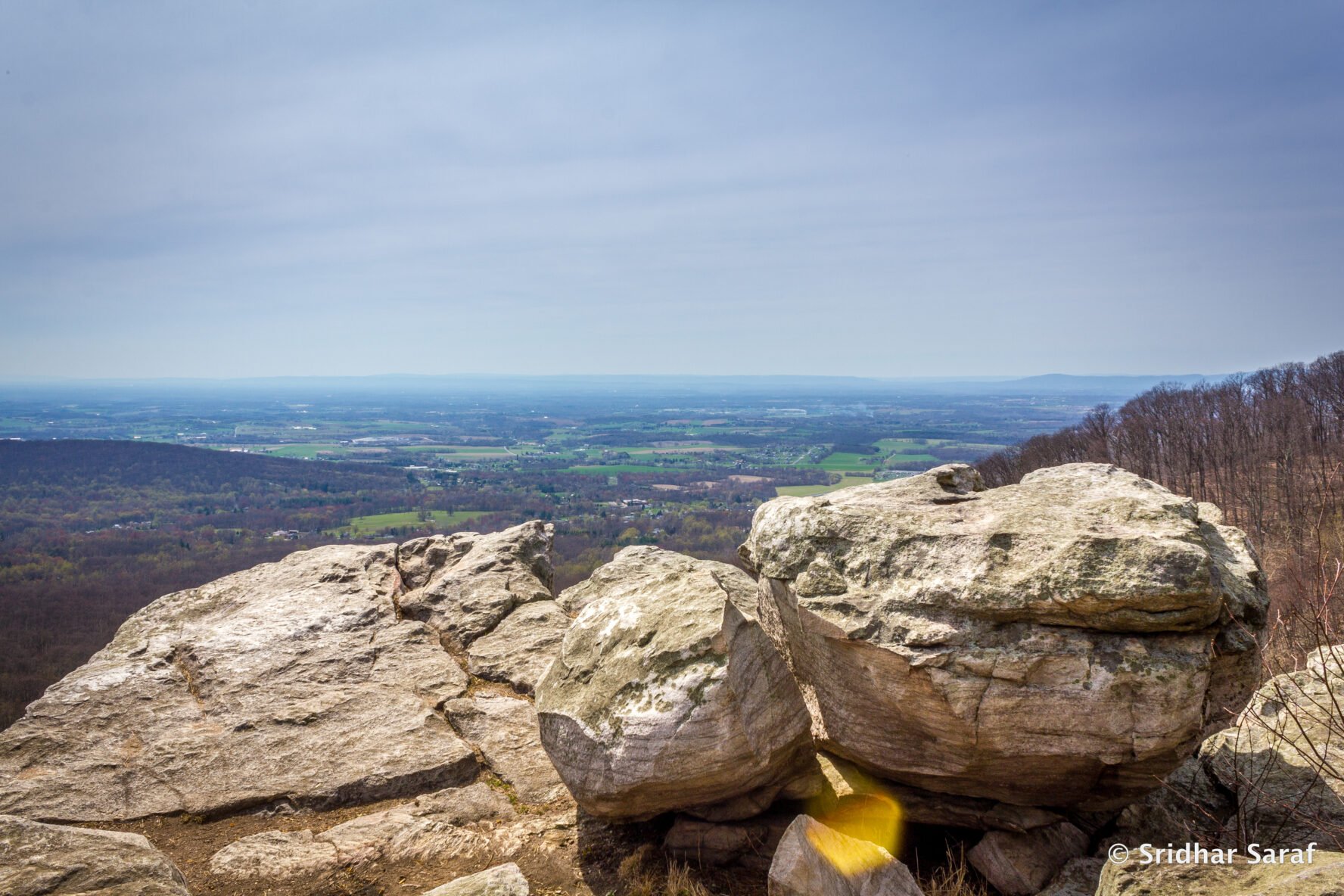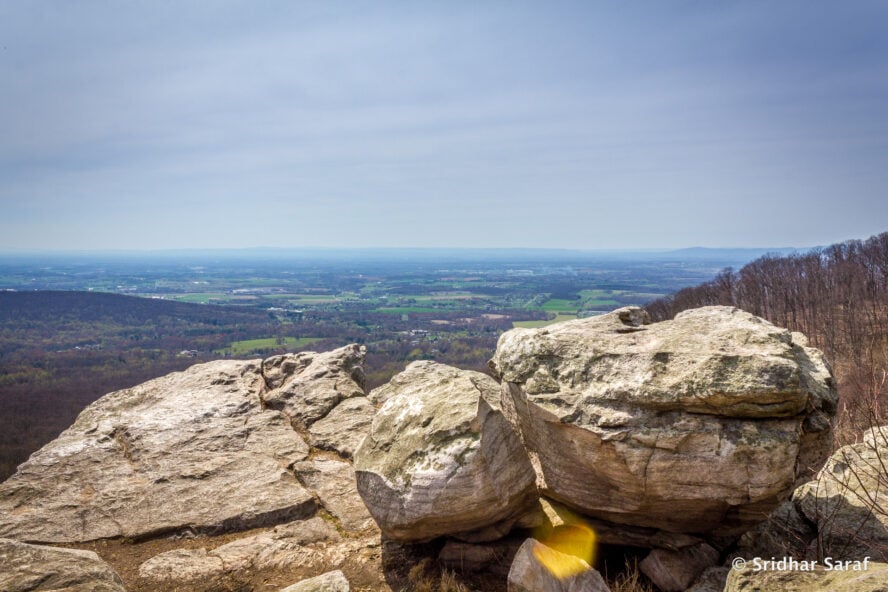 Black Rock is is a smaller but equally impressive viewpoint
Black Rock is located one mile north of Annapolis Rock on the Maryland Appalachian Trail. You might have a harder time finding the markers on this side trail to Annapolis Rock. You'll want to be aware of the distance you've traveled and be on the lookout for a wooden sign with blue lettering. You'll see a sign for hikers traveling both north and south, but they're on trees several feet above eye level. Black Rock isn't as large as Annapolis Rock but the view from there is equally as impressive with a 180-degree panoramic view looking west. From the highest rocks, you can still see Greenbrier Lake in the distance. Annapolis Rock is by far the busiest of the two overlooks when it comes to hiker traffic. I think of Black Rock as the perfect spot to stop, rest for a bit and enjoy your favorite trail snacks.
Things to know before hiking Annapolis Rock
A couple things you should consider: The Appalachian Trail is marked with white blazes and side trails with blue blazes. The side trails to Annapolis Rock, Black Rock Cliffs and the Thurston Griggs Trail are marked with blue lettering on wooden Signs. Signage for Black Rock, which are up on trees, can be difficult to see and easily missed, especially when trees are fully covered.