The Circle of Toubkal trek starts you off in Imlil and walking a circular route to finish where you started in Imlil. This route takes you through the Atlas Mountains for three days and two nights while ascending Mount Toubkal, the highest peak in North Africa. This route will feature views of the expansive Sahara Desert and plenty of sights along the trail. Before you return to your starting point, you'll journey through the beautiful Azzaden Valley, the Assif N'Ouzzaden (the River of Azzaden), the Tamsoult Waterfall, the Aguelzim Pass, the Plain of El Houaz, and of course, ascend Mount Toubkal.
This Atlas Mountains trek runs year-round, but from January to late April, will require the use of crampons. This hike is altered in the winter because major sections are covered in snow.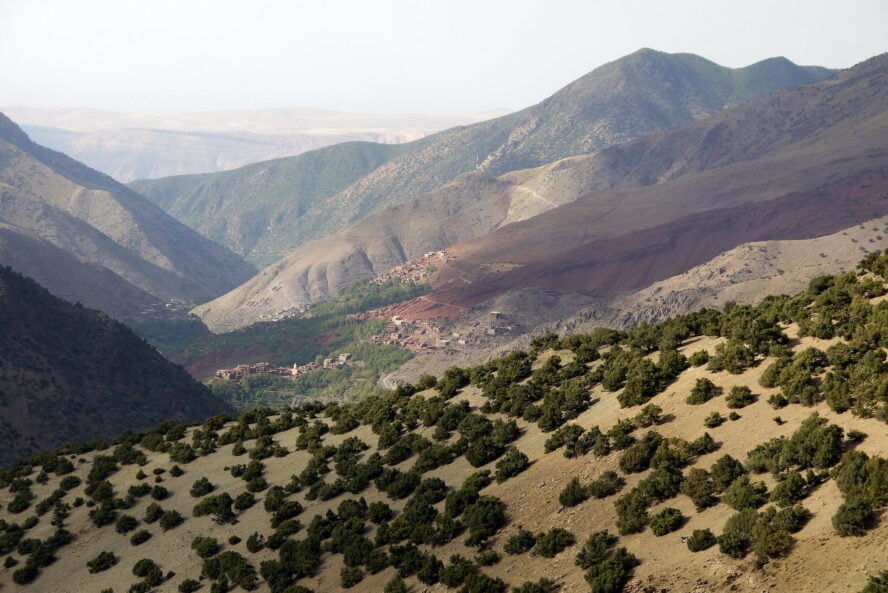 Day One: Travel from Imlil over the Tizi M'zzik pass
On the first day of this hike in the Atlas Mountains will take around six hours to complete. I will take you from Imlil to a challenging hike over the Tizi M'zzik pass at 8,038 feet (2450m) elevation. The pass gives an incredible view of the Jbel Oukaïmeden range. We'll also visit the beautiful Azib n'Tamsoult and Ighouliden waterfalls. We'll then head to the Lipeney refuge to stay the first night.
Day Two: Travel from Lipeney Regufe over the stunning Aguelzim Pass
The second day will be approximately five hours of hiking. Our day will consist of moving from the high-alpine Lipiney Refuge, sitting at 9842 feet (3000m), to the even higher Neltner Refuge at 10,521 feet (3207m). It will include walking up an 82-step zig-zag path and across the Aguelzim Pass reaching an impressive 11,679-feet elevation (3560m) to take in the views. This is certainly a highlight of the trip. We'll then get to Neltner Refuge, where you will stay the night.
Day Three: Summit the Atlas Mountains' highest peak at Mount Toubkal
Day three on this route may take you up to 12 hours to trek and complete. It will take you to the top of Mount Toubkal to the 13,665 feet (4,167m) elevation summit. Here, you'll gain views of the High Atlas range and the Sahara Desert — not bad to be at the highest point in North Africa. This long day will allow you to come full circle with Imlil as your final destination.