The newer Cherokee Fire Mountain Trail System is located in Native American Cherokee territory and sponsored by the
Eastern Band of Cherokee Indians
. All of the Fire Mountain trails are clustered on the side of the 4,000-foot mountain. Three main trails converge at the top of the mountain. Once at the top, pick any of the three for a thrilling descent down giant bermed turns and huge jumps. All the jumps are table tops, so rolling across the top is a fun option if you don't take flight.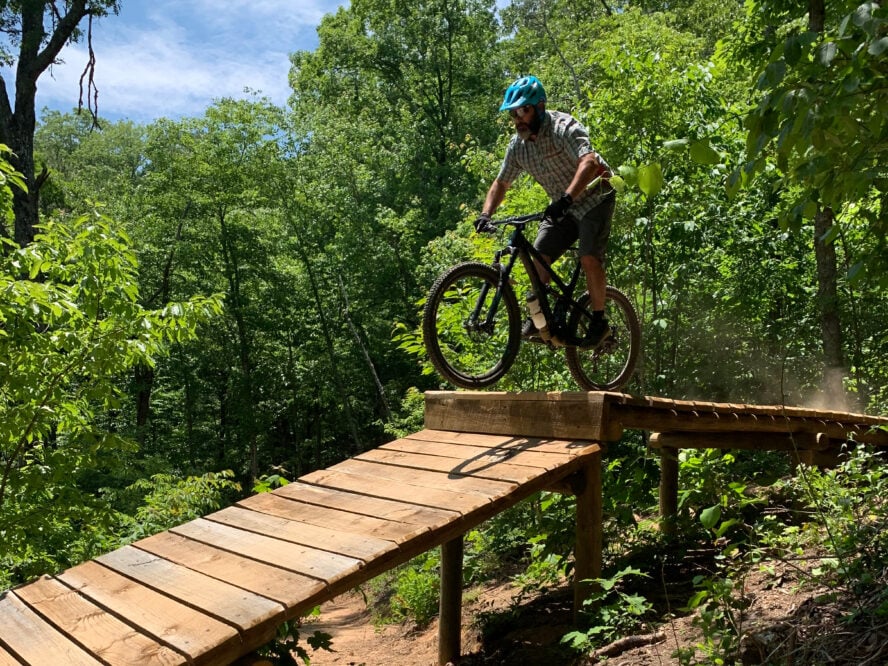 Fire Mountain's "Kessel Run" to "Skilly" is the longest downhill option
If you can only ride one trail on Fire Mountain, it should be the black-diamond
Kessel Run
. It's a one-way trail that finishes with an iconic North Carolina downhill from the very top of Fire Mountain. It's technical in the best possible way. You'll find berms and bumps that guarantee nothing but fun. You can plummet down as fast as you'd like, knowing you won't run into anyone. Link Kessel Run to the more advanced
Skilly
to tackle a series of wooden features with big kickers, drops, and wall-ride berms.
With bigger berms and jumps than DuPont, Fire Mountain is sure to please everyone. Unlike other downhills, this one is suitable for confident beginners and intermediate riders. Sure, the elevation change is tough, but the trail itself is fairly smooth and manageable.