4. Berg Lake Trail in Mount Robson Provincial Park
The Berg Lake Trail is one of the most popular hiking trails in the Rockies. If you've ever seen pictures of Mount Robson — Canada's highest mountain at 3,953 meters (12,972 feet) — you will understand just how captivating it is. Berg Lake Trail is an incredible hike overshadowed by the presence of this beautiful mountain. By overshadowed, I do not mean that you're in the dark the whole time, more that your eyes and energies are constantly drawn to the ridges, glaciers and summit of this mountain.
This is a beauty of a hike with a singular destination, Berg Lake, a stunning turquoise lake sitting below north facing glaciers. These glaciers are constantly caving off into the lake and these small icebergs float lazily around. Can you swim in Berg Lake? Yes! After the 20-kilometer hike in, Berg Lake is waiting for you the whole time, ready for you to plunge into its icy depths to replenish your energy.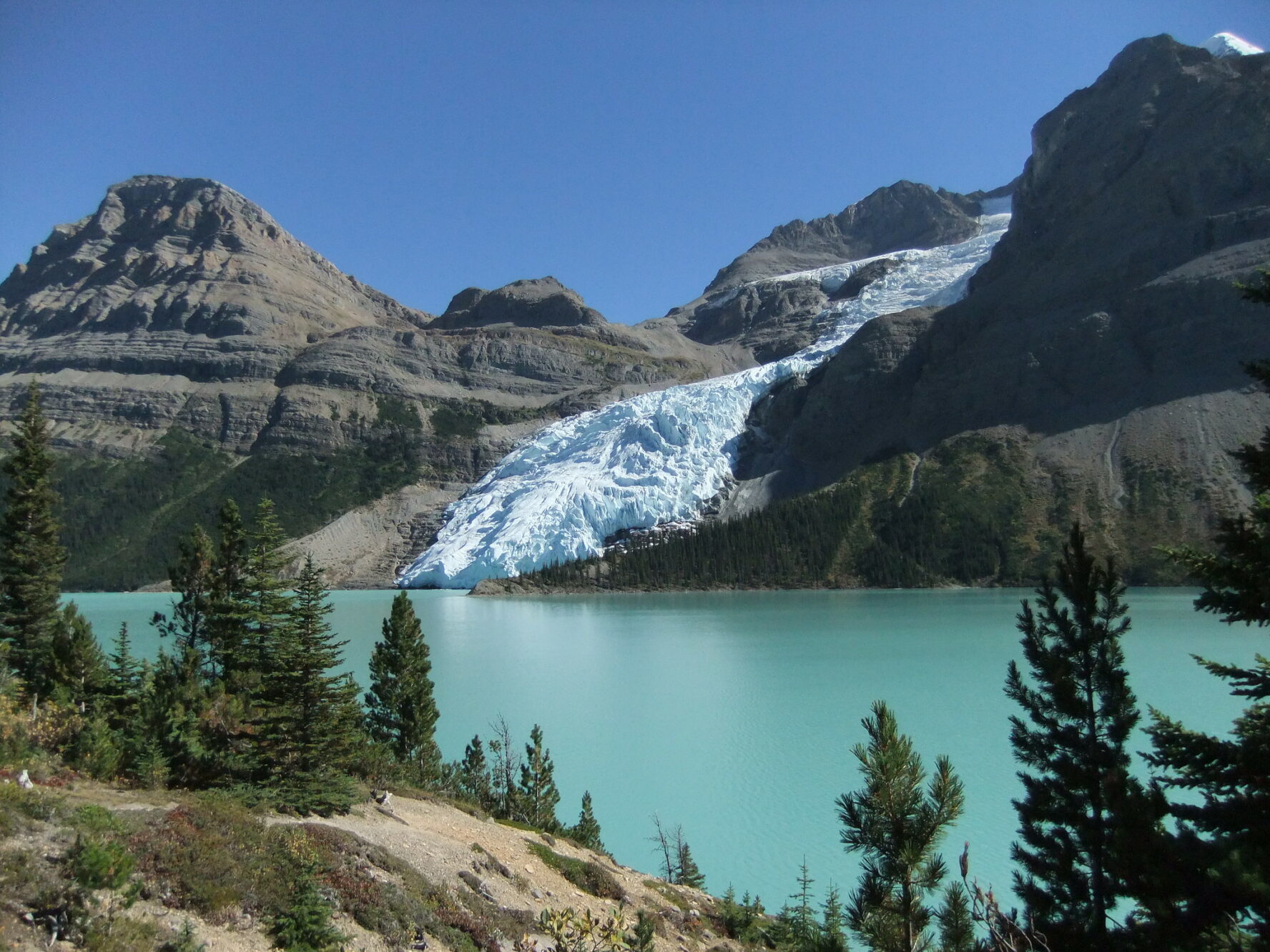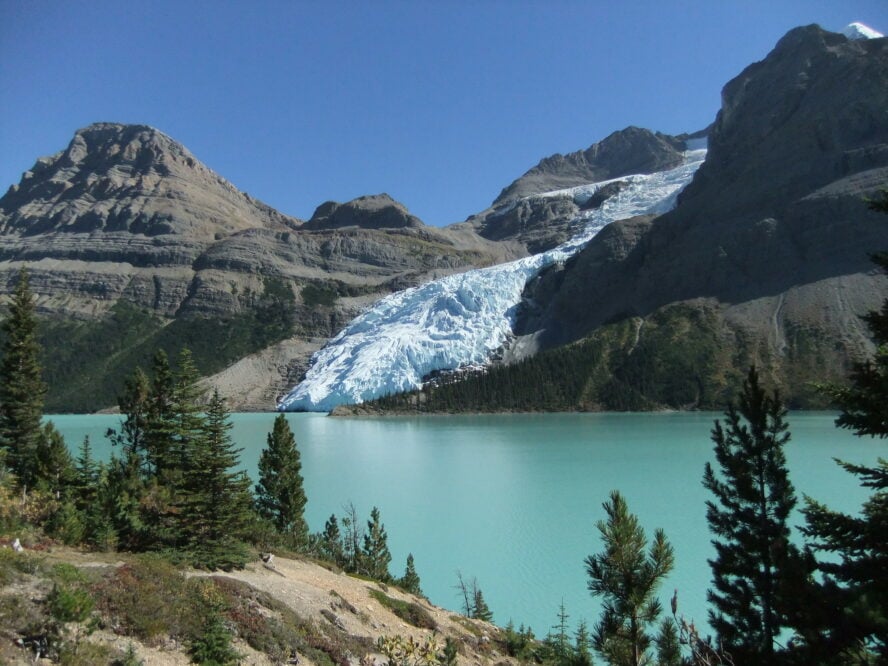 How long does it take to hike the Berg Lake Trail?
Drive 87 kilometers (54 miles) west of Jasper to reach the trailhead for this out-and-back hike. From there, it's 42 kilometers (26 miles) of hiking with 730 meters (2400 feet) of elevation gain through pristine Canadian wilderness. Depending on your goals, it takes people one to five days to complete this trail. This is a popular route, so prepare to see other hikers along the way, but since camping must be reserved, there is a cap to the number of people you'll encounter along the way.
None of the other hikes in the list are out-and-back hikes because I typically prefer loops. I love the idea of seeing new terrain the whole time, yet this one is well worth it. All the uphill vertical is done on the way in, making the way out much less daunting. Obviously, there are a couple of smaller hills but nothing soul crushing! Having Berg Lake as the destination gives the hike in a singular focus that makes the way in easier on the mind. And, the resplendence of Mount Robson will keep you enthralled the whole hike and truly makes this a special trail. If you have time, there are plenty of days hikes to do while camped at Berg Lake.
Biking the first section is an option
Another thing that might draw in some adventurers is that the first 7 kilometers to Kinney Lake can be biked. This can be a blessing, but maybe it's also a curse because how do you set your bike up to make it easy to bike with three to five days worth of camping supplies? But, if you do, you can e-bike it also, so perhaps a trailer towing behind an electric bike would facilitate the first and last 7 kilometers!I have always biked this first stretch, and the struggle was worth it knowing that there was a bike waiting for me on the way home.
Camping along Berg Lake Trail
There are seven places to camp along this trail. Each campground has a handful of tent pads, and each tent pad will hold a single tent up to 10' x 10' and 1 to 6 people (all ages) per pad.You must reserve your campsite in advance since there are no first come first served campsites. To book your campsites, head over to the BC Parks website for all the details you need.
The camping policies for BC Parks look a little different in 2021. BC residents have priority access to reservations for the entire summer, and these can be made starting March 8th and can be booked up to two months in advance on a rolling basis. For those coming from out of province, reservations start July 8 for the rest of the year but make sure that you check the website before planning any trip as policies may be updated.
Here is a list of the campsites and the distance to the trailhead:
As you can see from the site selection, you must plan your hiking trip well in advance. I would say that the Kinney Lake campsite is a must, and then it really depends on what you want. Emperor Falls is beautiful, yet there are only four sites so it's a little harder to reserve. However, it is a really nice respite part way up the biggest vertical of the entire hike.