2. Sunset Rock, Chattanooga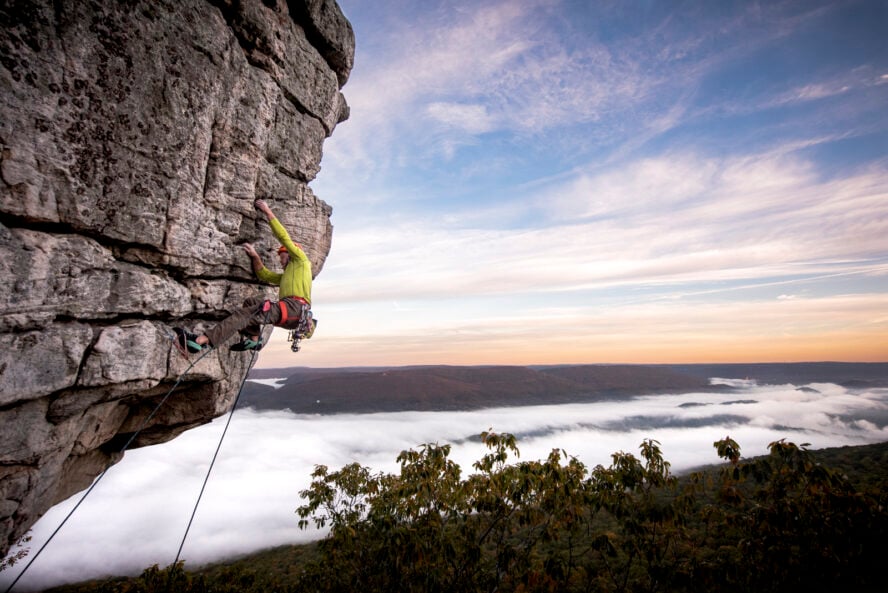 Just above the St. Elmo neighborhood, nestled on the side of Lookout Mountain, is Sunset Rock. Minutes from the popular tourist attractions, Rock City and Ruby Falls, it is convenient for climbing after work or getting a few pitches in before sightseeing around town—heck, the views from the crag itself are worth the trip.
Just remember, Sunset Rock climbing is trad only. Even though many of the routes are moderate and great for beginners, make sure you have someone in the group who is experienced with gear placement.
Enjoy the climbing history
Sunset Rock is the only place where you can climb on a Civil War battlefield, part of the Chickamauga National Military Park. It's also home to the first ever established gear lines in Chattanooga dating back to the 1940s. Many of the known classic routes were documented between the 1960s and 1980s by developers like Tim McMillan, Stan Wallace, Bill Smith, Rob Robinson, and Forrest Gardner. Such classics include Walk in the Park (5.8), Jefferson Airplane (5.10a), and The Prow (5.11d).
Rope up in the summer
Sunset Rock is the best crag for summer trad climbing due to the 2,000 feet in elevation (higher than most Chattanooga crags) and west-facing shady walls. When the heat is on and you're in doubt about other crags, run it out to Sunset.