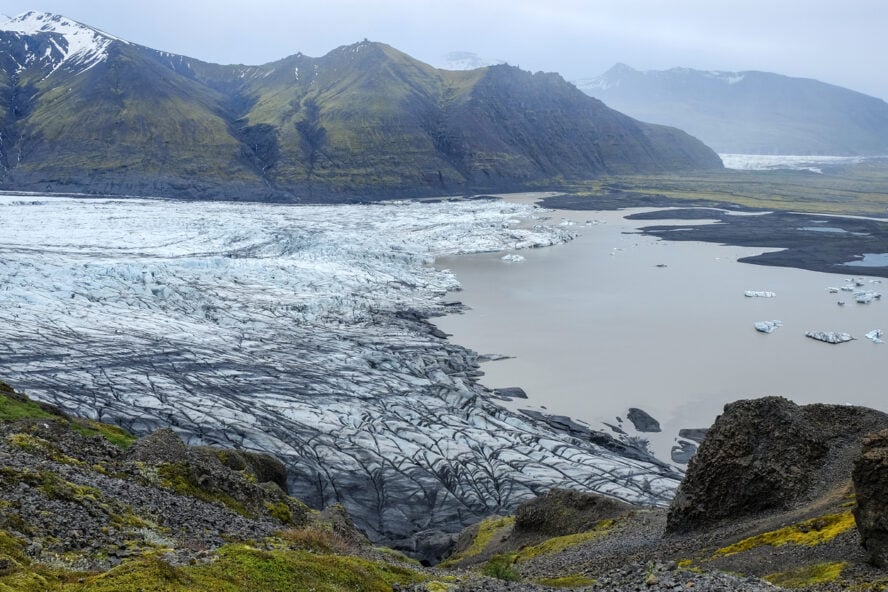 Hiking in Iceland is hardly imaginable without experiencing Vatnajökull—partly because it's hard to miss. Covering almost ten percent of Iceland's territory, it's the largest glacier in Europe and boasts some of the world's most beautiful glacial landscapes. In turn, the Vatnajökull National Park (around 15 percent of Iceland) encompasses the areas around Skaftafell (including the famous Jökulsárlón glacial lagoon) in the southwest and Jökulsárgljúfur in the north.
Now for some potentially disappointing news: hiking here is mostly confined to the areas
around
the glacier. If you want to go
on
the glacier, you need to be prepared for technical glacial travel aided by ice axes, crampons, and ropes. This is done only during summer and even then there are no guarantees that you will be able to experience Vatnajökull in all its frozen glory due to bad weather conditions.
But now for the good news: hiking around Vatnajökull is easily accessible and can take you to various outlet glaciers, ice caves, and waterfalls. For my money, it's one of the best places in Iceland for day hikes.
Where to hike in Vatnajökull National Park
Close to the Skaftafell Visitor Center, you can find one of the highest concentrations of hiking trails in Iceland. I recommend you go to the outlet glaciers Morsárjökull and Skaftafellsjökull, the Svartifoss waterfall, and the climb up the Kristínartindar mountain.
You can also take separate hikes to the famous Jökulsárlón glacial lagoon with its luminous blue floating icebergs, or the Diamond beach—one of the most photographed (and photogenic) places in Iceland. Even though visiting these locations is better described as sightseeing than hiking, they are well worth your time. Other options include going to one of the ice caves around Vatnajökull. Note that you can only go to them with a certified guide!
A different Vatnajökull for all seasons
I want to add that there is no best season for visiting the Vatnajökull National Park—it depends on what you want to experience. Ice caves, for example, are only formed during the winter. You can also expect different landscapes in different seasons—icebergs turn from white to blue during the winter, while waterfalls have a lot more discharge during the summer.