1. Rockwall Trail in Kootenay National Park
Rockwall Trail is a multi-day hike near Lake Louise that absolutely blew my mind. At 58 kilometers (36 miles), this hiking trail has 2743 meters (9000 feet) of elevation gain. It runs through three passes and follows a single, massive limestone cliff. It took awhile to access the alpine, but once we did it was an incredible experience. The Rockwall is so named because for a vast majority of the hike you are underneath a massively steep rockwall. Hours of your hike can be lost tracking the waterfalls as they cascade off this limestone cliff and crash down to the valley you are walking in.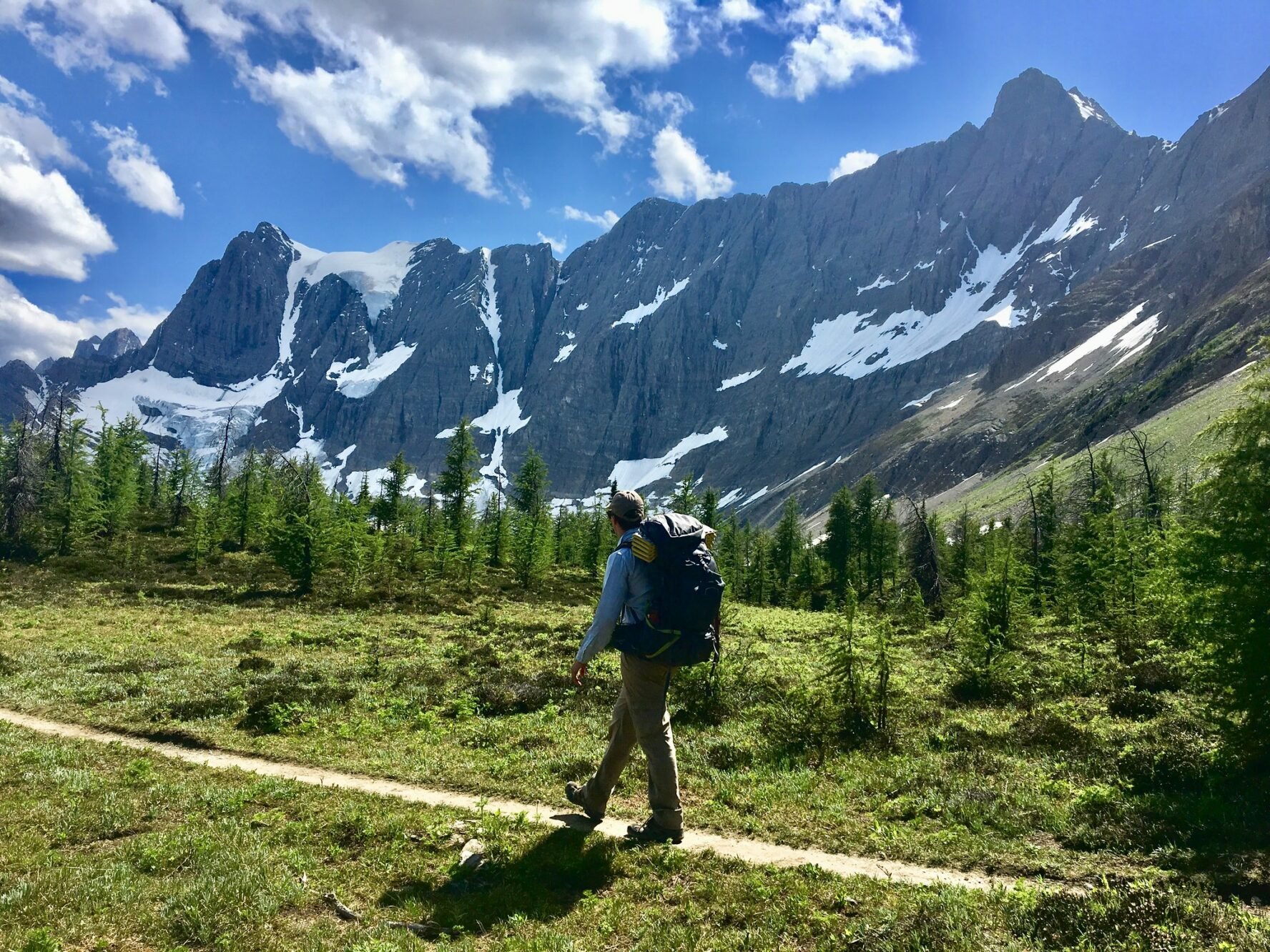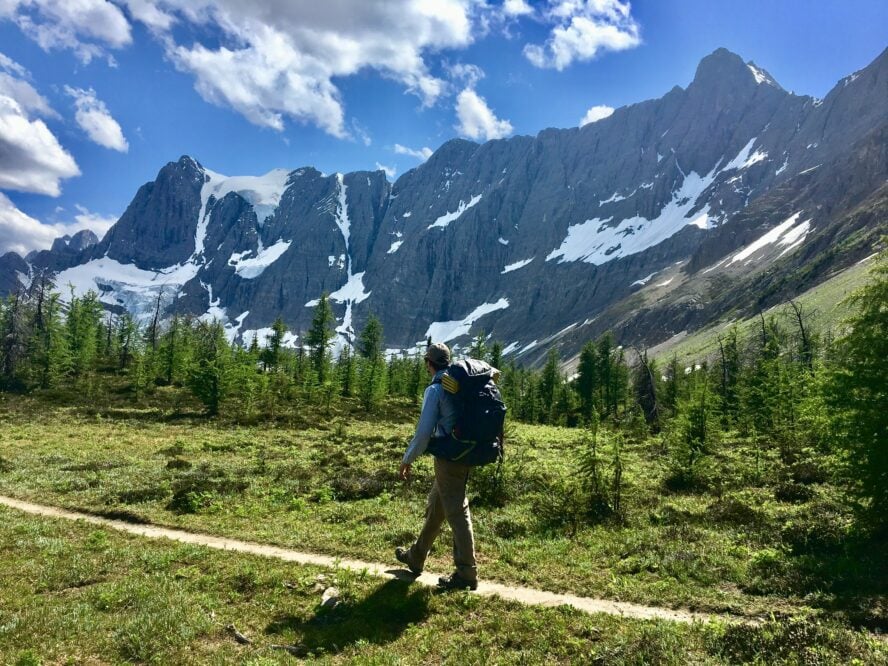 The Rockwall is unique in that its trailheads, the Floe Lake Trailhead and the Point Pots Trailhead, are 6.2 miles (10 km) apart so it's easy enough to sort out the car shuttle. Mentally, it's best to organize your car shuttle at the start of the trip so that you are heading towards your car, and not arriving late, sweaty and trying to hitchhike. Having a bike stashed can also work well. You can be friendly with other hikers and maybe they are doing it the reverse way and need to drop a car at the opposite end.
Which direction should you hike the Rockwall Trail?
It can be hiked in either direction, from Paint Pots Trailhead to Floe Lake Trailhead or the other way around. The real challenge is to figure out which direction you want to hike in. If you start at the Floe Trailhead, you will end up hiking on the solar side, which makes it hotter, drier and more challenging in my opinion. Yet, it seems like the majority of people do it from south to north so there must be some reasoning I am missing. For me, I like hiking north to south because the section is hiking deep into the mountains with little vertical and more distance. Since your bag is at its heaviest on the first day of hiking, it's nice to not have a huge gruelling ascent to start the trip off with. I also believe that the Floe Lake has the best campsite, which is best saved for last, leaving a nice descent on the way to your car
Although it is called the Rockwall Trail, it isn't just the Rockwall Trail; it's a combination of a few different trails. This helps if you only want to do some of this mega trip, since these offshoot trails give escape options. It is composed of the Ochre Creek Trail, Helmet Creek Trail, Rockwall Pass Trail, Wolverine Pass Trail, Tumbling Pass Trail, Numa Pass Trail, and Floe Lake Trail.
For reference, here are the distances between trailheads and campgrounds on this hike: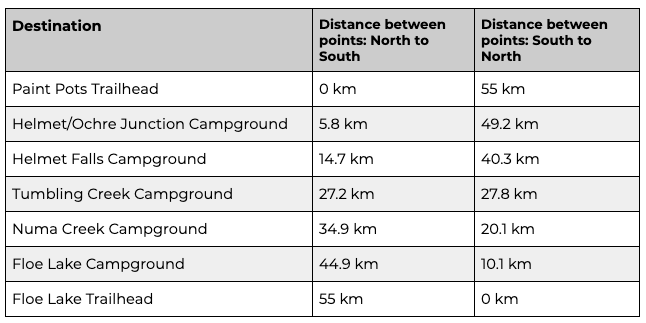 The majority of people do this hike in three nights and four days, but this really depends on your objective. Don't forget that vertical really adds to the challenge and this one packs it in. When planning, I usually set a benchmark of about 3km/hour and also 300 meters of elevation gain per hour.
Camping in Kootenay National Park
Kootenay National Park campgrounds are open from mid-May to early October. All campsites along this trail have access to bear lockers, non drinking water, outhouses, tent pads and cooking areas. Reservations are mandatory, andLike most campsites in the Rockies, reservations are pretty sought after so I recommend booking as early as possible, especially if you plan to hike during peak season. You can find more information on campground reservations here.
This hiking trail is by far the largest undertaking in this list and one that should not be taken lightly. There is an exit at Numa Creek that would allow you to sneak out if you realize that you have bitten off more than you can… hike?