1. Redwoods (Whakarewarewa Forest)
Much has been said about the iconic Rotorua mountain bike trails that lace through the prehistoric redwoods of the Whakarewarewa Forest — but there's also plenty to see, explore and ride. Easily one of the best MTB trips in New Zealand, it's also one of the oldest mountain bike networks in the country. You'll find well-sculpted trails, impeccable riding terrain, and varying topography over miles and miles (160km to be exact) of pure adventure. The expansive MTB system is divided into several riding areas. You'll find flat trails flanked by looming giants overhead, extreme downhill in the Tawa to Moerangi Network, and exciting singletracks spreading across volcanic terrain.
It's hardly a surprise Redwoods was awarded Gold-Level Ride Center status by IMBA. The mountain bike Rotorua trail map will give you a better sense of how much time you should carve out for this destination alone.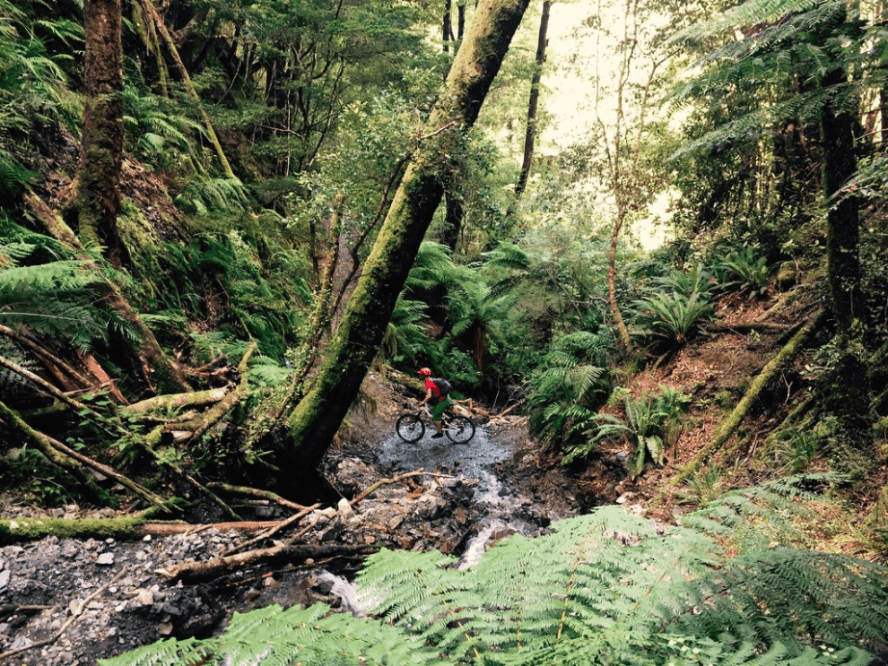 Mountain biking near Rotorua will satisfy a range of appetites
Thrilling New Zealand bike trails are 20 minutes away from central Rotorua, perfect for day trips or coming back over multiple days for more. Riders of all skill levels and appetites are welcome. Are you here with your little ones or just looking for the perfect mix of sightseeing and getting your blood going? Opt for forest's more gentle slopes, brimming with intact native flora. Be sure to save a decent chunk of time from your itinerary just for taking in the sights and getting to know the history of the Whakarewarewa Forest, a significant area in the Maori culture.
If you're looking for an adrenaline fix, Redwoods has plenty of hardcore trails. Make your way to the National Downhill race tracks. Don't let its simplicity fool you. The amount of expertise you'll need to take on this high speed trail is insane, as well as the amount of airtime! Once you get used to the hellish smell of sulphur in the air, Redwoods is a MTB heaven on earth.