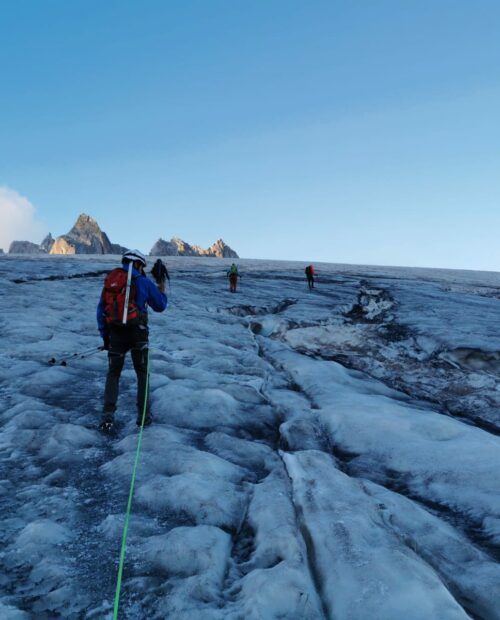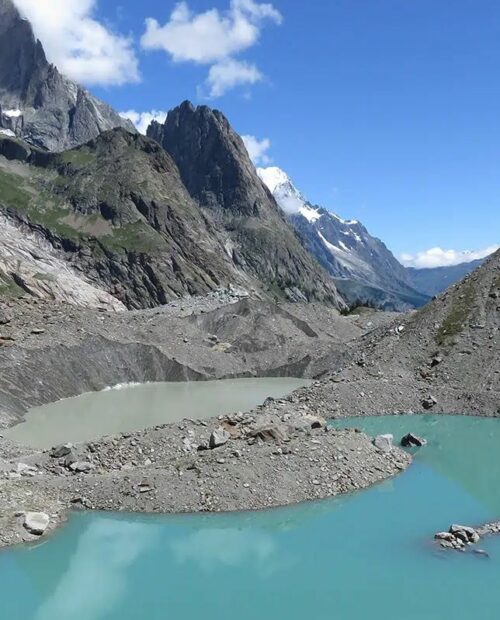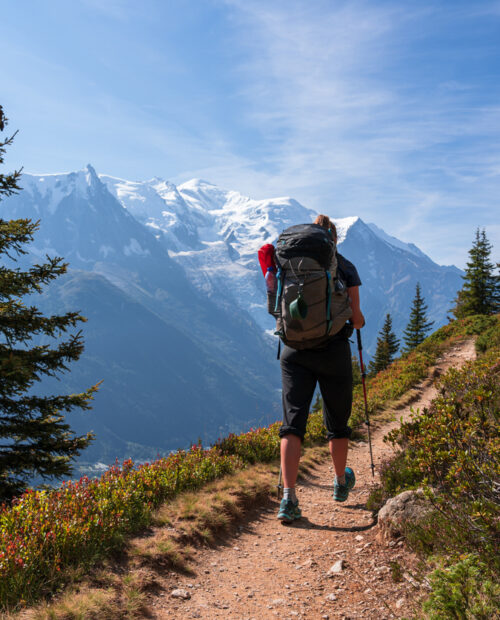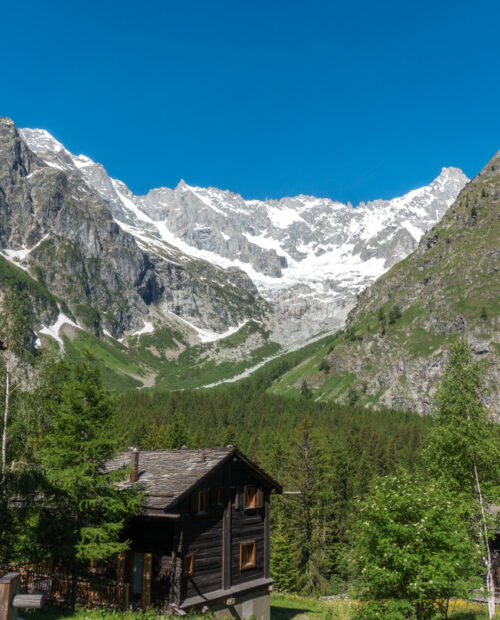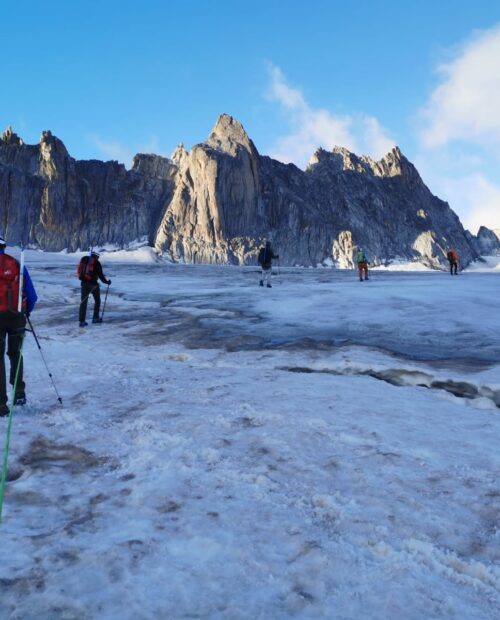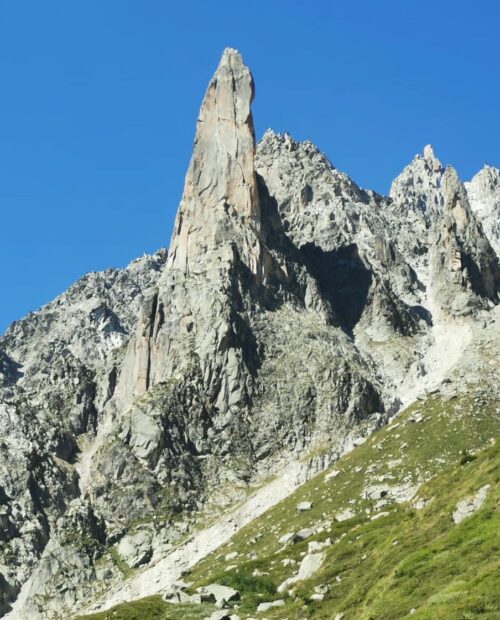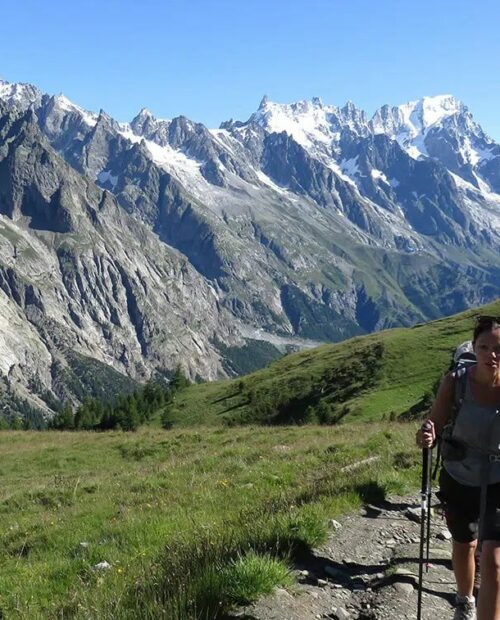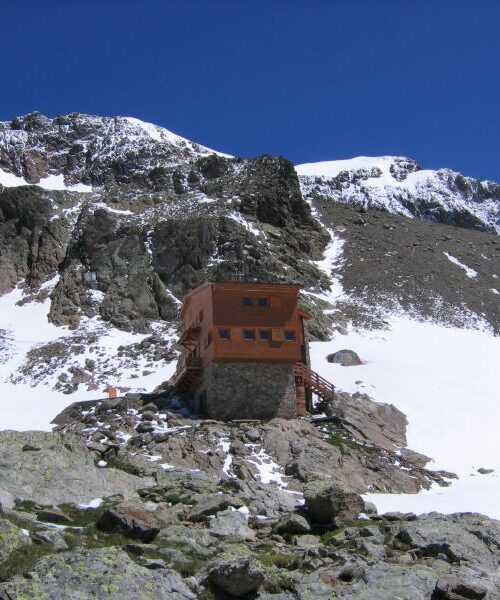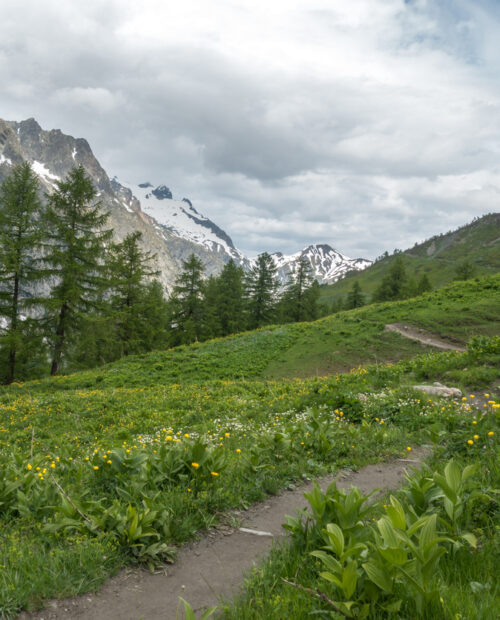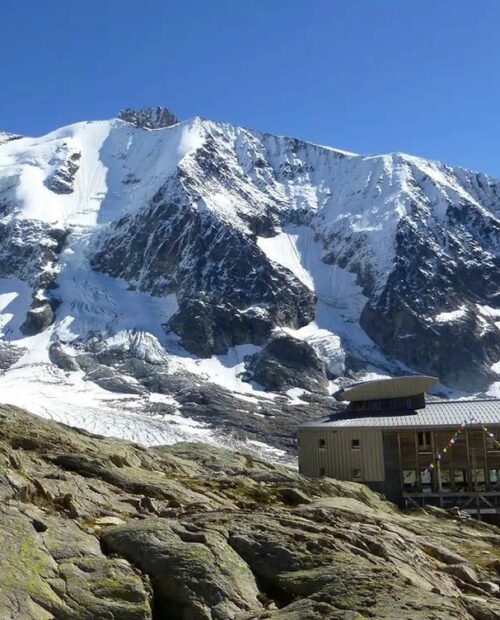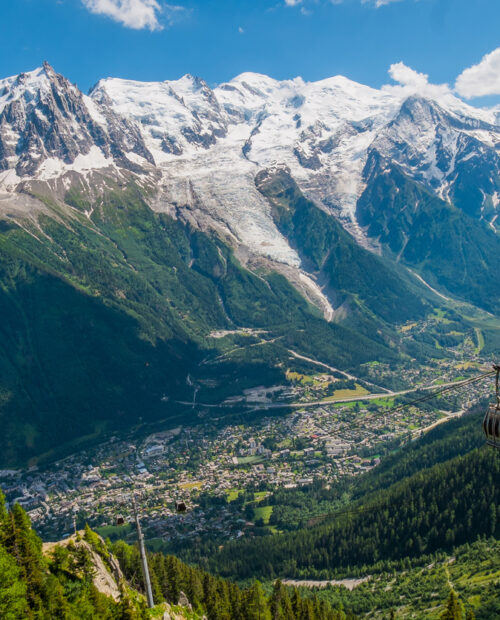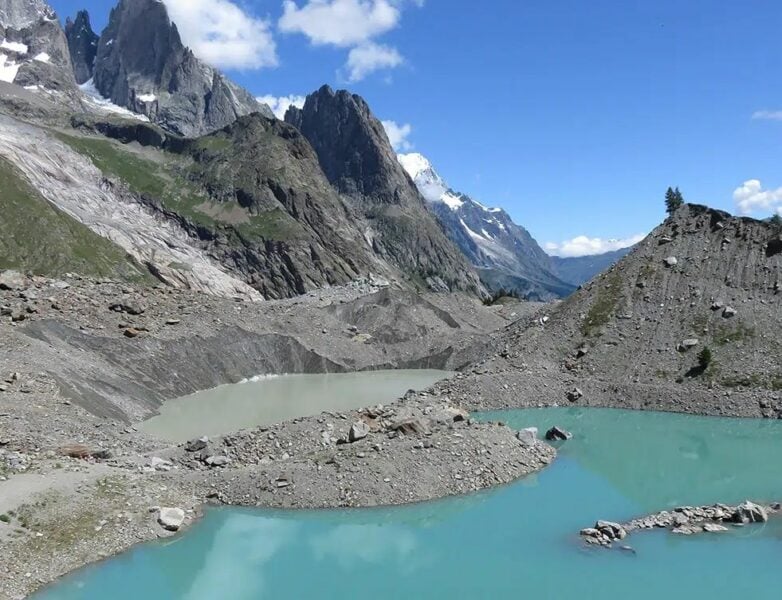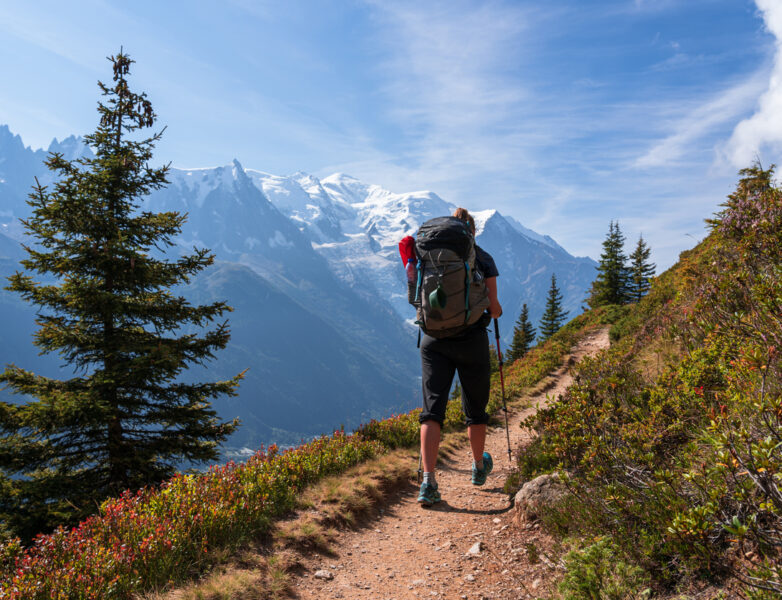 Haute Route Tour du Mont Blanc Trek
The high-level traverse of Tour du Mont Blanc is a more rugged, less-traveled, and shorter variation of the classic TMB. Offering the advantages of zero crowds and higher elevations, this 7-day 60-mile journey also boasts glacier crossings, pumping up the sense of accomplishment for experienced hikers. Imagine yourself climbing up a 9,450' mountain pass, descending into a hamlet-dotted valley, crossing a glacier—and finishing the day in a premier mountain hut perched right below snow-capped peaks! Traversing through France, Italy, and Switzerland, treat yourself to a feast for the senses with crisp mountain air infused with the vibrant scent of wildflowers and whiffs of authentic local dishes—all paired with quintessential Alpine vistas.
The trek features less-trodden and higher paths than the classic TMB

Stay in remote scenic mountain huts perched at +9,000' altitudes

Experience the thrill of navigating icy terrain while crossing some of the most awe-inspiring glaciers in the Alps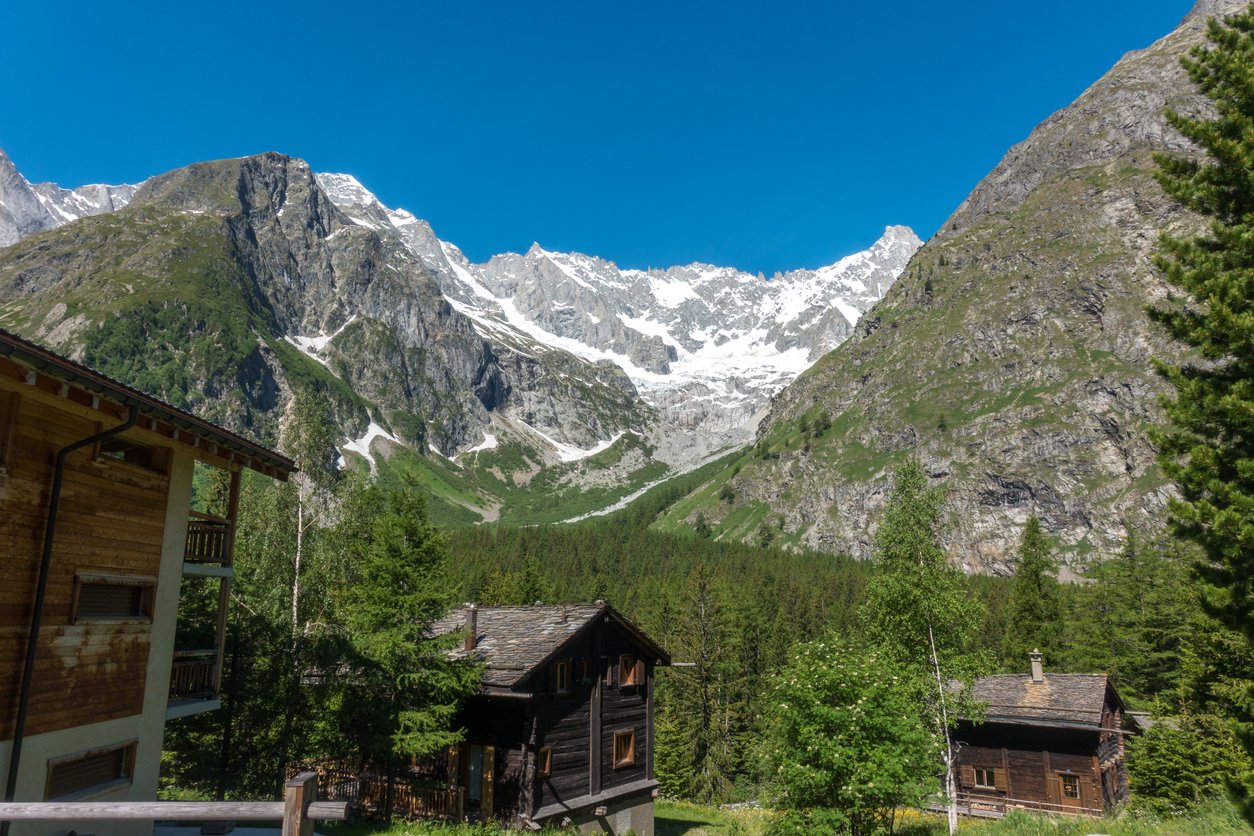 Itinerary
Spend 7 days hiking along mountain paths, crossing high passes, and descending into picturesque valleys on a section of the Tour du Mont Blanc from Les Combines to Le Tour. Moving away from the well-trodden paths, you'll walk at higher elevations and cross several glaciers. Another highlight are premier mountain huts you'll stay at each night, making for a more authentic mountain experience. You're in for an all-inclusive hiking trip—you just have to show up! So lace up your boots and experience the Alps in a more challenging and unique way.
Meet your guide and fellow hikers at 9am in the car park for the Le Cugnon cable car in Les Contamines. Start hiking along a small path through the forest will take you to the traditional Tré la Tête refuge. Depending on the conditions, you will then either take the high-level traverse or cross the glacier to reach the Les Conscrits refuge at the end of the day. Enjoy a delicious meal at the refuge and meet your trekking squad in a more laid back atmosphere.
Meals: Lunch and dinner
Accommodation: Les Conscrits refuge
Hiking: 6 hours
Elevation: 1,350 m (4,430 ft) descent

Start your day with a hearty breakfast. Your trekking today starts with crossing a glacier, followed by a scenic climb up to the Col du Tondu (2,880 m / 9,450 ft). The descent is a little more technical, albeit still enjoyable, with a few cables. Afterward, your group will head toward the Robert Blanc refuge, perched at 2,750 meters (9,020 ft) in the Vallée des Glaciers.
Meals: Breakfast, lunch, and dinner
Accommodation: Robert Blanc refuge
Hiking: 6 hours
Elevation: 650 m (2,130 ft) ascent / 350 m (1,150 ft) descent

Start your hiking by following a beautiful high-level route leading you all the way to the Col de la Seigne (2,516 m / 8,255 ft) and a section along the classic TMB route. Descend to Lac Combal and its distinct milky-blue waters before taking the traverse path to the refuge where you'll stay for the night. Rising up proudly in front, you can see the back of Mont Blanc, famous for its mountaineering history. Take in the views before dinner.
Meals: Breakfast, lunch, and dinner
Accommodation: Mountain refuge
Hiking: 6 hours
Elevation: 850 m (2,790 ft) ascent / 1,000 m (3,280 ft) descent

The fourth day of the walk starts with a descent into Courmayeur, a charming Italian town famous for quaint stone architecture and its scenic location. Pass through the historic center of the town, eat a gelato and then climb back up to Val Sapin and the Bertone refuge. Finish your hiking for the day with a beautiful panoramic traverse to the Bonatti refuge, one of the most famous mountain huts in the Alps named after the famous Italian mountaineer.
Meals: Breakfast, lunch, and dinner
Accommodation: Bonatti refuge
Hiking: 6 hours
Elevation: 1,100 m (3,600 ft) ascent / 1,000 m (3,280 ft) descent

Ahead of you on today's trail stands Mont Dolent, a famous peak on the border between France, Switzerland, and Italy. Reach Grand Col Ferret (2,537 m / 8,320 ft) and enter Switzerland. This stage ends with a pleasant descent to the mountain pastures of La Peule and the village of La Fouly, nestled in the heart of the Valais canton. Today you'll stay in an inn in the village with typical Swiss mountain architecture.
Meals: Breakfast, lunch, and dinner
Accommodation: Inn in La Fouly
Hiking: 6 hours
Elevation: 1,000 m (3,280 ft) ascent / 1,300 m (4,265 ft) descent

After a short transfer to Praz de Fort, you will embark upon a beautiful climb to the Cabane d'Orny, situated at an elevation of 2,800 m (9,185 ft). Enjoy the high-mountain atmosphere of this small mountain refuge nestled at the foot of the glaciers! Celebrate your achievements with your guide and fellow trekkers over dinner—your adventure ends tomorrow.
Meals: Breakfast, lunch, and dinner
Accommodation: Cabane d'Orny
Hiking: 6 hours
Elevation: 1,600 m (5,250 ft) ascent / 300 m (985 ft) descent

The high glaciers await your last day. There will be time to enjoy views of many lofty peaks surrounding you during your approach to the Le Tour glacier. Afterward,it's time for the final descent above the Chamonix Valley that will take you to the village of Le Tour, the final stage of your trek. End of the Tour du Mont Blanc in the village around 3pm. Say goodbye to your guide, fellow hikers and to the Alps—or continue touring on your own.
Meals: Breakfast and lunch
Hiking: 7 hours
Elevation: 500 m (1,640 ft) ascent / 1,000 m (3,280 ft) descent
Get free trip brochure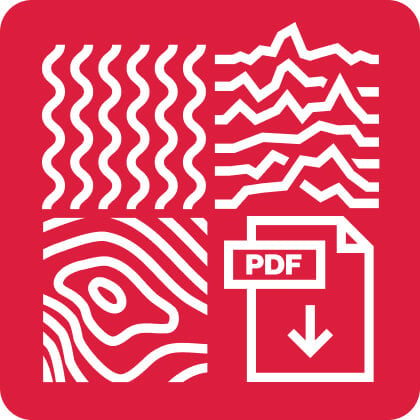 The brochure contains:
Adventure and location overview, itinerary, available dates, what's included, how to prepare, and much more.
Brochure sent, check your inbox
Talk with us
and let one of our adventure experts help you plan your perfect adventure.
Pierrick grew up in the Mont Blanc region and he is the founder of Watse Trekking. As a true mountain lover, he has transformed his passion into a profession, and happiness always remains the main priority. Pierrick will take you off-the-beaten path on routes that he has designed and mapped himself. His main focus is on sharing his experience and passion with other travelers, providing them with a sense of complete trust while they're exploring new places, cultures, and communities.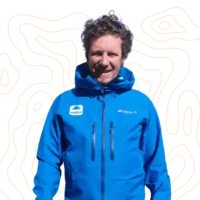 Sébastien chose the Alps as his home 20 years ago, becoming the TMB specialist in the meantime—in 2020, he finished his 80th Tour du Mont Blanc! He loves to share these beautiful mountains with walkers of all levels, passing on his passion and his knowledge along the way.
Born and bred in the mountains, Mathieu is always looking to try out and share his next adventure. This expert in tailored treks is waiting for you to join him around the highest summit in Europe!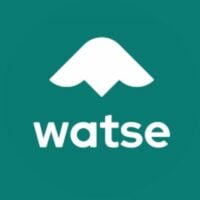 Watse Trekking has been leading their guests across tailor-made routes all over the world since 2014. Their mission is a simple one: to take their travelers beyond the postcards, closer to reality, to achieve the most transformative experience possible. Watse Trekking runs tours all over the Alps and beyond—qualified mountain leaders will take you to the Andes, summits of Nepal, and more! Their objective is to push their guests in a safe, comfortable environment, and let them gain the satisfaction of achieving their goals.
Things to know
What you get on this adventure:

An experienced, local hiking guide with extensive knowledge of the area
A high-mountain guide accompanying you during glacier crossings
Accommodation in mountain refuges (dormitories and rooms)
7 days of hiking along more challenging sections of the Tour du Mont Blanc
Half board in mountain refuges, packed lunches, and snacks
Luggage transfers for 2 nights
Technical equipment for the glacier crossings

What's not included:

Transportation to the starting point and transportation from Le Tour back to Les Contamines
Airport transfers — we recommend Mountain Drop-Offs
Any personal expenses (such as drinks)
Any private transfers and cable car tickets that are not part of the program
Travel and mountain rescue insurance — highly recommended
Guide gratuities — optional

To participate in this high-level Tour du Mont Blanc guided adventure, you need to be in excellent physical shape. You'll be trekking 7 days in a row for up to 8 hours each day—with an elevation gain of up to 5,250 ft (1,600 m). There will be a couple of glacier crossings on this tour as well (a different high-mountain guide will accompany you during those). You should have strong experience of hiking in hilly and mountainous terrain and a good stamina. We suggest you adopt a training regiment in the weeks leading up to the trip, with long daily hikes in hilly terrain, as well as activities like jogging, swimming, playing squash, or circuit training. In short, you should practice by doing various endurance activities multiple times a week. However, you won't be expected to walk at a fast pace, you will be taking multiple breaks each day.

If you are an intermediate hiker, you can check out the classic Tour du Mont Blanc Trek.  If you are looking for a hiking adventure in the Alps suitable for beginners, check out the Mont Blanc hiking tour from Chamonix and the hiking adventure in the Julian Alps.

Here's a list of the equipment you need to bring:

Backpack (around a 30-40L bag)
Trekking poles — optional
Water bottle or hydration bladder (2L capacity)
Crampon compatible hiking boots with good ankle support
Lightweight fleece gloves and warm and waterproof gloves
2 short-sleeve T-shirts and 2 long-sleeve T-shirts
Fleece jacket (or softshell), waterproof and windproof jacket, down jacket
Fleece tights (or similar), hiking pants convertible into shorts, lightweight protective pants
Gaiters
Spare clothes for layering
Sunhat, beanie or headband, buff or scarf
Toiletries (sunscreen, hand sanitizer, bug spray, toilet paper, toothpaste, toothbrush etc.)
Headlamp or flashlight
Sheet sleeping bag
Travel towel
Sunglasses
Survival blanket, silk sheet, multipurpose knife
Camera — optional (but recommended)

Keep in mind that the weather will most likely be warm and fairly stable, so there is a high chance that you'll be able to hike in shorts and T-shirts and only occasionally put on other layers. However, there is always a possibility of unseasonal weather conditions with heavy rain, low temperatures and even snow. In short, being well-prepared is a prerequisite for a safe hiking experience during the high-level TMB trekking trip. You'll be able to discuss the packing list with your guide before the adventure.

Group sizes and prices:

For this group adventure, the usual client-to-guide ratio is 10:1.
It takes a minimum of 2 people for this tour to operate.
The cost does not decrease as the group grows.

Hiking the high-level version of the Tour du Mont Blanc can be arranged for larger and for private groups. Contact us to make arrangements.

Min. age requirements:

If you are older than 18, you're good to go.
Minors younger than 18 may be permitted to join the hike on a case-by-case basis, but must be in the presence of a parent or legal guardian.

If your group has hikers under the age of 18, contact us prior to booking to make arrangements.

A 30% deposit to secure your place is due upon booking. The remaining amount is paid 1 month (30 days) prior to departure. Once the trip is confirmed by the guide, the cancellation policy stated below applies.

If Client cancels the Booking anytime prior to sixty (60) calendar days in advance of the trip contemplated by the booking, Client is entitled to a full refund minus the 5% of the total trip amount with a minimum of €50 per person.
If Client cancels the Booking…

From thirty-one (31) to sixty (60) days, Client is entitled to a refund in the amount of eighty-five percent (85%)
From twenty-one (21) to sixty (30) days, Client is entitled to a refund in the amount of sixty-five percent (65%)
From sixteen (16) to twenty (20) days, Client is entitled to a refund in the amount of fifty percent (50%)
From seven (7) to fifteen (15) days, Client is entitled to a refund in the amount of twenty-five percent (25%)
After that deadline, Client is not entitled to any refund. Any reimbursable expenses arising out of the Booking incurred by Guide prior to the date of cancellation (including but not limited to plane tickets, car rental payments, and lodging or transportation fees) are non-refundable as soon as they are incurred by the Guide.

To get to Les Combines, most people fly into Geneva International Airport (GVA). Once you arrive, there are several ways to reach your destination, including public transport. Looking to make the airport transfer hassle-free? Check out Mountain Drop-Offs—they provide door-to-door service in their comfy and spacious shuttles.

You will meet your guide at 9am in the car park for the Le Cugnon cable car in Les Contamines. We suggest you arrive in the village the day before and stay in one of its hotels or chalets.

57hours is committed to providing safe outdoor adventure experiences. We require all guides using our platform to have a COVID-19 safety plan and to make the details of that plan accessible to travelers. In most cases, group sizes will be reduced, guides will avoid overcrowded locations, and other safety measures will be met depending on the location and activity.

We also expect clients to respect local regulations and take measures to protect themselves, guides and the communities they're traveling to. For more information on COVID-19 measures in the Mont Blanc areas in France, Switzerland, and Italy please refer to France Diplomacy's advice for travelers and foreign nationals, Switzerland's official COVID-19 travel guidelines, and Official Italian Tourism Website.

Please contact us if you have any questions or require further information. We are happy to provide you with the most up-to-date information!
Get free trip brochure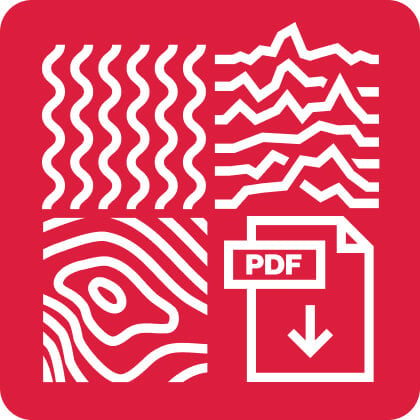 Adventure and location overview, itinerary, available dates, what's included and much more.
Brochure sent, check your inbox
Talk with us
and let one of our adventure experts help you plan your perfect adventure.
Other things to do in Mont Blanc