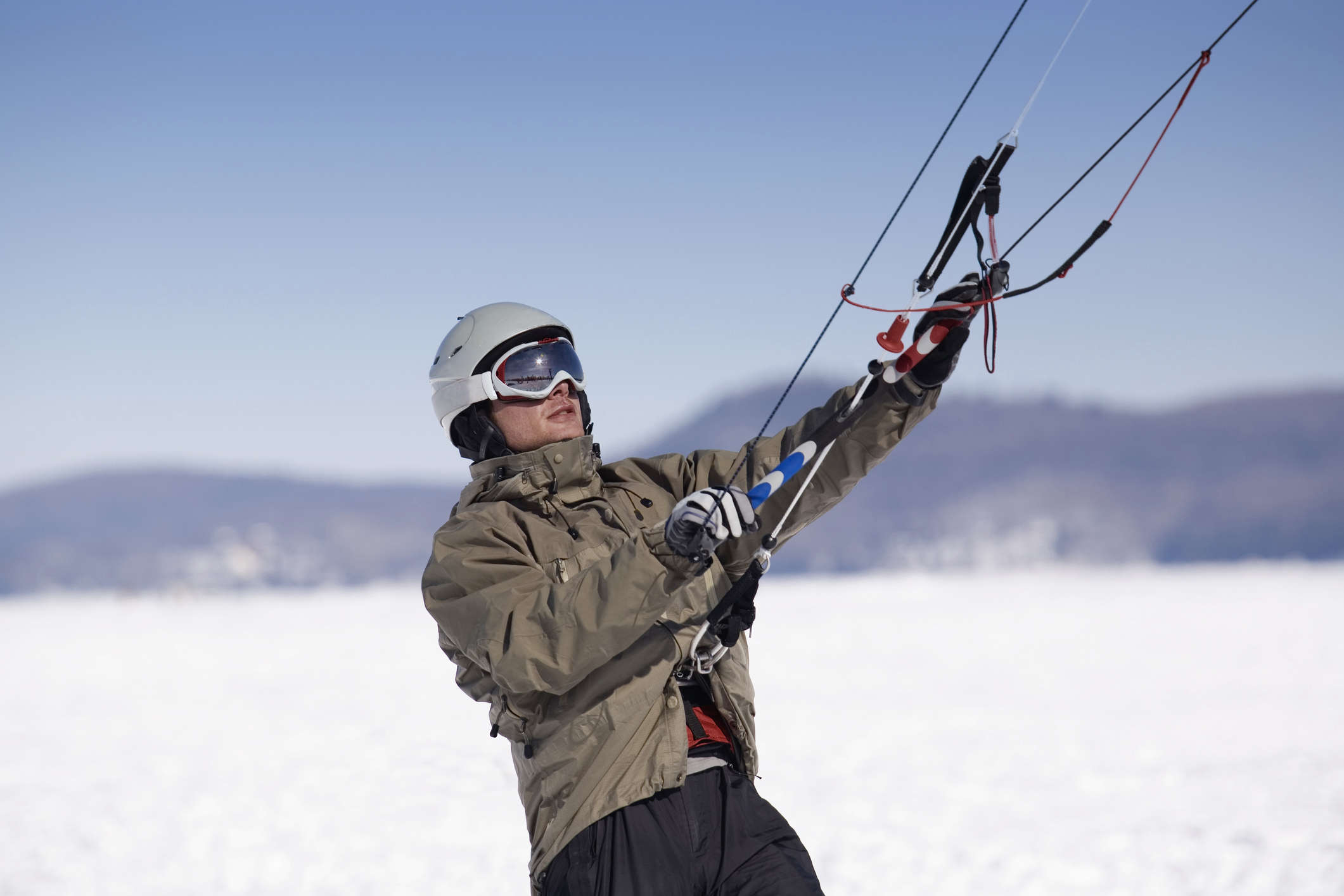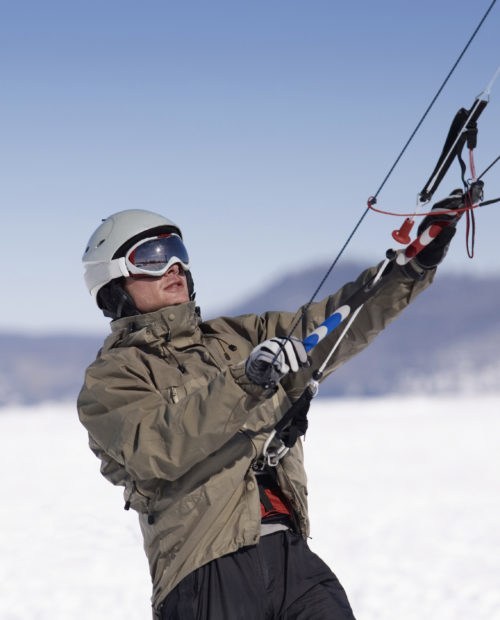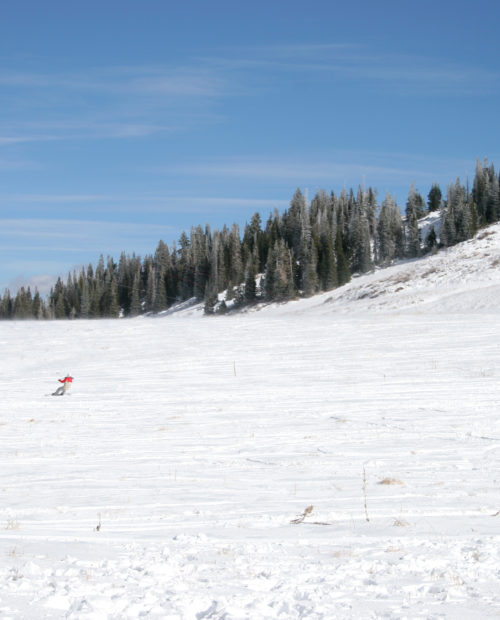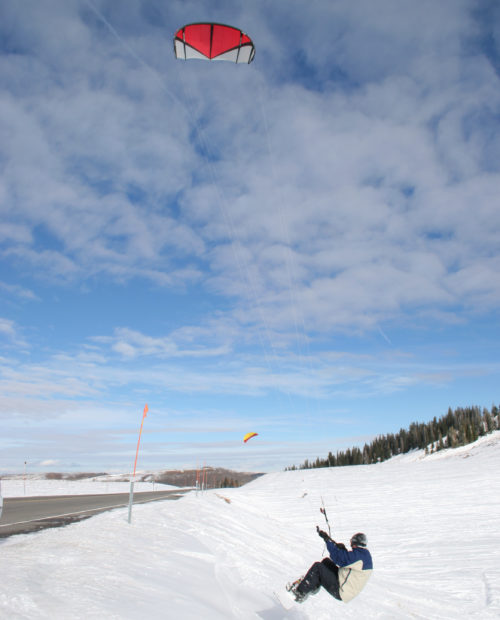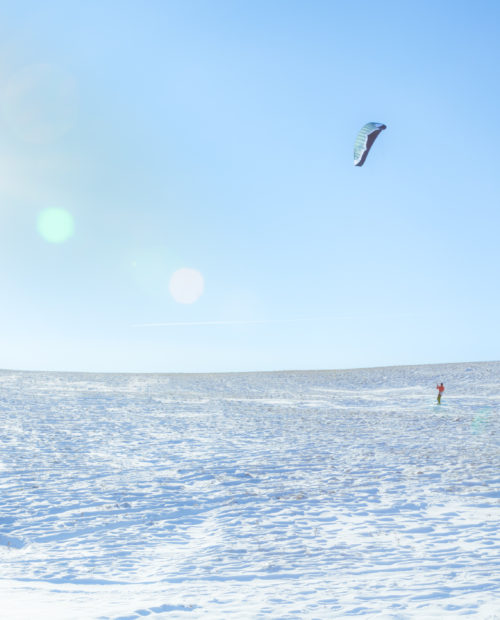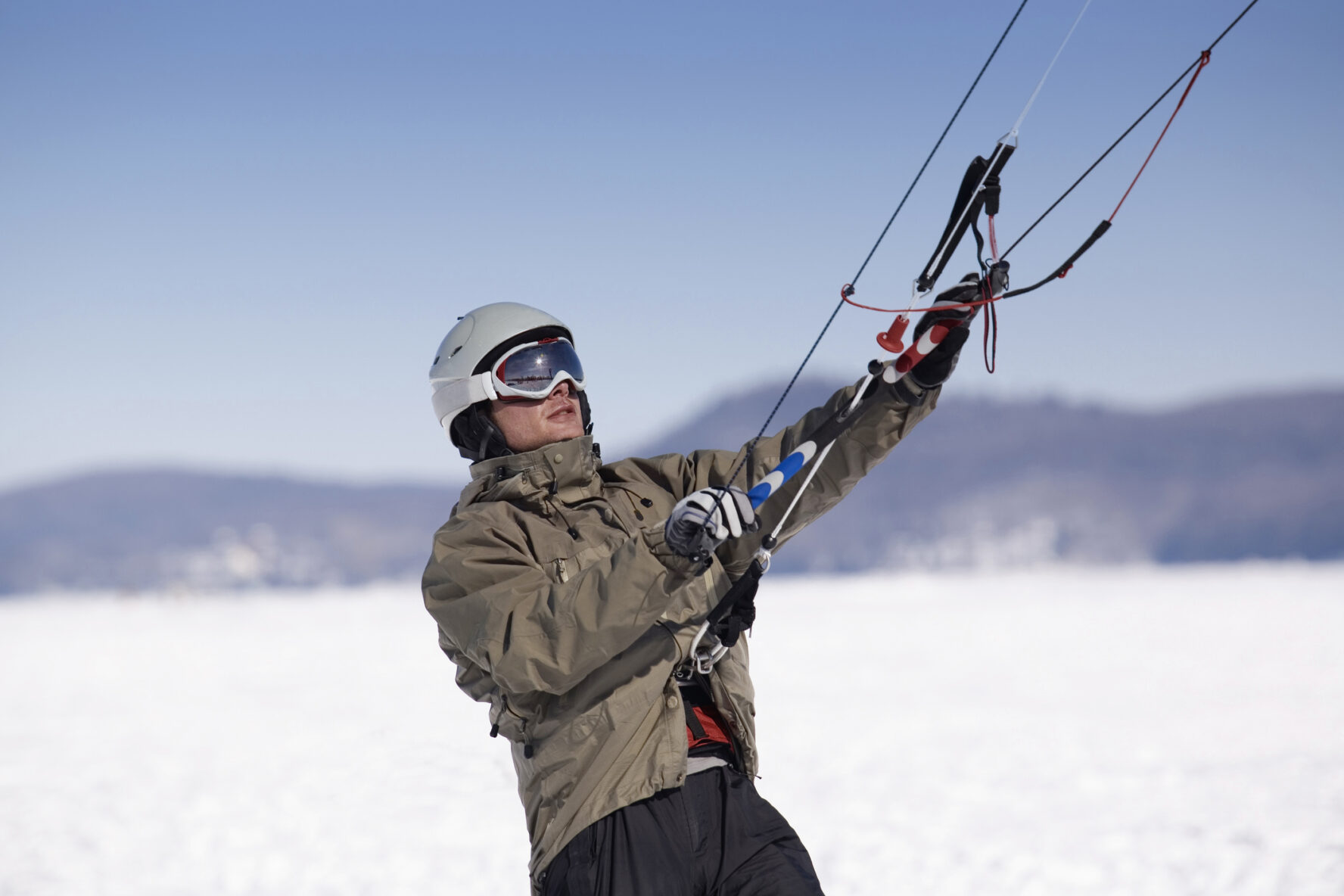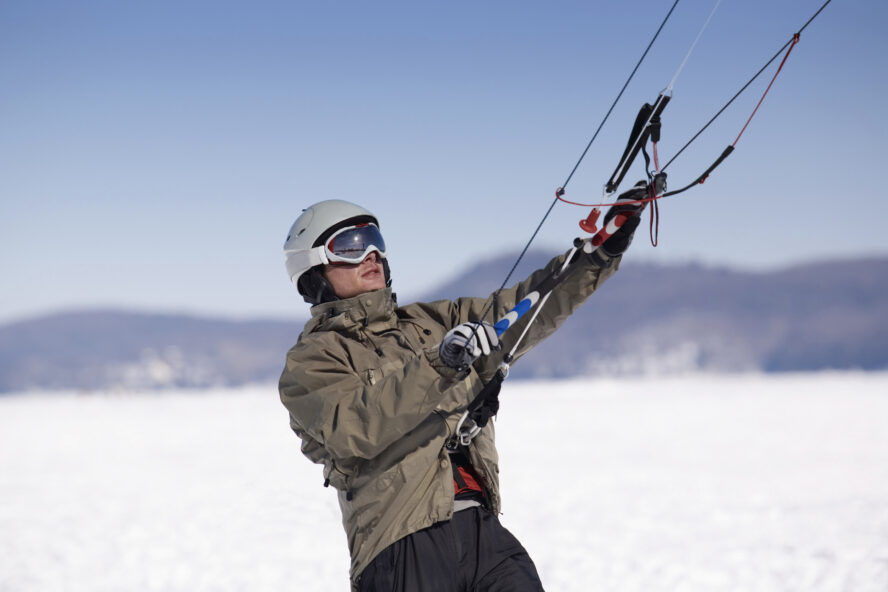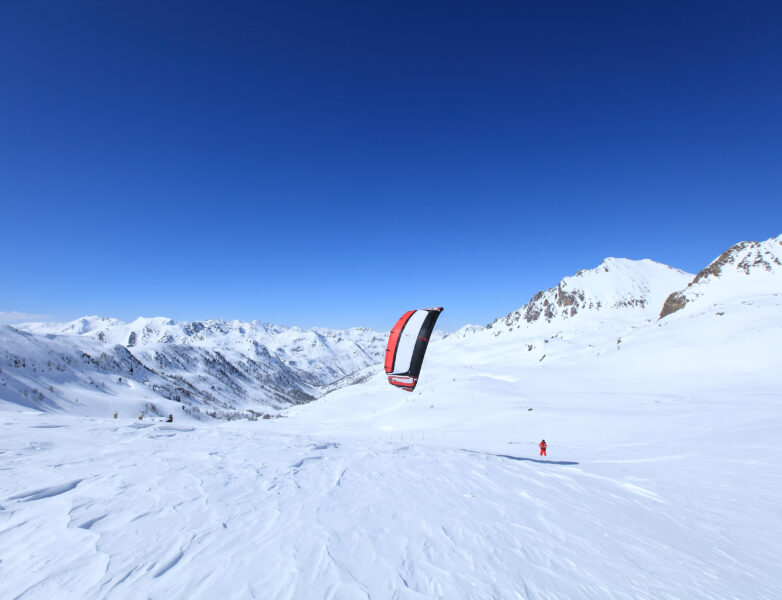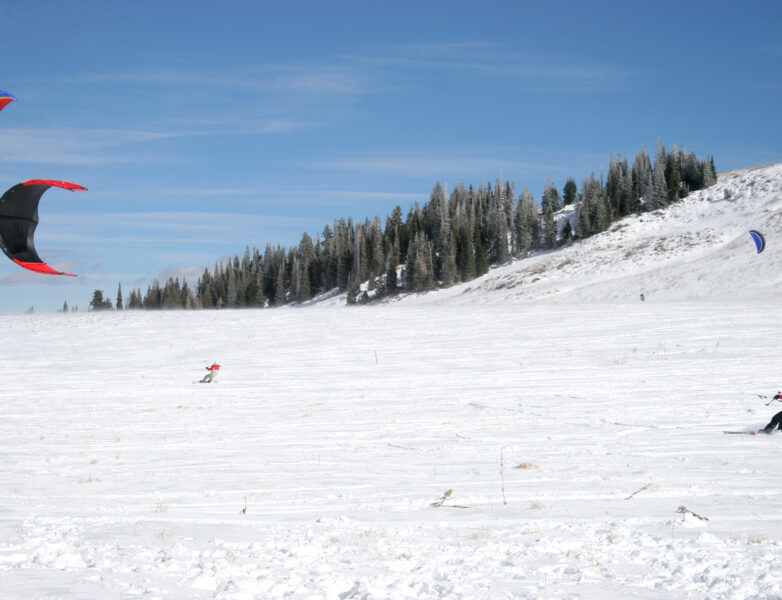 Snowkiting Near Salt Lake City
Find out why Utah is the premier snowkiting destination
Around Salt Lake City there are ample locations to discover the exciting world of snowkiting. From mellow fields to hills, frozen lakes, mountains and deep in the backcountry, snowkiting can be done practically anywhere that gets a gust of wind. Satisfy your adventure appetite and find out for yourself why snowkiting is one of the fastest growing winter activities. Let your guide teach you tips and tricks, and discover the endless snowkiting possibilities Utah has to offer. Whether you're looking to extend your kiteboarding season or enrich your ski season with new options, you'll find what you're looking for in the uncrowded terrains around Salt Lake City!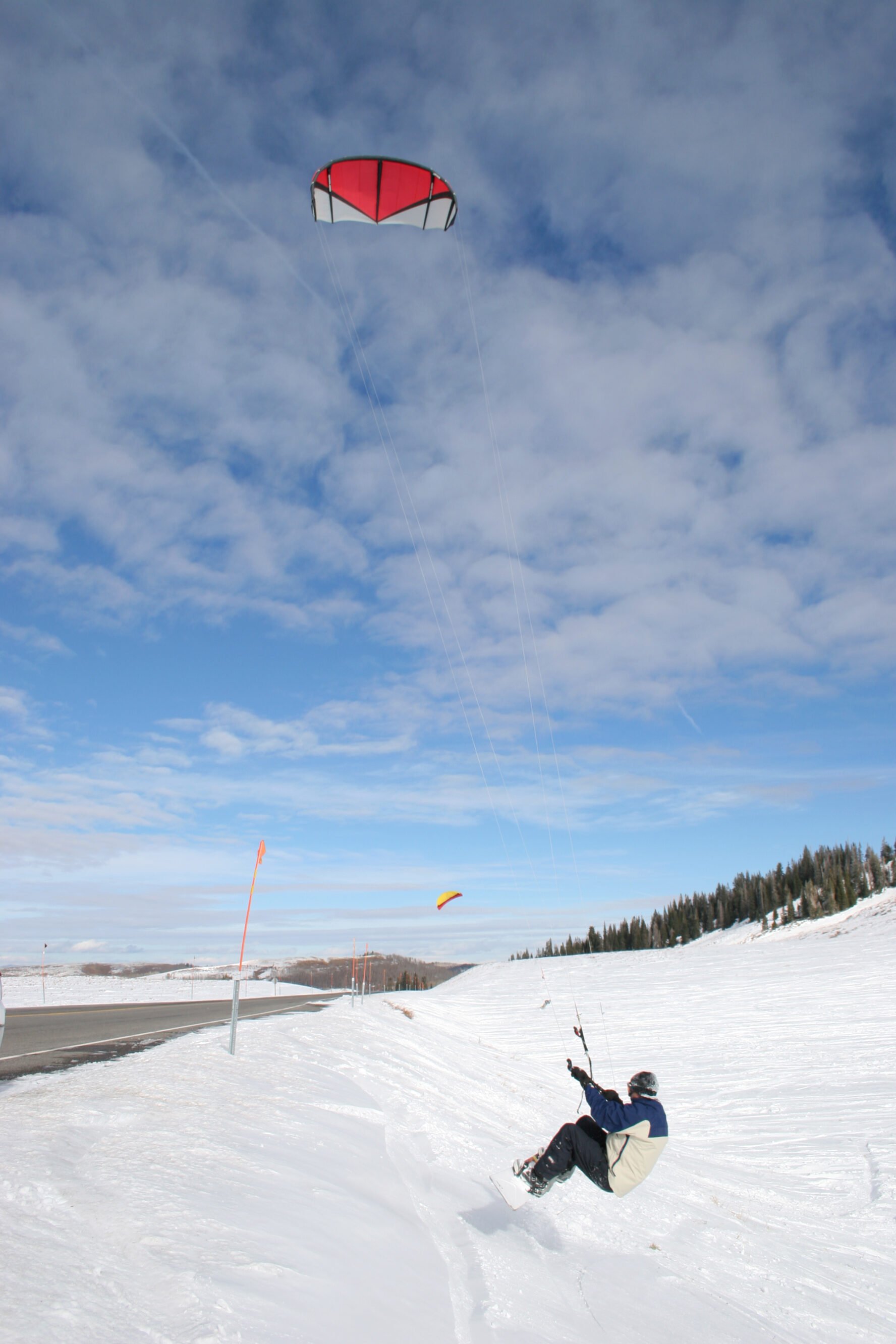 Level 1: Beginner Snowkiting Course
Learn all the steps you need to know to become an independent snowkiter. Let an experienced guide teach you the fundamentals, like proper kite control, snow and safety techniques, and basic upwind/downwind riding. After you master these skills, you will be ready to move on to Level 2 and get on skis or a snowboard.
Level 2: Intermediate Snowkiting Course
If you know the basics of snowkiting, it's time to get on your skis or snowboard and harness the power of the wind. Learn body positioning, edge control, kite flying and explore riding up and down the mountain. This course covers upwind techniques, terrain safety, proper launching and terrain navigating. Learn more about how to use the kite to power your skiing and start riding with confidence!
Private Day With a Guide
Kite to your own beat! Work on your skills one-on-one with an experienced professional guide, and see yourself progress faster and kite further. Whether you're new to the sport or an avid backcountry skier, the day will be customized to your skill level and snowkiting objectives. Learn kiting techniques for the first time or work on developing existing skills and learning new tricks — it's all up to you!
Backcountry Snowkiting Tour
Level up your backcountry skiing or riding experience and explore Utah's world-renowned terrain using the power of the wind to get around. Take advantage of a professional and experienced snowkiter with backcountry knowledge, and let them show you where the best stashes are, and where not to get skunked on a no-wind day. Backcountry touring has never been so fun!
Meet your guide
Owned by world-class, top-ranked pro snowkiter Jacob Buzianis, the Utah Snowkite Center offers a full range of snowkiting courses, clinics, and private backcountry trips ranging from beginner to pro. Since 2001, the Utah Snowkite Center has taught more than 4000 people the ins and outs of snowkiting.
Things to know
57hours is committed to providing safe outdoor adventure experiences. We require all guides using our platform to have a COVID-19 safety plan and to make the details of that plan accessible to travelers. In most cases, group sizes will be reduced, guides will avoid overcrowded locations, and other safety measures will be met depending on the location and activity.

We also expect clients to respect local regulations and take measures to protect themselves, guides and the communities they're travelling to. For more information on COVID-19 measures in Salt Lake City, please refer to the official website of the State of Utah.

Please contact us if you have any questions or require further information. We are happy to provide you with the most up-to-date information!

With us, it's all play and no work for you! 57hours is an open platform that connects you with trained and certified outdoor adventure professionals all over the world. Using our tech-savvy, we make it super easy to find and book adventures worth tackling, with guides worth booking, all gathered from the first-hand experiences of the locals who adventure in these amazing locations.

Snowkiting combines kiteboarding and skiing or snowboarding into one fun winter sport. Gliding through the air, while wind and snow rush past you sounds heavenly, but trust us, it feels even better!

Everyone can do it, even if you don't have any prior windsport experience. It is easier to learn than kiteboarding — it is easy to stand on snow and requires less wind to get you moving, which makes the whole process easier. And no, you can't fly away! The equipment is designed to move how you want it to move, but it will seem like you're flying, which is the best part. If you ask us, there's really no reason not to try it!

Here is what you get in this adventure:

Lessons or private touring with an experienced, professional snowkiting guide
Level 1 and 2 Courses include kiting gear (harness, kite, bar)

What's not included:

Transportation
Snacks and meals
Ski or snowboard equipment (skis/ski boots or board/board boots) (available for rent)
Helmet (available for rent)
A private day of instruction or backcountry tour does not include kite gear (available for rent)

All mandatory gear can be rented if you don't have your own. You can rent:

Equipment rental locations are in Salt Lake City or Sandy, UT. Make sure your rentals are arranged at least 48 hours prior to your snowkiting course or private tour.

If you need to rent gear, let us know and we can help make arrangements.

For snowkiting, you will need to bring:

Skis or a snowboard and boots (can be rented)

Helmet (can be rented)

For private lessons or private touring, you will need to bring your own kiting gear (can be rented)

For personal items, we recommend bringing:

Face mask (neoprene works best) and a balaclava

Waterproof jacket 

Waterproof pants

Sweatshirt or thin micro-fleece jacket

Fleece pants

Base layer

Warm socks

Fleece neck scarf

Thermal gloves and waterproof gloves

Protective gear: knee and elbow protection, impact vests — optional

Day pack large enough to carry all the items listed (around a 24-35L bag)

High-quality sunglasses

High-index sunscreen and lip balm

Water bottle or a thermos

Camera — optional

This list will be finalized with your guide prior to the day of your adventure.

If you're new to kiting, lessons will benefit you immensely. Technically, all you need to know to get started is how to stand on skis or a board, but you'll progress much faster with an instructor. 

An instructor will make sure you're safe while you get the hang of it, and will teach you the skills to become a competent independent snowkiter.  

Keep in mind that you should feel confident on skis or a boar, as ski/board instruction is not within the scope of these courses. Any time spent instructing skiing or snowboarding is time that is taken away from your kite instruction. Advanced courses require that you have all basic snowkiting skills and can ride both upwind and downwind. 

Level 1 and Level 2 Courses: 

Courses typically begin at 9:00am. The 4 hours of lessons includes:

Steps for proper and safe snowkiting

Safety and self-rescue instruction

Flying the kite

Riding on the board or skis with the kite depending on your progress

Additional instruction and kite practice is available for an additional $50 per hour.

A Private Day with an Instructor:

This day typically begins at 9:00 am and is a minimum of 3 hours on the snow. Your day will be fully customized to match your objectives. You and your guide will discuss skills development, and whatever else you'd like to focus on. From there, your guide will plan the perfect day tailored just for you taking into consideration factors such as weather and snow conditions. 

Backcountry Snowkiting Tour:

This is a full day of snowkiting and backcountry touring that typically begins at 9:00 am. Fully customized to match your skill level and objectives, you and your guide will discuss route selection, skills development, and whatever else your group would like to focus on. From there, your guide will plan the perfect day taking into consideration factors such as weather and snow conditions.

The only thing your instructor will expect from you is that you know how to ski or snowboard, but of course, being in good shape helps. Strength isn't a necessary component to successful snowkiting; it's all about the technique, which is why it's the perfect sport to lake lessons as a beginner. 

As you progress, you can move to larger kites, which generate more power and are more physically demanding, but if you're just starting out, if you can ski or snowboard and hold on to a kite, you are good to go!

Everybody over the age of 18 is welcome to book this snowkiting adventure.
Minors may be permitted to join private tours on a case-by-case basis.

If you plan to ski with anyone under the age of 18, please contact us prior to booking to make arrangements.

Level 1 and Level 2 Courses are small group-run classes and are priced per person.
Private instruction is 1:1 with your guide and is priced per person.
Private backcountry tours have a max client to guide ratio of 5:1. The cost per person decreases as the group grows, making it the perfect opportunity to snowkite with family or friends.

Snowkiting lessons are scheduled to fit with the ideal wind and weather conditions. As the saying goes, "there's no such thing as bad weather, only bad preparation," so make sure you bring the right gear. Inclement weather can always pose a challenge, but your instructor will be prepared for anything and will present suitable alternatives, like moving to a nearby location.

Despite your instructor's best forecasting efforts, sometimes fickle wind requires that lessons need to be called off. In this case, your remaining booked hours will be rescheduled for a more favorable day. If no arrangements can be made, you will be issued a full refund.

With 57hours, you benefit from both our own cancellation policy as well as that of the individual guiding service that delivers your adventure. All policies regarding cancellation will be clearly laid out by your guide after booking your adventure, but rest assured that our own cancellation policy will work on top of what is provided by your guide.

For this adventure, 57hours offers a Moderate Cancellation Policy, which states:
If Client cancels the Booking anytime prior to thirty (30) calendar days in advance of the trip contemplated by the booking, Client is entitled to a full refund. For cancellations fourteen (14) to twenty nine (29) calendar days in advance, Client is entitled to a refund in the amount of fifty percent (50%) of the total amount paid when Booking. For cancellations zero (0) to thirteen (13) days in advance, the Client is not entitled to any refund.

For more information on terms and conditions, please visit our Terms of Service page.

Courses and private days will be held around Salt Lake City, Park City and the surrounding areas depending on wind and snow conditions. Once you and your guide agree on the details of your itinerary, your guide will suggest the best place to meet. Be sure to arrive at least 15 minutes prior to your adventure.
Other things to do in United States