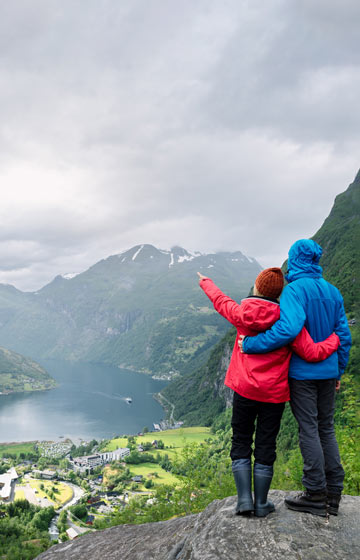 Sail and Explore the Coast and Fjords of Norway
Sunnmøre, Norway, is where green frosted mountains meet the ocean blue. Hemmed by a heavily indented coastline, this western municipality is the gateway to an endless maze of glacier-carved bays, islands, and fjords. The best way to enjoy this beauty? From sea and shore.
For eight days, this untamed landscape will be your home in the North. With a modern sailboat as your base, you are free to explore and choose your activities for the day.
Sail the frigid waters, hike on mountains, kayak among islets, and bike through deep valleys—all while enjoying Norway's delicious cuisine and rich history.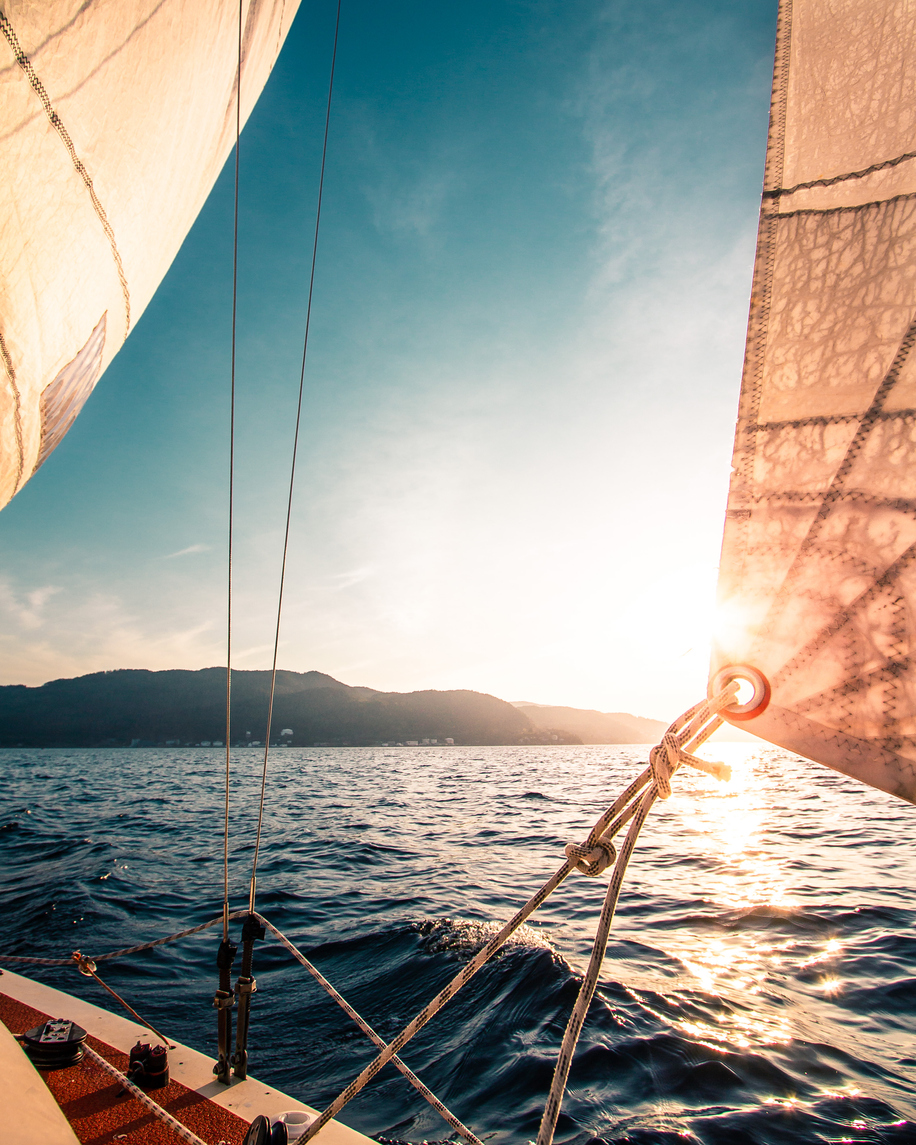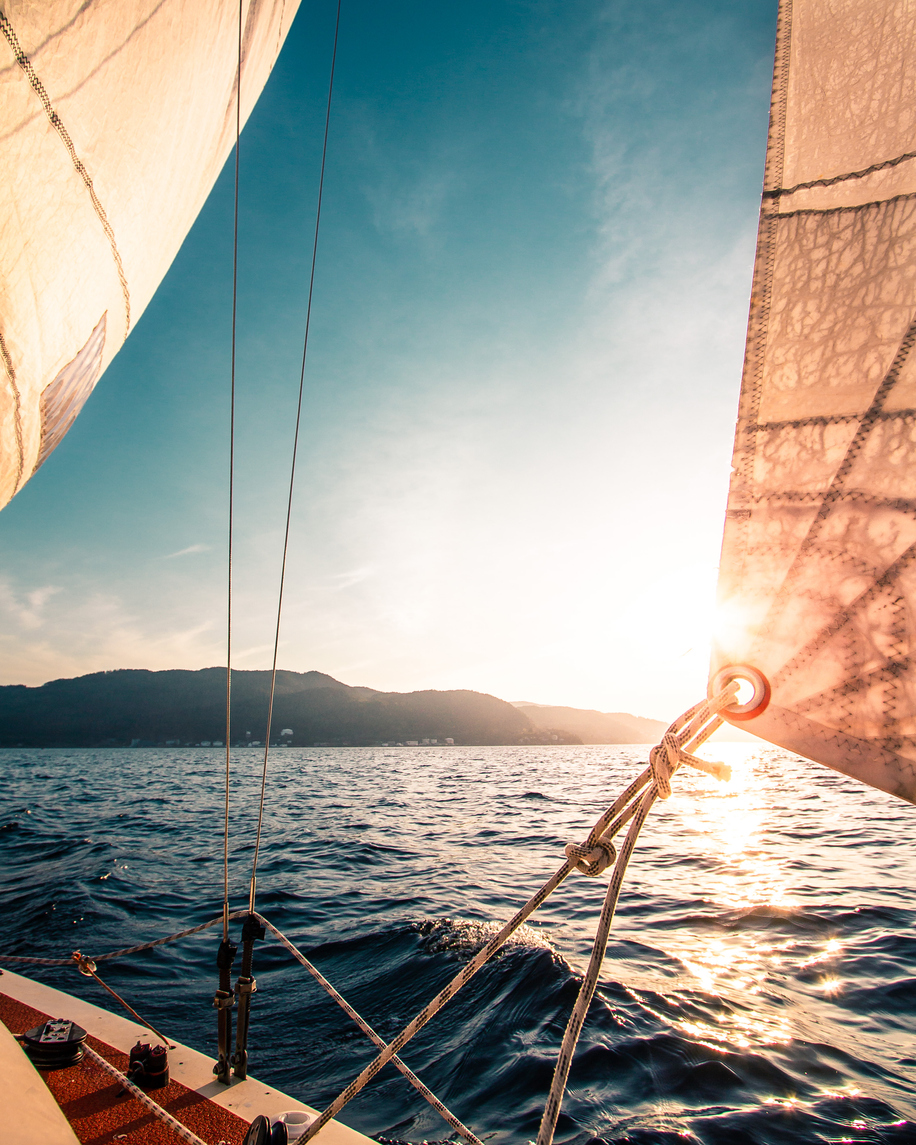 Landscapes you can't afjord to miss
Your journey begins and ends in Ålesund, a charming port town renowned for its Art Nouveau architecture. From there you'll set off for the wonders of Western Norway through a multisport adventure for the ages.
Set sail for the island of Runde, home to over 500,000 seabirds, tour through a lush glacial valley on e-bikes, kayak pristine waterways, then crown the trip with a visit to the Geiranger Fjord—a UNESCO World Heritage Site where the Seven Sisters Waterfall flows down the mountain in a graceful dance.
EPIC NORDIC SCENERY
LUXURY IN THE WILD
TRADITION & HISTORY
SAIL, HIKE, KAYAK
E-BIKE, DIVE, FISH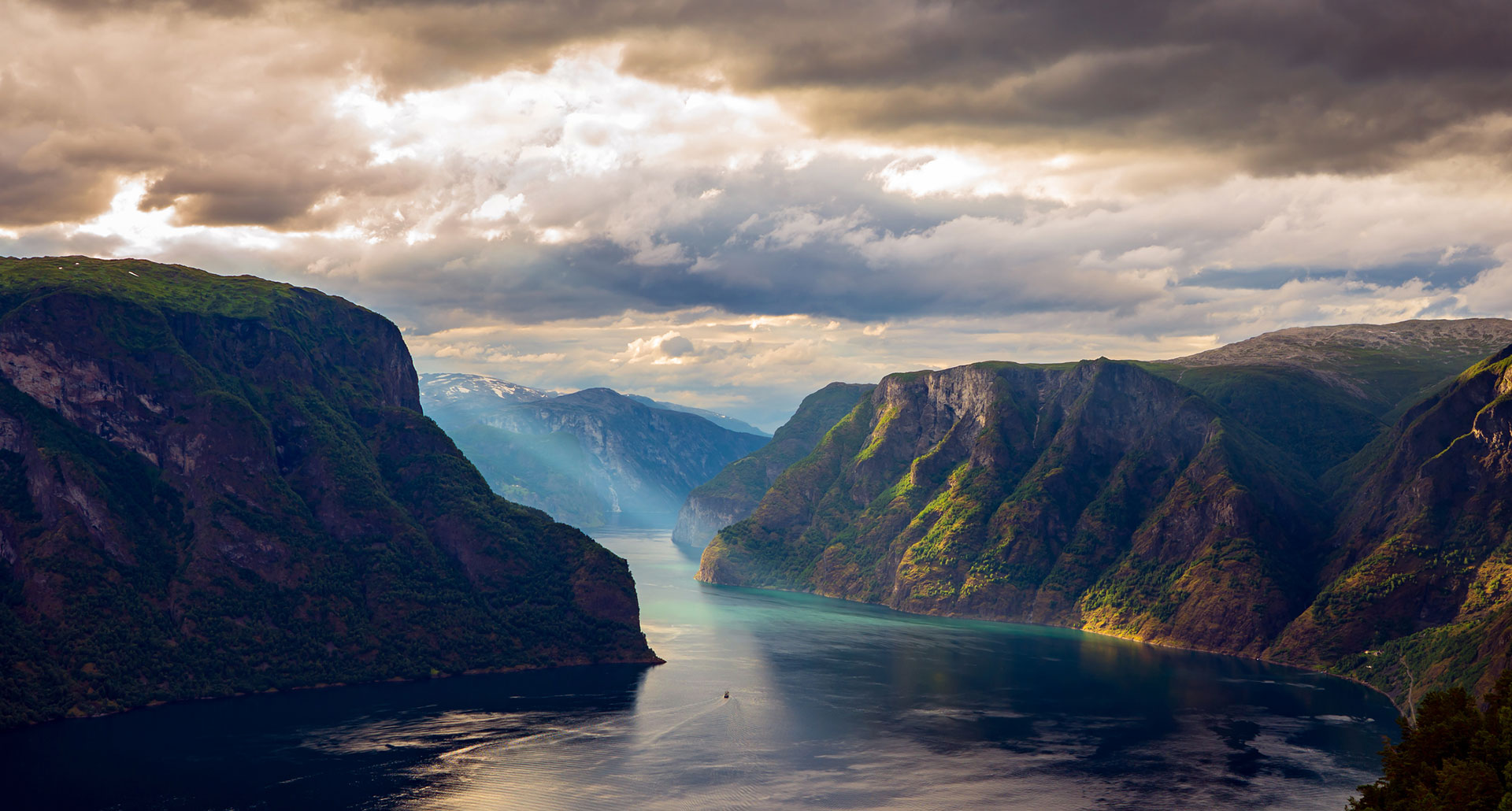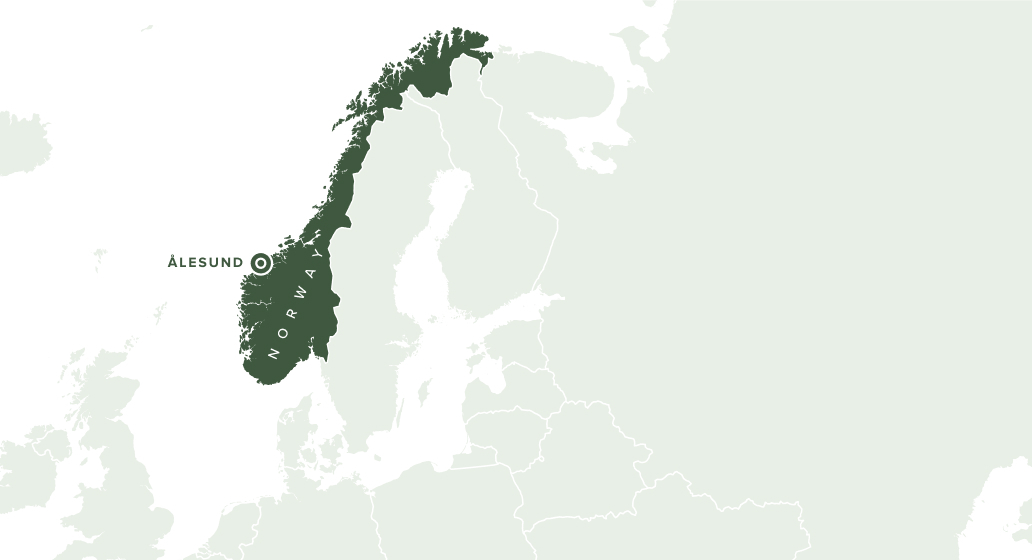 Trace the coast, taste the sea, and savor Sunnmøre
THE GREAT OUTDOORS PEPPERED WITH A DASH OF LUXURY
During these eight days of adventure, you will navigate the scenic region of Sunnmøre aboard SY Jolly, a spacious steel cruiser built for comfort and durability. The seasoned guiding duo of Ulrik and Maria will be in charge of steering, cooking, and ensuring everyone has a great time.
Kick off the trip with a visit to the fabled island of Runde, whose steep cliffs are teeming with tiny puffins while eagles patrol the sky. Find out about the origins of this bird haven from ornithologists stationed on the island, say hello to a thriving seal colony in passing, and maybe even spot some orcas in the wild.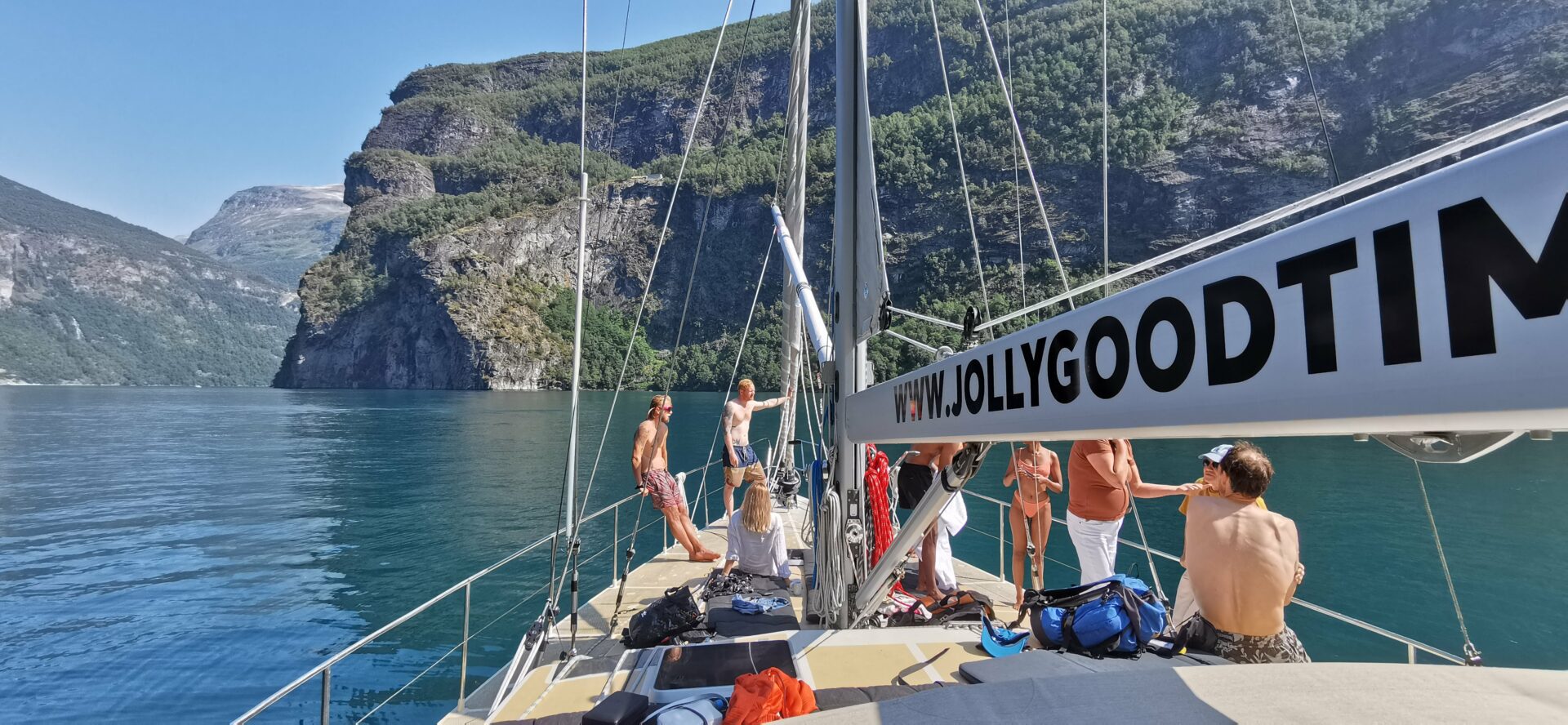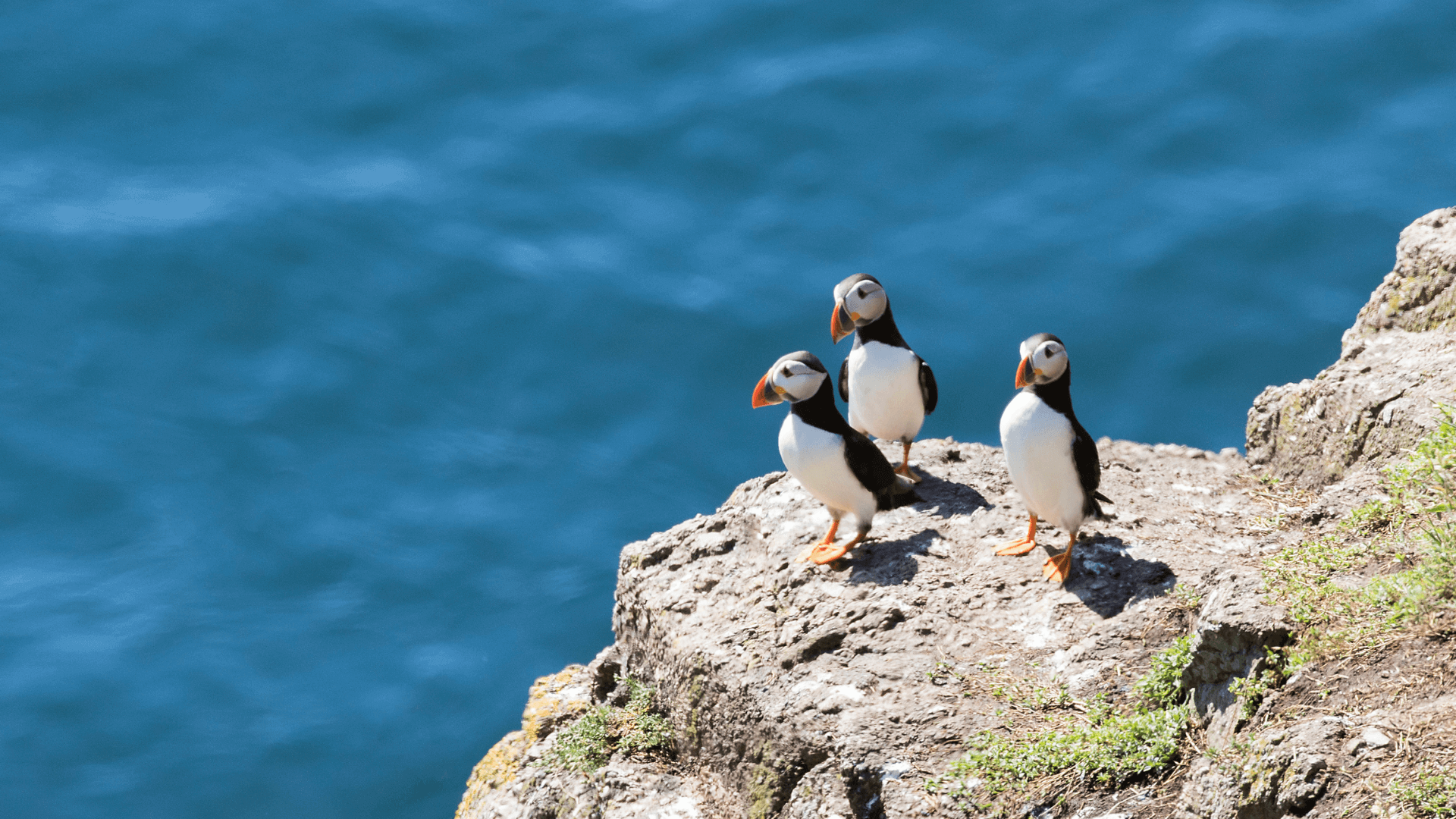 FROM SHIPPING TO KAYAKING: GET TO KNOW THE SERENE WATERS OF SCANDINAVIA
As any local will tell you, no romp through Norway is complete without a little paddling. So hop into your kayak and explore the country's wild coastline frayed with countless fjords, isles, and bays.
Take a well-deserved break in Herøy Gård, a historic trading post dating back to the 12th century. Sample the local scallops, visit the 900-year-old church and take in the marvelous scenery around you.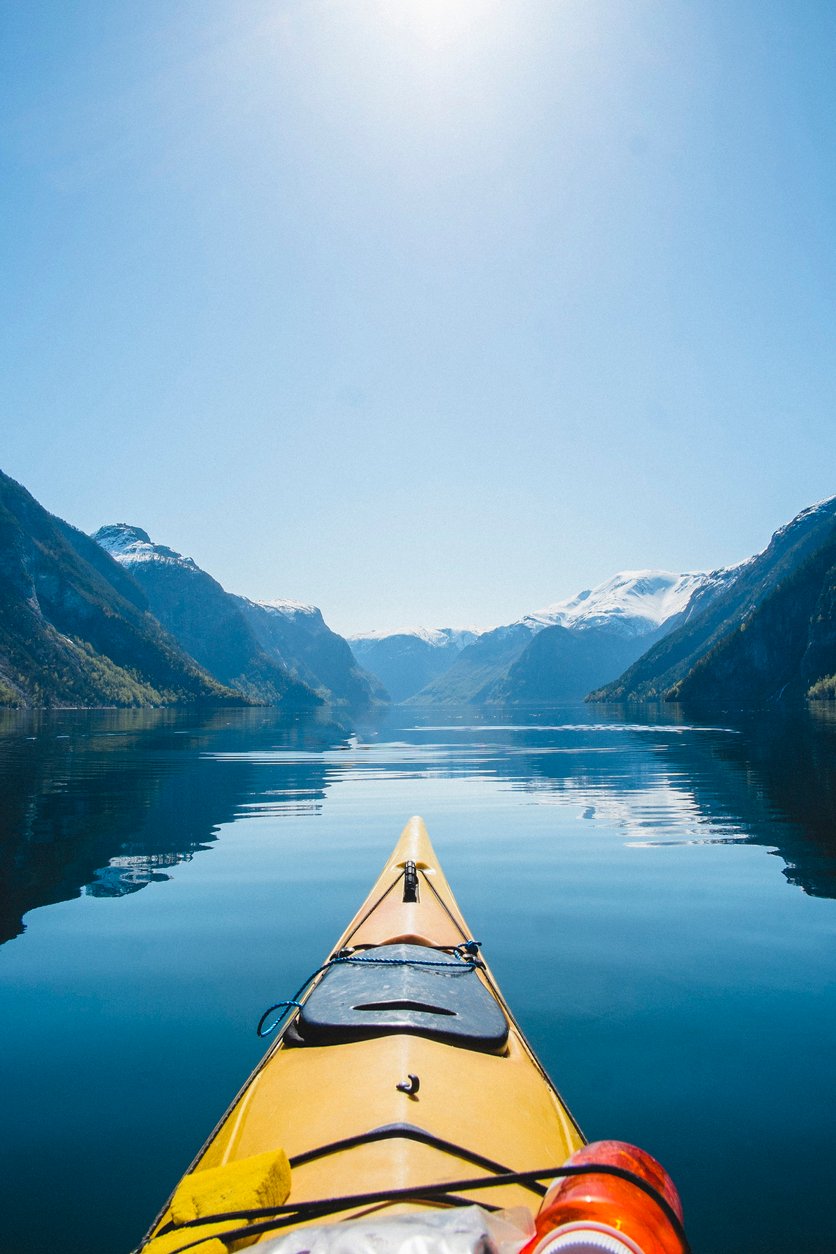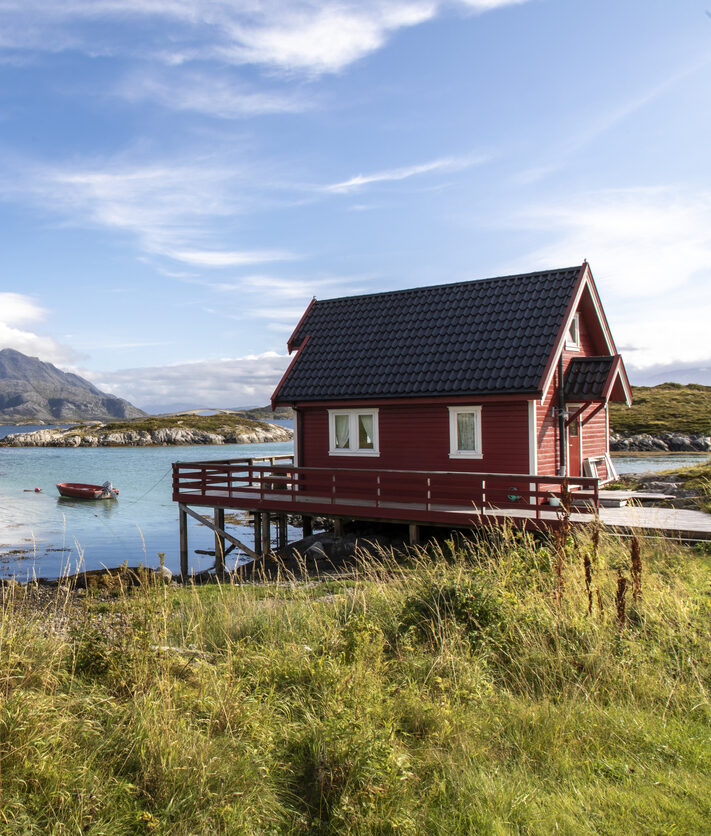 Witness the soaring cliffs of Norway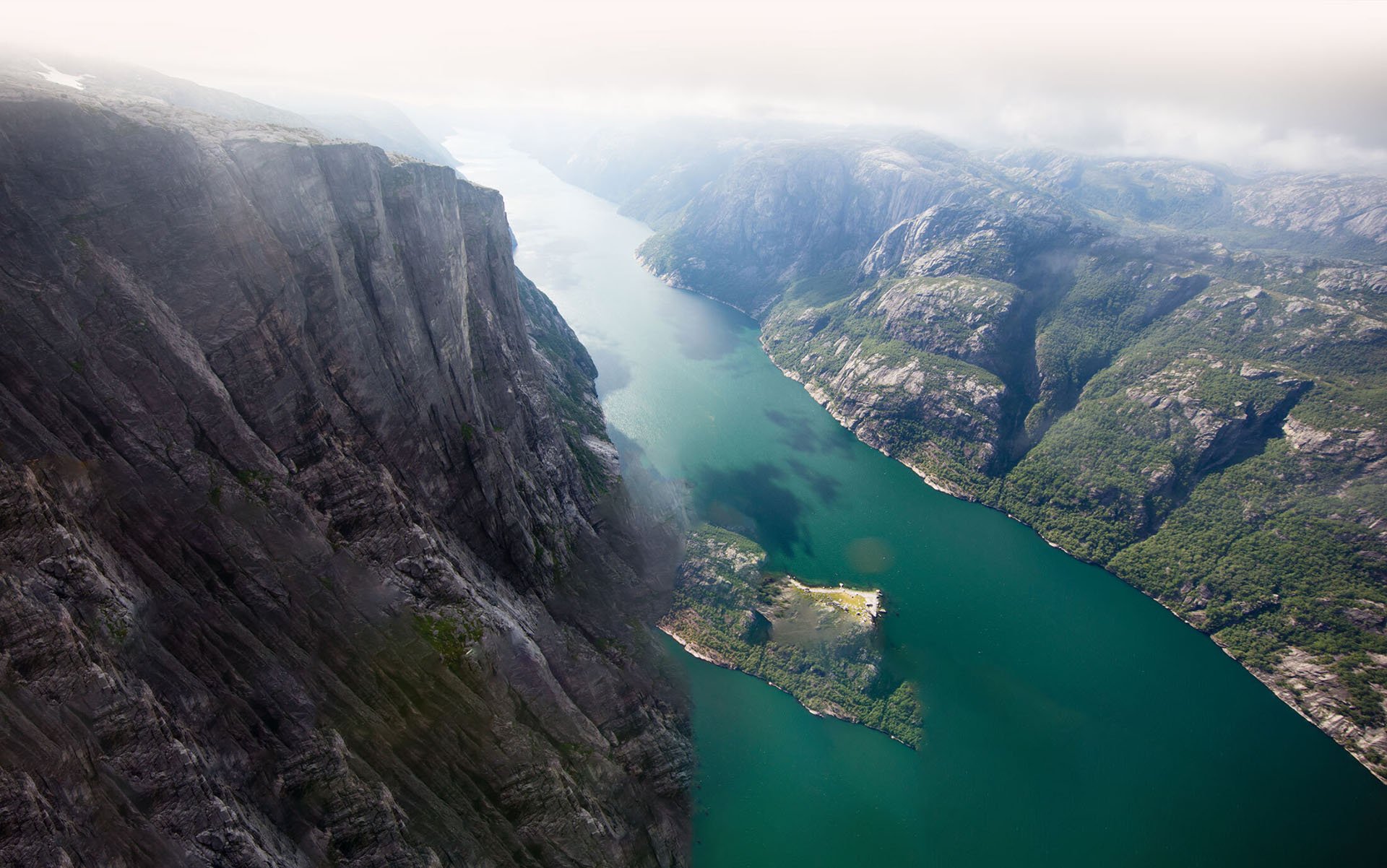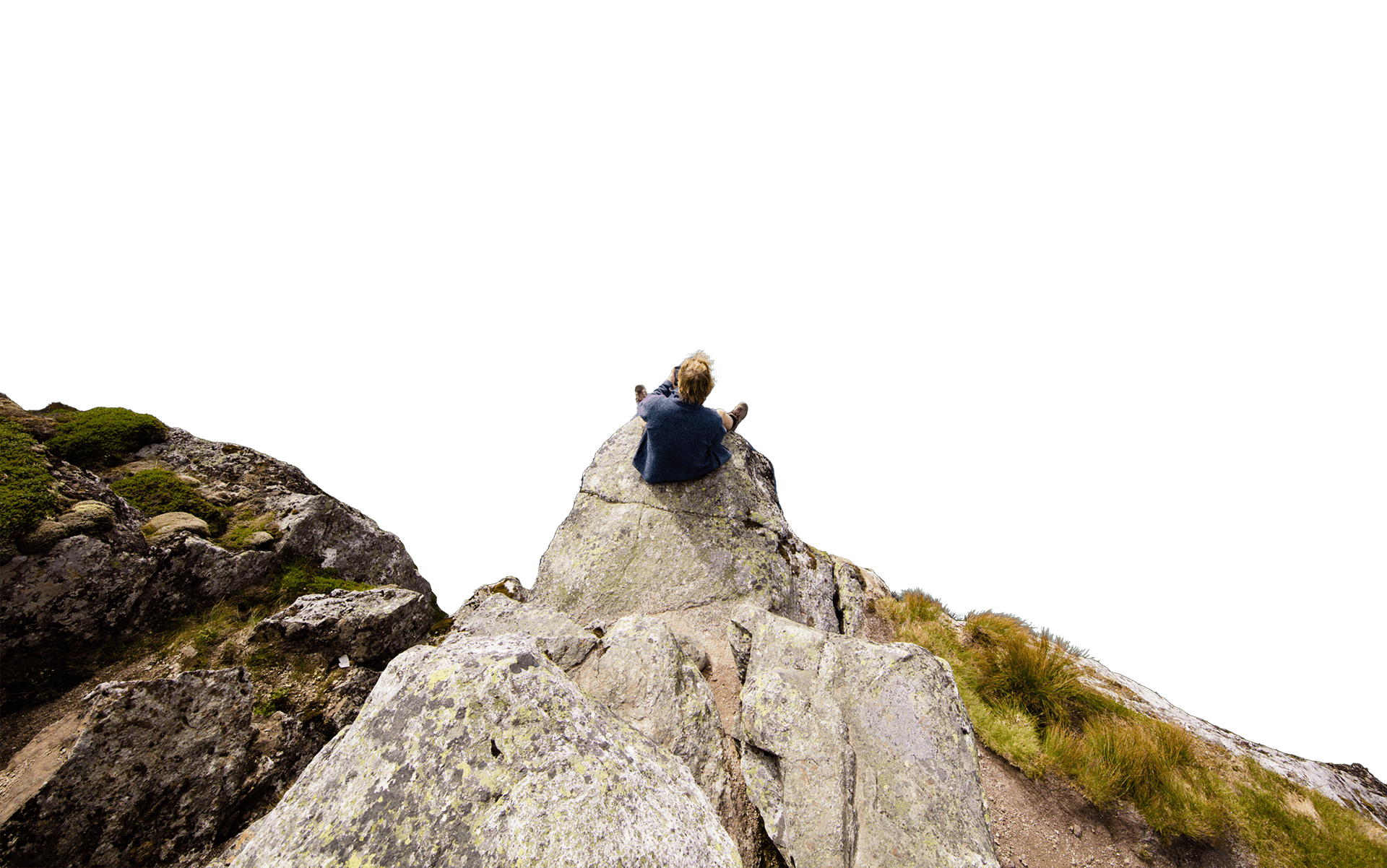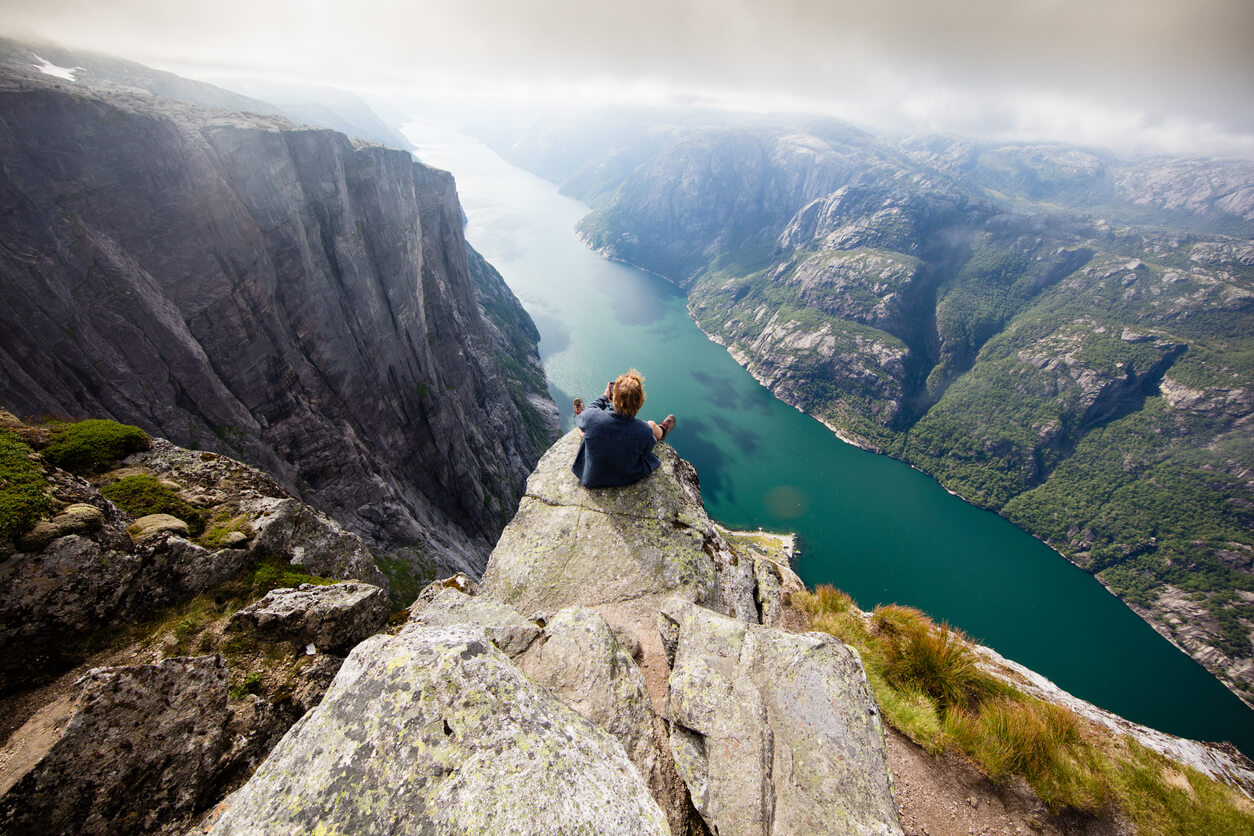 RELISH THE NATURE AND HISTORY
So what's next on the menu? How about a trip to the lovingly curated Maritime Museum in Brandal, where you can find out all about Norway's history of Arctic exploration? And don't be afraid of the polar bears—they're stuffed!
When you reach Trandal and the kingdom of fjords, you'll put on your hiking boots and take a scenic tour of the area. Gargantuan walls jut out of the sea draped in forest and clouds while the ocean lays foamy flowers beneath its feet—this is Norway at its finest.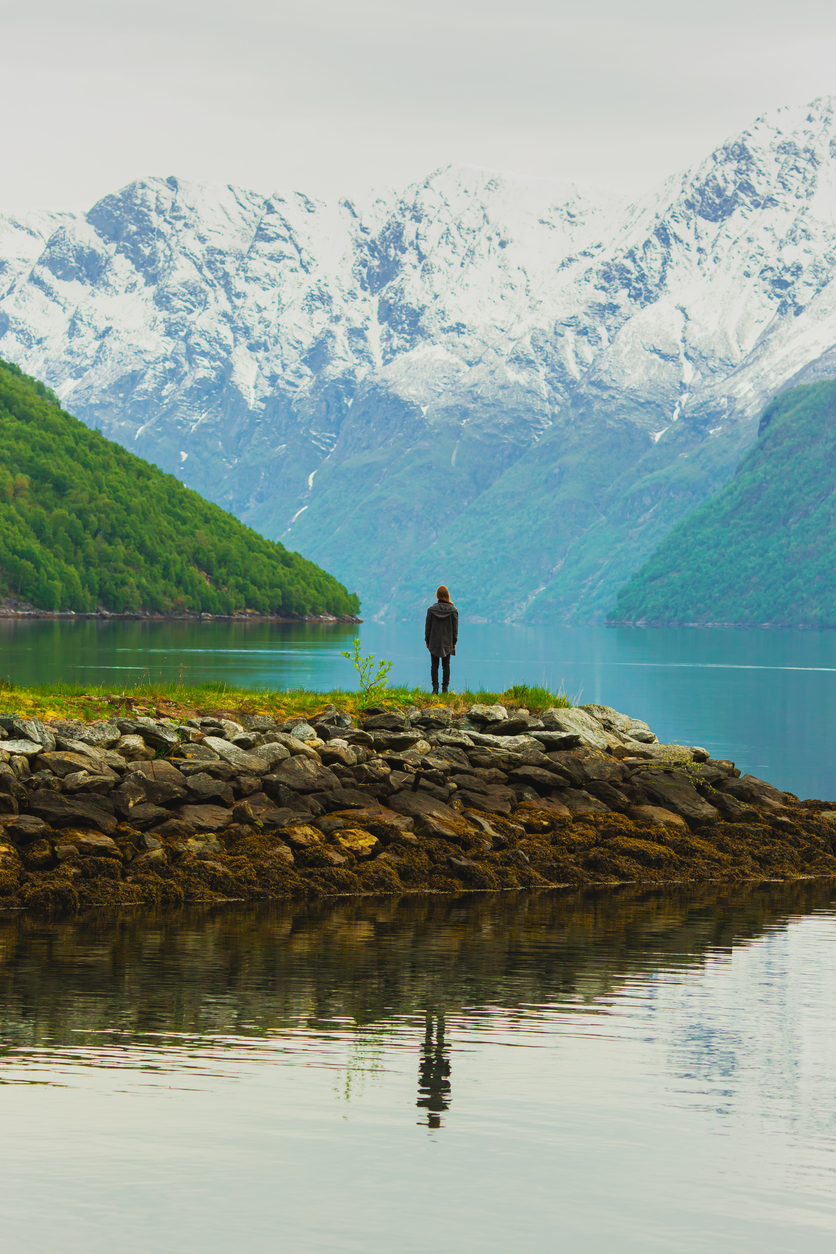 TAKE A FAIRYTALE FERRY RIDE
A highlight of this trip is the Geiranger Fjord, one of the most iconic sights in all of Norway. This narrow 15 kilometer-long inlet is surrounded by some of the steepest mountains on the west coast and accessed only by ferry.
On the northern side, the 410-meter Seven Sisters Waterfall—separated into seven streams— plummets into the sea. Directly across the fjord flows a single waterfall called the Suitor, trying to woo the dancing sisters from afar.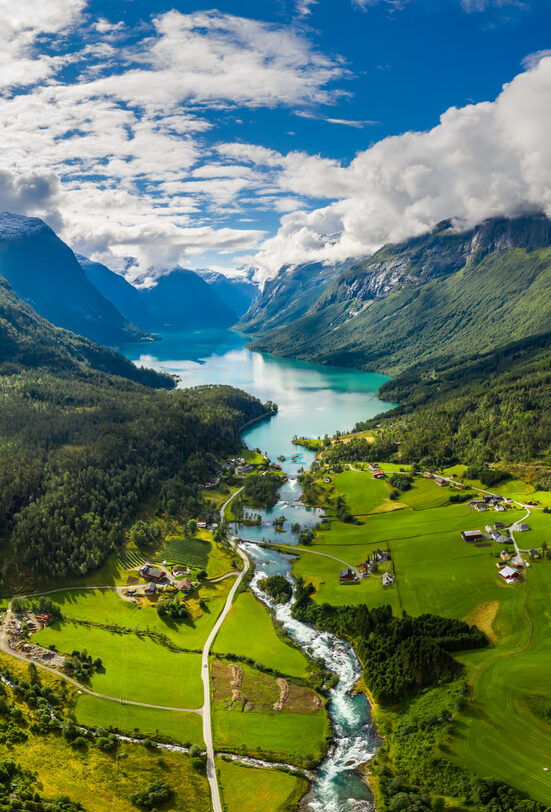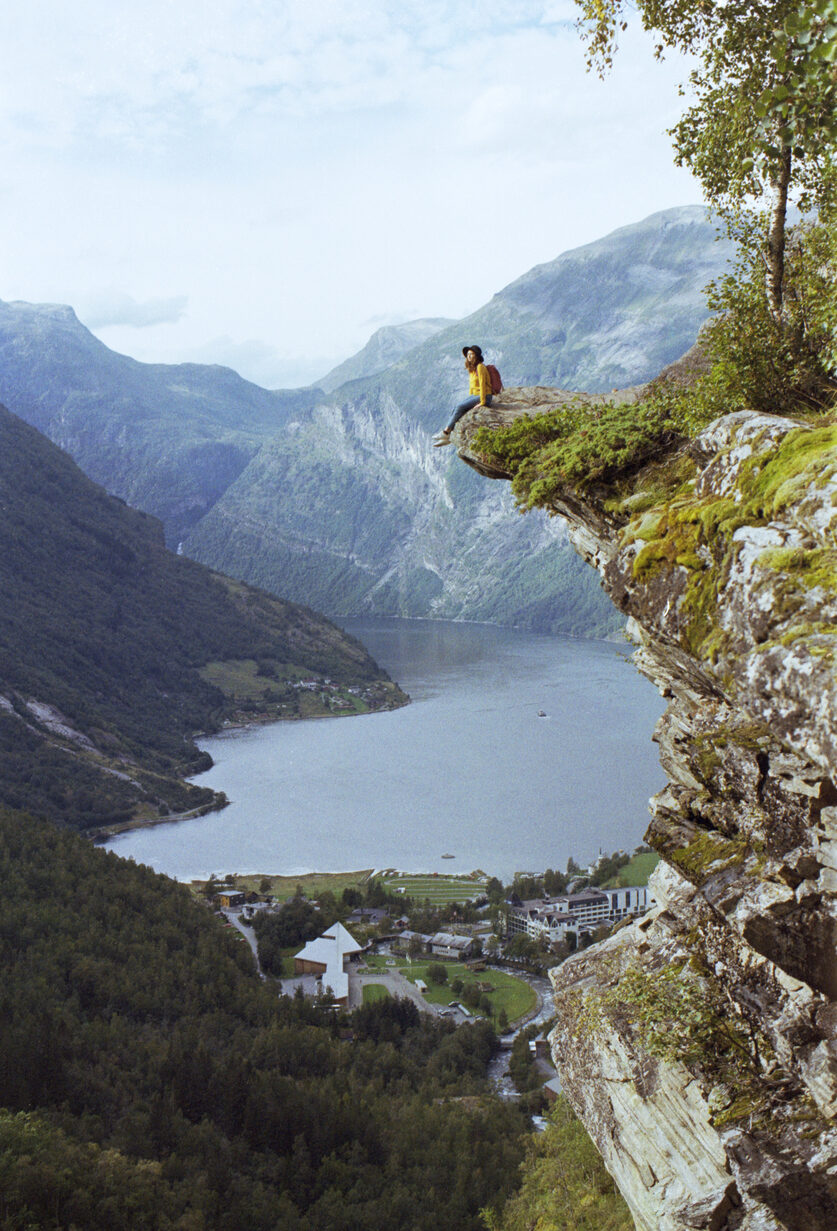 THINK LOCAL, EAT GREEN
To give you a true taste of Norway's tradition, your guides will bring you to remote mountain farms and rustic wineries where fresh produce will be waiting for you. After all, nothing complements a spectacular view better than an outdoor feast.
You'll get a chance to freedive, fish and catch your own food. Ulrik and Maria source their ingredients for cooking from small local shops, making your adventure delightfully fresh and green.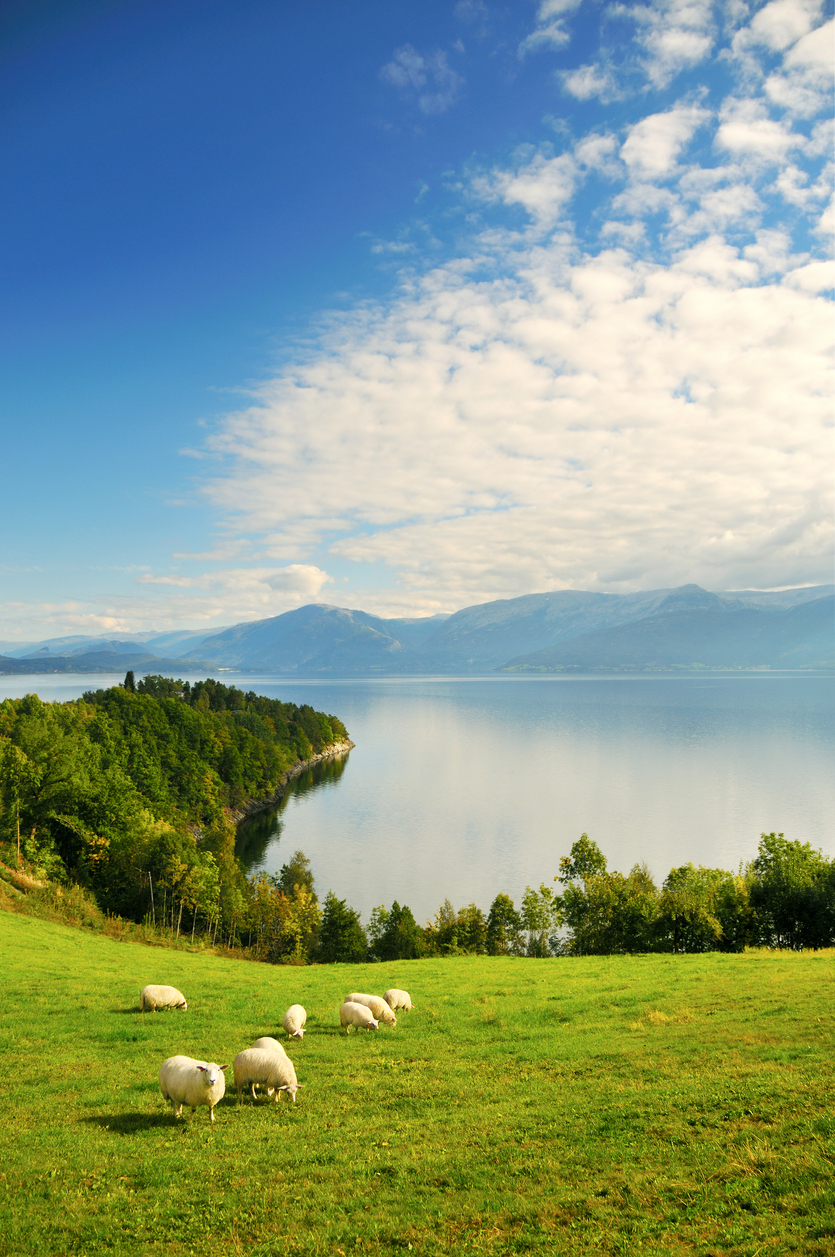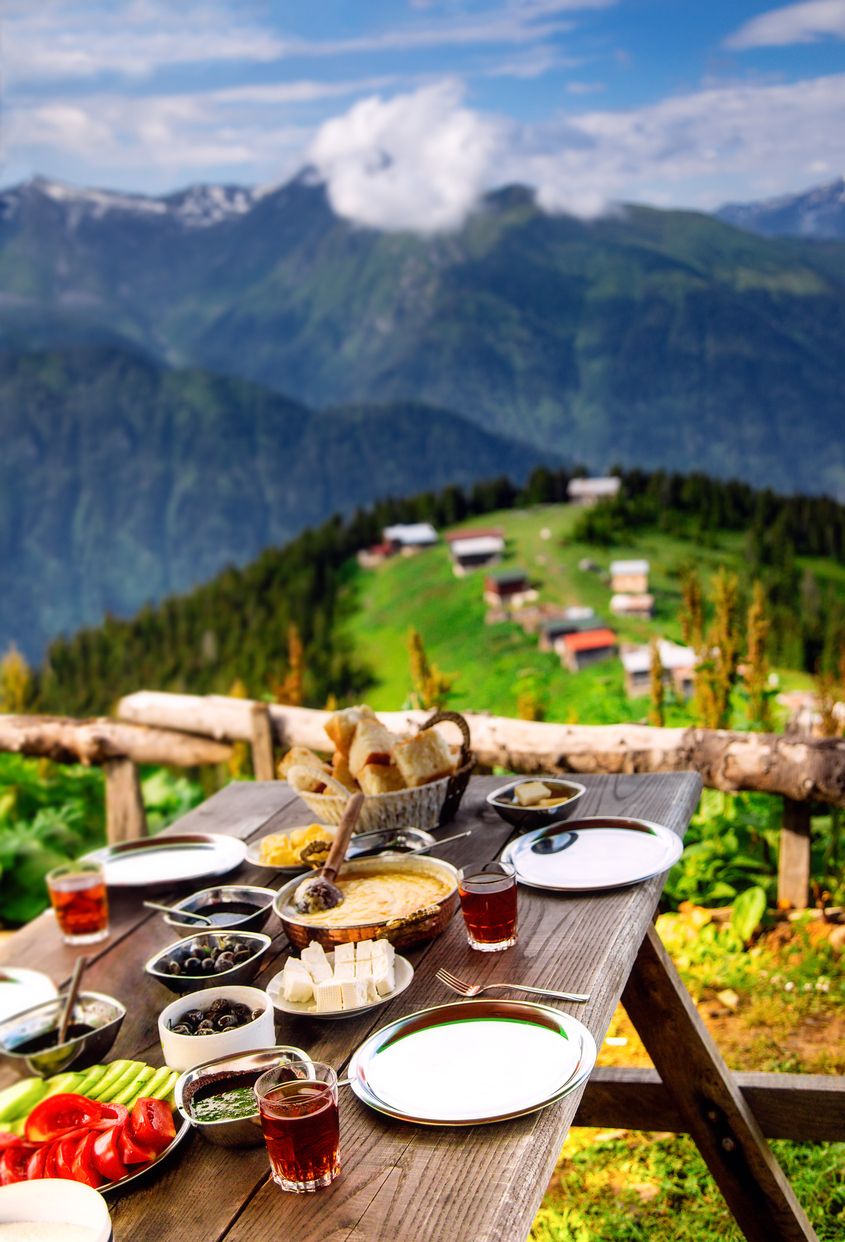 Your floating home away from home
The 15-meter sailing yacht Jolly is a sleek masterpiece of Dutch design that makes sailing a breeze and every new day at sea a pleasure. Upgraded in 2016, it can easily handle even rough open waters.
Aboard you'll find spacious private suites along with a kitchen, showers, toilets, and a small washing machine. When the bright noonday sun rears its golden head, Jolly's large deck is the perfect place to relax and catch some rays.
Your guides
With many years of sailing and thousands of nautical miles under his belt, Ulrik Møller is Jolly's jack of all trades. has all the necessary safety training, certificates, and experience to take you safely to various destinations, creating great memories and good times for all on board.
A Colombia native, Maria Llamosa loves sailing and being out in nature, breathing in the fresh air, and cleansing her mind. Aboard Jolly, her role is planning, ensuring the safety of her passengers, and making her guests feel at home by cooking up exciting and exotic meals.
Jolly Good Times Sailing is a company that offers unique, authentic, and sustainable experiences aboard the sailboat "Jolly". Their goal is to be close to nature and provide carefully crafted, truly sustainable, and holistic adventures in the beautiful landscapes of Norway.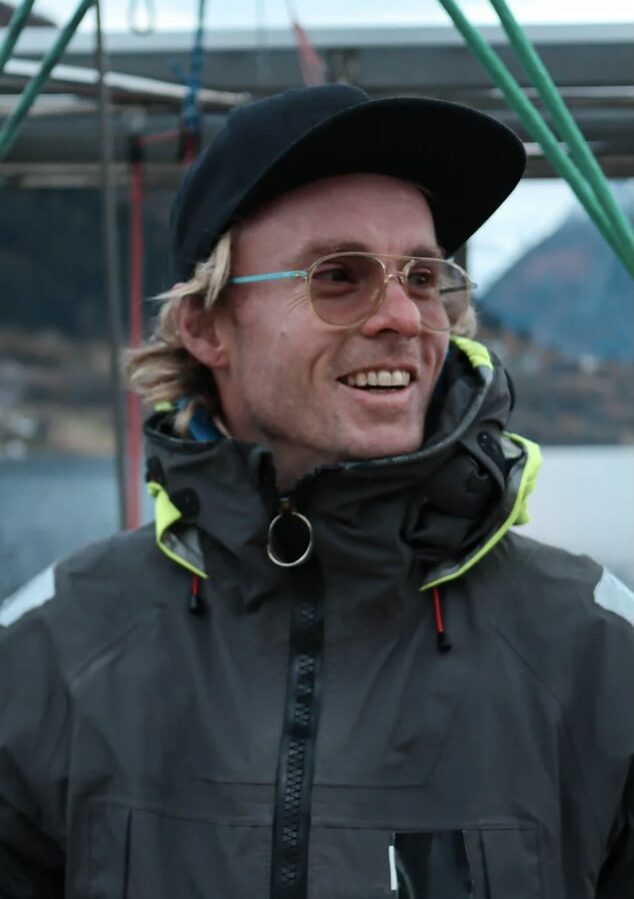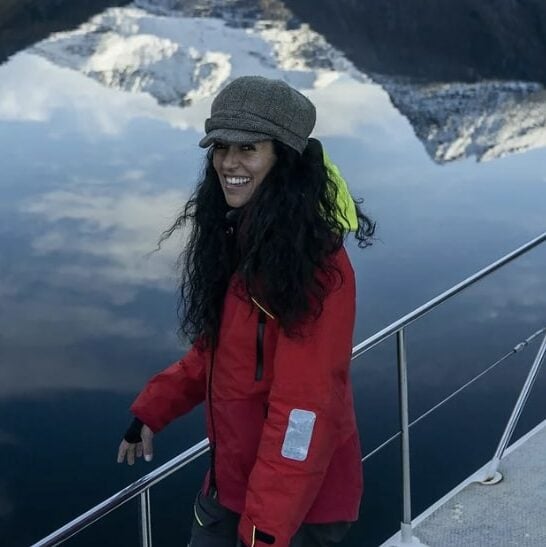 Amazing experience. Such a different from everything else, you just went on board and instantly is such a welcoming and relaxing environment. I love it. Maria, Ulrik and Ramoncito are such a great company
I had an awesome time with the Jolly crew. Ramoncito is such a sweet puppy. We had amazing walks in amazing surroundings even when it was raining.
It was wonderful. Maria and Ulrik are so nice and gave us so god information, they are interested in the culture and stories of the Fjords, we learn a lot from them. We are definitely coming back and can recommend them warmly. Don't miss this opportunity if you are in the fjords. see you again.
Very pleasant couple who knows very well the story of the place and surroundings. We've had both private time and interesting chats. Tea and coffee served.
Fantastic trip with the sailing boat. First time experience, definitely recommend!