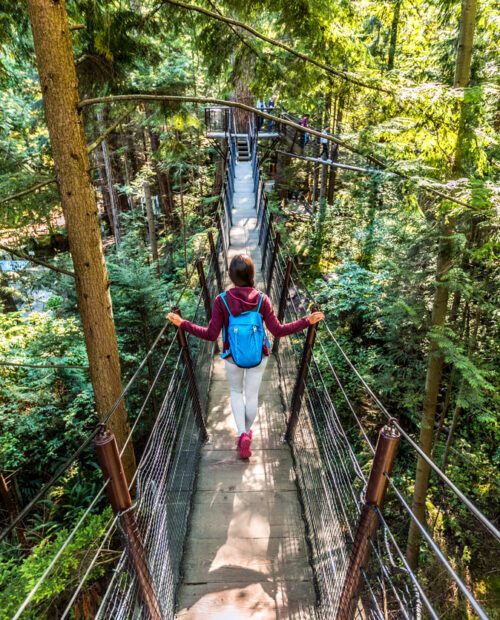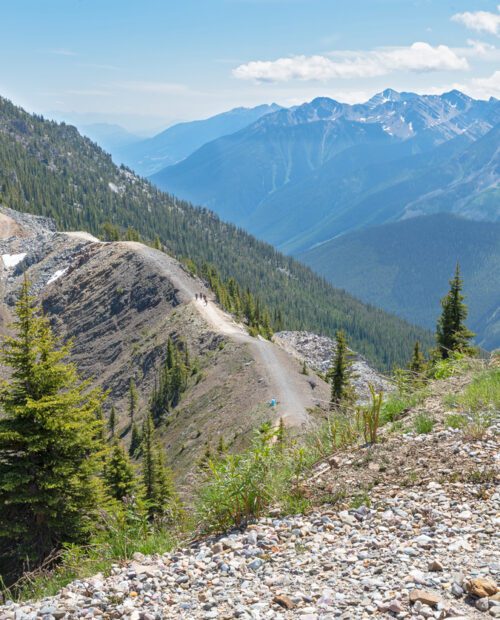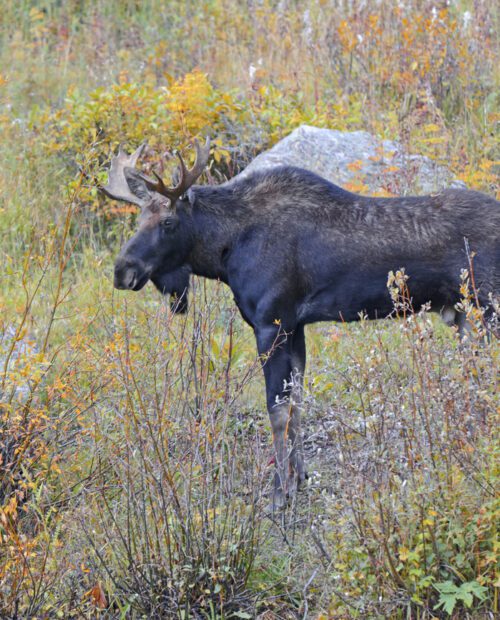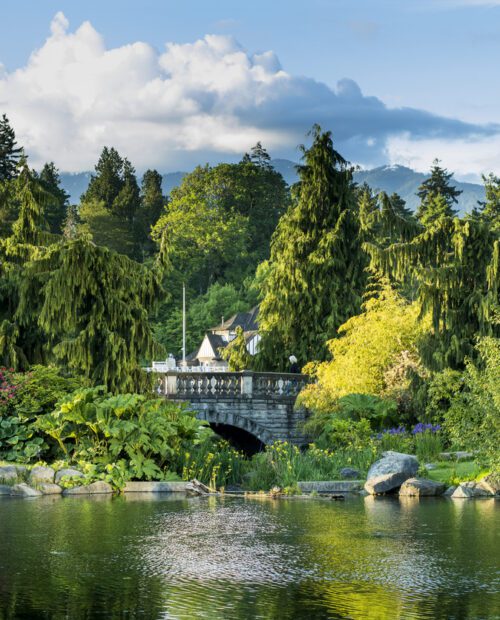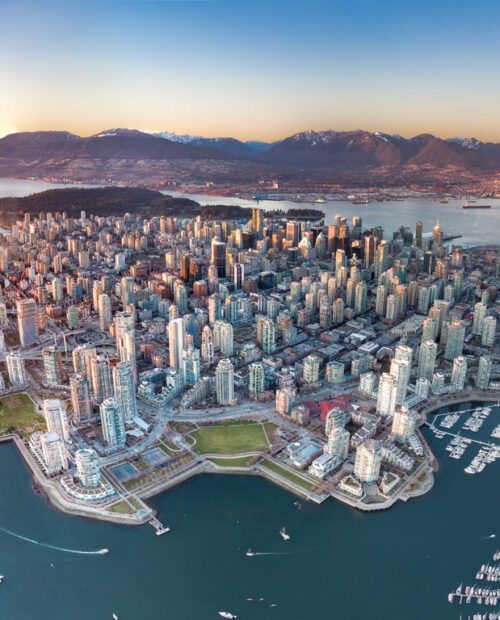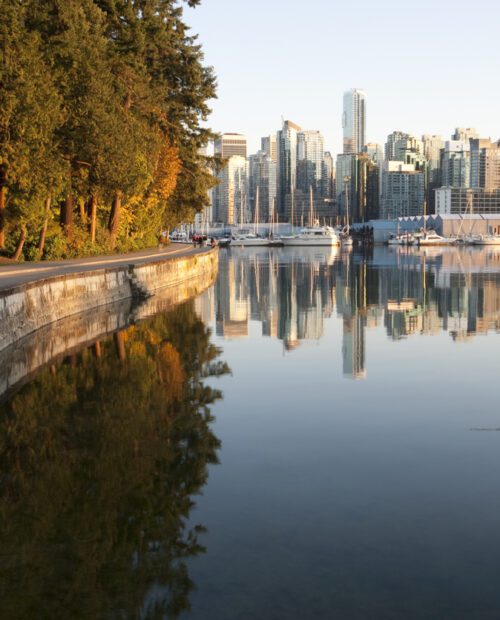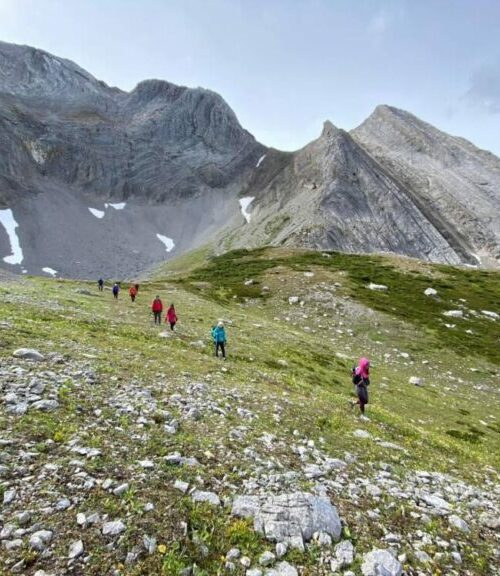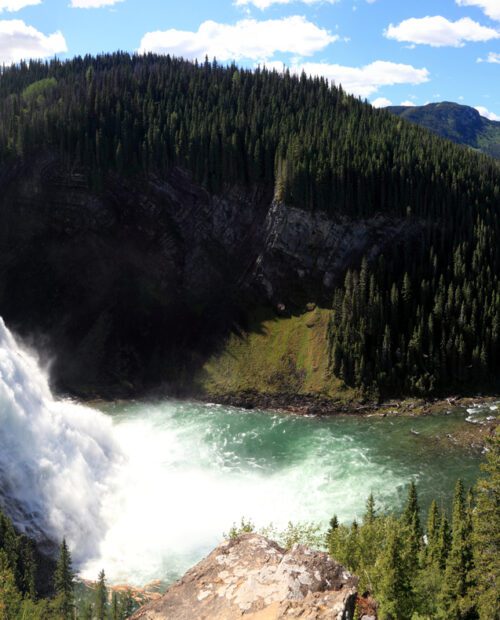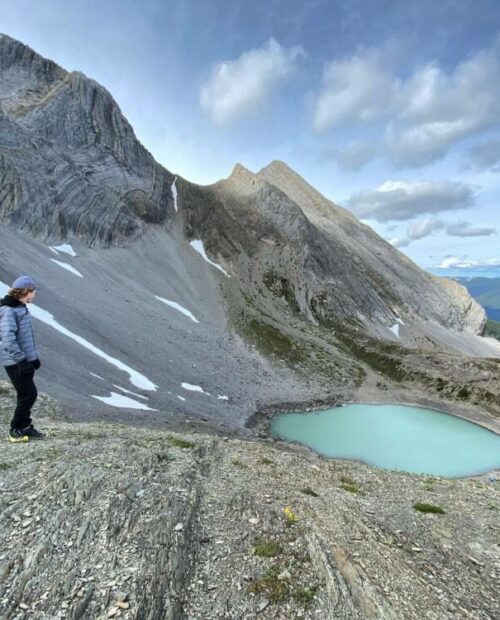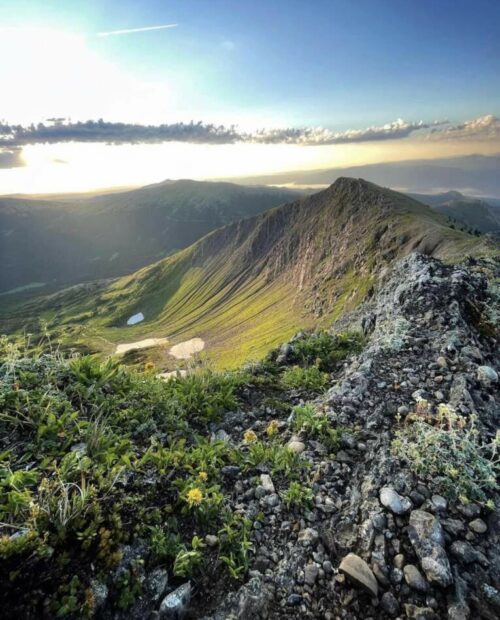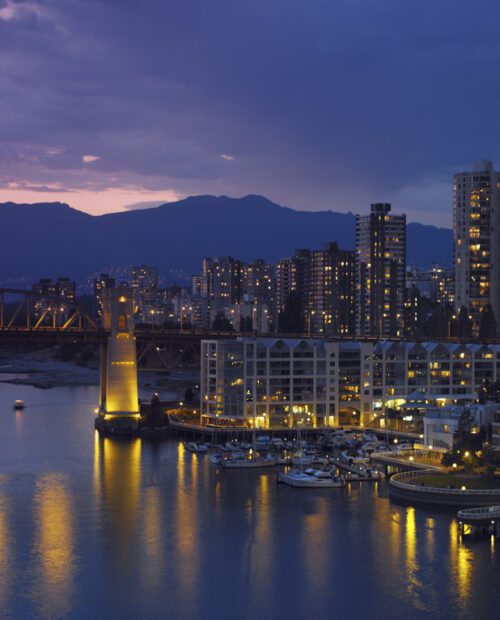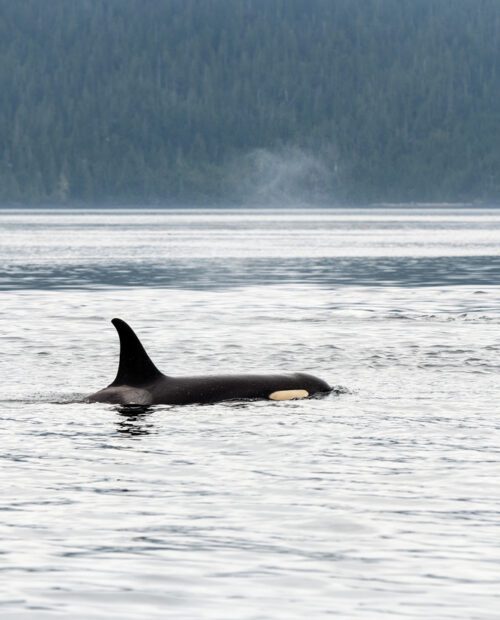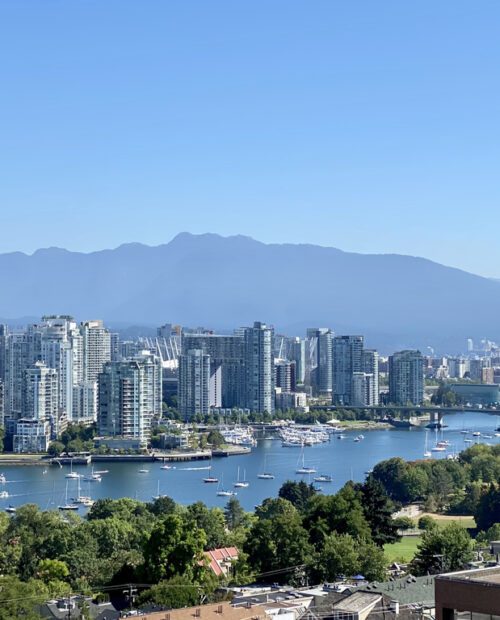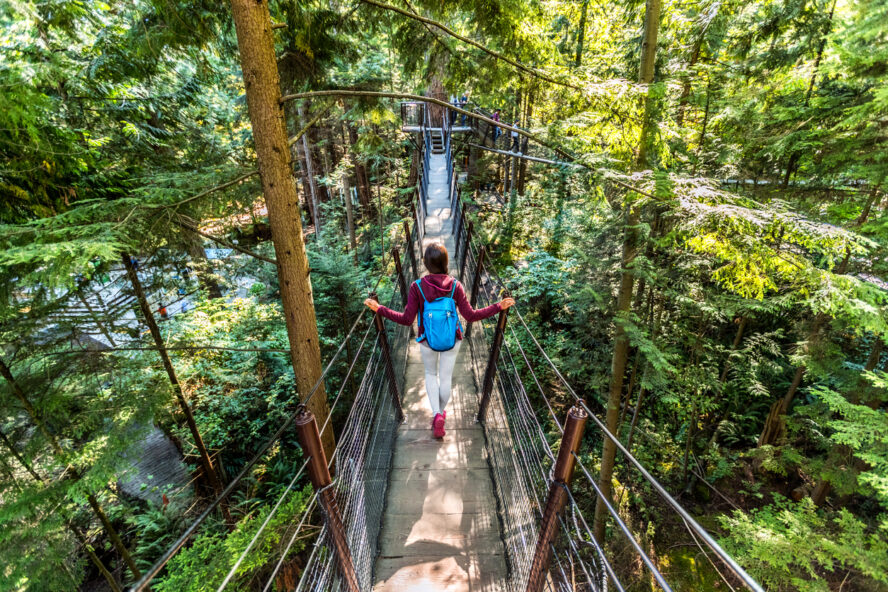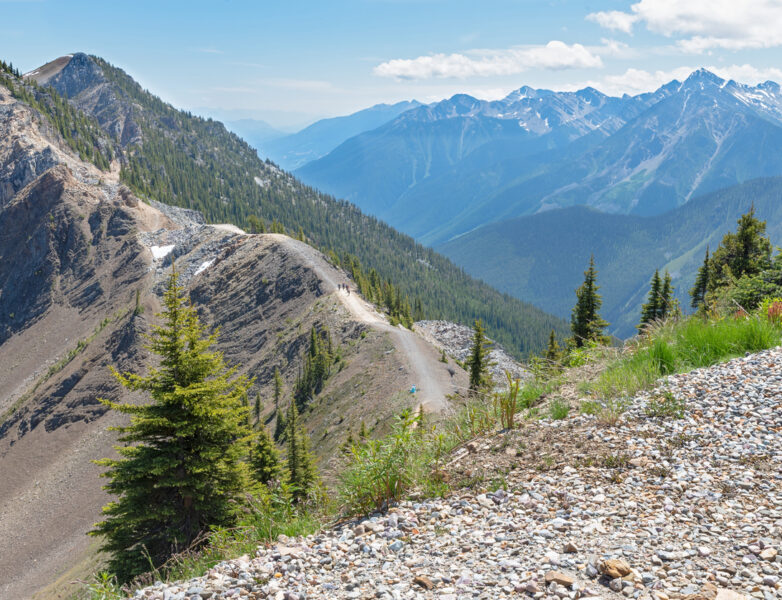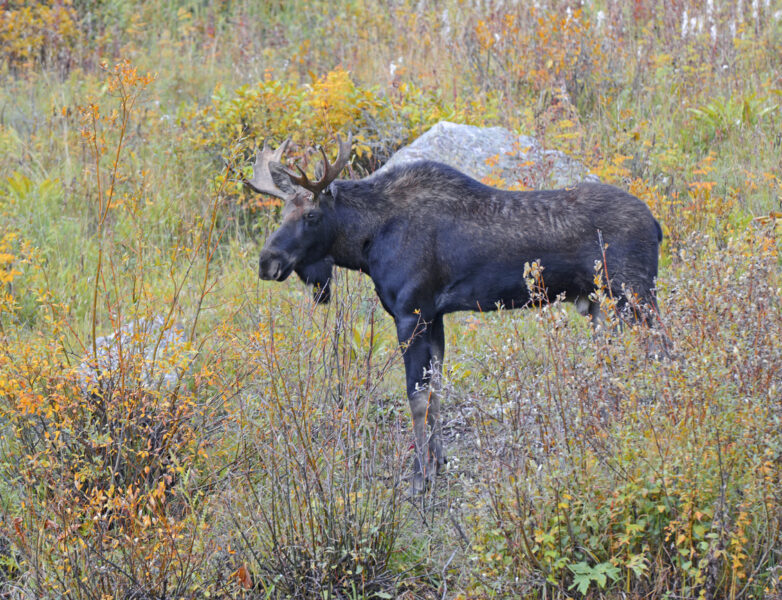 This all-women hiking journey on the Pacific Coast gathers the best of both worlds—bustling urban spots fused with the raw, unspoiled nature of the Canadian Rockies. Next to the ocean sits Vancouver—the City of Glass—offering both lively markets and enormous parks featuring ever-blooming gardens of the iconic Stanley Park. But just when you start craving the mountains, you'll fly to the 2-million-acre Tumbler Ridge UNESCO Geopark in the foothills of the Rockies. Apart from 728-million-year-old geosites and astounding dinosaur trackways, you'll feel the misty spray of majestic Kinuseo Falls and enjoy the sunrise summit of The Terminator perched up at 7,877 ft. With a great team of women by your side, this will be a Canadian holiday to remember.
Follow dinosaur trackways alongside like-minded women in 600-million-year-old park

Feel like Indiana Jones traversing suspension bridges over rivers in Vancouver's park

Discover fauna of the Pacific Province: orcas, moose, elk, and mountain goats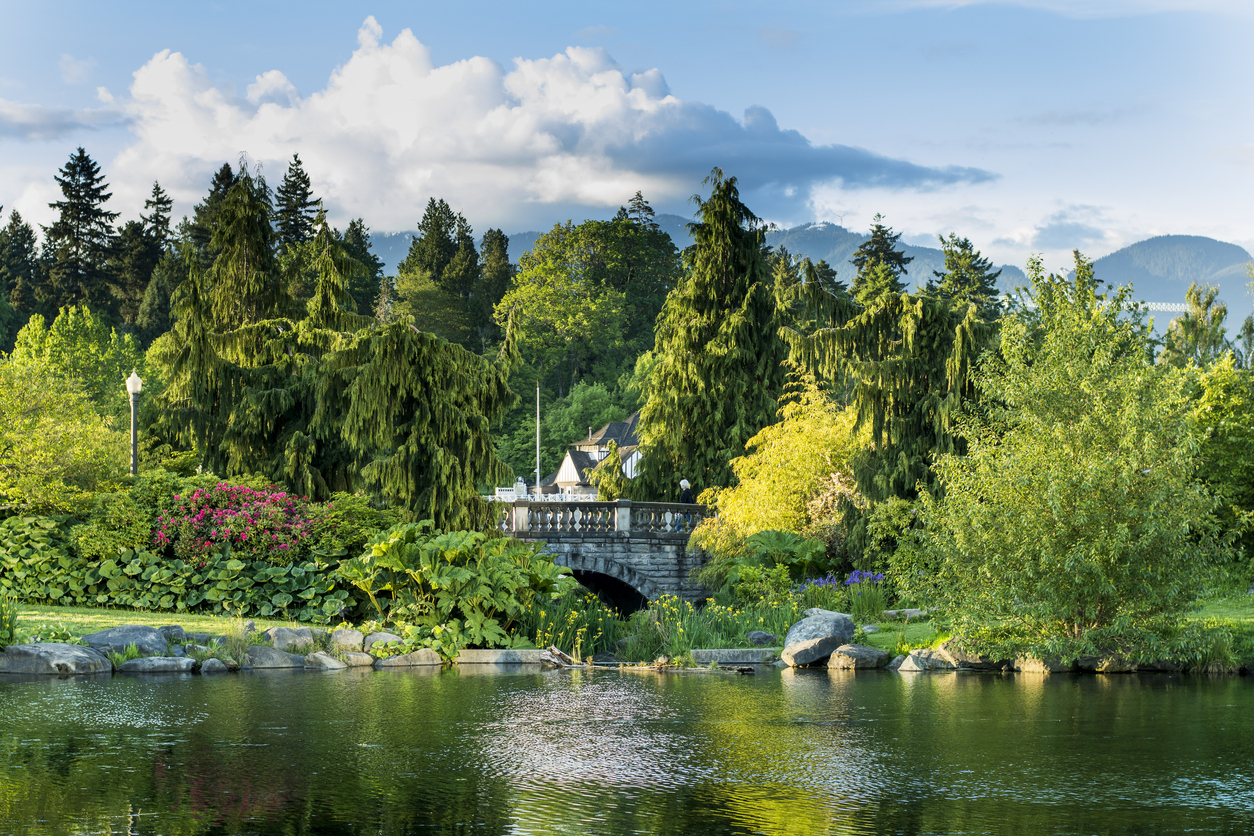 Itinerary
Thrive in the company of like-minded women on this 13-day Canadian adventure, gathering the best-ofs in Vancouver and Tumbler Ridge. Starting from the buzzing metropolis, you'll spend several days touring legendary parks and vibrant city fairs. Following a dose of urban exploring, fly to Tumbler Ridge UNESCO Geopark for a real taste of wilderness. The park is home to dinosaur remains and it features crystalline lakes, deep canyons, mighty waterfalls, and stellar peaks. While you're there, you'll be based in quaint mountain huts, while the rest of the trip will be spent in hotels. Join this all-women tour and leave with friendships for life and a filled photo gallery!
Once you arrive in Vancouver, you'll meet your guide and travel together to the hotel. In the evening, go to a welcome diner, where you'll meet the rest of the group. Mingle over drinks and delicious food, and have a good night's rest!
Accommodation: YWCA Hotel in Vancouver

After breakfast, meet your Discover Canada Tour Guide in the hotel lobby, who will show you iconic Vancouver landmarks. Enjoy the First Nations nature walk through Stanley Park with the woman-owned Talaysay Tours. Guided by a local Indigenous guide, you'll discover local trees and plants of the Pacific Northwest that have been harvested for food, medicine, and technology for thousands of years. The guide will share with you their ecological practices, ancient and contemporary history, stories, legends, and the way of life. Return to your hotel and spend the evening as you wish.
Accommodation: YWCA Hotel in Vancouver

Spend the morning touring Granville Island, Canada's second most-visited destination, with the woman-owned Vancouver Foodie Tours. Savor fine foods from independent farmers and food artisans, from cheeses to charcuterie, candied salmon, and donuts. Move onto the Capilano Suspension Bridge Park led by Discover North Vancouver: walk across the iconic bridge, stroll through the Living Forest, or give Cliffwalk a go. Next stop is Lonsdale Quay Public Market, where you could spend days exploring its eclectic boutiques. You can also climb its iconic Q tower, offering great views. Finally, discover the Shipyards District and its many restaurants and shops—be sure to stroll the Shipbuilders' pier. Return to your hotel.
Accommodation: YWCA Hotel in Vancouver

This is your free day to explore Vancouver according to your interests. There are options to join other tours, but at an additional cost: Vancouver Foodie's Gastown, Discover Whistler & Sea-to-Sky Tour, or the Discover Victoria & Butchart Gardens. Have a good night's rest at the hotel, as this is your final night before heading to the wilderness.
Accommodation: YWCA Hotel in Vancouver

First you'll take a one-hour flight from Vancouver to Fort St. John. Upon arrival, you'll be greeted by Danielle Roscher, owner and operator of JADEFit, and transferred to Tumbler Ridge. Tumbler Ridge is famous for its dinosaur artifacts, so you'll take a "Dinosaur Hike", following real dinosaur prints, and visit a museum. Afterwards head to the Compass Mountain Outfitters Camp for the Sunrise Summit Adventure, a once-in-a-lifetime experience which you don't want to miss. Head to bed in time, as you'll be waking up very early.
Accommodation: Sunrise Summit Camp in Tumbler Ridge

Rise and shine! At 2 am, you'll begin your ascent to the top of "The Terminator" for sunrise. You'll take trucks to reach the trailhead. The hike itself is a strenuous vertical climb, but when you reach it, it will all be worth it. You'll be served coffee and breakfast as you watch the sun
come up over the mountains. Return to the camp at around 10 am—naps are usually in order and you'll revive in the afternoon. You have two options later on: stay in the area and enjoy the lake, hot tub, or go paddleboarding. The second option is going on a guided trip to the Shipyard and Babcock Falls, a 30-min drive and a 6-km walk. Gather for dinner in the evening next to the fire to enjoy the Canadian outdoor experience.
Accommodation: Sunrise Summit Camp in Tumbler Ridge
Distance: 6 km / 3.7 miles
Elevation change: 300 m / 984 ft

Note: When it comes to the Sunrise Summit, keep in mind that weather may not cooperate. Hiking in the dark on steep sections without much sleep is challenging enough on its own, but it gets even harder with bad weather. Having said that, even the most inexperienced hiker can still make it to the top with the help of the team.

Pack up and head towards your next hiking destination. No trip to Tumbler Ridge is complete without seeing Kinuseo Falls—this 70-meter tall monumental wonder of nature showers over 40m3 of water a second. Just across the road is the historic Stone Corral trail. Around each bend is a new surprise with 15 different stops including two caves, a massive rock coral, and a tiny underground, stream-fed lake. Expect a 4-5-km (6.4-8 miles) walk with 230 m (755 ft) of elevation change. Drive back into Tumbler and check into your hotel.
Accommodation: Trend Mountain Hotel in Tumbler Ridge
Distance: 4-5 km / 6.4-8 miles
Elevation change: 230 m / 755 ft

Today you're hiking through the forest and marveling at a spectacular alpine lake. There's an option of adding a ridge walk and making things more difficult. This is a good area if you're looking for a challenge, as there are many areas to explore!
Accommodation: Trend Mountain Hotel in Tumbler Ridge
Distance: 10 km / 6.2 miles
Elevation change: 300 m / 984 ft

This is a relaxing day with two stops. Bullmoose Marshes host a myriad of birds and Canadian moose, so there's a chance of spotting them. Continue onto Gwillim Lake, a lovely place for a short hike along the shoreline and a great lunch spot. There are also optional activities of swimming or paddleboarding.
Accommodation: Trend Mountain Hotel in Tumbler Ridge
Distance: 3 km / 2 miles

You've got two options today. Following a relaxing morning, join your guides on a trip to Cameron Lakes Lodge Beach area and try out dragon boating. The second option is going on a once-in-a-lifetime heli tour with Ridge Heli Tours at an additional cost. Your guide will explain other options on the day depending on the weather.
Accommodation: Trend Mountain Hotel in Tumbler Ridge

After several days spent in the wild Tumbler Ridge, it's time to leave. Transfer to Fort St. John, where you'll hop on a plane and fly back to Vancouver. You'll get transferred to your hotel, and after settling in, you can spend the evening as you wish.
Accommodation: Barclay Hotel in Vancouver

Visit the historic fishing village of Steveston and then join an exciting whale watching tour aboard a zodiac boat led by Vancouver Whale Watch. The Pacific Coast is home to majestic orcas and humpback whales, along with many other extraordinary species. After that, head to Richmond Night Market, the Asian-themed night market, largest of its kind in North America. With thousands of visitors each weekend and hundreds of vendors, you'll have plenty to explore.
Accommodation: Barclay Hotel in Vancouver

Your all-women Canada adventure has come to an end. If you've booked your flights, head to the airport. There's also the option of adding an Alaska Cruise or some other post-tour option. Let your guides know and they'll make arrangements.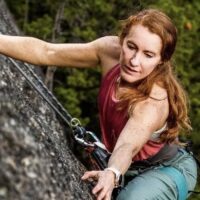 Danielle Roscher founded JADEFit in the middle of the pandemic, when she realized she could combine outdoor adventure with training. She grew up hunting and adventuring with her father, but fell away from sports as a teenager, only to come back to it i...
View details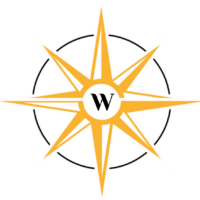 Sisters Sara and Ginny, the owners of Walking Women, are passionate about sharing their love for walking and having fantastic experiences with friends and family. Walking Women's mission is to provide a safe space for women to explore and venture toget...
View details
Lyn Romeo
about
Walking Women
on Google Reviews
I have throughly enjoyed my holidays with Walking Women ! Well organised and responsive  and always lovely warm and inclusive groups. The fab accommodation and wonderful places ensure that I will be booking regular trips with them
Dottiegc
about
Walking Women
on Tripadvisor
This was my first time with Walking Women and I have to say it was just great getting together with a bunch of like-minded women enjoying the walks, the scenery, the chats and of course the cream teas! Chrissie was a great host and walk leader. I will certainly be looking to 2020 for another walking holiday. Keep up the great work.
dep
about
Walking Women
on Tripadvisor
From the little I have experienced on my holiday with WW, I can see people and places are carefully selected, and held to a high standard with prices that remain almost affordable for all; curated to make the guest at ease at all times wether in the intinerary of the walks or the destination hotel/B&B stay. As a solo traveler I'm only sorry I didnt discover it sooner 🙂
Things to know
What you get on this adventure:

An experienced hiking guide accompanying you for the whole duration of the tour & local, experienced guides with extensive knowledge of the area in Canada

13-day all-women hiking tour in Canada

Accommodation (10 nights in an ensuite, single occupancy hotel room and 2 nights in shared cabins)

All breakfasts, 5 lunches, 1 dinner 

Internal flights (Vancouver — St Johns, Tumbler Ridge)

All tours outlined in the itinerary (if there is an additional cost, it's noted)

Sightseeing tours guided by local women

Professional guided hikes in Tumbler Ridge Global Geopark

Talaysay tours — Talking trees

Granville Island Food Tour

Discover North Vancouver Tour & Capilano Suspension Bridge

Whale watching tour

Other local transfers required

Spa kits made by local women in Tumbler Ridge

All Canadian taxes and fees

What's not included:

Transportation to and from Vancouver, Canada

Travel insurance — mandatory

Additional meals and beverages — suggested budget is $65 per day on days where meals aren't included

Optional additional activities

Guide gratuities — optional

In order to join the all-women hiking tour in Canada, you need to have a decent level of fitness. You'll be on your feet for 11 days, with most days being between 4 and 6 hours of walking or hiking with regular refreshment stops. Some days you'll be touring the city and parks, other days you'll be hiking on uneven terrain in Tumbler Ridge Geopark. The most you'll hike is 10 miles with 984 ft of elevation change, and the most challenging day will be the Sunrise Summit.

Here's a list of the equipment you need to bring:

Day pack large enough to carry all the items listed (around a 25-40L bag)

Hiking poles — optional

Water bottle or hydration bladder (2L capacity)

Lightweight hiking boots or shoes

Spare clothes for layering

Waterproof rain jacket

Sunhat

Toiletries (sunscreen, hand sanitizer, bug spray, toilet paper, etc.)

Headlamp or flashlight

Sunglasses

Camera — optional (but recommended)

Dress comfortably and for the weather in clothes you can move in. We suggest bringing clothing appropriate for the season. Layers are best and don't wear jeans.

In order to experience as much as you can on this tour, you'll be staying in different accommodations. 

4 nights will be spent in Vancouver, in the newly-renovated

YWCA Hotel

. This is a non-profit hotel with a percentage of reservation funds going to support community programmes for women and children.

You'll then fly to Tumbler Ridge and stay there for 2 nights in the Sunrise Summit Camp. This is a rustic accommodation with shared rooms in a spectacular setting on a lake in the mountains. This is the best way to truly experience the mountains and the sunrise summit. Keep in mind that there is no running water or flush toilets—the camp is located beside a small lake and has pit toilets, propane stove, and fire pit. The cabins have shared accommodations.

The remaining 4 nights in Tumblers Creek will be spent in the

Trend Mountain Hotel

.

Return to Vancouver for 2 nights at the Barclay Hotel, owned and run by Barbara Cheng. This is a heritage-style hotel right in the heart of Vancouver, perfect to end your trip.

Group sizes and prices:

For this all-women hiking tour in Canada, the maximum group size is 12. There will be multiple guides during the trip, depending on the area you're exploring, but one guide will be with you the whole way through.

The cost does not decrease as the group grows. However, there's a discount if you bring a friend and share the room. More information on that when you go through the booking process.

Hiking in Canada can be arranged for larger groups. Contact us to make arrangements.

Min. age requirements:

If you are older than 18, you're good to go.

Minors younger than 18 may be permitted to join the hike on a case-by-case basis, but must be in the presence of a parent or legal guardian.

If your group has hikers under the age of 18, contact us prior to booking to make arrangements.

A 25% deposit to secure your place is due upon booking. The remaining amount is paid 3 months (90 days) prior to departure. Once the trip is confirmed by the guide, the cancellation policy stated below applies.

If Client cancels the Booking anytime prior to ninety (90) calendar days in advance of the trip contemplated by the booking, Client is entitled to a refund or moving the credit to another holiday, minus the deposit. It is not possible to refund the deposit as it covers costs that have already been incurred.

After that deadline, Client is not entitled to any refund. Any reimbursable expenses arising out of the Booking incurred by Guide prior to the date of cancellation (including but not limited to plane tickets, car rental payments, and lodging or transportation fees) are non-refundable as soon as they are incurred by the Guide. However, the Guide will discuss options with the Client regarding the possibility of reselling the Client's place.

If Client has to cancel the trip due to COVID-19 infection, the Guide will refund Client's money or transfer it to another trip.

To get to Vancouver, the starting point of your adventure, most people fly into Vancouver International Airport. Once you and your guide agree on the details of your itinerary, your guide will suggest the best place to meet, whether that's at the hotel you're staying or a predetermined location.

57hours is committed to providing safe outdoor adventure experiences. We require all guides using our platform to have a COVID-19 safety plan and to make the details of that plan accessible to travelers. In most cases, group sizes will be reduced, guides will avoid overcrowded locations, and other safety measures will be met depending on the location and activity. 

We also expect clients to respect local regulations and take measures to protect themselves, their guides, and the communities they're traveling to. For more information on COVID-19 measures in Canada, please refer to the COVID-19 travel advice by the Government of Canada.

Please contact us if you have any questions or require further information. We are happy to provide you with the most up-to-date information!