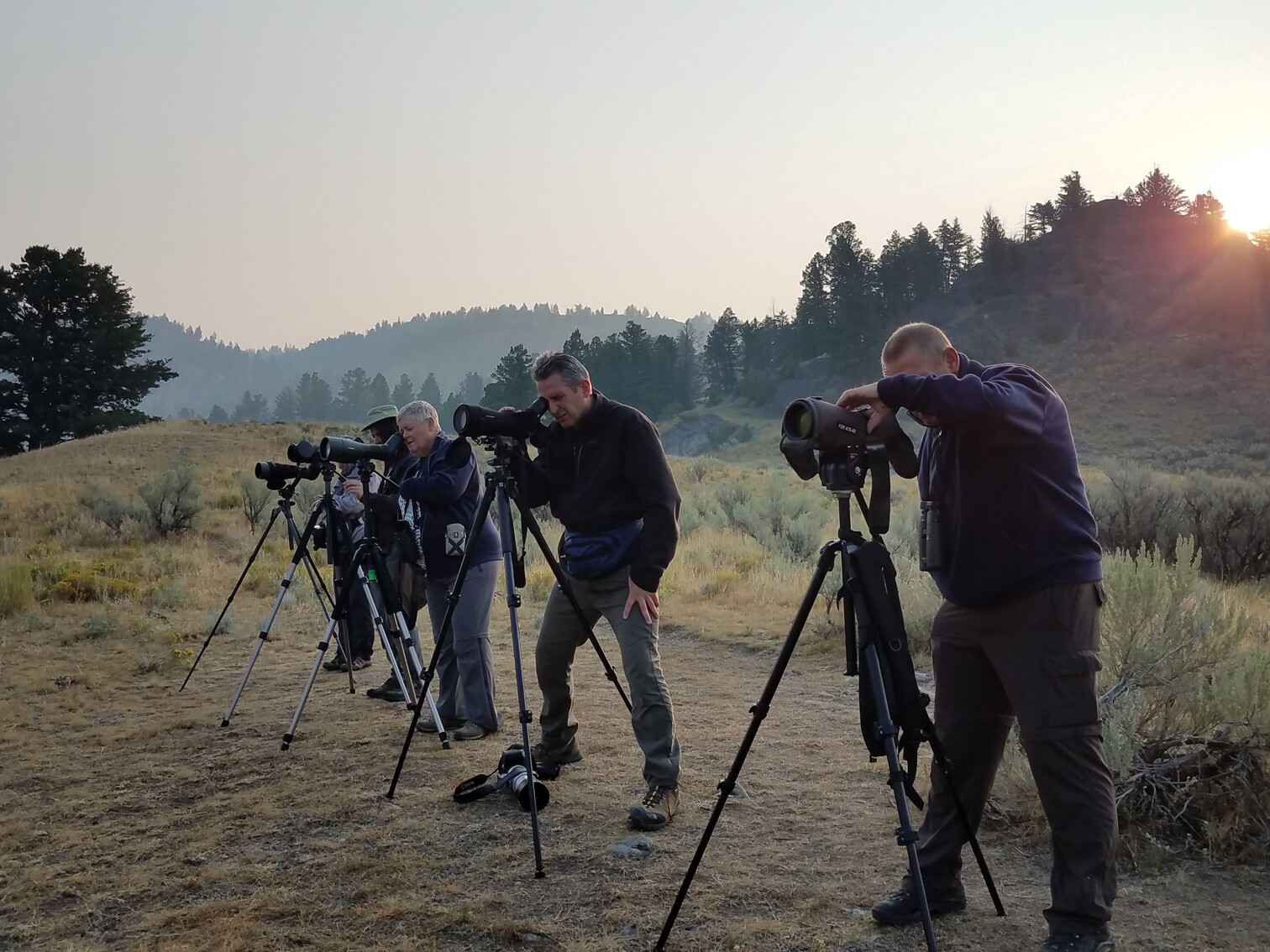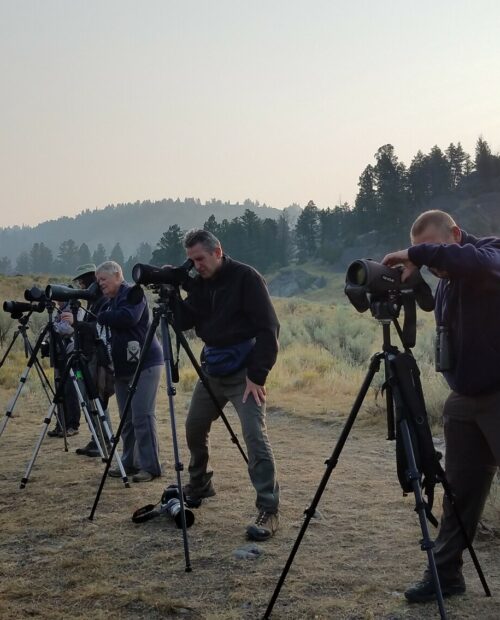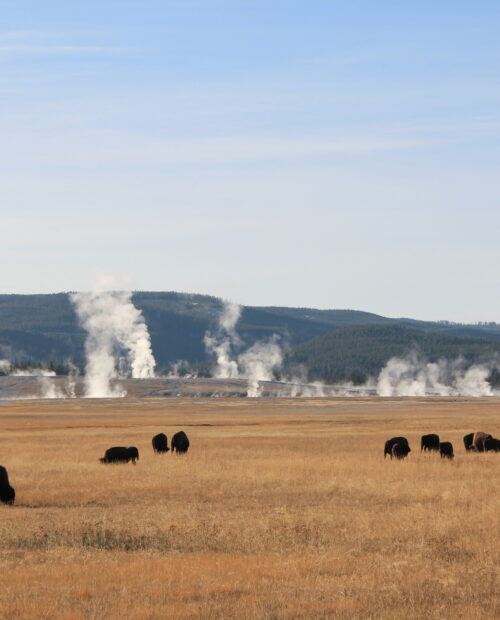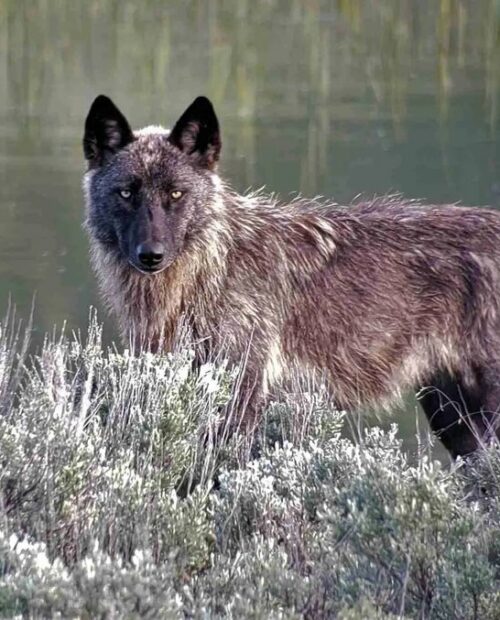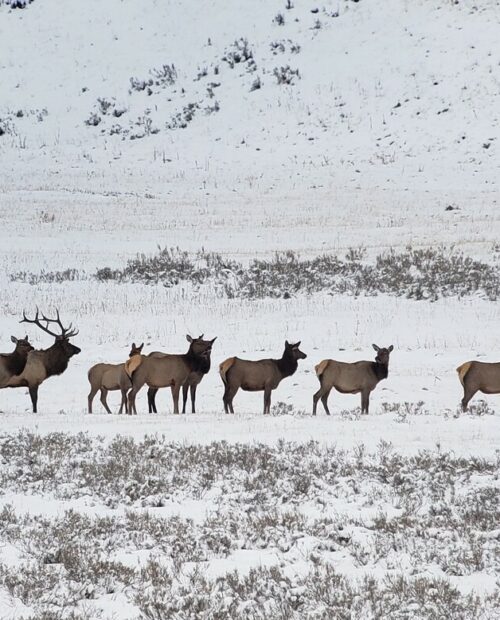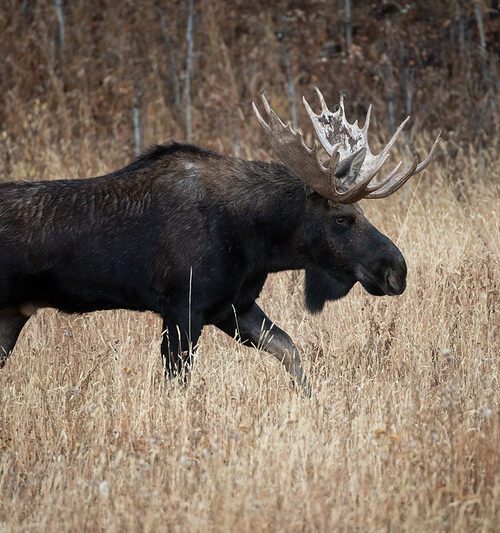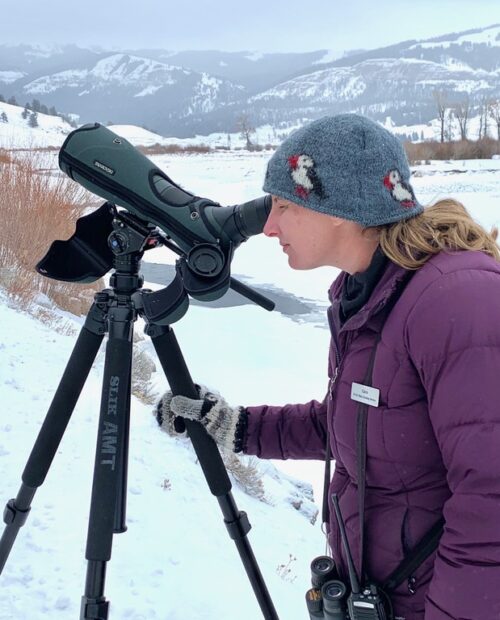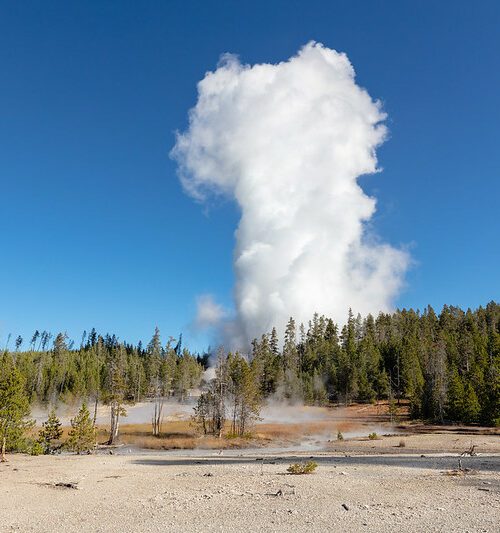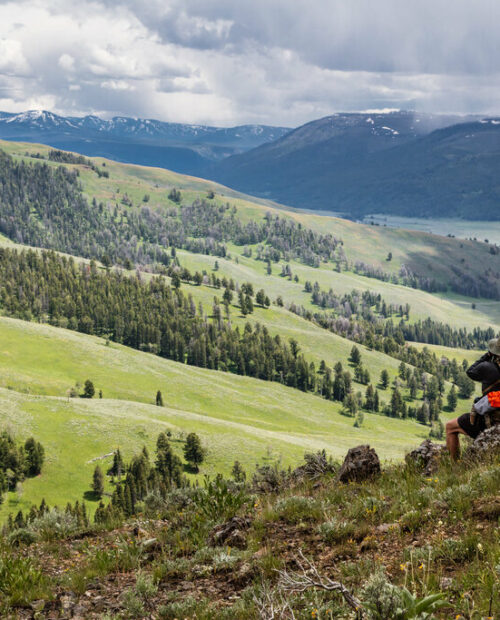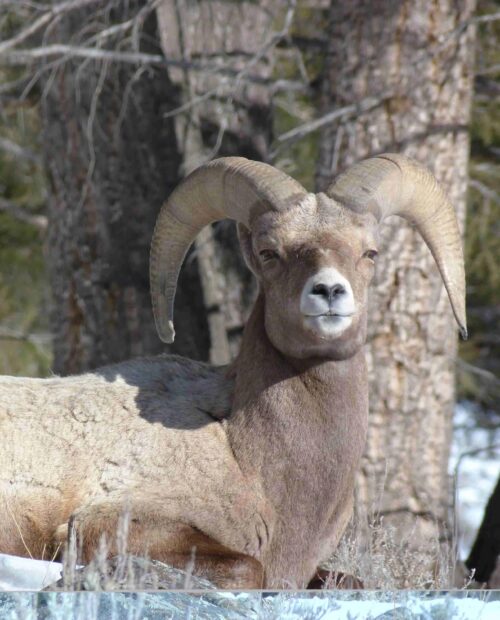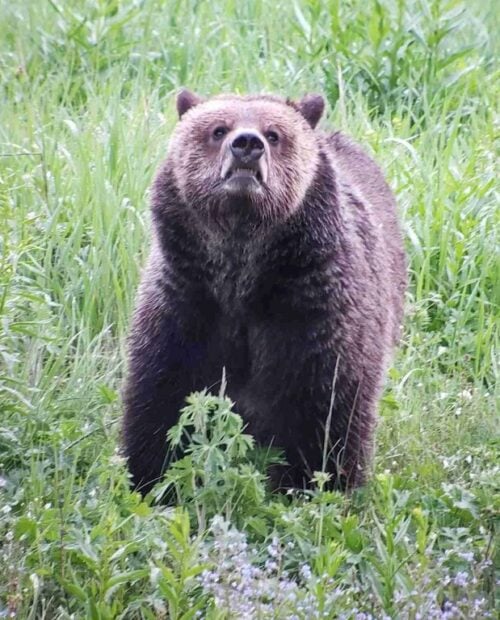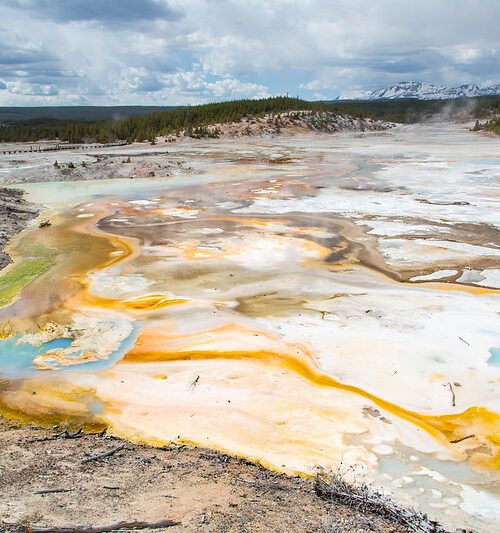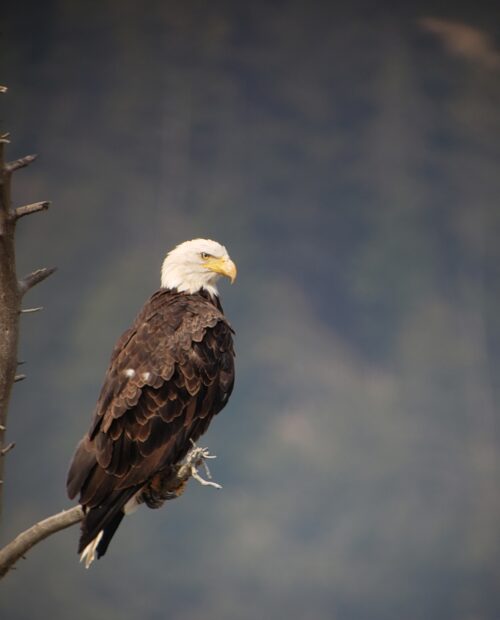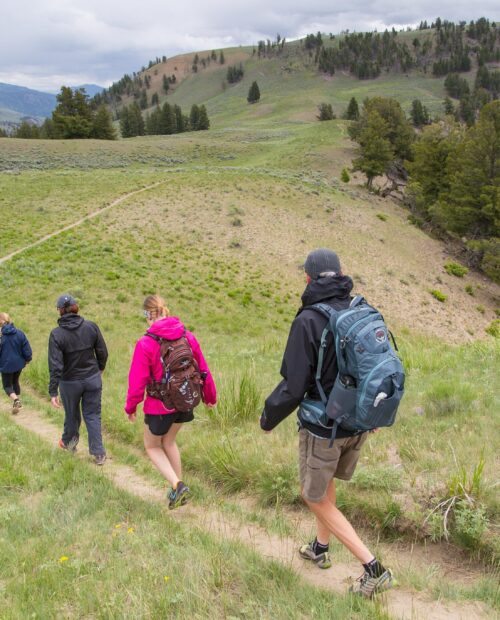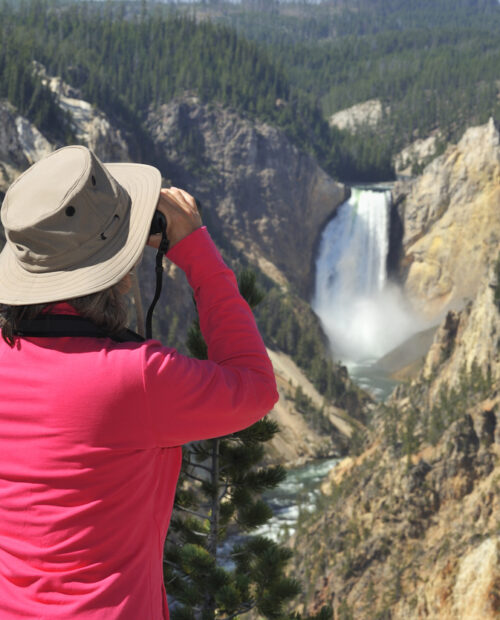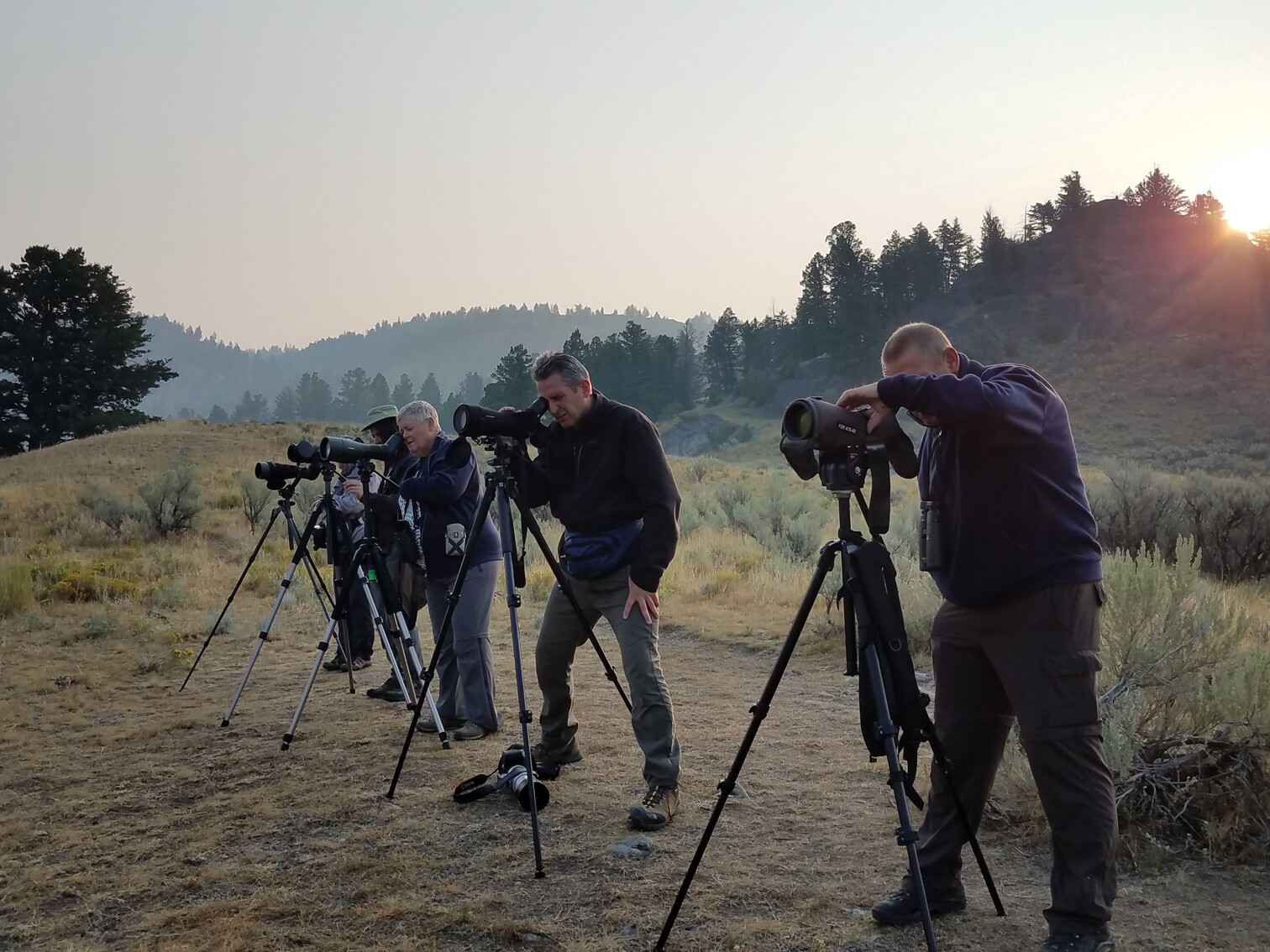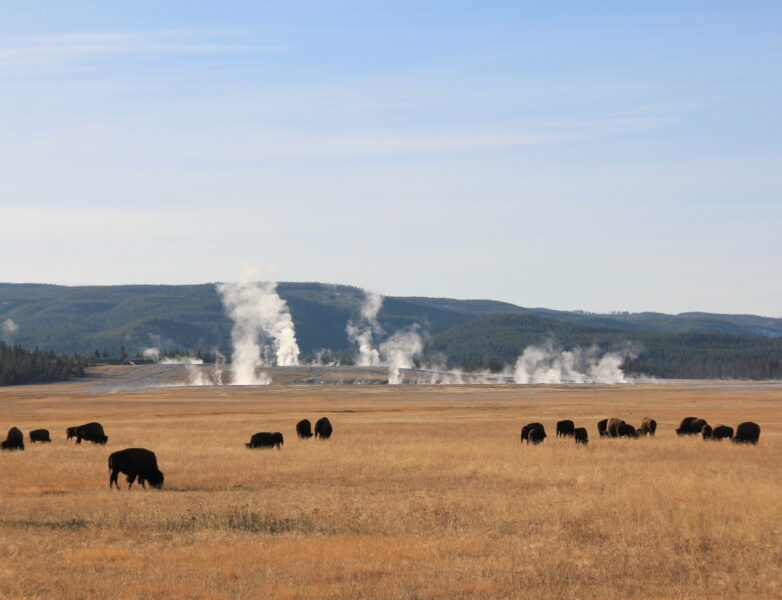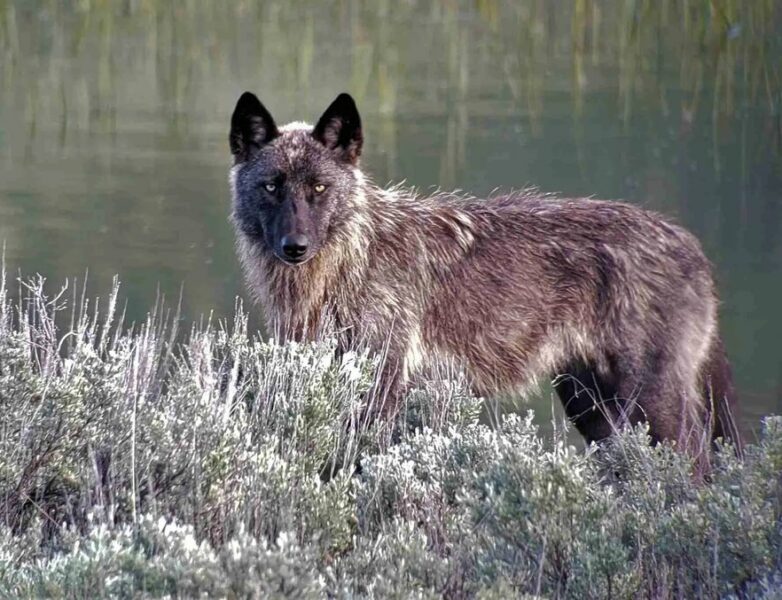 Wildlife Watching Adventures in Yellowstone
5.00

()
Explore one of the last frontiers for wildlife-watchers in the US, Yellowstone National Park. While the world's first national park boasts the impressive size of 2.2 million acres, the heart of an even greater ecosystem spanning 22 million acres. Observe +400 different animal species by moving in a vehicle and hopping out to explore the targeted areas within the park. Your guide's expertise and sharp observation skills will make it likely for you to see wolves, grizzly bears, black bears, bison, pronghorn, elk, bighorn sheep, eagles, osprey and many other species depending on the time of year. With the help of highest-quality spotting scopes, you can enjoy the presence of these animals while keeping yourself and wildlife safe by avoiding close encounters. Join your biologist guide for a private, in-person wildlife documentary!
Walk with an experienced local biologist and observe wildlife using highest-quality spotting scopes

Learn about history, ecology, conservation efforts and more than 400 animal species inhabiting the area

Cover more ground by combining driving and hiking, and increase the chances of seeing specific animals by visiting targeted areas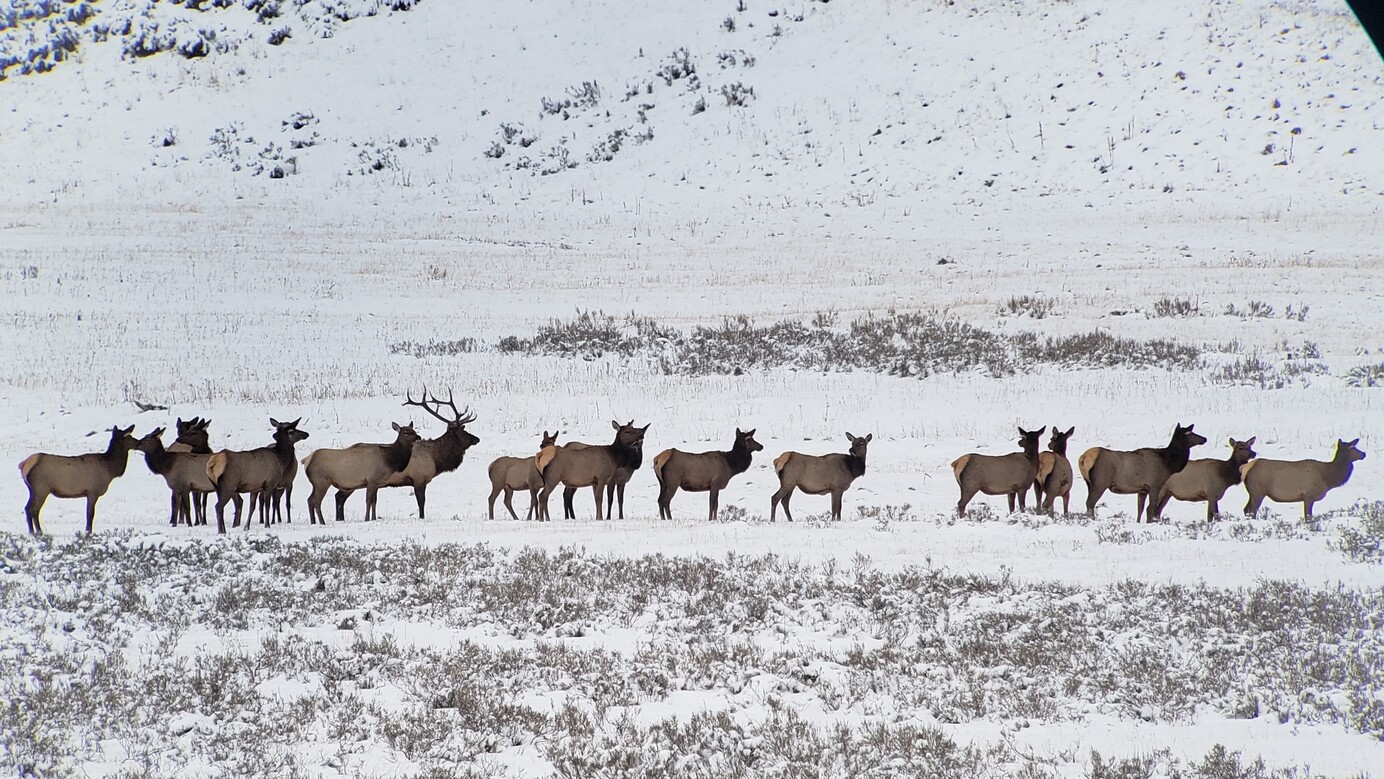 Private Wildlife Watching from Gardiner or Mammoth
Access the park through the North Entrance and observe wildlife close to Gardiner. The town itself showcases unique coexistence between people and wildlife (think elk napping on a football field), but in close proximity you'll find the otherworldly Mammoth Hot Springs and other fascinating areas of Yellowstone's Northern Range boasting incredibly abundant fauna. Venture for up to 8 hours with an expert biologist guide to get a better understanding of the relationships between the varied animals like bison, bighorn sheep, elk, pronghorn, grizzly bears, black bears, wolves, and deer. 
Gardiner is a town located at the north entrance to the park. This meeting point is very convenient if coming from Gardiner, Emigrant, Pray, Paradise Valley, or Livingston. You will meet your guide at a predetermined location in town or at the Roosevelt Arch—usually half an hour before dawn.
Private Wildlife Watching in Lamar Valley
With so much wildlife to see, it comes as no surprise that the Lamar Valley, the pearl of Yellowstone's Northern Range, is often called America's Serengeti. Spend up to 5 hours on this wildlife watching tour in Lamar Valley and admire the countless animals roaming its magnificent landscapes. Depending on the season, you might see coyotes stalking their prey, grazing bison, elk rut, or baby bears coming out of their den! And don't forget about wolves, grizzly bears, bald eagles, pronghorns, and many others. 
To get to the Lamar Valley, most people go through the northeast or north entrances to the national park, which are 10 and 25 miles away by road, respectively. You will meet your guide at the Lamar Buffalo Ranch—usually at dawn.
Private Wildlife Watching in Tower-Roosevelt Area
Visit numerous wildlife-spotting hot spots with a seasoned local biologist and get up close and personal with some of Yellowstone +400 animal species. Over 6 hours, you will spot wildlife and learn about Yellowstone's history, ecology, and the scientific studies that took place here in the process from your knowledgeable guide. Choose this location if it's most convenient fop you to start at the Tower Junction, but keep in mind that you'll also visit the Lamar Valley, which proudly holds the title of America's Serengeti.
The road distance between the north entrance to the national park and the Tower-Roosevelt Service Station (Tower Junction) is 20 miles. This meeting point is can also be convenient for those coming from from Canyon Village or Cooke City. You will meet your guide at a predetermined place in the Tower-Roosevelt area some time in the early morning (usually at dawn).
Private Wildlife Watching in the Grand Canyon and Hayden Valley Area
Spend up to 6 hours getting entranced by the natural beauty of Hayden Valley, one of the greatest wildlife watching locations in the park—and dazed by the dramatic landscapes of the Grand Canyon of Yellowstone. You might spot bison, bears, wolves, foxes, and elk while learning about the geologic history and preservation efforts of these locations from your expert biologist guide. Depending on the season, you might also spot how otters chase fish, badgers prey on squirrels, and coyotes on a lookout for mice.
The Grand Canyon of Yellowstone is 40 miles away from the north entrance, but this location is most convenient for those coming from Canyon Village, Lake or Grant. You will meet your guide half an hour before dawn in the parking lot near Canyon Visitor Center restrooms. 

The Lower Falls plunge over 300 feet into the Grand Canyon of the Yellowstone
Private Wildlife Watching in the Norris Geyser Basin
Spend up to 7 hours exploring the rich and vibrant fauna of Yellowstone's Norris Geyser Basin on this epic wildlife watching tour. Meet grizzlies, wolves, elk, bison, and other colorful species with the help of state-of-the-art spotting equipment and a seasoned biologist guide. Yellowstone boasts the largest free-roaming animal population in the Lower 48—time to meet them all!
To get to the Norris Geyser Basin, most people enter the park at the west entrance (28 miles away) and this meeting location is most convenient for those coming from West Yellowstone, Madison, and Old Faithful. Meet your guide at a predetermined location near the Basin at dawn.
Get free trip brochure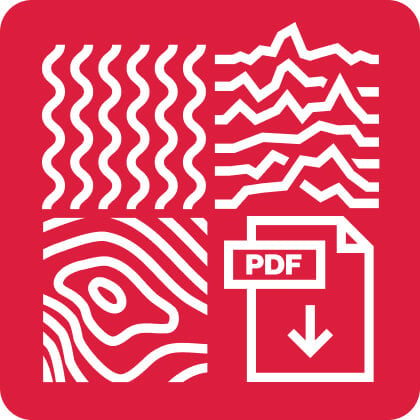 The brochure contains:
Adventure and location overview, itinerary, available dates, what's included, how to prepare, and much more.
Brochure sent, check your inbox
Talk with us
and let one of our adventure experts help you plan your perfect adventure.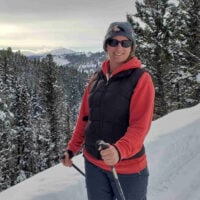 Cara is a qualified biologist (BS in Aquatic Biology and MS in Biology) who wants to help others develop and feed their fascinations with the natural world in Yellowstone. When not in Yellowstone, she likes to explore places where there are good tidepools or snorkeling.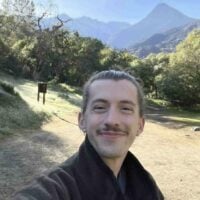 Ben developed his passion for wildlife while working as a zoo educator in his hometown of Saint Louis, Missouri. He later moved to Fort Collins, earning his bachelor's degree in Wildlife Biology at Colorado State University, before taking his studies all over the world. After graduation, he worked as a park ranger and wildlife educator in Kauai before settling in Yellowstone.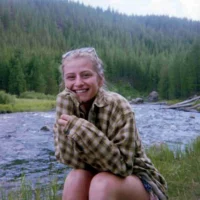 Hannah Beroske
Biologist Guide and Wildlife Research Technician
Biologist Guide and Wildlife Research Technician
After earning her bachelor's degree in wildlife sciences, Hannah quickly ventured west to Yellowstone National Park where the wildlife is abundant. She fell in love with the Park's natural wonders and surrounding forests. With 5 years' experience as a wildlife research technician, she has worked with many animals such as wolves, cougars, birds, and more. She spends most of her time exploring and appreciating everything that nature has to offer. Hannah finds joy in sharing her passions with guests and hopes to facilitate a memorable experience and inspire action. She is especially eager to work with young minds that are ready to learn and have fun!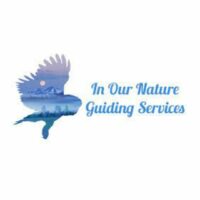 In Our Nature is an eco-friendly guiding service specializing in private wildlife watching, day hikes, backpacking trips, birding, and night sky tours in Yellowstone National Park. Whether you're looking to see some world-class wildlife, enjoy a scenic hike, or spend a night in the backcountry, they'll make sure you get the most out of your adventure.
Yellowstone……it's awesome
Michael C.
(source: Tripadvisor)
Only having a 1/2 a day to spend with you (Cara) we were able to see wolves, bear, bison, osprey, antelope, and the beautiful Lamar Valley….Thank you Cara for the memorable experience in Yellowstone! AND we, including the teenage boys (Michael and Nicholas) were very impressed with your knowledge (and snacks). Hopefully we can come back and go on a great hike with you!
Wildlife Watching in Yellowstone
Chris C.
(source: Tripadvisor)
We had an amazing day of wildlife spotting with Nancy in Lamar Valley. She did a great job of explaining the relationships and interactions of all of the various animals of Yellowstone. We felt that her knowledge and insight was extremely valuable and we walked away with a much greater understanding of the wildlife in the region. I would highly recommend this tour!
The Wolves of Yellowstone
Julie Z.
(source: Tripadvisor)
Cara was a wonderful guide in every way. Within an hour of our time with her we saw the wolves of Yellowstone! Cara was super smart, informative about the wildlife, friendly, had coffee and hot cocoa for us, and had a very comfortable car for us to roam around Lamar Valley all day. She introduced us to some of the local wildlife enthusiasts, and we had a great time spotting the wolves, a grizzly, bison, coyotes, and 2 bald eagles! Our time with Cara was the highlight of our trip!
Best Guide in Yellowstone
Julien F.
(source: Tripadvisor)
Cara is truly a gem. She customized her tour based on my interests and I got to see so many amazing sights. She was kind and funny and extremely knowledgeable. She somehow knew where all the wildlife was hiding. I had a great time and would not have enjoyed Yellowstone as much if it wasn't for her!
Things to know
What you get on this adventure:

An experienced biologist guide with extensive knowledge of the area

Full day of wildlife watching starting at dawn (tour duration depends on starting location)
Transportation during the tour
A safe vehicle to cover more ground
Binoculars and spotting scopes

Short hikes on request

Brunch

What's not included:

Transportation to the meeting point

Accommodations

Park entrance fees ($20 per person, $35 per family)
Guide gratuities

Your guides can meet you either at your lodging in Gardiner, MT, or at the departure locations within the park. All transportation during the tour is included in the cost of the trip.

Many people think that you have to hike through the backcountry to find animals, but that's not the case! Wildlife watching is most effective from viewpoints, overlooks and short trails, not so far from the road. Using a vehicle helps you cover a larger area faster, so you can see more of the animals you're interested in. For example, it takes 100 miles (160 km) on average to see wolves. Of course, if you prefer to add a short hike to your tour, your guides are always up it!

All of them! Depending on your preferences of temperatures and wildlife, you can choose between winter season (from mid October to mid May) and summer season (from mid May to mid October).

Wildlife watching and birding expeditions are a great activity throughout the year. Baby season is usually in May and June. Your guide will help you plan the trip to be in the right place at the right time and help increase your chances of seeing the animals you're most interested in. Wildlife is as dynamic and adventurous as possible but animals get shy too, so there is a chance you won't see every type of animal in Yellowstone.

Yellowstone hosts more than 4 million visitors each year, with peak season being June through September. If you don't love crowds, you might want to consider visiting in the winter. That's not to say if you do visit in the summer you'll be walking the trails conga-line style. Remember, the park spans more than 2 million acres, so if you're up for hiking in the backcountry you'll be able to put some space between yourself and other visitors.

Here is a table showing the best months to visit northern Yellowstone.


Your guides have a very high success rate for finding wildlife such as wolves and bears. However, these are wild animals and sightings are not guaranteed. July and August are some of the most challenging months to see larger mammals because high temperatures cause reduced wildlife activity. The more days you spend around their habitats with your guide, the better your chances of spotting bears and wolves.

Keep in mind that you will always watch animals from a safe distance both for you and the animals with high-quality spotting scopes.

Weather conditions can vary dramatically—from sunny and near freezing to bitterly cold and windy, with lows down to -40 C/F. Check forecasts for Cooke City, MT and Mammoth, WY to help you prepare. In general, bring more than you think you need. Please keep in mind that your guides don't tend to have a lot of extra space for big packs in the vehicle.

Here's a list of the equipment you need to bring if you're coming in the summer:

Day pack large enough to carry all the items listed (around a 25L bag)

Water bottle or hydration bladder (1-2L capacity)

Closed toed shoes, preferably waterproof
Long pants (consider an underlayer if you get cold easily or if it's a cool day)
Lighter layers underneath
A fleece or wool layer and water-proof jacket
Hat, sunscreen and sunglasses
Gloves

Toiletries (sunscreen, hand sanitizer, bug spray, toilet paper, etc.)

Bug spray — optional (must be DEET free!)

Camera — optional (but recommended)

If you're coming in the winter, you should also bring:

Warm clothing layers for sub freezing (-40 F to 32 F/ -40 C to 0 C) and windy weather
Warm hat and gloves
Long underwear or fleece
Waterproof jacket and pants
Very warm socks (no cotton!)
Insulated, waterproof shoes

Here are some extra tips for visiting Yellowstone:

If you're sensitive to bug bites, bring loose clothing that covers the lengths of your arms and legs.
Bring lots of sunscreen no matter the season. You'll be at a high base elevation (about 5,000 feet) and may go over 9,000 ft in the course of the day.
Don't wear any fragrance as it might attract bears.
Keep in mind that smoking is strictly forbidden within Yellowstone.
Please DON'T bring firearms, smoke or wear synthetic fragrance on our trip.

These wildlife watching tours in Yellowstone are suitable for people with no hiking experience. While your trip will last for up to 8 hours, there won't be long walking sections since you will largely cover the terrain with a vehicle. This is optimal as it increases your chances for spotting animals. For example, it takes 100 miles (160 km) on average to see wolves.

Keep in mind that the minimum starting elevation is at 6,000 ft above sea level, that weather in summer can be very hot. If you want to include a short hike as part of your Yellowstone wildlife watching trip (discuss this option with your guide), you'll also be packing a daypack filled with water and other things you'll need throughout the day. There won't be a need to carry a daypack if you stick to wildlife watching. Your guide will always be by your side, making sure all the walking sections are suitable for your level. 

If you are a wheelchair user or have some other specific needs, this shouldn't stop you from experiencing Yellowstone! Make sure to contact us if you're considering a tour and we will make arrangements with your guide. They have experience guiding people of all ages and with specific needs and they'll be happy to help you navigate the obstacles in this wild and remote area. You can visit the Yellowstone National Park website to find out more about the accessibility in Yellowstone.

Group sizes and prices:

For these private wildlife watching adventures, the maximum client to guide ratio is 6:1. 

The cost per person decreases as the group grows, so it's the perfect opportunity to hike with friends and family! 

Wildlife watching in Yellowstone can be arranged for larger groups. Contact us to make arrangements.

Min. age requirements:

If you are older than 18, you're good to go.

Those under the age of 18 are welcome if accompanied by a responsible adult—these tours are family friendly!

Once the trip is confirmed by the guide, the cancellation policy stated below applies. 

Cancellations up to 30 days before your trip date will receive a 90 % refund of the trip value.
Cancellations between 29 and 5 days before your trip date will receive a 50% refund.
For cancellations within 5 days of booking refunds will not be provided.

To get to Yellowstone National Park, most people fly into Bozeman Yellowstone International Airport. From here, you can rent a car to get to any location within the park in 1.5 to 3 hours of scenic driving.

Your guide can meet people at the following locations: Gardiner MT or Mammoth Hot Springs WY, Tower Junction, Norris Geyser Basin and Canyon Visitor Center.

While the price remains the same, the duration of the trip changes depending on our meeting location. Durations are not exact because wildlife jams and other unplanned circumstances can delay our end time.

If you haven't chosen your lodging yet, we suggest that you stay in Gardiner MT or somewhere else near Yellowstone's North Entrance, since it is the closest one to the wildlife watching areas. Once you and your guide have confirmed your date and lodging information, they will suggest the exact meeting time and place, whether at your accommodation or a central location.

Wilderness can get dangerous if you don't have the proper skills and experience, but don't worry — your guides carry bear spray and are trained in trail safety in Yellowstone's bear country. They take grizzly bears seriously!

57hours is committed to providing safe outdoor adventure experiences. We require all guides using our platform to have a COVID-19 safety plan and to make the details of that plan accessible to travelers. In most cases, group sizes will be reduced, guides will avoid overcrowded locations, and other safety measures will be met depending on the location and activity.

We also expect clients to respect local regulations and take measures to protect themselves, their guides, and the communities they're traveling to. For more information on COVID-19 measures in Yellowstone, WY, please refer to the official guidelines for air travel into the US and Yellowstone National Park's COVID-19 guidelines.

Please contact us if you have any questions or require further information. We are happy to provide you with the most up-to-date information!
Get free trip brochure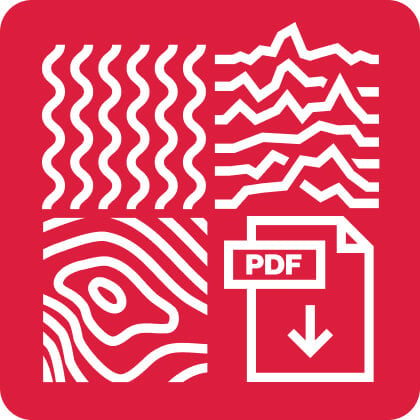 Adventure and location overview, itinerary, available dates, what's included and much more.
Brochure sent, check your inbox
Talk with us
and let one of our adventure experts help you plan your perfect adventure.
Other things to do in Yellowstone National Park