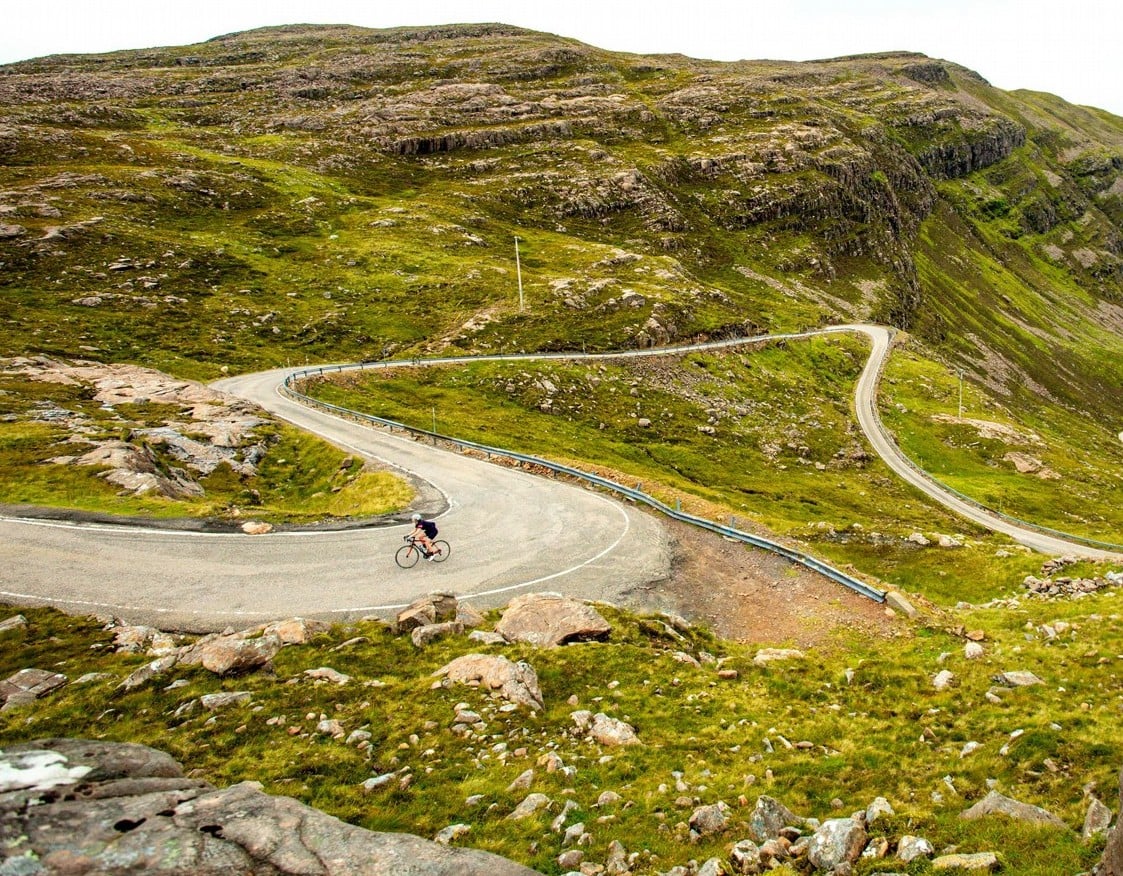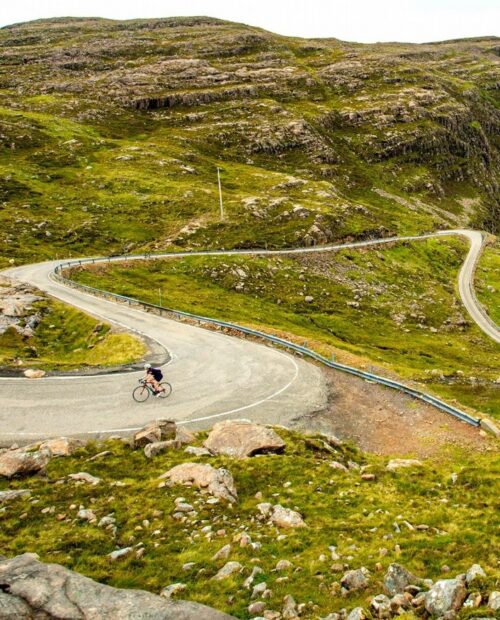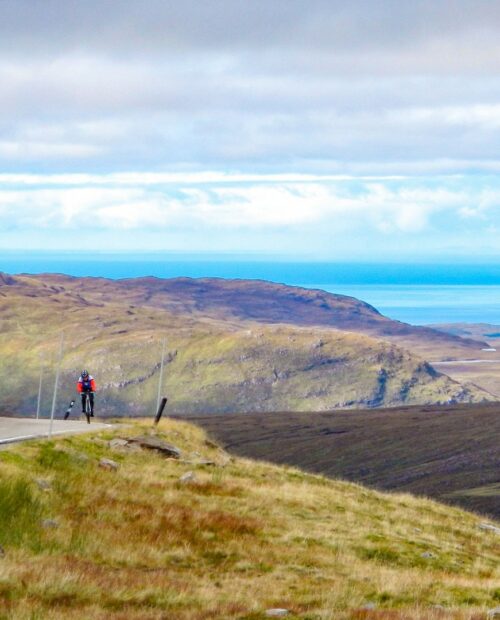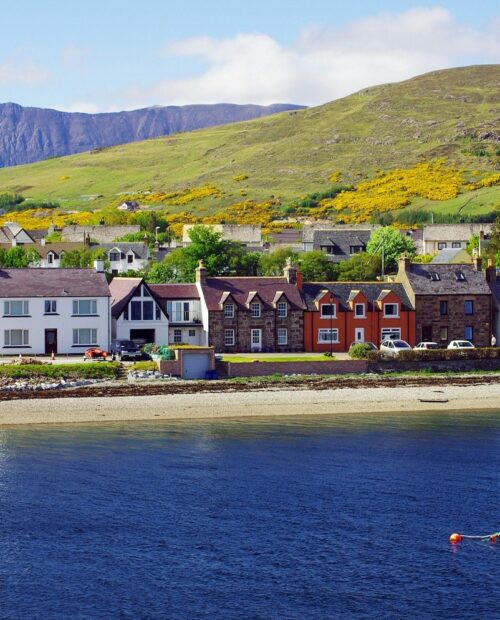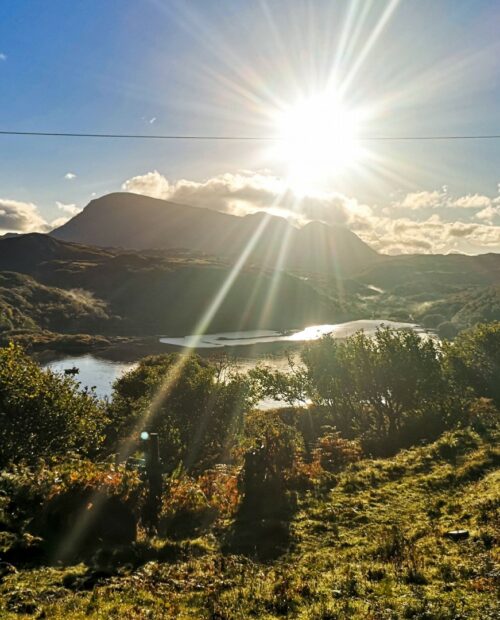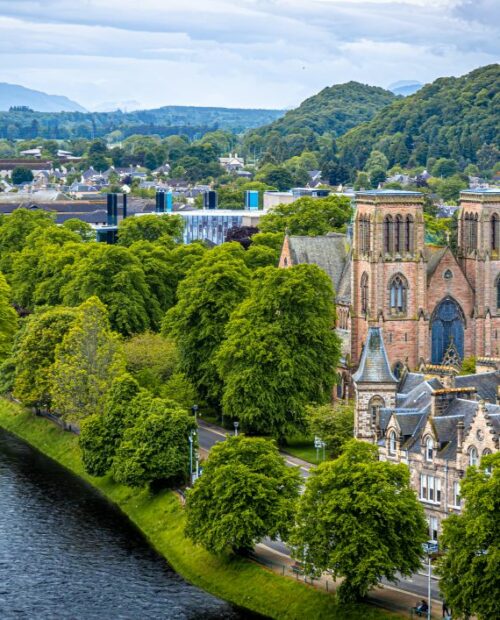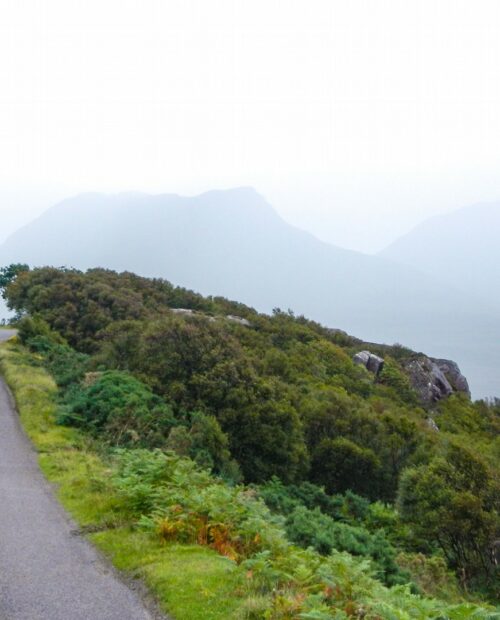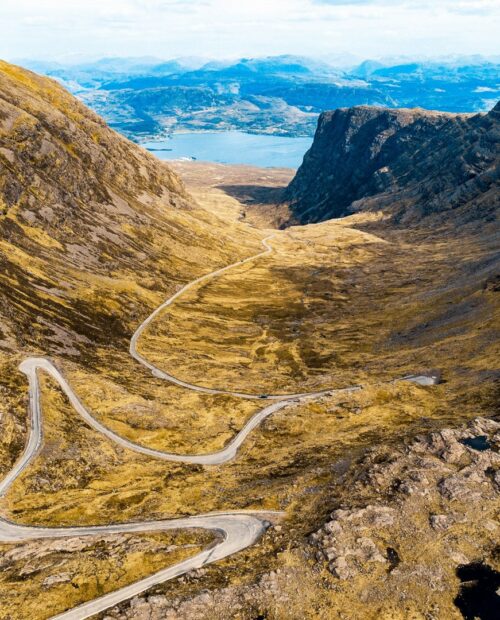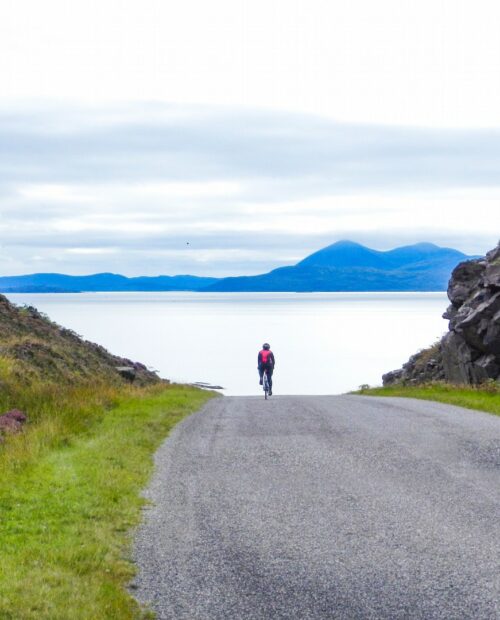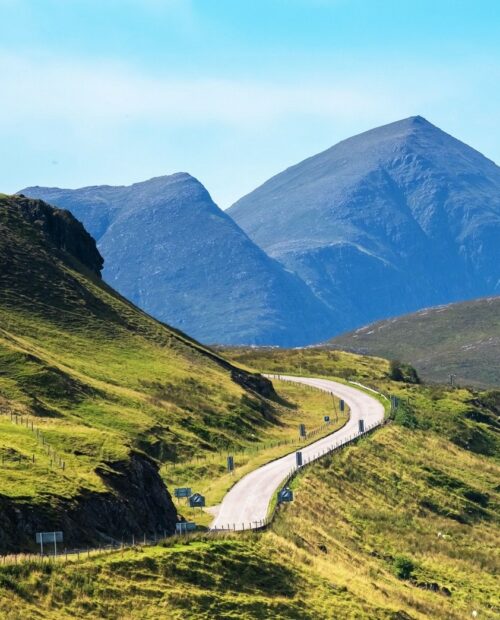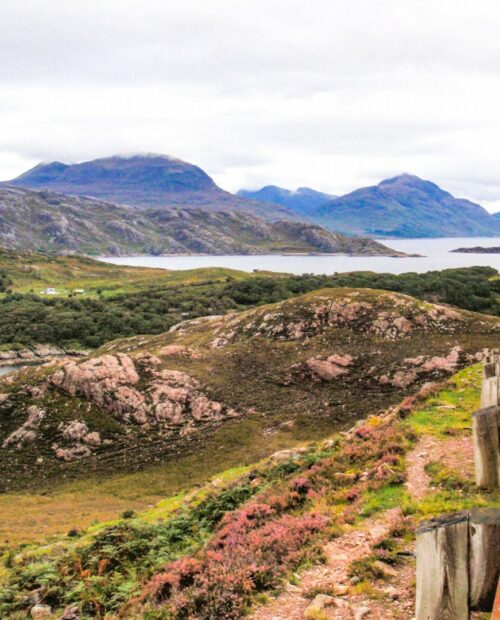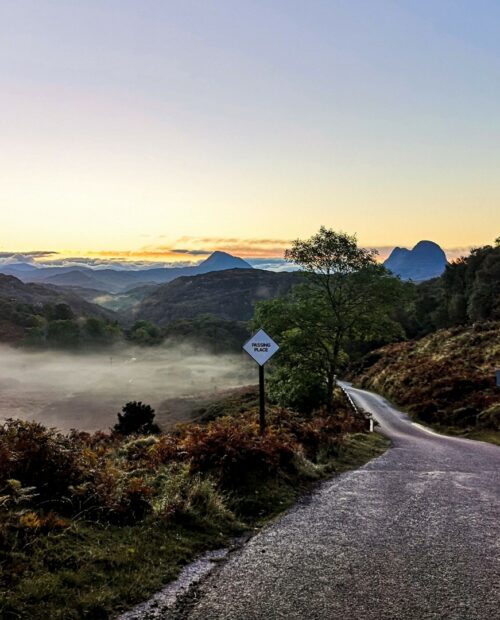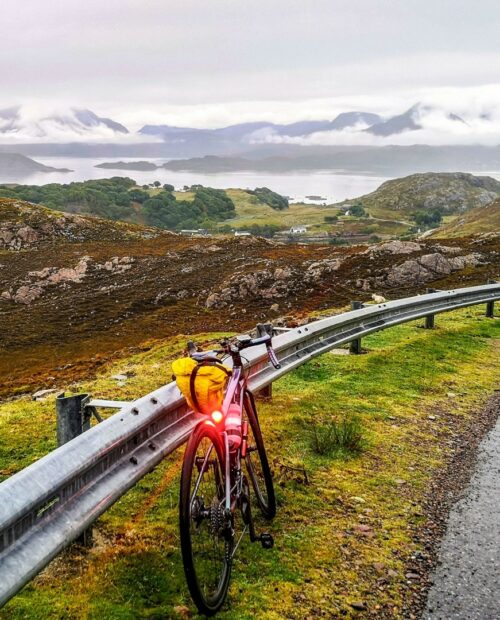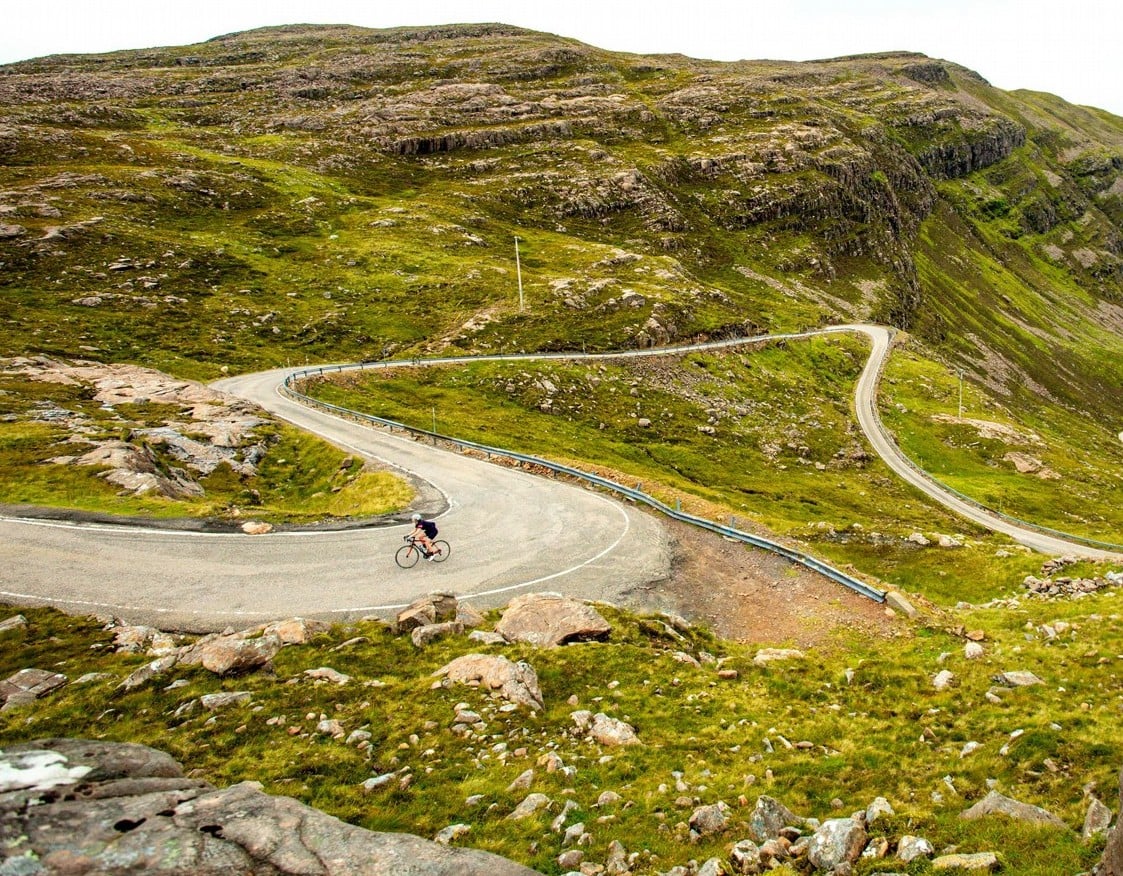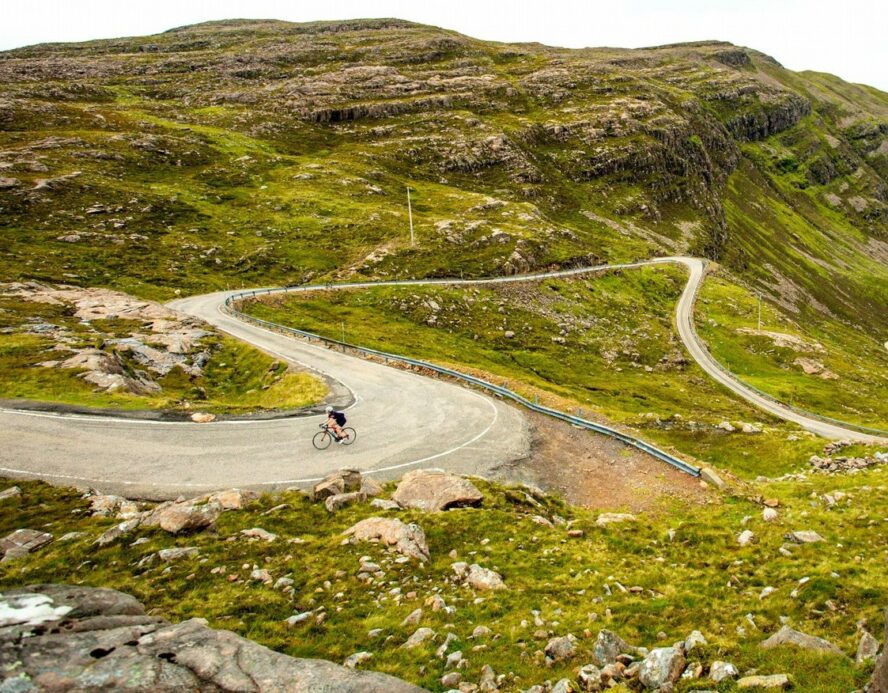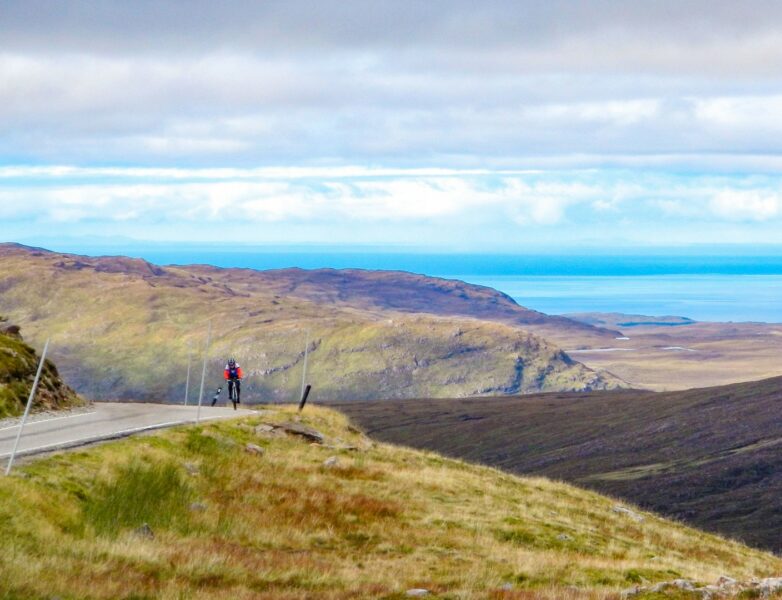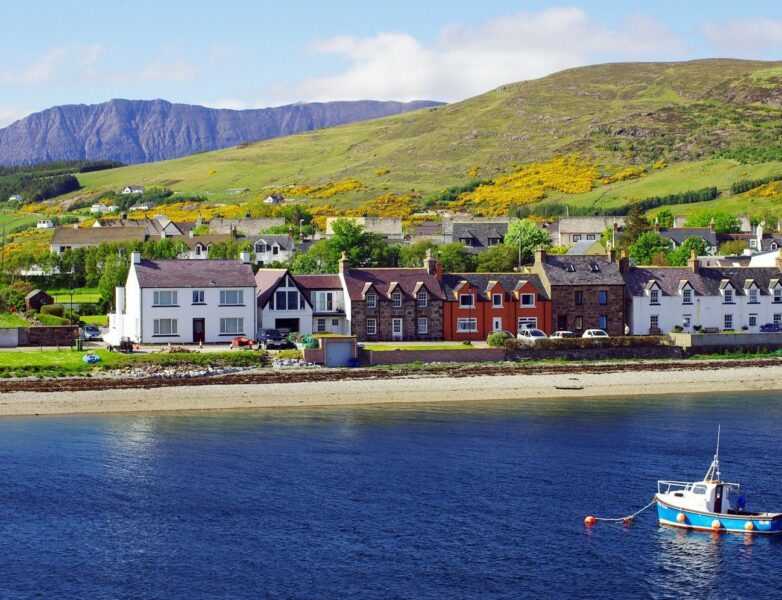 Northern Scotland Guided Cycling Holiday
5.00

()
Nearest city
Glasgow, Scotland is 3 hours away
Explore the fairytale landscapes of the Scottish Highlands on two wheels. This week-long adventure takes you along the famous North Coast 500 route, allowing you to explore the scenic northern parts of the country. Pedal through vast stretches of emerald-green wilderness, where majestic peaks emerge from the swirling mist—before following remote lochside paths, where enchanting islands dot the glistening waters. With each turn, prepare to be spellbound by new spectacles, from the serene heather-clad shores teeming with dolphins and dramatic vistas of Skye's rugged mountains to medieval castles steeped in legends and thrilling hairpin bends of the iconic Bealach na Bà. And after a day in the saddle, unwind with a glass of Scotch whisky—eagerly anticipating the adventure that awaits you tomorrow.
Quiet single-track roads for miles on end, with breathtaking views of the Cuillin Ridge on the Isle of Skye

Cross the iconic, winding Bealach na Bà, renowned as the greatest road ascent in the UK

Indulge in delicious seafood, explore picture-perfect villages, and get some scotch after a day in the saddle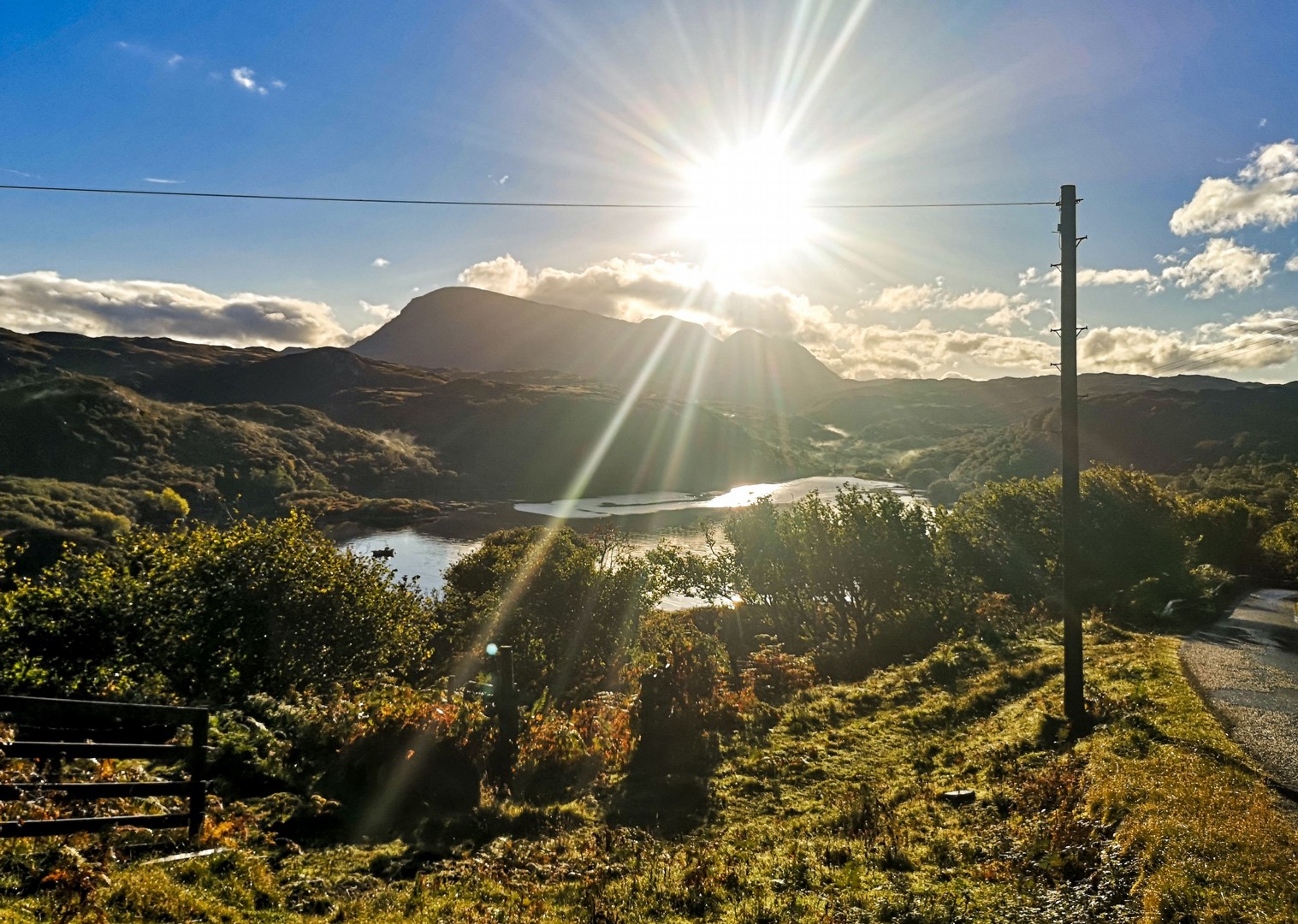 Itinerary
Join an 8-day cycling holiday in the Scottish Highlands. Starting in Inverness, ride along picturesque coastal roads, part of the iconic North Coast 500 route. Marvel at the captivating views of Loch Shin and Loch Assynt, savor delectable seafood in Lochinver, and immerse yourself in the vibrant culture of Ullapool. Experience the Bealach Na Ba route, soak in breathtaking vistas of the Isle of Skye, and enjoy comfortable cyclist-friendly accommodations. Conclude your adventure where it started—in Inverness—and leave richer for a memorable cycling trip showcasing the best of Scotland.
Upon your arrival in Inverness, your Sctoland cycling guide will meet you and transfer you to your accommodation near the vibrant city center. For those driving, accommodation details will be provided in advance. Afternoon arrivals are recommended to allow bike setup time. The rest of the day is free to explore Inverness, known for its impressive castle, old town, and scenic coastal walks. In the evening, enjoy a delightful dinner with fellow adventurers, discussing the thrilling journey ahead.

Your journey starts gently, leaving Inverness via the famous Kessock Bridge into the Black Isle. Enjoy a scenic ride along the picturesque northern shore of the Beauly Firth, often spotting dolphins and seals. Heading inland, you reach Dingwall, the gateway to the Cromarty Firth. A quiet backroad takes you over the day's significant climb, crossing the hills of Easter Ross. Delight in a lunch break at Bonar Bridge near the Dornoch Firth. Continuing north, explore off the main road, captivated by the area's beauty. Pass by Shin Falls and traverse forested single-lane roads until you arrive at Lairg, located on the southern tip of Loch Shin.
Meals: Breakfast and lunch
Riding: 56 miles / 90 km
Ascent: 700 m / 2,296 ft

After a hearty breakfast, head north briefly before turning sharply to the wild west coast of Scotland. Ride along quiet single-lane roads, enjoying Loch Shin's shoreline and the scenic Glen of Allt Ceann Locha. Reach the sheltered Laxford Bay and continue south along a rocky and undulating shoreline. Pass through tiny villages, experiencing the captivating coastal road with breaks to admire views of the Hebrides. Beyond Kylestrome and Kylesku, face a challenging ascent before descending swiftly by Loch Assynt. Enjoy a mostly downhill road to Lochinver, renowned for its delectable seafood.
Meals: Breakfast and lunch
Riding: 71 miles / 115 km
Ascent: 1,300 m / 4,265 ft

Today's shorter ride offers an unforgettable experience with the dramatic Suilven peak to the east. Departing Lochinver, you'll encounter sharp little climbs. After 15 miles south, change direction and head west to explore a remote coastal peninsula, enjoying empty roads and stunning coastal panoramas, including views of the Summer Isles. Rejoin the main route at Loch Lurgainn and continue south, passing through the charming village of Ardmair and its beautiful bay. Reach Ullapool, a bustling town on Loch Broom's shore, where you can immerse yourself in west coast culture and observe the fishing boats and ferries in the harbor.
Meals: Breakfast and lunch
Riding: 46 miles / 74 km
Ascent: 1,050 m / 3,445 ft

Day 5 is the longest day of the tour with a focus on exploring the mountains of Wester Ross. Ride on quiet Highland routes, climbing gently to the highest point and descending to Little Loch Broom. Experience ups and downs along the scenic coastline, stopping for a relaxing lunch at Poolewe with a chance to explore Inverewe's botanic gardens. Enjoy breathtaking views of nature reserves and islands while riding along Loch Maree. The day ends in Kinlochewe, surrounded by the majestic Wester Ross National Scenic Area.
Meals: Breakfast and lunch
Riding: 75 miles / 120 km
Ascent: 1,500 m / 4,921 ft

Embark on an epic stage with one of the most iconic climbs. Ride gently along Glen Torridon, enjoying the stunning view of Loch Torridon. Encounter manageable challenges with undulating ascents for the next 30 miles. Stop at the charming fishing village of Shieldaig and admire the surroundings, perhaps spotting a sea eagle. Continue along a narrow single-lane road around the Rubha na Fearn peninsula to reach Applecross, where the Bealach Na Ba climb awaits. Conquer this challenging road climb and reach the summit at 2,053 ft (626 m) for breathtaking views of the Cuillin Ridge on the Isle of Skye. Descend carefully to Loch Kishorn and make a final effort over the hills to reach Lochcarron, your evening destination.
Meals: Breakfast and lunch
Riding: 60 miles / 96 km
Ascent: 1,700 m / 5,577 ft

Although it's the final day of riding, there's still plenty in store as you traverse from the west coast of Scotland to the east coast. Leaving the shores of Lochcarron, you bid farewell to the mountains of the west and embark on somewhat gentler roads compared to recent days. As you enter Glen Carron and the watershed around Achnasheen Junction, most of the climbing is completed within the first 20 miles. The remainder of the day consists of rolling terrain, predominantly downhill, through small rural towns and past picturesque minor lochs. You'll journey back to the Beauly Firth and eventually return to Inverness for your final evening.
Meals: Breakfast and lunch
Riding: 65 miles / 104 km
Ascent: 750 m / 2,461 ft
Get free trip brochure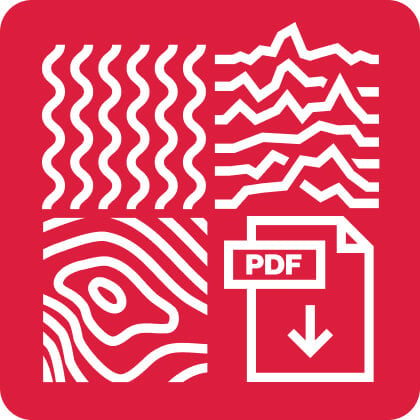 The brochure contains:
Adventure and location overview, itinerary, available dates, what's included, how to prepare, and much more.
Brochure sent, check your inbox
Talk with us
and let one of our adventure experts help you plan your perfect adventure.
Meet your guide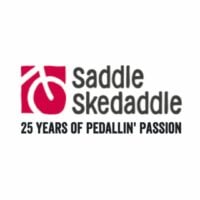 Saddle Skedaddle was founded by a couple of MTB pros (Paul and Andrew) while trapped in a snowstorm during their year-long biking adventure in Chile. They believe travel should move you and that there's no better way to see a place properly—its people, culture, and natural wonders—than by bike. Saddle Skedaddle currently runs tours in 36 destinations, offering adventure junkies incredible places to tour on two wheels.
Skedaddle gets cycling and cyclists in a way no one else seems to!
Paul
(source: Guide's web)
We have used various companies to manage our rides over the years and Skedaddle gets cycling and cyclists in a way no one else seems to. Thank you to Straws, our Tour Leader. Our guides were both brilliant too, it clearly mattered to both of them that we had a good experience. Please pass on my thanks. All days were all great! The climb up Bealach na Bà will live long in the memory.
The route was well designed
Mark
(source: Guide's web)
I wouldn't normally choose a holiday in the UK. But due to Covid, the UK was the only option and the NC500 (or variation thereof) was something I've wanted to do for a long time. I wasn't disappointed as I really enjoyed the holiday. Each day was great with superb scenery and challenging terrain. The route was well designed and the last day was well chosen to get a push for 60 miles from the prevailing winds. As ever the tour leader and guides were really professional and great company. The leader and the guides were all really positive and helpful. There were really clear briefings every morning about the route. Also, there was quite a mix of abilities on this ride and I think they handled this well – e.g. splitting into two groups and giving clear instructions on where to regroup.
All together great!
Jane
(source: Guide's web)
Better than we had ever expected. Our guides were amazing, we had great support and fun the whole holiday. Will book again. We loved each day as they were all so different and all together great!
It was one of the most memorable weeks I've had in a long time.
Keith
(source: Guide's web)
Well thought out routes through some of the most spectacular scenery the UK has to offer, the most friendly group of people you could wish for, terrific support from our guides – Wouldn't have wanted to change a thing! Day 2 ranks as one of my all-time favourite cycling days. A long stretch from Lairg along a beautiful valley floor besides the lochs, then lovely accommodation and a top meal in the evening. Happy days!
Richard
(source: Guide's web)
Every day was outstanding. I have cycled all over the world except Australasia and this was the most consistently beautiful ride I have ever done. The guides were all extremely helpful, knowledgeable about bikes and the route and good to chat to and spend time with.
Things to know
What you get on this adventure:

An experienced cycling guide with extensive local knowledge of the area
At least one leader qualified in first aid
8-day cycling adventure in the Scottish Highlands
Accommodation during the tour in shared twin/double en-suite rooms
Meals as indicated in the itinerary
Support vehicle and luggage transfers
Airport/train station transfer on scheduled arrival/departure day from Inverness
GPX files available on request

What's not included:

Transportation to and from Inverness
Meals not indicated in the itinerary
Single room (available for an additional fee)
Bike rentals (available for an additional fee)
Personal clothing and equipment
Entrance fees to museums and other attractions en route
Any personal expenses (souvenirs, bar bills etc.)
Travel insurance
Guide gratuities — optional

To fully enjoy this Scotland guided cycling adventure, a good level of fitness is essential. During this Scotland guided cycling tour, you'll be covering between 45 and 75 miles (72-120 km) daily, with daily cumulative elevation gain between 3,000 and 5,580 ft (700-1,700 m). Needless to say, you should be more than just a casual rider, going for regular weekend cycling sessions with riding that can last for much of the day. Uphill challenges and easier mountain passes excite you, and you're equally comfortable descending as you are climbing. While not a professional racer, you can pick up the pace when needed and can skip occasional coffee breaks to stay on schedule. You're adept at using clipless pedals, maintaining control of your bike effortlessly. Though you appreciate a full day of riding, you also crave local cultural experiences and savoring delicious cuisine.

Keep in mind that you will always have a guide by your side who will observe your technique, make breaks more often if necessary and even change the route if riding gets too strenuous for your group.

If you're looking for something more challenging and are interested in MTB, take a look at this mountain biking adventure in Scotland.

Here's what you'll need:

Comfortable riding or athletic clothing, preferably moisture wicking or synthetic material
Bike (rental available for an additional fee)
Helmet (communicate with your guide if you want to rent one from them!)
Necessary spares (let your guide know in advance if you would like them to include them if you are
renting your bike and helmet from them)
Sneakers or sport shoes
Breathable outside layer or jacket
Sunglasses
Water bottle or hydration bladder
Daypack large enough to fit all the things you might need in a day
Biking gloves are optional but recommended
Leisure clothing for when you're not cycling
Toiletries (sunscreen, hand sanitizer, bug spray, etc.)

Dress comfortably and for the weather in clothes you can move in. We suggest bringing clothing appropriate for the season. Layers are best and don't wear jeans.

During your Scotland guided cycling trip, you can expect comfortable accommodation in good quality 3 or 4-star hotels, B&Bs, inns, and family-run guesthouses.

These establishments are cycle-friendly and conveniently located near the cycling route, showcasing the style and hospitality of the area you'll be visiting. Locally owned businesses are prioritized, with an emphasis on offering locally sourced food, drink, and specialty products. This commitment to sustainability aligns with a responsible travel policy.

Accommodations are based on a double/twin-share basis, with the option for single occupancy rooms available for an additional fee and subject to availability at the time of booking.

If you don't own a suitable bike or would prefer to avoid bringing your own, road bikes are available for rent.

The rental fleet includes high-quality, full carbon Giant Revolt / Liv Devote bikes with good quality components. These bikes are set up tubeless on road-specific wheels and 700x28c tires, providing a comfortable riding position and a wide range of gears with a 2×11 drivetrain, 32/48 chainrings, and an 11×34 cassette. They are fitted with hydraulic disc brakes.

If you decide to rent and would like a helmet, please let us know at the time of booking. Otherwise, you should transport and assemble your own bike before the beginning of the tour. Additionally, inform us if you plan on bringing your own clip-in pedals or if you will use the flat pedals that come with our rental bikes.

Group sizes and prices:

The usual client-to-guide ratio for this group tour is 10:1.
The minimum number of participants for this Scotland cycling trip is 6.
The cost does not decrease as the group grows.

Mountain biking in the Scottish Highlands can be arranged for bigger and for private groups (with custom dates). Contact us prior to booking.

Min. age requirements:

If you are older than 18, you're good to go.
If you have a young rider strong enough to handle sustained climbs (either riding or walking their bike) of hundreds of feet, and rough terrain, then they may be able to participate on a case-by-case basis.

If your group has riders under the age of 18, contact us prior to booking to make arrangements.

Secure your place with a $230 deposit due upon booking. The remaining amount is paid 3 months (90 days) prior to departure. Once the trip is confirmed by the guide, the cancellation policy stated below applies.

If Client cancels the Booking anytime prior to one hundred twenty 60 days in advance of the trip contemplated by the booking, the deposit will be forfeited.
For cancellations thirty (30) to sixty (60) days in advance, Client is entitled to a refund in the amount of fifty percent (50%) of the total amount paid when Booking.
After that deadline, Client is not entitled to any refund. Any reimbursable expenses arising out of the Booking incurred by Guide prior to the date of cancellation (including but not limited to plane tickets, car rental payments, and lodging or transportation fees) are non-refundable as soon as they are incurred by the Guide.

To get to Inverness, the starting point of this tour, most people fly into Glasgow International Airport. From here, we suggest you either take another flight, or take a train ride to Inverness from Glasgow Queen Street station.

Your guide will meet you either at the airport or the train station in Inverness and take you to your accommodation not far from the city center. If you're driving, the exact location will be sent to you prior to the trip.

57hours is committed to providing safe outdoor adventure experiences. We require all guides using our platform to have a COVID-19 safety plan and to make the details of that plan accessible to travelers. In most cases, group sizes will be reduced, guides will avoid overcrowded locations, and other safety measures will be met depending on the location and activity.

We also expect clients to respect local regulations and take measures to protect themselves, guides and the communities they're traveling to. For more information on COVID-19 measures in the Scottish Highlands, please refer to the Scottish Government's COVID-19 updates.

Please contact us if you have any questions or require further information. We are happy to provide you with the most up-to-date information!
Get free trip brochure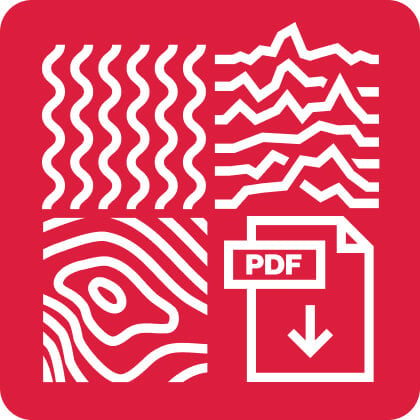 Adventure and location overview, itinerary, available dates, what's included and much more.
Brochure sent, check your inbox
Talk with us
and let one of our adventure experts help you plan your perfect adventure.
Other things to do in Scotland