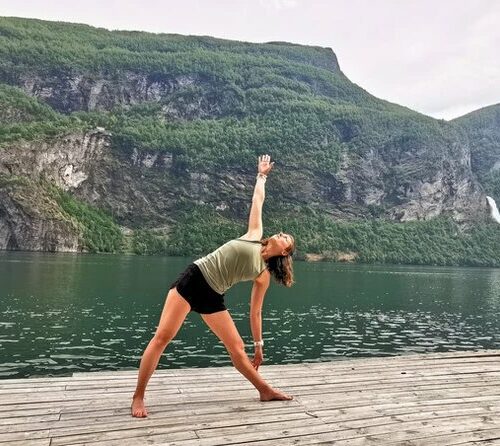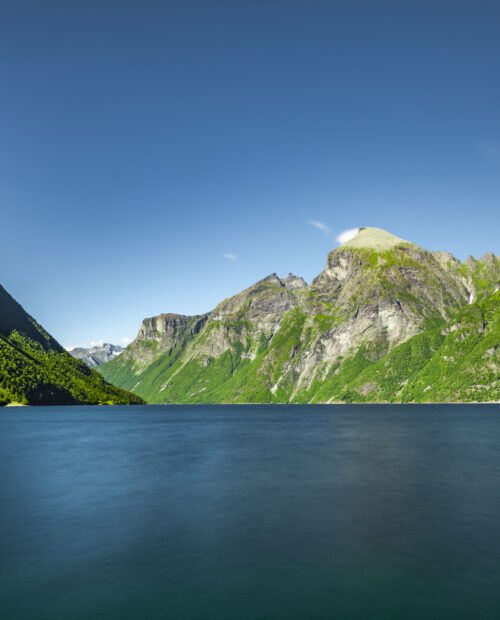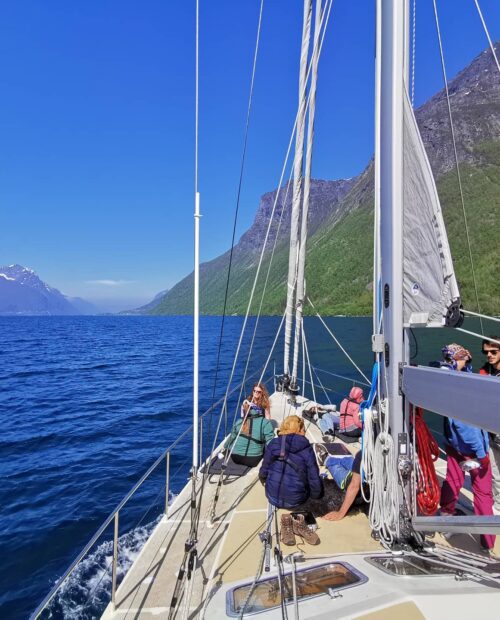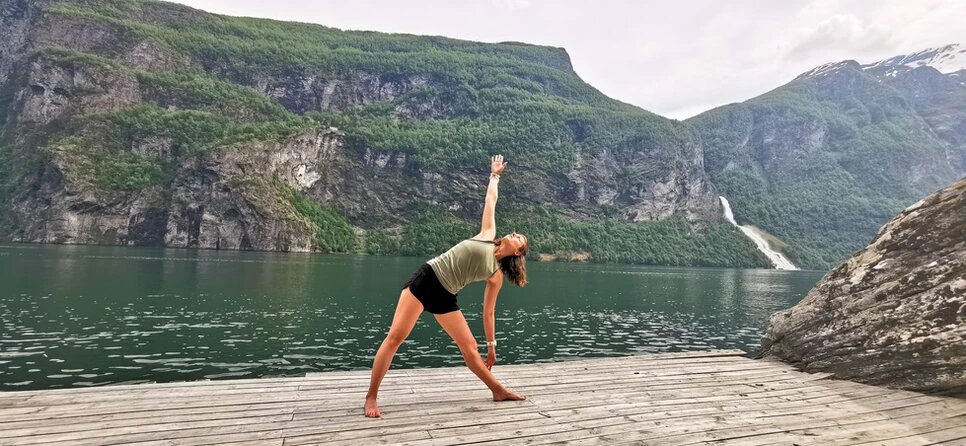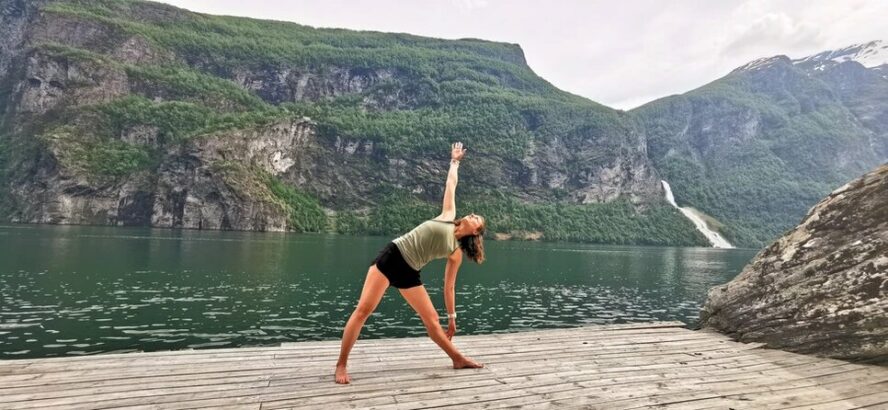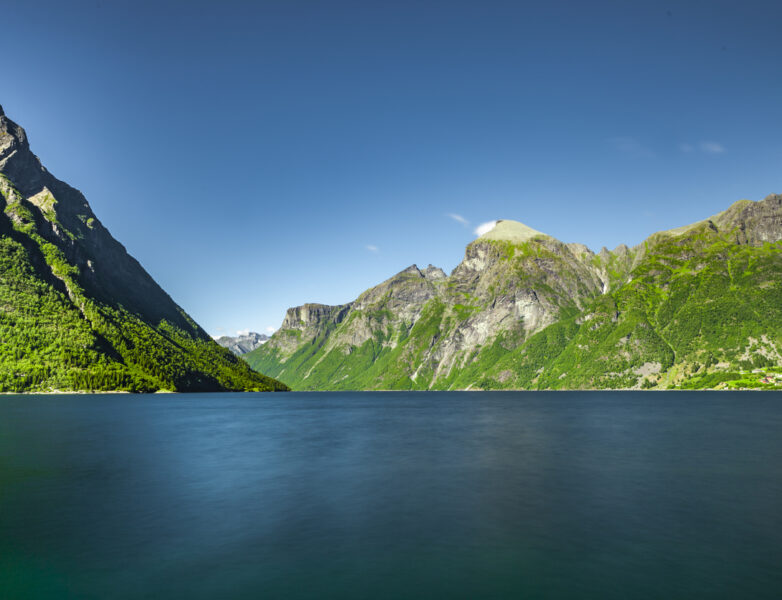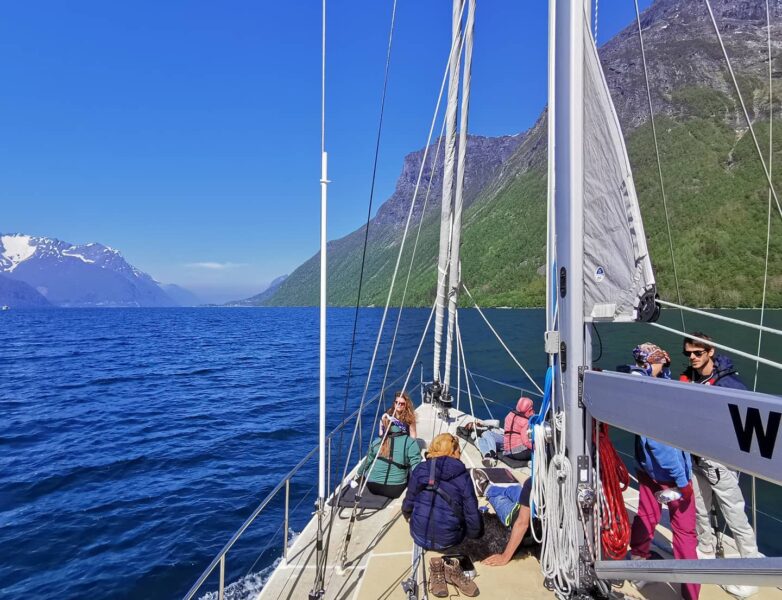 Sail and Yoga Retreat in Norway
5.00

()
Delve deeper into the world of yoga as you sail along Norway's coastline and connect with your inner self against a backdrop of dramatic landscapes. This 7-day sail and yoga retreat allows you to recharge your body while visiting new and unique places with your expert guides and a yoga instructor. Take in postcard-worthy views as you make your way from Ålesund all the way through the magnificent Hjørundfjord cutting 35 kms into the Sunnmøre Alps. Along the way, you'll explore fjords, quaint villages, steep-sided cliffs, and enjoy exciting yoga sessions that will help you zoom out all the distractions. Get an authentic taste of Norwegian culture, go for hikes, and enjoy the sweet-smelling dishes prepared by your guide. Disconnect from everyday routine and get rid of any tension residing in your body while surrounded by nothing but pristine Norwegian landscapes. Experience the fjord life, reap the benefits of yoga, and wake up to new vistas every day—your body and mind will thank you!
Relax far from the crowds and learn about Norway's culture

Explore Norwegian landscapes in a unique and sustainable way

Increase your mental clarity and body awareness with epic views in all directions
Itinerary
Get ready for a 7-day sail and yoga retreat in Norway on board a sailing boat that will take you through various parts of western Norway. Let your guides and a yoga instructor tailor a perfect vacation for you so that you can break out of your everyday routine and connect with your mind and body through yoga. Start your journey in Ålesund and head towards the Hjørundfjord, learn about Norway in picturesque villages, and enjoy delectable meals every day!
Outdoor adventuring makes us fall in love with our planet, which is why we should be more aware of our impact on nature. Reducing our individual carbon footprints when traveling seems difficult, but luckily, there are many ways to make your trips more sustainable and eco-friendly.

Jolly Good Times Sailing is a highly sustainable guiding company. As you travel the calm waters of Norway, your boat will be powered by the wind most of the time, reducing the emission of carbon dioxide. You'll fish and catch your own food from the sea and use locally sourced ingredients for cooking, making your adventure a bit greener!

After meeting up at the dock in Ålesund Gjestebrygge, you'll get to know each other, your guides, and your yoga instructor. Go through the plan for the next seven days and perform a safety brief at the pier. Set sail towards Alnes, a fishing village, where you'll have your first yoga practice and explore the beautiful area with your guides.

Yoga sessions: Your first yoga session on this trip is called the grounding practice (30-45 minutes). You'll be able to connect yourself with the nature around you, let go of all the worries, and delve into the adventures ahead of you. The grounding practice session will be followed by a water meditation (15-20 minutes). This evening meditation is based on the element of water, an element that allows you to feel your inner peace and enhances the benefits of mindfulness.

Today you'll go through a short passage and sail by a small seal colony to get to Runde, an island that boasts 250 different bird species and abundant marine wildlife. You'll have a guided tour with an ornithologist and learn lots of interesting facts about the wildlife and history of this magnificent island.

Yoga sessions: The first yoga class will take place in the morning to get you ready for the day and will last about an hour. Start with gentle movements and wake up your body and mind. Wrap up the practice with some forward folds in order to activate your nervous system.

Today's second session is called Stretch Flow and lasts anywhere between 45 and 60 minutes. This deep stretch will provide you with immense amounts of relaxation and you'll focus on stretching and releasing any tension in your body. Focus on your breathing and you'll achieve the ultimate relaxation.

Make your way to Trandal, a roadless village rife with hillsides and jagged peaks situated in an incredibly beautiful fjord landscape. Pay a visit to Christian Gaard, a restaurant that serves delicious food. Here you'll also find a swing with some of the finest views of Norwegian scenery.

Yoga sessions: Start your day with a 60-minute yoga session to get energized for the day ahead of you. Connect your movements to your breath to allow your body to wake up slowly. Speed up the pace gradually and do some forward folds and twists to get ready for your savasana.

The second session is Yin Yoga, a 60-minute class where you'll mostly be seated and lying down, holding positions for up to 5 minutes. Relax your body and nervous system as you recharge your mind. This is a perfect way to end a day of hiking in the mountains.

Today you'll get a unique opportunity to sail through Norway's most breathtaking fjord crossing and into Norangsfjorden. Make a quick stop by Hotel Union Øye, where you'll have your yoga sessions and spend some time in these luxurious surroundings. Enjoy a wellness experience in a fjord sauna and jump in the crystal fjord water!

Yoga sessions: Stretch your body, calm your mind, and follow your breath to gain enough energy for the day with this 60-minute session. Take in the morning bliss and move in all directions to reap the benefits of morning yoga.

The Earth Meditation session lasts for 15-20 minutes and creates a unique sense of calmness. Direct your energy and connect with the element of earth to anchor into the qualities and characteristics of the earth within you. In this way, you'll bring yourself back into a balanced state, all while surrounded by Norway's exquisite nature.

Visit the quaint village of Bjørke located in the Hjørundfjorden after making a mandatory stop at Viddal Vineyard. Go for a hike up to Bakketunet where you can explore many old buildings, some of them dating back to 1549. Seize the opportunity to do a yoga session in this epic environment and learn more about the history and culture around the fjord.

Yoga session: Today and for the next two days you'll work on Stretch Flow, a 45-60 minute session which allows your body to get all the relaxation it needs. Release all the tension in your body and make your way deeper into every pose to get a good stretching sensation.

Explore Sæbø, an important hub for locals and everyone traveling in these dramatic landscapes filled with mountains. Spend some quality wellness time in the Fjord Sauna, an incredible floating spa. Feel the power of nature and enjoy the panoramic views all around you.

Yoga session: Today you'll also focus on stretching and progressively getting deeper into every pose to feel a nice stretching sensation. With the help of your breath, you'll find a complete relaxation. The session lasts for 45-60 minutes.

Spend your morning doing your yoga session and having a delicious breakfast. Cap off this unforgettable experience with a short hike and sail all the way out the fjord and back to Ålesund.

Yoga session: Your last yoga session will last for 45 to 60 minutes and will include stretching and releasing any tension built up in your body. Bring the energy to the body, stillness to the mind, and rejuvenate your nervous system to wrap up this sailing and yoga retreat in the beautiful country of Norway.
Get free trip brochure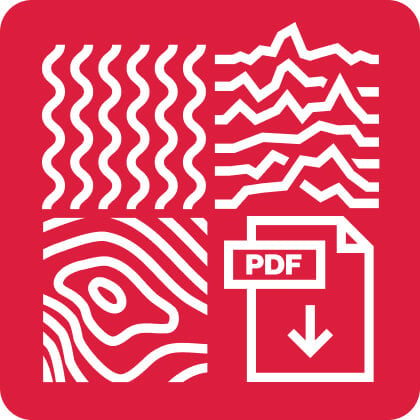 The brochure contains:
Adventure and location overview, itinerary, available dates, what's included, how to prepare, and much more.
Brochure sent, check your inbox
Talk with us
with our adventure expert and start planning your perfect adventure.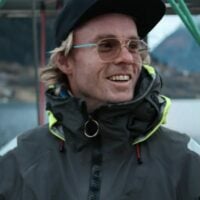 Born in Oslo, with roots in the west of Sunnmøre, Ulrik started sailing many years ago and has thousands of miles behind the helm, both as the captain of Jolly and on other boats. He also has all the necessary safety training, certificates, and experie...
View details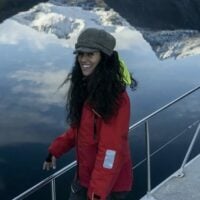 Maria loves sailing and being out in nature, breathing in the fresh air, and cleansing her mind. As a crew member of Jolly, planning, timing and safety are key for her, as is making her guests feel at home on board while cooking exciting and exotic foo...
View details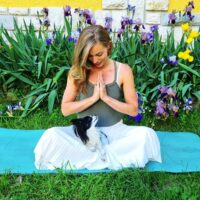 Emily is a yoga instructor whose yoga journey began more than 10 years ago when she was trying to manage her own health in the face of a chronic illness. Once she noticed the countless physical, mental, and emotional health benefits from yoga, she made...
View details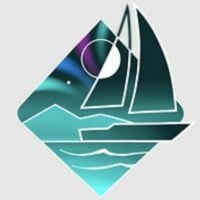 Jolly Good Times Sailing
Jolly Good Times Sailing
Jolly Good Times Sailing is a company which offers unique, authentic, and sustainable experiences on their sailing boat "Jolly". Their goal is to be close to nature and provide a crafted, truly sustainable, and holistic experience while enjoying the un...
View details
Amazing
Milda A.
about
Jolly Good Times Sailing
on TripAdvisor
Amazing experience. Such a difference from everything else, you just went on board and instantly is such a welcoming and relaxing environment. I love it. Maria, Ulrik and Ramoncito are such a great company ❤️
Wonderful
Beatriz P.
about
Jolly Good Times Sailing
on TripAdvisor
It was wonderful, Maria and Ulrik are so nice and gave us such good information, they are interested in the culture and stories of the Fjords. We learned a lot from them. We are definitely coming back and can recommend them warmly. Don't miss this opportunity if you are in the fjords. 🙂 see you again.
Unforgettable experience
Luminita G.
about
Jolly Good Times Sailing
on TripAdvisor
Very pleasant couple who knows very well the story of the place and surroundings. We've had both private time and interesting chats. Tea and coffee served.
Fantastic trip with the sailing boat. First time experience, definitely recommend!
A jolly good time
Andreas M.
about
Jolly Good Times Sailing
on TripAdvisor
Met these wonderful people while I was biking alone. They offered me a trip and it was well worth my time! Had so much fun with Ulrik and Maria who run jolly good times. Also their dog Ramoncito was really cute as well!
Things to know
57hours is committed to providing safe outdoor adventure experiences. We require all guides using our platform to have a COVID-19 safety plan and to make the details of that plan accessible to travelers. In most cases, group sizes will be reduced, guides will avoid overcrowded locations, and other safety measures will be met depending on the location and activity. 

We also expect clients to respect local regulations and take measures to protect themselves, guides and the communities they're traveling to. For more information on COVID-19 measures in Norway, please refer to Norway's Government website, the Visit Norway website, and Helse Norge Travel Advice.

Please contact us if you have any questions or require further information. We are happy to provide you with the most up-to-date information!

What you get on this adventure:

Experienced, local sailing guides with extensive knowledge of the area

A professional and certified yoga instructor/health coach

7 days of sailing, yoga, and other activities in Norway

Accommodations

Bed linen, duvet, pillow, hand towels

All the food during the trip and packed lunches for the hiking trips

2 dinners outside of the sailing boat

Sauna fjord experience

Use of dinghy, fishing lines/net, hammock

All boat related expenses (gas, harbor fees, diesel)

Life vest / life suits

What's not included:

Transportation to/from the meeting point in Ålesund

Meals and drinks outside the sailing boat which are not included in the program

Any fees for activities outside the sailing boat not listed above

Shower towels

Alcoholic beverages

In order to participate in this adventure, you need to have a moderate level of fitness and be in generally good health. The yoga sessions will last anywhere between 45 minutes and 2 hours per day. You will be moving slowly and your yoga instructor will make sure you progress at an optimal pace.

All sailing related equipment is provided by your guiding service. Here's a list of the equipment you need to bring:

Day pack large enough to carry all the items listed (around a 50-55L backpack)

Hiking poles — optional

Simple work gloves

Yoga mat

Water bottle or hydration bladder (2L capacity)

Lightweight hiking boots or shoes

Rubber boots or any waterproof shoe to use when sailing (soft soles only)

Slippers

Two sets of wool for feet and body

Clothes for all weather conditions to use at sea, on land, hikes, etc.

Comfortable clothes to practise yoga in

Spare clothes for layering for hikes and trips

Waterproof rain jacket

Sunhat

Shower towels

Toiletries (sunscreen, hand sanitizer, bug spray, toilet paper, etc.)

Headlamp or flashlight

Sunglasses

Camera — optional (but recommended)

Dress comfortably and for the weather in clothes you can move in. We suggest bringing clothing appropriate for the season. Layers are best and don't wear jeans.

NOTE: Due to the limited space on the sailing boat, you should bring one piece of luggage in a foldable duffle bag. A more detailed equipment list will be provided prior to departure in order for you to pack appropriately.

Group sizes and prices:

For this group adventure, the max. number of participants is 6.

Cost per person decreases as the group grows, so it's the perfect opportunity to go on a sail and yoga retreat with friends and family! 

It takes a minimum of 4 people for this group adventure to operate. 

Sail and yoga retreats in Norway can be arranged for larger groups. Contact us to make arrangements.

Min. age requirements:

If you are older than 18, you're good to go.

Minors younger than 18 may be permitted to join the hike on a case-by-case basis, but must be in the presence of a parent or legal guardian.

If your group has hikers under the age of 18, contact us prior to booking to make arrangements.

A $750 deposit to secure your place is due upon booking. The remaining amount is paid 3 months (90 days) prior to departure. Once the trip is confirmed by the guide, the cancellation policy stated below applies.

If Client cancels the Booking anytime prior to sixty (60) calendar days in advance of the trip contemplated by the booking, Client is entitled to a full refund minus the full deposit amount.
If Client cancels the Booking between fifty-nine (59) and thirty (30) calendar days in advance of the trip contemplated by the booking, Client is entitled to a refund in the amount of fifty percent (50%) of the total amount paid when Booking minus the full deposit amount.
After that deadline, Client is not entitled to any refund. Any reimbursable expenses arising out of the Booking incurred by Guide prior to the date of cancellation (including but not limited to plane tickets, car rental payments, and lodging or transportation fees) are non-refundable as soon as they are incurred by the Guide.

To get to Ålesund in Norway, most people fly into Ålesund Airport, Vigra (AES) 20 minutes away from Ålesund. From there, you can rent a car or take a taxi or bus to get to Ålesund.

Once you and your guide agree on the details of your itinerary, you will meet your guide at a predetermined location, usually at the dock in Ålesund Gjestebrygge. The guide will choose the appropriate terrain dependent on conditions and the ability of the group.
Get free trip brochure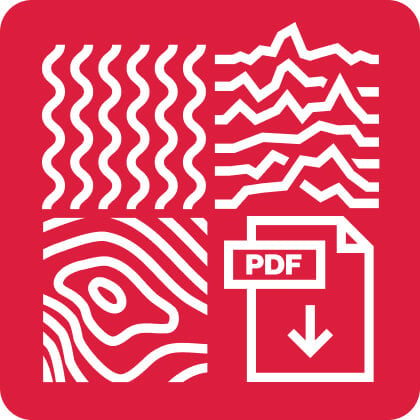 Adventure and location overview, itinerary, available dates, what's included and much more.
Brochure sent, check your inbox
Talk with us
with our adventure expert and start planning your perfect adventure.
Other things to do in Ålesund