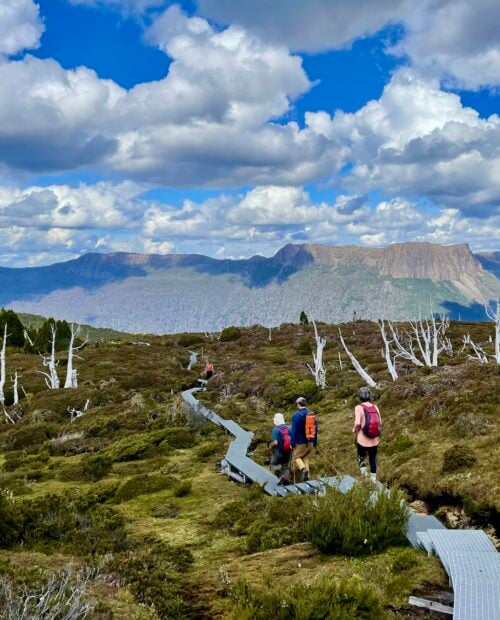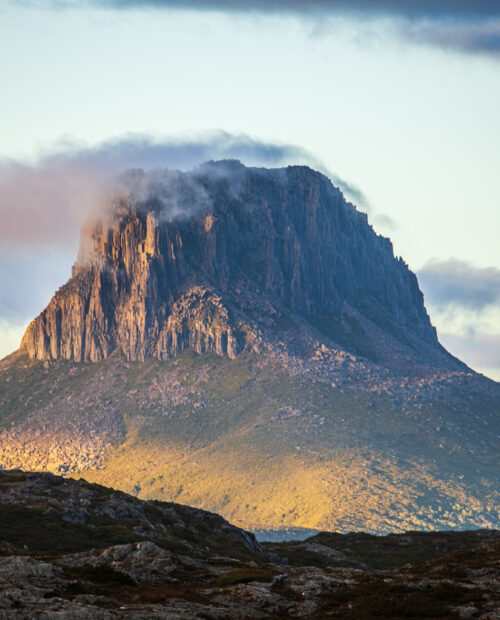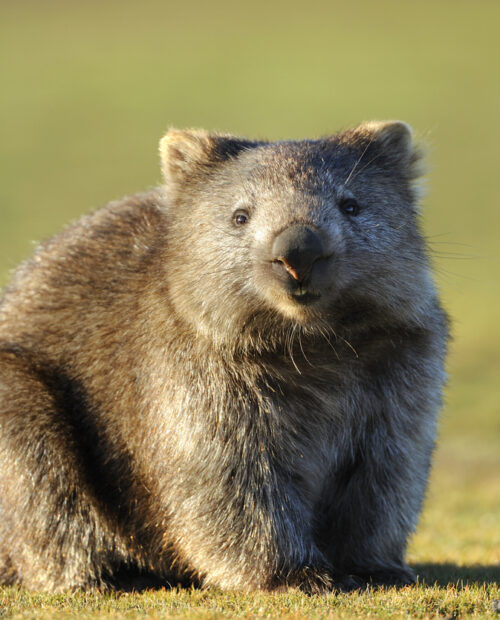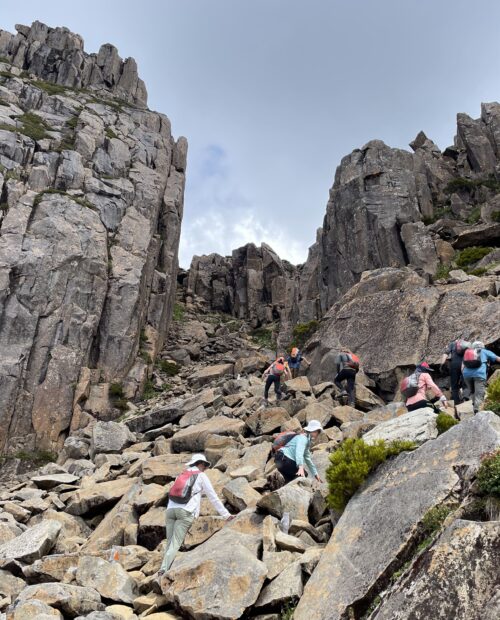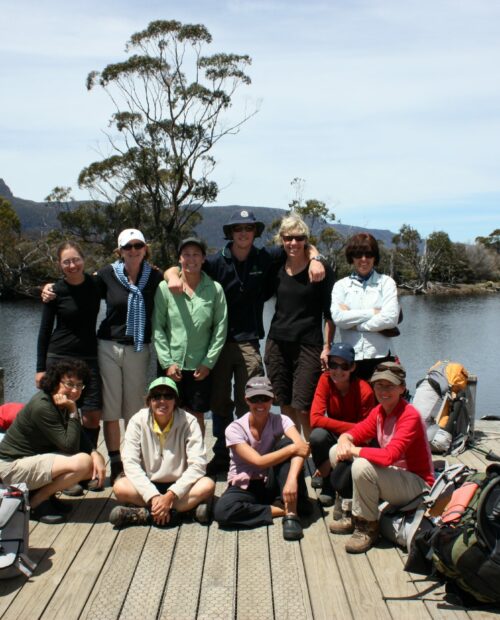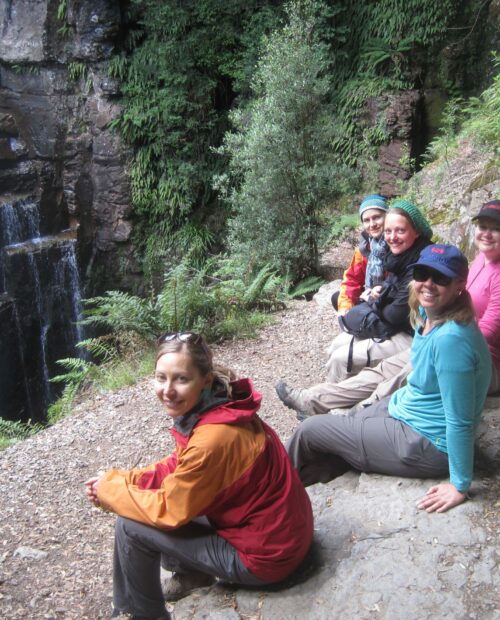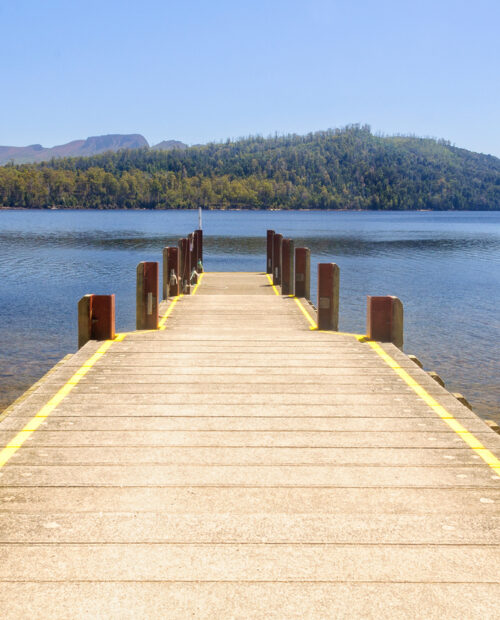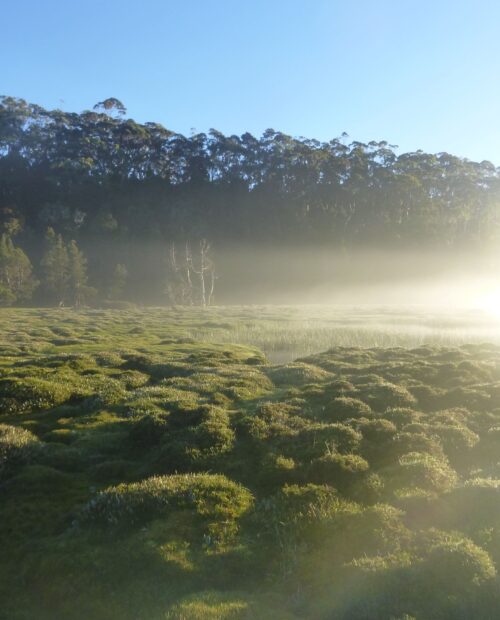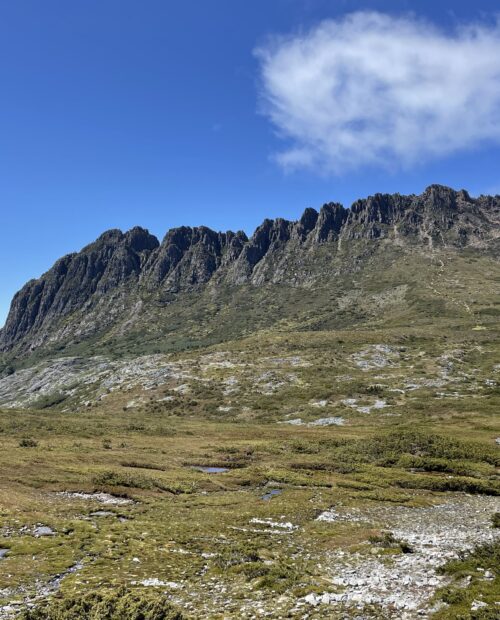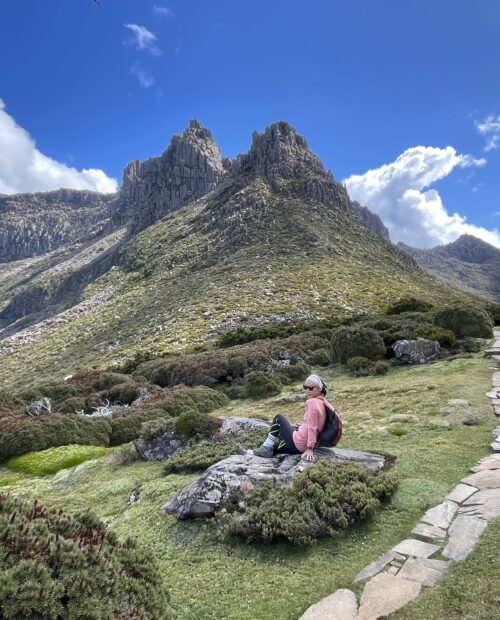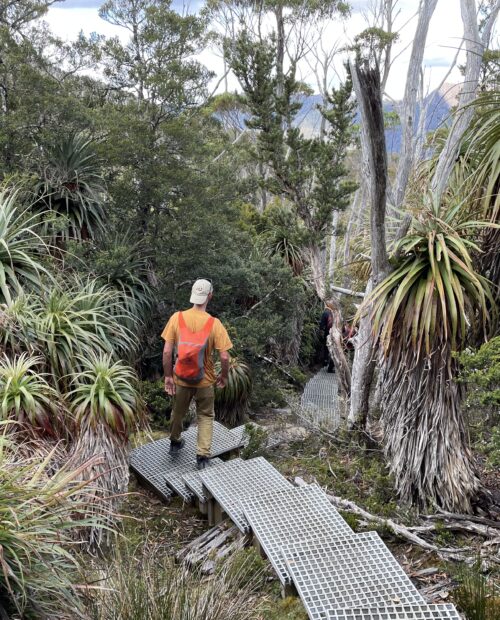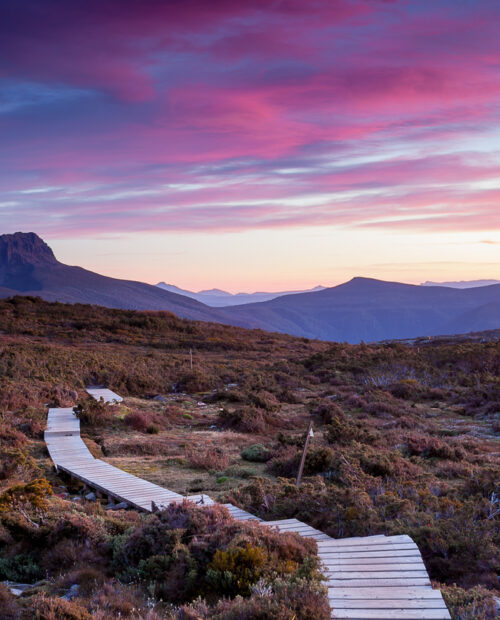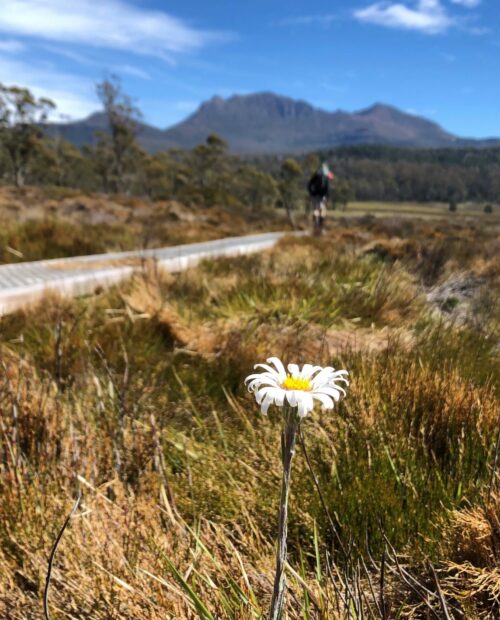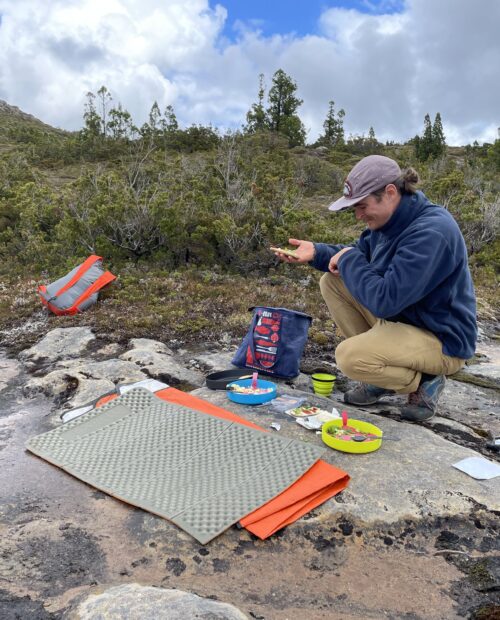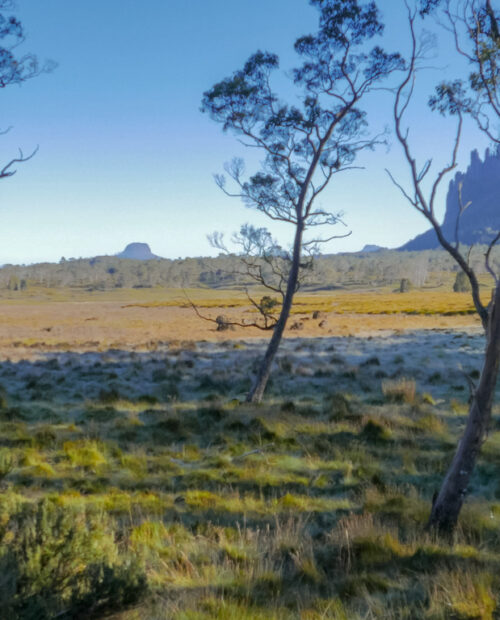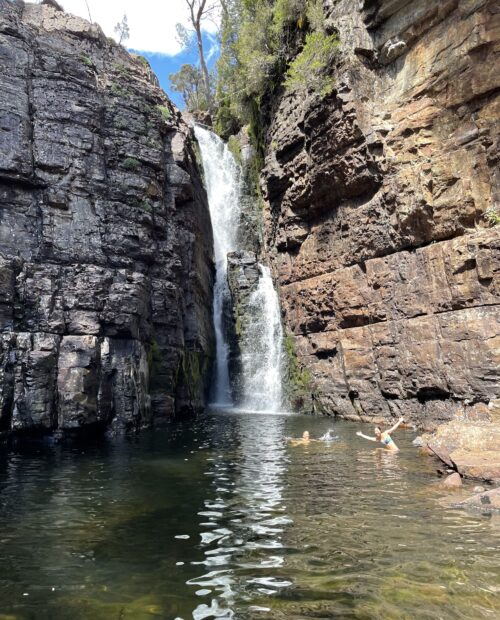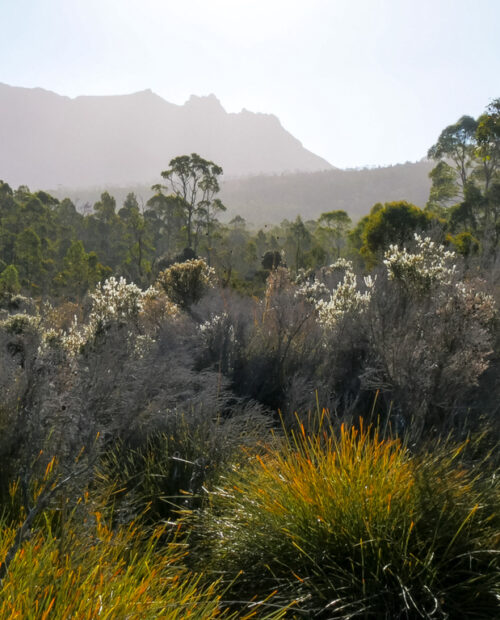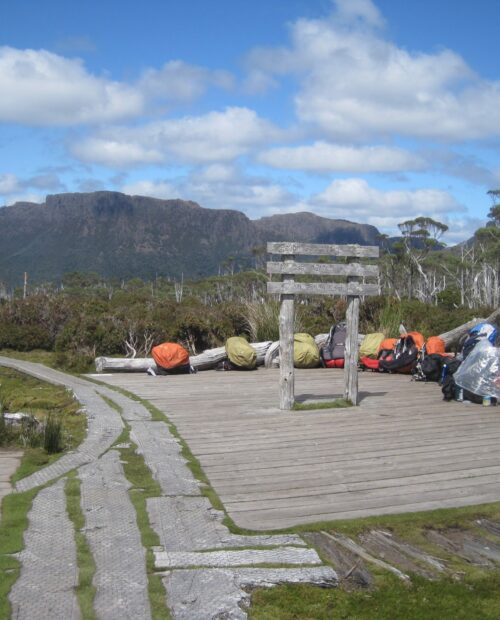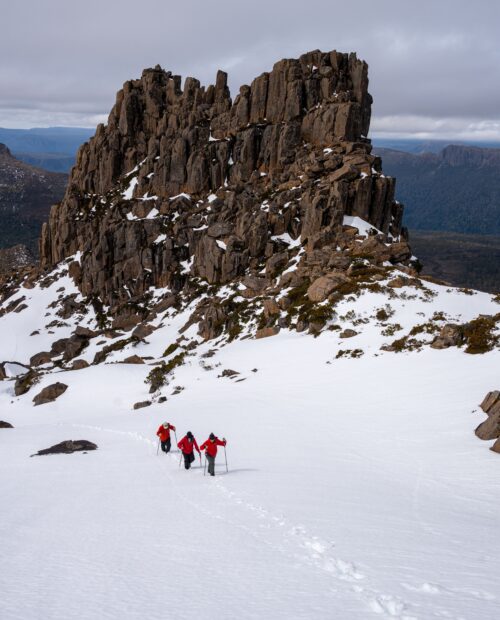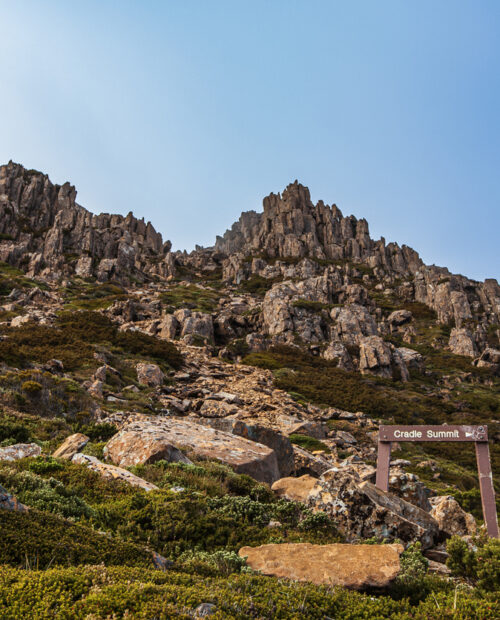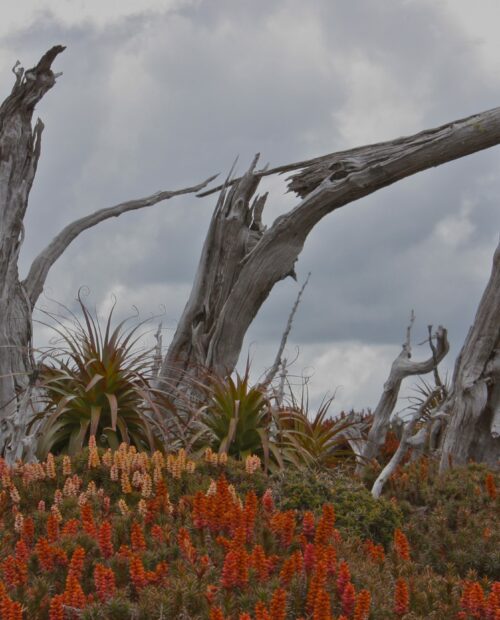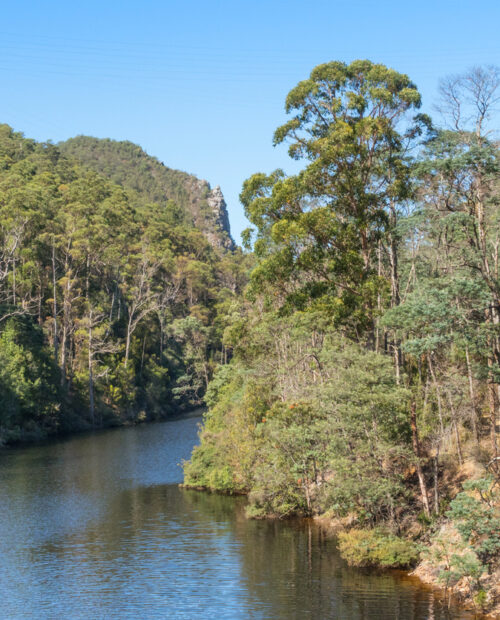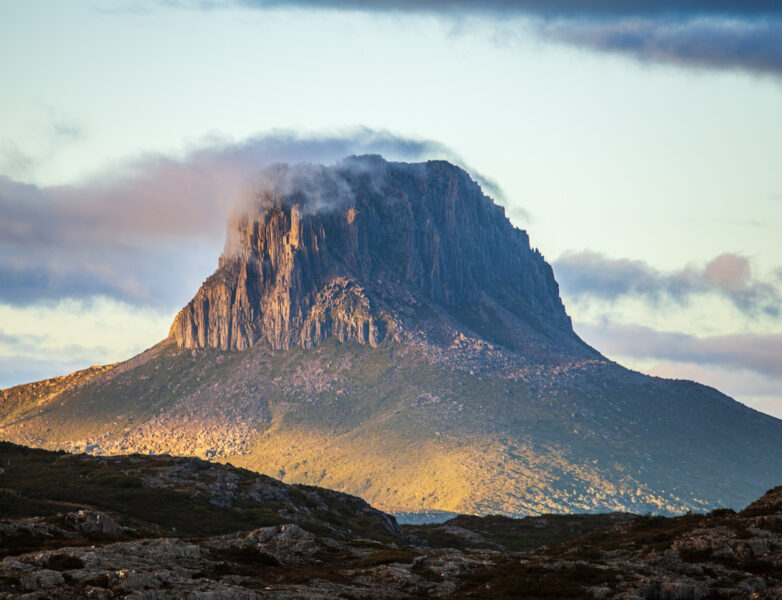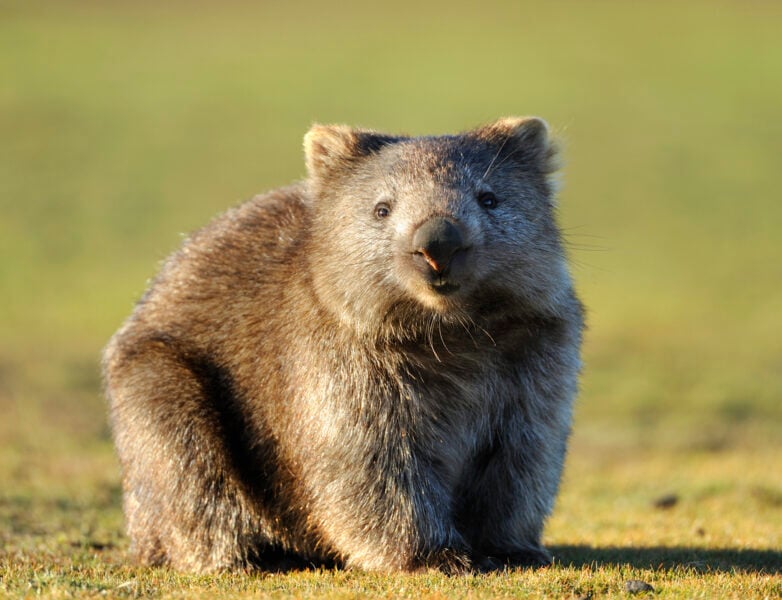 Hiking the Overland Track in Tasmania
5.00

()
Journey to one of the world's most isolated islands and traverse one of the greatest multi-day hikes on Earth—the Overland Track in Tasmania. Meandering through the heart of the Cradle Mountain-Lake St. Clair National Park, this 40-mile trail links a variety of natural gems, which you'll be surrounded by on this 7-day guided hiking tour. Ancient rainforest, glossy lakes, glacially-carved valleys, fragrant eucalyptus woodlands, or lofty peaks—each new day brings a new immersion into Tassie's wilderness. Climb the island's highest peak, enjoy its deepest lake, and spot the cutest animals: wombats and echidnas thrive in the landscapes you'll be strolling through. As soon as you set foot on the Overland Track, you'll get why it's one of Australia's premier alpine walks.
Accessible and all-inclusive adventure

Knowledgeable guides will figure it all out and ensure you only have to carry a lightweight pack

One day you're walking through golden buttongrass, the other through ancient rainforest

Sleep under starry skies, spot wombats, and swim in alpine lakes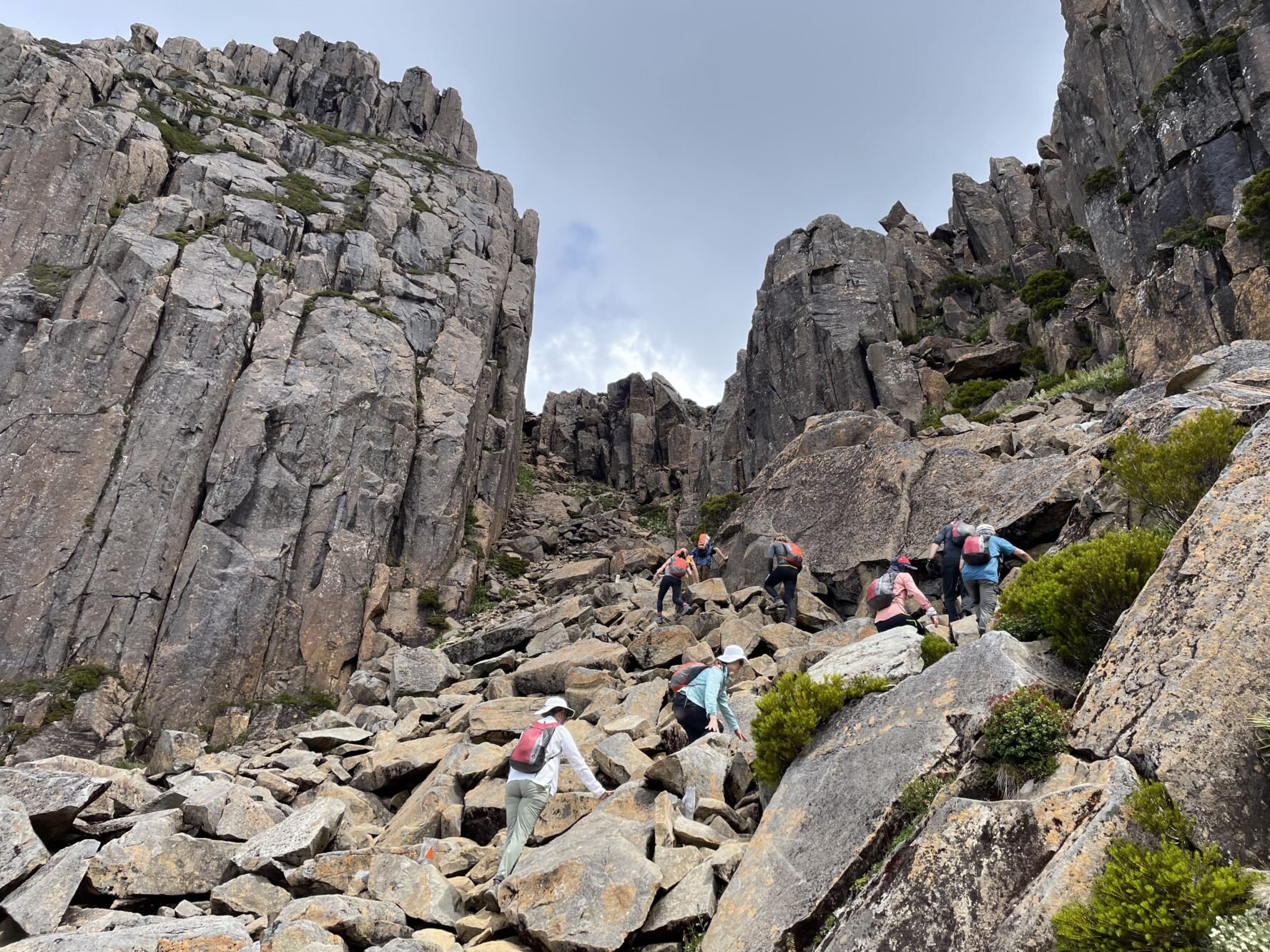 Itinerary
Starting from the foothills of Cradle Mountain, the 40-mile (65-kilometer) Overland Track stretches through a national park all the way down to Australia's deepest lake—Lake St. Clair. Join the 7-day guided hiking trip and traverse this moderately challenging trail boasting a myriad of natural marvels along the way, from sparkling lakes and mighty waterfalls to dense mossy rainforest and spectacular peaks. By going on this guided trip, you get the whole package: all permits, transportation, meals, camping, it's all taken care of. Just kick back and immerse yourself into one of the world's premier multi-day trails.
Get free trip brochure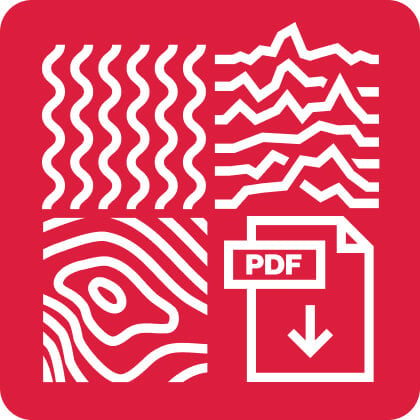 The brochure contains:
Adventure and location overview, itinerary, available dates, what's included, how to prepare, and much more.
Brochure sent, check your inbox
Talk with us
and let one of our adventure experts help you plan your perfect adventure.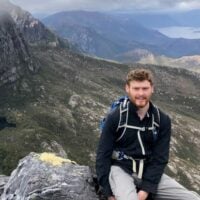 Although Ben graduated with Honors in International Relations, he has worked primarily in the outdoor adventure industry in Tasmania, New Zealand, and Vietnam. His passion for Tasmania's wild places leads him to caving, climbing, running, off-track bushwalking, backcountry skiing, mountain biking, and paddling. Ben is the manager of Wilderness Expeditions as well as a lead guide, and he's been with the company for nearly a decade.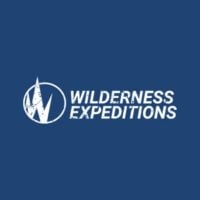 Wilderness Expeditions
Wilderness Expeditions
Wilderness Expeditions offers multiple trips in Tasmanian wilderness, though they try to make it comfortable, accessible, and affordable without compromising its essence. All of their guides have extensive experience with it as well as a diverse skillset. They are also amateur chefs, botanists, geologists, historians, physiotherapists, coaches, and (very amateur) comedians. Wilderness Expeditions focuses on employing impeccable environmental and minimal impact practice in order to protect the wilderness.
Bina B
(source: Trip Advisor)
My son and I recently walked the Overland Track with Ben and Michael. It was a fabulous six days. What made it really special was the knowledge Ben and Michael shared about the track and the flora and fauna as we passed through some of the most spectacular forests and moors. They supplied fabulous gear which – true to their word – weighed not too much! It was great food and company and I'd recommend them to anyone wanting a guided experience.
Matilda P
(source: Trip Advisor)
This is my second tour with Wilderness Expeditions and it was just as good. The guides are lovely and very knowledgeable so you get the best experience. We saw wombats and echidnas, swam in waterfalls and lakes and relaxed each night with great food and laughs. I highly recommend Ben and his team for expert guiding and a great experience of Tassie's wilderness!
Mary Jane D
(source: Trip Advisor)
We just finished an AMAZING six days on the Overland track and we all reckon this company was as close to perfect as you could get! Em and Michael were brilliant- they set a relaxed easy vibe, but they also inspired and encouraged our whole group to get to the top of both Cradle and Ossa. I never thought (at my age!) I would be able to do the peaks but they gave me the confidence to get there and the views were totally worth the pain! It's a bit decadent having guides who not only carry all the food, but also cook it and serve you (yeah, really!). It allowed me to relax and enjoy the wilderness, as I knew everything was taken care of by Michael and Em. They knew the trails and the swimming holes and the wildlife and the plants so well, all we had to do was drink it all in! a HUGE thanks Michael and Em and Ben– keep catching those pancakes!
Simone S
(source: Trip Advisor)
Ben was an exceptional host for ourJan 23 hike. Amazing meals, snacks and drinks on offer. Brilliant gear. Could not have completed this hike without Ben and Michael's knowledge and skill. Two very lovely individuals. Lots of swimming, side trails, local plant knowledge and history of the area on offer. This will be a journey I remember for the rest of my life.
Loretta
(source: Trip Advisor)
The overland walk was a challenging but such a wonderful experience for a group of over 50 year olds! Ben and Zoe were fantastic tour guides and provided us with an experience we'll never forget. All equipment provided was excellent and of a high standard. For camp cooking, Ben's meals were way above our expectations.
Trang L
(source: Trip Advisor)
What a memorable experience with Wilderness Expeditions on the Overland Track! I can't stop raving about this trip to everyone as Ben and Sean made my first multiday hike such an incredible experience. All the provided gears, as per their website, were of high quality, ultralight weight and withstood all the challenging weather conditions. Food was plenty with biscuits during walking breaks and desserts every evening. This trip is suitable for newbies and experienced hikers, solo travelers (like myself), family or a group of friends. You'll be with like-minded people.
Bury any doubts you may have about the Overland Track. Stop your research – go with Wilderness Expeditions. You won't regret it!
Things to know
What you get on this adventure:

Experienced, local hiking guides with extensive knowledge of the area — they carry all meals, group equipment, communications and safety gear
7-day guided hiking tour along the Overland Track
Pre-trip planning and advice
Accommodation in camp
Transportation to and from the trailhead from Hobart
Comprehensive equipment

Tent — twin-shared or single
Groundsheet
Backpack — 50L internal frame pack and liner bag
Mattress — insulated and inflatable
Sleeping quilt —high-loft down, -9C, water repellent
Sleeping bag liner — silk
Waterproof jacket — Gore-Tex or Event jacket with hood
Waterproof overpants
Head torch — small LED headband torch & attached whistle
1L water bottle
Meal kit — bowl, plate, mug, spork
Toilet roll and hand sanitizer
Insulated jacket
Fleece mittens

Optional gear

Gaiters — nylon boot & sock covers
Daypack — lightweight / ultra-packable 20L backpack for optional side-trips
Crocs — camp shoes
Wash basin — personal basin to collect water for washing
Walking Poles — recommended if you have any former lower leg or balance issues

All permits and insurances as required — recommended to obtain some for of additional personal travel / property insurance
All meals — most diets can be catered for, ask in advance
Resupply drops along the track
Support personnel

What's not included:

Transportation to and from Tasmania
Personal travel/property insurance
Guide gratuities — optional

Hiking the Overland Track is well within reach for individuals with moderate activity levels, requiring no particular skills or prior experience. Still, although participants can walk at their own pace, it's important to note that some may find the track more demanding than anticipated due to its rough terrain, uneven surfaces, and the added weight of carrying a pack. While the Overland Track is considered relatively easy in comparison to other trails in Tasmania, it remains significantly rougher than many well-maintained paths. Obstacles such as roots, rocks, mud, and inclines often result in slower progress, making the distances covered seem more challenging than expected. Additionally, adverse weather conditions can further amplify the physical and mental demands of the journey, particularly during the initial days when the terrain is exposed and hikers are adjusting to the routine of walking.

The Overland Track is classified as an easy to moderate walk, with certain days being easier than others. It's worth noting that this grading system is specific to tours offered in Tasmania by your guides. There's no universally recognized grading system for walks—what your guides consider easy might be considerably more challenging than a hike labeled as "hard" elsewhere. Additionally, side trips on the Overland Track can be steeper and significantly more demanding than the main track.

Check out the itinerary for day-by-day hiking distance breakdown.

Your guides provide a great majority of the equipment. Here's a list of the equipment and personal items that you need to bring:

Walking boots or shoes

They should be comfortably worn in, but not so old that glue failure is a risk
Low-cut shoes are acceptable for those used to bushwalking in them, though they may not be compatible with gaiters)

Long pants or shorts — synthetic fibers are best, not cotton
Underwear
Thermal top and bottoms
Shirt for walking — synthetic or wool, not cotton
Light fleece or wool jacket
2-3 pairs of socks — not cotton, one pair to be kept dry for evenings
Water bottle or hydration bladder (2L capacity) — your guide can provide it
Lightweight hiking boots or shoes
Spare clothes for layering — your guide can provide it
Waterproof rain jacket — your guide can provide it
Sunhat & beanie
Toiletries (sunscreen, toothbrush and toothpaste, bug spray, etc.) — do not bring soap
Personal medications / sanitary items
Sunglasses
Camera — optional (but recommended)

Wilderness Expeditions delivers the best product in terms of tent-based guiding on the Overland. As you don't have to carry food and your guides provide high-end lightweight gear, your pack weight will be several kilograms lighter than usual. Having lightweight packs is the single biggest factor in making these kinds of trips accessible and inclusive.

Please bring personal pain relief. Also consider personal antihistamines, diarrhea medications and electrolytes (in addition to more specific personal medications). Guides carry bandages, tapes, and dressings as well as some emergency medications.

Most Tasmanian walkers don't use water purification products, as water sources are generally safe. However, you're welcome to bring them for peace of mind—tablets will suffice.

Group sizes and prices:

For this guided hiking tour along the Overland Track, the maximum group size is ten guests with two guides.
It takes a minimum of 4 people for this tour to run. It's very rare that not enough of people sign up for the tour to run.
The cost does not decrease as the group grows.

Hiking the Overland Track can be arranged for larger groups. Contact us to make arrangements.

Min. age requirements:

If you are older than 18, you're good to go.
Minors older than 10 may be permitted to join the hike on a case-by-case basis, but must be in the presence of a parent or legal guardian.

If your group has hikers under the age of 18, contact us prior to booking to make arrangements.

A non-refundable 15% deposit to secure your place is due upon booking. The remaining amount is paid 4 weeks (28 days) prior to departure. Once the trip is confirmed by the guide, the cancellation policy stated below applies.

If Client cancels the Booking anytime prior to fourteen (14) calendar days in advance of the trip contemplated by the booking, Client is entitled to a full refund minus the non-refundable deposit.
For cancellations forty-eight (48) hours to fourteen (14) calendar days in advance, Client is entitled to a refund in the amount of fifty percent (50%) of the total amount paid when Booking.
After that deadline, Client is not entitled to any refund. Any reimbursable expenses arising out of the Booking incurred by Guide prior to the date of cancellation (including but not limited to plane tickets, car rental payments, and lodging or transportation fees) are non-refundable as soon as they are incurred by the Guide.

To get to Hobart or Launceston, most people fly into Hobart Airport (HBA) or Launceston Airport (LST). From there, you can take a shuttle or a taxi to reach the city.

Your guides will pick you up at 11 am in Hobart or 2 pm in Launceston. More details are to come later on. Drop-off is Hobart only.

We highly recommend that you cover all your bases with both emergency medical and travel insurance. With medical insurance, if you have an accident or medical emergency on or off the mountain, you'll avoid paying out of pocket for costly expenses. This covers everything from hospital treatments to emergency air transportation and more. Travel insurance covers canceled flights, natural disasters and other scenarios that may interrupt your travel plans. 

We also expect you to respect local regulations and take measures to protect yourselves, your guides, and the communities you're traveling to. For more information on travel recommendations and restrictions in Tasmania, Australia, please refer to Australia's COVID-19 travel advice.

Please contact us if you have any questions or require further information. We are happy to provide you with the most up-to-date information!

Your guides are committed to protecting the wilderness values of the areas they work in, and therefore do not use helicopters for provisioning and will never push for further infrastructure development.
Get free trip brochure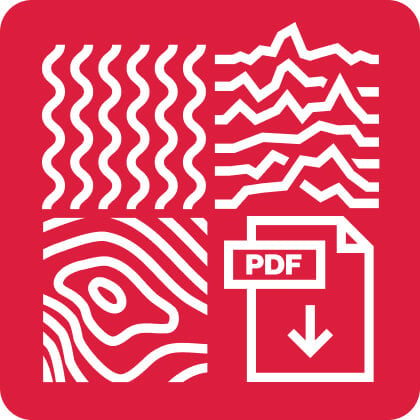 Adventure and location overview, itinerary, available dates, what's included and much more.
Brochure sent, check your inbox
Talk with us
and let one of our adventure experts help you plan your perfect adventure.