Mountaineering Course in Alaska
Alaska Range | Alaska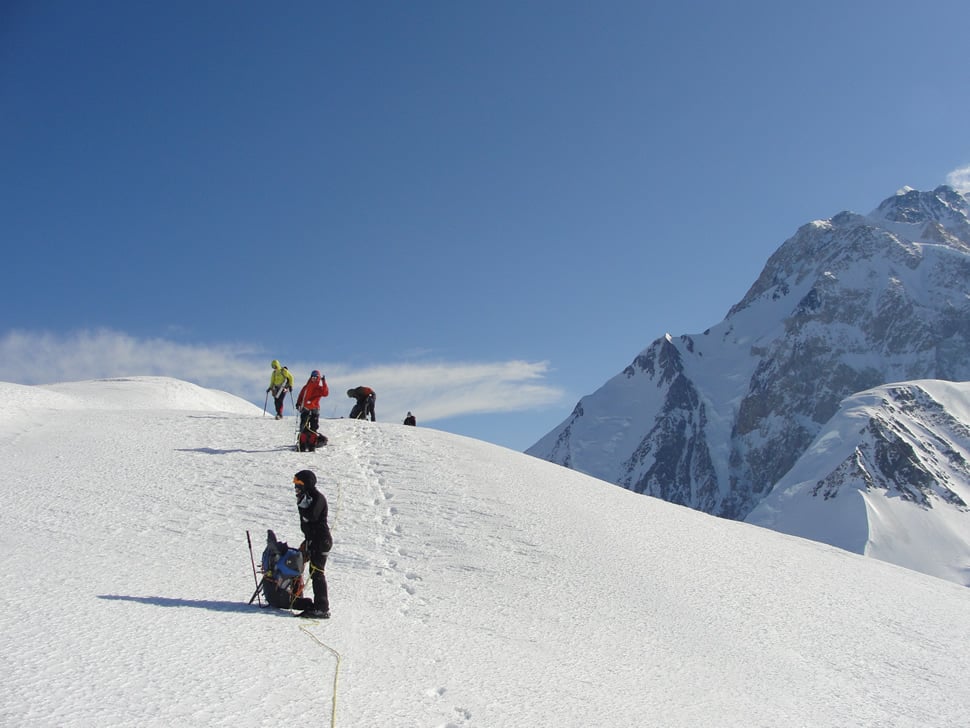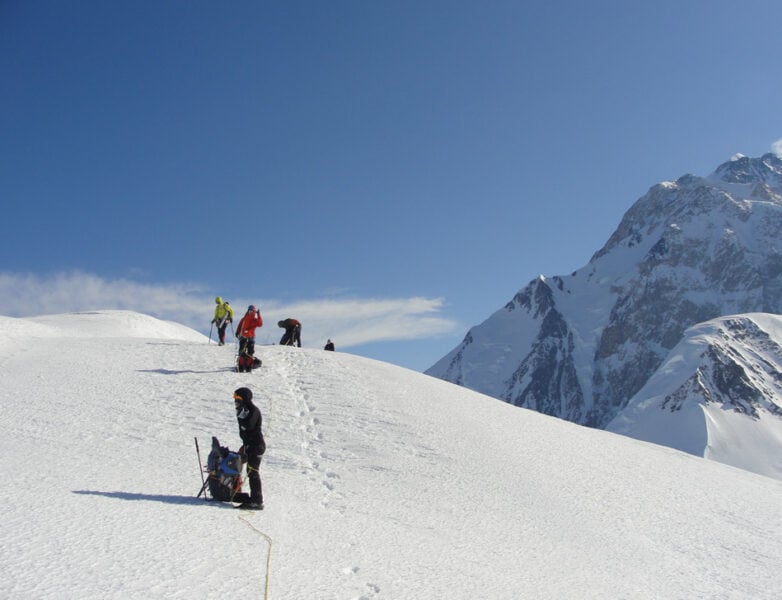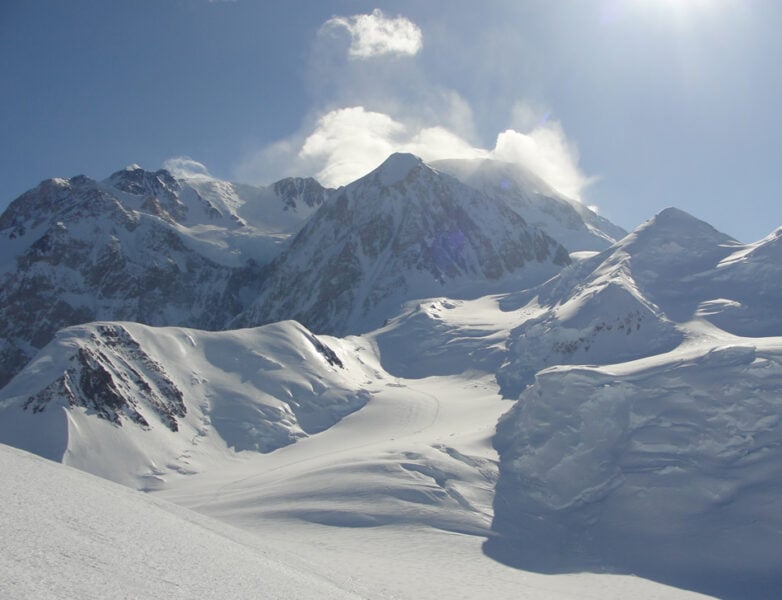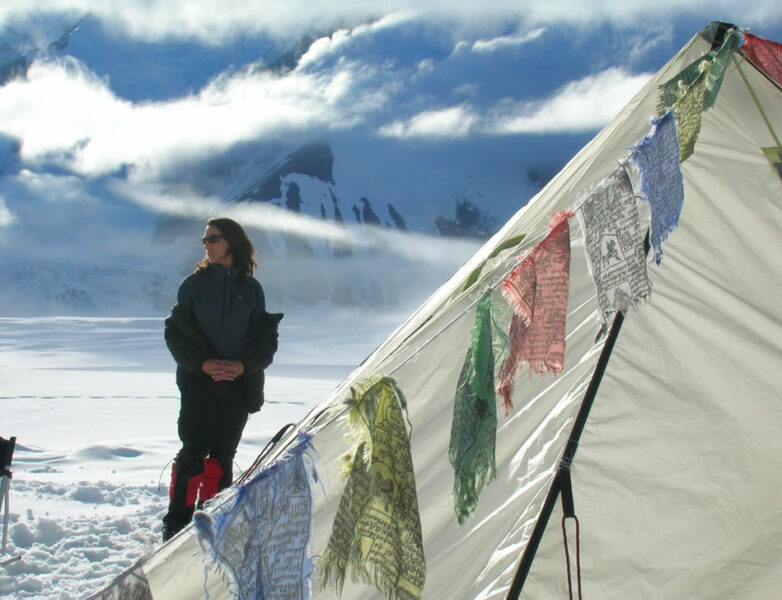 Top three reasons to go mountaineering in Alaska
Ascend one of the Alaska Range's monumental peaks

Take in the astonishing views of Denali and the surrounding mountains

Master fundamental glacial mountaineering skills in Alaska's wilderness
For centuries now, ambitious mountaineers have been making their way to Alaska's snow-capped wilderness, seeking to test their skills on Denali—North America's tallest peak. While conquering Denali is no small feat, those fit and brave enough to achieve it are rewarded with beautiful untouched wilderness, phenomenal panoramic views, and bragging rights that will last a lifetime! For anyone looking to get into mountaineering and one day overcome this legendary challenge, there is no better learning environment than Denali's very own Alaska Range. Jump on the opportunity to master advanced skills and techniques in this one-of-a-kind setting. And if the weather allows it, you get to climb a glacier and overcome one of Denali's neighboring peaks, with grandiose views of the mountain itself! Head to Alaska's pale outback and grow into your mountaineering boots.
Nearest city

The tour starts in Anchorage, AK
Choose how you spend your days
7-Day Alaska Mountaineering Course
Head to Alaska's breathtaking wilderness for a week-long mountaineering course of a lifetime! This course is a great way to up your mountaineering game with a solid foundation for glacial mountaineering pursuits over a relatively short period of time. Learn the requisite skills for a scenic guided ascent of Denali, Aconcagua, Mount Vinson, or 6000-meter Himalayan peaks!
12-Day Alaska Mountaineering Course
Seven days in Alaska's peaks isn't enough, you say? This 12-Day Alaska Mountaineering Course is very comprehensive and is designed to take climbers farther than just the basic skills addressed in a 7-Day Course. Spend an additional 4 days ascending the magnificent Kahiltna Glacier, getting a real taste of what it takes to ascend North America's highest peak!
Itinerary
Day 1: Meet in Anchorage
Meet your guides at the Lakefront Anchorage Hotel. Go through an expedition orientation and equipment check. After the gear check, you and your guides will load up the van and make the two-hour drive north to the remote town of Talkeetna. After a quick registration with the National Park Service, board ski-equipped airplanes and take the flight into the Alaska Range. Help your guides and fellow participants establish a base camp, and spend the night here.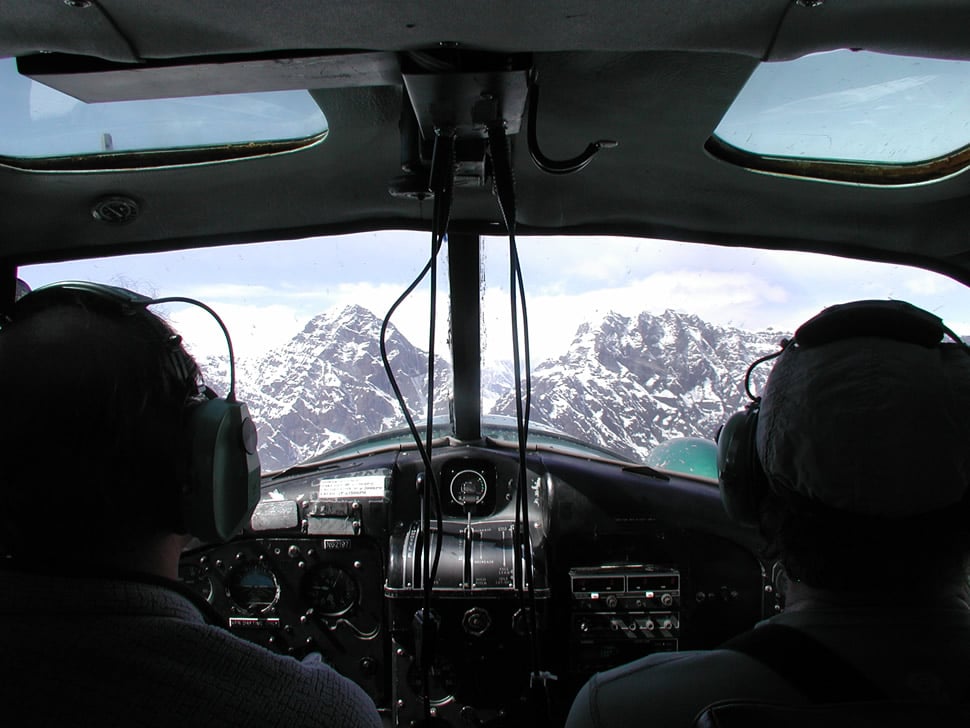 Days 2-4: Skills
Cover the numerous skills needed for a successful mountaineering trip. You will learn glacier camping techniques and other aspects of efficient campcraft, such as cooking and water production. Review the knots you've been practicing and build upon them to learn proper rope techniques for belaying and rappelling. Go over snow climbing skills such as self-arrest, glissading, and the use of crampons and ice axes. Learn how to properly travel on a glacier, how to read glaciers to identify potential hazards such as crevasses, and how to get out of them if you happen to misread the terrain.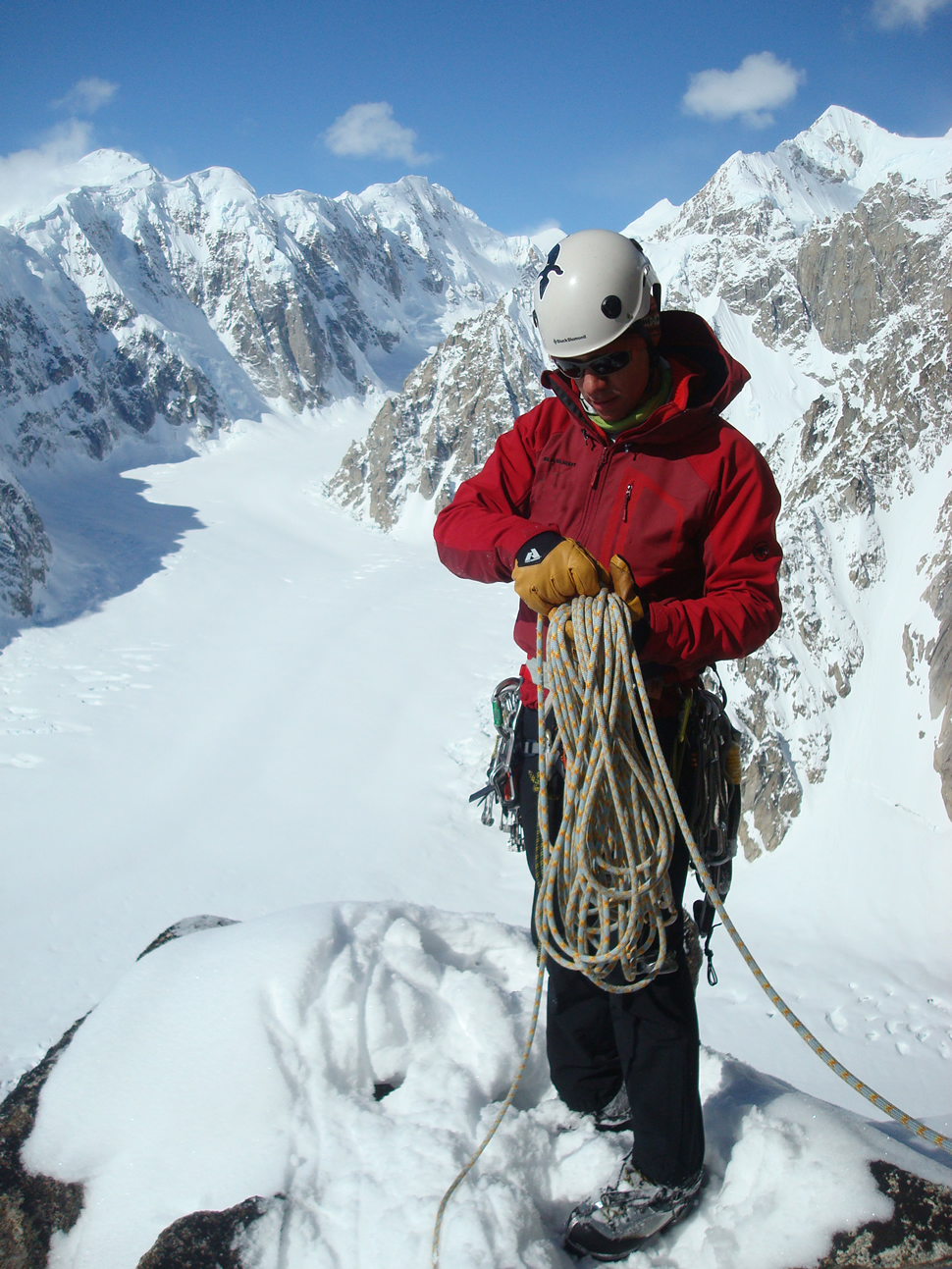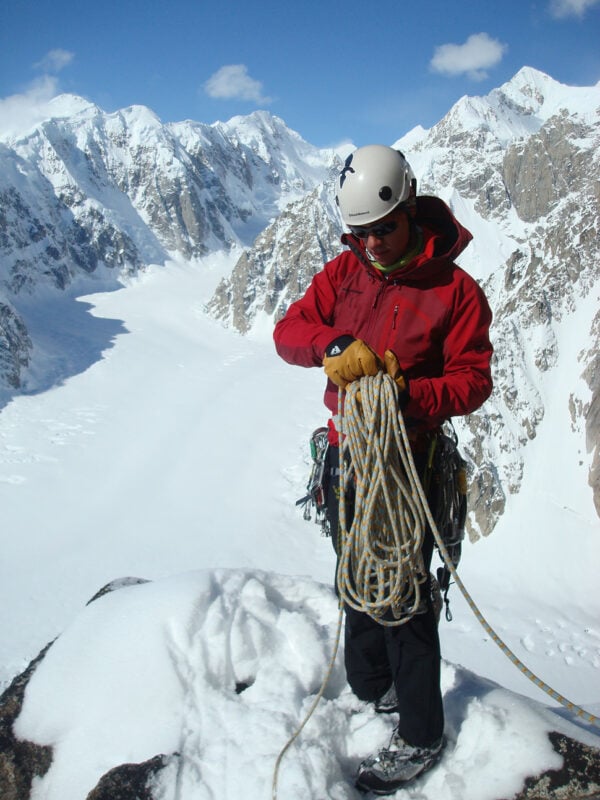 Days 5-6: Climbing
From your base camp, choose between several climbing objectives that put your mountaineering skills to the test. Pt. 8,670, also known as Radio Control Tower, and the East ridge of Mt. Frances both provide some great climbing opportunities right out of camp. Experience the stunning views of the three big peaks—Denali, Foraker, and Mt. Hunter—from the top of Mt. Frances. Your guides will help you find a route that provides the perfect balance of challenging but achievable climbing objectives.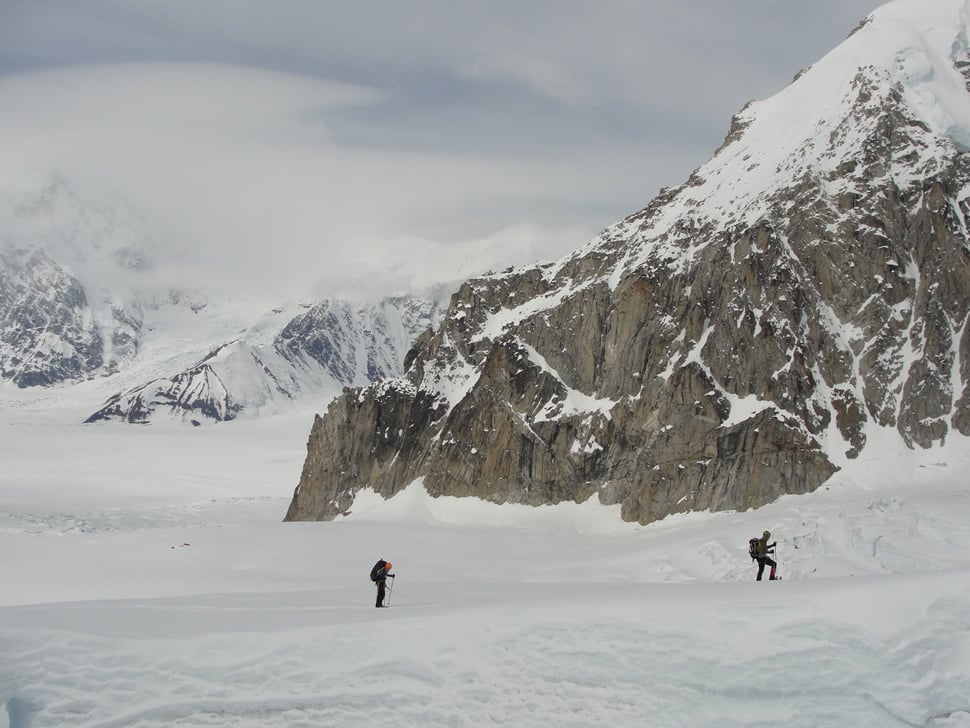 Day 7: Return to Talkeetna/Move to Camp 1
If you're on the 7-day course, enjoy your final day in the Alaska range. Depending on the conditions and how tired you are, spend part of this day climbing or practicing crevasse rescue in the giant crevasses near the base camp. In the afternoon, pack up your camp and catch your flight back to Talkeetna, ready for the drive back to Anchorage.
For those on the 12-day course, the fun is just getting started. Depart your base camp and drop down the infamous Heartbreak Hill and onto the broad Kahiltna glacier. Your goal is to move camp to a site at 7,800 feet, near the junction with the NE Fork of the Kahiltna Glacier. This moderate 5-mile carry is a good shake-down for the days to come. Pass by numerous crevasses and beneath some of the prettiest peaks in Alaska en route to camp. Depending on the conditions, you may camp closer to the East Fork of the Kahiltna for an attempt on West Kahiltna Peak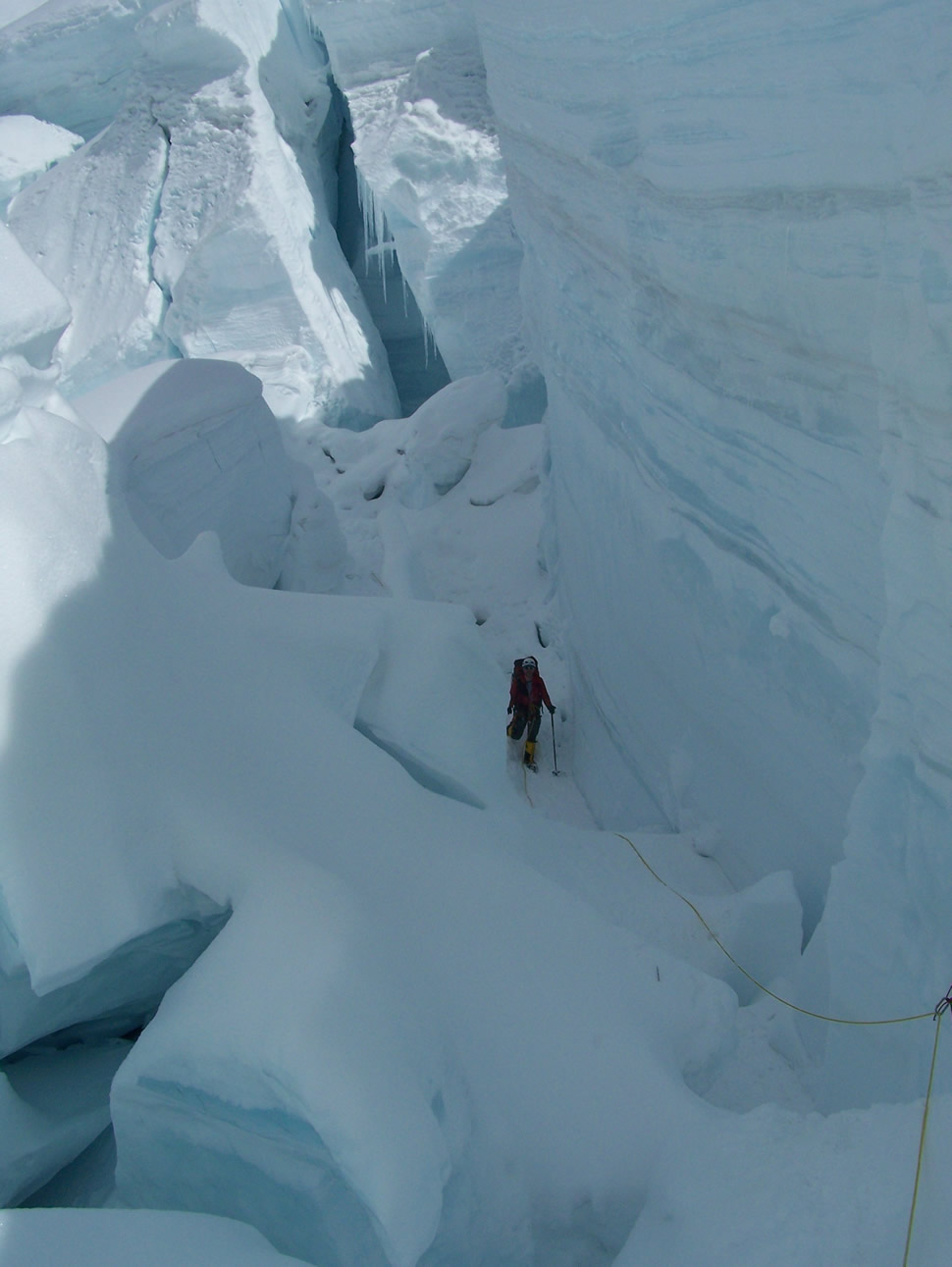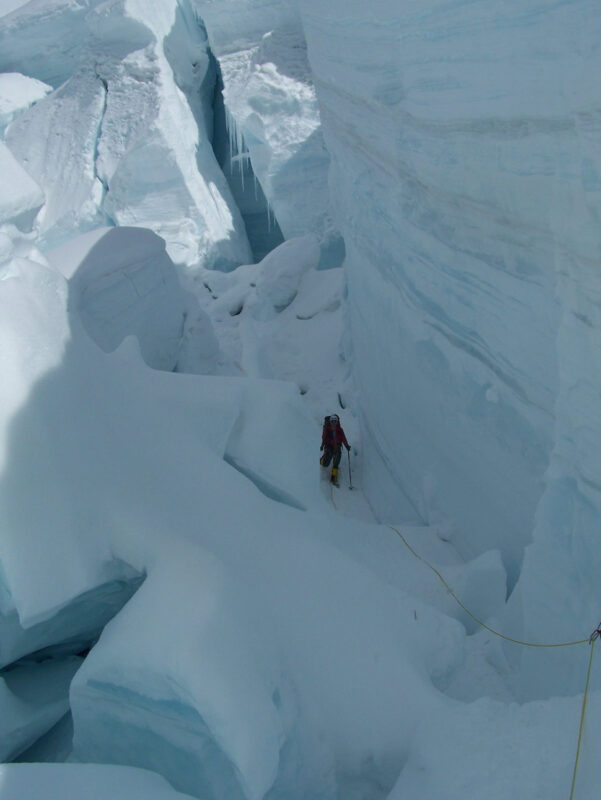 Day 8: Ascent to Kahiltna
If the conditions allow it, break camp and head up Ski Hill to Kahiltna Pass. This is where you'll establish High Camp for your attempt at Kahiltna Dome. Gaze at the stunning evening views down the Kahiltna from this camp at a height of 10,000 feet. This may be a tough day, as you'll gain altitude as well as travel about three and a half miles along the Kahiltna. Conditions on peaks like Kahiltna Dome vary, so your objective might be another peak in the area.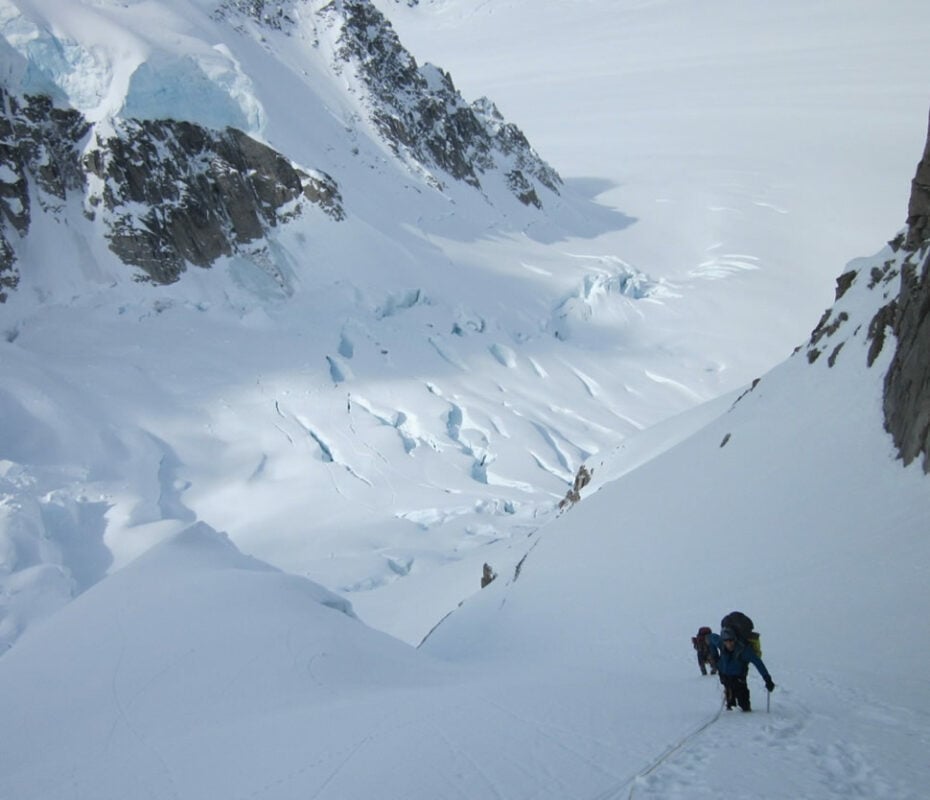 Days 9-11: Kahiltna's peaks
Keep your fingers crossed for good weather! If you're lucky, you get to climb Kahiltna Dome, West Kahiltna Peak, or any of Kahiltna Glacier's other climbing options. You and your guides will pick a route that provides really fun climbing and the views as you gain elevation will be truly breathtaking.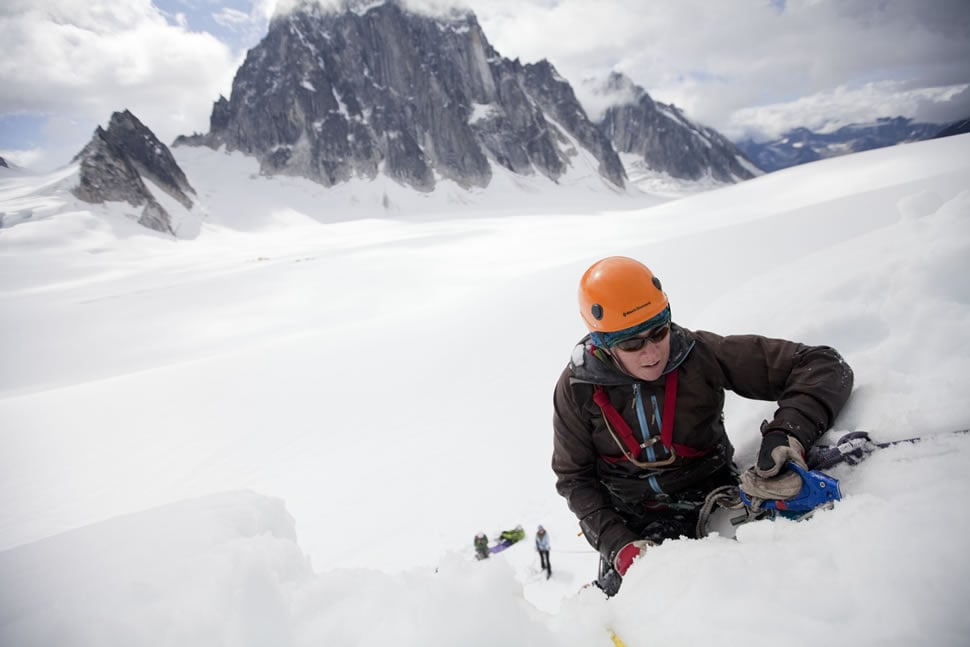 Day 12: Return to Talkeetna
Break camp and descend to Kahiltna Base Camp. De-rig on the glacier and fly out to Talkeetna for the drive back to Anchorage.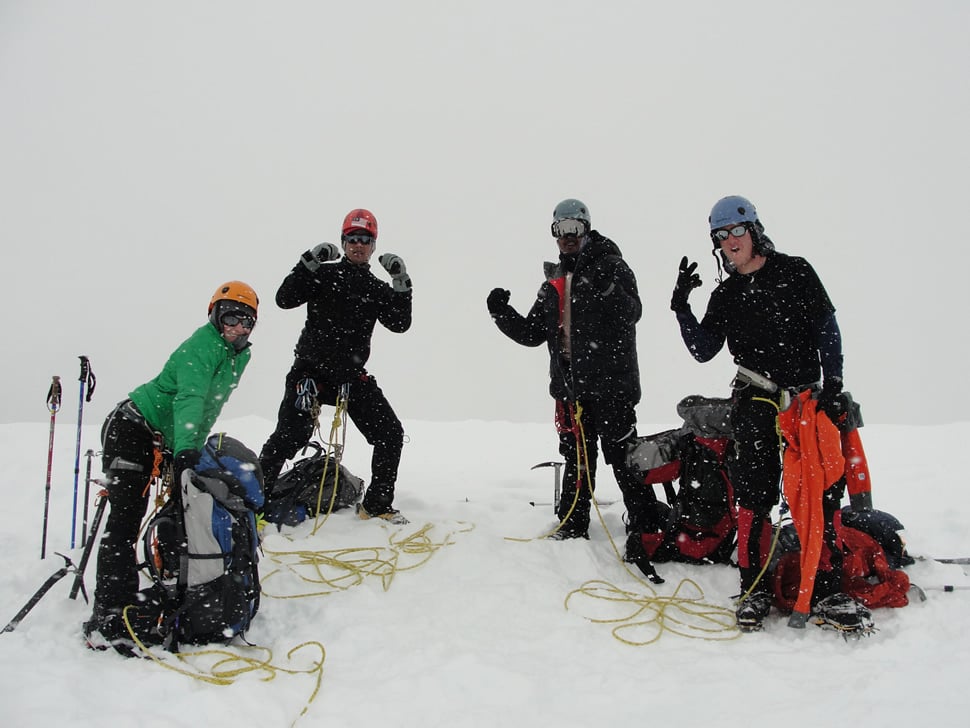 Things to know
Covid measures in Alaska
57hours is committed to providing safe outdoor adventure experiences. We require all guides using our platform to have a COVID-19 safety plan and to make the details of that plan accessible to travelers. In most cases, group sizes will be reduced, guides will avoid overcrowded locations, and other safety measures will be met depending on the location and activity.
We also expect clients to respect local regulations and take measures to protect themselves, their guides, and the communities they're traveling to. For more information on COVID-19 measures in Alaska, please refer to Alaska's official travel guidelines.
Please contact us if you have any questions or require further information. We are happy to provide you with the most up-to-date information!
What's included?
What you get on this adventure:
An experienced, local hiking guide with extensive knowledge of the area
5-10 days of mountaineering depending on your chosen itinerary
Scheduled group transportation between Anchorage and Talkeetna
Scheduled flights between Talkeetna and Base Camp
All meals while on the mountain
All group equipment (tents, kitchen, ropes, sleds, snow pickets, shovels, group med kit, satellite phone, GPS tracker, etc.)
Custom dispatch blog for your climb, complete with audio posts from team members calling from the mountain
Assistance arranging for post-climb activities in Alaska
What's not included:
Transportation to and from Alaska
$15 Denali National Park entrance fee
Personal mountaineering equipment
Meals while not on the mountain
Lodging in Alaska before and after your course
Travel and/or rescue insurance
Costs incurred due to evacuation or unplanned departure from the Range due to illness or other problems
Costs incurred as a result of delays beyond the control of Mountain Trip
Costs incurred as a result of force majeure
How fit do I need to be?
This is a very demanding mountaineering course that requires participants to be in excellent physical condition. Invest the time to train well beforehand and you will not only enjoy the course more, but you will also gain the satisfaction of being a solid member of the team as you climb. Be prepared to carry a 50-60 lb pack and pull a 20-30 lb sled for up to five miles at a stretch. Be prepared for temperatures well below freezing at night, with daytime temperatures very comfortable and sometimes hot!
What do I need to bring?
Here's a list of the equipment you need to bring:
Expedition backpack (85L minimum, bigger is better)
Large zippered duffel bag (90-100L)
Wool mountaineering socks 3-5 pairs)
Mountaineering boots
Custom insole
Gaiters
Expedition down parka
Base layer top (1-2 sets)
Light fleece hoody
Puffy light insulated jacket
Hardshell jacket
Softshell wind jacket
Vest — optional
Sun hoody — optional
Base layer bottoms (1-2 sets)
Light fleece bottoms
Softshell pants
Hardshell waterproof pants
Puffy insulated expedition pants
Synthetic or Merino underwear (3-4 pairs)
Heavyweight gloves
Medium weight gloves
Lightweight gloves
Buff neck gaiter
Summit mittens
Warm hat
Face mask
Sun hat
Hand warmers
Glacier glasses
Ski goggles
Nose guard
Denali sleeping bag
Inflatable sleeping pad
Foam sleeping pad
Ski/trekking poles
Ascender
Ice axe
Alpine climbing harness
Carabiners and locking carabiners
Accessory/prusik cord
Climbing helmet
Crampons
Primary attachment locking carabiner
Double length runner (48")
Belay/rappel device
Snowshoes
Stuff sacks
Two 1L water bottles
Insulated bottle covers
Large plastic bowl, insulated cup or mug and exan spoon
Toiletries (lip balm,, sunscreen, pee bottle/funnel, toilet paper, etc.)
Personal medical kit
Journal and pencil — optional
Altimeter watch
Maps
Lighter
Small knife
Satellite tracking/texting device
Solar panel/battery — optional
Camera — optional (but recommended)
Dress comfortably and for the weather in clothes you can move in. We suggest bringing clothing appropriate for the season.
Group sizes and age requirements
Group sizes and prices:
For the 7-day mountaineering course, groups will be made up of 3-6 participants and 1-3 instructors. A minimum of 3 participants is required for this tour to run.
For the 12-day mountaineering course, groups will be made up of 4-9 participants and 1-3 instructors. A minimum of 4 participants is required for this tour to run
The cost does not decrease as the group grows.
Mountaineering in Alaska can be arranged for larger groups. Contact us to make arrangements.
Min. age requirements:
If you are older than 18, you're good to go.
Minors younger than 18 may be permitted to join the hike on a case-by-case basis, but must be in the presence of a parent or legal guardian.
If your group has mountaineers under the age of 18, contact us prior to booking to make arrangements.
Deposits
All Courses require a deposit to secure a spot on the team. Your submission of a deposit constitutes your acceptance of this Fee Schedule, Refund and Cancellation Policy.
All deposits for Courses include a non-refundable $750 administration fee (we highly recommend that you consider Trip Cancellation insurance to protect the administrative fee, if not the entire cost of your climb).
Final payments for expeditions must be received 120 days prior to the Team Meeting Day.
Failure to pay expedition fees by the date they are due constitutes cancellation of your spot on the team and forfeiture of your deposit.
If you register for a climb within 90 days of the Team Meeting Day, expedition fees will be due in full to secure your spot on the team.
Cancellation Policy
No refunds will be provided for cancellations occurring within the last 89 days prior to an expedition. All requests for refunds must be made in writing.
Your guide reserves the right to cancel an expedition prior to the departure date for any reason. In the event that the expedition is cancelled based solely on an internal administrative decision by Mountain Trip, all monies, except for nonrefundable administrative fees, collected by Mountain Trip from team members for the canceled expedition shall be refunded within 30 days. That is the extent of their financial liability for such cancellations. This Cancellation provision shall not apply when external factors that force Mountain Trip to cancel an expedition against its will, including, but not limited to, international political upheaval, terrorism, drought/famine, epidemics/pandemics, and/or cancellations imposed by foreign or domestic governments or permitting agencies. All External Cancellations shall not be subject to a refund unless such cancellation occurs prior to the deadlines set forth in the Refund and Cancellation policies, above.
Getting there and meeting location
To get to Anchorage, AK, most people fly into Ted Stevens International Airport 5 miles away from Anchorage. From there, you can take a bus, shuttle, or taxi to Anchorage.
Once you and your guide agree on the details of your itinerary, your guide will suggest the best place to meet, whether that's at the Lakefront Hotel in Anchorage or a predetermined location. The guide will choose the appropriate terrain dependent on conditions and the ability of the group.