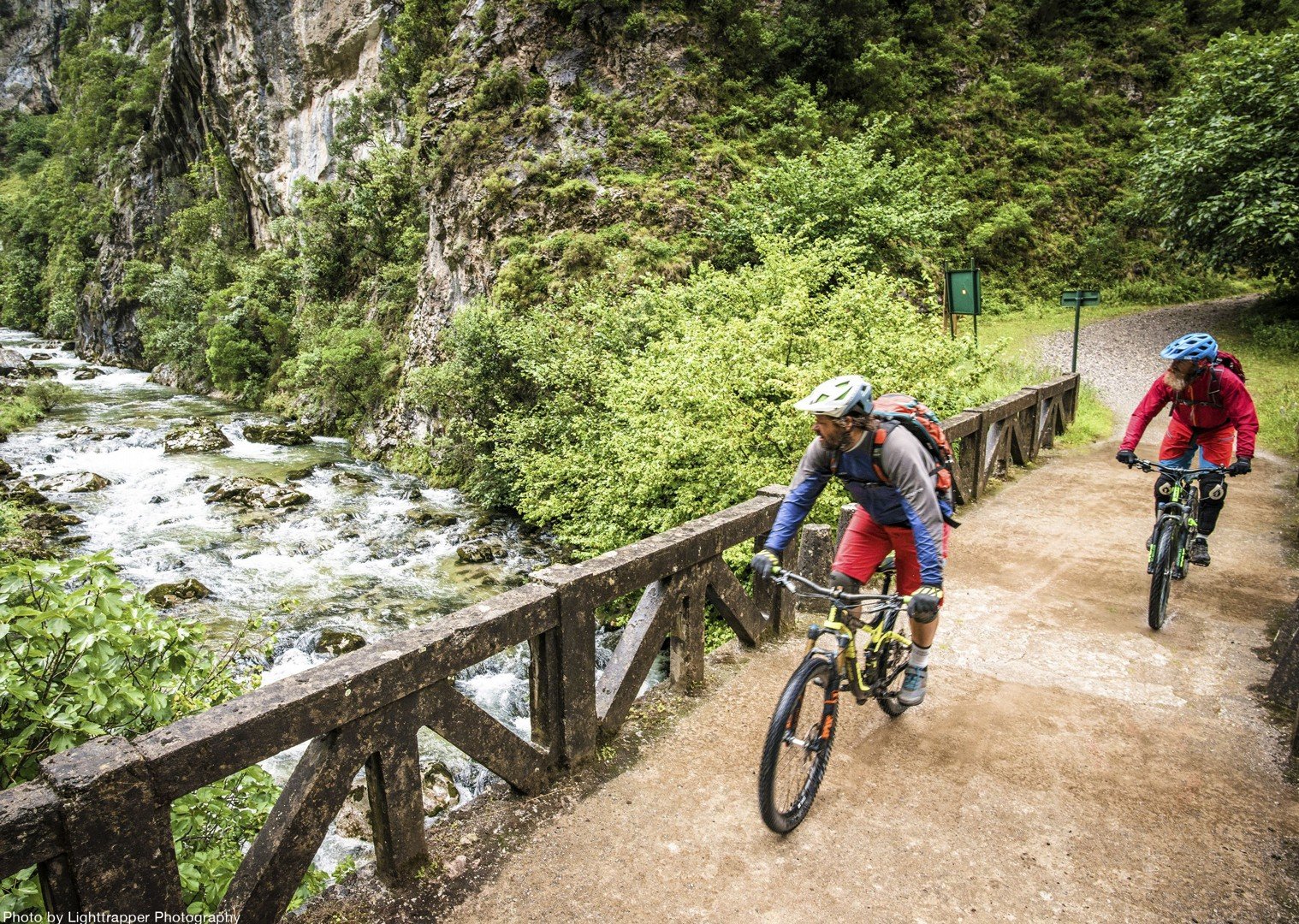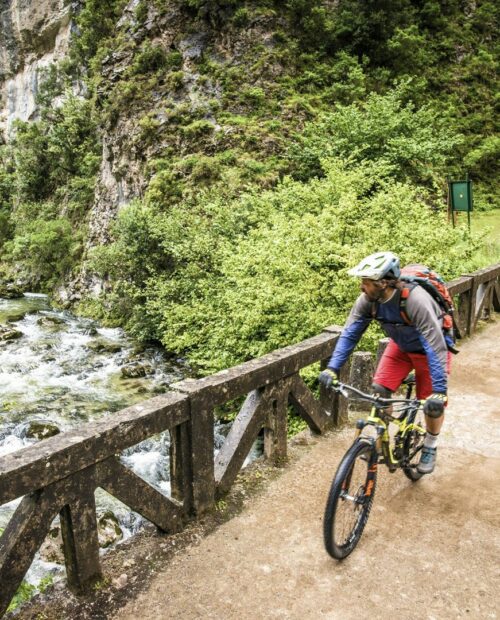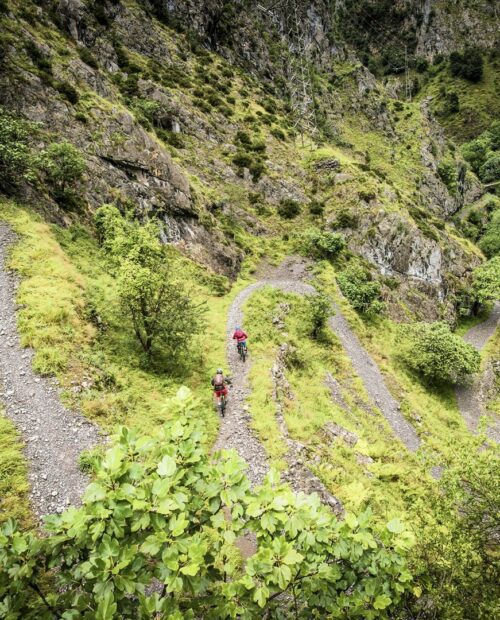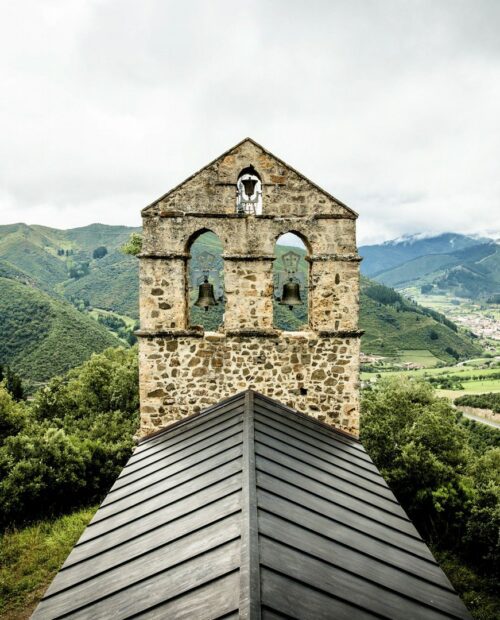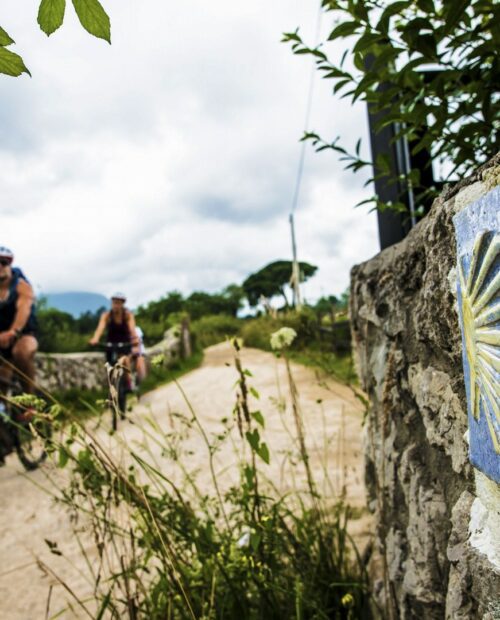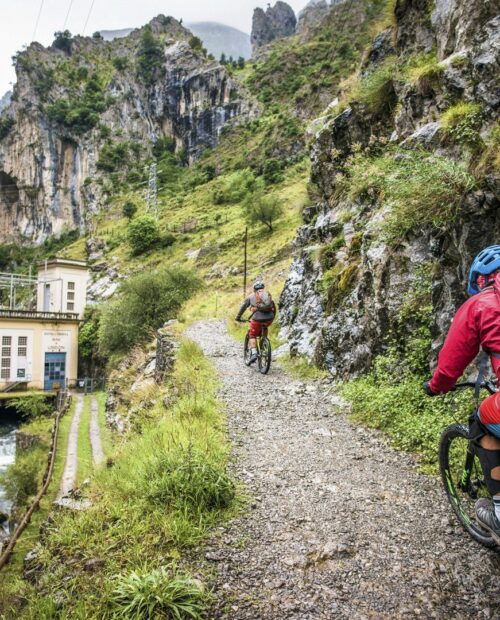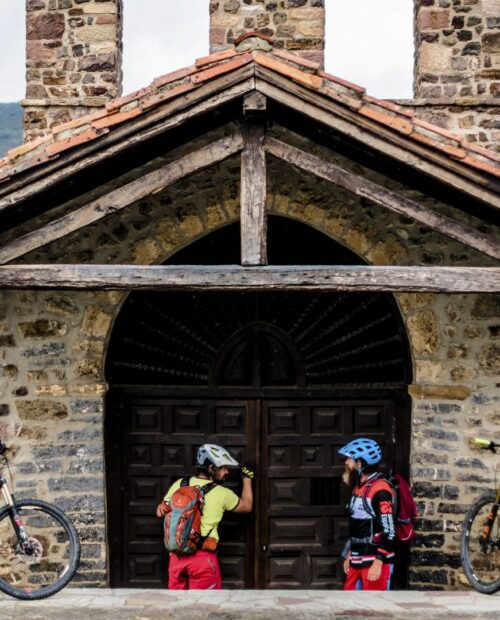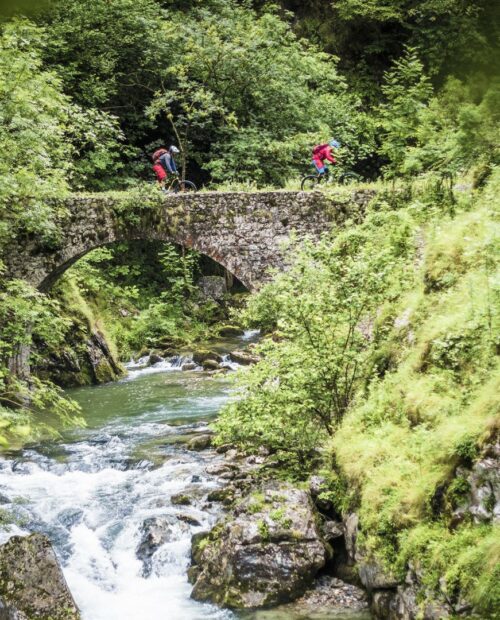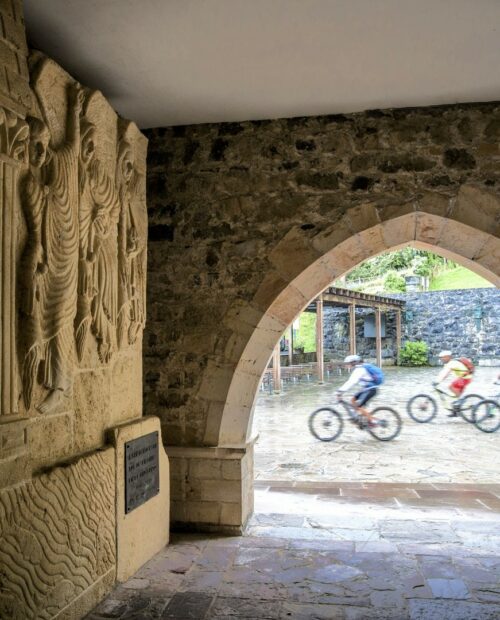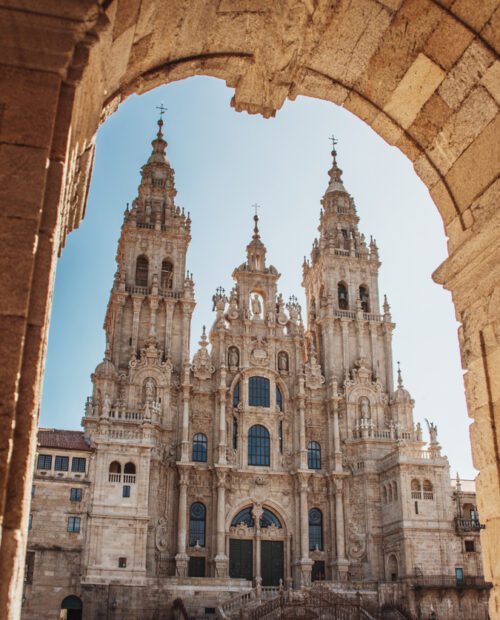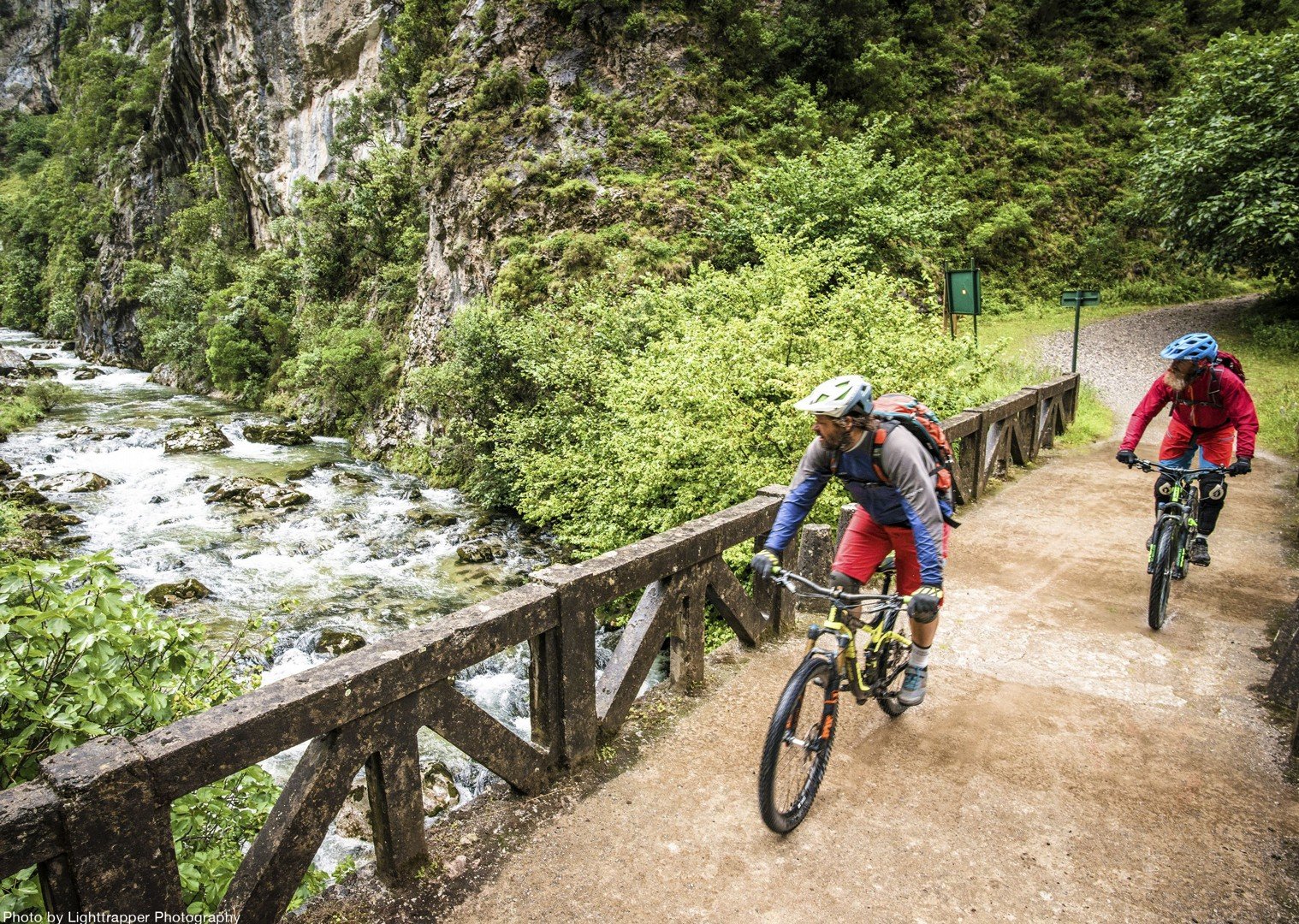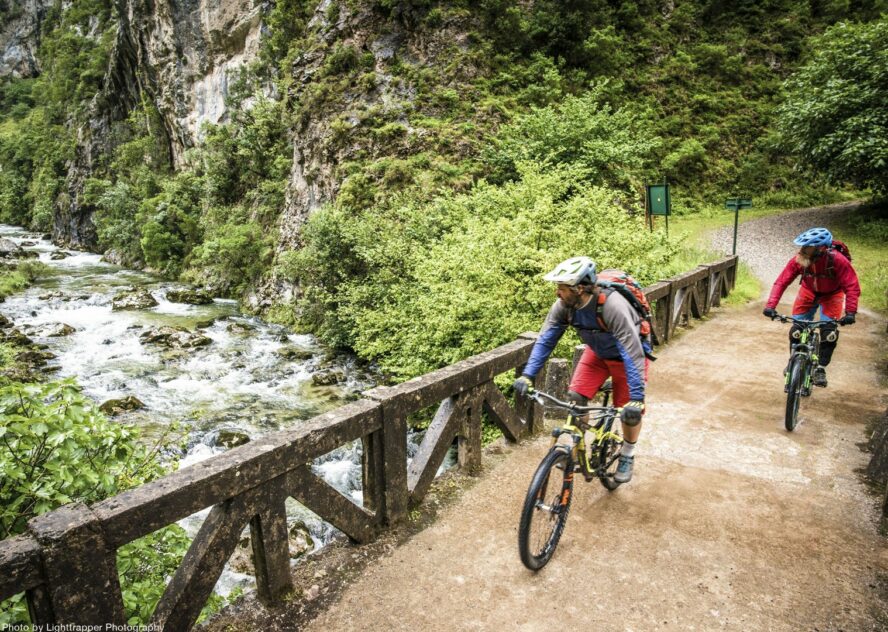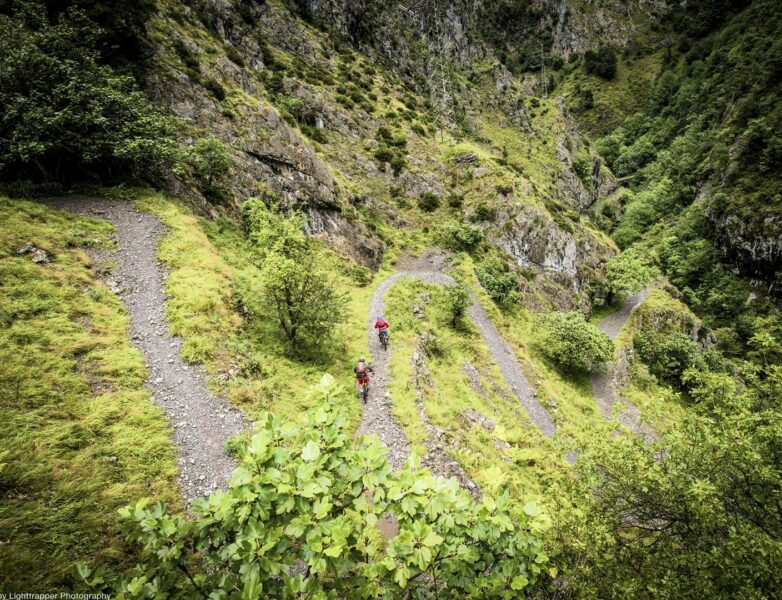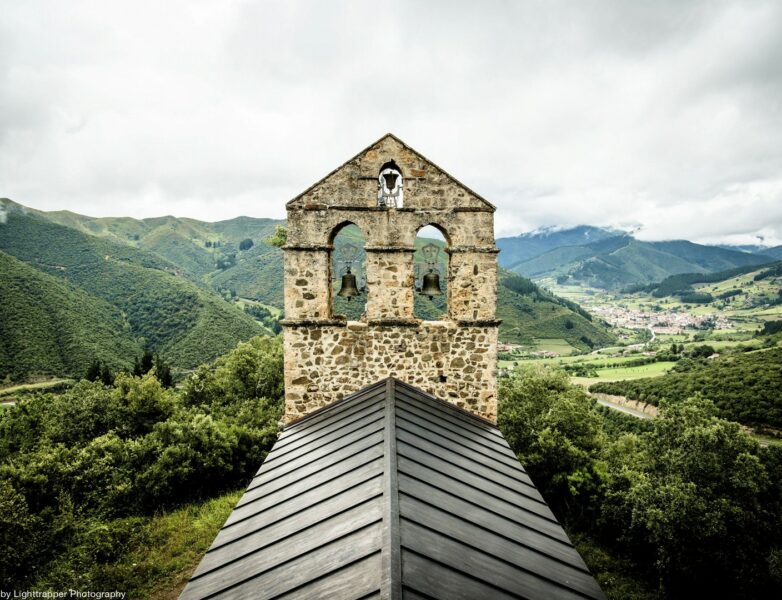 Mountain Biking the Camino Primitivo
5.00

()
Nearest city
Your tour starts in Oviedo, Spain
The King of Spain himself was the first one to cross Camino Primitivo in the 9th century, followed by countless pilgrims ever since. Follow in their biketracks and pedal your way through Asturias and Galicia to see why the 200-mile trail is a magnet for hikers and mountain bikers even today. Due to its literal highs and lows, the path is the most demanding one out of the Santiago trails, which only means one thing: a bunch of thrilling downhill flows preceded by panoramic views of the Spanish countryside. Ancient drover's trails, switchbacks and backlanes lead you through historic places—charming medieval hamlets, premier wine growing regions, crisp woodlands, wild mountain sides, rolling pastures… The list goes on, but wherever you are, pause to feel the locals' hospitality and taste artisan products: treat yourself to polbo á feira paired with a glass of crisp Albariño white.
Sinuous paths, backlanes, steep ascents—you name it, Camino's got it

Spend the night at quaint hamlets, historical cities, and mountain lodging

The first pilgrim was the King of Spain, and the path stays well-trodden for over a millennium later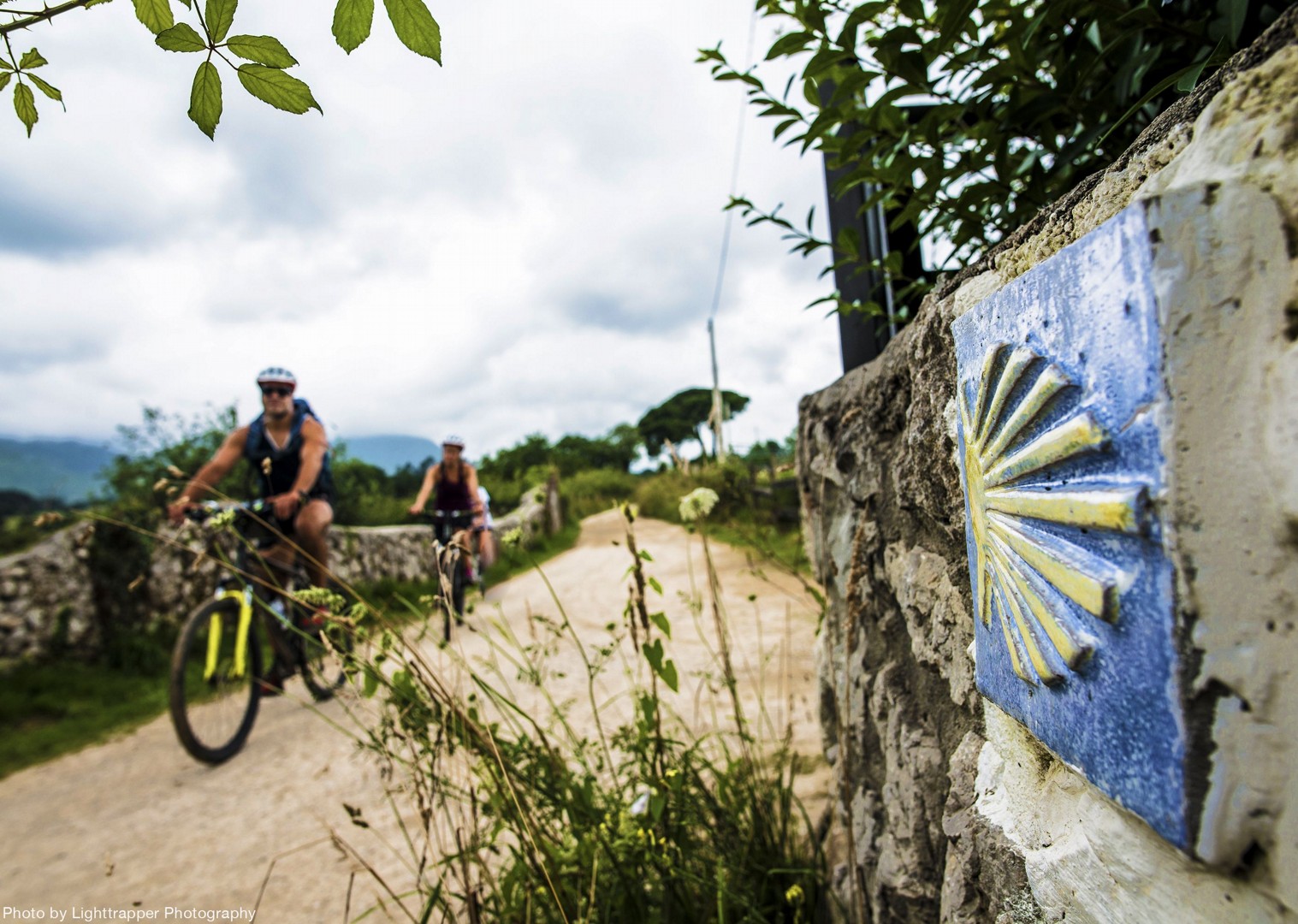 Itinerary
Discover northwestern Spain by mountain biking wild terrain along the Camino Primitivo trail. Over the course of 8 days, you'll get to see, feel, and taste the charm of Asturias and Galicia regions. Camino Primitivo links two cathedrals, in Oviedo and Santiago de Compostela, and it takes you on a fierce ride! Although steep and strenuous at times, mountain bikers love this trail for its technical riding, sinuous singletracks, forested paths, long downhill flows, and more. You'll be spending your nights in quaint hamlets and historic cities along the way, giving you the opportunity to try out delicious Spanish dishes and mingle with the locals!
Your guides will meet you at the Santiago de Compostela airport and transfer you to Oviedo, the proud capital of Asturias. Bikes will be fitted and built before you head out to discover the city. Built between the 14th and 16th century, the Cathedral of San Salvador is a great place to get your first stamp in your pilgrim's passport, proof of completion of the pilgrimage. In the evening your local guides will brief you on the journey to come before taking you to some great restaurants and the best sidrerías—meaning cider bars—in the city.

As you leave Oviedo behind, you'll soon get to ancient paths and a forest singletrack down to the river Nora. After a quick coffee break, get onto some racy trails along the Nalon riverside. Pass by the Penaflor rock pinnacle and enter the picturesque market town of Grado for a well-deserved lunch. Your first climb takes you over the Alto de el Fresno before dropping into a furious 5-kilometer trail down to the Rio Narcea. Finish the day with a long, steady climb into the Cordillera: pass through the medieval Salas and reach Espina, a remote settlement offering incredible views over forested valleys and heathered mountainsides.
Distance: 35 miles/ 37 km
Meals: Breakfast and lunch
Ascent: 5,250 ft/ 1600 m

An epic day in the Asturian mountains is ahead of you. Easy trails take you up the valley through the historic Tineo village, once a Roman gold mining center. After a sharp climb over the Alto de Guardia on stone pathways, you'll love the downhill technical flow through pastures, forests, and isolated villages. Having reached Samblismo, take the Hospitales route connecting ruins of three old pilgrim hotels—ride high ridges, ancient trading routes, and natural singletracks. On a clear day, you can see the Atlantic Ocean, hidden behind rolling sierras. Descend to La Mesa, your humble mountain lodging for the night.
Distance: 34 miles/ 55 km
Meals: Breakfast and lunch
Ascent: 6,400 ft/ 1,950 m

A brief climb takes you to a spot with panoramic views of Galicia and the Grandas reservoir. Many switchbacks take you to lush forests and ancient ruins, ending up deep in the Grandas Valley. Regain your height by riding along farm tracks and meadows to reach Puerto del Acebo for lunch with a view. Gently descend through pine and deciduous woodlands along enchanting dry-stone wall lined trails, passing remote chapels and hermitages until you reach the highest town in Galicia. The historic A Fonsagrada is your home for the evening and your first chance to taste Galician cuisine.
Distance: 25 miles/ 40 km
Meals: Breakfast and lunch
Ascent: 4,920 ft/ 1,500 m

Start your day by climbing to the Alto de Montouto peak, ruins of an ancient pilgrims hospital, and a Celtic burial chamber. When you're ready, descend down to Paradevilla for a snack break. The trail snakes its way through numerous ancient settlements, along which it's not uncommon to see farmers in the field with oxen. With a bit of effort you'll reach Alto de Fontaneira and its amazing views, after which you'll start your descent to the fortified Lugo, your home for the night. Get lost in the city's old lanes and taste the local cuisine: maybe pair a polbo á feira with a crisp Albariño white.
Distance: 34 miles/ 55 km
Meals: Breakfast and lunch
Ascent: 4,200 ft/ 1,280 m

Say goodbye to Lugo and descend to cross the meandering Rio Mino, the natural Portugal-Spain border further west. After a few mellow kilometers along a narrow lane, you'll intersect with a Roman road connecting Portugal with a trading route from the Mediterranean—meaning that there are restored Roman temples along the way. Having passed over the open moorland, more settlements, and grain stores, you'll get to a small bustling town of Melide, where we intersect with Camino Frances. The trail then continues through oak woods and eucalyptus plantations, and with one last flowing descent taking you across the Boente Valley, you'll reach your lodging for the night.
Distance: 34 miles/ 55 km
Meals: Breakfast and lunch
Ascent: 3,480 ft/ 1,060 m

A steady morning climb brings you to an artisan town of Arzua, after which you'll keep cycling deep into Galicia, rich with legends and stories of brujeria (witchcraft) and mythology. As you're winding through tiny granite hamlets and farmsteads, many trails will be ancient stone paths linking villages, guaranteeing a great ride. Following a lunch break in Santa Irene, continue towards Santiago with full strength ahead. After Lavacolla you'll take on the last climbs of the Camino and cycle along Monte del Gozo, which brings you near the end of the trail. Now it's a downhill flow to your final stop, Santiago de Compostela, a UNESCO World Heritage Site. Savor this special moment, signifying the end of a memorable journey!
Distance: 28 miles/ 45 km
Meals: Breakfast and lunch
Ascent: 2,825 ft/ 860m

After your final breakfast, you'll be transferred to Santiago de Compostela airport if you have a scheduled flight. However, if you wish to explore the city and stay a bit longer, you're more than welcome to! It's a beautiful, historic city with plenty of sights to see—just ask your guides for recommendations.
Meals: Breakfast
Get free trip brochure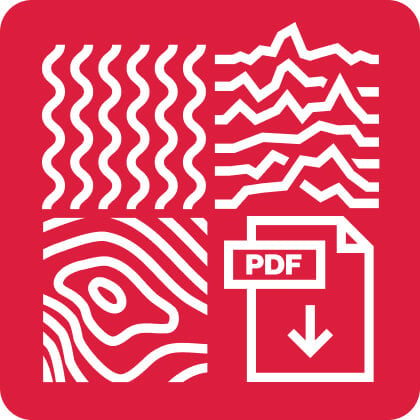 The brochure contains:
Adventure and location overview, itinerary, available dates, what's included, how to prepare, and much more.
Brochure sent, check your inbox
Talk with us
and let one of our adventure experts help you plan your perfect adventure.
Meet your guide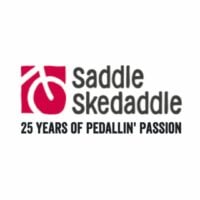 Saddle Skedaddle was founded by a couple of MTB pros (Paul and Andrew) while trapped in a snowstorm during their year-long biking adventure in Chile. They believe travel should move you and that there's no better way to see a place properly—its people, culture, and natural wonders—than by bike. Saddle Skedaddle currently runs tours in 36 destinations, offering adventure junkies incredible places to tour on two wheels.
I couldn't recommend enough.
A B
(source: Google Reviews)
Skedaddle are a very professional cycle tour group in my opinion. It was clear that all aspects of the tour were carefully planned to maximise the adventure but also with upmost regard to mechanical maintenance, health and safety, nutrition, quality hire equipment and most importantly – well trained guides Well done. I'll be back.
Andrew Ridout
(source: Google Reviews)
Love their cycle tours. Great routes, great guides.
Simon
(source: Guide's Web)
Well designed tour, excellent group of guides. Excellent resourceful pick-up team. Comfortable vehicles. Expert guides with superb people skills. Steve is a superb leader, I will follow him blindly. Helen and Laura were excellent. Most agreeable people, expert cyclists who clearly knew what they were doing. Very good communication between the three professionals and the client group. Breakfasts as a rule lavish, good variety and plenty of volume of lunch goodies, ample snacks and drinks for underway.
Things to know
57hours is committed to providing safe outdoor adventure experiences. We require all guides using our platform to have a COVID-19 safety plan and to make the details of that plan accessible to travelers. In most cases, group sizes will be reduced, guides will avoid overcrowded locations, and other safety measures will be met depending on the location and activity. 

We also expect clients to respect local regulations and take measures to protect themselves, their guides, and the communities they're traveling to. For more information on COVID-19 measures in Spain, please refer to Spain's Requirements for Travel.

Please contact us if you have any questions or require further information. We are happy to provide you with the most up-to-date information!

What you get on this adventure:

An experienced MTB guide with extensive local knowledge of the area

Accommodation (shared twin or double ensuite rooms) in hotels or shared hostels

Meals as indicated in the itinerary

At least one guide qualified in first aid

Support vehicle and luggage transfers

Airport transfer on scheduled arrival and departure days to and from Santiago de Compostela Airport (SCQ)

If you wish to rent a bike, as well as a helmet and all necessary spares for the trip, you can do so upon request for an added fee of $415.

What's not included:

Transportation to and from Spain

Meals not included in the itinerary

Single room (available upon request and for an additional fee of $295)

Personal expenses

Travel insurance

Airport transfers on days other than the arrival and departure days

Guide gratuities — optional

To enjoy mountain biking the Camino Primitivo, a very good level of fitness is necessary. You'll get the most out of this tour if you're an experienced biker and enjoy riding more challenging trails. If you ride most weekends and can cover between 30 and 50 miles (50-80 km), this trip is for you. You should be comfortable riding most trails, including sections of technical or exposed singletracks with some testing obstacles such as drop offs and steep downhills. Keep in mind, this is an 8-day mountain biking tour, and it can be quite strenuous at times.

Since this is an 8-day mountain biking adventure riding a vast array of ever-changing terrain, it's necessary that you've got some mountain biking experience under your belt. Your guide will, of course, assist you with new types of terrain that might be new to you, but you should still be an overall confident rider.

Here's what you'll need:

Comfortable riding or athletic clothing, preferably moisture wicking or synthetic material

Leisure clothing for your free time 

Sneakers or sport shoes

Breathable outside layer or jacket

Sunglasses and a cap

Plenty of water, water bottle or hydration bladder

Daypack with snacks

Biking gloves are optional but recommended

Toiletries (sunscreen, hand sanitizer, bug spray, toilet paper, etc.)

Dress comfortably and for the weather in clothes you can move in. We suggest bringing clothing appropriate for the season. Layers are best and don't wear jeans.

Group sizes and prices:

The group size for the mountain biking tour of Camino Primitivo is 14 people.

There are usually 3 guides per trip, two mountain bikers and one guide in the support vehicle.

At least 5 people have to sign up for the tour to run.

The cost does not decrease as the group grows. 

Mountain biking the Camino Primitivo can be arranged for bigger groups. Contact us prior to booking.

Min. age requirements:

If you are older than 18, you're good to go.

Children as young as 10 are able to go on trips with a legal guardian. That said, if you have a young rider strong enough to handle sustained climbs (either riding or walking their bike) of hundreds of feet, and rough terrain, then they may be able to participate on a case-by-case basis. 

If your group has riders under the age of 18, contact us prior to booking to make arrangements.

A 30% deposit to secure your place is due upon booking. The remaining amount is paid 3 months (90 days) prior to departure. Once the trip is confirmed by the guide, the cancellation policy stated below applies. 

If Client cancels the Booking anytime prior to ninety (90) calendar days in advance of the trip contemplated by the booking, you will forfeit the deposit.

For cancellations thirty (30) to ninety (90) calendar days in advance, Client is entitled to a refund in the amount of fifty percent (50%) of the total amount paid when Booking. 

If you cancel your booking less than thirty (30) calendar days prior to the departure date, Client is not entitled to any refund. Any reimbursable expenses arising out of the Booking incurred by Guide prior to the date of cancellation (including but not limited to plane tickets, car rental payments, and lodging or transportation fees) are non-refundable as soon as they are incurred by the Guide.

If you need to cancel the trip, please contact us in writing. If you wish to transfer a booking to another person, please write to us at least seven (7) days before your trip. Administration charges may arise.

Your tour starts in Oviedo and ends in Santiago de Compostela. If you wish to fly in and out of Santiago de Compostela's airport, the Santiago-Rosalía de Castro Airport, organized transport to Oviedo on day 1 of the tour and back to the airport on day 8 is included in the price. If you wish to fly into Oviedo airport, the Asturias Airport, you're free to do so, but keep in mind that your tour ends in Santiago de Compostela.
Get free trip brochure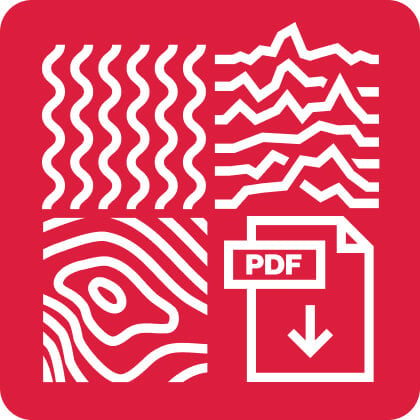 Adventure and location overview, itinerary, available dates, what's included and much more.
Brochure sent, check your inbox
Talk with us
and let one of our adventure experts help you plan your perfect adventure.
Other things to do in Spain