Hike and Drive Through the Uncharted Trails of Iceland
Uncharted Trails | Iceland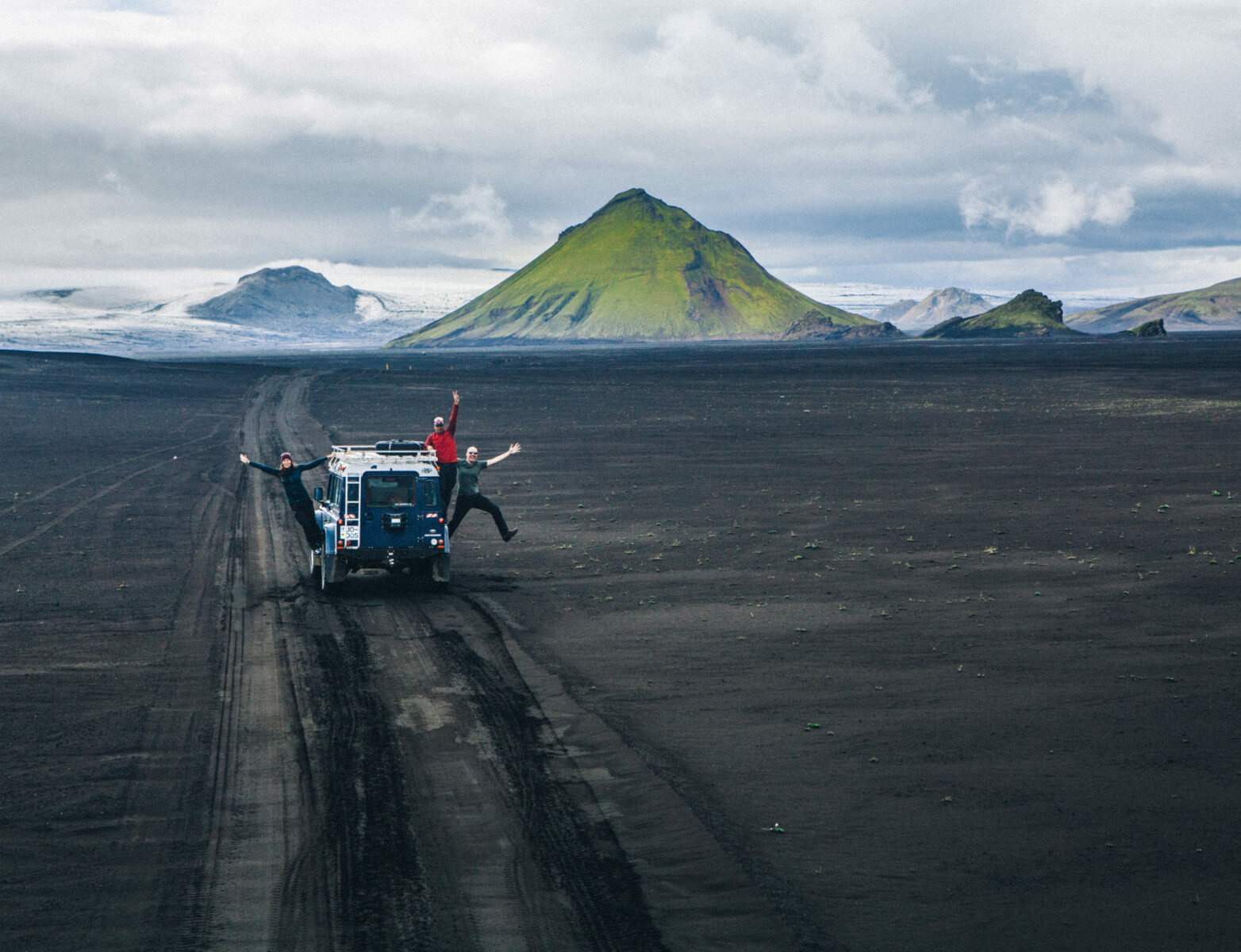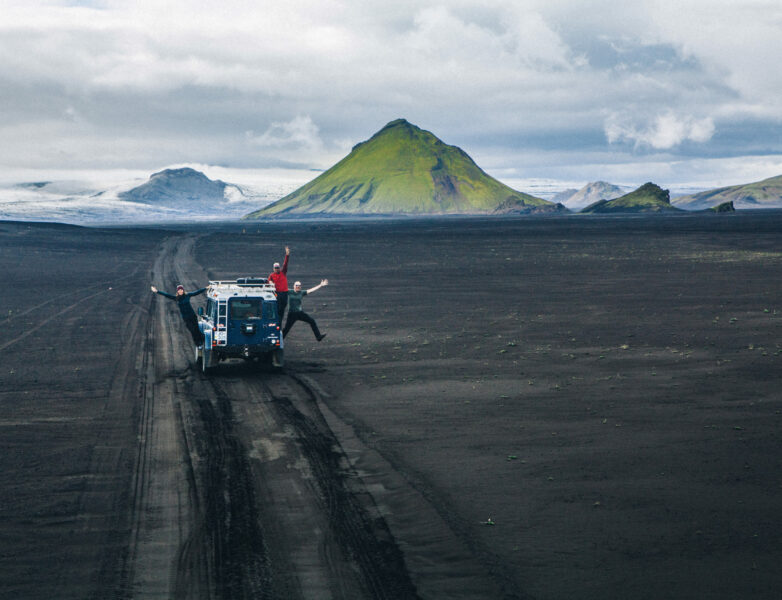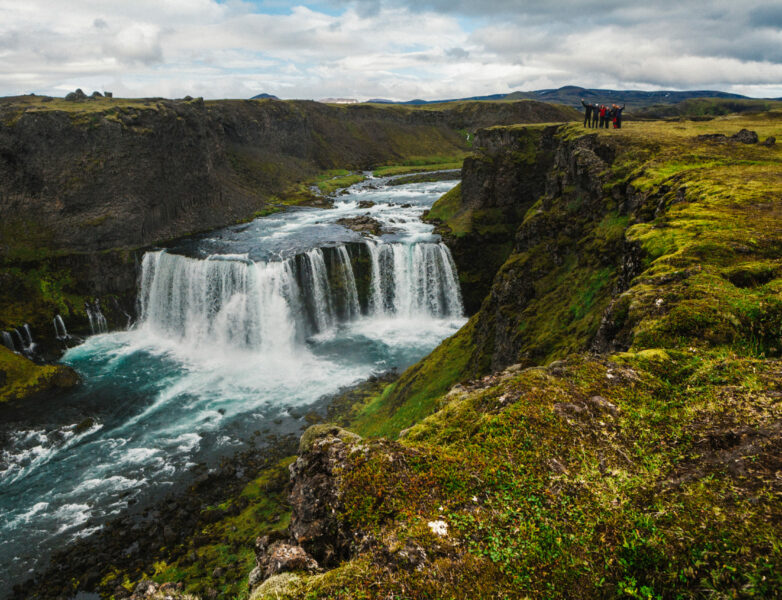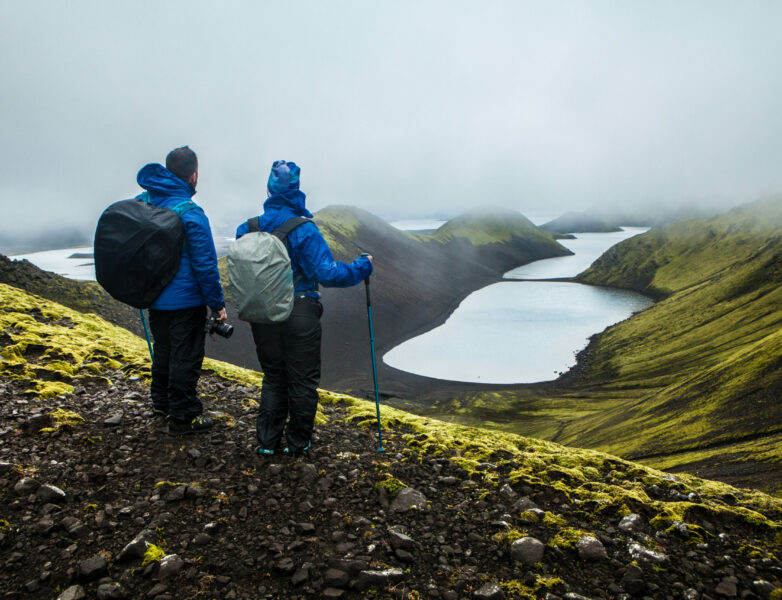 Top reasons to explore the Uncharted Iceland:
Venture on an epic hike and drive adventure through untamed Iceland

Hike the dormant volcanoes drowned in vibrant green moss

Discover forgotten canyons full of waterfalls and clear turquoise lakes
Far away from world-renowned trails, beaten paths and teeming tourist spots awaits Iceland's intact, living and breathing remote wilderness. Over eight days, you'll discover jet black deserts, roaring waterfalls and steaming hot springs, sculpted by thousands of years of untouched nature. Your private, local guide will lead you to the best locations, while you hike among forgotten fields of petrified lava, nestled between volcanos, said to once have witnessed Ragnarok, the end of the world. The heart of Iceland couldn't be more alive, though, with ground still settling beneath your feet and unbothered wildlife roaming free under the midnight sun.
Group size

4-8 people, solo travelers are welcome
Book This Adventure
8 day Hike & Drive Faraway Iceland Adventure
Get ready for an epic eight-day trip deep in the heart of uncharted Iceland. Your last contact with civilization will be in Reykjavik, where you'll get to experience the historic culture of the Arctic mixed with the city's urban charm. The week ahead is filled with tricky terrain that will push your limits, outlandish photo-ops and unforgettable scenery molded by ice and fire. It's an adventure you'll never forget!
Itinerary
Day 1: Arrival in Iceland
After arriving at Keflavik airport and transferring to Reykjavík, meet your guides and get settled in your accommodation for the night. With your guides, you will review your personal material and have a briefing about the details of the trip. Enjoy your free afternoon, explore Reykjavík — the Icelandic capital, and spend your first night in a hostel.
*First dinner & beverages not included.
Accommodation: Hostel
Hiking: 0 km
Driving: 50 km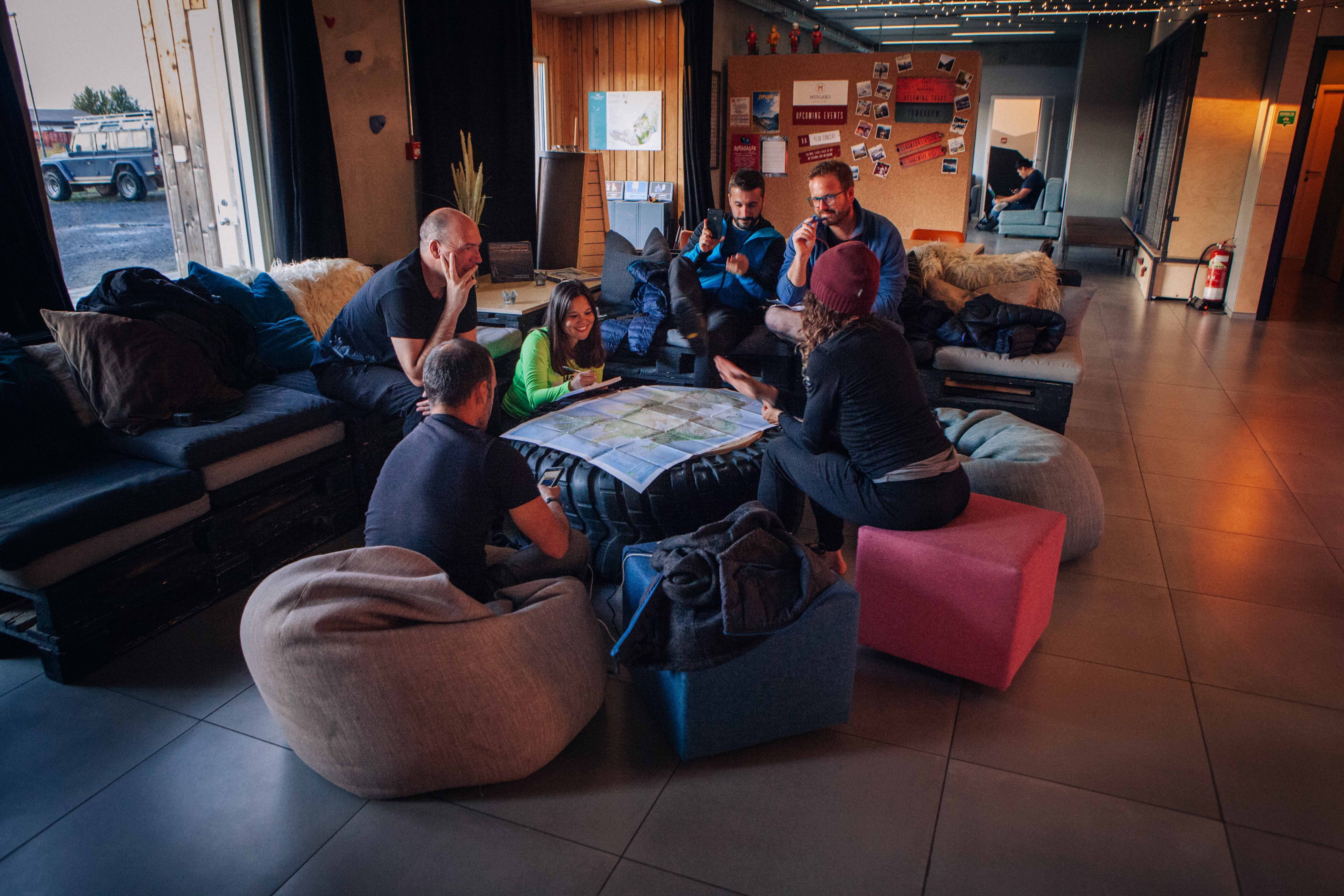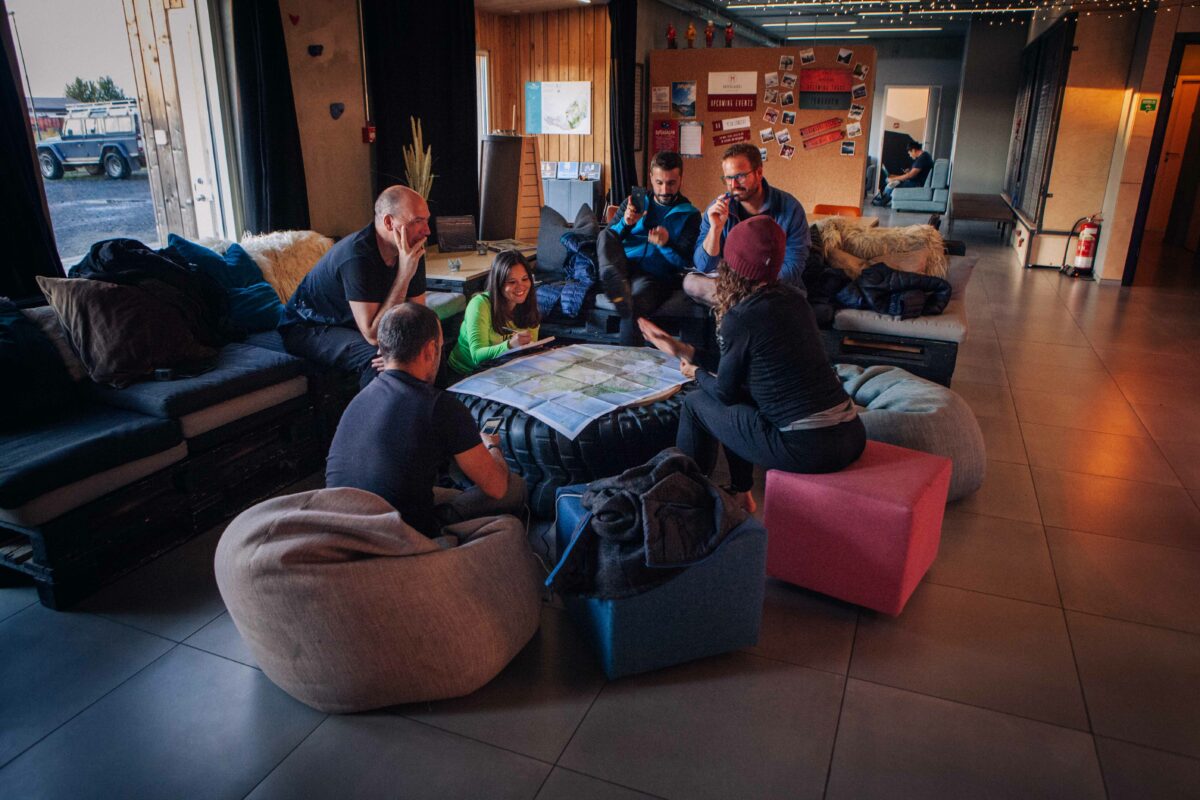 Day 2: On the way to Landmannalaugar
In the morning, depart from Reykjavík with a 4×4 Land Rover to the Landmannalaugar geothermal area, in the heart of the Icelandic Highlands. On your way you'll discover hidden gems like craters full of turquoise water,  dormant volcanoes drowned in vibrant green moss and canyons full of waterfalls. Once in Landmannalaugar, you'll embark on your first hike to the Bláhnúkur mountain, also known as the "Blue Peak Mountain". After the spectacular hike, relax and spend the night at a mountain hut.
Accommodation: Mountain hut
Hiking: 7 km
Driving: 195 km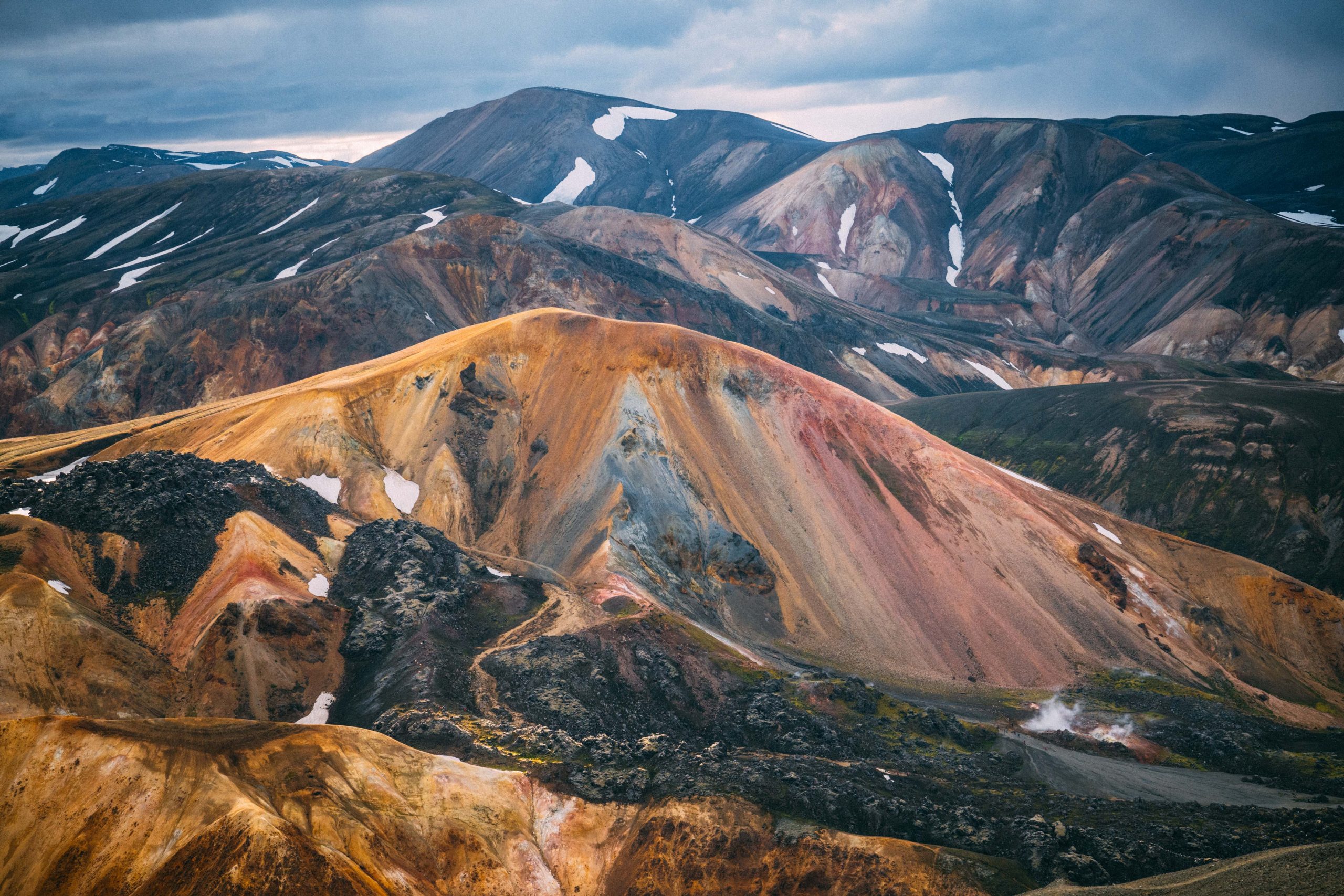 Day 3: Hiking to the Langisjór lake
Enjoy a ride along the highland F-roads to the Langisjór area, where you can find the longest lake in Iceland and the amazing Mt Sveinstindur 1093 meters high. Prepare yourself for the great hike ahead. You will go up to the Fögrufjöll, a subglacial volcano under the Vatnajökull glacier, and enjoy some outstanding views  overlooking glaciers, volcanos, mountains, and long and winding rivers in all directions.
Accommodation: Mountain hut
Hiking: 12 km
Driving: 60 km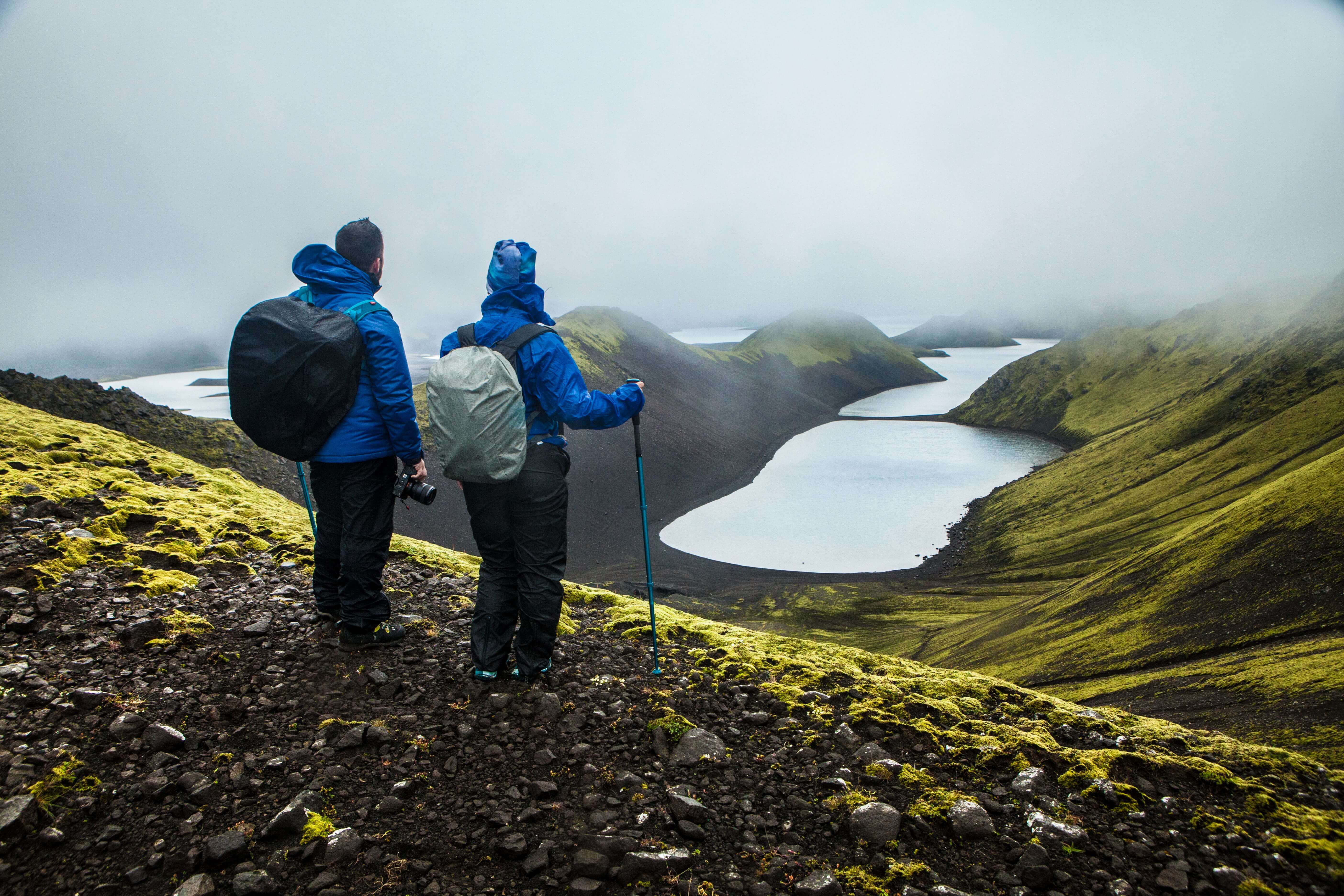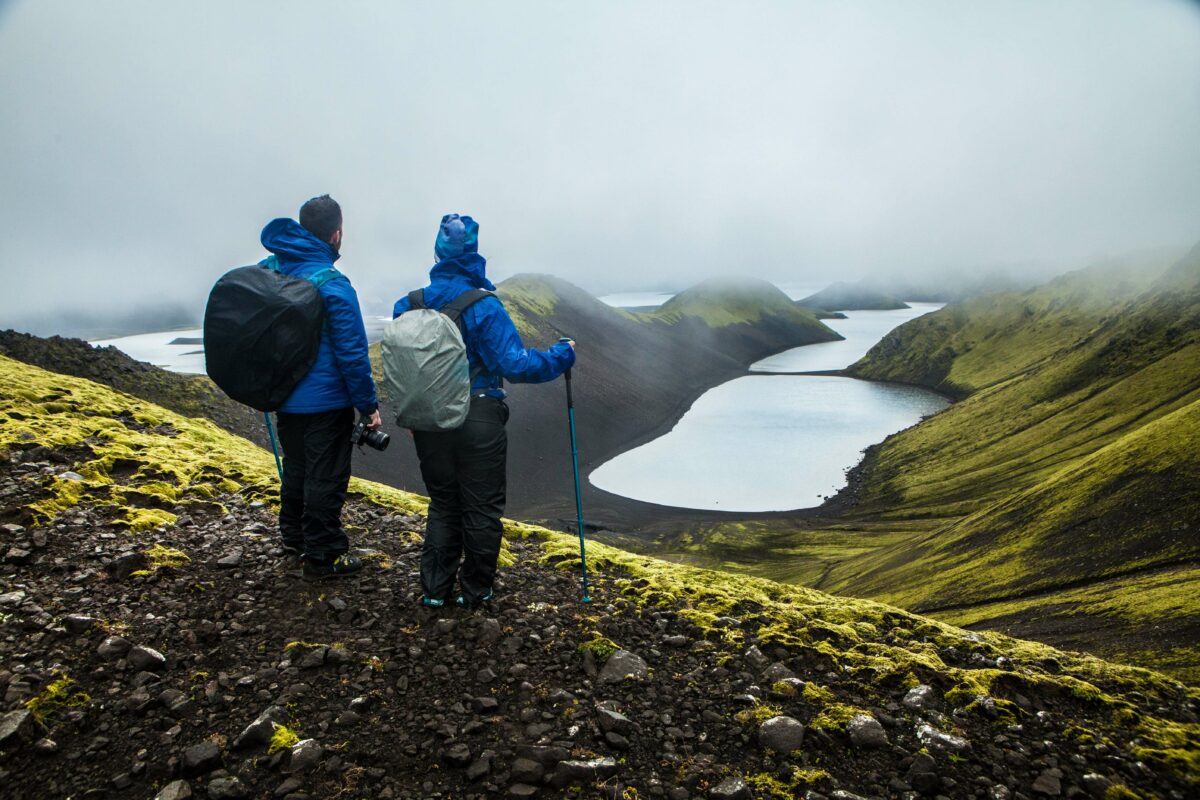 Day 4: MTB Adventure
Head towards the south coast aboard the 4×4 vehicle and continue enjoying the beautiful Icelandic landscapes located at the border of the Highlands, but this time, enjoy the views from a mountain bike! A spectacular location where the landscape is shaped by deep canyons and waterfalls will allow you to feel the essence of this nature in its purest condition. Spend your night in a traditional farm with the attentive and warm hosts and savor the local gastronomy while immersing yourself in the Icelandic culture and lifestyle.
Accommodation: Icelandic farm
Biking: 10-12 km
Driving: 100 km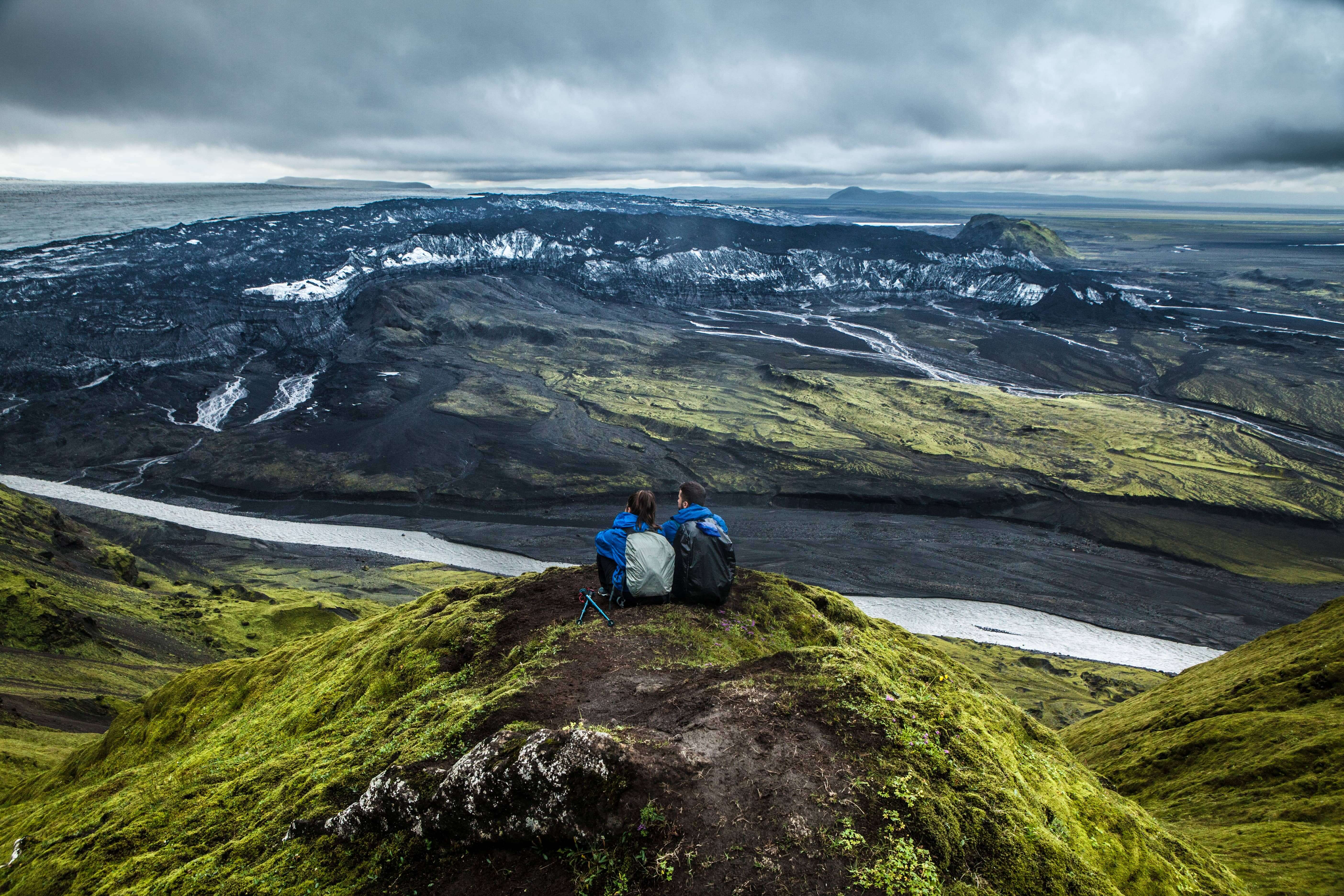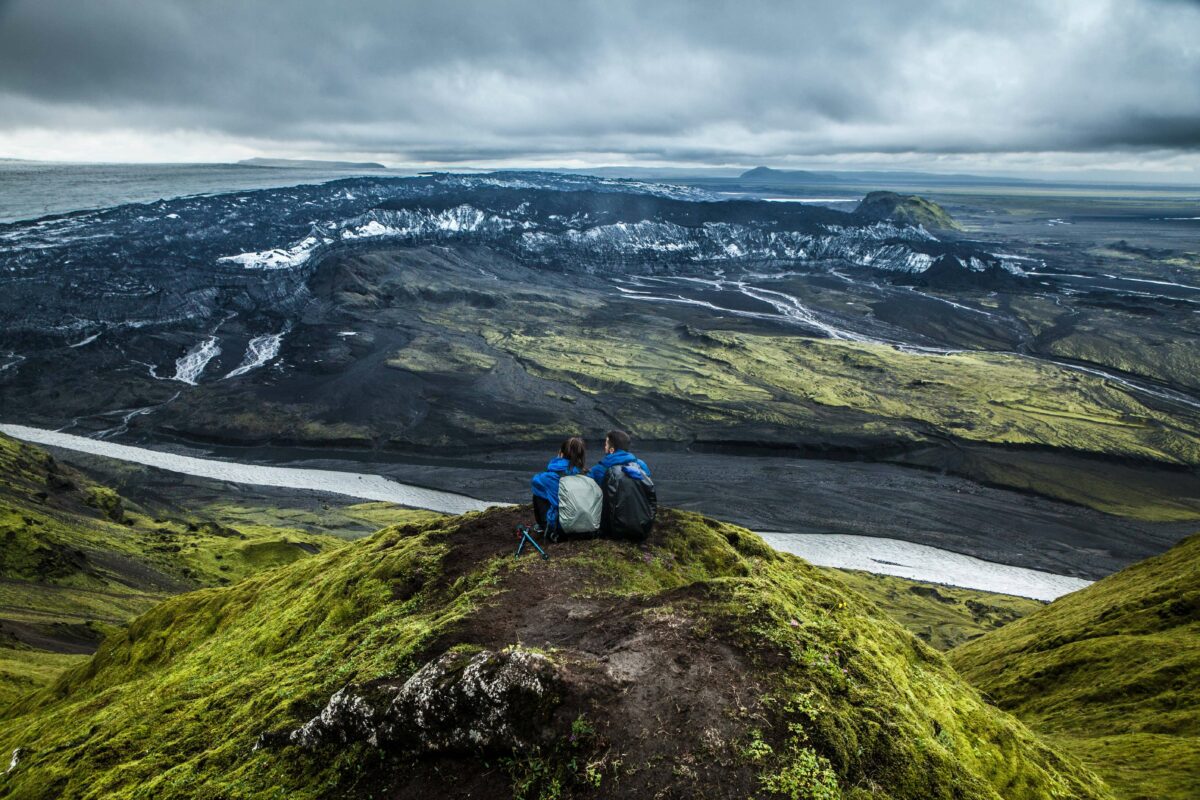 Day 5: North of the Myrdalsjökull glacier
Spend your morning in the middle of the petrified lava fields and after enjoying an energetic breakfast, drive with your guides through the northern area of Myrdalsjökull glacier. Drive and walk through black deserts and vivid green volcanoes like the Maelifell, a 791 metre tall volcano that stands out in a desert of black sand, until you reach a secret and forgotten area — a valley full of obsidian just below a magnificent volcano. 
Accommodation: Mountain hut
Hiking: 10 km
Driving: 110 km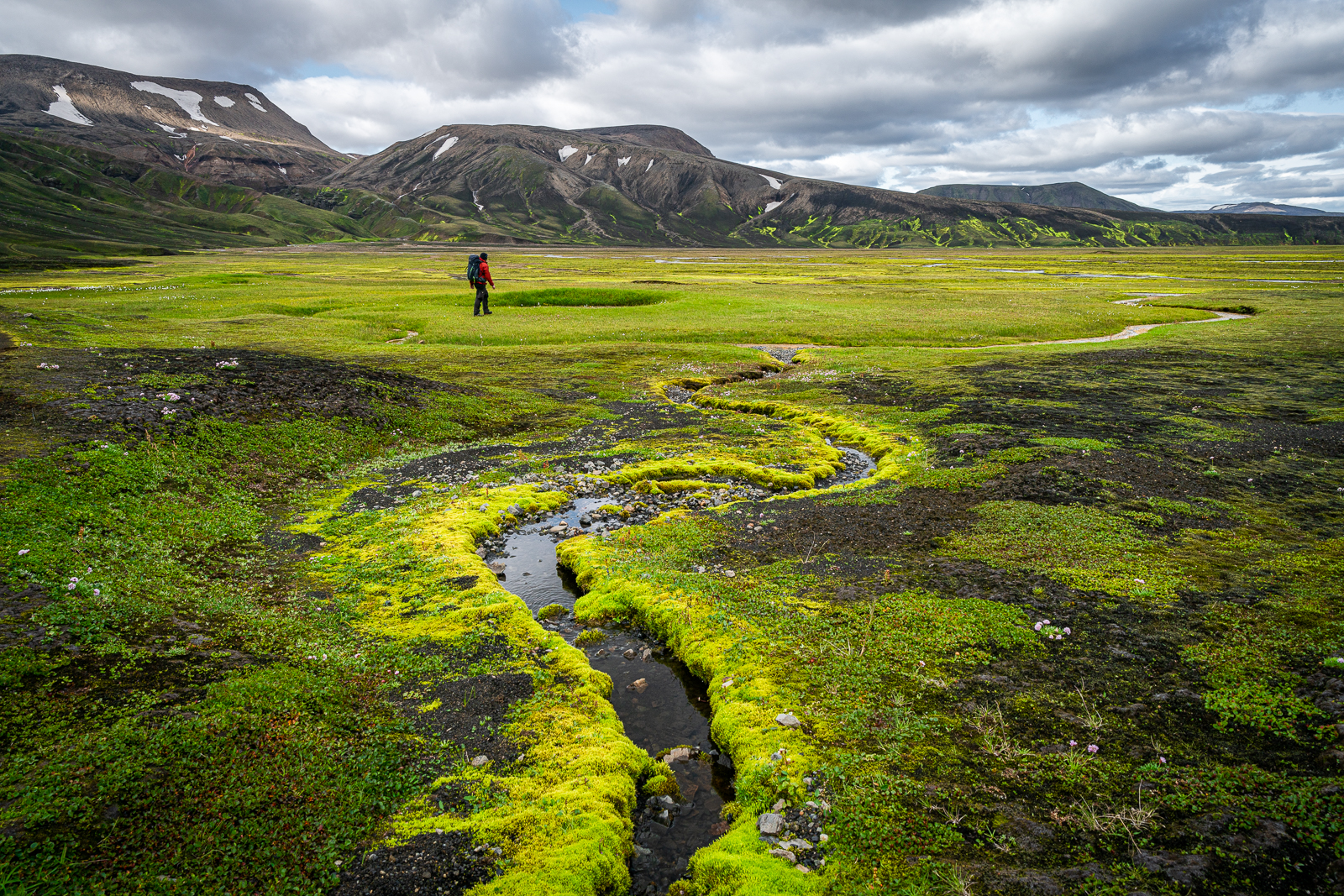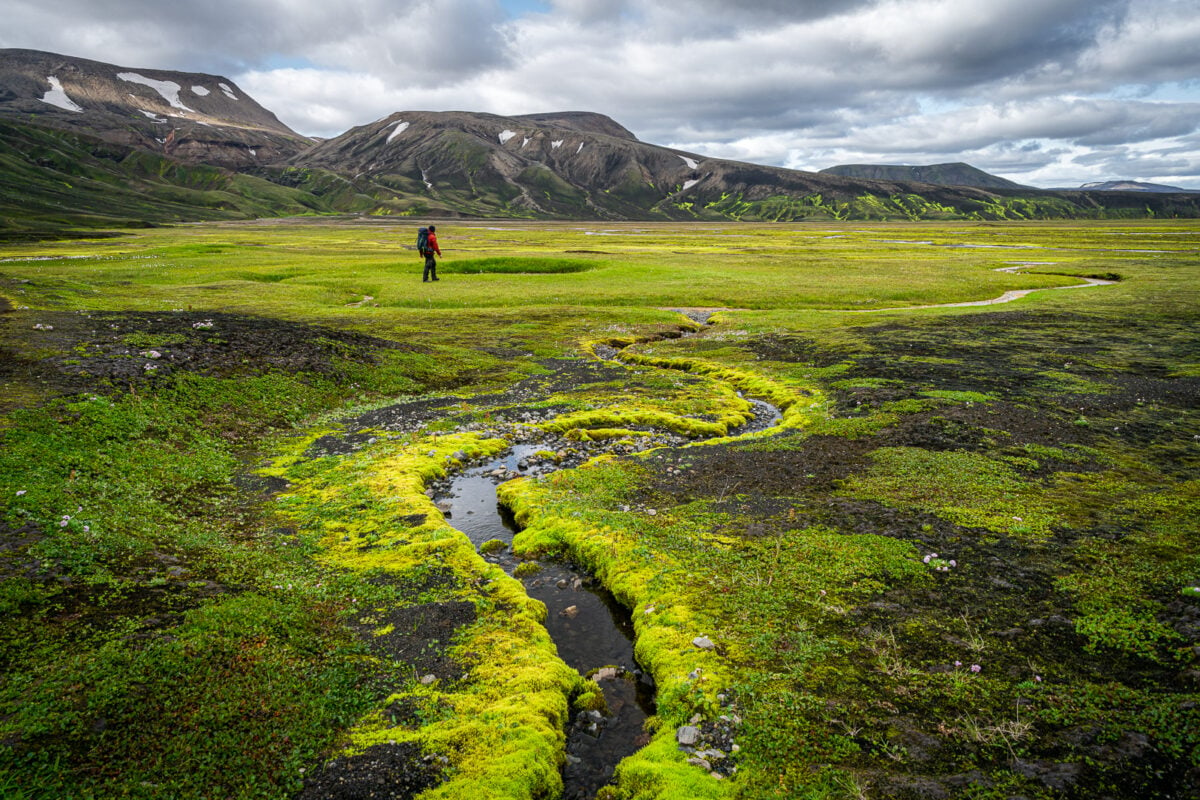 Day 6: Hiking to the unknown
Nordic mythology tells that Ragnarök (the battle of the end of the world) was the fight between the Gods and the Giants. The eruption of the volcanic system linking the Katla and the Eldgjá volcanoes, is believed to have inspired its description in the Viking sagas. Eldgjá is the largest volcanic canyon in the world, approx. 40 km long, 270 m deep and 600 m wide at its greatest! Visit one of these landscapes that look like something out of a science fiction movie. The goal for today is to reach a hidden gem surrounded by volcanic deserts and the moors between the Torfajökull and Mýrdalsjökull glaciers. Hike all day and in the afternoon accompany your guides to Álftavatn.
Accommodation: Mountain hut
Hiking: 24 km
Driving: 27 km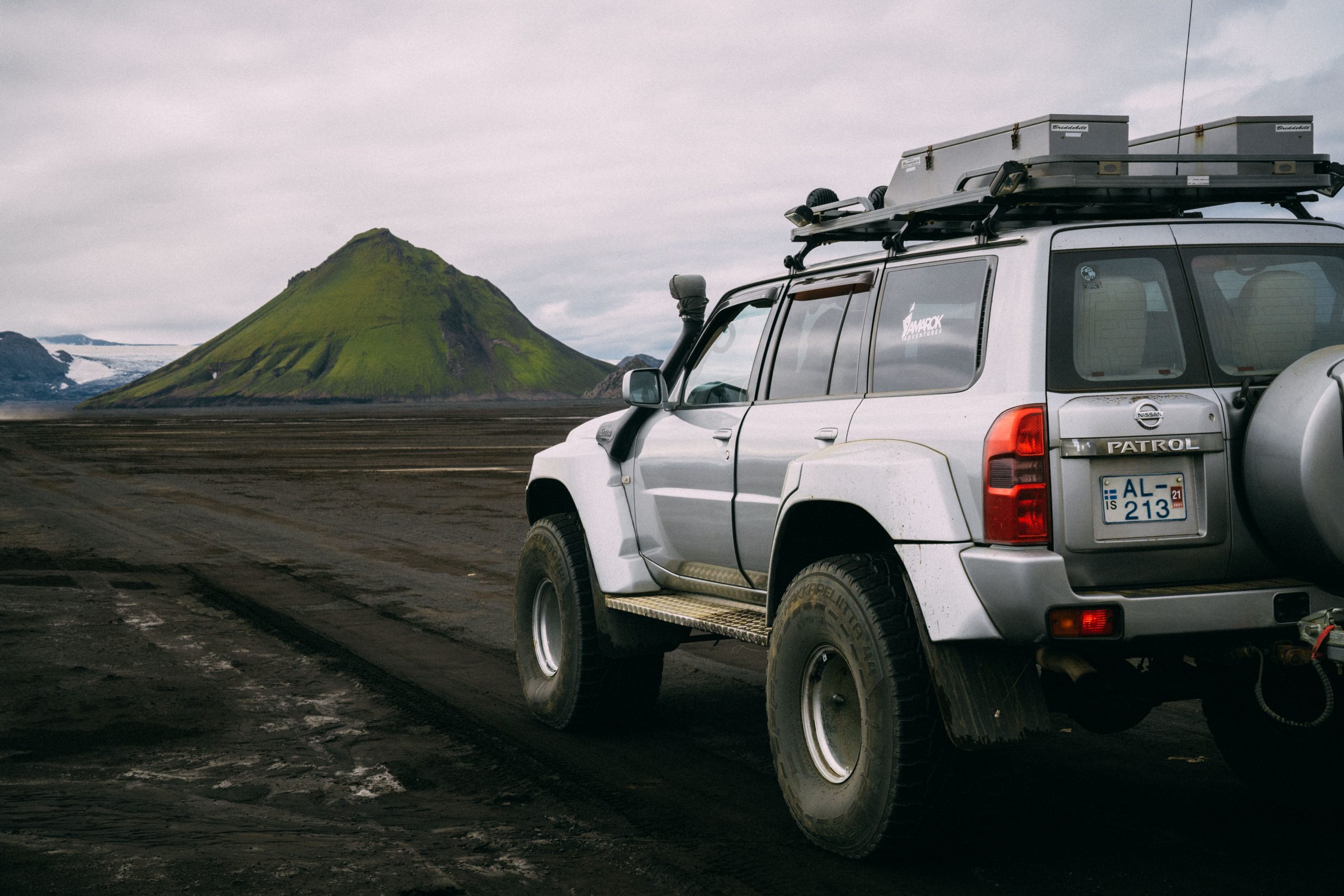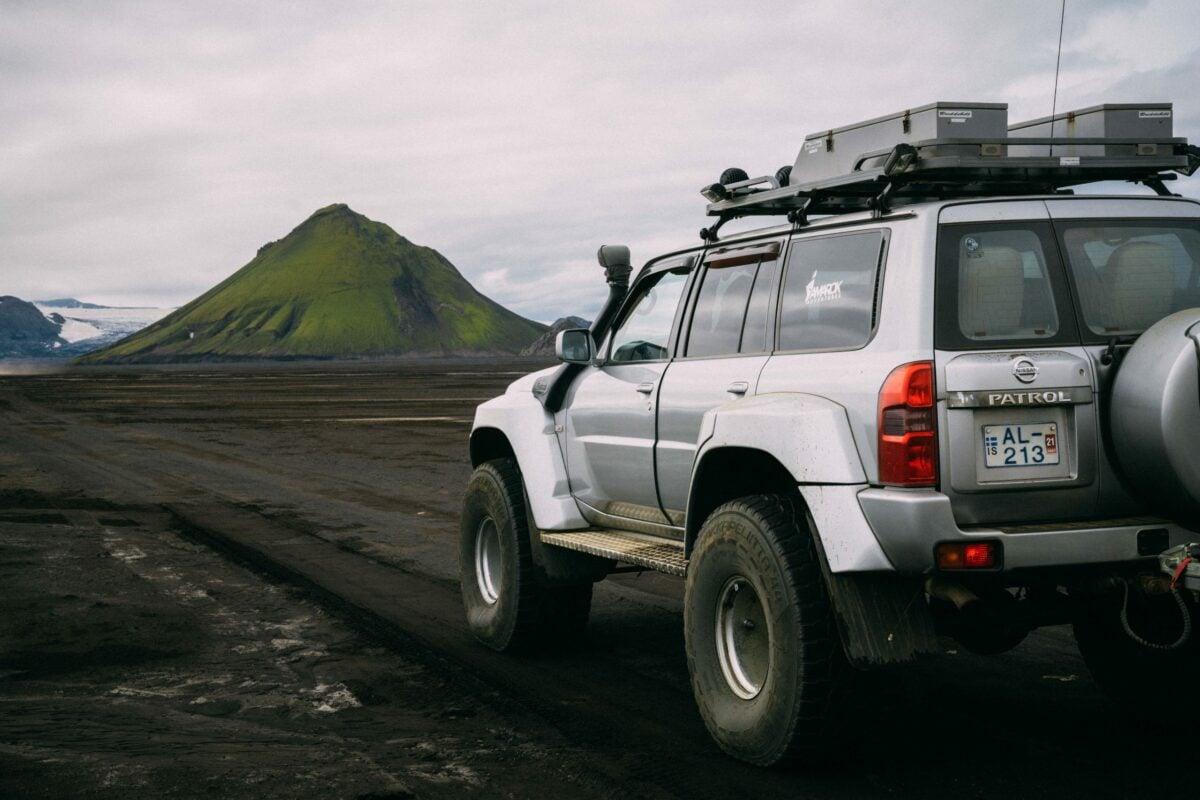 Day 7: Hike the Eyjafjallajökull
Wake up in Álftavatn and spend the morning hiking around the area and see the enormous Myrdalsjökull glacier tongues in the distance. After the short hike, depart to the north area of Eyjafjallajökull volcano, the one that is completely covered by an ice cap and that erupted in 2010. Drive through the area until you arrive at the small town of Hvolsvöllur. The area around Hvolsvöllur is famous for one of the most famous Icelandic sagas, Njál's saga. There are also a number of beautiful waterfalls not far off, the most well known being Seljalandsfoss and Skógafoss. You will spend your last night here.
*Last dinner & beverages not included
Accommodation: Hostel
Hiking: 10 km
Driving: 71 km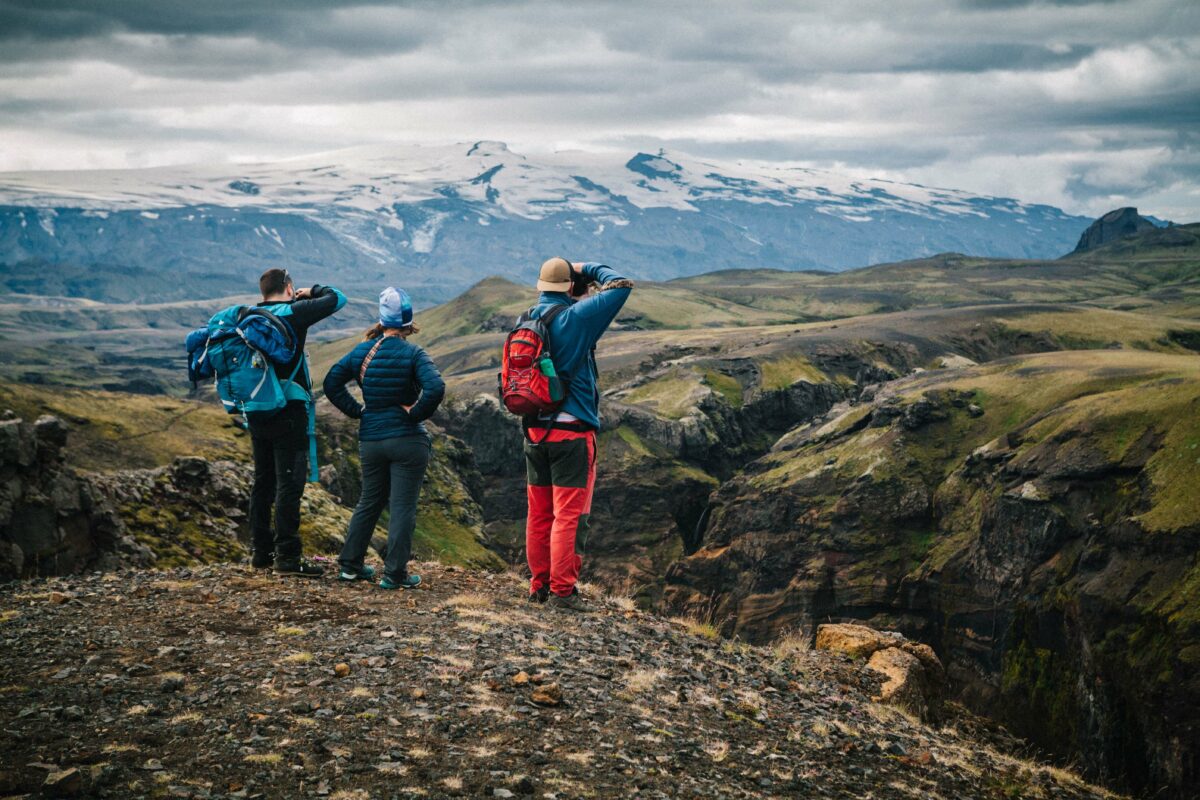 Day 8: Return home
Say farewell to Iceland, but with the happy feeling of having soaked up their outstanding landscapes and culture, which will be forever engraved in your memory!
Driving: 147 km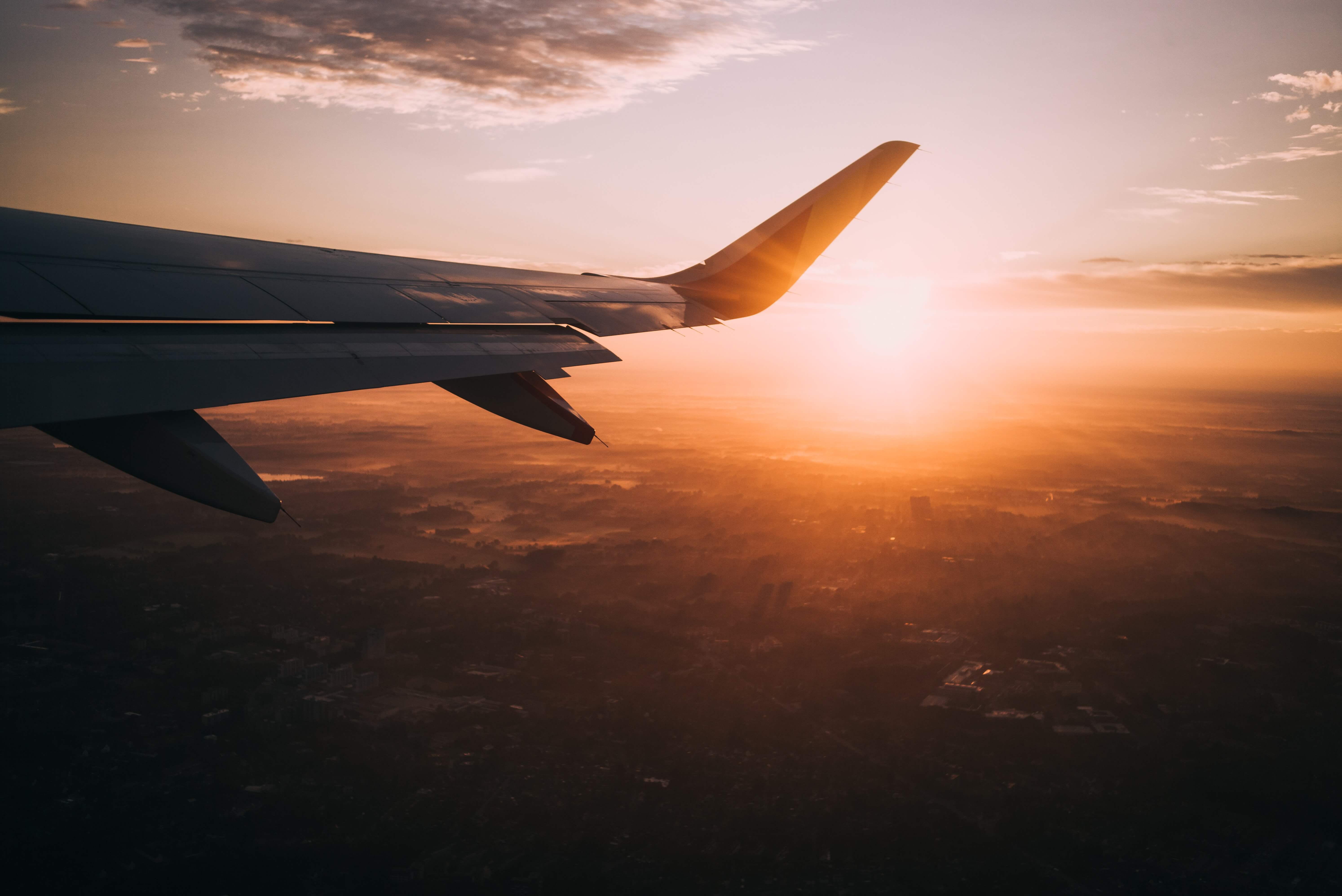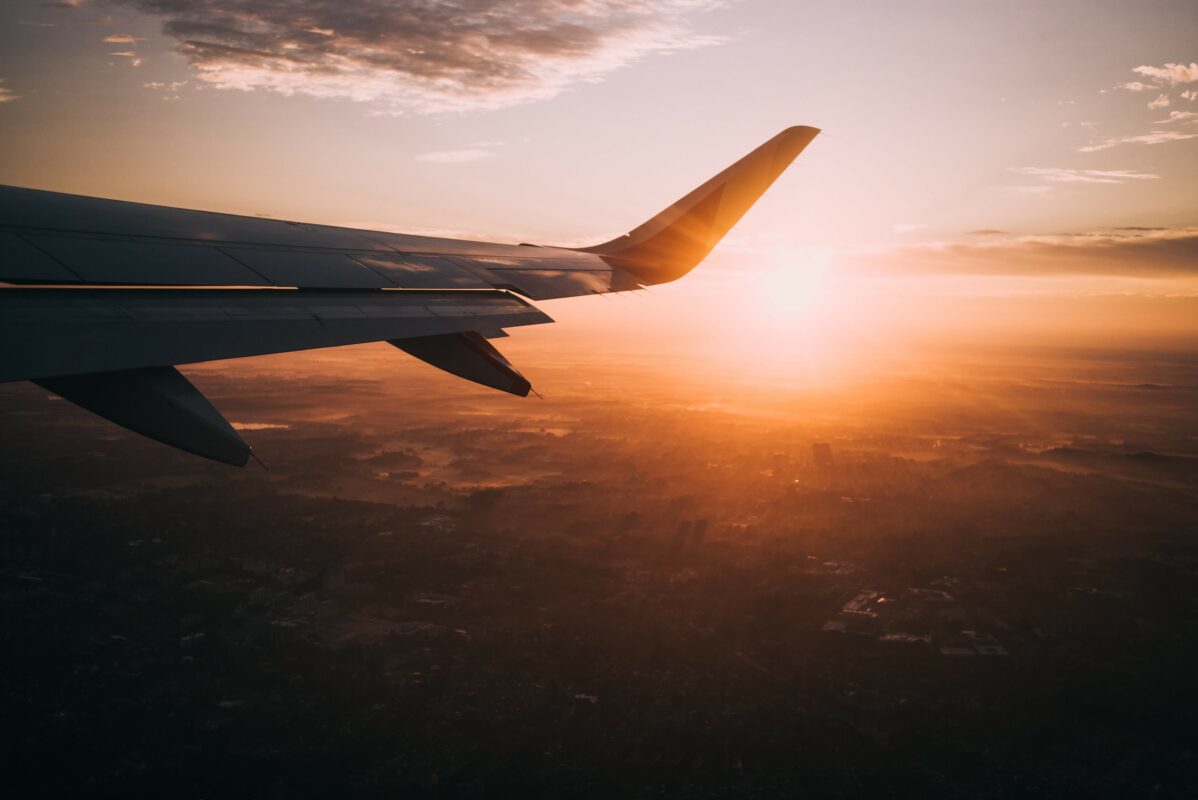 Meet your guides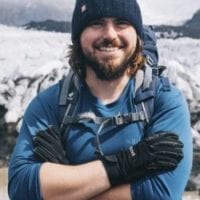 Alberto Ojembarrena, AIMG Mountain & Glacier Guide
Alberto Ojembarrena, AIMG Mountain & Glacier Guide
Alberto is the owner of Amarok Adventures and has guided adventure treks in Iceland...
View details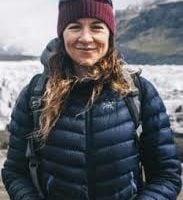 Mónica Fuentes, AIMG Mountain & Glacier Guide
Mónica Fuentes, AIMG Mountain & Glacier Guide
Mónica is a Mountain guide certified by UIMLA. She is extensively experienced in mo...
View details

Amarok Adventures
The guide team at Amarok Adventures has led groups of adventurers around the globe....
View details
I felt like I was on top of the world and back in time!
Jennifer L
about
Amarok Adventures
on TripAdvisor
Iceland is an amazing place but very vast and it's best to let the locals show you the really magical and secret spots. Amarok is the way to go and their skilled guides, Alberto and Monica, made our experience memorable and comfortable. You'll get a sweat going and you'll be rewarded with draw-dropping views and surprises along the way. I'd wholeheartedly say not to miss the chance!
Just do it! Go with them
Tam A
about
Amarok Adventures
on TripAdvisor
It was hard choosing a company out of so many, but AMAROK rocked it! Monica and Alberto are just these kind of people you want to hang out with, plus they have those super cool Defenders (which are amazing for photography)
Every place they will show you is gonna blow your mind, no matter the weather.
It's definately money well spent!
Thank you so much guys, loved every minute of the trip 🙂
Best experience in Iceland
Andrija K
about
Amarok Adventures
on TripAdvisor
We spend a the day with the team at AMAROK exploring the vatnajokull glacier. From the moment we meet at the pick up location things went smoothly. Alberto and Monica are professional and passionate and the whole time I felt like I was travelling with friends (who knew a lot about Iceland).
Things to know
COVID-19 measures in Iceland
57hours is committed to providing safe outdoor adventure experiences. We require all guides using our platform to have a COVID-19 safety plan and to make the details of that plan accessible to travelers. In most cases, group sizes will be reduced, guides will avoid overcrowded locations, and other safety measures will be met depending on the location and activity. 
We also expect clients to respect local regulations and take measures to protect themselves, guides and the communities they're travelling to. For more information on COVID-19 measures in Iceland, please read the Official COVID-19 updates by the Icelandic Government.
Please contact us if you have any questions or require further information. We are happy to provide you with the most up-to-date information!
What's included?
This is what you'll get on this adventure:
Accommodations

A local Amarok Adventures guide

Licensed driver guide from Amarok Adventures

Entrance to tourist hotspots

Permits

Transportation throughout the adventure (4×4 Vehicle Land Rover Defender) 

Transfers to and from the airport

MTB half-day experience

All the meals during the hiking days

Vehicle fuel

All the cooking equipment
Not included:
Country Visa

Flights and flight taxes

Sleeping bag & personal items

Travel insurance

Dinner in Reykjavík & Hvolsvöllur

Showers in the mountain huts

Travel insurance

Everything not specified
How fit do I need to be?
You need to be able to hike for full days, carrying a full daypack. Each day you can expect to spend three to six hours hiking, sometimes with elevation gains of around 1000 meters. The volcanic terrain can be challenging and the weather unforgiving. That said, if you are looking for adventure and up to the task of a full-day of trekking, you'll be rewarded immensely.
What do I need to bring?
Here's a list of the equipment we suggest you bring:
Day pack large enough to carry all the items listed (around a 40L bag)

Water bottle

Sleeping bag ( -10º comfort & hiking mattress)

Hiking boots and sandals

Spare warm clothes (thermal clothes, warm hat, waterproof gloves)

Swimsuit & towel

Compass & map

Toiletries (sunscreen, first aid kit, toilet paper, etc.)

High quality sunglasses

Head lantern

Trekking poles

Camera — optional (but recommended)
Dress comfortably and for the weather in clothes you can move in. We suggest bringing clothing appropriate for the season. Layers are best and don't wear jeans.
Group sizes and age requirements
Group sizes and prices:
The guest to guide ratio for this hiking tour is usually four to eight guests and two guides. 

Pricing is per person, and the cost does not decrease as your group grows.
If your hiking party is larger than six people, please contact us prior to booking to make arrangements. 
Because this tour requires a minimum enrollment of four people, if you are booking alone, your reservation is subject to change up until the last day if the minimum enrollment is not reached (but fear not, as that is rarely the case!).
Min. age requirements:
Anyone over the age of

16

can join this adventure
If you plan to hike with anyone under the age of 16, please contact us prior to booking to make arrangements. 
Cancellation policy
With 57hours, you benefit from both our own cancellation policy as well as that of the individual guiding service that delivers your adventure. All policies regarding cancellation will be clearly laid out by your guide after booking your adventure, but rest assured that our own cancellation policy will work on top of what is provided by your guide. 
For this adventure, 57hours offers a Expedition Cancellation Policy, which states
If Client cancels the Booking anytime prior to one hundred twenty (120)  calendar days in advance of the trip contemplated by the booking, Client is entitled to a full refund. For cancellations ninety (90) to one hundred nineteen(119)  calendar days in advance, Client is entitled to a refund in the amount of fifty percent (50%) of the total amount paid when Booking. For cancellations seventy five (75) to eighty nine (89)  calendar days in advance, Client is entitled to a refund in the amount of twenty-five percent (25%) of the total amount paid when Booking. After that deadline, Client is not entitled to any refund. Any reimbursable expenses arising out of the Booking incurred by Guide prior to the date of cancellation (including but not limited to plane tickets, car rental payments, and lodging or transportation fees) are non refundable as soon as they are incurred by the Guide.
For more information on terms and conditions, please visit our Terms of Service page.
Getting there and meeting location
The meeting location is Keflavik Airport. From there, you'll be transferred to your accommodation in Reykjavík, where you'll begin your 8-day adventure.