Hiking the Iconic Santa Cruz Trek
Santa Cruz Trek | Peru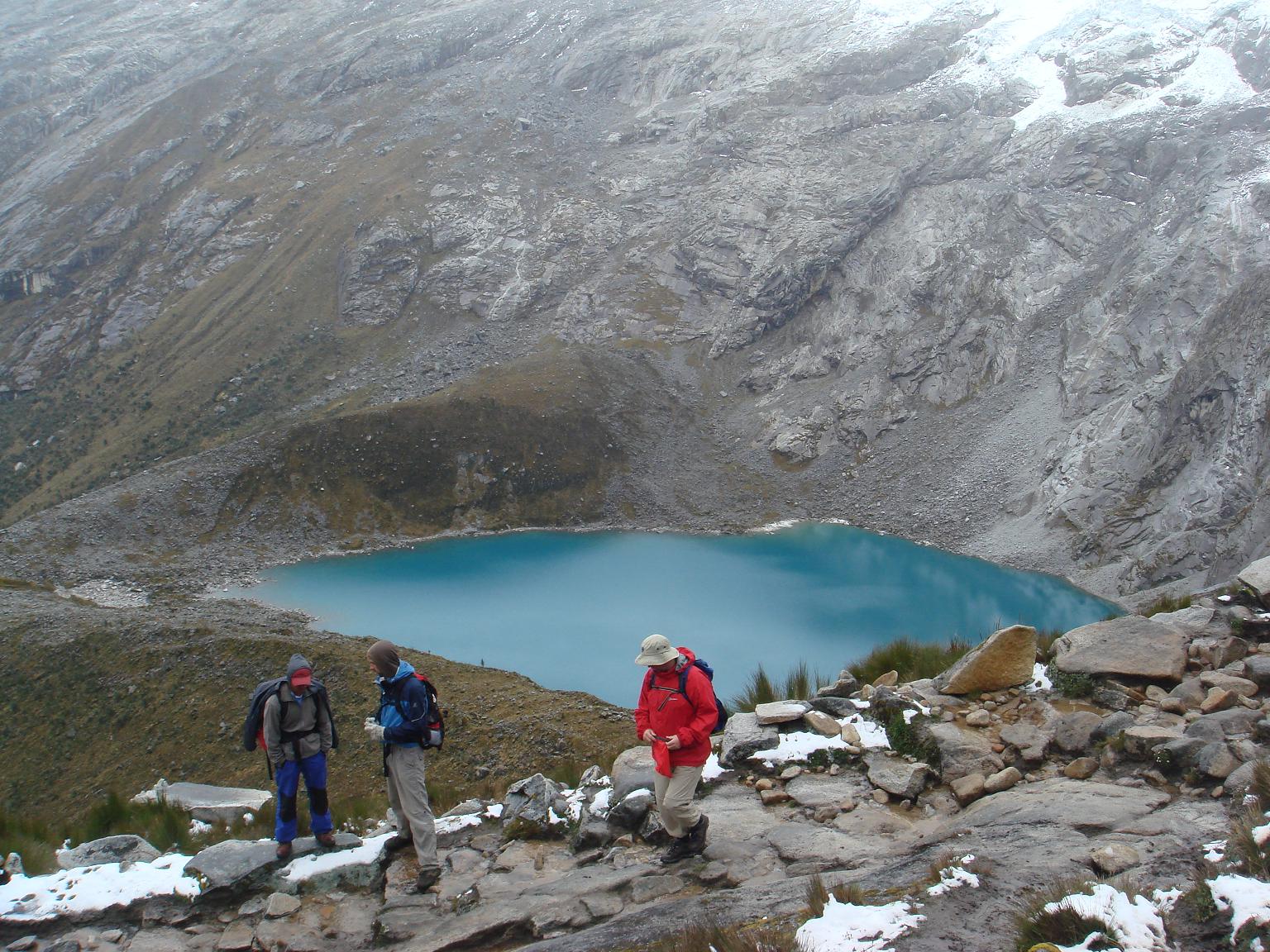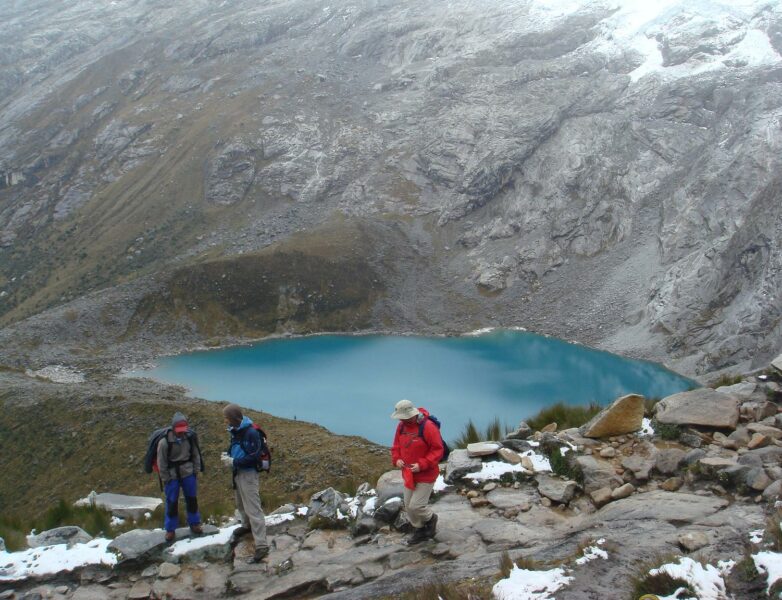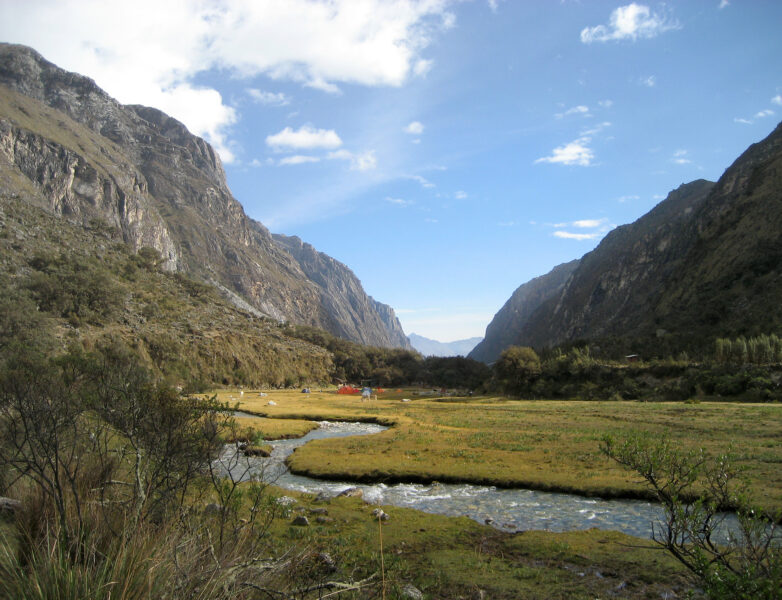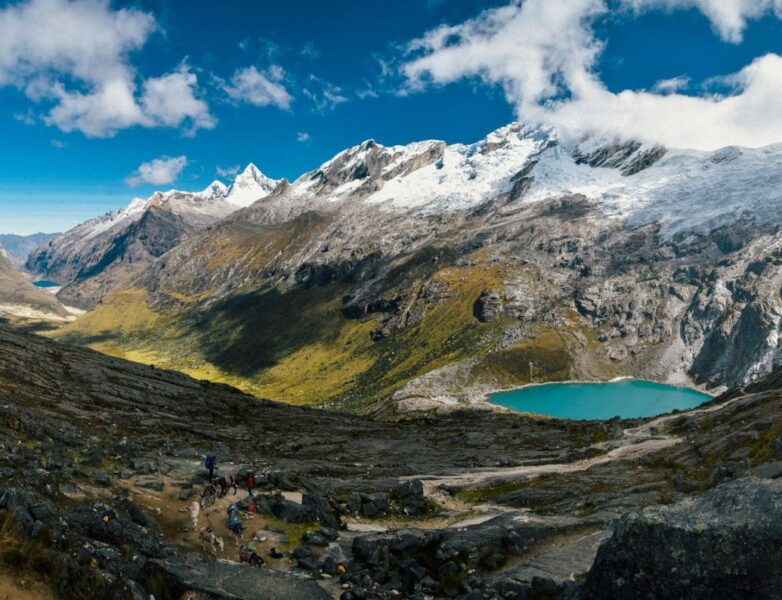 Top three reasons to hike the Santa Cruz Trek in Peru
Immerse yourself in pure alpine wilderness

Hike past striking turquoise glacial lakes and ancient Incan ruins

The trek is situated in a UNESCO World Biosphere Reserve
Visit Peru and explore the natural beauty of the Santa Cruz Trek, winding through 46 kilometers (28 miles) of gorgeous and challenging alpine wilderness. While many hikes are simply a form of recreation, this trek is a bucket list worthy adventure! Combining alpine vistas, interesting Incan history, and dramatic mountain paths, Santa Cruz Trek should be a part of any hiker's bucket list. Part of the UNESCO World Biosphere Reserve and the Cordillera Blanca range —  the highest tropical mountain range in the world — it offers ancient ruins, beautiful forests, towering mountain peaks, and stunning turquoise glacial lakes. Find out more about trekking in Peru and the Santa Cruz Trek tour from Orlando Quito, hiking guide and owner of Eco Ice Peru.
Nearest city

Huara, Peru is 90 minutes away from the trailhead
Choose how you spend your day
Group Santa Cruz Trek Tour
Hike through the untouched wilderness with a local guide and get a unique sense of solitude as you traverse ancient trails, pass striking lakes, and admire staggering mountain peaks. Explore one of the most beautiful treks in the world and spend your nights in camps along the way where you can get to know other hikers and enjoy the culture of the area. Visit places boasting spectacular views within the entire Cordillera Blanca and make memories that will last a lifetime!
Hike through the untouched Peruvian wilderness with a private guide and explore the ancient trails leading to striking turquoise lakes and staggering mountain peaks. This private tour lets you experience the thrill of the Santa Cruz Trek with your friends and family—or even by yourself! Observe unique wildlife, jaw-dropping mountains, and glaciers as you get to know the culture of the area. Visit epic locations in Cordillera Blanca as you immerse yourself in the Incan heritage and marvelous scenery Peru is known for.
Itinerary
Day 1: Start your Santa Cruz Trek from Huaraz
After arriving at Huaraz, leave by private bus around 6:00 to the village of Vaqueria. The road follows the river Rio Santa and passes a couple of authentic Andean villages along the way. You'll cross the Portachuelo Pass, a 4,767-meter peak and the highest point of the Cordillera Blanca. From here you can experience one of the best views to observe the highest mountains of Cordillera Blanca. On the way to Vaqueria, stop at the beautiful Llanganuco lakes. After your arrival at Vaqueria, load the donkeys with everything except what you wish to carry in your small day pack. Once on the trail, you'll pass through the small villages of Huaripampa valley before getting to the National Park Huascaran. Hike for four hours to your camp for the night, Paria, located in the valley Huaripampa. Relax, eat, and enjoy the starry skies with your group!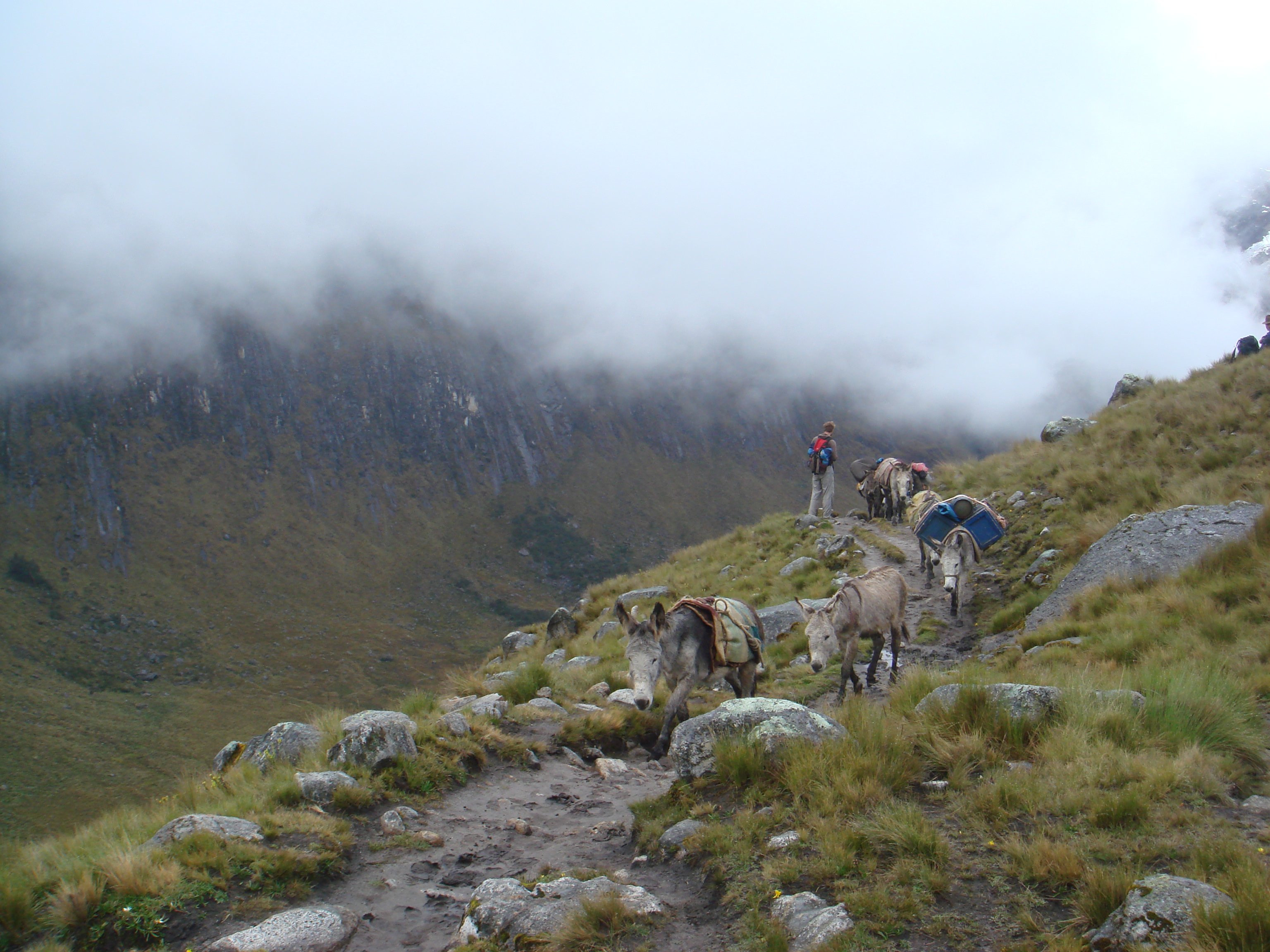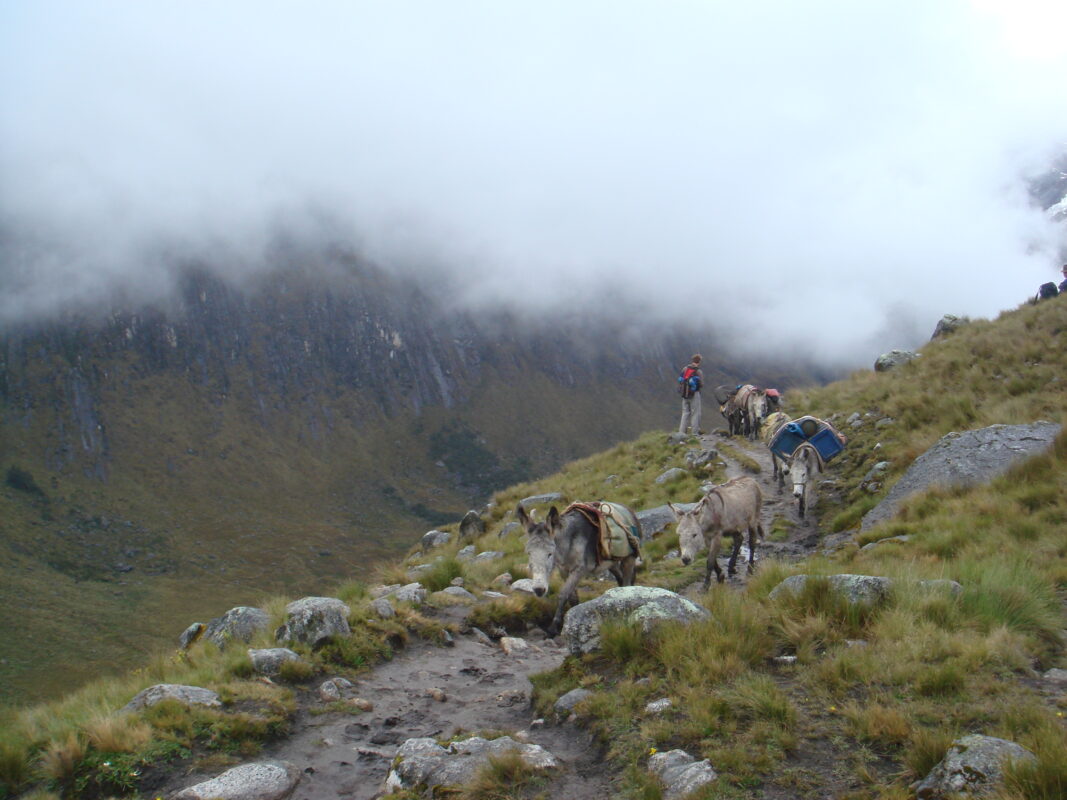 Day 2: Reaching the highest point on the Santa Cruz Trek
Wake up with a cup of hot tea or coffee and have breakfast around 6:30. After breakfast you'll go for a five hour hike before reaching the highest point in this trek. The trail starts ascending towards Punta Union Pass at 4,750 m. The trail ascends gradually and offers plenty to see on your way up. In colonial times, it was a crucial route for transporting goods along the Andes. As you approach this old trail, enjoy jaw-dropping panoramic views down the Santa Cruz Valley and Huaripampa Valley. This is one of the most breathtaking parts of the entire trek. The peaks of Santa Cruz surrounded by Andean vegetation of quenual forests, the snow-capped peaks of Paria and Taulliraju, Artesonraju, and Huaripampa will all come into view. After a two-hour hike, you'll reach Taullipampa. Enjoy your dinner, relax and spend the evening with your group!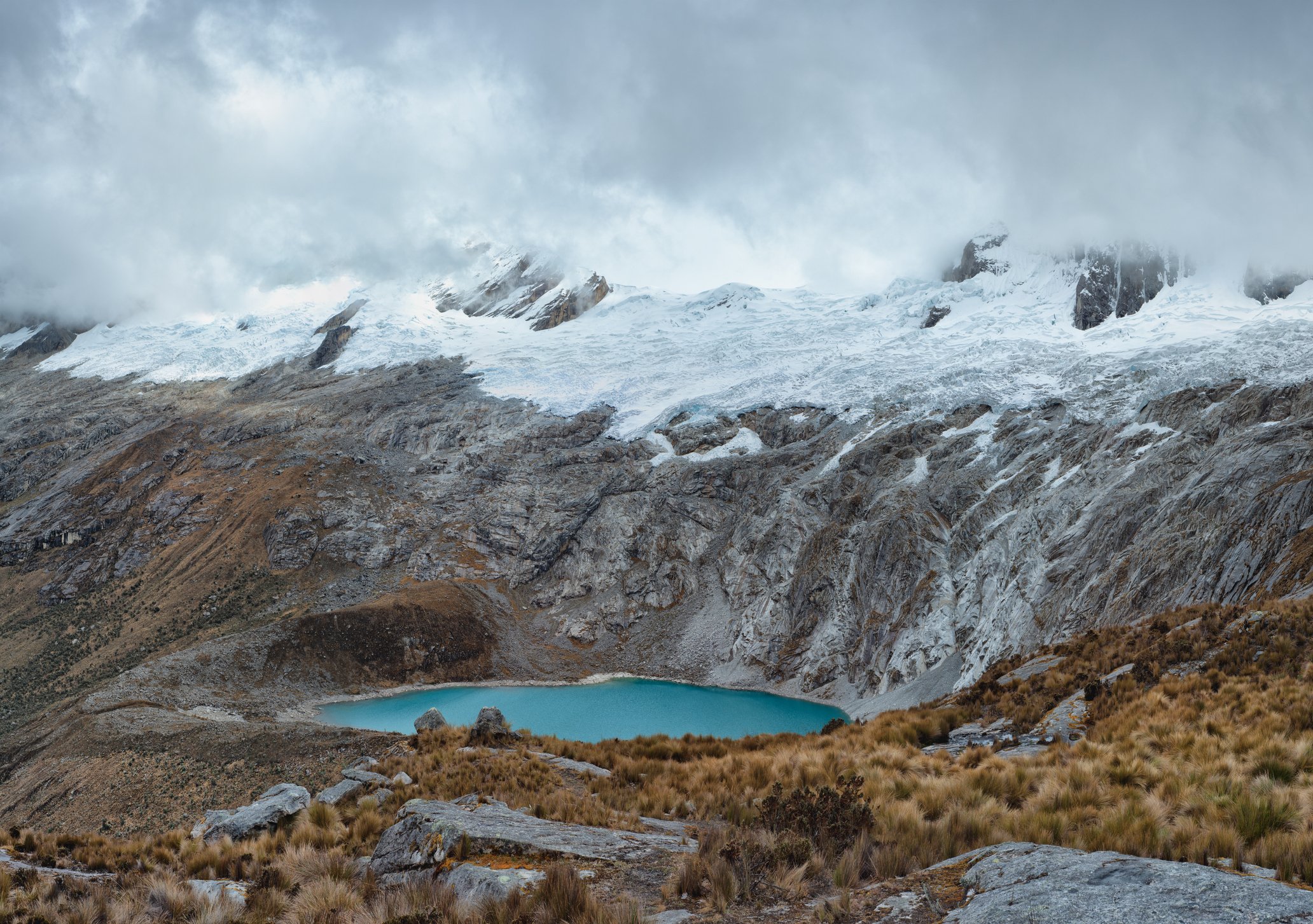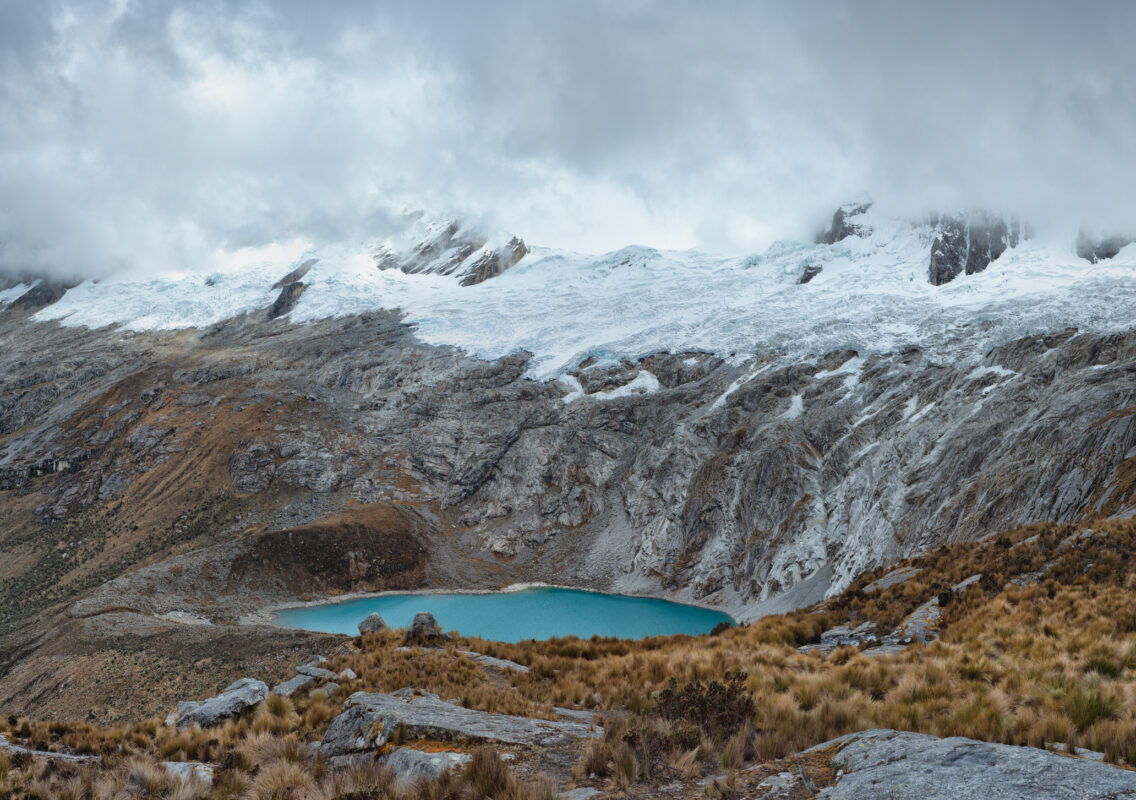 Day 3: Scenic lakes, local birds and the Llamacorral campsite
After your breakfast, follow a shortcut to Alpamayo's base camp and visit the striking turquoise Lake Arhuaycocha. Hike for about three hours before reaching the Santa Cruz valley again and walk to your last camp for the trip. You will see the emerald lake Jatuncocha and lake Ichiccocha, each equally as beautiful as the next. Expect to see ducks and local bird species bathing in the shadow of many peaks towering from above. After another hour, you'll get to the campsite Llamacorral where your camp will already be set up! During the trek, you can appreciate so many mountains — Santa Cruz, Quitaraju, Artesonraju, Alpamayo, Taulliraju and Rinrijircas! The trails will also pass lake Arhuaycocha, boasting one of the most spectacular views within the entire Cordillera Blanca!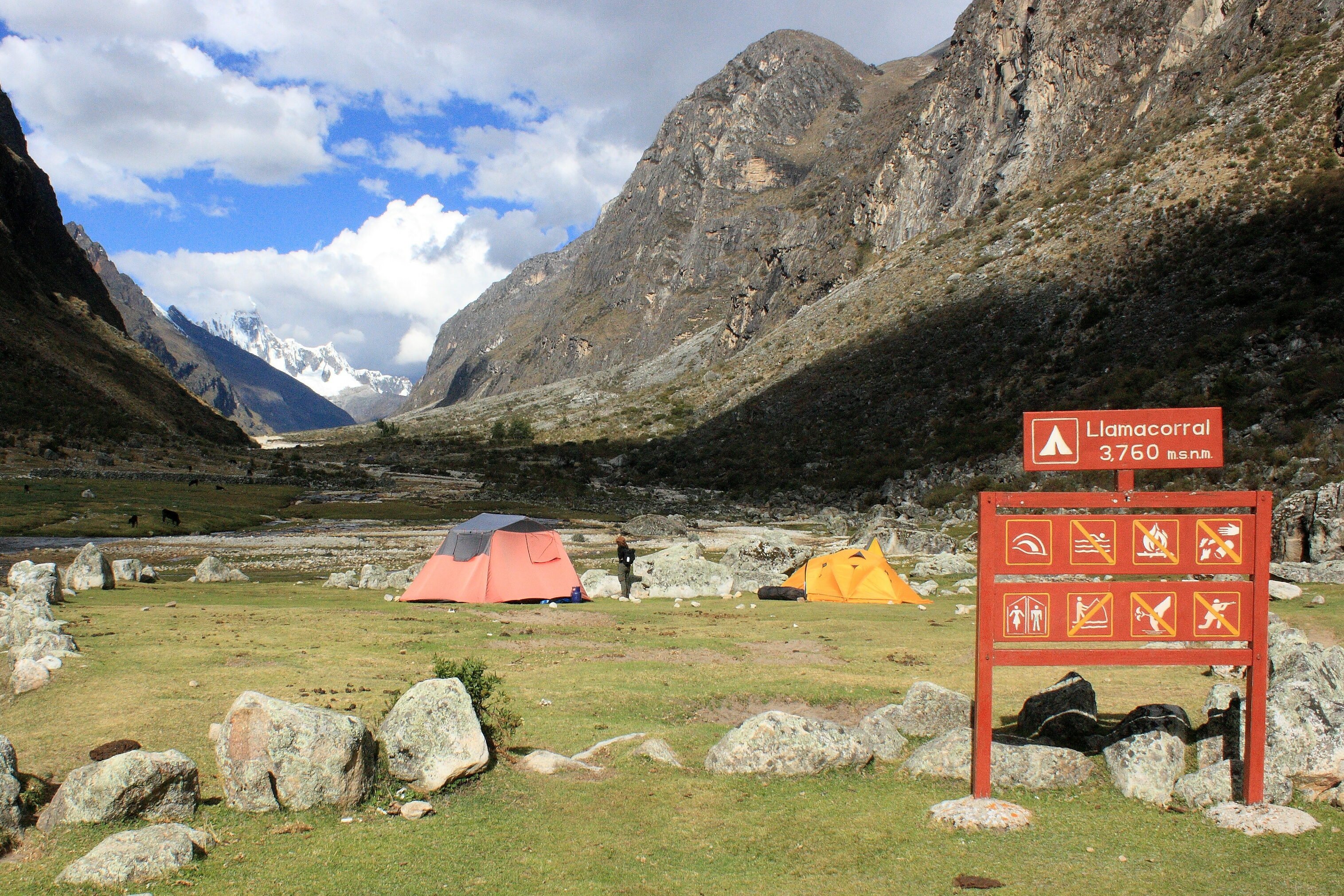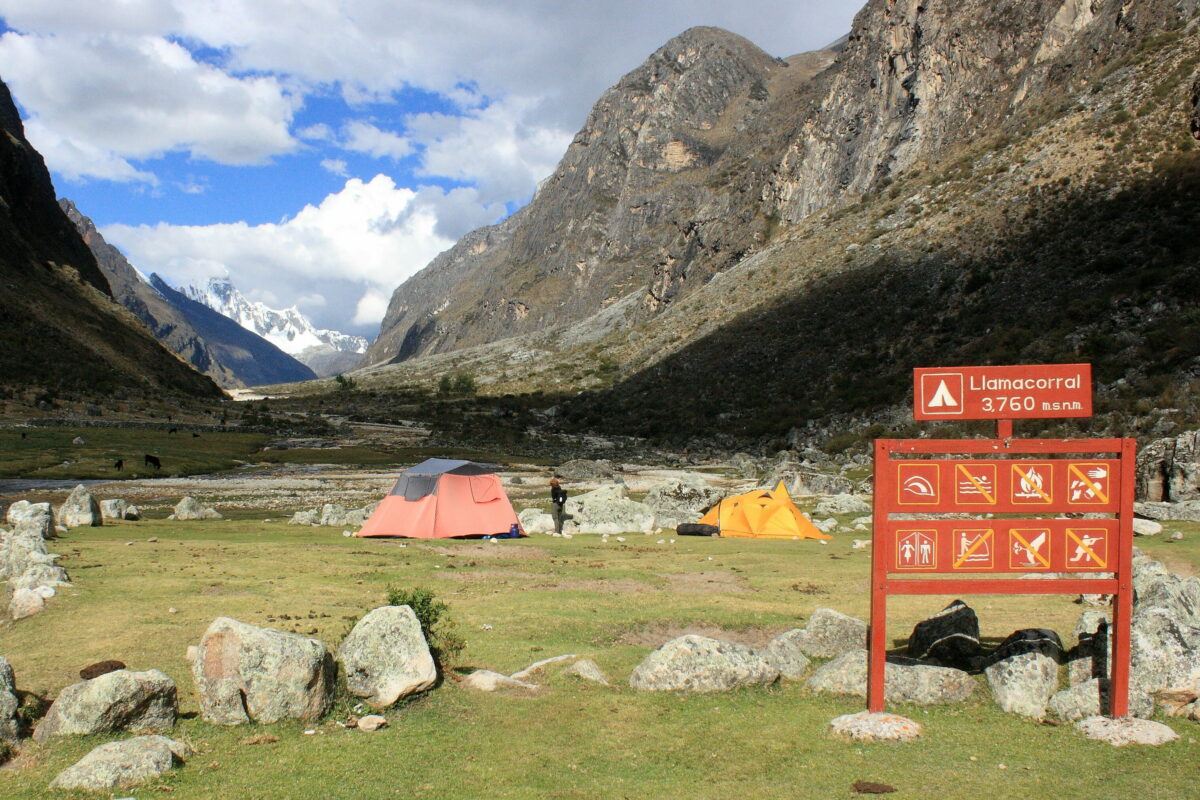 Day 4: Last stop in Cashapampa
This is your last day inside the Huascaran National Park, so  soak in the alpine vistas for one last time. After breakfast, you will trek downhill to the town Cashapampa for approximately 3 to 4 hours. As you descend, you will be able to notice a steady change in vegetation as you follow a path winding past a river. From there, you'll load the bus and drive back to Huaraz, about two hours away. After arriving at your hotel, your group will meet in the early evening at the guide's family house for dinner and a little celebration!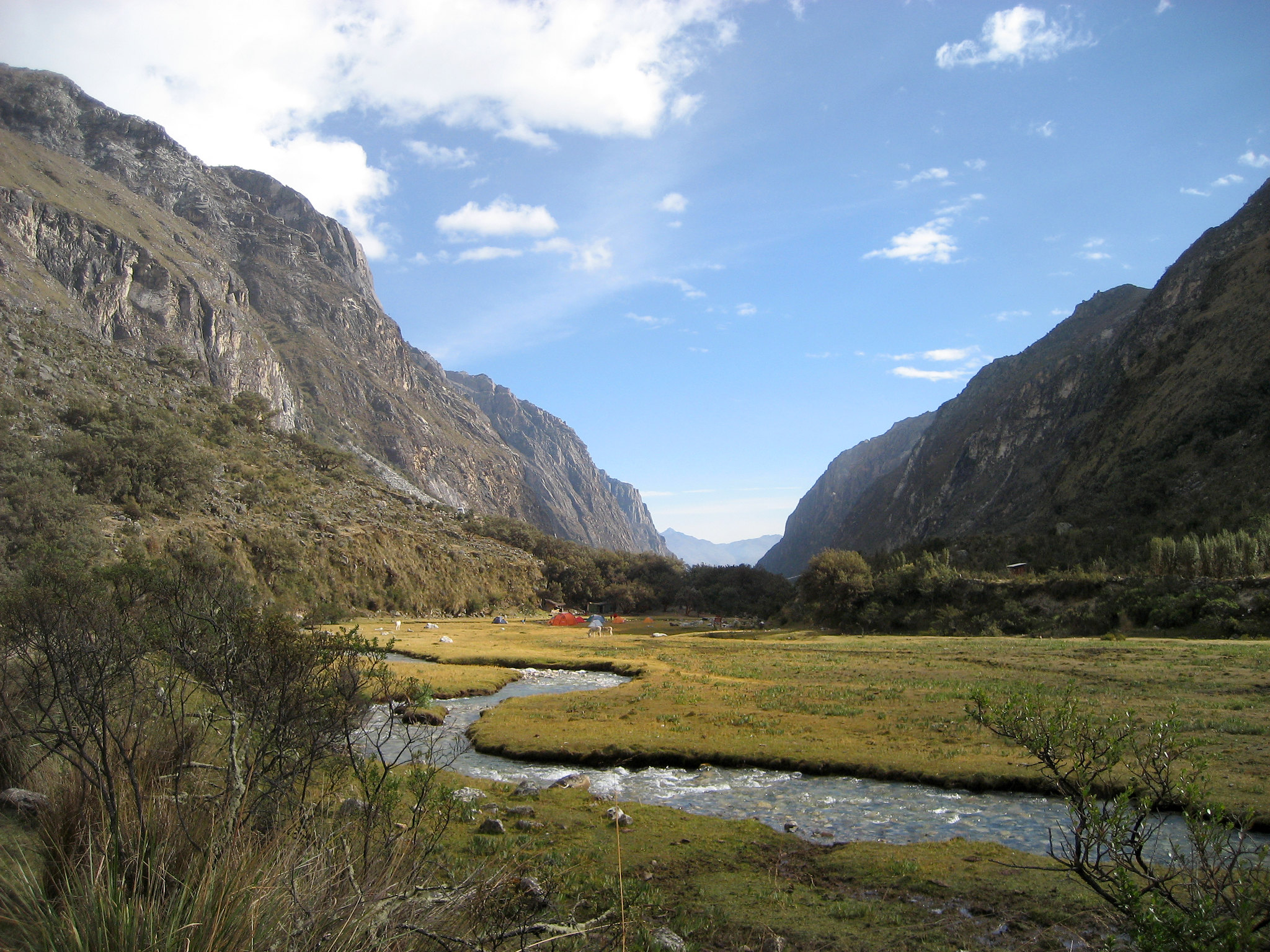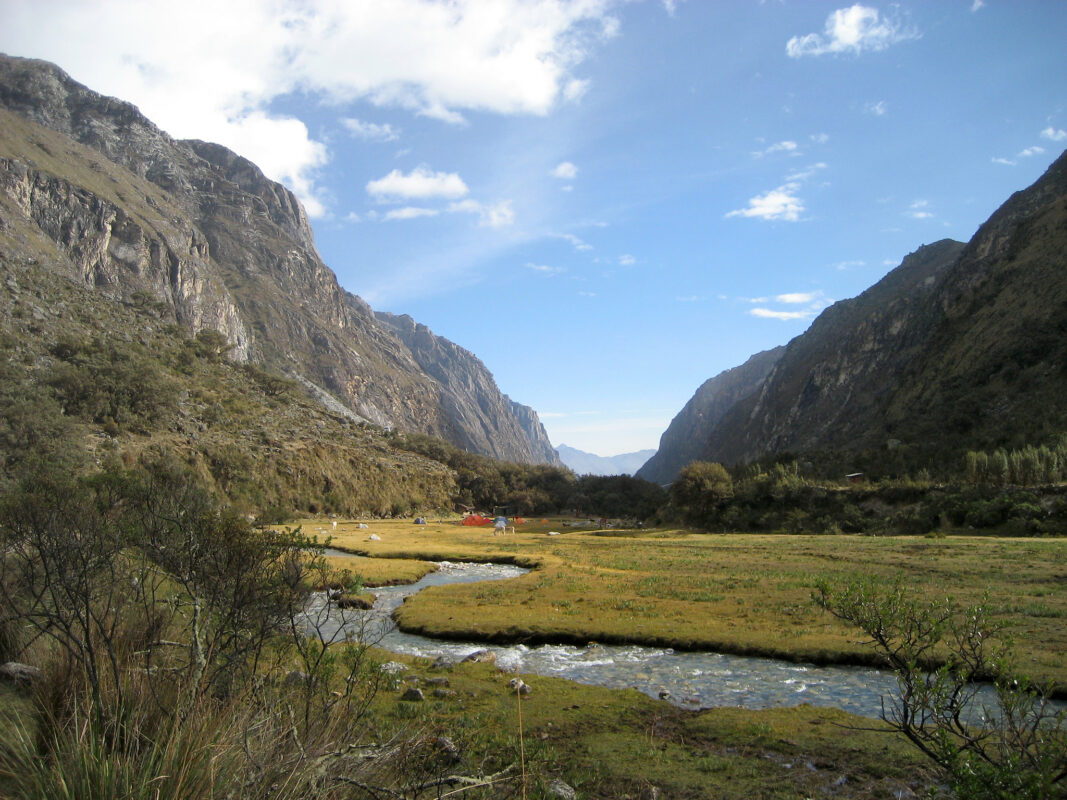 Meet your guides
Orlando Quito
Orlando comes from a family of adventurers and has been guiding since he was in hig...
View details

Eco Ice Peru
Discover the hidden treasures of Lima and Huaraz with Eco Ice Peru — leading guides...
View details
100% recommend!
Mallory S
about
Eco Ice Peru
on TripAdvisor
The entire experience was incredible. The biggest highlight was how organized Orlando and his team were from the booking process to the actual trek. Everything was perfectly orchestrated from the preliminary slide show on the route/packing in the office, the good food, tent setup, and transportation.
We met a couple people doing the trek on their own and they expressed how hard it had been doing it solo. For the price, this is the absolute way to go (guide, food, donkeys…).
Santa Cruz 4 Day Trek
Alex R
about
Eco Ice Peru
on TripAdvisor
Had an amazing time hiking with Orlando's company Eco Ice! There were total 5 ppl (group of 2 and 3) plus our guide Javier, cook Roberto, and Whitman our Donkey handler. Each day we covered amazing terrain and by the time we arrived to camp – our tents were setup and hot water and snacks were ready to hold us over until dinner. Eco Ice was so organized all we had to do is show up and the rest was taken care. I will return again to try the Huayhuash!
Fantastic Small Group Santa Cruz Trek
Kierre
about
Eco Ice Peru
on TripAdvisor
I hiked the Santa Cruz trek with Emerson from Eco Ice between Feb 8-Feb 11 and was so glad I booked with this company. We were a small group, 6 people and we encountered no other groups on the trail during our 4 days. Although it's rainy season, the weather was very good – only raining one night and one morning during our trip.
One of my favorite things about this trip vs. other guided trips I've done during my time in Peru was that Emerson kept our group together the whole time. He set a great pace and made sure we stuck together so that no one felt excluded or left behind during the trip.
In addition to Emerson we also had a cook and a donkey driver. They were both very kind and provided a great opportunity to practice my Spanish:)
I had really debated finding a buddy or two to hike this independently vs. going on a guided trip, but am very glad I went with a guided trip. Emerson provided good insight into the park, it was a great way to meet other folks and logistically made my life so much easier (no need to coordinate transportation or food since that's all included).
The hike itself is not terribly difficult, but keep in mind the highest point is 4750m and the highest camp (night 2) is around 4200m, so you should definitely make sure you've acclimatized in Huaraz a couple days before departing.
Can't recommend it enough!
Santa Cruz trek
Holly
about
Eco Ice Peru
on TripAdvisor
We did the Santa Cruz trek with Eco Ice and it was such a good trip! Orlando was fantastic at organizing it for us, despite us coming straight off an overnight bus from Lima and arriving later than the usual start time. All the staff were friendly and helpful on the trek and we had a fantastic time. I would definitely recommend it to everyone!
Santa Cruz Trek
Malek M
about
Eco Ice Peru
on TripAdvisor
Eco Ice Peru provided us with a great trekking experience. From start to finish Orlando's service was on point and professional! Also, our guide also provided us with necessary emergency services when our friend got injured during the hike! You will feel confident doing this trek knowing that you have a team dedicated to making sure you have a great experience on the trail!
Download hiking gear checklist
Prepare for the trip.
Get complete checklist for hiking and camping equipment.
Check your inbox
Things to know
Covid measures in Peru
57hours is committed to providing safe outdoor adventure experiences. We require all guides using our platform to have a COVID-19 safety plan and to make the details of that plan accessible to travelers. In most cases, group sizes will be reduced, guides will avoid overcrowded locations, and other safety measures will be met depending on the location and activity.
We also expect clients to respect local regulations and take measures to protect themselves, guides and the communities they're travelling to. For more information on COVID-19 measures on Santa Cruz Trek in Peru, please visit the official Peru Travel website.
Please contact us if you have any questions or require further information. We are happy to provide you with the most up-to-date information!
What's included?
What you get on this adventure:
An experienced, local trekking guide with extensive knowledge of the area
Four days of trekking
All meals and snacks — vegetarian food possible
Large sleeping tent (for 2 people each)
Special sleeping mat
Donkeys for luggage transport
5 kg personal luggage for the Donkeys
Duffle bags
Kitchen tent
Dining tent
Toilet tent
Certificated cook
Kitchen and dining full utensils
First Aid kit (altitude sickness)
Private transport
Hot water every afternoon to clean up your hands and face (no shower)
Boiled water to fill your bottle after day 1
Last day typical meal and drink in Huaraz
If you have any special dietary requirements, please let us know prior to booking to make arrangements.
What's not included:
Sleeping bag (can be rented from the guides)
Personal trekking gear
First day breakfast
Travel accident and health insurance
Transfer to Lima
Bus ticket Huaraz – Lima
Travel luggage insurance
Travel cancellation insurance
Not mentioned food (restaurants) and beverages
Emergency horse
Hotel in Huaraz
How fit do I need to be?
The Santa Cruz Trek tour is moderately difficult, but it all depends on your hiking experience and fitness level. You need to be able to hike for full days, carrying a daypack and walking through different terrains. You're going to be hiking five to six hours per day. While the terrain is manageable, the big build-up to crossing the Punta Union pass can get strenuous. This is why you should spend time acclimatizing before your trek. If you want to make sure you're ready to trek the Santa Cruz, practice hiking on long distances while carrying a full daypack. That said, if you are looking for adventure and up to the task of full-day trekking, you'll be rewarded immensely! 
What do I need to bring?
Here's a list of the equipment you need to bring:
Day pack large enough to carry all the items listed (around a 25-40L bag)
Water bottle or hydration bladder (2L capacity)
Sleeping bag (can be rented from the guides)
Personal trekking gear
Hiking poles — optional
Gloves
2-3 hiking pants
3 sets of undergarments
2 sets of hiking socks
1 fleece jacket
1 warm, down jacket
1 rain jacket
1 pair of rain pants (depend of the season)
1 sunhat
1 wool hat
Comfortable shoes for camp
Walking high boots
Quick dry towel
Toiletries (sunscreen, hand sanitizer, bug spray, toilet paper, etc.)
Mosquito repellent
Headlamp or flashlight
Sunglasses
Earplugs
Battery Charger: There is no place to plug in while trekking
Camera — optional (but recommended)
Dress comfortably and for the weather in clothes you can move in. We suggest bringing clothing appropriate for the season. Layers are best and don't wear jeans.
Group sizes and age requirements
Group sizes and prices:
The guest to guide ratio for these group hiking tours in Peru is usually five to eight guests to one guide.

It takes a minimum of 5 people for the group tour to operate. If the minimum is not reached, the guide will offer the group the option to pay the difference for the trip to go.

Pricing for the group tour is per person, and the cost does not decrease as your group grows.

The guest to guide ratio for private hiking tours in Peru is usually one to four guests to one guide. 

Pricing for the private tour is per person and the cost decreases as your group grows, making it the perfect opportunity to go hiking with friends and family.
If your hiking party is larger than eight people, please contact us prior to booking to make arrangements. 
Min. age requirements:
Anyone over the age of 18 can join these Peru trekking tours

Minors under the age of 18 may be allowed to join a hike on a case-by-case basis.
If you plan to hike with anyone under the age of 18, please contact us prior to booking to make arrangements.
Getting there and meeting location
To get to the Santa Cruz Trek, Peru, most people fly into the closest International Airport in Lima—6.5 hours away from Huaraz where your adventure will begin. From Lima, you can rent a car or fly to Huaraz Regional Airport. Once you get to Huaraz, your guides will take care of your transportation to the Santa Cruz Trek.
Once you and your guide agree on the details of your itinerary, your guide will suggest the best place to meet. You will depart from Huaraz on Day 1 at 6:00.