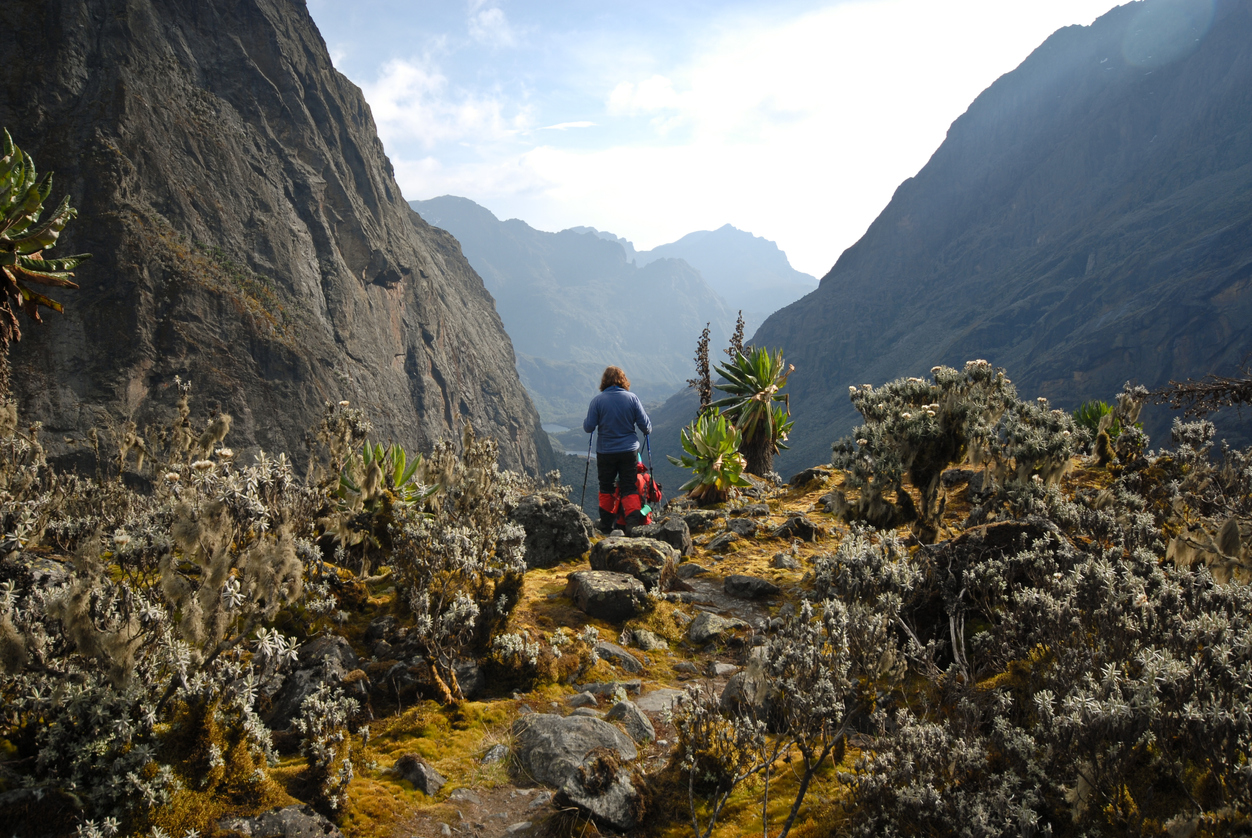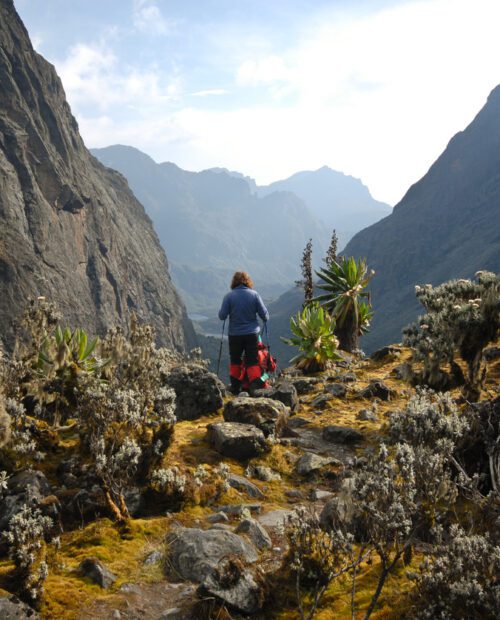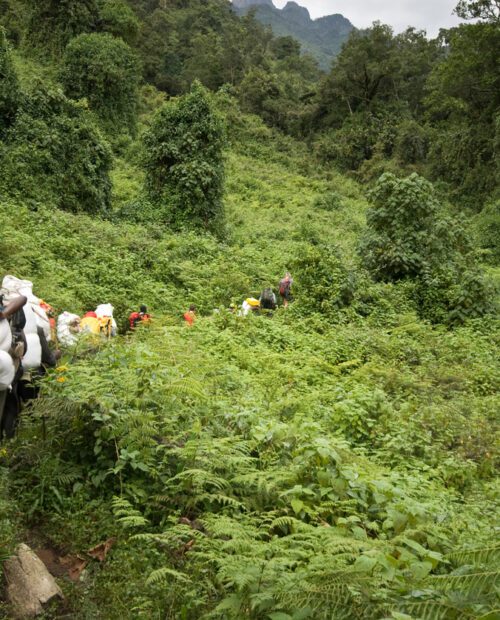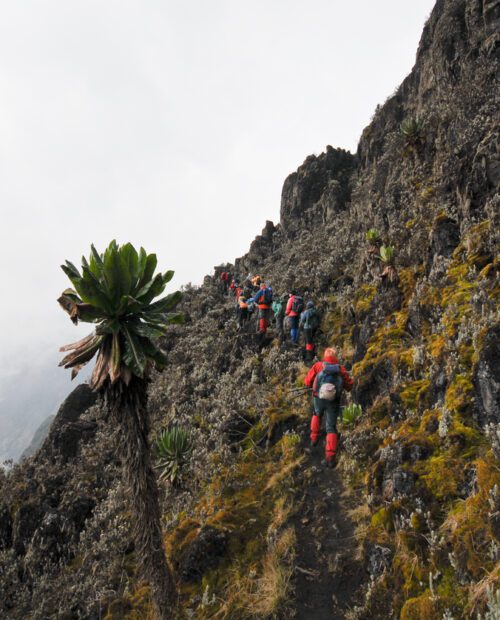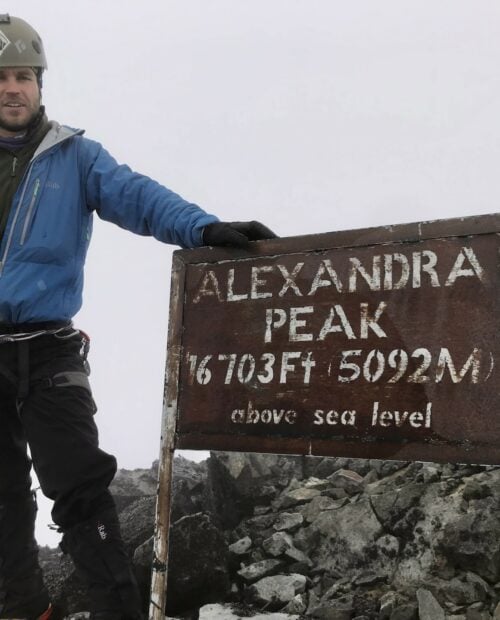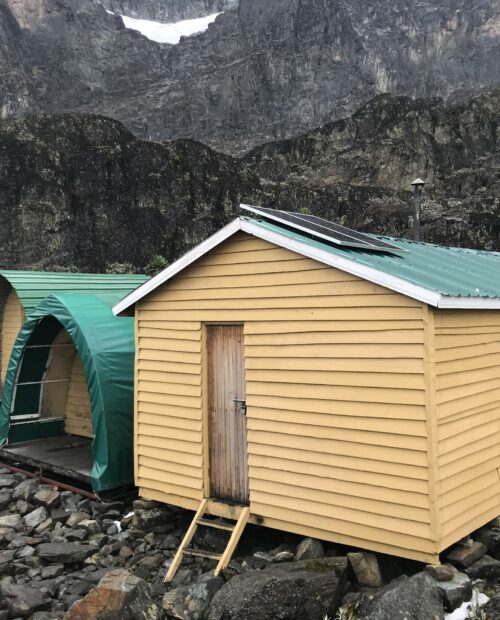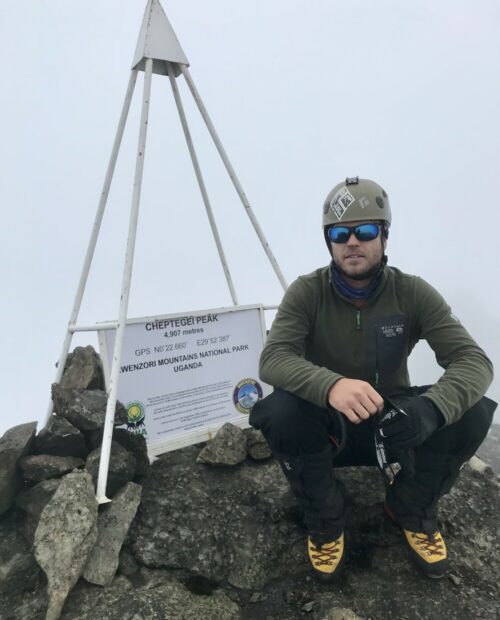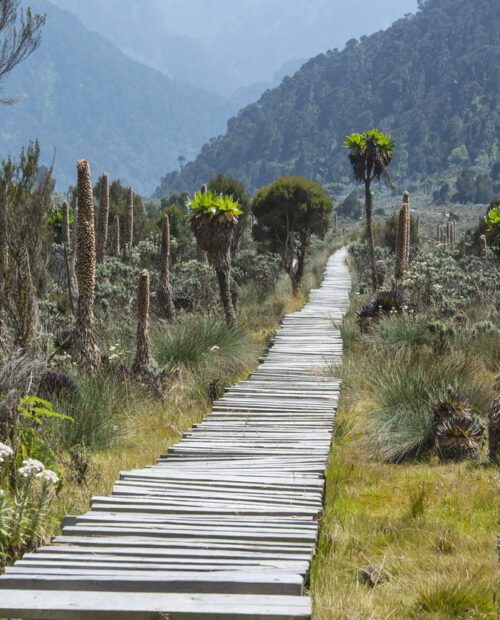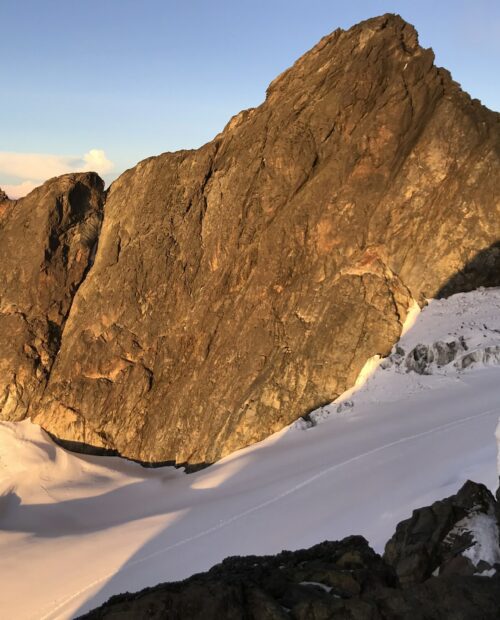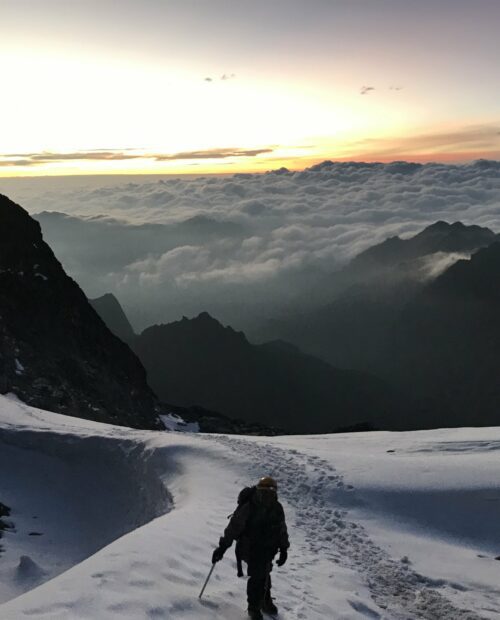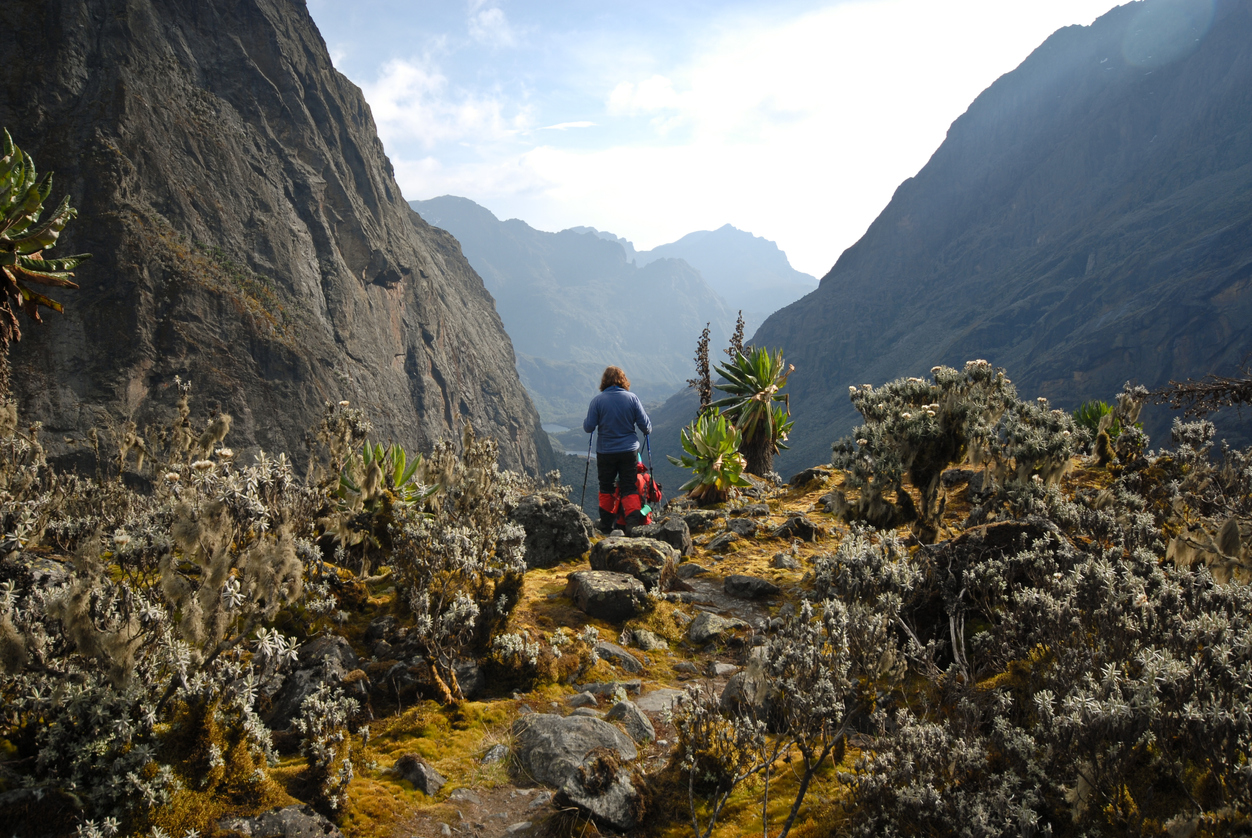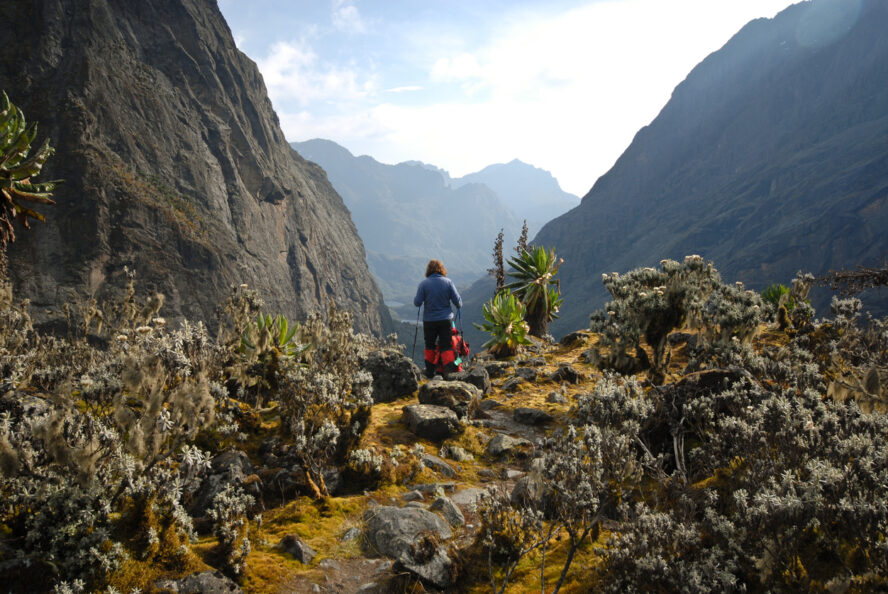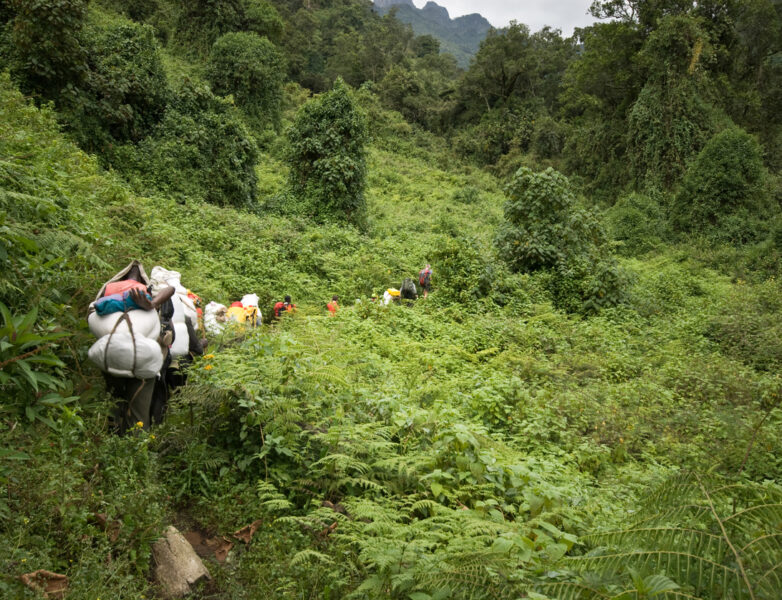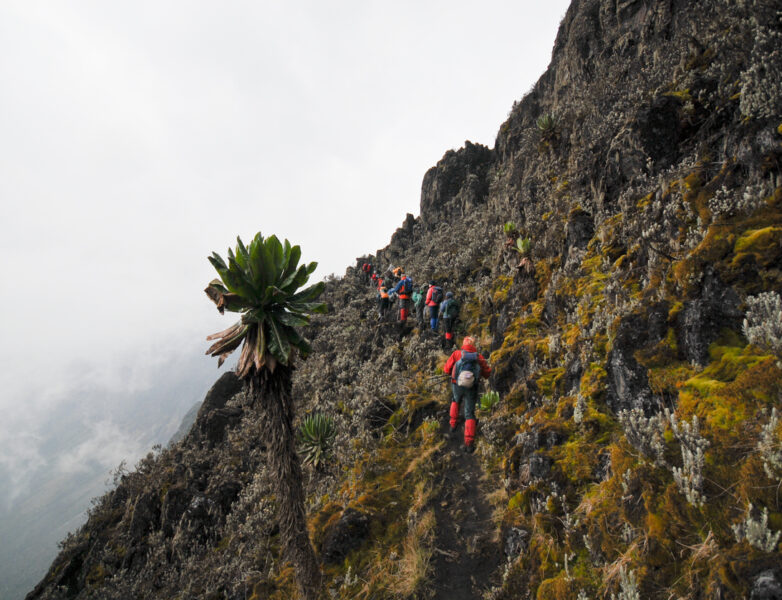 Hiking in the Rwenzori Mountains
Season
June through September, December through February
Nearest city
Kampala, Uganda, is 6 hours away from the trailhead
At the Rwenzori Mountains National Park, visitors truly get to experience the African wilderness at its finest. This range, home to six of Africa's 10 tallest peaks, barely gets 1,000 hikers a year, making it the hidden gem of African trekking. The forests here are plentiful and diverse — from Afro-montane greenery and heavy tropical rainforests to bamboo forests and alpine environments. Walk along waterfalls, across streams, and under monumental trees filled with "old man's beards", and maybe even meet a monkey or two. And when you climb higher up, the views get ridiculously impressive, and you get to experience crazy mountain ridges and trails through scenic valleys. In the Rwenzoris, adventure lurks around every corner — meet it with courage and enjoy the trek of a lifetime!
Experience the untouched Rwenzori rainforest bustling with life

Conquer some of Africa's tallest and most challenging peaks

Take in magnificent views of Uganda and beyond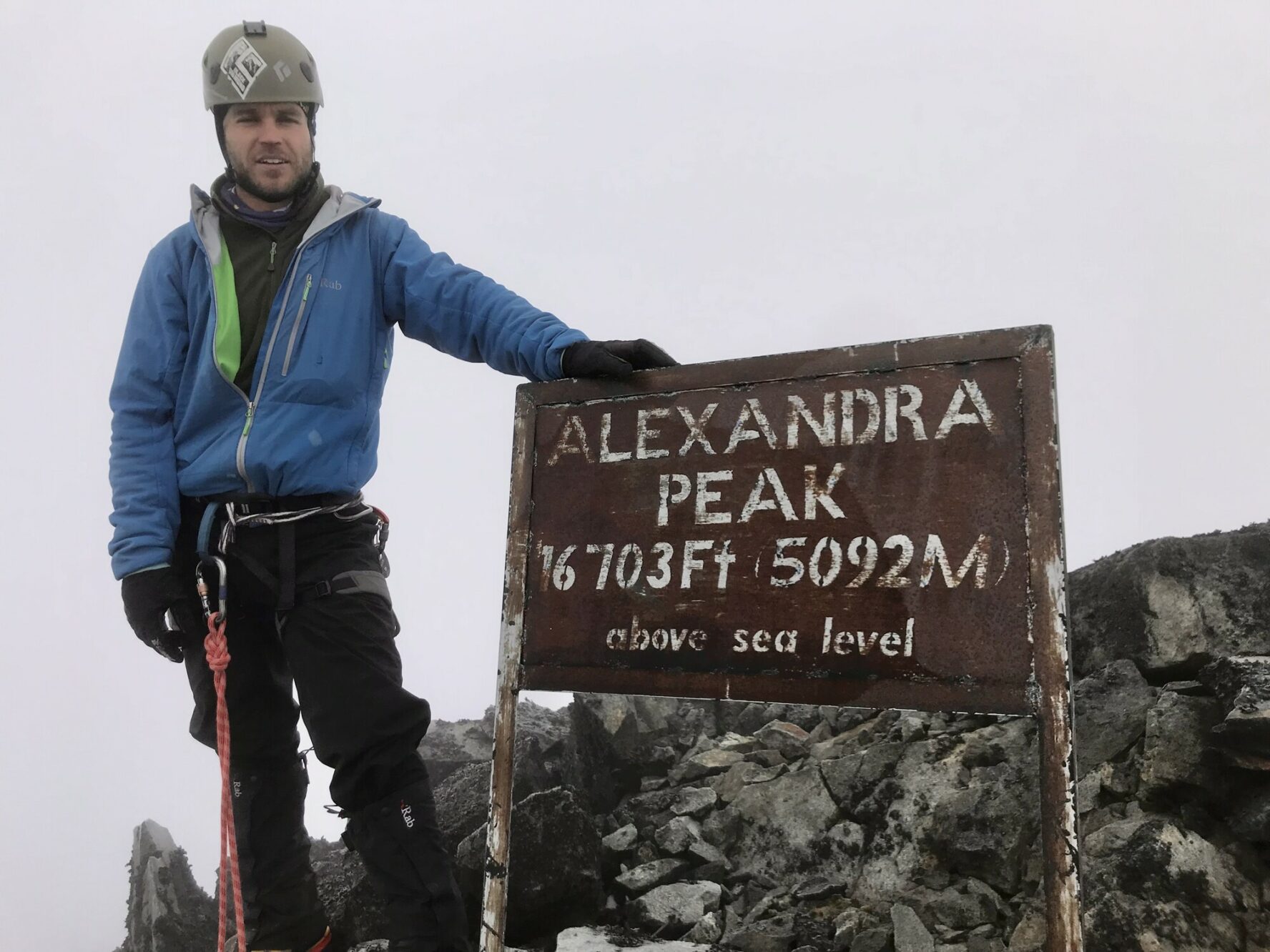 Get free trip brochure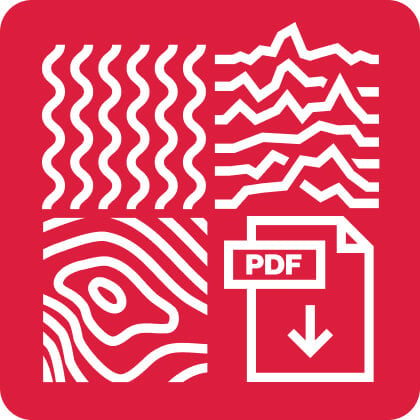 The brochure contains:
Adventure and location overview, itinerary, available dates, what's included, how to prepare, and much more.
Brochure sent, check your inbox
Talk with us
and let one of our adventure experts help you plan your perfect adventure.
Meet your guide Since 2012, African Ascents have been completely dedicated to creating unique trekking  and mountaineering experiences, first class technical climbing adventures, and unparalleled rock-climbing experiences in East Africa and around the globe.
Things to know
57hours is committed to providing safe outdoor adventure experiences. We require all guides using our platform to have a COVID-19 safety plan and to make the details of that plan accessible to travelers. In most cases, group sizes will be reduced, guides will avoid overcrowded locations, and other safety measures will be met depending on the location and activity.

We also expect clients to respect local regulations and take measures to protect themselves, guides and the communities they're travelling to. For more information on COVID-19 measures in Rwenzori Mountains National Park, Uganda, please refer to the UK Government's travel advice for Uganda and the US Embassy's COVID-19 information website for Uganda.

Please contact us if you have any questions or require further information. We are happy to provide you with the most up-to-date information!

What you get on this adventure:

Experienced, local hiking guides with extensive knowledge of the area
Camp crew, a cook, and porters
A full 8 days of trekking and climbing
Meals during the climb (3 meals per day)
Drinks on the hike (water, tea, coffee & hot chocolate)
Transportation from the Trekkers Hostel in Kyanjuki to the trailhead and back
Tents and camping gear
Medical evacuation in case of emergency
Supplemental oxygen and pulse oximeters

What's not included:

Transportation to Kyanjuki
Accommodations prior to and after the trip
UWA (Ugandan Wildlife Authority) gate entrance fee of 35$ per night (paid separately in cash)
Hospital bills and international evacuation in the event of an emergency

Trekking in the Rwenzori Mountains is very tough. Therefore, you should be in great physical condition before starting the trip. The eight-day tour is recommended for most people of average fitness and climbing ability. However, some people can do the trek in seven days, hence the seven-day trek option. But be warned — you must be in peak physical condition to do it in seven days. For larger groups, it's highly recommended to choose the eight-day option, as in many cases there will be one person who can not keep the pace.

All climbing and camping equipment will be provided by your guiding service. Here's what you'll need to bring:

Day pack large enough to carry all the items listed (around a 35-45L bag)
Rucksack with cover (around a 55-65L bag, for a porter to carry your main gear)
Dry bags
Hiking poles — optional
Water bottle or hydration bladder (2L capacity)
Warm hat and a buff or scarf
Sun hat
Warm gloves or mitts and thin liner gloves are also useful
Waterproof jacket and trousers
Waterproof gaiters
Warm jacket – fleece or down jacket, potentially ski jacket
Waterproof jacket over the top
Fleece tops or hiking shirts/sweatshirts
Base layers or T-shirts
Pair of trekking trousers and shorts
Leggings or thermal bottoms or running tights
Several sets of underwear – cotton best avoided
Several pairs of good quality trekking socks
Waterproof trekking boots
Trainers or flip flops/sandals
Toiletries (sunscreen, hand sanitizer, bug spray, toilet paper, etc.)
Favorite snack bars
Headtorch
Powerpack for charging phones etc
Wash kit — no showers on the mountain but you can have a bucket wash
Flask for hot drinks — optional, useful on summit night
Earplugs — optional
Sunglasses
Camera — optional (but recommended)

For camping, you need to bring:

Sleeping bag
Sleeping bag thermal liner
Pillow
Thick foam mat or self-inflating mat (like a Therm-A-Rest) — can be provided by the guide

Dress comfortably and for the weather in clothes you can move in. We suggest bringing clothing appropriate for the season. Layers are best and don't wear jeans. Keep in mind that it can get very cold in some of the camps due to strong winds.
A porter can carry a max of 18kg/39.6Lbs, including food, accommodation, wages, etc. There will be multiple porters depending on the amount of baggage and in case your baggage weighs more, you can hire another porter for an additional fee.

Group sizes and prices:

For this group adventure, the max client-to-guide ratio is 2:1.
The cost per person decreases as the group grows, so it's the perfect opportunity to hike with friends and family!

Climbing days in the Rwenzori Mountains can be arranged for larger groups. Contact us to make arrangements.

Min. age requirements:

If you are older than 18, you're good to go.
Minors younger than 18 may be permitted to join the hike on a case-by-case basis, but must be in the presence of a parent or legal guardian.

If your group has hikers under the age of 18, contact us prior to booking to make arrangements.

Registration for an adventure with your guide requires a 50% non-refundable deposit. The balance of program fees will generally be due 90 days prior to the starting date of the program. It is your responsibility to adhere to the fee payment schedule. Late payment will result in cancellation of program reservations and forfeiture of all fees paid.

If your guide has to make an alteration to the time of departure or return to the your home exceeding 12 hours between the date of your booking and the date of departure to, you can decide no to proceed with the booking. In that case, you can:

transfer your booking to another trip without incurring a transfer charge but subject to an appropriate adjustment up or down to the sums payable
cancel your booking without penalty.

If your guide increases the basic price of the trip by 10% or more and you do not wish to continue with the trip, you may cancel your booking and get a full refund in respect of the basic cost of the trip but your guide will not be responsible for other incurred costs.

Should you cancel for any other reason the following charges will apply:

more than 30 days before the expedition – loss of deposit
20 to 29 days before departure – 30% of total cost
11 to 19 days before departure – 60% of total cost
less than 10 days before departure – 100% of total cost.

If your guide is forced to cancel your trip, you will be given the opportunity either to:

receive a refund of the basic cost of the trip paid to African Ascents
transfer to another trip without charge. If there is a difference in price between the cancelled trip and the trip to which you elect to transfer your booking, your guide will refund the difference if it is cheaper or invoice you for the supplement if it is more expensive.

If the reason for the cancellation less than 8 weeks before the advertised departure date is a lack of bookings, a compensation of $30 per properly booked person will be paid.

To get to the Rwenzori Mountains National Park, most people fly into Entebbe International Airport. From Entebbe, you can rent a car and take a 6-hour drive straight to Kyanjuki village, or you can take a bus ride (5 hours) or local flight (45 minutes) to Kasese, which is a 15-minute cab ride away from Kyanjuki village.

Once you and your guide agree on the details of your itinerary, your guide will suggest the best place to meet, whether that's at the Trekkers Hostel in Kyanjuki, Kilembe, or a predetermined location. The guide will choose the appropriate terrain dependent on conditions and the ability of the group.
Itinerary
Start the trip by walking through the tall forest trees of the Afro-montane forest zone. Be ready for a steady climb with the opportunity to see endemic flora and fauna. Troops of 15 to 20 white Colobus monkeys are commonly seen here. When you get to Sine Camp, enjoy the view of the nearby waterfalls crashing on the rocks far below, or just enjoy the warmth of a campfire. If you're up for an adventure, proceed straight to Kalama Camp at 10,282 feet (3,134 meters), or end the day in Sine Camp and get some needed rest.

Today's hike begins at 8:30 AM. Traverse the Bamboo-Mimulopsis Zone, a steep climb with many high steps. Enjoy the beautiful forest atmosphere as you climb an altitude of 1,807 feet (551 meters) to Kalama Camp, where you get to take a break and a quick cup of tea or coffee before heading on to Mutinda Camp. Follow a meandering ridgeside trail across several small streams and near moss-covered waterfalls. Follow a beautiful mossy river under the Giant Heather trees and the "old man's beards" hanging from their branches. If you wish, you can spend your afternoon climbing to the top of the Mutinda Lookout and take in the amazing views of the Rwenzori Mountains, Kasese town, and Lake George below. For anyone planning on climbing any of the Rwenzoris' main peaks, this is a great opportunity to acclimatize to the height and reduce the risk of altitude sickness.

Travel the boggy trail to Bugata Camp. Cross the Mutinda valley through the tussock grass and everlasting flowers interspersed with many Giant Lobelias before climbing a steep section to the Namusangi Valley. Enjoy the top-notch views of Mutinda Peaks and the waterfalls. Climb to Bugata Camp at 13,451 feet (4,100 meters), where you'll spend the night.

Trek to Hunwick's Camp via Bamwanjarra Pass and get a glimpse of some amazing views of the 3 main peaks. The trail passes down the valley and around the edge of some bogs and thick green vegetation. Take the chance to observe the unique Malachite Sunbird in its breeding grounds. Get ready for some steep sections before a steady climb up and over a ridge to Hunwick's Camp, situated on the top of a deep valley with excellent views of Mt. Stanley, Mt. Baker, Weismann's Peak, and McConnell's Prong.

Pass down and across the valley floor to the stunning Lake Kitandara. From there, climb up Scott Elliott's pass and over the ridge to Margherita Camp at 14,714 feet (4,485 meters). Take shelter from the strong winds and get some much needed rest here.

This day begins in the early morning hours. Wake up at 2 AM, catch an early breakfast and head off to climb Mt. Stanley. The ice here has been affected by global warming and is steeper and more prone to cave-ins as a result. Understand this and take advice from your guides on where to pass. If you have less mountaineering experience, stay on Stanley glacier and climb to a good vantage point on a rocky outcrop to enjoy fantastic views over Congo and the lower mountain ridges. Afterwards, make your way back to Hunwick's Camp.

Climb up a ridge towards McConnell's Prong, where you discover great views of all three peaks and Scott Elliott's Pass, before reaching Oliver's Pass at 14,780 feet (4,505 meters). Follow the trail cutting across below Weismann's Peak to the confluence of the Nyamwamba River, which flows down through Kilembe and Kasese to Lake George. Here you get the option to climb Weismann's peak at 15,157 feet (4,620 meters), with fantastic views of Margherita and Mt. Stanley, Mt. Speke, and Mt. Baker. Follow the meandering trail down the valley to Kiharo Camp where you'll spend the night.

Follow the downhill trail down the Nyamwamba Valley and enjoy views of cascading waterfalls, deep valleys, rivers, and moss-covered rocks. When the path becomes very steep with multiple waterfalls, move away from the river and follow a narrow ridge to bypass steep sections. Take a break in a huge rock shelter near the river. Admire the magnificent forest full of birds, primates, dikers, and hyrax — a fitting end to an excellent adventure!

More advanced climbers may opt to completely skip the visit to Mutinda Camp, opting instead to head straight to Bugata Camp on day 2 and shortening the trip to 7 days. This is only recommended for experienced climbers in immense physical condition, and it's not advised for bigger groups.
Get free trip brochure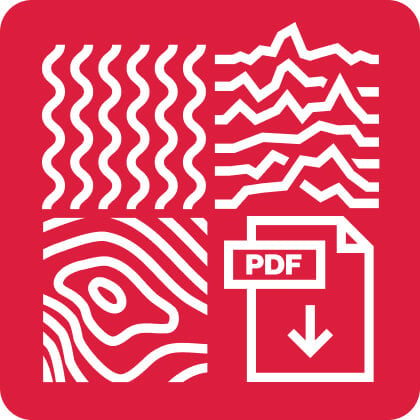 Adventure and location overview, itinerary, available dates, what's included and much more.
Brochure sent, check your inbox
Talk with us
and let one of our adventure experts help you plan your perfect adventure.
Other things to do near Rwenzori Mountains