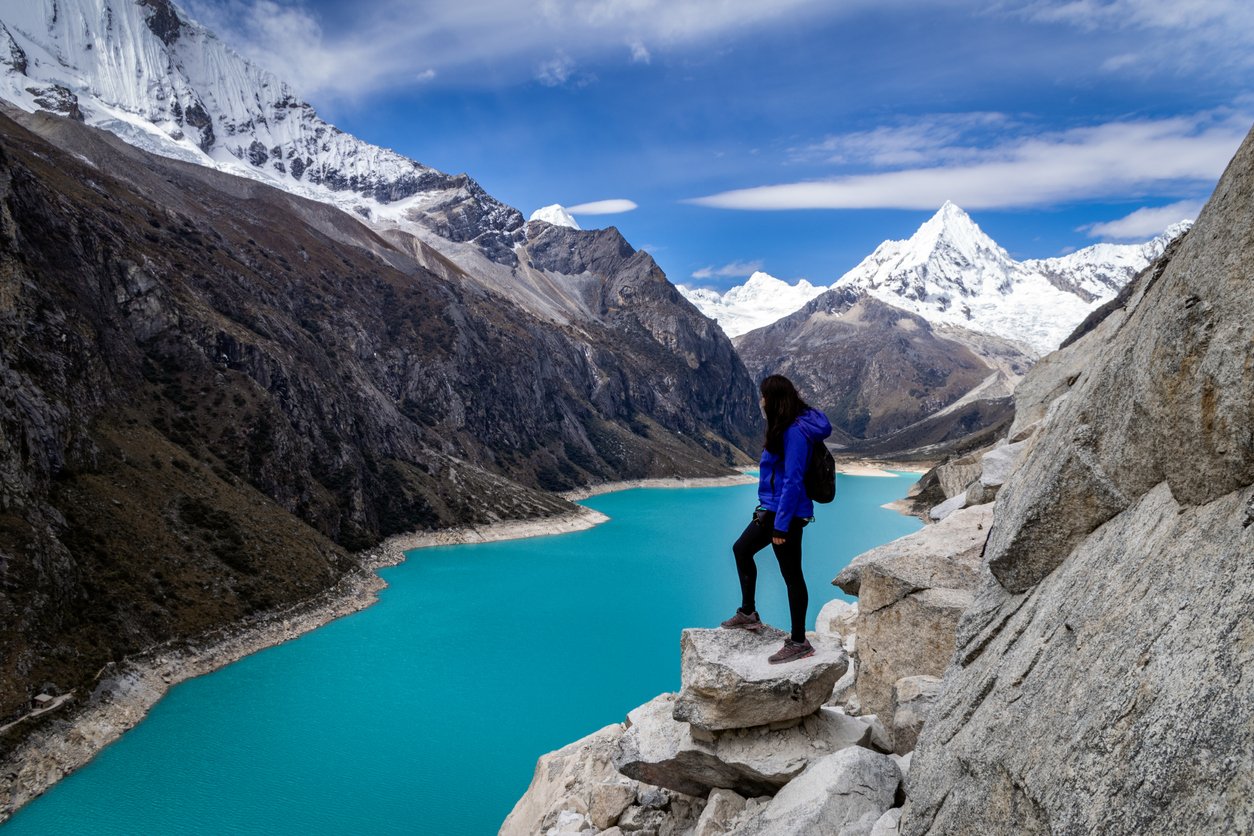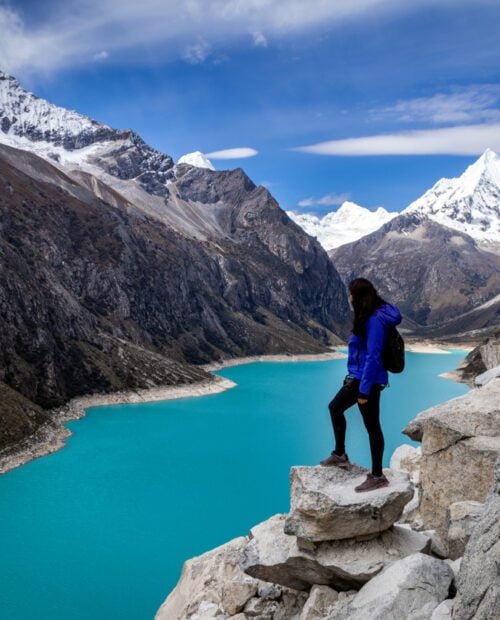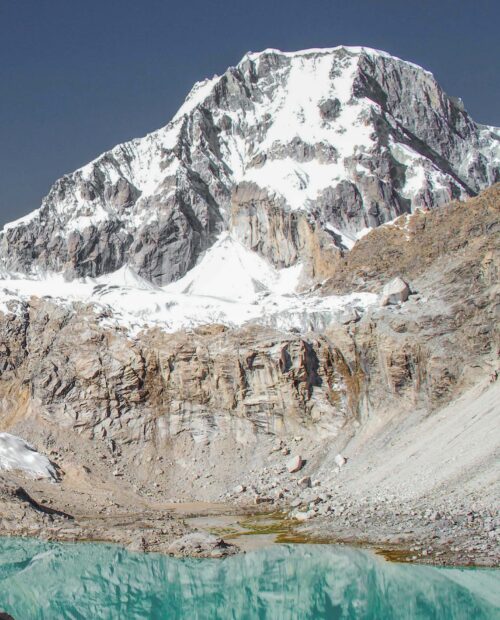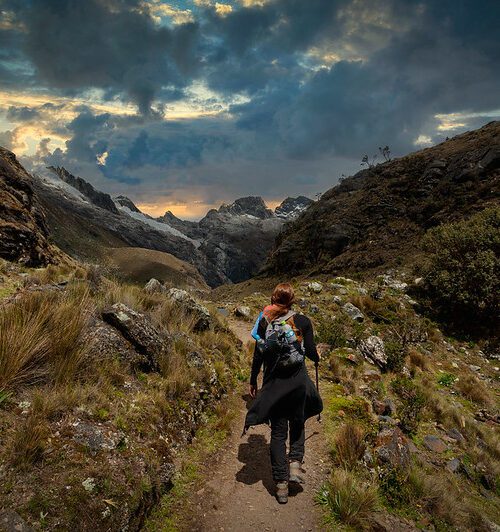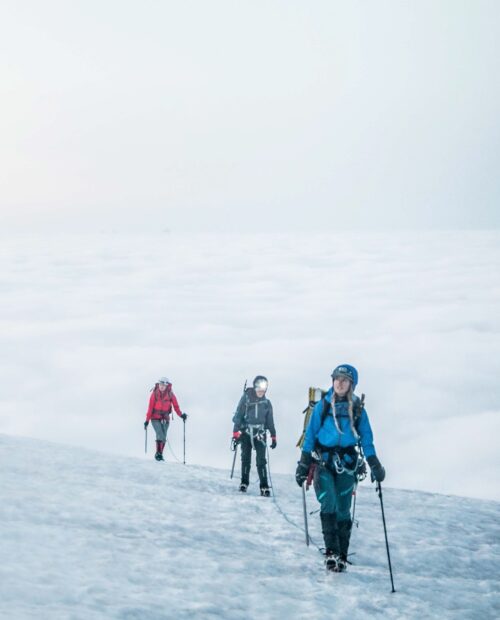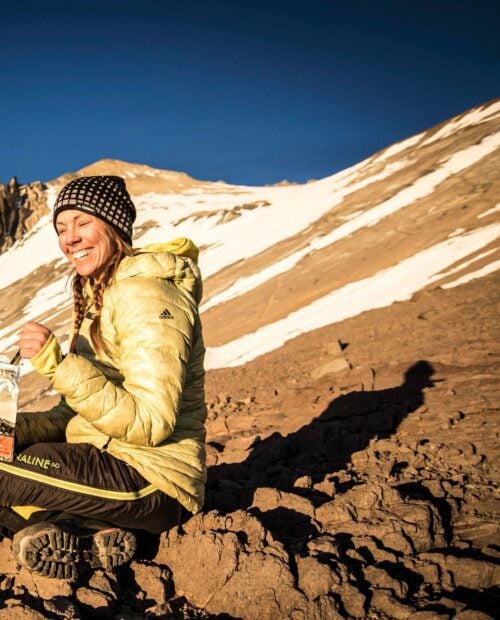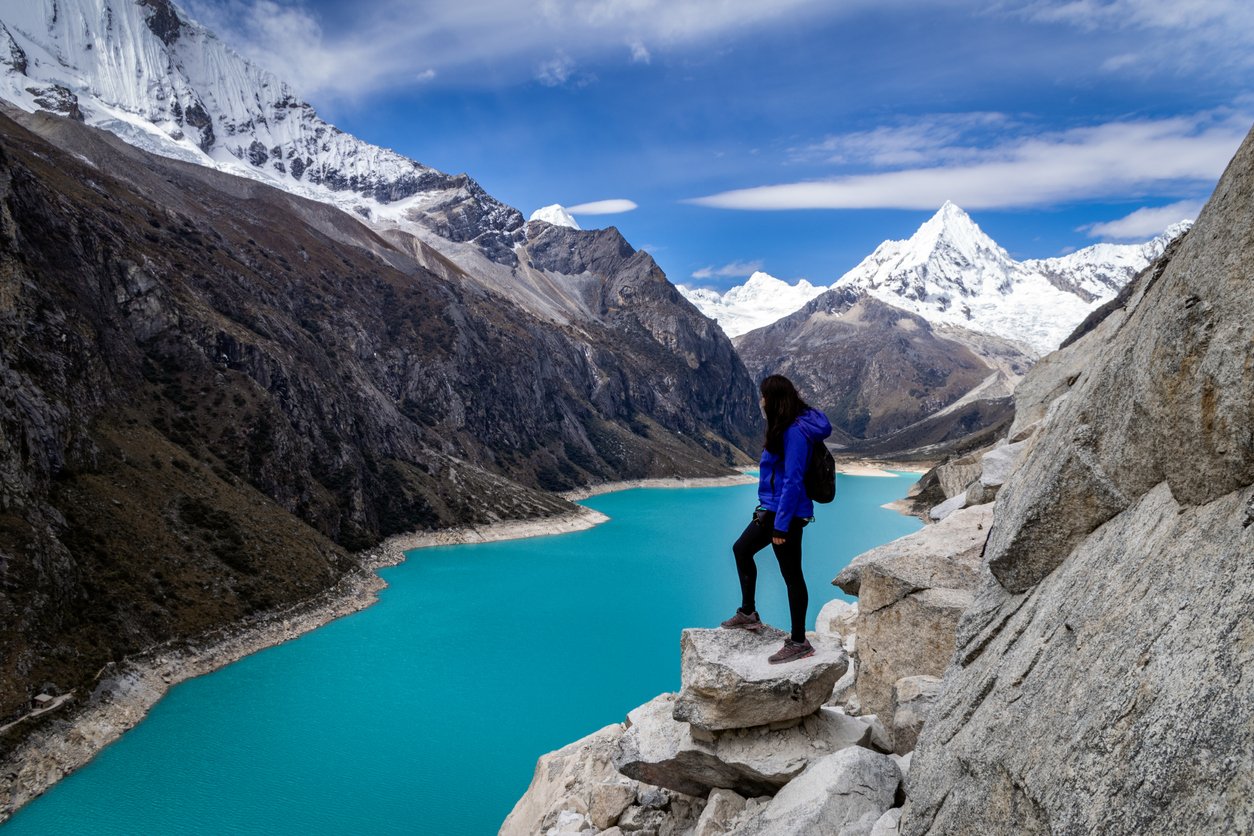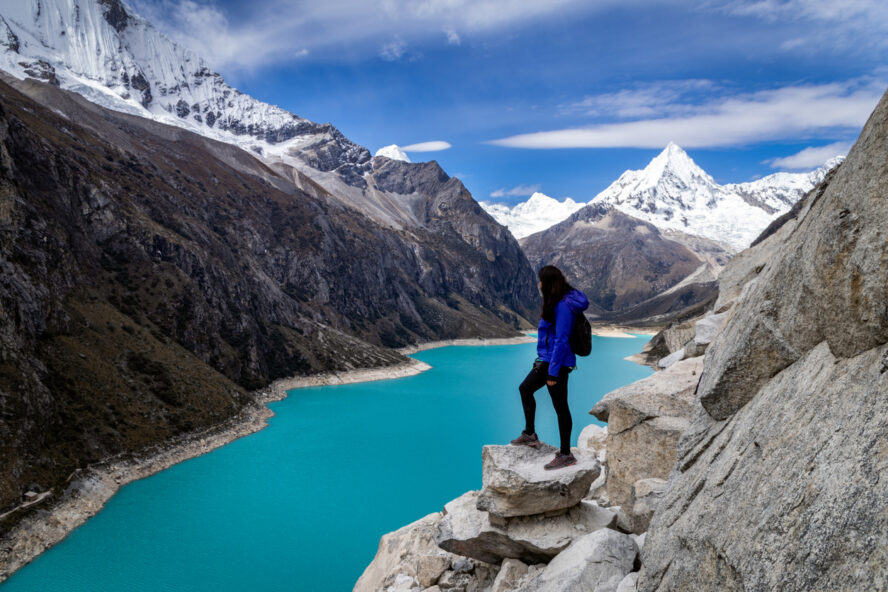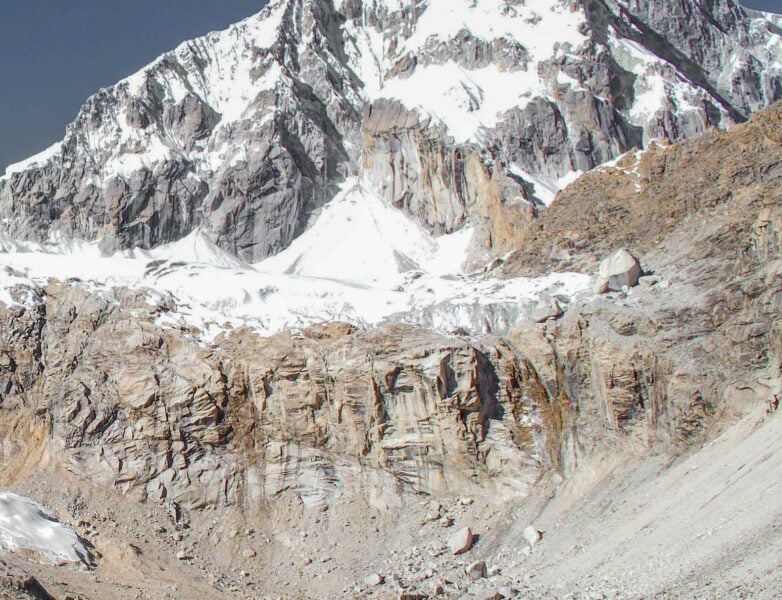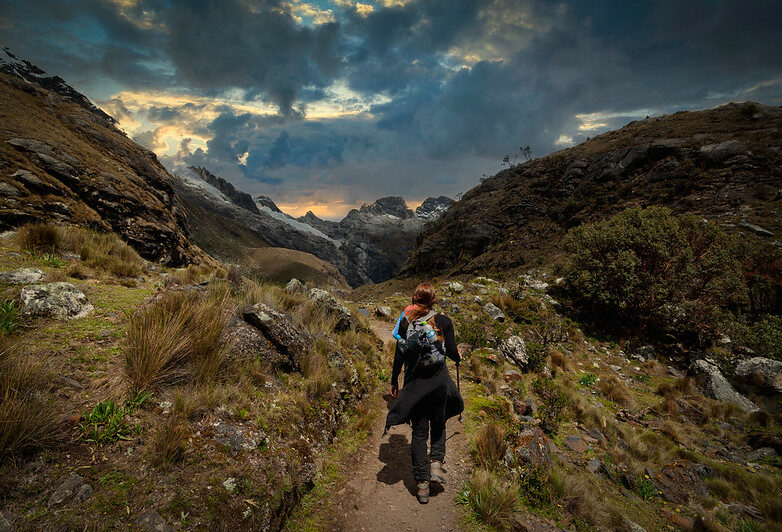 Climb Ishinca and Tocllaraju in the Cordillera Blanca
5.00

()
Once named "the most beautiful mountain in the world" by UNESCO, the 22,204 ft (6,768 m) Cordillera Blanca range is on every self-respecting mountaineer's bucket list. And with good reason—the range's endless wells of crystal-clear water, engaging glaciated and crevassed terrain, and majestic snow-capped peaks are a joy to traverse. And the best part? You can summit two massive peaks in one short expedition. The stunning Ishinca and Tocllaraju summits can be easily accessed from Huaraz, "South America's outdoor capital", which makes these two 20-plus-day objectives doable in just two weeks. The climb to the lower Nevado Ishinca (18,143 ft/5530 m) is a perfect opportunity to get acclimatized to the alpine conditions, as well as develop and solidify your glacier traversal skills. And when you triumph, you should feel confident enough to summit the more complex and challenging Tocllaraju peak (19,790 ft/6031 m). Cross off two world-class climbs off your bucket list, and soak in Peru's nature, culture, and, most importantly, great food.
Tackle two breathtaking expedition-level summits in a single tour

Elevate your mountaineering skills on the picturesque Nevado Ishinca

Put your alpine prowess to the test by summiting the intimidating Tocllaraju peak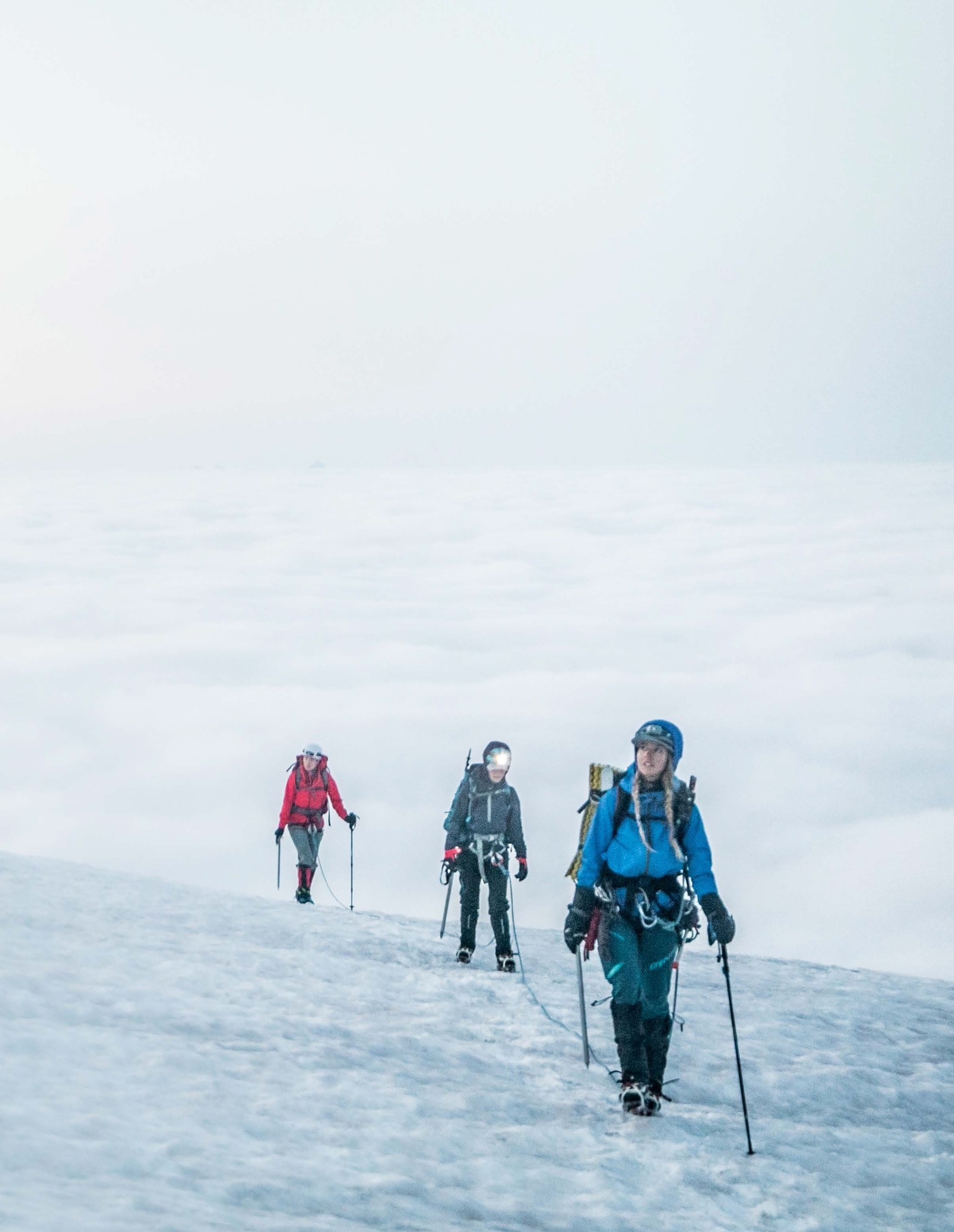 Itinerary
Get ready for jagged, steep peaks, glaciated crevassed terrain and expedition climbing at 19,685 ft (6,000 meters). Journey to Ishinca Valley, one of Peru's most famous mountaineering destinations, and conquer two stunning peaks in this women's mountaineering tour of Ishinca and Tocllaraju! Spend your days in the Cordillera Blanca overcoming a terrific mix of trekking and glaciated terrain challenges, and push yourself on two expedition-style high camp ascents. And when you're off the mountain, explore Peru's cities and fall in love with the country's colorful culture, great food, and welcoming people!
Make your way to Lima, where you will meet your guides and teammates over a welcome dinner. Spend the night at the Lima Hotel, finishing up your preparations for the trip.

Time for your bus trip from Lima to Huaraz. The ride will take around 8-9 hours, after which you will be transferred to the Andino Club Hotel in Huaraz, where you'll spend the night.
Altitude: 10,000 ft/ 3,048 m

Take the chance to explore Huaraz! This high-altitude city in the scenic Callejon de Huaylas will give you your first glimpse of Cordillera Blanca's snow-capped peaks. After a thorough gear check, spend another night at the Andino Club Hotel.
Altitude: 10,000 ft/ 3,048 m

After a filling breakfast in town, travel to the park for a full-day hike to Laguna 69 and back. This trip provides the perfect opportunity to acclimatize to the high altitude. Afterward, return to Huaraz's Andino Club Hotel for some sleep.
Altitude: 10,000 ft/ 3,048 m

After an early breakfast, make the drive to Pashpa at around 11,154 ft (3,400 m). Meet up with your courier donkeys and donkey handler. From there, hike to Huascaran National Park, where you'll register and prepare your gear. Spend the night at the Ishinca Base Camp.
Altitude: 14,110 ft/ 4,300 m

After a quick breakfast, pack up and ascend to high camp. This 3-4 hour hike is another great opportunity to get used to the altitudes in the Cordillera Blanca. Spend the night at the camp.
Altitude: 15,420 ft/ 4700 m

Rise early for a pre-dawn alpine start and push to the summit at 18,241ft (5,560 m). The ascent typically takes 4-7 hours. After the first hour, you will find yourself on glaciated terrain, where crampons, ice axes, and roped travel are required. The descent is much quicker, but you'll continue all the way down to Ishinca Base Camp.
Altitude: 14,110 ft/ 4,300 m

Time for a much-needed rest day! Spend the day kicking back or exploring the area around the Ishinca Base Camp. Your journey to the Tocllaraju summit begins tomorrow, so save your energy.
Altitude: 14,110 ft/ 4,300 m

You should feel well-rested and ready for some more climbs! Today's task is to make your way to the Moraine Camp, the starting point for your summit attempt on Tocllaraju summit. Spend the night at Moraine Camp.
Altitude: 14,110 ft/ 4,300 m

Your summit day on Tocllaraju (19,796 ft/6,034 m) begins even earlier than Ishinca—start climbing in the night and push for the summit in the early morning. The ascent should take you around 5-8 hours. Similar to the Ishinca climb, the descent is much quicker, but you'll continue all the way down to Base Camp, where you'll spend the night.
Altitude: 14,110 ft/ 4,300 m

After a filling breakfast, get ready for a hike out to Pashpa and back to Huaraz. Spend the night at the good old Andino Club Hotel.
Altitude: 10,000 ft/ 3,048 m

Spend another day sightseeing and relaxing in Huaraz. When you're done, join your team for a celebration dinner! Spend another night at the Andino Club Hotel.
Altitude: 10,000 ft/ 3,048 m

The trip is nearing its end. Get ready for a 9-hour bus ride back to Lima, where you'll spend the night at the Lima Hotel.

Another day of sightseeing and relaxation in Lima topped off with a farewell team dinner. Spend your last night in Peru at the Lima Hotel.

Time to head home! Say your farewells to your new friends—you never know, you may meet on future adventures.
Get free trip brochure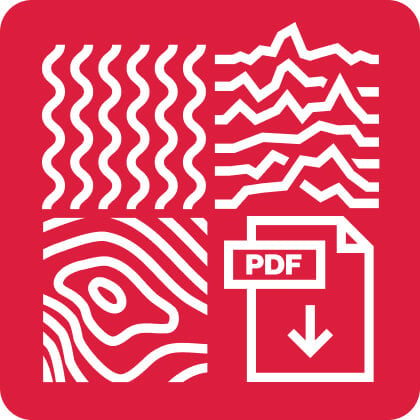 The brochure contains:
Adventure and location overview, itinerary, available dates, what's included, how to prepare, and much more.
Brochure sent, check your inbox
Talk with us
and let one of our adventure experts help you plan your perfect adventure.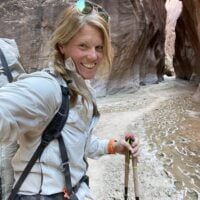 Sunny Stroeer
Lead guide and the owner of AWExpeditions
Lead guide and the owner of AWExpeditions
Sunny led a career-oriented life as an international strategy consultant with a Harvard MBA until a formative adventure on Aconcagua made her drop everything and take on the outdoors full-time. Before long, her exploits on high-altitude hiking and climbing routes saw her breaking speed records worldwide. When she's not traveling and setting FKTs left and right, Sunny organizes guided adventures, celebrates the sporting life and promotes female empowerment through her writing and photography.
AWExpeditions organizes mountaineering, high altitude and backcountry adventures for women, by women. AWE decreases barriers of entry to the world of big mountain adventures for women from all walks of life by providing a platform for women and organization adventures in all-female or predominantly-female environments. Today, AWE runs all-women's (and a few co-ed) trips across five continents, with more destinations in the works. The Paria Canyon Backpack is a collaboration between AWExpeditions and Kanab, UT-based Dreamland Safari Tours and the Shasta glacier course is produced in partnership with Shasta Mountain Guides.
Teresa W.
(source: Facebook)
I would follow Sunny anywhere! She is a strong, intelligent leader with a realistic understanding of the circumstances and limitations of the group in the moment and over the course of the expedition. Before the expedition, she set forth some expectations of ability with training milestones to meet to be set up for success. During the expedition, she will encourage and push for your own inner strength to shine through but will also suggest a descent if needed. That is why I'd follow her anywhere – I trust her level of awareness and knack for safety!!
Rammani R.
(source: Facebook)
Led by the most powerful and wonderful lady, Sunny. I highly recommend to anyone who is looking for an adventurous trip around the world, to directly contact Aurora Women's Expeditions.
Things to know
What you get in this adventure:

An experienced, English-speaking mountain guide and a local Peruvian guide
Transportation from Lima to Huaraz and back
Three nights of hotel accommodations in Lima
Five nights of hotel accommodations in Huaraz
Two team dinners in Lima, a team breakfast and dinner in Huaraz
Eight days of mountaineering with two summit attempts
All meals while in the mountains
Donkey porters to Ishinca Base Camp
Team gear including mountaineering tents, cooking gear, a team medical kit, and radio equipment

What's not included:

Technical climbing equipment
Personal backpacking equipment
Transportation to Lima
Other meals in Lima and Huaraz, snacks for the mountains
Mandatory personal rescue insurance
Optional medical and travel insurance

This tour is quite challenging and you need to be in very good physical condition to attempt it but it is a fantastic objective for the emerging high altitude expedition climbers. You will spend 8 days on your feet, trekking and traversing complex glaciated terrain at very high altitudes. Daily mileage range from 3 to 8 miles, with anywhere between 2,000 and 4,000ft of ascent.

The tour also includes two physically draining 8+ hour expedition-style summit attempts with alpine starts. To ensure you have a fun and safe tour, you should make sure that your cardio, physical strength, and uphill endurance are up to par.

For this tour, no prior mountaineering experience is necessary. However, previous hiking experience is required, and previous backpacking experience is highly recommended. Newcomers will get to develop and solidify their glacier travel skills and gear usage on the Nevado Ishinca prior to getting into position to summit Tocclaraju. Tocllaraju is a challenging climb that includes both complicated glaciated terrain and several sections of steeper angle snow climbing.

Both peaks are glaciated and require roped travel with ice axe and crampons. While challenging, Ishinca's normal route is mostly at low to moderate angles which makes it beginner-friendly and a great learning peak.  Summit day on Ishinca's is usually 6-8 hours long. Tocllaraju entails much more complicated, steeper terrain and a longer route to the summit.  A successful climb of Tocllaraju requires building on the skills you learned on Ishinca, plus excellent cardio fitness and speedy progress on the mountain. A summit day on Tocllaraju typically entails 12+ hours of continuous effort.

When it comes to technical climbing equipment, you'll need:

Helmet
Two locking carabiners
Crampons
Ice ax
Climbing or mountaineering harness
Trekking poles

Here's a list of the equipment we suggest you bring:

Mountaineering backpack (65-80L)
Sturdy waterproof duffle bag for all the equipment (e.g. XL or XXL Base Camp Duffel Bag from The North Face)
A small, lightweight duffel bag or carry-on suitcase
Buff and sun hat
Headlamp with extra batteries and/or charger
Beanie
Category 4 glacier glasses
Ski goggles
Lightweight liner gloves
Softshell gloves
Insulated mittens
Short underwear
Long base layer bottoms
Long sleeve sun shirt
Short sleeve base layer top
Midlayer top
Softshell pants
Waterproof hardshell pants
Softshell jacket
Waterproof hardshell jacket
Expedition-weight down jacket
Light hiking boots or trail shoes
Thick wool and trekking socks
Full-shank insulated leather or synthetic mountaineering boots
Mountaineering gaiters
Toiletries (sunscreen, toothpaste, toilet paper, etc.)
Sunscreen and lip balm
Small personal first aid kit
Personal documents, rescue, travel, and medical insurance info
Solar charger and/or power pack for mobile phone
Foam pad and inflatable sleeping pad
Sleeping bag rated to 20F or 0F
Compression stuff sack
Spoon, Mug, and Bowl
3L water capacity: nalgene bottles plus (optional) hydration pack
Disposable waste kits x2-3
Pee funnel or pee bottle — optional
Trash compactor bag
Camera — optional

You should aim to bring as much of the required gear as possible with you to Peru. While there are rental options on location in Lima and Huaraz, they are quite limited. If you still want to rent equipment, talk to your guides. They will inform you about availability and pricing.
Dress comfortably and for the weather in clothes you can move in. We suggest bringing clothing appropriate for the season.

On the way to basecamp, you'll have donkey support, which means you'll only carry a light pack (15-20lbs). The most weight you'll have to carry is on the two days when you move to your respective high camps for Ishinca & Tocllaraju, where donkeys cannot travel. At that point, you'll be carrying all of your personal gear including climbing gear, mountaineering boots, and your sleeping bag which can easily amount to 40lbs.

it is possible to skinny your weight above basecamp by securing additional porter support. Let us know if you'd like to discuss details and cost.

Group sizes and pricing:

For this tour, the max guest-to-guide ratio is 3:1.
A minimum of 3 participants is required for the tour to run, with a maximum of 8 participants per tour.
Cost is per person and it doesn't decrease as the group grows.

Mountaineering tours of Ishinca & Tocllaraju can be arranged for larger groups. Contact us to make arrangements.

Min. age requirements:

If you are older than 18, you're good to go.
Minors may be permitted to join the tour on a case-by-case basis.

If your group has mountaineers under the age of 18, contact us prior to booking to make arrangements.

A $500 non-refundable deposit to secure your place is due booking. The balance of the program fee is due 90 days prior to the starting date of the program. Once the trip is confirmed by the guide, the following cancellation policy applies:

If the Client cancels the trip more than ninety (90) calendar days prior to departure, Client is entitled to a full refund of the trip price less the non-refundable $500 deposit. The deposit remains transferable to another AWE departure within 24 months of your original trip departure date.
If the Client cancels the trip sixty-one to eighty-nine (61-89) calendar days prior to departure, Client is entitled to a 25% refund on payments made above deposit. The deposit remains transferable to another AWE departure.
If the Client cancels the trip zero to sixty (0-60) calendar days prior to departure, Client is not entitled to a refund. The deposit is not transferable to another AWE departure.

In some cases payments may be transferable; if you are required to forfeit your spot, you may find an acceptable replacement in which case your deposit and fees would transfer to your replacement without penalty.

Though unlikely, an expedition may be canceled for any reason prior to departure. In that event, the deposit and expedition fees paid by the participants will be refunded.

In the event of cancellation of a program and upon refund to participants of all program fee payments, the expedition organizer shall be released from any further liability to participants, including but not limited to liability for additional costs participants may have incurred, pre- departure expenses, non-refundable advance purchase air tickets, visa fees, equipment purchases and medical expenses.

Participants agree that beginning on the first date of the program itinerary, there will be no refunds of program fees for any reason whatsoever. Expedition participants agree the cost of any search and rescue undertaken on their behalf will be their financial responsibility. Including costs incurred by the expedition leader, other expeditions, government, and/or other entities.

To get to the Cordillera Blanca in Peru, most people fly into Jorge Chávez International Airport 10 minutes away from Lima. From there, you can take a bus, taxi, or shuttle to Lima.

Once you and your guide agree on the details of your itinerary, your guide will suggest the best place to meet, which will usually be over dinner at the Lima Hotel. From there, you'll head to your tour. The guide will choose the appropriate terrain dependent on conditions and the mountaineering ability of the group.

Many climbers are able to summit Ishinca & Tocllaraju without medication, but if you haven't been to 20,000ft before there is no telling how your body will react to extreme altitude. Our bodies' ability to acclimatize is mostly determined by genetics, and the best predictor for your ability to acclimatize is prior performance at high altitude.

Here's a few tips on dos and don'ts for adapting to the altitude:

Do not eat heavy food the day before traveling to high-altitude locations
Make sure you drink between 6-8 glasses of water the days before your trip and during your stay in high-altitude locations

Generally, Peru is safe to visit. Like all countries, it has some bad neighborhoods, crime and political instability. However, there is no need to be concerned about political unrest.

Peru has a lower murder and overall crime rate than the US, yet make sure to take standard safety precautions – don't leave your belongings unattended, avoid venturing solo after dark. You'll find that Peru is overall very welcoming and tourist-friendly.

57hours is committed to providing safe outdoor adventure experiences. We require all guides using our platform to have a COVID-19 safety plan and to make the details of that plan accessible to travelers. In most cases, group sizes will be reduced, guides will avoid overcrowded locations, and other safety measures will be met depending on the location and activity.

We also expect clients to respect local regulations and take measures to protect themselves, guides and the communities they're travelling to. For more information on COVID-19 measures in Peru's Cordillera Blanca, please refer to Peru's official safe travel guidelines.

Please contact us if you have any questions or require further information. We are happy to provide you with the most up-to-date information!
Get free trip brochure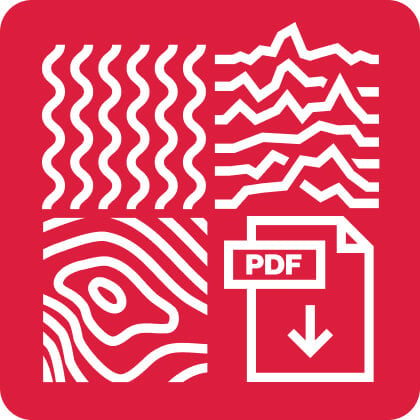 Adventure and location overview, itinerary, available dates, what's included and much more.
Brochure sent, check your inbox
Talk with us
and let one of our adventure experts help you plan your perfect adventure.
Other things to do in Peru