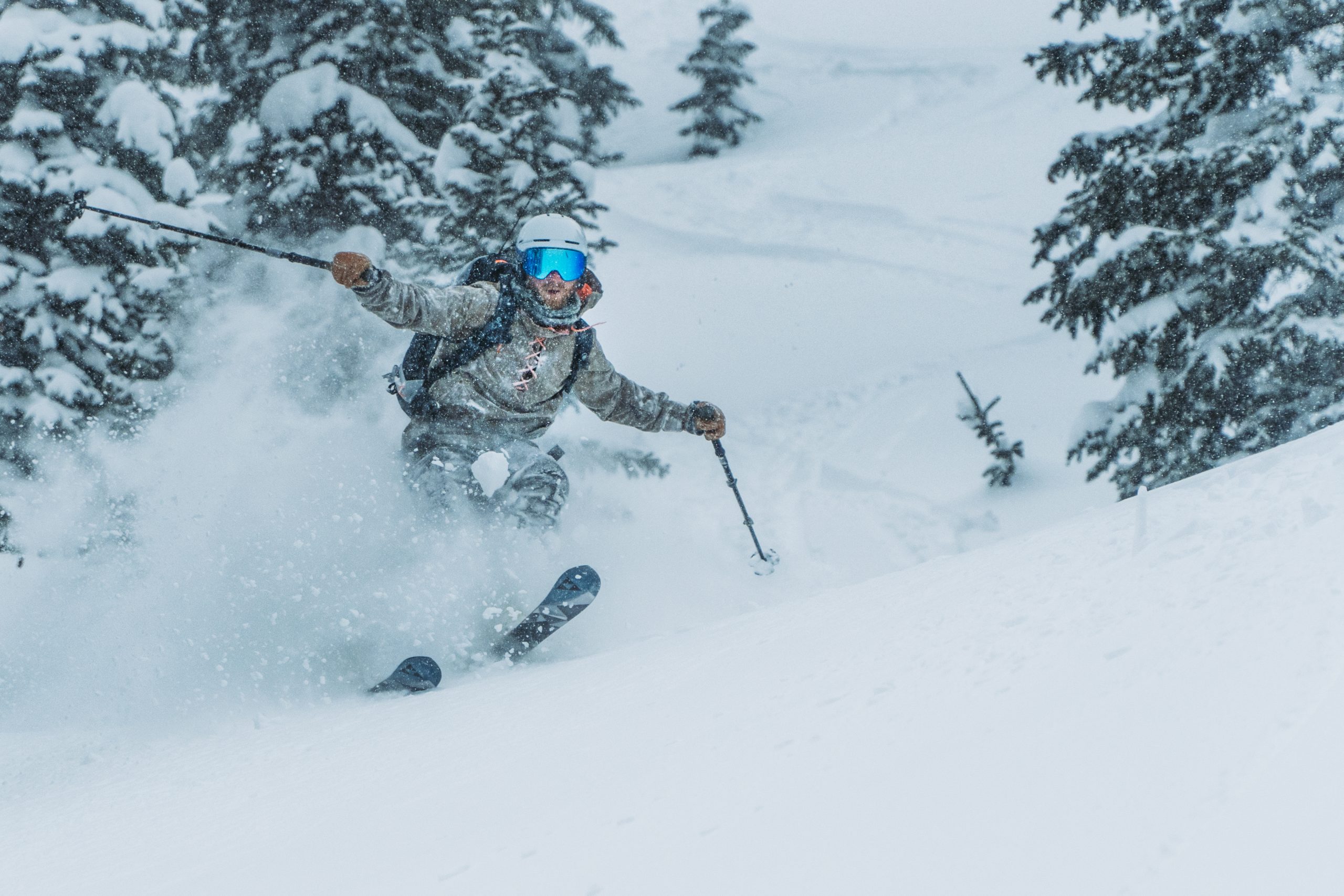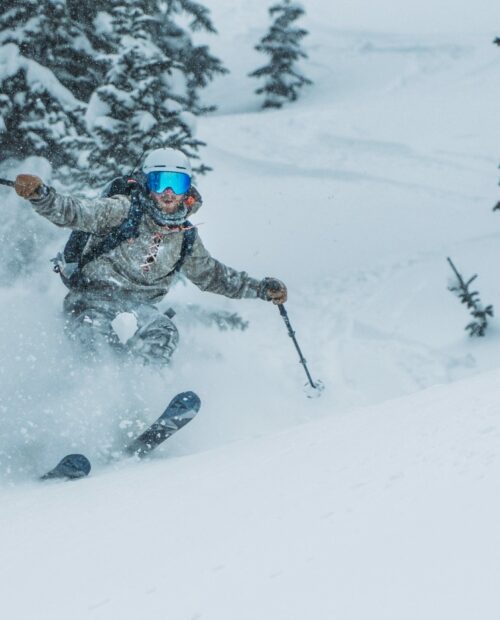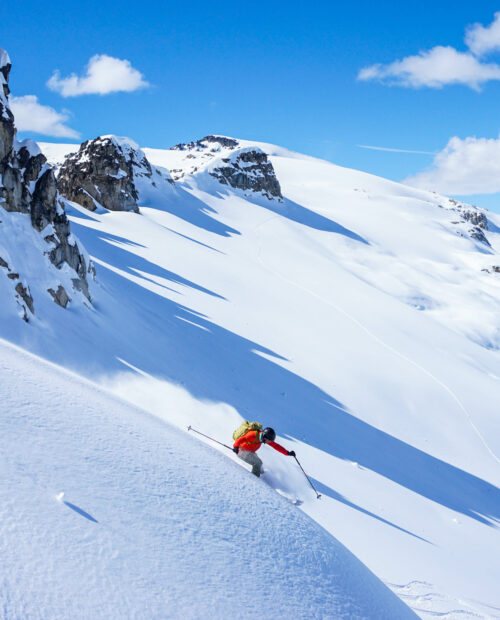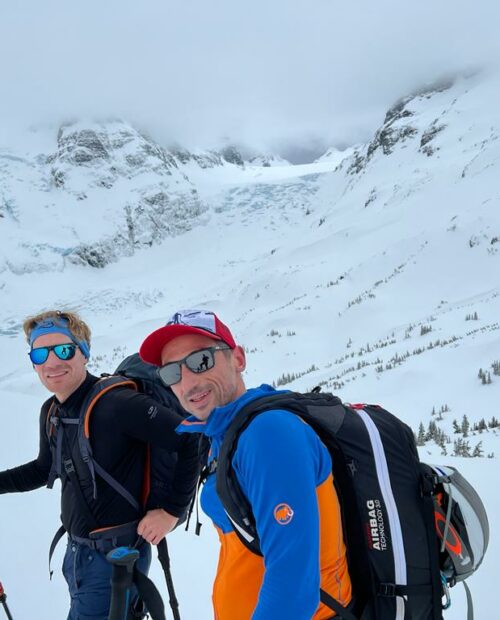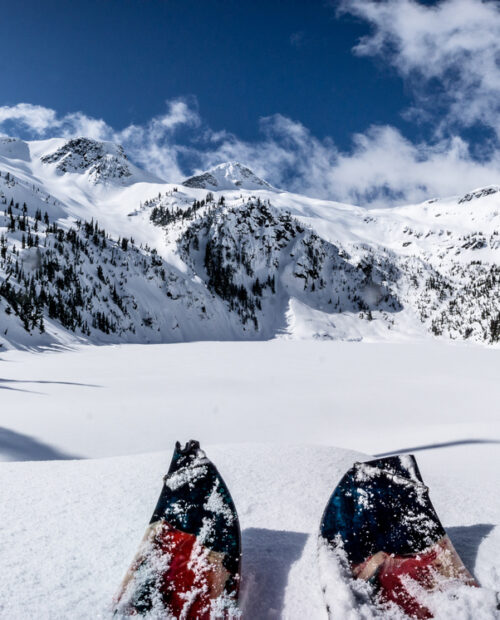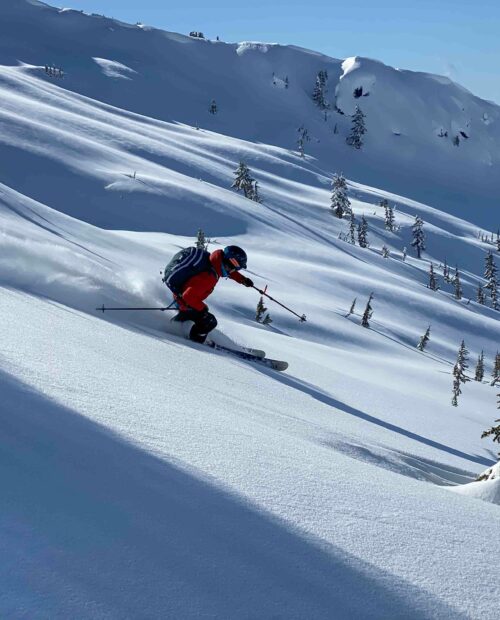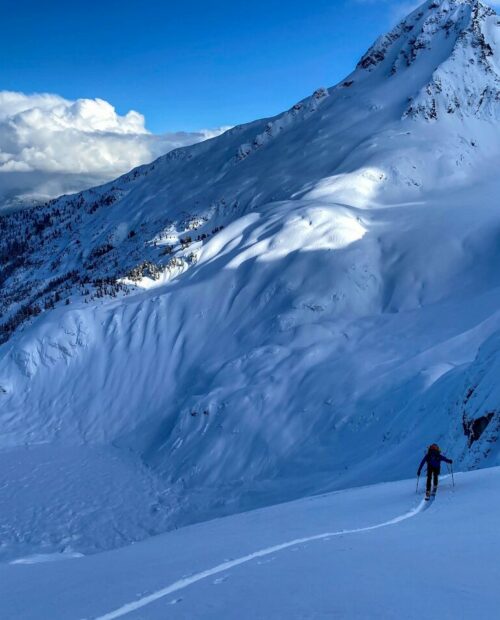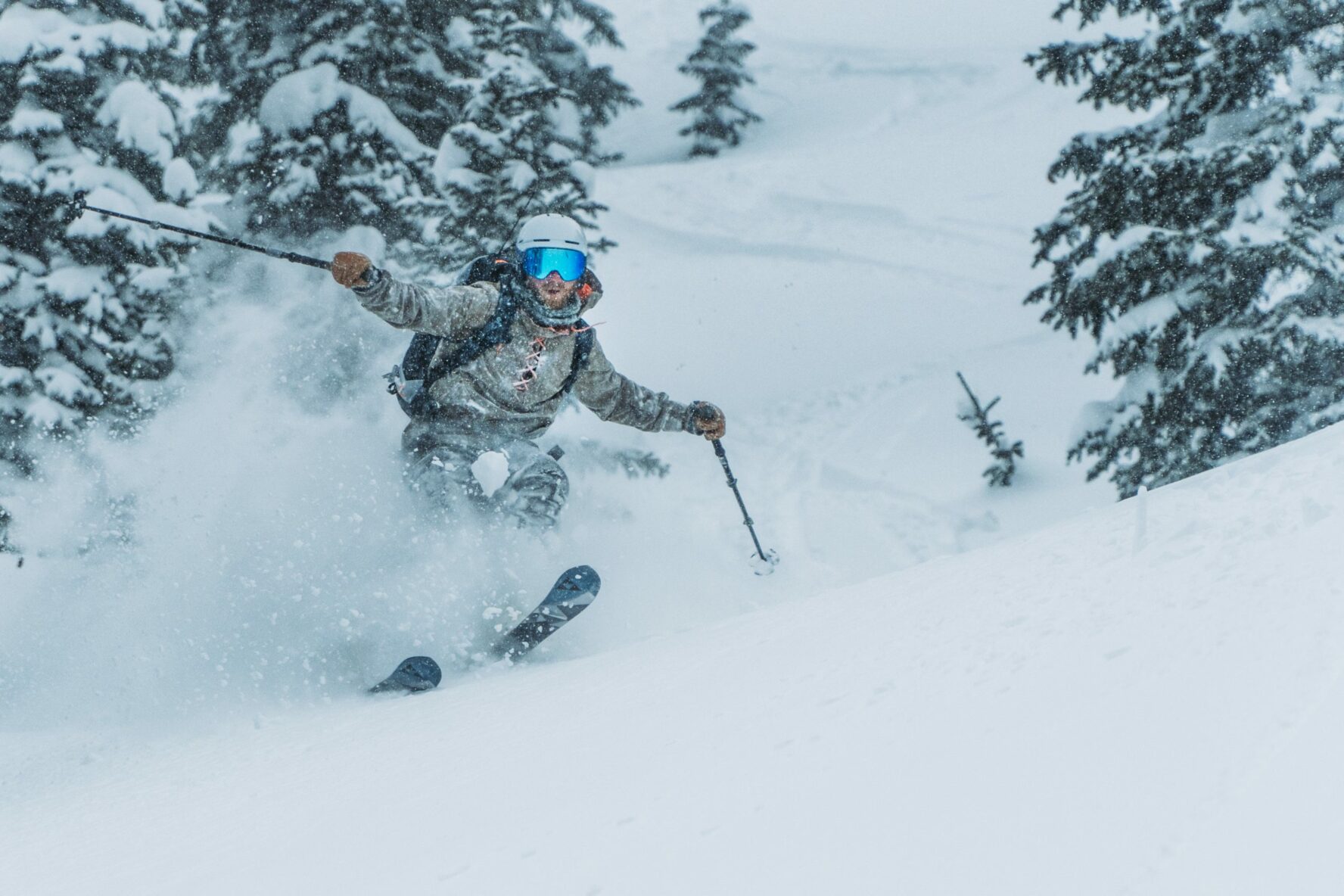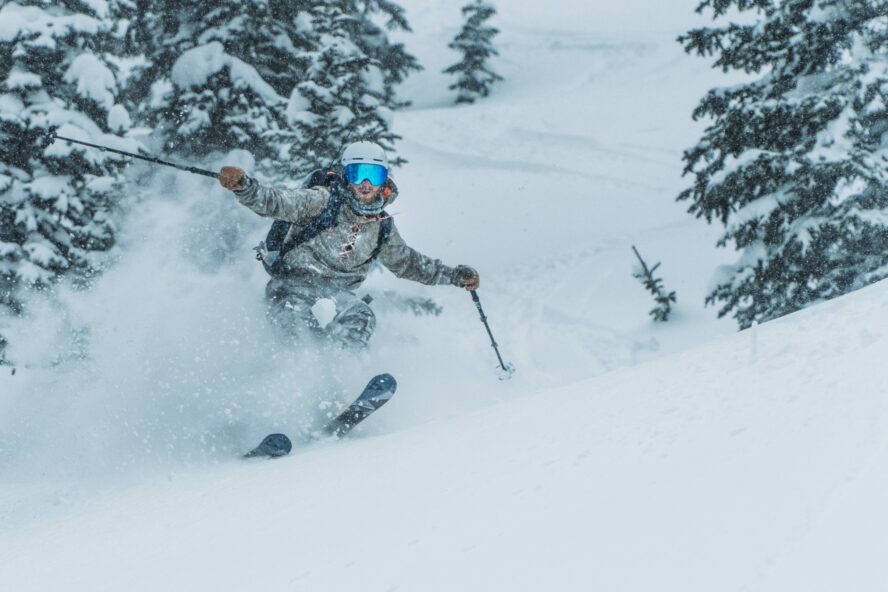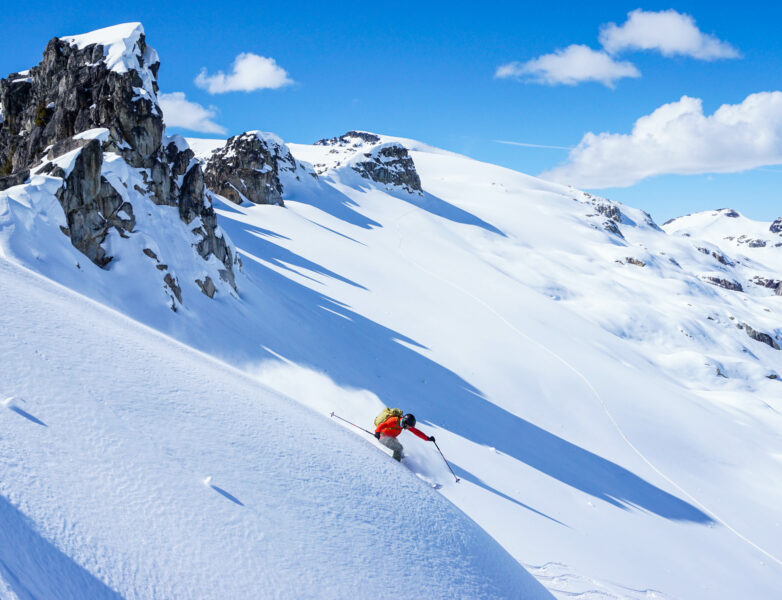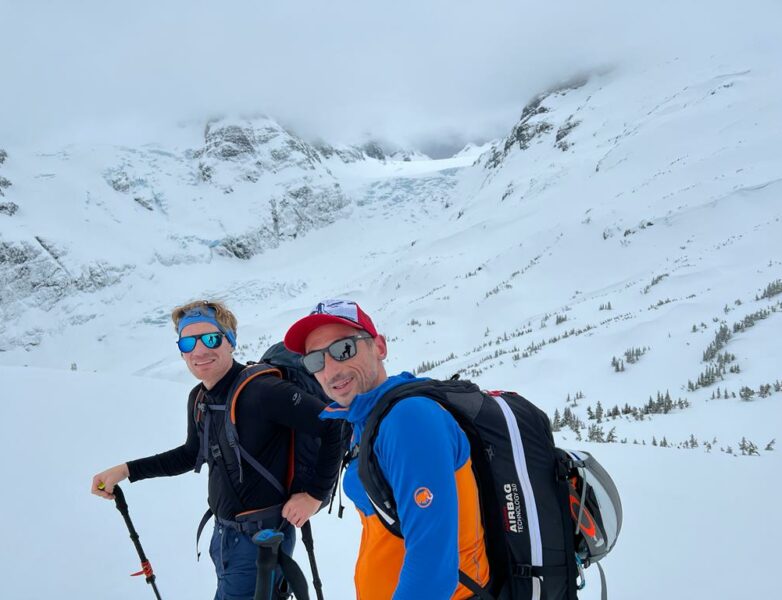 Canadian West Coast Ski Buffet! Resort, Backcountry & Heli Mix
If you know us, then you know we've traveled the world in search of the best snow—but what you might not know is that we found it. It's in British Columbia, Canada. Period. Not only does it have the low-density powder you see in ski movies, but it's also the region with the highest probability of good ski conditions which is crucial for people traveling from far away to ski in BC. This is a trip for folks who love skiing and have the skills and fitness to hit the slopes day after day. We'll mix together a couple of days of heli-skiing, the famed Whistler backcountry, and Journeyman Lodge-based ski touring. One thing is for sure—no matter the approach, you can expect the world's best snow beneath your skis day after day. Warning: after this trip, you might find it hard to be happy skiing anywhere else in the world.
Low-density powder that stays light for weeks after a snowstorm

2 days of heli, 2 days of backcountry, and 3 days of lodge-based skiing

Cozy chalet with a Scandinavian sauna and high-end hotel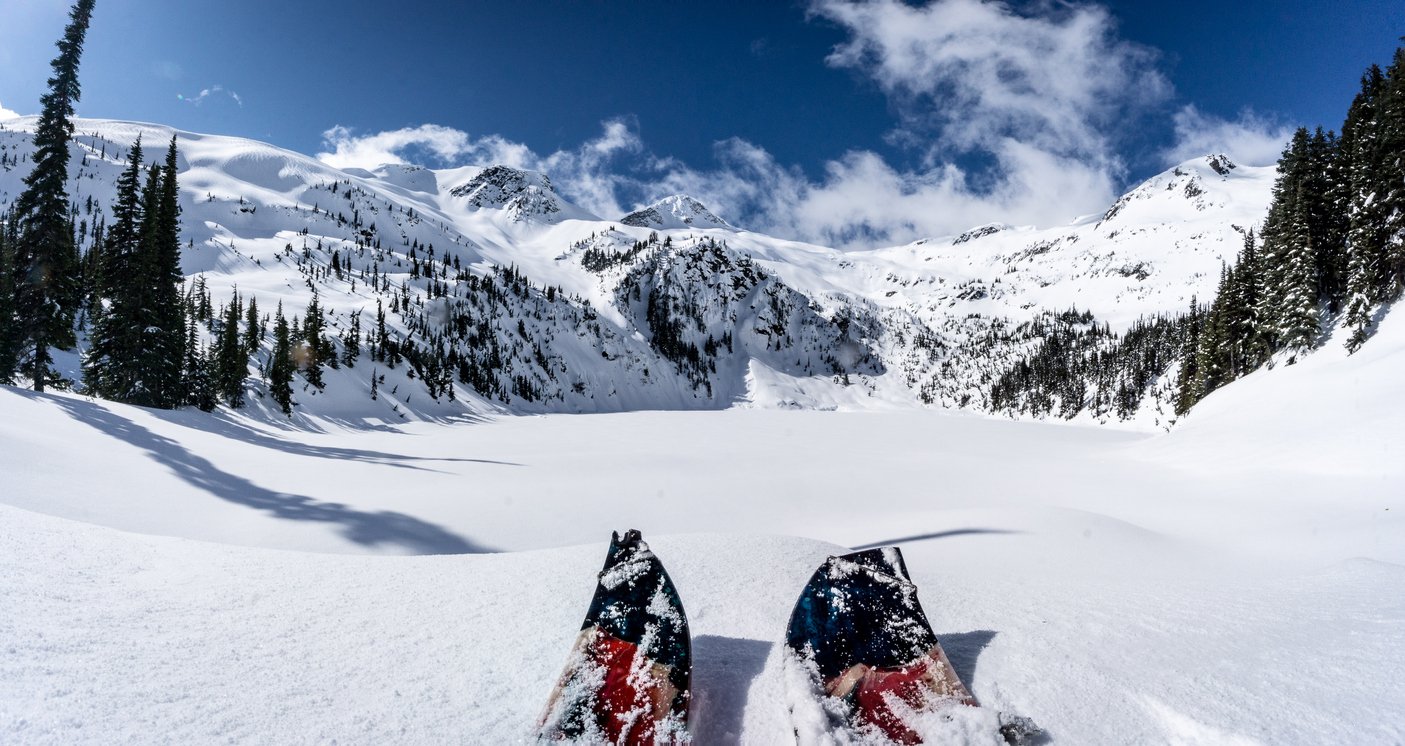 Itinerary
Monte Johnston, a Whistler native, will be our guide. Monte knows every ski run in a 200-mile radius and can find good snow in any weather conditions. He saves this trip for special groups only and we are lucky to have him available to guide us. Here is what he has in mind.
Monte Johnston, a Whistler native and an ACMG/IFMGA Mountain Guide, will be our host and our guide for this trip. Monte knows every ski run within a 200-mile radius and can find good snow in any weather conditions. He saves this trip for special groups only and we are lucky enough to have his guidance in BC's unparalleled backcountry. Check out the itinerary to see what he has in mind.

Make sure to arrive a day prior to your backcountry skiing adventure—you'll be based in Whistler, BC for the first leg of the trip. Use this day to meet your team, your guide, and review the upcoming days. Get a good night's rest!

Before hitting the slopes, we'll go through a presentation on safety protocols and get all of the necessary gear for heli-skiing. After this we will load into the copter and set out for our first run. It will take only a few minutes for the mountains to rise up around us, and suddenly for our huge helicopter to feel like a child's toy amongst the massive, snow-capped peaks. Our guides will start scouting our first run. With these tours, the guides pick your runs right there in the copter with you, guaranteeing you get the best snow and ideal conditions. When they settle on a spot, we will land and start skiing the literally untouched snow. After that, rinse and repeat for the rest of the day!
Meals: Breakfast, lunch, and dinner

For our next leg of the trip, we will have a backcountry experience tailored to our specific goals and skills! The lift-accessible slopes just beyond the Whistler Blackcomb resort boundaries are the ideal place to grow into your touring boots and learn the ropes of backcountry skiing. For the more seasoned skiers, the options are endless—choose to ride the pitches of Musical Bumps or the vast expanses of Spearhead Glacier, you really can't go wrong here. Whether it's Fissile Peak, where you'll be rewarded with challenging, glaciated alpine terrain, or the classic lines on Cowboy Ridge, you can look forward to experiencing some massive slopes in the most magnificent off-piste conditions.
Meals: Breakfast, lunch, and dinner

Even though Callaghan Country is only a 90-minute drive from Vancouver, arriving at the Journeyman Lodge feels like you're in a far more remote part of British Columbia, or even in the farthest parts of the world. Located just outside Whistler, BC, the Lodge is a perfect base for fantastic ski touring, great food, and luxurious accommodations. Each day, after breakfast, head out with your guide for a day of ski touring. At 4,500 ft (1,370 m) with an average snowfall of 20 ft (7 m), this alpine area offers the perfect terrain for backcountry adventures on skis or a snowboard. Explore new terrain or revisit your favorite runs from the day before. Unwind in the untracked Coast Mountain powder, and after hours of adventure, relax in the handcrafted Scandinavian wood-fired sauna.
Meals: Breakfast, lunch, and dinner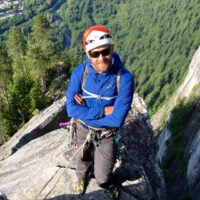 Monte Johnston
ACMG Ski Guide, ACMG Apprentice Alpine and Rock Guide
ACMG Ski Guide, ACMG Apprentice Alpine and Rock Guide
Monte is a ACMG Ski Guide, ACMG Apprentice Alpine and Rock guide based out of Squamish BC. He's climbed and skied all over the world but he settled in BC because of the easy access to amazing climbing and skiing.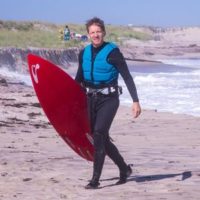 57hours founder Viktor is a passionate skier, climber, surfer, and a serial entrepreneur. What he enjoys most is showing people how great the outdoor lifestyle can be—this has led him to start 57hours, as a way to share his passion for the outdoors. Viktor is based in NYC, but he's adventuring around the globe.
Things to know
What you get in this adventure:

An experienced, ACMG/IFMGA Mountain Guide with extensive knowledge of the area
7 full days of backcountry ski touring in British Columbia
Transportation during the tour
Helicopter
Snowcat and sled shuttle to and from Journeyman Lodge
Luxurious lodge with a sauna and high-end hotel
Double-occupancy nook accommodation (inquire about single-occupancy and other upgrade options)
Meals during your stay
5% GST

What's not included:

Technical backcountry ski touring equipment (can be rented)
Transportation to and from the staging area
Beverages — make sure to bring some with you
Trip insurance
Guide gratuities — optional

In order to enjoy this adventure, you need to have a great level of fitness. You will be on your feet for seven full days. While there is terrain for all skill levels, this tour is ideal for experienced skiers, as you will need to manage controlled descents in variable conditions for seven days in a row. All participants should feel comfortable on challenging blue or black-level resort runs and be able to carry a loaded daypack while skinning up variable degrees of terrain.

This 7-day backcountry skiing trip in British Columbia is ideal for intermediate to advanced backcountry skiers. The terrain is challenging and technical, requiring controlled descents in sometimes tricky environments. If you're a beginner in the backcountry or have the blue-level resort experience, consider an introductory course to backcountry skiing with a guide.

For technical backcountry ski touring gear, you will need to bring:

Alpine touring skis, telemark skis, or splitboard with skins (can be rented)
Touring boots and poles (can be rented)
Avalanche safety equipment (can be rented):

Digital, 3-antenna avalanche transceiver or beacon
Lightweight snow shovel
Avalanche probe

For personal items, we recommend bringing:

Daypack large enough to carry all items you might need throughout the day (around a 30-40L backpack)
Helmet
Sunglasses or ski goggles
Face warmer
Light gloves
Insulated gloves or mitts
Brimmed cap and beanie
Wind and waterproof shell jacket with hood (Gore-Tex recommended)
Ski pants (Gore-Tex recommended)
Down jacket or vest
Synthetic or wool base layers, underwear, and socks
Comfortable lodge clothing, a nice shirt for dinners
One triple-action locking carabiner or two conventional locking carabiners
Repair kit and Leatherman for your equipment (can be shared between several people)
Water bottle and 1L of water
Thermos with a warm beverage — optional
Food you can eat on-the-go
First aid kit
Sunscreen
Headlamp with spare batteries
Toilet paper or WAG bag

All mandatory gear can be rented if you don't have your own. You can rent the following gear with Escape Route or Premium Mountain:

Avalanche safety pack (including backpack, beacon, shovel, and probe)
Alpine touring or telemark skis, touring boots, and poles
Splitboards

Ski rental locations are in Whistler and should be picked up the night prior to your outing. If you need to rent gear, let us know and we can help make arrangements.

Group sizes and prices:

The maximum group size for this backcountry skiing tour in BC is set at 10 people.

A 15% deposit to secure your place is due upon booking. The remaining amount is paid 3 months (90 days) prior to departure.

To get to Whistler, BC, most people fly into Vancouver International Airport 1,5 hours away. From there, you can rent a car or take a shuttle service to Whistler.

Once you and your guide agree on the details of the itinerary, an exact meeting spot will be determined.