Yellowstone National Park | Montana
Backcountry Skiing near Big Sky in Yellowstone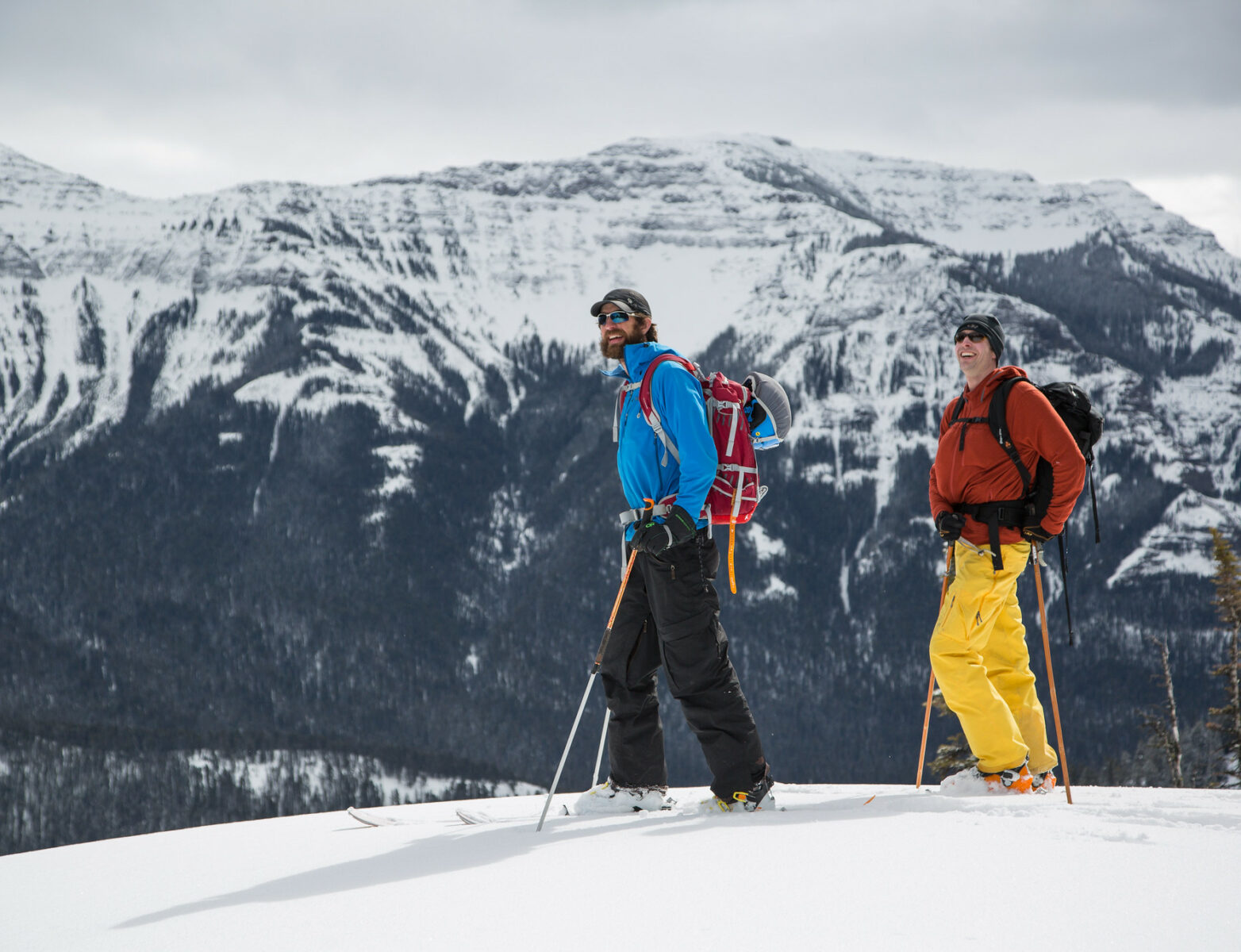 Nearest city
Big Sky, Montana is a 30-45 minute drive
Skill level
All skill levels are welcome
Experience the magic of Yellowstone's backcountry
Yellowstone might be one of the busiest national parks in the summer, but in the winter, it's all yours. The remoteness of Yellowstone makes for one of the most unique backcountry skiing experiences in all the world. Your certified guide will take you to the deep powder stashes of the park, where you may see fox and wolf tracks along with some amazing frozen waterfalls. With terrain that varies from alpine meadows to tree skiing to epic peaks, there's something for all interests and abilities. Incredible views, wildlife spotting and grand vistas await on your day of private guided ski touring.
Most Popular Itineraries
Private Intro Class to Backcountry Skiing
Ready to leave the resort behind and experience fresh powder away from the crowds? Yellowstone National Park is the perfect place to learn the ins and outs of backcountry skiing. Your guide will show you the basics and spend the day helping you perfect your techniques while earning your turns in one of America's most famous locations. You'll learn about backcountry gear, skinning uphill, snow safety and more in this one-day introduction to backcountry touring.
A Customized Day of Private Guided Backcountry Skiing
Let a certified guide with extensive knowledge of Yellowstone customize the perfect day of ski touring. Experience the best that Yellowstone has to offer with a day catered to your objectives and skill level. Tour through alpine meadows or spend your time crushing steep descents — it's all up to you.
Advanced Backcountry Ski Tour
From $285 per person
·
Full-day
Expect seven to nine hours of incredible backcountry skiing with a private guide. Whether it's knuckle-biting descents or a marathon ski tour, you'll be introduced to the best places in Yellowstone to suit your objectives. Your guide will handle the in-depth tour planning, route selection, terrain management and decision making — all you need to do is bring the stoke.
Things you need to know
Why should I book with 57hours?
With us, it's all play and no work for you! 57hours is an open platform that connects you with trained and certified outdoor adventure professionals all over the world. Using our tech-savvy, we make it super easy to find and book adventures worth tackling, with guides worth booking, all gathered from the first-hand experiences of the locals who adventure in these amazing locations.
Why should I go backcountry skiing?
Spend less time waiting in chairlift lines and more time skiing! Leave the crowded resort behind and head into the backcountry for some of the best powder you'll ever experience. Nothing beats the rush you'll get from laying down first tracks on an incredible route with nothing but endless terrain laying before you. It's everything you get from resort skiing, only better.
What can I expect from skiing with a guide?
A certified ski guide will take all of the guesswork out of your time in the backcountry. From tour planning to route selection, terrain management, avalanche safety, and gear knowledge, your guide's expertise and backcountry experience will ensure you have an unforgettable ski touring adventure. It doesn't matter your skill level, whether you've never backcountry skied or you're seasoned on the slopes, skiing with a guide has its advantages. Your techniques will sharpen, you'll learn how to navigate terrain safely, make smart decisions, and most of all, you'll remain safe in unfamiliar terrain.
What if I've never backcountry skied before?
Backcountry skiing isn't just for pros looking for the ultimate thrill ride, it's also beginner friendly, meaning anyone with blue level resort experience can have fun in the backcountry. If you've never backcountry skied before, heading out with a guide is your best bet. They'll take care of the planning, introduce you to the basics, like skinning uphill, and teach you how to manage the terrain. They also have the experience and avalanche training to keep you safe.
What's included?
What you get in this adventure:
An experienced, certified ski guide with extensive knowledge of the area
A full day of backcountry ski touring
What's not included:
Technical backcountry ski touring equipment
Trip insurance
Price does not include 3.5% land use charge
How fit do I need to be?
In order to enjoy this backcountry adventure, you need to have a moderate level of fitness. You will be on your feet for a full day. While there is terrain for all skill levels in Yellowstone, you will need to manage controlled descents in variable conditions. All participants should feel comfortable on blue level resort runs and be able to carry a loaded daypack while skinning up variable degrees of terrain.
What equipment do I need to bring?
For technical backcountry ski touring gear, you will need to bring:
Alpine touring skis, telemark skis or splitboard with skins (can be rented)
Touring boots and poles (can be rented)
Avalanche safety equipment (can be rented):

Digital, 3-antenna avalanche transceiver or beacon
Lightweight snow shovel
Avalanche probe
Harness for glacier travel
For personal items, we recommend bringing:
Wind and waterproof shell jacket with hood (Gore-tex recommended)
Ski pants (Gore-tex recommended)
Helmet
Synthetic or wool base layers, underwear and socks
Down jacket or vest
Gloves and hat
One triple-action locking carabiner or two conventional locking carabiners
Repair kit and Leatherman for your equipment (can be shared between several people)
Water bottle and 1L of water
Food you can eat on-the-go
Sunglasses or ski goggles
First-aid kit
Sunscreen
Daypack large enough to carry all items listed (around a 30-45L bag)
Camera — optional
Can I rent equipment?
All mandatory gear can be rented if you don't have your own. You can rent:
Avalanche safety pack, including backpack, beacon, shovel and probe ($50/person/day)
Alpine touring or telemark skis, touring boots and poles can be rented from Grizzly Outfitters in Big Sky, MT
Splitboards can be rented from World Boards in Bozeman, MT
Ski rental locations are in Big Sky or Bozeman, MT and should be picked up the night prior to your outing. If you need to rent gear, let us know during the booking process and we can help make arrangements.
What's the itinerary?
Your backcountry ski tour will be fully customized to match your skill level and objectives. You and your guide will discuss route selection, skills development, and whatever else you'd like to focus on. From there, your guide will plan the perfect day tailored just for you taking into consideration factors such as weather and snow conditions.
Depending on your objectives, full days may start earlier and end later, but in general, your day will look like this:
8:30 AM: Meet your guide at the designated meeting point
9:00 AM: Head to the location of your backcountry ski tour
9:30 AM – 4:30 PM: Gear up, go over some safety considerations, and spend the day backcountry skiing on routes selected to best suit your group
4:30 pm: Back to the cars for debriefing and high fives
What is the minimum age requirement?
Everybody over the age of 18 is welcome on this backcountry skiing adventure.
Minors may be permitted to join private tours on a case-by-case basis. If you plan to ski with anyone under the age of 18, please contact us prior to booking to make arrangements.
What about group sizes and pricing?
For this adventure, the max client to guide ratio is 4:1. For advanced ski touring, the client to guide ratio is 3:1. The cost per person decreases as the group grows, so it's the perfect opportunity to backcountry ski with friends and family.
Ski touring in Yellowstone can be arranged for larger groups. Contact us to make arrangements.
What about bad weather?
Mitigating avalanche risk is paramount for any excursion in the backcountry — that's why it's best to tour with a guide! Rest assured, your guide will set objectives that are attainable for the weather conditions on that particular day. Of course, inclement weather can always get in the way of backcountry skiing, but your guide will know the best course of action to take if the weather takes a turn.
On the rare occasion of truly bad weather, your guide will present you with suitable, safe alternatives. The most common practice is to move to a nearby location if it exists, or to reschedule your backcountry ski tour to a more favorable day.
If backcountry skiing is not possible on your scheduled day and no options presented are viable, you will be issued a full refund.
Do I need insurance?
We highly recommended that all participants carry medical insurance. If you have an accident or medical emergency on or off the mountain, you'll avoid paying out of pocket for costly expenses. This covers everything from hospital treatments to emergency air transportation and more.
If you need assistance selecting the right insurance for your group, let us know and we will be happy to help!
Cancellation policy
With 57hours, you benefit from both our own cancellation policy as well as that of the individual guiding service that delivers your adventure. All policies regarding cancellation will be clearly laid out by your guide after booking your adventure, but rest assured that our own cancellation policy will work on top of what is provided by your guide.
For this adventure, 57hours offers a Moderate Cancellation Policy, which states:
If Client cancels the Booking anytime prior to thirty (30) calendar days in advance of the trip contemplated by the booking, Client is entitled to a full refund. For cancellations fourteen (14) to twenty nine (29) calendar days in advance, Client is entitled to a refund in the amount of fifty percent (50%) of the total amount paid when Booking. For cancellations zero (0) to thirteen (13) days in advance, the Client is not entitled to any refund.
For more information on terms and conditions, please visit our Terms of Service page.
Getting there
Most travellers fly into Bozeman International Airport. From Bozeman, Montana, it's an hour drive south to Big Sky via US-191. Then, from Big Sky, it's about 30-45 minutes south to powder backcountry skiing in Yellowstone National Park.
Guides we recommend
Montana Alpine Guides
Montana Alpine Guides
Discover the best powder powder stashes in Montana with the most experienced ski gu...