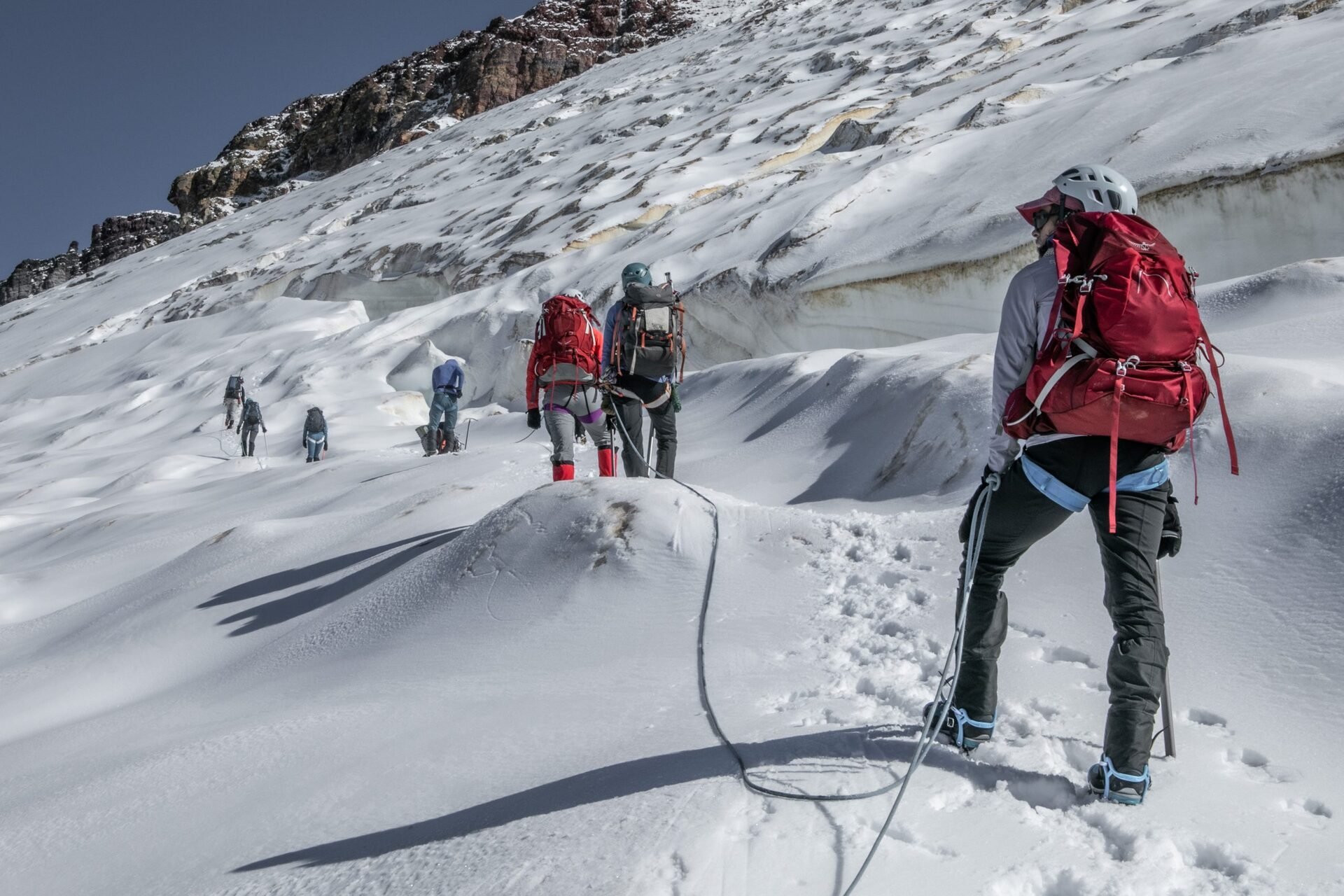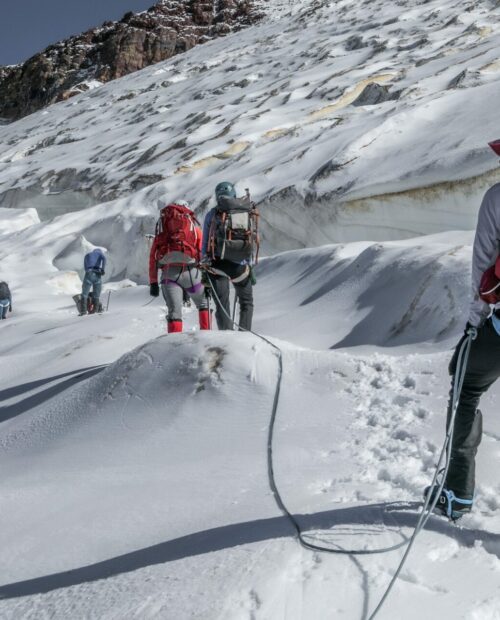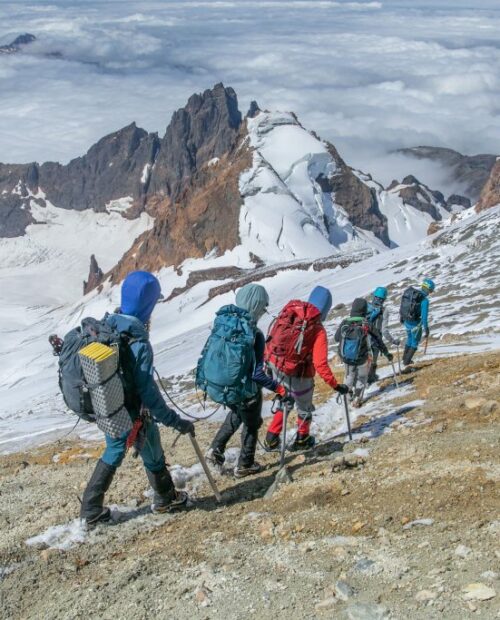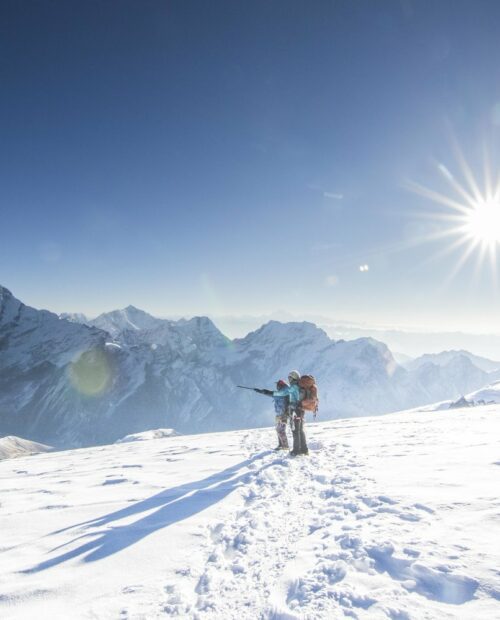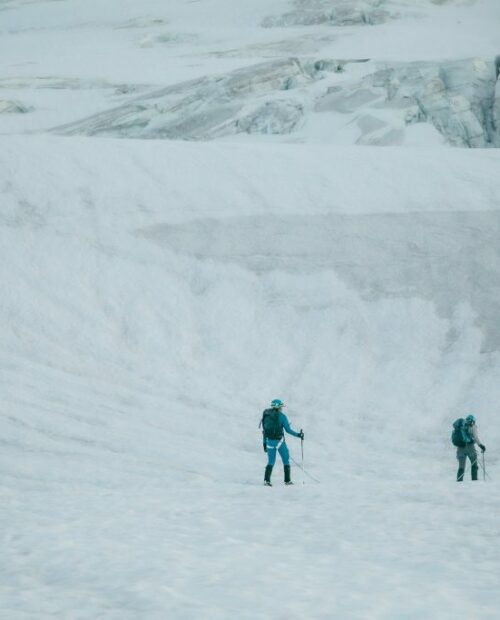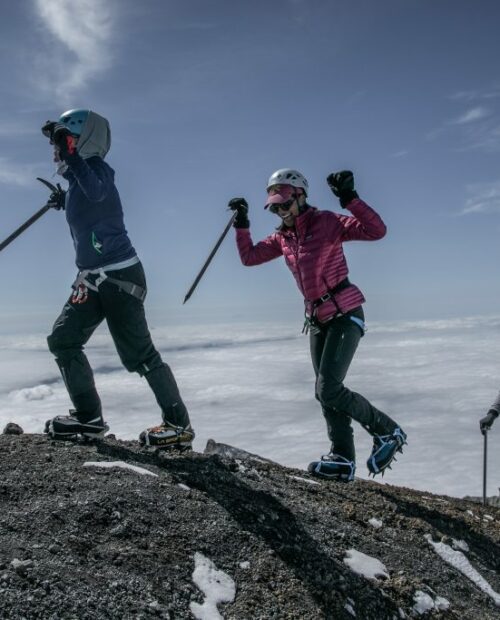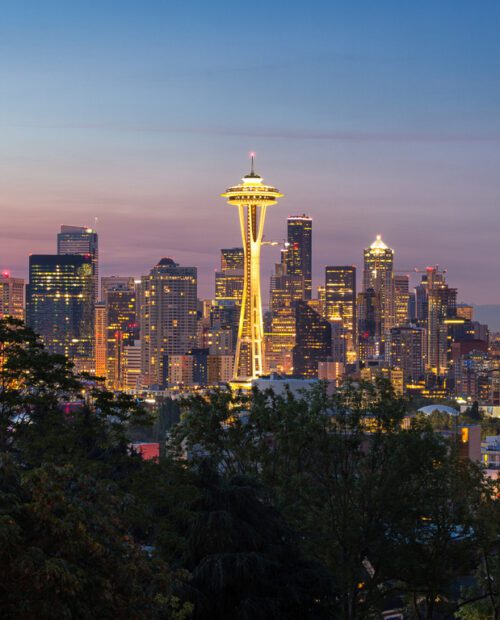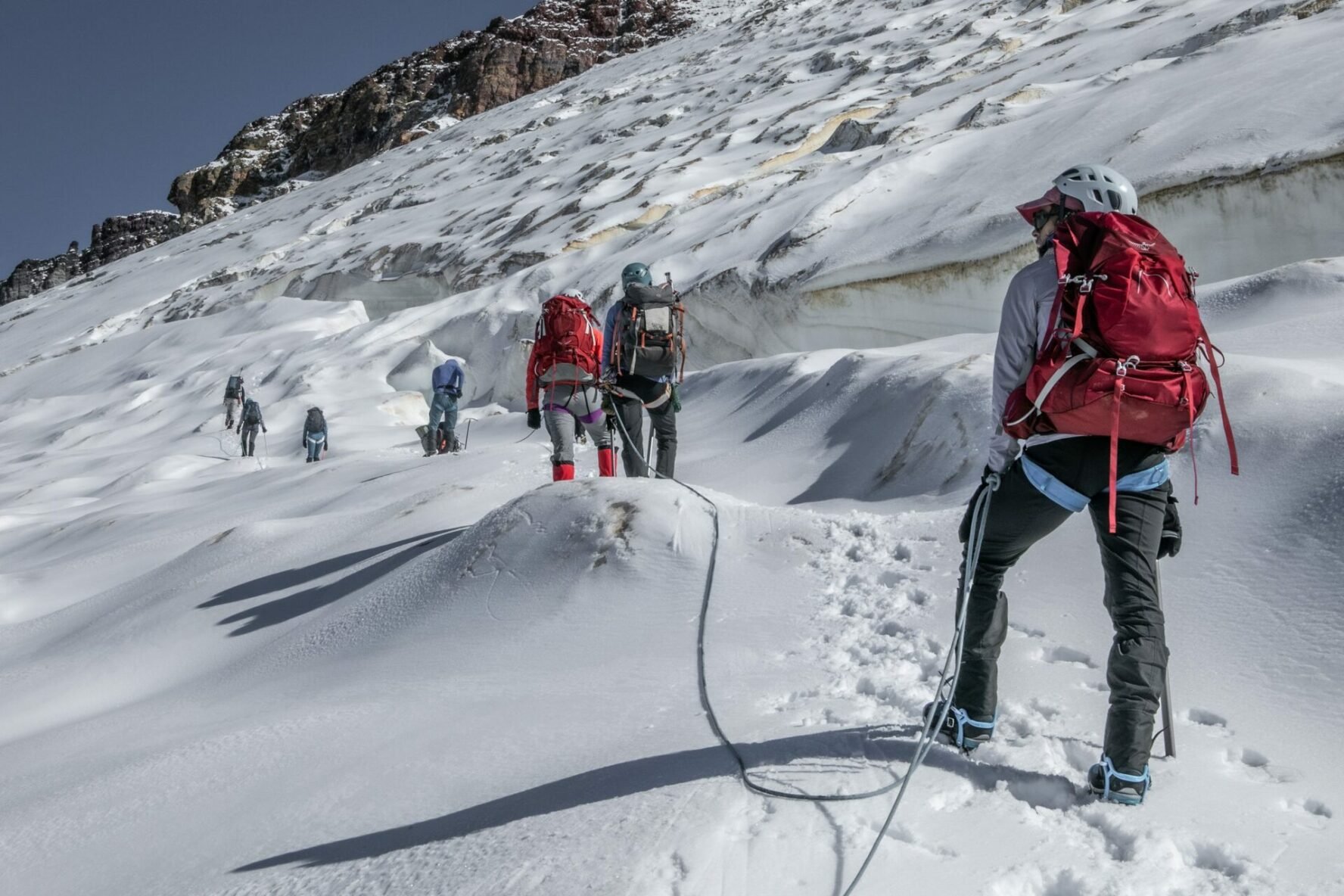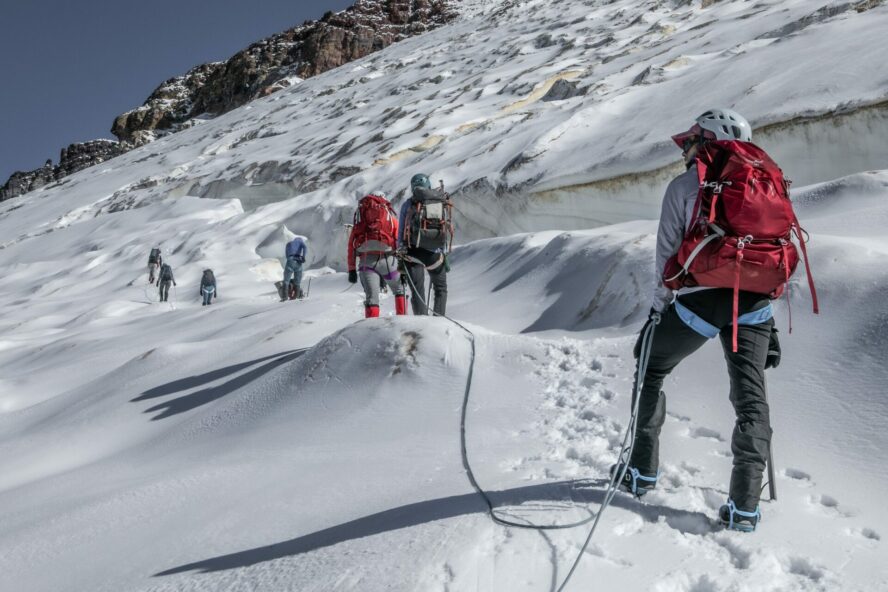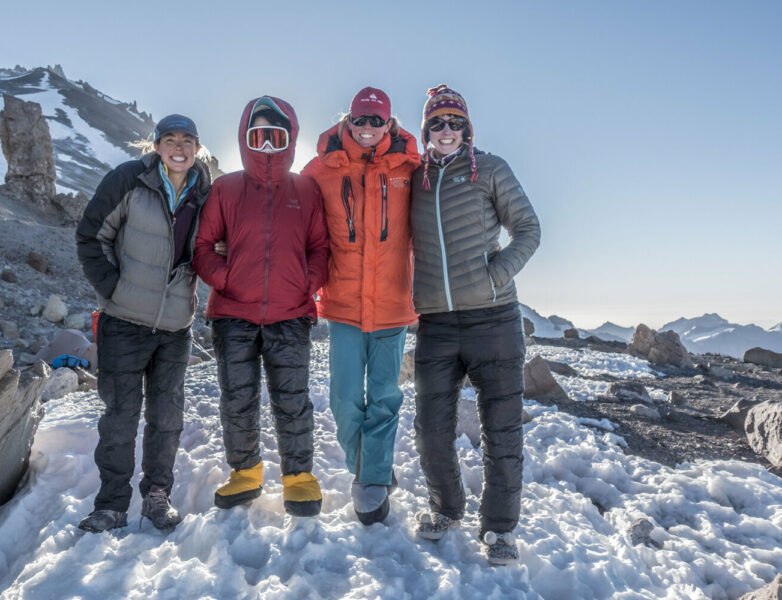 Climb Mount Baker With a Women-Only Team
5.00

()
At 10,781ft above sea level and 12 active glaciers, Mt. Baker is often considered the best glacier training venue in the US. This Cascadian volcano boasts breathtaking views and chal­leng­ing but extreme­ly reward­ing moun­taineer­ing terrain—a paradise for any alpine climber! The highest peak of Wash­ing­ton State's North Cas­cade has three classic routes that lead to the top, with the Easton Glacier considered to be the easiest way up. It is the best route for first time climbers as it offers a direct and relatively moderate route up the south side of the mountain with the fewest technical difficulties. Enjoy the magnificent panoramas filled with ice­falls, ser­acs, and large crevass­es that will leave you breathless, and learn everything about alpine climbing from well-experienced and friendly guides!
It's the second most glaciated mountain in the lower 48

Accessible to beginners and seasoned climbers alike

With 12 glac­i­ers and breath­tak­ing views, it's a paradise for any alpine climber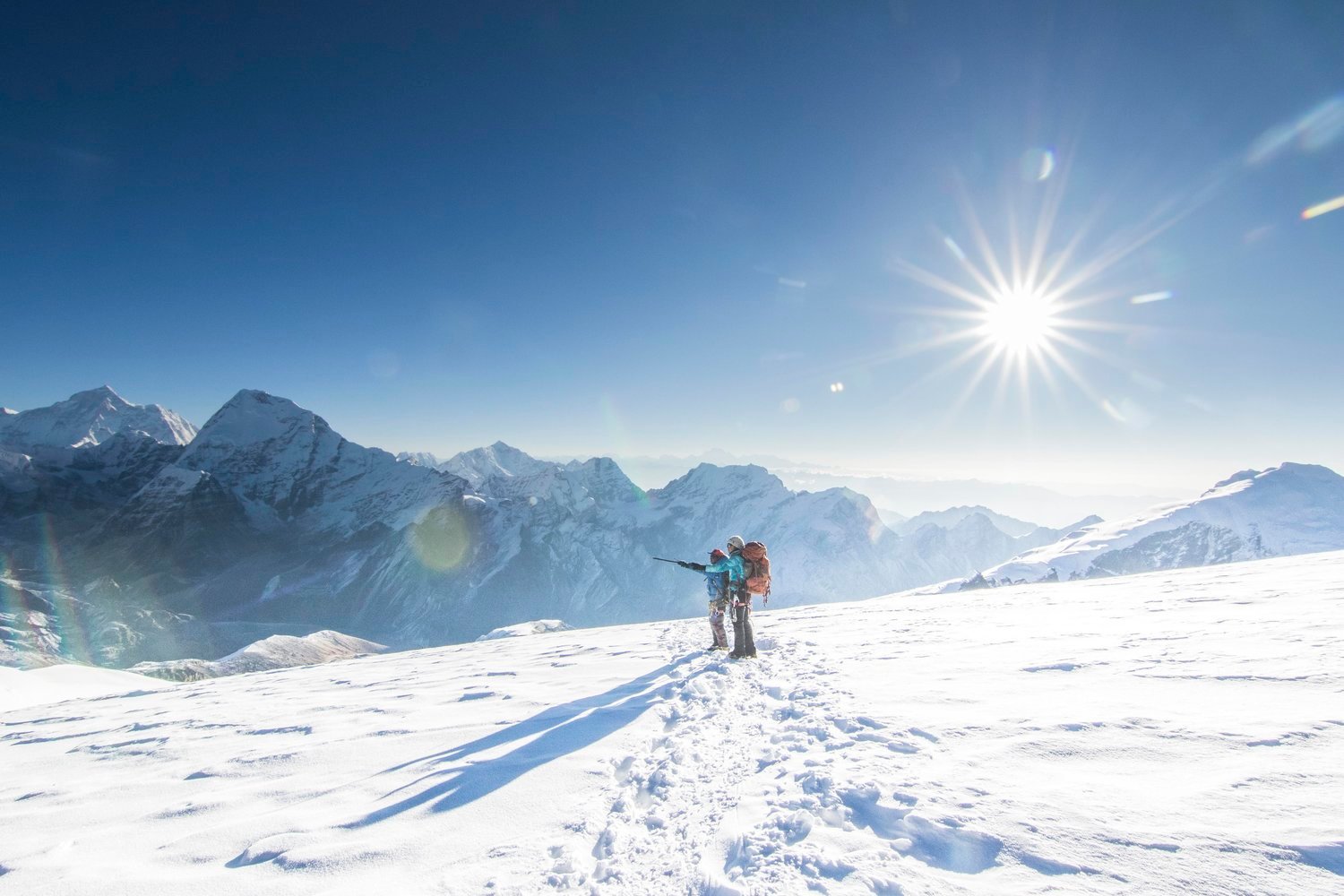 Itinerary
Spend five days with professional mountain guides and a group of like-minded ladies and learn the fundamentals of alpine climbing! This instructional course will teach you the basics of glacier mountaineering, proper ice axe use, and self-arrest skills. Learn how to navigate glaciated terrain and how to use basic rope techniques while summiting Mt. Baker. This training will give you hands-on experience and the confidence for future climbs and summits, while you become a part of a strong community and make life-long friendships!
Give yourself enough time to comfortably arrive in Seattle and check into your hotel before meeting your teammates. You'll have dinner with your team and your guides at around 7pm.
Accommodation: Hotel
Meals: Dinner

After a hearty breakfast, you'll get transferred to Mount Baker. Hike up to the high camp, which is located at 5,500 ft above sea level (1,680m) on the edge of the Easton Glacier. Set up your camp and have a good night's sleep.
Accommodation: Tent
Meals: Breakfast and dinner

You have a day of training skills ahead of you. These skills may include use of an ice axe and crampons, self-arrest rescue techniques, and communication skills while traveling with a rope team.
Accommodation: Tent
Meals: Breakfast and dinner

Take advantage of an early alpine start and head up to the Easton Glacier. You'll finally reach Mt. Baker's summit, called Grant Peak, at 10,781 ft (3,286m) above sea level. The summit is actually a 1,300-foot-deep mound of ice, hiding a massive volcanic crater. After you've taken in the views from the top, get back down to your camp and then to the trailhead. You'll be transferred to the city, where you'll have your final dinner.
Accommodation: Hotel
Meals: Breakfast and dinner

Your adventure has come to an end, but you are more than welcome to stay in the area and talk to your guides about your plans!
Meals: Breakfast
Get free trip brochure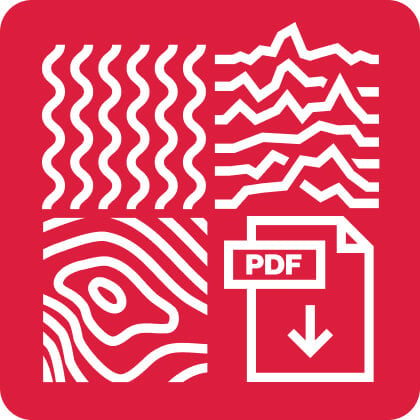 The brochure contains:
Adventure and location overview, itinerary, available dates, what's included, how to prepare, and much more.
Brochure sent, check your inbox
Talk with us
and let one of our adventure experts help you plan your perfect adventure.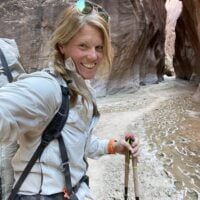 Sunny Stroeer
Lead guide and the owner of AWExpeditions
Lead guide and the owner of AWExpeditions
Sunny led a career-oriented life as an international strategy consultant with a Harvard MBA until a formative adventure on Aconcagua made her drop everything and take on the outdoors full-time. Before long, her exploits on high-altitude hiking and climbing routes saw her breaking speed records worldwide. When she's not traveling and setting FKTs left and right, Sunny organizes guided adventures, celebrates the sporting life and promotes female empowerment through her writing and photography.
AWExpeditions organizes mountaineering, high altitude and backcountry adventures for women, by women. AWE decreases barriers of entry to the world of big mountain adventures for women from all walks of life by providing a platform for women and organization adventures in all-female or predominantly-female environments. Today, AWE runs all-women's (and a few co-ed) trips across five continents, with more destinations in the works. The Paria Canyon Backpack is a collaboration between AWExpeditions and Kanab, UT-based Dreamland Safari Tours and the Shasta glacier course is produced in partnership with Shasta Mountain Guides.
Marta T
(source: Tripadvisor)
I completed Mt. Baker Climb with AWExpedition in August 2021. It was a great experience and I would do it again without any hesitation. The expedition was well organized and planned. All safety precautions were taken. Sunny, the founder of AWEpeditions was professional and very knowledgeable, but more importantly, she is a warm and friendly person, very inviting and welcoming. She was able to build a great climbing team and deliver an amazing overall experience. I highly recommend AWExpeditions!
rjharbitter88
(source: Tripadvisor)
What a pleasure to spend time in the backcountry with incredible women and two phenomenal guides. I am so happy to have found AWExpeditions and so proud of the work they are doing. Do not underestimate going into nature with women — it is powerful, rejuvenating, and inspirational.
Amelia K
(source: AWExpeditions)
I completed the Mt. Baker summit with Sunny and a great group of women in August 2021. This trip was fantastic! Sunny is an awesome trip leader; she was extremely knowledgeable, encouraging, kind, and dedicated to the mission of women climbing and wilderness exploration and conservation. Trip summary: We hiked up to the base camp on Day 1, and even though it was cloudy and gray everyone has in good spirits and having fun learning how to ice climb and walk with crampons. We got up early to hike to the summit on Day 2; it was not too challenging but was definitely intimidating at times. Mt.Baker has crevasses! We got back to camp after a 6.5 hour summit and 3 hours back down. We had a nice reflection on the mountain and watched the beautiful sunset over the cascade mountains. The last day we hiked out. In addition to the climb, Sunny helped build community by having a welcome dinner and a goodbye dinner and breakfast where we were able to reflect about our experiences. Last – I really appreciated being part of a group of women on the mountain! Everyone was kind and supportive and had a similar fitness/ability level while also competing only against themselves and the mountain. 10/10 would do again
Farah S
(source: AWExpeditions)
This was my second trip with AWExpeditions and it once again, did not disappoint. Sunny does such a wonderful job with planning, preparing, guiding, and caring for us on and off the mountain. I ran into some personal health issues and Sunny was proactive with what my next steps were to ensure my safety. It was truly an AWEsome experience, and the AWE community is the real thing.
Things to know
What you get on this adventure:

Experienced, local mountaineering guides with extensive knowledge of the area

2 nights of hotel accommodation pre- and post climb in Seattle and/or Sedro Woolley

Team gear (four-season tents, ropes, snow anchors, and team medical kit)

Meals as listed in the itinerary

3 days of climbing

All technical climbing gear

On-trail, real-time GPS tracking and communications

What's not included:

Transportation to and from Seattle

Lunch on the mountain

Personal mountaineering gear – rentals are available at an extra cost

Travel insurance

Mount Baker via the Easton Glacier Route is a moderate glacier climb that entails moderately steep terrain and crevasse crossings; depending on the season, some sections can require exposed climbing moves. Summit day typically involves ~5-7 hours of continuous effort.

This is a beginner-friendly yet physically challenging mountaineering expedition. You have to be in excellent shape and able to hike for 6 to 8 hours a day with a 40-lbs backpack without feeling extremely exhausted at the end of the day. The challenge will also be the altitude and the rate of ascent. 

No prior mountaineering experience is required, but it is always welcome. Participants must be in good physical condition. Some previous hiking experience is required and previous backpacking experience is always helpful. Mount Baker via the Easton Glacier Route is a moderate glacier climb that entails moderately steep terrain and crevasse crossings. Above all, your instructor's number one priority is your safety. As long as you check all the boxes above and listen to the given instructions, you'll succeed in completing your climb. 

Group camping equipment will be provided by your guiding service. Here's a list of the equipment we suggest you bring:

Backpack large enough to carry all the items listed (around a 65L bag)

Glacier glasses & ski goggles

Four-season sleeping bag

Sleeping mat and liner

Compression sack for sleeping bag

Crampons — can be rented

Ice axe  — can be rented

Water bottle

Food you can eat on-the-go (energy bars, electrolytes, sports drinks)

Toiletries (sunscreen, bug spray, toilet paper, chapstick with SPF, etc.)

100% UV Sunglasses

Headlamp

Extra batteries

Camera — optional

Here's a list of clothes we suggest you bring:

Insulated mountaineering boots that work with crampons

Training boots for camp

Thick wool socks & thin trekking socks

Gloves (lightweight liner gloves, softshell gloves, insulated mittens)

Expedition-weight insulated puffy jacket

Hardshell (GoreTex) wind- and waterproof shell jacket

Softshell jacket

Warm mid-layer top & long-sleeve hoodie

Short or long-sleeved base layer top

Softshell pants & hardshell (GoreTex) pants

Fast-drying base layer bottom (no cotton)

Underwear

Neck gaiter

Buff, sun hat, and beanie

Set of town clothes

Light towel

You will need clothes for hiking during the day, resting in the evening, and for sleeping. Dress comfortably and for the weather in clothes you can move in. We suggest bringing clothing appropriate for the season. Your clothing should be lightweight, breathable, hand-washable, and quick-drying, which means no cotton

Yes, you can rent equipment for this all-women climbing adventure on Mt. Baker. While your guides provide group camping, cooking, and emergency gear, you are responsible for your personal climbing gear and attire. There are numerous rental shops in Seattle, check out Gear House or Ascent Outdoors.

On the way to basecamp you will need to carry all of your personal & climbing gear, as well as an allotment of group gear; expect a pack weight of 40-50 lbs. For summit day you'll only be carrying layers, snacks and water — typically no more than 10-15 lbs.

Group sizes and prices:

The group size for this adventure is 6 women with a 2:1 guest to guide ratio. 

Cost is per person and it doesn't decrease as the group grows.

Climbing days in Kilimanjaro can be arranged for bigger groups. Contact us prior to booking.

Min. age requirements:

If you are older than 18, you're good to go.

Minors younger than 18 may be permitted to climb on a case-by-case basis, but must be in the presence of a parent or legal guardian.

If your group has climbers under the age of 18, contact us prior to booking to make arrangements.

A $500 non-refundable deposit to secure your place is due booking. The balance of the program fee is due 90 days prior to the starting date of the program. Once the trip is confirmed by the guide, the following cancellation policy applies:

If the Client cancels the trip more than ninety (90) calendar days prior to departure, Client is entitled to a full refund of the trip price less the non-refundable $500 deposit. The deposit remains transferable to another AWE departure within 24 months of your original trip departure date.
If the Client cancels the trip sixty-one to eighty-nine (61-89) calendar days prior to departure, Client is entitled to a 25% refund on payments made above deposit. The deposit remains transferable to another AWE departure.
If the Client cancels the trip zero to sixty (0-60) calendar days prior to departure, Client is not entitled to a refund. The deposit is not transferable to another AWE departure.

In some cases payments may be transferable; if you are required to forfeit your spot, you may find an acceptable replacement in which case your deposit and fees would transfer to your replacement without penalty.

Though unlikely, an expedition may be canceled for any reason prior to departure. In that event, the deposit and expedition fees paid by the participants will be refunded.

In the event of cancellation of a program and upon refund to participants of all program fee payments, the expedition organizer shall be released from any further liability to participants, including but not limited to liability for additional costs participants may have incurred, pre- departure expenses, non-refundable advance purchase air tickets, visa fees, equipment purchases and medical expenses.

Participants agree that beginning on the first date of the program itinerary, there will be no refunds of program fees for any reason whatsoever. Expedition participants agree the cost of any search and rescue undertaken on their behalf will be their financial responsibility. Including costs incurred by the expedition leader, other expeditions, government, and/or other entities.

Your tour starts in Seattle. The easiest way to get there is by flying into Seattle-Tacoma International Airport, 15 minutes away from downtown. 

Once you and your guide agree on the details of your itinerary, your guide will suggest the best place to meet, whether that's at the guide shop or a predetermined location.

57hours is committed to providing safe outdoor adventure experiences. We require all guides using our platform to have a COVID-19 safety plan and to make the details of that plan accessible to travelers. In most cases, group sizes will be reduced, guides will avoid overcrowded locations, and other safety measures will be met depending on the location and activity. 

We also expect clients to respect local regulations and take measures to protect themselves, guides and the communities they're travelling to. For more information on COVID-19 measures on Mount Baker, please refer to Washington's COVID-19 travel requirements.

Please contact us if you have any questions or require further information. We are happy to provide you with the most up-to-date information!
Get free trip brochure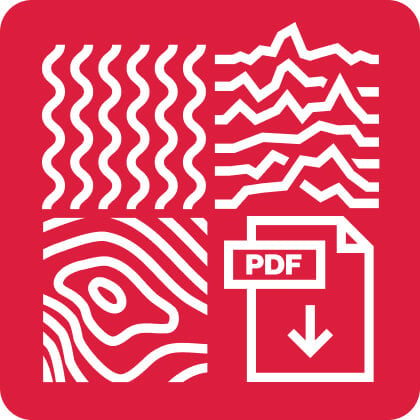 Adventure and location overview, itinerary, available dates, what's included and much more.
Brochure sent, check your inbox
Talk with us
and let one of our adventure experts help you plan your perfect adventure.
Other things to do in Mount Baker National Forest