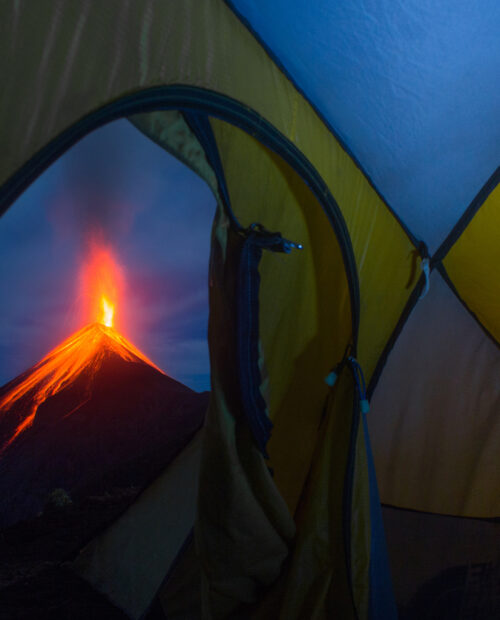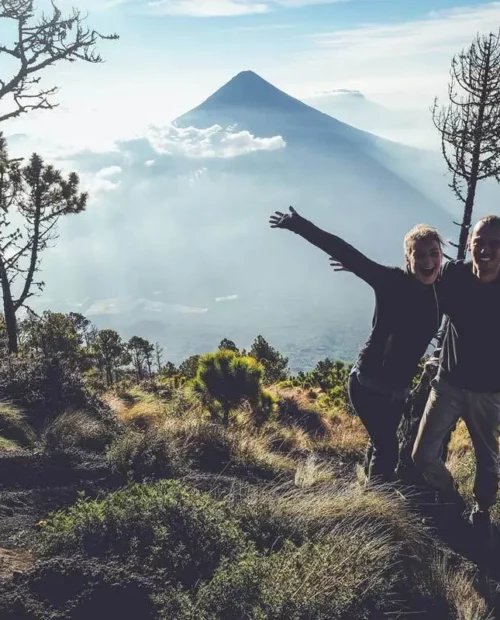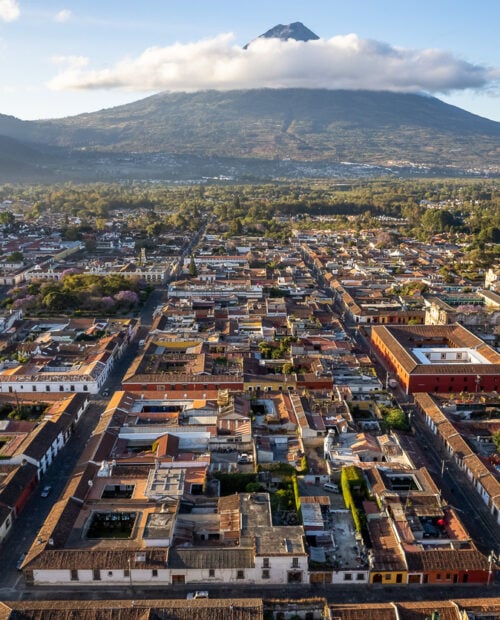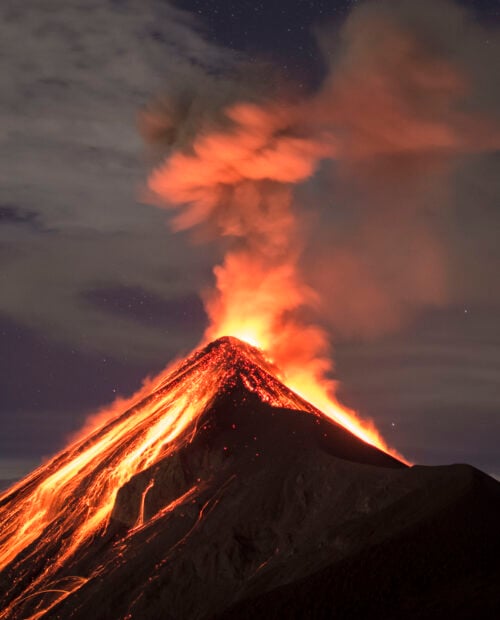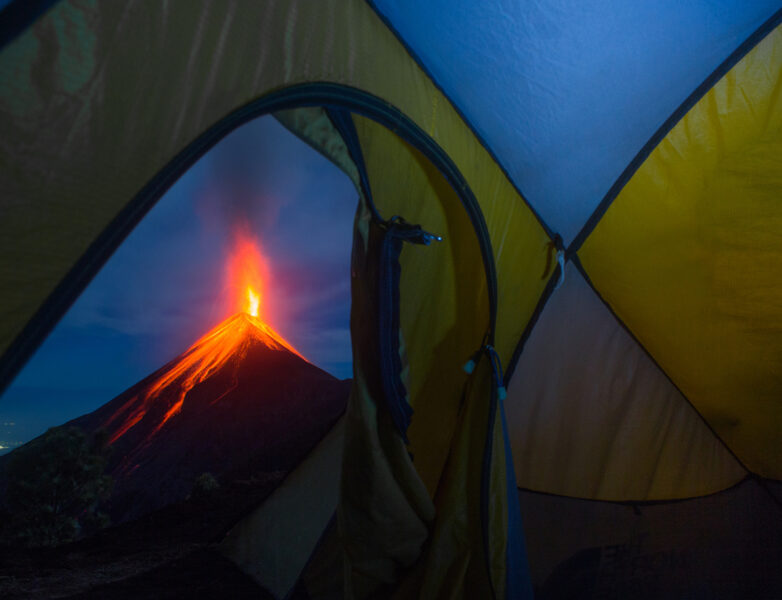 Acatenango Volcano Overnight Hike
5.00

()
Gain a new perspective as you ascend Acatenango Volcano over two active days. Leave the noise of everyday life behind, rise above the ordinary, and witness the world unfold beneath you. It's time to elevate your outlook on adventure. Ascend through rolling fields and old-growth tropical cloud forest, conquer steep slopes, and navigate rocky paths before you reach the ultimate campsite, cloaked in majesty of the raw power of Volcan De Fuego. Marvel at its eruptions as lava and ash dance in the night sky. Let the distant rumblings remind you of the forces that shape our planet. Once you summit Acatenango, soak in the spectacular views before you descend and return to Antigua. Don't miss out on exploring Antigua's Spanish colonial buildings and markets on your own!
Experience four distinct microclimates as you traverse the mountain paths

Enjoy freshly prepared camp meals and incredible panoramic views from 3,750 m/ 12,303 ft

Witness the eruption of active Volcan De Fuego from a safe distance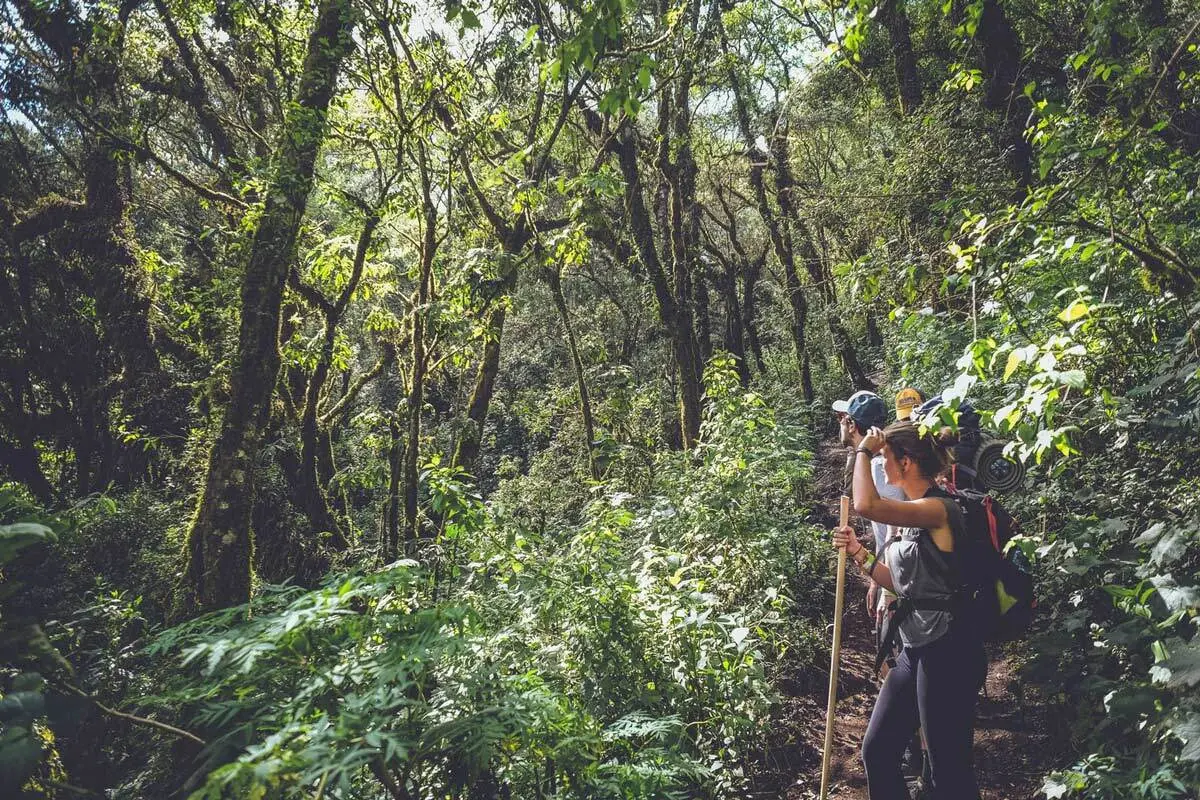 Itinerary
This 2-day hike will take you through cloud forests, sleepy mountain villages and tropical dry forests before you reach the summit at 3,976 m/ 12,044 ft. Enjoy the 360-degree panoramic views and witness Volcan De Fuego's eruption from a distance. The sight of Fuego erupting, spewing lava and ash into the sky, is a sight you'll never forget. Join experienced local guides and summit this bucket-list destination that has the best Guatemala has to offer.
Meet your group at the Old Town Outfitters Shop and start your adventure at 8 am. Before you head out, you can fill up your water bottles and purchase any additional gear you might need. Make sure to eat breakfast beforehand and pack a small snack for the road.

A one-hour drive will take you from Antigua to the sleepy mountain village of La Soledad, perched on the ridge of the Pacific slope of Acatenango Volcano. The trail up the volcano has four distinct microclimates, each of which will take you about an hour to traverse. You will walk up a steep trail through local farm fields that is used by local villagers each morning. The first hour of hiking will help you acclimatize and warm up your muscles. The second phase of the ascent passes through an old-growth tropical cloud forest. In this environmental zone, you'll find some of Acatenango's oldest trees, incredible biodiversity of flora and fauna, fresh mountain air and the sounds of local birds and wildlife. After exiting the cloud forest, enjoy the fantastic views of other highland volcanoes such as Atitlan, Toliman, and Tajumulco, along with glimpses of the Cuchumatanes mountain chain. Stop for a fresh picnic before you continue hiking to a temperate coniferous forest and tropical dry forest, which will lead you to the storm-beaten tree-line of the volcano.

Your campsite for the night is perched just below the tree line with sweeping views of the Antigua valley and Volcan Fuego. After setting up camp, you are free to rest, relax and enjoy the surroundings while your guide prepares a fresh camp dinner at ~3,750m/ 12,303 ft with hot tea and coffee.

Driving: 1 hour
Hiking: 4 hours
Elevation: +2,012 m/ 6,600 ft
Meals: Picnic lunch, dinner
Accommodation: Camp

In the morning, after an early camp breakfast, embark on a 45-minute ascent to the summit on a sand and gravel scree-trail dotted with dwarf pine trees and high alpine mosses. The trail up to the summit is very steep and leads to the rocky summit exposed to the gusty and cold winds which constantly pass over Acatenango's peak.

At the summit, rest and enjoy unparalleled 360-degree views of the entirety of the Guatemalan highlands – all the way to the border of Mexico. Once you reach the top, the group will begin the 3-hour descent back towards La Soledad. You will have the opportunity to descend through an alternate route down the volcano, experiencing a variety of microclimates and a beautiful trail. From La Soledad, your guides will transport you back to Antigua, arriving in the afternoon (around 1 pm) with plenty of time for you to enjoy the delights of the old Spanish colonial capital!

Driving: 1 hour
Hiking: 4 hours
Elevation: +226 m/ 740 ft and -2,094 m/ 6,870 ft
Meals: Breakfast
Get free trip brochure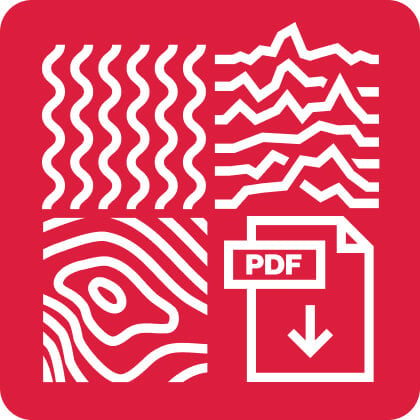 The brochure contains:
Adventure and location overview, itinerary, available dates, what's included, how to prepare, and much more.
Brochure sent, check your inbox
Talk with us
and let one of our adventure experts help you plan your perfect adventure.
Meet your guide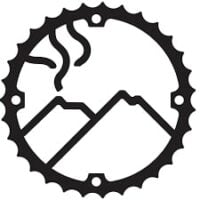 Old Town Outfitters
Old Town Outfitters
Founded in 1988, Old Town Outfitters is one of the pioneer tour operators in Guatemala. They have over 25 years of experience training specialty guides, curating trails, and organizing off-the-beaten-path rock climbing, biking, trekking, bikepacking, multisport, cultural, and volcano tours. Their greatest passion is sharing the beauty and adventure of Guatemala with enthusiastic adventurers!
Old Town Outfitters has the best guides and best views
Asha S
(source: Tripadvisor)
Old Town Outfitters was incredible in leading our Acatenango Overnight Hike.
Firstly, our guide Venicio was THE BEST. He was resourceful and helpful and single handedly got us safely up to the summit and back. We were honestly in over our heads with the challenging nature of the hike but he guided us through. He also was bilingual which was critical for our safety hiking.
The basecamp view is incredible. Not all basecamps face the volcano Fuego but Old Town Outfitter's does and that ensures you get to watch Fuego erupt all throughout the night. It also has a toilet which was very much appreciated.
OldTown is one of the only companies to offer a 4×4 ride partially up to basecamp which cuts out 3-4 hours of the initial hike. It was a great service and made the entire hike more manageable for us.
Finally, Tamy the coordinator was so patient answering all our questions and helping us make this a successful trip. Definitely go with Venicio and Old Town Outfitters! You will not regret it!
Acatenango overnight hike - a must in Guatemala
Yvonne
(source: Tripadvisor)
We did the Acatenango overnight hike with old Town outfitters and had an amazing time. Communication was good and clear, which was great as we had to reschedule our hike due to a cold and they were super understanding and transparent!
Our guide was Diego and in our 4 months travel he was the best guide we had up until now! He was super knowledgeable about the area and the geology and was basically educating us about the area, the people and the culture; we had a great time! It felt more like hiking with a friend.
Also, they are very environmentally responsible, we were literally taking trees up the mountain for a reforestation project and taking trash down the mountain that other hikers have left behind.
Erin D
(source: Tripadvisor)
I did the overnight hike of Acatenango with my family. There were six of us and we had an amazing experience. The guides were enthusiastic, supportive, and clearly experienced. Additionally, the outfitter was extremely responsive during the planing portion of our excursion and were always ready to help out. One of our guides was in charge of the cooking, and the food was delicious! Would highly recommend Old Town Outfitters for a professional outfitter and a very fun time!
Amazing hike to the summit of the Acatenango volcano
kathymurdock
(source: Tripadvisor)
Our family did the overnight hike to the summit of Acatenango volcano. Our guides, Josias and Binny, were excellent!! They were helpful, informative and fun. Binny is a great cook. There are several different groups that lead trips to the summit of the volcano and the Old Town campsite has the best view of Fuego volcano. The hike is extremely challenging given how steep the incline is and the elevation gain (be aware of altitude sickness) so it's important to use a trustworthy and experienced outfitter. We highly recommend Old Town Outfitters.
Closer to God
Diego B
(source: Tripadvisor)
The Acatenango overnight hike was spectacular. These guys were professionals beginning to end. Volcan Fuego was unusually active this week, as several villages were evacuated. OTO helped us assess the risk and make informed decisions. Yes, there was uncertainty. But God provided us with an unforgettable experience with an up-close view of His majestic creation. We felt His power as Fuego was active throughout the night. Marco was an outstanding guide, giving us accurate answers and encouragement throughout the taxing journey. The best part was his attitude and constant appreciation for where we were. And he happens to be a tremendous cook. Maybe too good (I ate way too much for lunch). I highly recommend this hike (if you're physically, mentally, and spiritually ready) and this team at Old Town.
Things to know
What you get on this adventure:

An experienced, local hiking guide from the community of La Soledad
2 days of hiking the Acatenango Volcano
1 night in private camp
Round trip transportation from guide's office in Antigua
All park entrance fees
Freshly prepared picnic lunch, dinner, and breakfast
Juice, coffee, tea and snacks along the trail
Sleeping bags
Sleeping pads
High-altitude 3-person tents

What's not included:

Transportation to Guatemala
Accommodations before and after the hike
Meals before and after the hike
Guide gratuities — optional

Your guides are a full-service tour operator and can provide all sorts of logistics from lodging, transfers and other excursions. Let us know if you need help with anything and your guides will contact you with more info.

Hiking to the top of Acatenango is suitable for intermediate hikes with excellent fitness. You will hike for a total of 15.5 km/ 9.6 miles with a 2094 m/ 6,870 ft elevation gain. The high point of the tour is at 3,976 m/ 12,044 ft and the last ascent before the top will be very steep. The terrain will mostly be sand and gravel scree with some exposure.

You will also have to carry a backpack with your personal gear, but you can hire a porter to carry the load, which will make your ascent substantially easier. Each porter can carry 13.5 kg/ 30 lbs which typically is enough to share between two hikers. All camping gear will wait for you at the basecamp so you don't have to worry about carrying tents and sleeping bags.

Here's a list of the equipment you need to bring:

Backpack for your personal gear
Hiking poles — optional
Water bottle or hydration bladder (4L total)
Lightweight hiking boots or shoes
Comfortable hiking boots or trekking shoes
Spare clothes for layering
One warm layer and/or windbreaker
Rain jacket (May thru October)
Cold-weather clothing for night-time temperatures at camp
Sunhat
Toiletries (sunscreen, hand sanitizer, bug spray, toilet paper, etc.)
Headlamp or flashlight
Sunglasses
Camera — optional (but recommended)

Dress comfortably and for the weather in clothes you can move in. We suggest bringing clothing appropriate for the season. Layers are best and don't wear jeans.

Guatemala has two main seasons throughout the year that are fairly predictable:

Mid-October to late April is the dry season where you can expect blue skies and clear starry nights.
Late April through the beginning of October is the rainy season where you can expect afternoon showers and evening rain. This season also brings out the lush forests and flowers along the trails.

Temperatures will vary greatly depending on the various regions of Guatemala but are comfortable year round. In Antigua, the temperature typically varies from the low 50's°F to low 80's°F.

Be aware that the nights camping on volcanoes will be cold as you are sleeping at around 4000 m/ 13,123 ft above sea level. Make sure to pack enough warm layers for this part. Thermals, fleeces or light down jackets will be fine.

During the hike, you will have a picnic lunch and a cooked dinner prepared from fresh local ingredients by your local guide. All dietary restrictions can be accommodated. Let us know if you have any requirements and your guides will prepare ahead of time.

It is not recommended to drink untreated water from the tap. Filtered water will be available to fill up your bottles. It is not encouraged to purchase single-use plastic bottles.

Antigua has a great array of restaurants serving both local and international cuisines and your guides will be happy to show you the best spots.

Your guides have a basecamp on the mountain so you don't have to carry camping gear (tent, sleeping bag, pad). The campsite is perched just below the tree line at 3,750 m/ 12,303 ft with sweeping views of the Antigua valley and Volcan De Fuego.

Hiking Acatenango is very safe as its last major eruption occurred in 1972. The best part is that you can witness eruptions of Volcan De Fuego—a highly active volcano sitting right across from Acatenango, far enough to be safe for camping, but close enough to give you amazing views of the eruptions. The intervals of eruption are not completely predictable, but if you spend a couple days on the mountain, you can almost be certain that you'll get to witness multiple eruptions.

Group sizes and prices:

For this adventure, the usual client-to-guide ratio is 10:1.
The cost per person decreases as the group grows, so it's the perfect opportunity to hike with friends and family!
All dates are available for booking to everyone. This allows your guides to operate without fixed departure days and required minimums. If additional people sign up for a certain date you chose, any resulting price difference will be refunded.
Solo travelers are more than welcome to join!

This adventure can be arranged for larger groups. Contact us to make arrangements.

Min. age requirements:

If you are older than 18, you're good to go.
Minors younger than 18 may be permitted to join the hike on a case-by-case basis, but must be in the presence of a parent or legal guardian.

If your group has hikers under the age of 18, contact us prior to booking to make arrangements.

Once you book the trip, the cancellation policy stated below applies.

If Client cancels the Booking any time prior to forty five (45) calendar days in advance of the trip contemplated by the booking, any cancellation fees, surcharges, or nonrefundable deposits charged to Old Town Outfitters by individual hotels, airlines or other third parties will be charged. The remainder of any payments made to Old Town Outfitters will be refunded.
For cancellations forty five (45) to thirty (30) calendar days in advance, any cancellation fees, surcharges, or nonrefundable deposits charged to Old Town Outfitters by individual hotels, airlines or other third parties will be charged. Additionally, a cancellation fee of 10% of the total trip cost will apply. The remainder of any payments made to Old Town Outfitters will be refunded.
For cancellations twenty nine (29) to fifteen (15) calendar days in advance, any cancellation fees, surcharges, or nonrefundable deposits charged to Old Town Outfitters by individual hotels, airlines or other third parties will be charged. Additionally, a cancellation fee of 25% of the total trip cost will apply. The remainder of any payments made to Old Town Outfitters will be refunded.
After that deadline, Client is not entitled to any refund.

Additional refunds cannot be made for "no-shows" or any unused part of an itinerary, whether voluntary, caused by airline delay or cancellation, or any other factor beyond the control of Old Town Outfitters. This includes – but is not limited to – acts of god (sickness, injury, poor health, weather, etc.) strike, detention, riot, war, quarantine, theft, civil disturbances, government regulations or restrictions, third-party or subcontractor negligence, or any other. No responsibility can be accepted for expenses incurred due to delay or change in schedule or other causes.

To get to Anitgua, Guatemala, most people fly into La Aurora Guatemala City airport (GUA), under an hour away from Whistler. Your guide is happy to pick you up from the airport and then transfer to Antigua where you will be based.

Other arrival options include coming by land via Mexico, Belize, Honduras or El Salvador or flights to smaller regional airports. All the major international airlines have flights to Guatemala with many direct flights from major USA and some European hubs.

Your guides have spent years developing adventure tours in all regions of Guatemala. Your safety is their priority and they always keep that in mind when choosing destinations, accommodations, and activities. Antigua is a very safe town and with your typical traveler's common sense you will feel very comfortable.

We highly recommend that you cover all your bases with both emergency medical and travel insurance. With medical insurance, if you have an accident or medical emergency on or off the mountain, you'll avoid paying out of pocket for costly expenses. This covers everything from hospital treatments to emergency air transportation and more.

Travel insurance covers canceled flights, natural disasters and other scenarios that may interrupt your travel plans.

We also expect you to respect local regulations and take measures to protect yourselves, your guides, and the communities you're traveling to.

Most visitors to Guatemala do not need a visa ahead of time. You will receive a 90-day tourist visa upon arrival at immigration control. Please be sure to check your personal requirements before traveling to be sure.
Get free trip brochure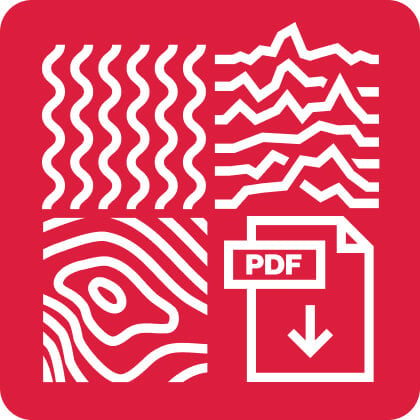 Adventure and location overview, itinerary, available dates, what's included and much more.
Brochure sent, check your inbox
Talk with us
and let one of our adventure experts help you plan your perfect adventure.
Other things to do in Guatemala