Maui | Hawaii
Surfing in Maui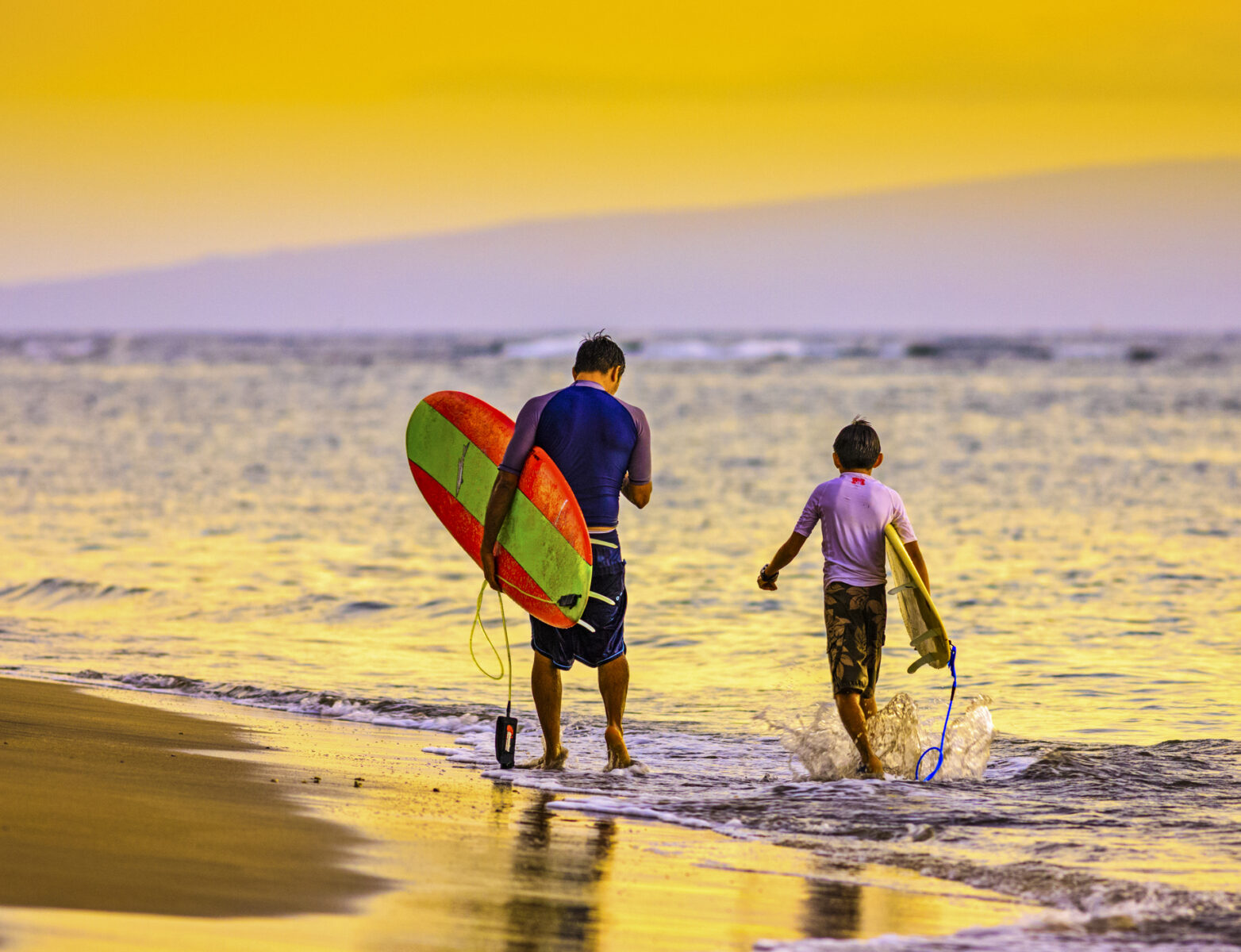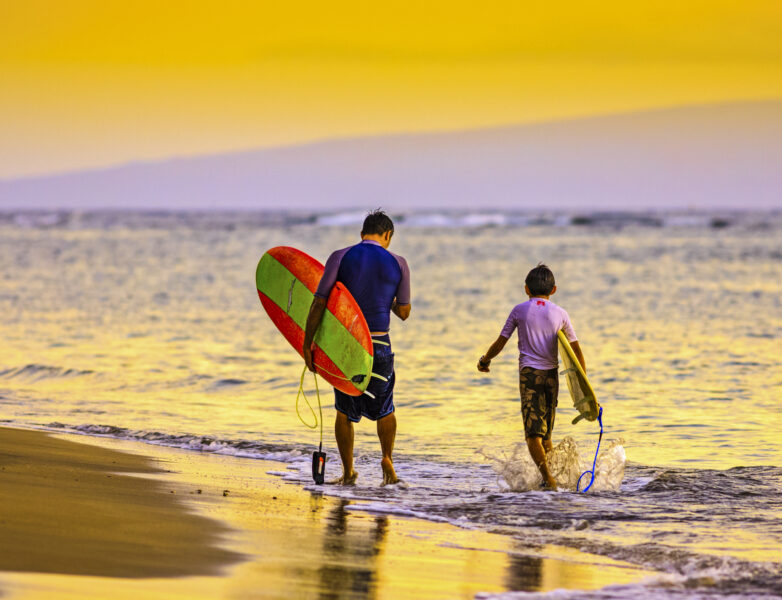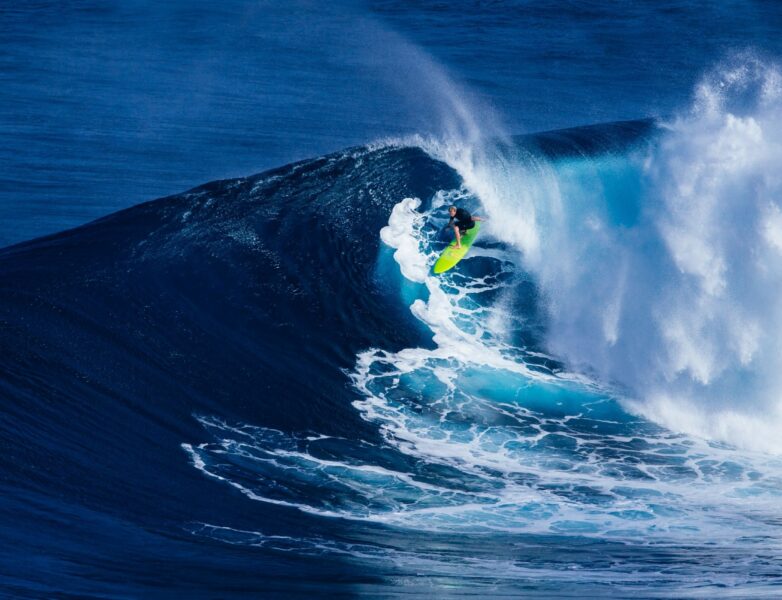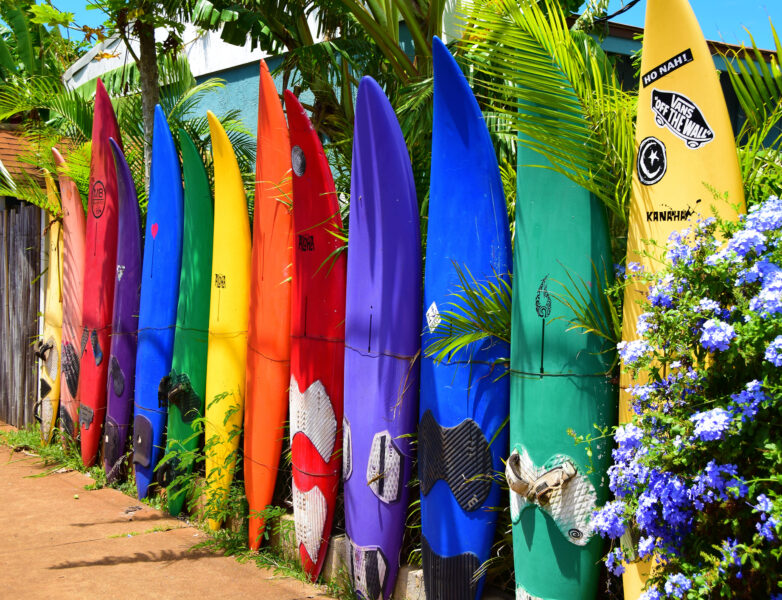 Season

Big, powerful waves arrive mid-November and stay until early February

Nearest city

Kahului Airport (OGG) is the main hub offering international flights
Surfing in Maui is a must for anyone visiting this tropical paradise. Famous destinations like the North Shore pair with idyllic accommodations to draw in expert surfers and families from around the globe. Some of the world's best surfers also live and train in Maui, known for its year-round warm weather, outdoor activities, and aloha spirit. As an intermediate to advanced surfer, you can turn to world-renowned guides to get towed into big waves at Jaws or take a full-day surfing trip crushing Hawaiian swells. Otherwise, you can up your game on some of the best swells in Hawaii by taking surf lessons in Maui.
Most Popular Adventures
Bring family or make friends at group surf school in Maui. Get plenty of space to catch a wave, as lessons take place 8 miles south of Lahaina at the scenic Ukumehame Beach Park. You'll get plenty of attention from your coach with classes no bigger than four fellow surfers.
Let's get you riding waves for the first time. Your private Maui surf lessons start with a warm aloha from your instructor, followed by ocean safety and a land lesson. Enjoy some of the best one-on-one surfing lessons in Hawaii, and build up your confidence in gorgeous Maui waves.
Don't miss your private surf safari around Maui, finding the prime spot for your level of surfing. Your 3-4 hour surf adventure allows beginners to more advanced surfers to improve skills away from crowds and in the swell. You'll be able to bring your friends and family to your own hidden surf spot.
No matter what you ride, you'll get support from your friend or loved one at scenic surf spots in Maui. Guides take out groups of two on Maui surfing lessons to help you excel, together. You'll enjoy plenty of individual attention, but with the fun of learning with a partner.
Learn to surf, improve, and progress your skills with world-class instructors in Maui. In this three-day surf camp, you'll head to Maui's Kalama Park and receive daily surf coaching and all the gear you need to be riding waves and sharpening skills in no time. The perfect option for those that want a crash course in learning how to ride waves in one of the most pristine locations in the world.
Things you need to know
When is the best time to go?
For intermediate and advanced surfers, Maui's North Shore delivers big waves from mid-November until early February. Beginners will want to head to beaches on the south part of the island or consult a guide on the best location for learning.
What if I've never surfed before?
Surf lessons are recommended for anyone starting out as a beginner. Waves are known for being powerful here in Maui, depending on the time of year. A guide will be able to take you to an appropriate beach to show you how to be safe, have fun and work toward standing up on your board.
Is there a minimum age requirement?
No time is too early to learn to surf! There's surf lessons for all ages available (with some restrictions), so let us know the ages of the people in your party and we'll set you up with a suitable instructor.
Group sizes and pricing
Lessons and guided surf tours can be arranged for groups of any size, whether it's one person or ten. So whether you're traveling alone or with your whole family, let us know and we'll set you up with instructors that can accomodate your whole party. Pricing ranges from per person to per group depending on the adventure.
Cancellation policy
Each guiding service sets its own cancellation policy. All policies regarding cancellation, rescheduling and trip insurance will be clearly laid out by your guide prior to booking your adventure. Contact us if you'd like more information on a specific adventure.
What about bad weather?
Mother Nature can always get in the way of planned outdoor adventuring. If you're hit with an unexpected curveball — like heavy storms or unrideable swells — your instructor will know the best course of action to take, determining whether it's safe to move forward with the trip, switch to a different local spot, or reschedule your adventure for a more favorable day. Prior to booking, your guiding service will provide you with all the details you need to know.
Brief background of area
The second largest of the Hawaiian Islands, Maui, boasts a rich history and thriving ecosystem. Maui is just one of the Hawaiian islands welcoming nearly 9 million visitors every year to its turquoise waters. Many arrive ready to surf some of the most challenging waves in the world. Maui is also ideal for anyone looking to get away from it all in luxury thanks to stable, warm temperatures year-round. Family-friendly resorts, hiking on active volcanoes, snorkeling, swimming, and yes, surfing are all daily activities for the travelers and fortunate locals of the island. While you're there, don't forget to try out the traditional Hawaiian sweets.
Do I need a permit?
Your surfing instructors will secure any permits necessary for lessons on the beach.
Getting there
The Kahului Airport (OGG) is the main hub offering international flights to the island of Maui.
Gear list
Guides will provide equipment, including boards and rash guards. You should bring the following:
Swimming Suit
Beach Towel
Water
Sunscreen