Heidi will cover:
Why Cuba provides the perfect setting for a climbing & yoga retreat
The island's colorful culture and how to best dive into it
Valle de Viñales and the sublime climbs you'll find there
Off-the-rocks activities and how they'll help you grow as a person
The logistics behind the adventure
How to help the local climbing community
Bienvenida a Cuba, the land of salsa, tropical landscapes, colorful street fronts — and espléndidas climbing spots.
Most Cuban climbers set their tents and their sends in the Valle de Viñales, the Caribbean's premier climbing destination and home to some of the finest limestone in the hemisphere. While this simple recipe pleases many crusher's palates, climbing guide Heidi Wirtz likes to add a little spice to the mix.
Heidi aims to introduce an element of mindfulness and confidence-building to the climbs. With a balanced blend of cragging and cultural excursions, intertwined with yoga sessions, slacklining, and dance sessions, her retreat provides her clients with an engrossing, encouraging, and all-encapsulating Cuban experience.
Want to learn more about Heidi's Cuban retreat and how climbing can help you find inner peace? Tune in to her FREE WEBINAR!
Webinar host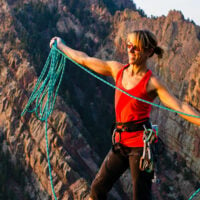 Heidi Wirtz
AMGA Rock Guide, yoga teacher and owner of Earth Play Retreats
Currently based in Colorado, Heidi is an AMGA-certified Rock Guide and yoga instructor currently working towards her IFMGA certification. She can typically be found guiding around the Colorado Front Range and the Western United States, but she also hosts transformational climbing and yoga retreats through her company Earth Play Retreats. Cuba is where her two favorite activities — yoga and climbing — come together in one of her favorite places.