I think the Cathedral Lakes Trail is quite possibly the best hike in Tuolumne Meadows. Cathedral Peak and Cathedral Lakes is a place for alpine lovers with views you just can't get in the Valley. In addition to Glen Aulin, Cathedral Lakes was one of my go-to spots for taking out-of-town guests when I lived just outside the Park. You'll cruise through alpine meadows to alpine lakes at almost 10,000 feet of elevation. Summer wildflowers are at their prime in wet meadows and the forest floor from late June to late August.
Cathedral Peak gets its name because it looks like a Gothic place of worship, with Eichorn Pinnacle towering over it like a belfry. Cathedral Basin was carved by glaciers, but the towers remain because they rose above the ice. Cathedral Peak remains jagged along with Echo and Tesidder Peaks, which also dominate the upper lake's south shore.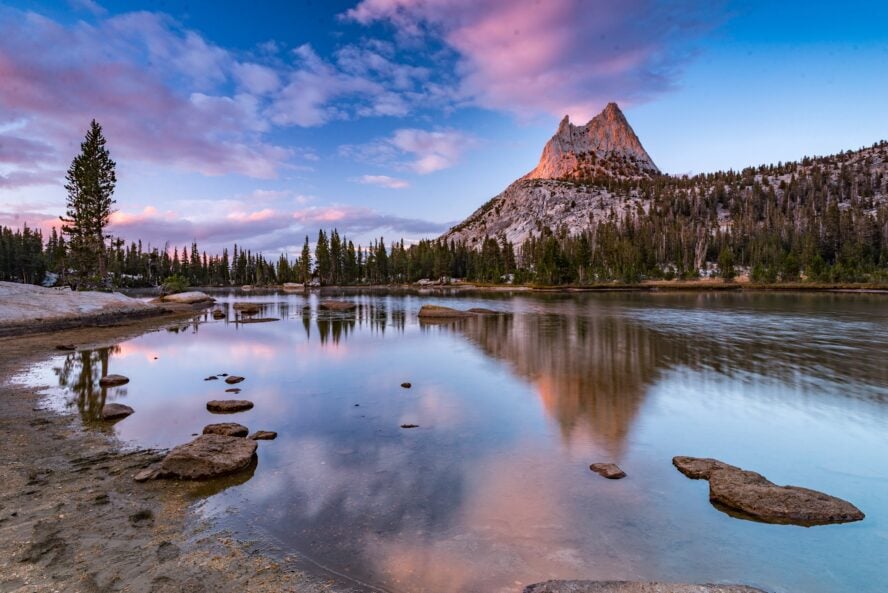 Hike along part of the famous John Muir Trail
John Muir has the first documented ascent of Cathedral Peak in 1869. He did it in heavy, leather boots without a rope. I've climbed the peak several times and think of him often. The hike to Cathedral Lake is mostly on a trail named after him, the John Muir Trail. It's a famous distance trail I've hiked several times that runs from Yosemite Valley to the top of Mt. Whitney. Cathedral Lakes is one of my favorite spots along the whole 214-mile hike.
You have the option to go to the Upper Lake or the busier Lower Cathedral Lake (0.5 mile off the main trail, but shorter in distance and less climbing). I've noticed my body feels the altitude on this hike. After all, it begins at 8,500 feet. The first mile has the bulk of the ascent and feels strenuous. You can decide which lake to visit based on how you feel when you reach the signed intersection for the Lower Lake. Whichever lake you visit, I suggest taking the climb slowly, staying well hydrated, and readjusting expectations about your speed. Either lake has flat, granite spots for picnicking and jaw-dropping views.