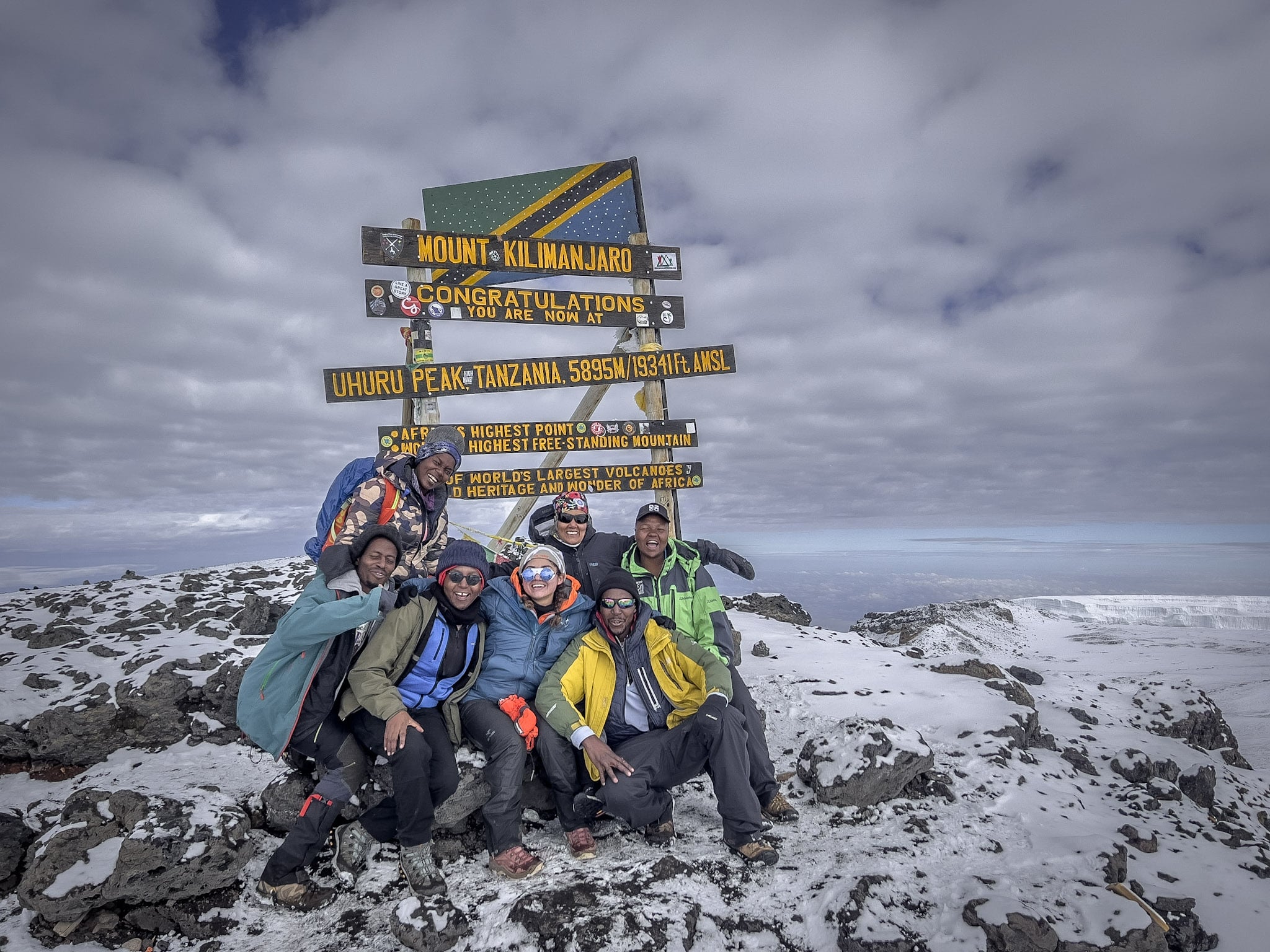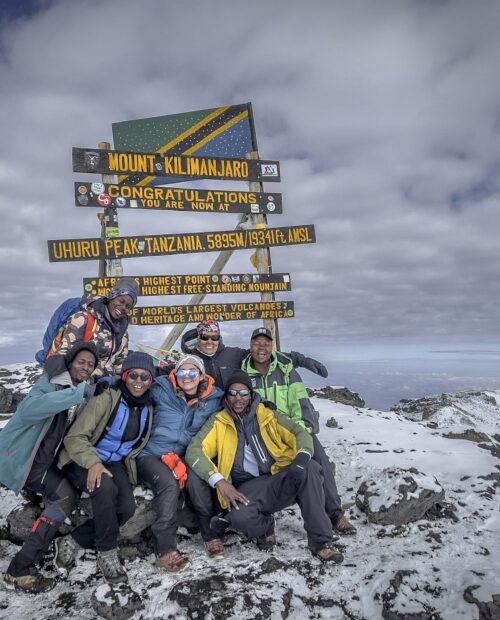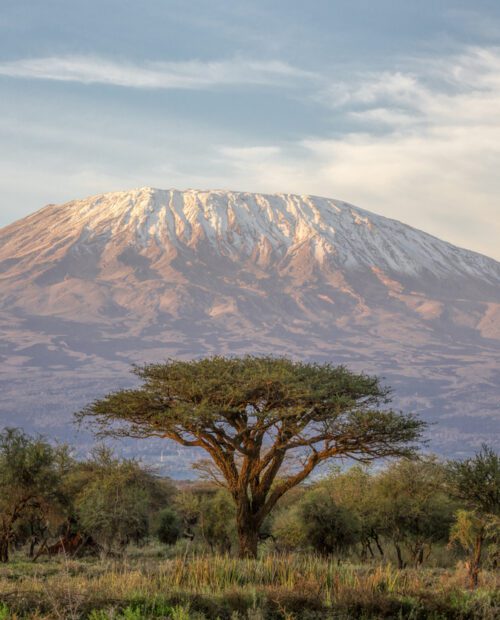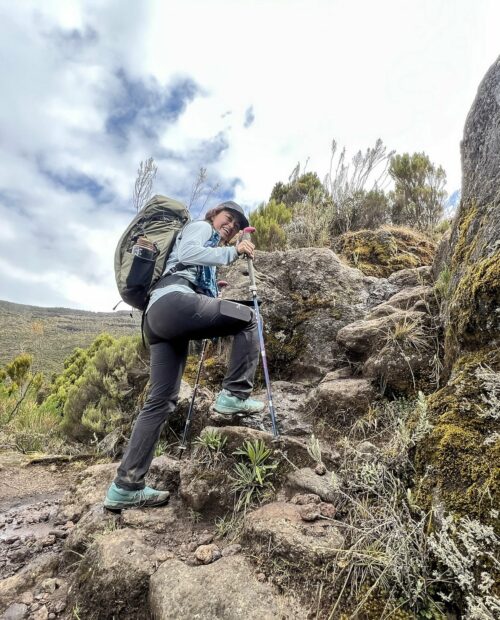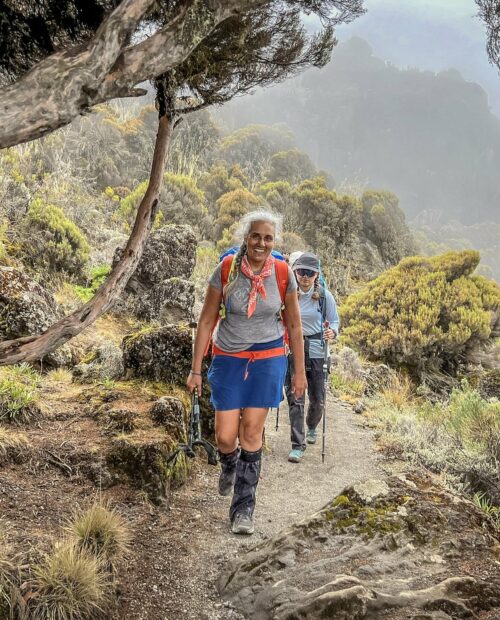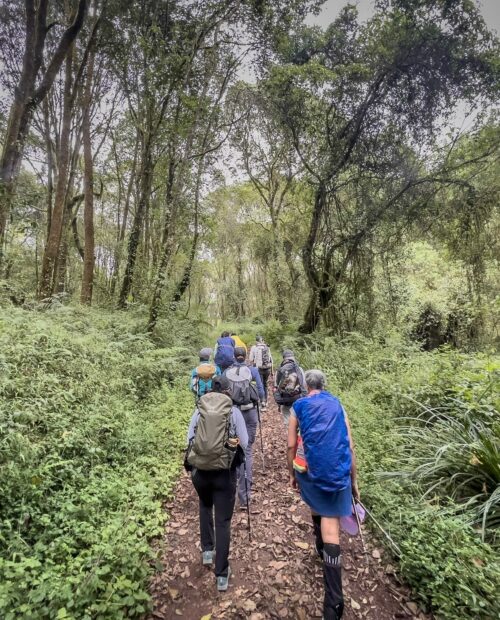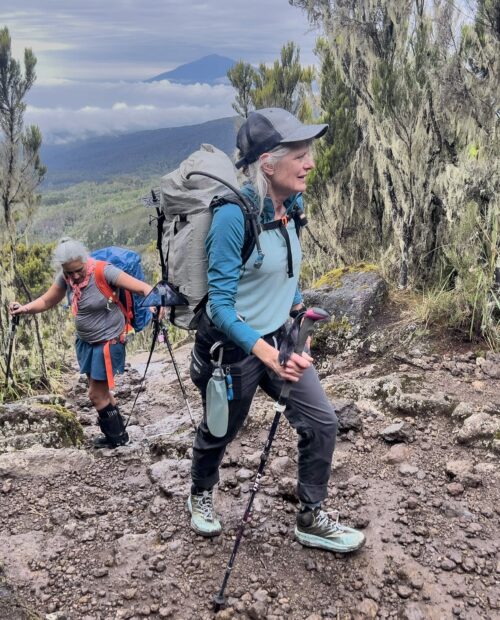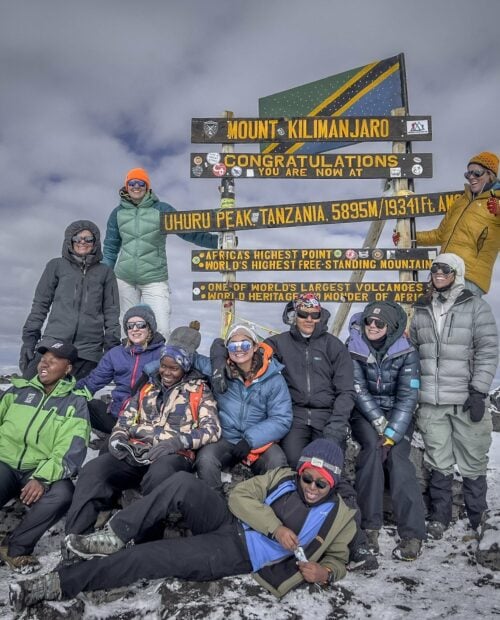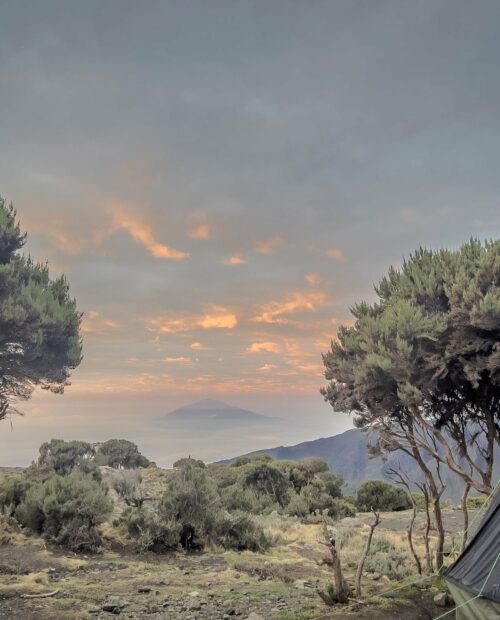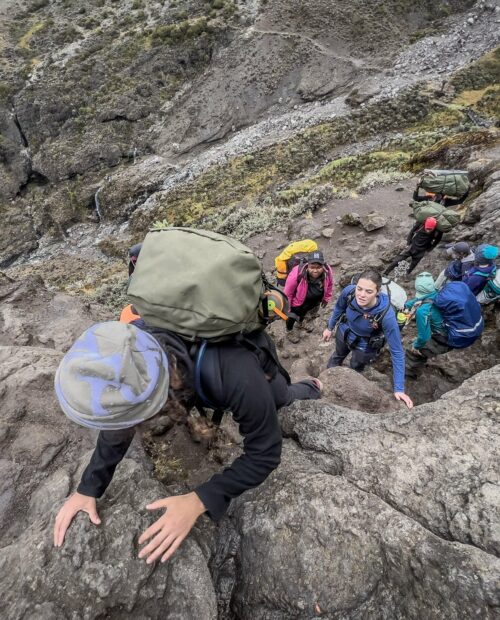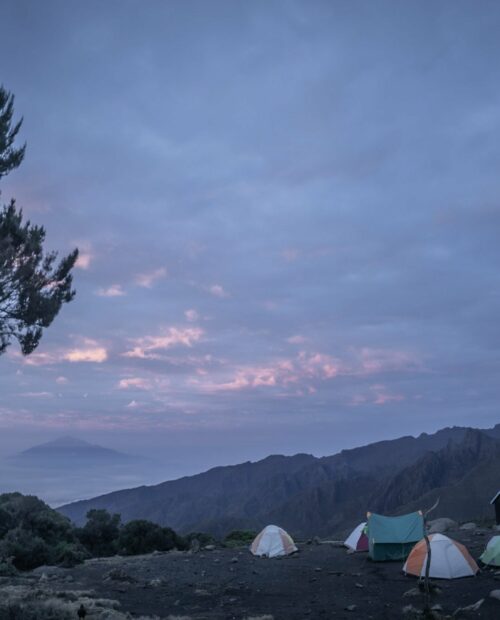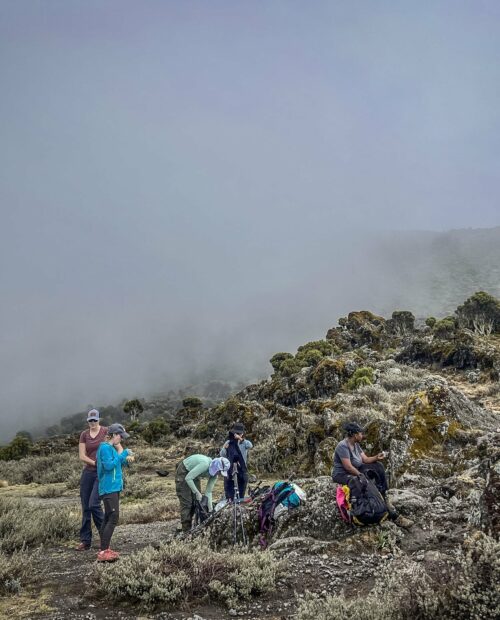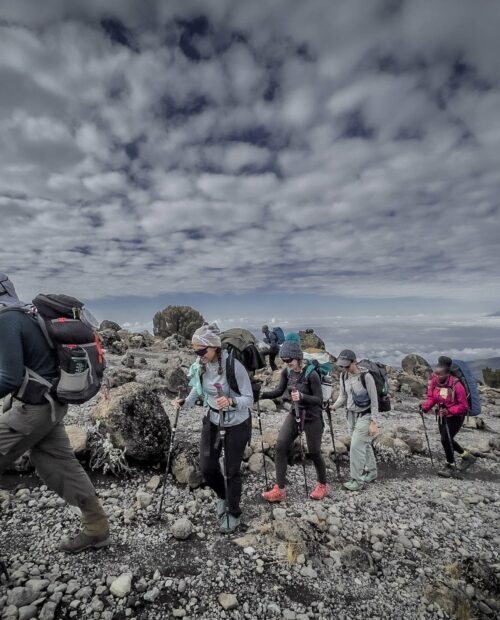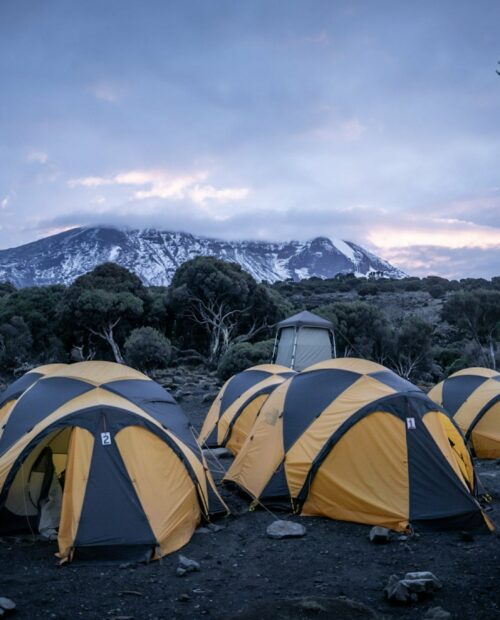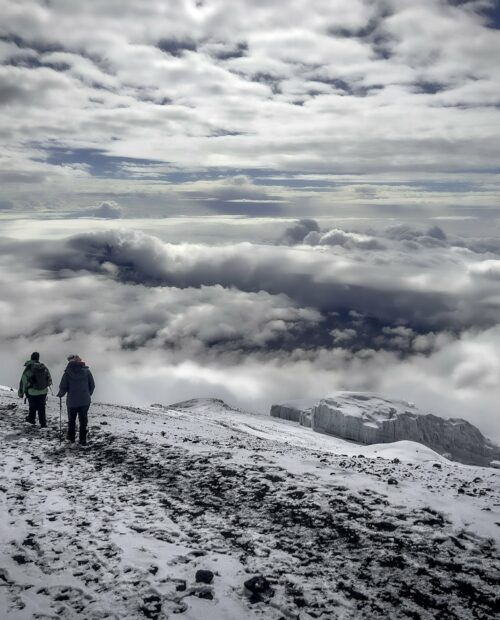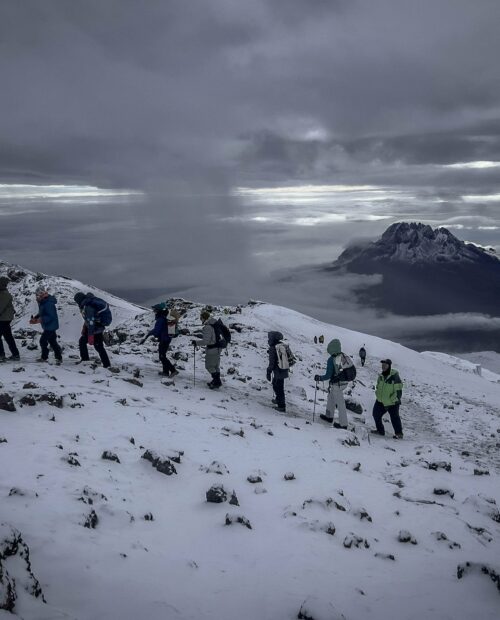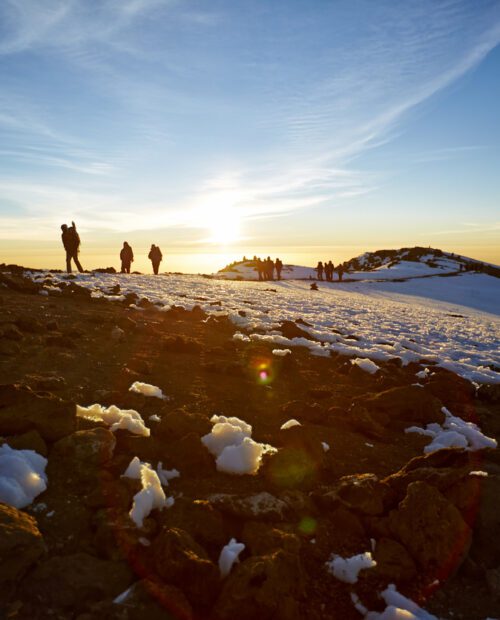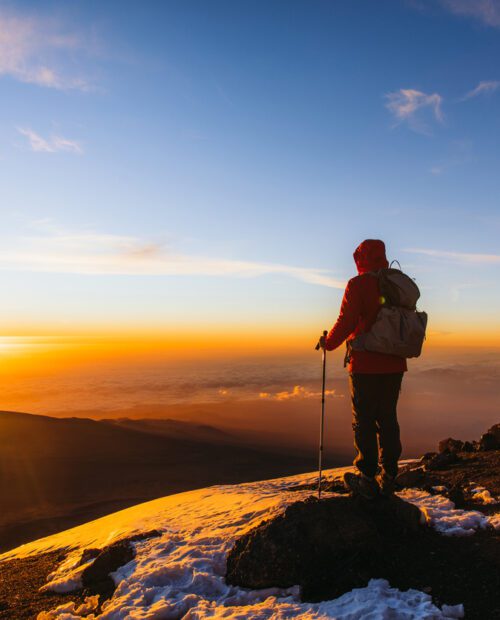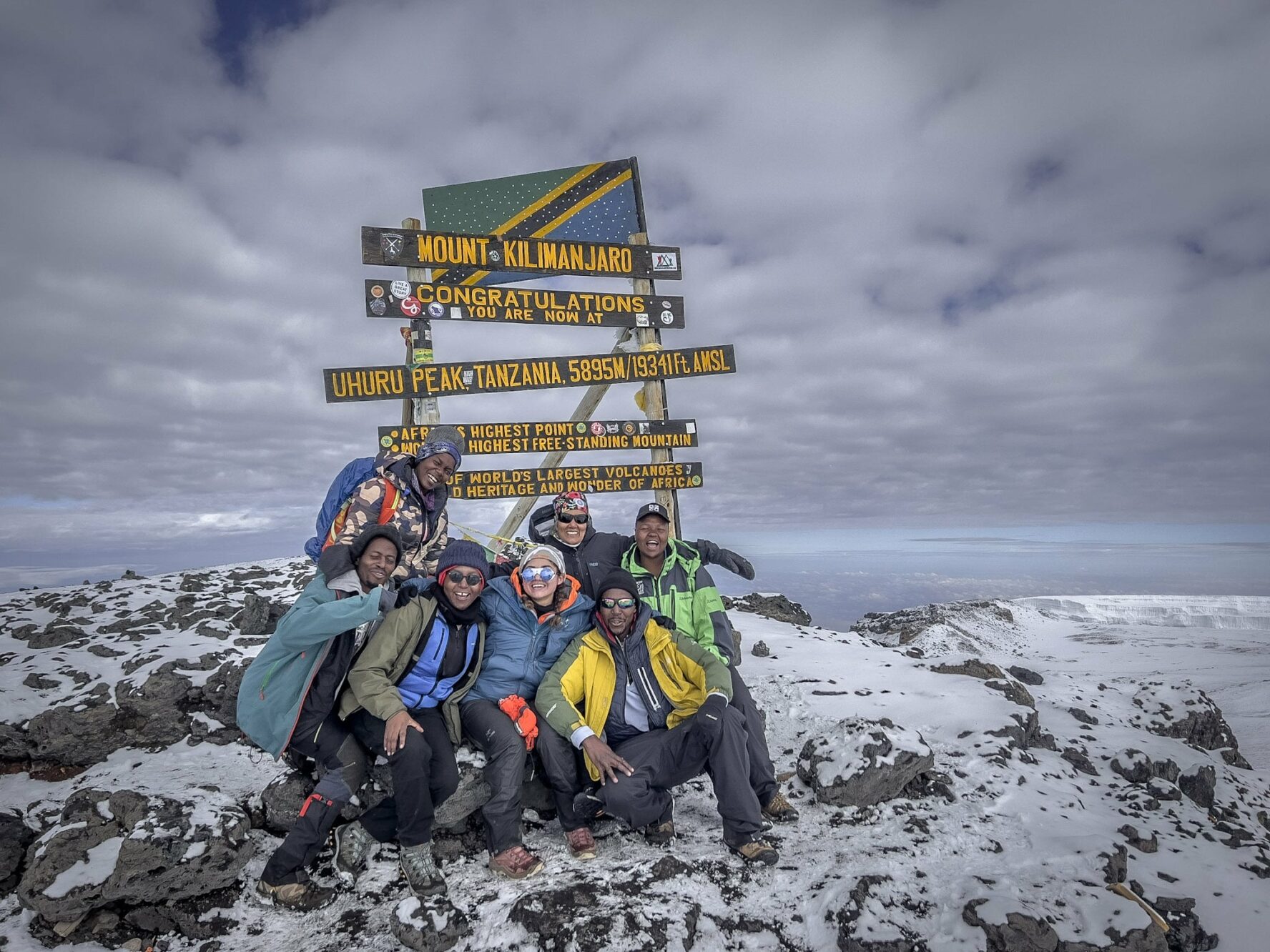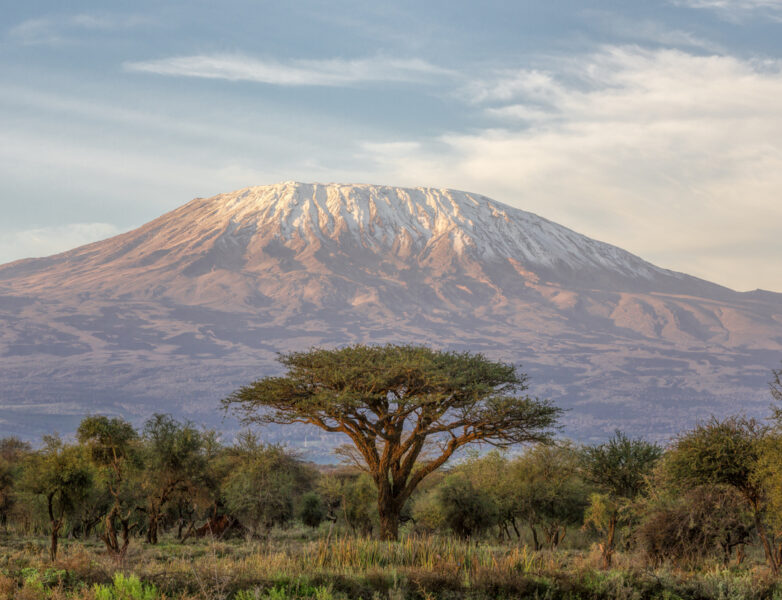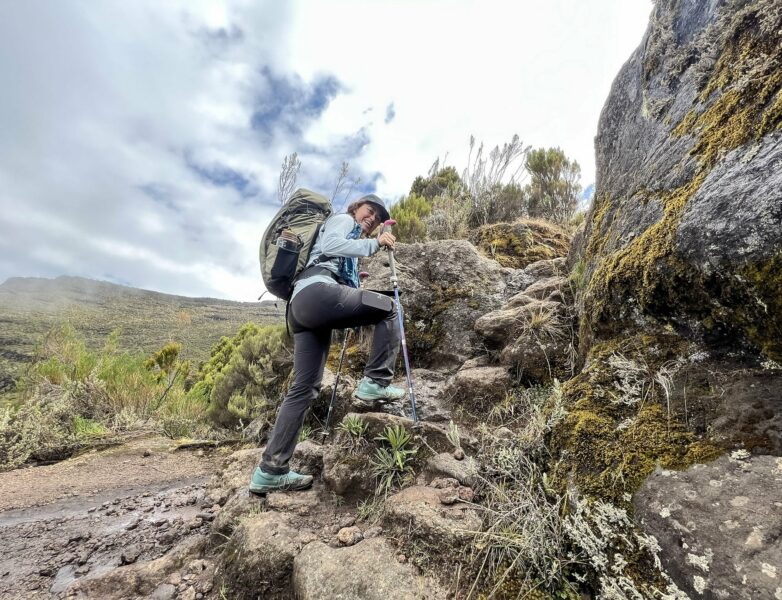 At 5,895m (19,341 ft), Kilimanjaro is the highest mountain in Africa and the tallest freestanding mountain in the world. This dormant Tanzanian volcano is one of the Seven Summits that every mountaineer has on their bucket list—with some determination, an expert guide, and a group of hard-driving women by your side, you too can reach the Roof of Africa. Passing through the cultivation zone, the Machame Route takes you through tropical rainforest, moorland, and alpine desert, until you reach snow and ice at the top. Also known as the Whiskey route, it's one of the easiest and most scenic routes up the mountain, allowing you to acclimatize to high altitudes—making the summit success rates relatively high. Join a group of like-minded ladies on this truly life-changing experience and cross off Kilimanjaro from your bucket list! Read more about the Machame Route by Fredrick Wilbert, a Mt. Kilimanjaro local.
Test yourself on the Roof of Africa, one of the Seven Summits

Stunning scenery climbing through five diverse climatic zones

Machame Route is the most popular one on Kilimanjaro for a reason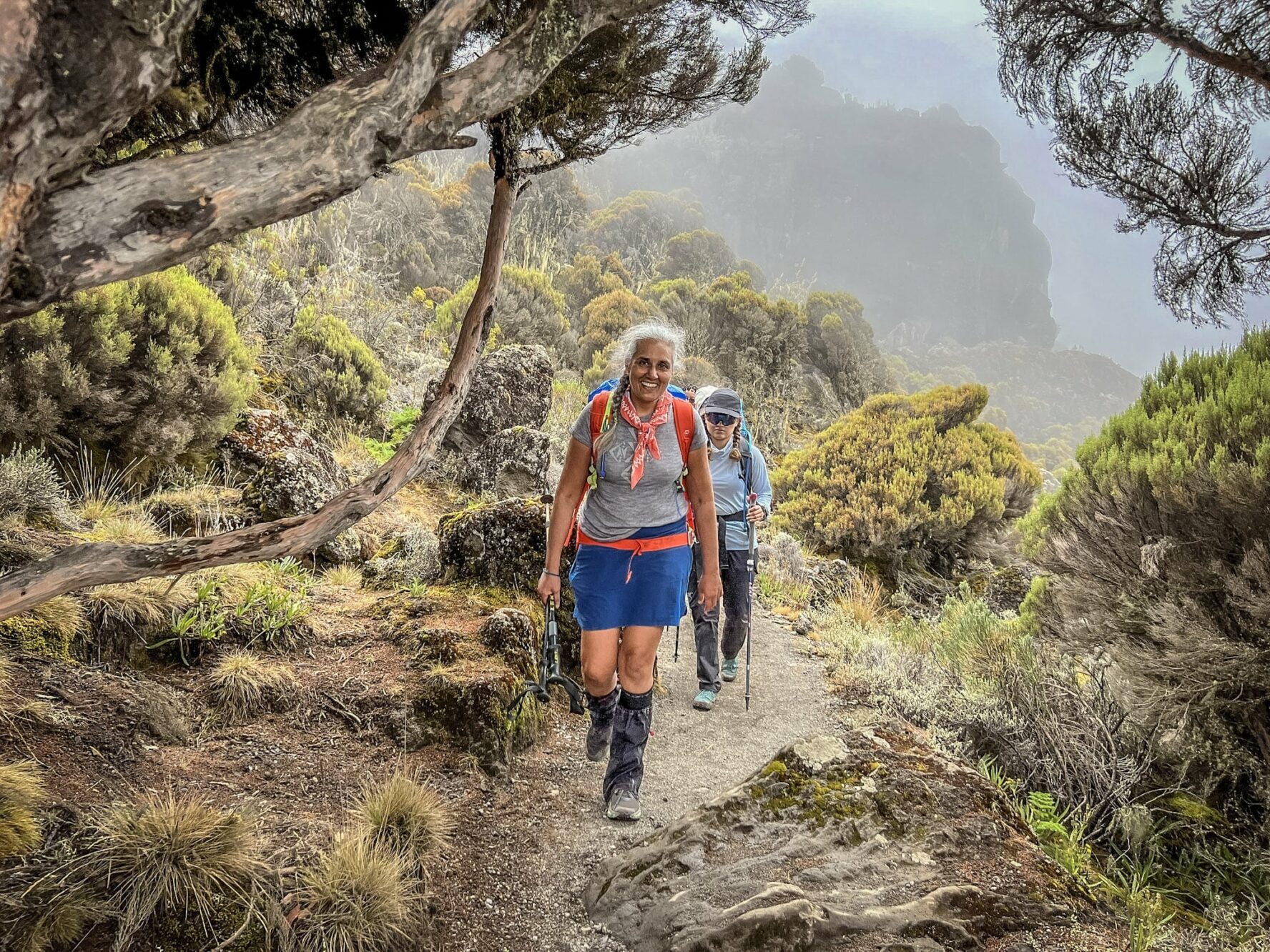 Itinerary
This 10-day climbing adventure takes you to the exotic Kilimanjaro, where you'll develop the requisite skills to move efficiently and safely through varying terrain at high altitudes. The
Machame route is often considered the most scenic approach to Kilimanjaro's summit crater. You'll traverse through five different vegetation zones, from the lush plains of Tanzania to the volcano's glaciated peak. With a great support team, all meals included on the trek, and enough time to acclimatize to high altitudes, you'll maximize your chances of reaching the Roof of Africa.
Once you reach Moshi, your guide will transfer you to your hotel, where you will go over the itinerary, check your gear, and meet the group for a welcome dinner.

Accommodation: Hotel
Meals: Dinner

Use this day to explore the local culture by touring the Nkwaranga Village on Mount Meru. Once you get back to your hotel, make final preparations for the climb.

Accommodation: Hotel
Meals: Breakfast and dinner

In the early morning hours, you will take a ride to Machame Gate, from where you'll trek to Machame Camp at 9,927 ft (3,026m). Along the way you'll pass through the village of Machame and the dense rainforest on a winding trail.  

Accommodation: Machame Camp
Elevation: +4,000 ft/ +1,219m
Distance: 7 miles/ 11km
Duration: 5-7 hours
Meals: Breakfast, lunch, and dinner

After a hearty breakfast, follow the path up to a steep, rocky ridge and through a large river gorge until you reach Shira Camp at 11,500ft (3,500m), the second camp on the Machame Route. 

Accommodation: Shira Camp
Elevation: +3,000 ft/ +915m
Distance: 3 miles/ 5km
Duration: 4-6 hours
Meals: Breakfast, lunch, and dinner

Visit Lava Tower, a 300-foot (91-meter) tall volcanic rock tower formed by the volcanic activity that happened on the mountain centuries ago. This short trip will help you with acclimatization. After visiting this natural wonder, you'll head back down passing the unique Senecio Forest until you get to the Barranco Camp at 13,044 ft (3,976m). 

Accommodation: Barranco Camp
Elevation: +2,800 ft/ 853m
Distance: 6 miles/ 10km
Duration: 6-7 hours
Meals: Breakfast, lunch, and dinner

Begin your day by descending into a ravine to the base of the Great Barranco Wall and climb the steep, but non-technical cliff before you reach the Karanga Camp at 13,106 ft (3,995m). 

Accommodation: Karanga Camp
Elevation: +1500ft/ 457m
Distance: 3 miles/ 5km
Duration: 4-5 hours
Meals: Breakfast, lunch, and dinner

After a good night's sleep, pack up and head to the Barafu Camp at 15,331 ft (4,673m). This is the ending point of the Southern Circuit, which offers views of Mawenzi and Kibo, as well as the peak. Rest and prepare for tomorrow when you'll summit Kilimanjaro!

Accommodation: Barafu Camp
Elevation: +1,800 ft/ 549m
Distance: 2.5 miles/ 4km
Duration: 4-5 hours
Meals: Breakfast, lunch, and dinner

Summit day! Today you'll test your skills and determination on the iconic Uhuru Peak at 19,341 ft (5,895m)—the highest free-standing peak in Africa. After a very early start, as you climb the most challenging portion of the way, you'll be motivated and pushed forward by the most magnificent sunrise over Mawenzi Peak. After some pictures and a few moments to really soak up the views, descend back to Millennium Camp at 12,530ft where you'll spend the night.

Keep in mind that the climb to Uhuru Peak is a great challenge and the summit is by no means guaranteed. However, if you come well-equipped and well-prepared, listen to your guides, and if the weather cooperates, you'll maximize your chances of reaching the top.

Accommodation: Millennium Camp
Elevation: +4,200 ft/ 1,280m, -5,000 ft/ 1,524m
Distance: 10 miles/ 16km
Duration: 9-12 hours
Meals: Breakfast, lunch, and dinner

After a challenging day, this descent to the Mweka Gate will seem like a breeze. Once you come to the end of your Kilimanjaro trail, head to the bustling Moshi.

Accommodation: Hotel
Elevation: -5,000 ft/ -1,524m
Distance: 5 miles/ 8km
Duration: 5-6 hours
Meals: Breakfast, lunch, and dinner

Go around the city and explore Moshi before boarding your plane. If you feel like staying a bit longer, your guide will be happy to help you with suggestions!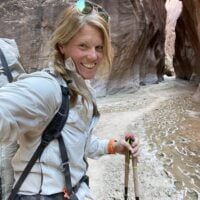 Sunny Stroeer
Lead guide and the owner of AWExpeditions
Lead guide and the owner of AWExpeditions
Sunny led a career-oriented life as an international strategy consultant with a Harvard MBA until a formative adventure on Aconcagua made her drop everything and take on the outdoors full-time. Before long, her exploits on high-altitude hiking and clim...
View details
AWExpeditions organizes mountaineering, high altitude and backcountry adventures for women, by women. AWE decreases barriers of entry to the world of big mountain adventures for women from all walks of life by providing a platform for women and organiz...
View details
Things to know
57hours is committed to providing safe outdoor adventure experiences. We require all guides using our platform to have a COVID-19 safety plan and to make the details of that plan accessible to travelers. In most cases, group sizes will be reduced, guides will avoid overcrowded locations, and other safety measures will be met depending on the location and activity. 

We also expect clients to respect local regulations and take measures to protect themselves, guides and the communities they're traveling to. For more information on COVID-19 measures in Kilimanjaro, Tanzania, please refer to the Tanzania's Center for Disease Control and Prevention.

Please contact us if you have any questions or require further information. We are happy to provide you with the most up-to-date information!

We also expect clients to respect local regulations and take measures to protect themselves, guides and the communities they're travelling to. For more information on COVID-19 measures in Kilimanjaro, Tanzania, please refer to the Center for Disease Control and Prevention.

Please contact us if you have any questions or require further information. We are happy to provide you with the most up-to-date information!

What you get on this adventure:

An experienced, English-speaking mountain guide with extensive knowledge of the area accompanied by local Tanzanian guides

7 days of climbing

Airport transfers during the tour

Transportation during the tour

Accommodation

Main meals pre- and post climb

Meals on the trail (including water, coffee, and tea)

Team gear including mountaineering tents (double occupancy), kitchen, mess tent, bathroom setup, and team medical kit

Real-time GPS tracking and communication

Porter support up to 15kg per person

Pre-climb cultural tour of a Tanzanian village

What's not included:

Transportation to Tanzania

Tanzanian visa (can be obtained either on arrival or in advance as an eVisa)

Meals not listed in the itinerary

Personal backpacking and climbing gear (including sleeping bag)

Climbing snacks (make sure to bring at least 2,500 calories of snacks)

Medical, travel, and rescue insurance (rescue insurance is mandatory – American Alpine Club or RipCord are recommended)

Sodas and alcoholic beverages

Personal expenses 

Safari costs or extra hotel nights in case of early arrival / late departure

Guide gratuities — optional

Climbing Kilimanjaro is for those who are in great physical condition. Although the climb is best suited for those who have previous experience with endurance endeavours, you can also summit Kilimanjaro if you're a first-time backpacker. Keep in mind that high-altitude trekking is hard, particularly when it involves reaching an almost 20,000-foot summit.

You will be hiking between 2-7 miles (3-11 km) a day, tackling between 2,000-7,000 ft (600-2,100+ m) of daily elevation gain while carrying 10-18 lbs of equipment (4-8 kg). While every day has its challenges, summit day is the most difficult, as it comes on the heels of five days of continuous extortion without rest days. Training is essential for your own safety, success and enjoyment. If you're not sure whether you're fit enough for this trip, let your baseline be comfortably completing an 8-to-10-mile hike with +5,000 ft (+1,524m) ascent without feeling utterly exhausted at the end of it.

The real challenge will be the altitude, whose effects can be felt at elevations as low as 8,000 ft. Throughout the expedition you'll have enough time to adjust to higher altitudes by hiking and sleeping at elevations ranging from 4,600ft (Arusha) to over 15,000ft (High Camp) with Kilimanjaro's summit at nearly 20,000ft. Still, mountain sickness (AMS) is still possible, so consulting your physician prior to the trip regarding high-altitude medicine isn't a bad idea.

No prior experience is necessary, but it's more than welcome. Although climbing Kilimanjaro is physically strenuous, it's still suitable for first-time backpackers with a desire to push themselves in a mountain environment, following physical training—your training program should start well in advance of the trip. For your own enjoyment and safety, as well as your guide's and fellow trekkers', make sure you're fully prepared. As a baseline you should be able to comfortably complete a trail half-marathon or hike 15 miles while carrying 20 lbs in a single day.

Above all, your instructor's number one priority is your safety. Summit cannot be guaranteed, but as long as you complete your training prior to the trip and listen to the given instructions, there's a high chance of reaching the top.

Here's a list of the equipment we suggest you bring:

Backpack large enough to carry all the items listed (around a 40L bag)

Waterproof duffle bag (around 80L, max weight allowance is 15kg/ 33lbs)

Water bottle or hydration bladder (2-3L capacity)

Warm sleeping bag (20F or 0F) & compression stuff sack

Sleeping bag

Sleeping bag liner (optional)

Headlamp & spare batteries

Glacier glasses & ski goggles

Insulated mountaineering boots & light hiking boots

Thick wool socks & thin trekking socks

Gloves (lightweight liner gloves, softshell gloves, insulated mittens)

Expedition-weight insulated puffy jacket

Hardshell (GoreTex) wind- and waterproof shell jacket

Softshell jacket

Warm mid-layer top & long-sleeve hoodie

Short or long-sleeved base layer top

Softshell pants & hardshell (GoreTex) pants

Fast-drying base layer bottom (no cotton)

Underwear

Buff, sun hat, and beanie

Light towel

Set of town clothes

Toiletries (sunscreen, bug spray, toilet paper, chapstick with SPF, etc.)

100% UV Sunglasses

Adapter

Camera — optional

You will need clothes for hiking during the day, resting in the evening, and for sleeping. Dress comfortably and for the weather in clothes you can move in. We suggest bringing clothing appropriate for the season. Your clothing should be lightweight, breathable, hand-washable, and quick-drying, which means no cotton.

Tents and group gear will be provided by your guiding service, but you're required to bring your own backpack, sleeping bag, and sleeping pad. If you do not have trekking equipment, such as sleeping bags and backpacks, you can rent it with KitLender.

The porters will carry your main duffel bag. The weight of this pack on Kilimanjaro is limited to 15 kg (35 pounds) per person. Overweight or extra luggage will require an extra porter. 

Group sizes and prices:

The group size for this adventure is 3-8 women climbers with guides. 

Cost is per person and it doesn't decrease as the group grows.

Climbing days in Kilimanjaro can be arranged for bigger groups. Contact us prior to booking.

Min. age requirements:

If you are older than 18, you're good to go.

Minors younger than 18 may be permitted to climb on a case-by-case basis, but must be in the presence of a parent or legal guardian.

If your group has climbers under the age of 18, contact us prior to booking to make arrangements.

A $500 deposit to secure your place is due upon booking. Deposits are non-refundable, but are transferable to a different trip by the guides or guest within three (3) calendar years. The remaining amount is paid 3 months (90 days) prior to departure. Once the trip is confirmed by the guide, the cancellation policy stated below applies.

If Client cancels the Booking anytime prior to ninety-one (91) calendar days in advance of the trip contemplated by the booking, Client is entitled to a full refund minus the $500 deposit.

For cancellations sixty-one (61) to eight-nine (89) calendar days in advance, Client is entitled to a 25% refund on payments made above deposit.

After that deadline, Client is not entitled to any refund. Any reimbursable expenses arising out of the Booking incurred by Guide prior to the date of cancellation (including but not limited to plane tickets, car rental payments, and lodging or transportation fees) are non-refundable as soon as they are incurred by the Guide.

To get to Kilimanjaro, Tanzania, most people fly into Kilimanjaro International Airport. From there, you can rent a car, take a taxi, or take a shuttle for a 40-min ride to Moshi. 

Once you and your guide agree on the details of your itinerary, your guide will suggest the best place to meet, whether that's at the guide shop or a predetermined location. 
Get free trip brochure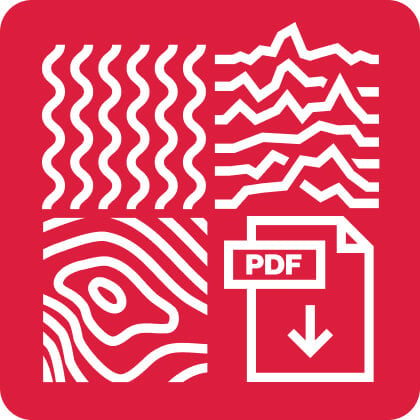 The brochure contains:
Adventure and location overview, itinerary, available dates, what's included, how to prepare, and much more.
Brochure sent, check your inbox
Book a call
with our adventure expert and start planning your perfect adventure.