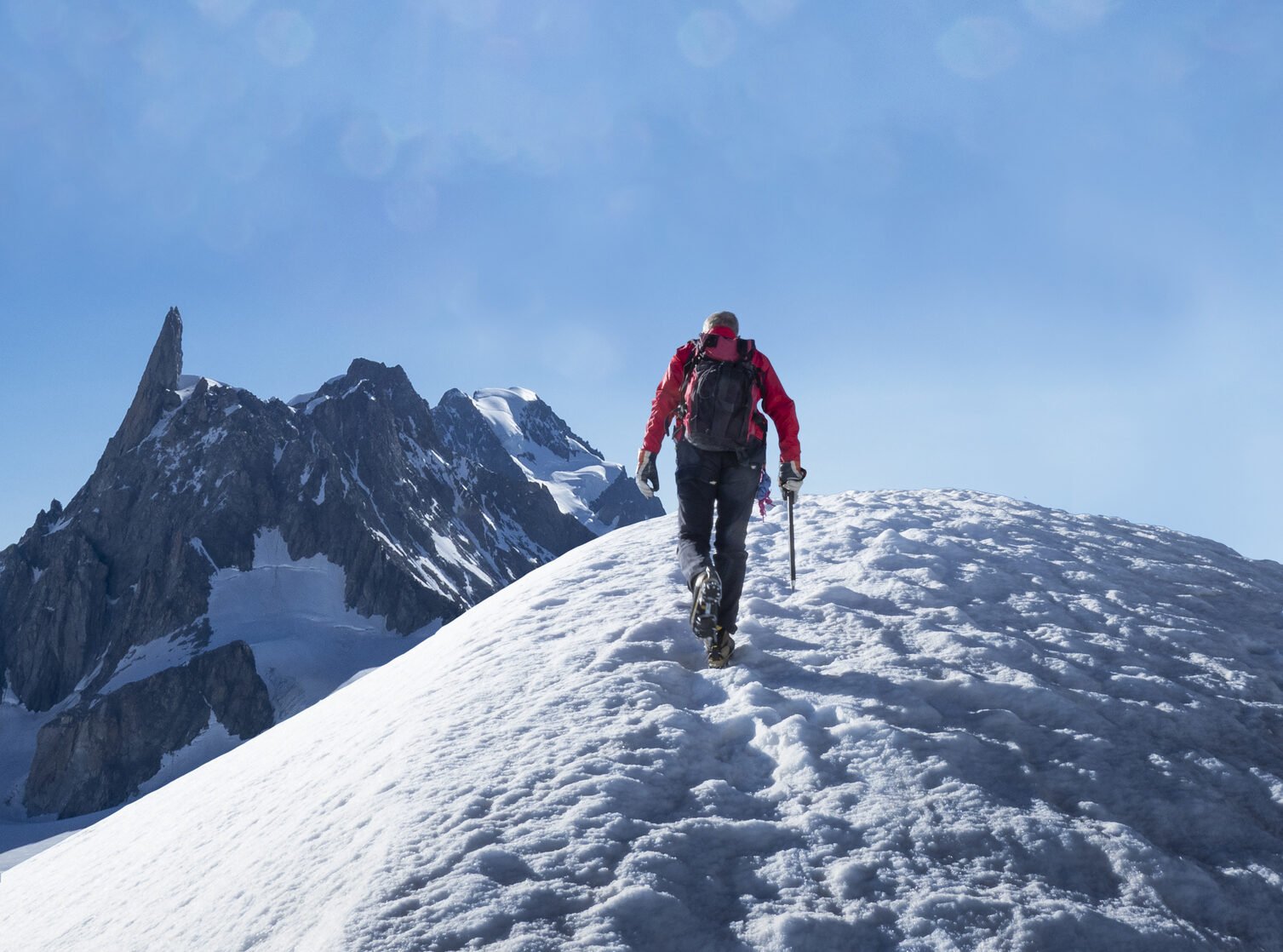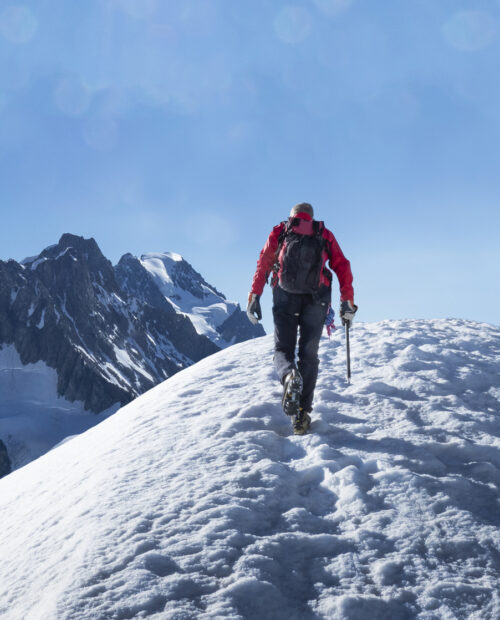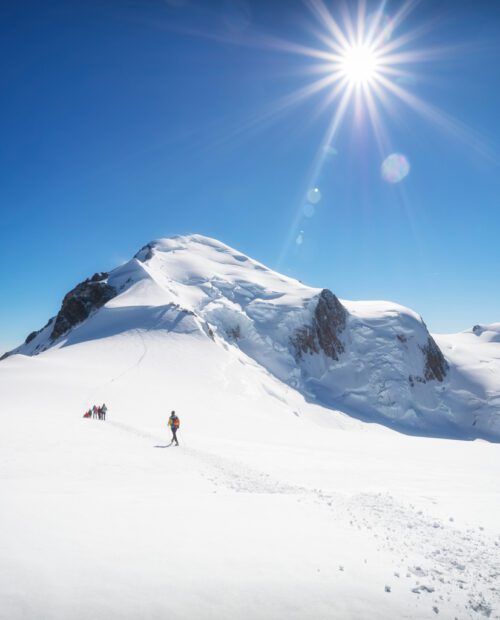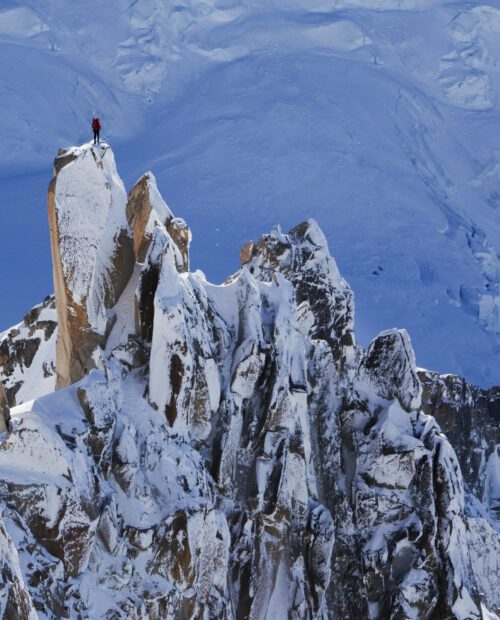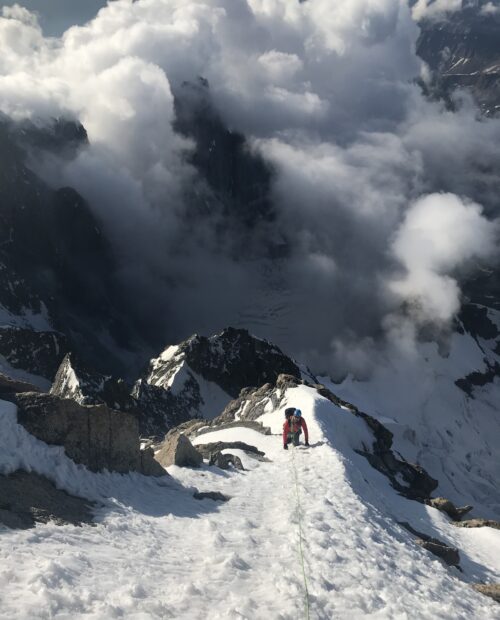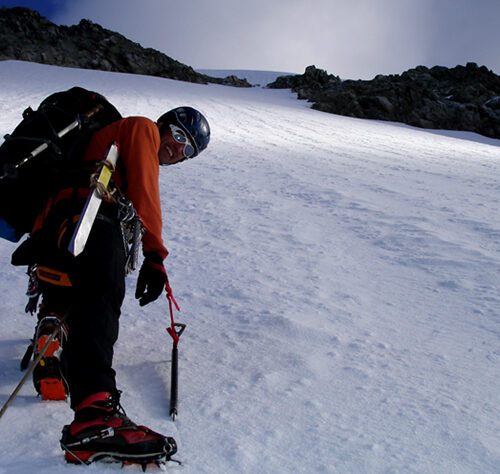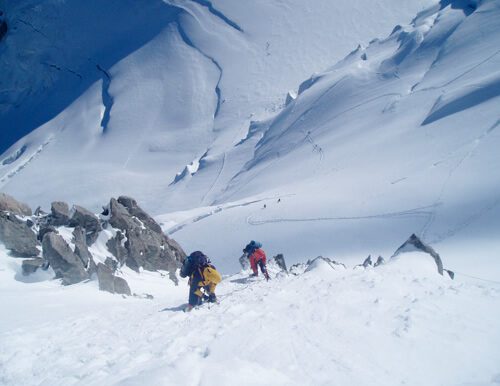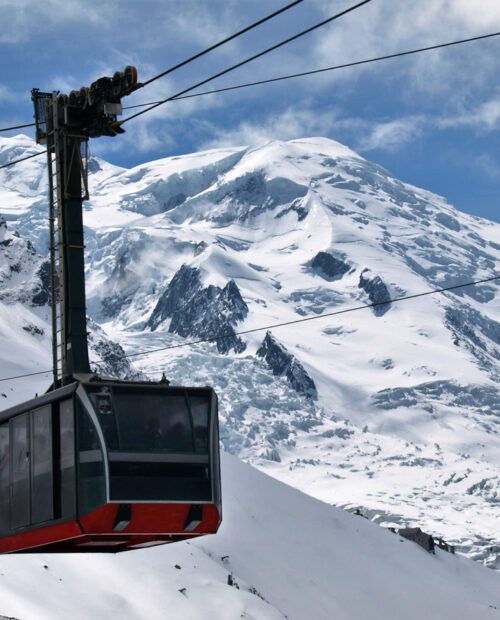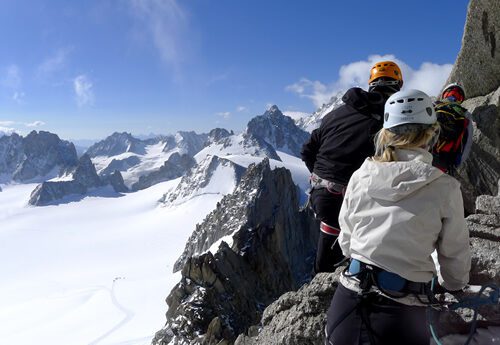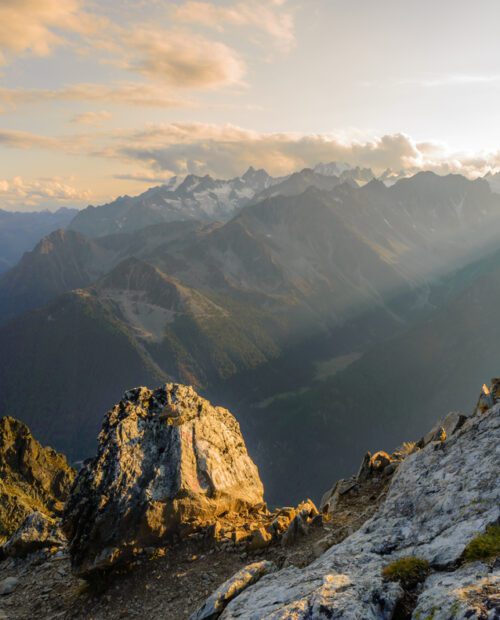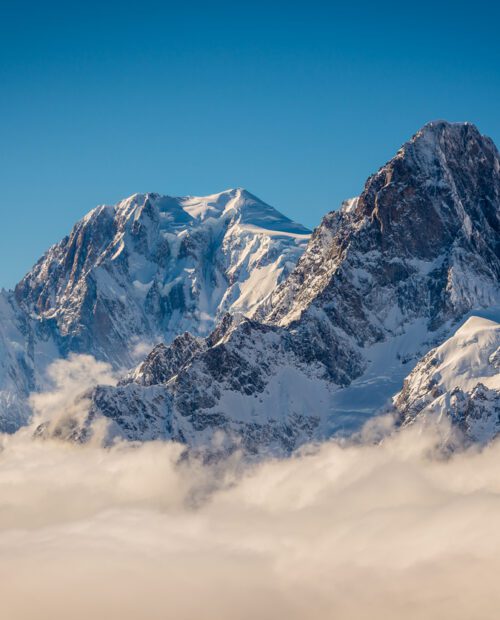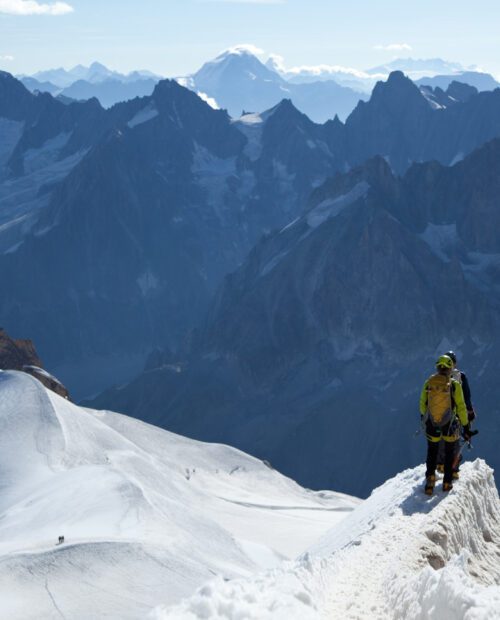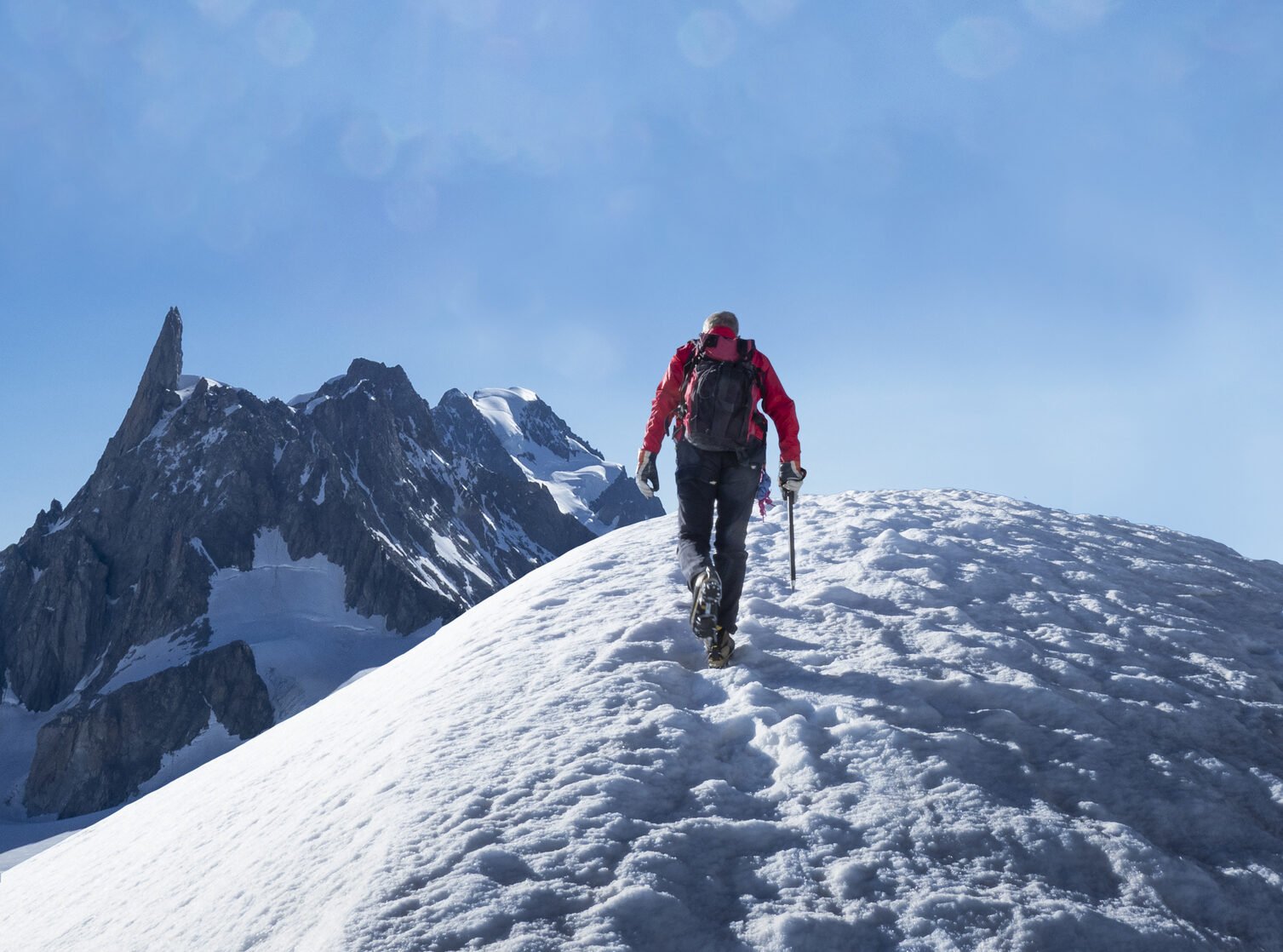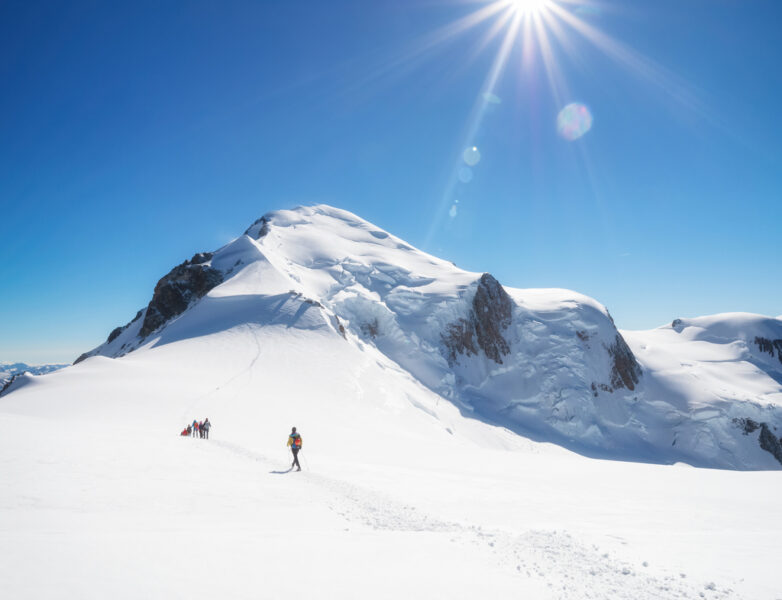 For classic, world-renowned alpine climbs, Chamonix tops the list! The possibilities in the Alps are endless and the Mont Blanc massif area is synonymous with alpine climbing. Find yourself amongst a plethora of routes suited to seasoned climbers — the most common ones are via the Cosmiques Hut and Gouter Hut. After 10 to 12 hours of climbing, the climbers are rewarded with absolutely spectacular panoramas from the summit. Let your guide make this adventure less stressful by handling the logistics, while you focus on climbing and making memories. Cross over from France to Italy and enjoy the alpine atmosphere and natural environment that will take your breath away! Find out everything you need to know about climbing Mont Blanc from Mark Puleio, an IFMGA-licensed mountain guide, as he shares advice and tales from Mont Blanc over his 30-year climbing career!
Few locations can compare to the breathtaking Mont Blanc

The ultimate objective for mountaineers from all over the world

At 4,808 meters (15,774 ft), Mont Blanc is the highest peak in Western Europe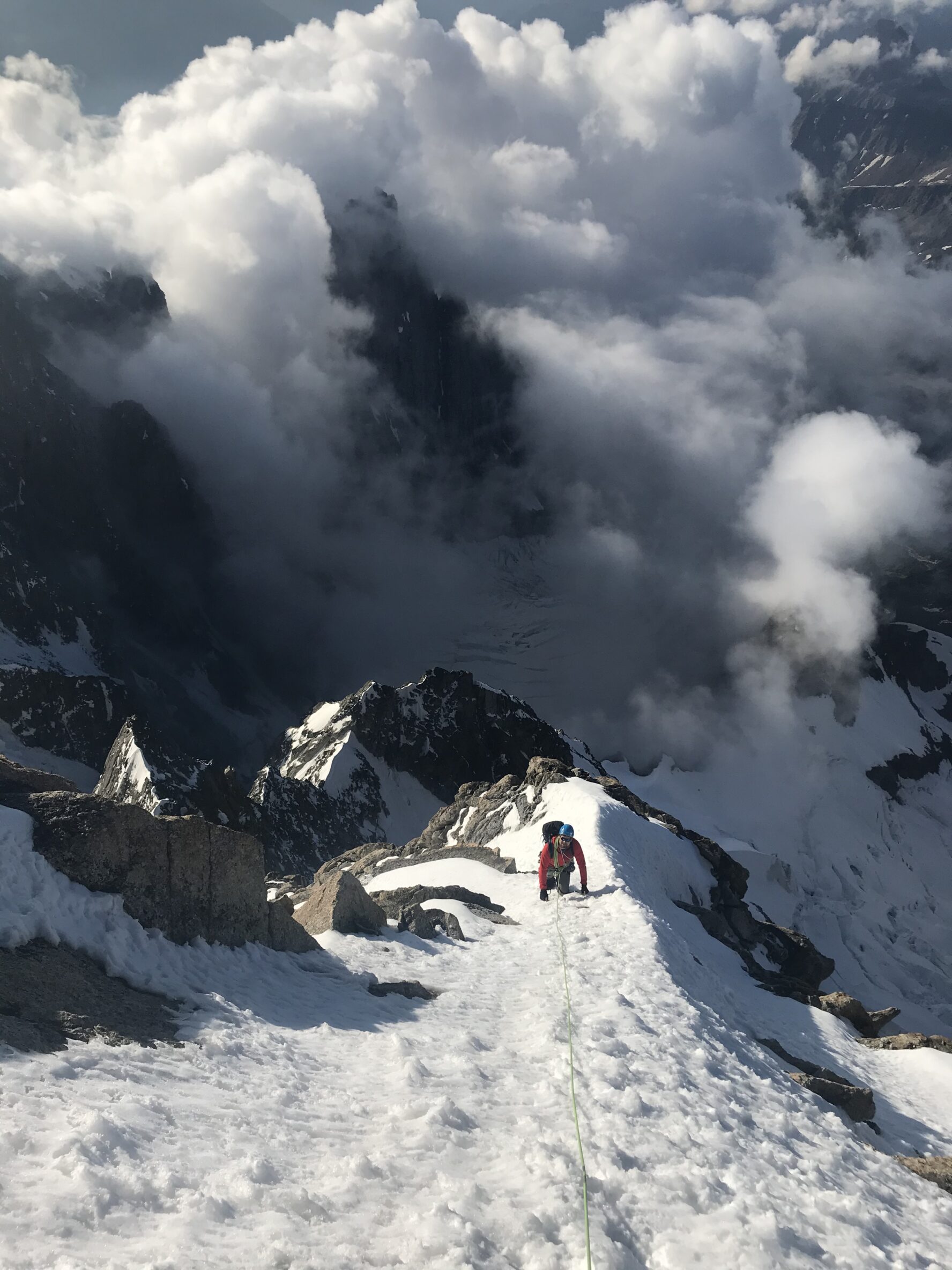 Choose itinerary
3-Day Alpine Climb With a Guide
Jun 02
|
Jun 16
|
Jul 07
|
+5 more
Private 3-Day Alpine Climb With a Guide
Available upon request
Customized 6-Day Alpine Climb With a Guide
Available upon request
Jeff Witt
AMGA/IFMGA Mountain Guide
Jeff is a professional mountain guide with more than 25 years of experience in the field and the founder of High Peak Adventures. He's been everywhere and climbed it all — from the U.S. to the Himalayas, the Alps and more. He's also based out of Chamon...
View details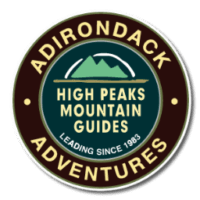 High Peaks Mountain Guides
High Peaks Mountain Guides
High Peak Mountain Guides know the right guide can greatly improve your experience in the mountains. Their team of experienced and professional guides is committed to helping you make the most of your rock climbing and backcountry skiing in the Adirond...
View details
Things to know
57hours is committed to providing safe outdoor adventure experiences. We require all guides using our platform to have a COVID-19 safety plan and to make the details of that plan accessible to travelers. In most cases, group sizes will be reduced, guides will avoid overcrowded locations, and other safety measures will be met depending on the location and activity.

We also expect clients to respect local regulations and take measures to protect themselves, guides and the communities they're travelling to. For more information on COVID-19 measures in Mont Blanc, please refer to the Chamonix-Mont Blanc website.

Please contact us if you have any questions or require further information. We are happy to provide you with the most up-to-date information!

What you get in this adventure:

An experienced UIAGM/IFMGA high mountain guide with extensive knowledge of the area
Three or six days of alpine rock climbing
All safety equipment

What's not included:

Transportation to and from Chamonix
Gondola return ticket
Accommodation (huts and meals are usually 50 to 75 euros per day)
Meals and snacks
Accommodation prior and after the trip
Guide's expenses
Personal expenses
Trip insurance
Personal climbing gear

With routes from medium to extreme difficulty to choose from, at a minimum this peak requires strong cramponing and ice axe skills, coupled with perseverance and determination to reach the summit. A typical schedule involves 3-days of climbing, and prior acclimatization climbs are highly recommended. Gran Paradiso, the highest peak in Italy, is a great option for this. In order to enjoy this adventure, you need to have excellent physical condition, knowledge of mountaineering techniques and previous alpine and rock climbing experience.

Climbers should be comfortable on 40 degree snow and ice slopes and climbing on exposed ridges. There is a possibility of snow on the approach that may require ice axes and crampons, and exposed alpine rock. To ensure you have a fulfilling day, your guide will choose routes that best suit your skill and fitness level.

If you would like to take an acclimatization hike with a guide, let us know and we can help make arrangements.

This alpine climbing adventure is best suited for intermediate to advanced mountaineers. Excellent physical condition, a knowledge of mountaineering techniques and previous alpine climbing experience ideal. Climbers should be comfortable on 40 degree snow and ice slopes and climbing on exposed ridges.

There will be snow on the approach that will require ice axes and crampons, and exposed alpine terrain. Basic rock climbing (grade II and III) is expected in some sections, this is a route that you can successfully complete with the help of a guide. Let a guide plan the perfect day and focus on safety, so you can focus on having an amazing experience.

Here's a list of the equipment we suggest you bring:

Technical equipment:

Light rack
Crevasse rescue kit — optional
Harness
Helmet
Belay device (your typical multi-pitch personal kit)
Chalk bag
Hardshell
Ice axe
Trekking poles
Rock shoes
Headlamp

Your guide will take care of all safety gear, crevasse rescue equipment, and ropes.

For personal items, we recommend bringing:

Fleece or wool hat
Neck gaiter
Hardshell jacket with hood (Gore-Tex or equivalent)
Lightweight wind shell
Down or synthetic jacket with hood
Long-sleeved base layer
Gloves
Long base layer pants (tights work well in the summer)
Hardshell pants (Gore-Tex or equivalent)
Softshell pants (wind-proof or wind-resistant)
Leg gaiters (ankle to mid calf height works best in summer)
Liner socks and wool socks
Mountaineering boots that work with crampons (available for rent)
Crampons (available for rent)
Climbing shoes (available for rent)
Daypack large enough to carry all the items listed (around a 25L backpack for a one day trip)
Sunglasses or a visor hat
Water bottle or hydration pack
Food you can eat on-the-go
Toiletries (sunscreen, hand sanitizer, blister kit, toilet paper, etc.)
Sleeping bag liner
Camera — optional

All mandatory gear will be provided by the guide if you don't have your own. As for the personal items:

Rental location is in Chamonix and should be picked up the night prior to your outing. If you need to rent gear, let us know and we can help make arrangements.

For this adventure, the usual client to guide ratio is 1:1 or 2:1 and cost is per person.

If you are older than 18, you're good to go! If your group has climbers under the age of 18, contact us prior to booking to make arrangements.

Geneva International Airport (GGV) is a one-hour drive from Chamonix. If you're inexperienced with driving on mountain roads, consider hiring a driver. There's also private or group transfers between Geneva Airport and Chamonix. If you're traveling by train, the Chamonix Mont Blanc Station is located in the city center.

Once you and your guide agree on the details of your itinerary, your guide will suggest the best place to meet.
Climb via Tête Rousse and Goûter Hut Route
After you meet your guides and check your equipment, head to your trailhead. Take a gondola ride to Bellevue and a short train ride to Nid D'Aigle (2,362 m / 7,750 ft). After a few hours of trekking on an easy trail and a short traverse across a little glaciated plateau, arrive at the Tête Rousse Hut (3,167 m / 10,400 ft) where you'll re-organize your gear, acclimate to new heights, and relax for the day.

Your second "day" starts early — around 1 a.m. Head for the technical crux: the ascent to the Goûter Hut. This day is full of challenges, so after some short glacier travel, you'll encounter the Grand Couloir — the most notorious and objectively dangerous part of the ascent. Scramble along a steep, rocky spur to reach the Goûter Hut (3,800 m / 12,500 ft) for a short break and follow the steep glacier with little difficulties to the Vallot Hut (4,300 m / 14,100 ft).

The rest of the route follows the Arête des Bosses and becomes steep and in places very narrow and exposed, with amazing views all the way down the valley to Chamonix. Finally, you arrive at the relatively flat and spacious summit at 4,808 m / 15,770 ft. Enjoy the spectacular vistas over the Western Alps, take photos, catch your breath, and enjoy the moment! Return to the Goûter Hut in the early afternoon — probably completely exhausted after being on your feet for about 12 hours at high altitude.

Today you'll descend to the Tête Rousse Hut, and once you're there, leave the technical difficulties and rockfall hazard behind you. You should be back at the Nid D'Aigle train station around noon, and be back in Chamonix in the early afternoon hours. Use the remainder of your day for a drink with your guide and finally relax from this once-in-a-lifetime experience!

This is a typical itinerary for summiting Mont Blanc via Tête Rousse and Goûter Hut Route. However, the itinerary can be customized in agreement with the guide. The itinerary may also change depending on weather conditions and other possible hazards.

In case the summit is not possible on Day Two due to weather, there is still the option to leave in the early morning hours from the Goûter Hut and try to reach the summit. This demands a faster pace as you pass the most exposed rockfall zone on the descent below the Goûter Hut before the sun hits the slope, increasing rockfall hazard.
Climb via Cosmiques Hut
After meeting with your guide, take a picturesque gondola ride to the Aiguille Du Midi. Here, you can take the elevator to the summit terrace to enjoy the views of the route to Mont Blanc. After a short descent followed by a scenic traverse, a short hour-long ascent takes you to the Cosmiques Hut (3,600 m / 11,800 ft). In the afternoon, use your free time for a short training session with your guide or just enjoy the views from the terrace to re-energize and adjust to the change in altitude.

The second day of your trip will be spent training and acclimatizing to the high altitudes. The goal for the day is to get you warmed up, and go over some technical skills without tiring you — you have to stay energized for the ascent the next day! After the training, return to the Cosmiques Hut for dinner and early bedtime.

Get ready for an early start at about 1 a.m., and get to the top between 7:30 and 8 a.m. The route follows a steep glacier trail to the Mont Blanc du Tacul. Prepare for a strenuous climbing segment at a 55-degree snow/ice pitch and reach the Col Maudit. This segment requires front-pointing technique on your crampons. After conquering that part of the trail, the route to the summit gets relatively easy! After you reach the top and take a few pictures for your album, begin with descending either via the Goûter Hut Route or back the same way, which gets you back to Chamonix usually between 4 and 6 p.m.

This is a typical itinerary for summiting Mont Blanc via Cosmiques Hut. However, the itinerary can be customized in agreement with the guide. The itinerary may also change depending on weather conditions and other possible hazards.
Get free trip brochure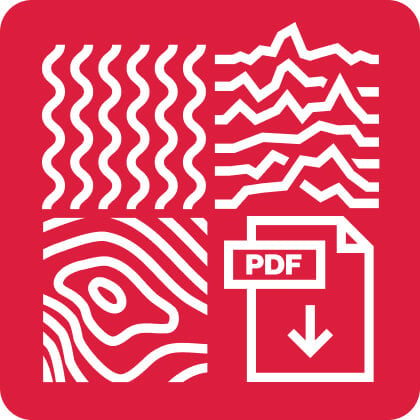 The brochure contains:
Adventure and location overview, itinerary, available dates, what's included, how to prepare, and much more.
Brochure sent, check your inbox
Book a call
with our adventure expert and start planning your perfect adventure.