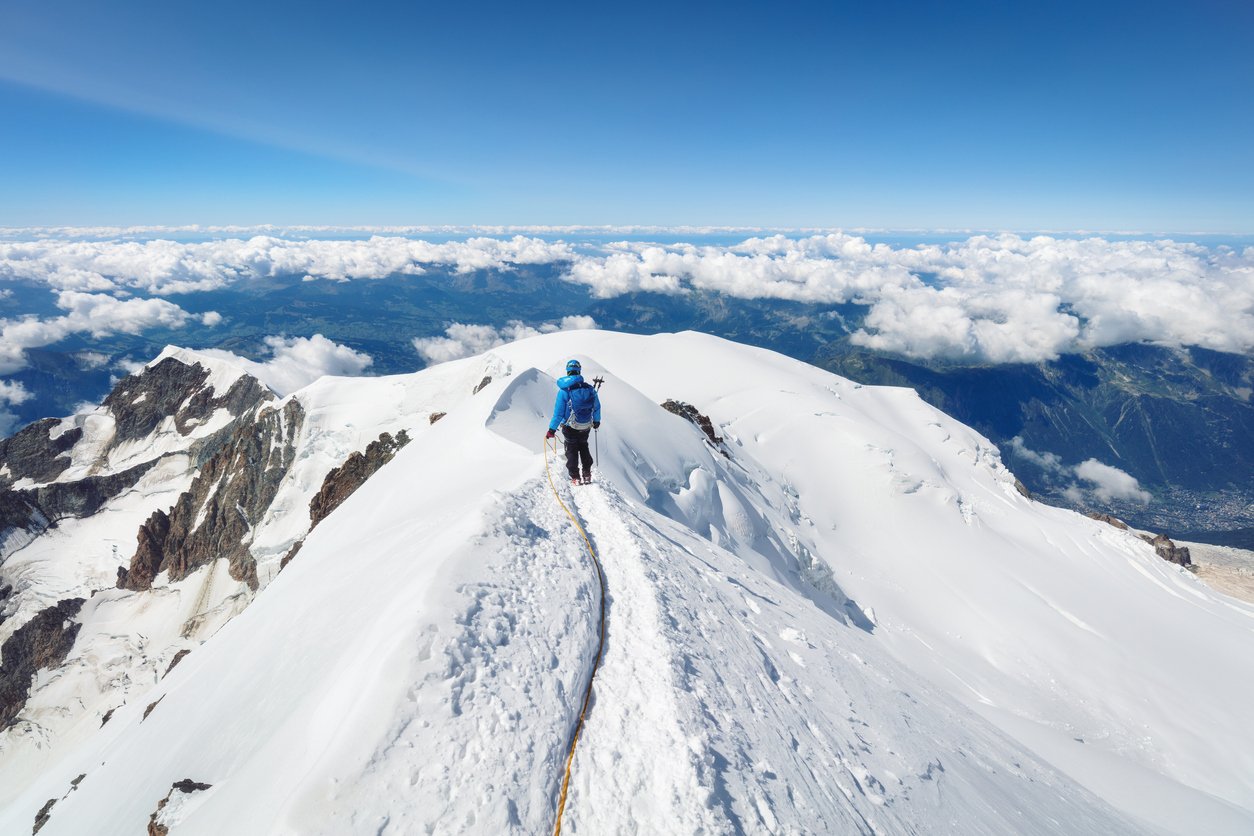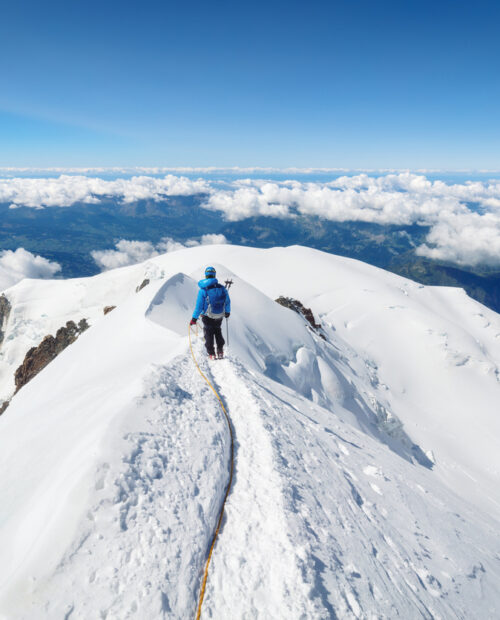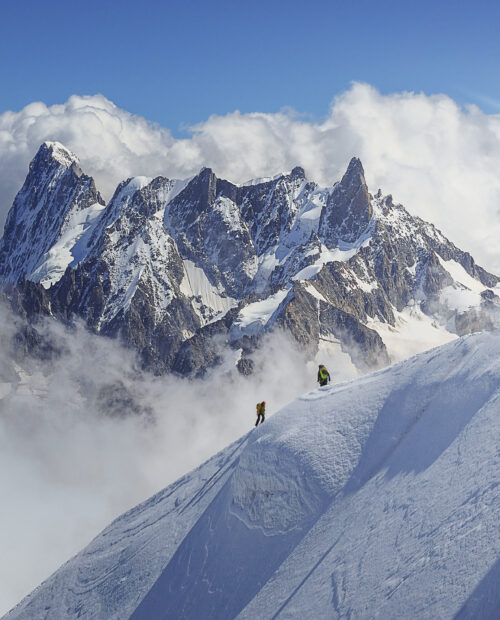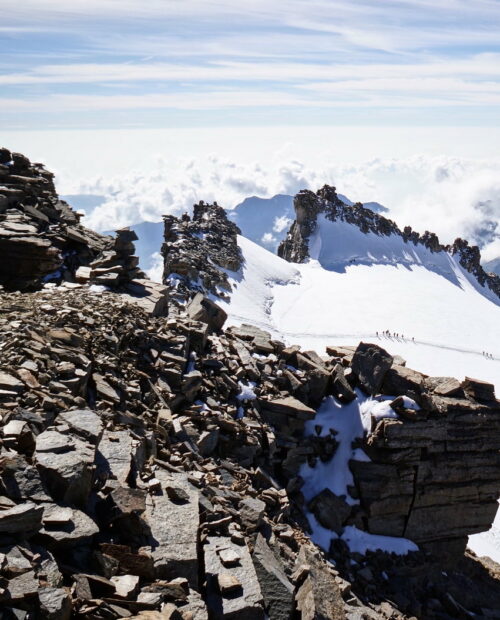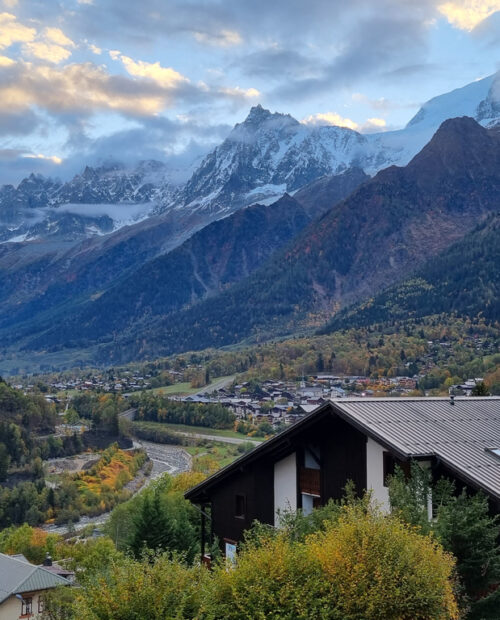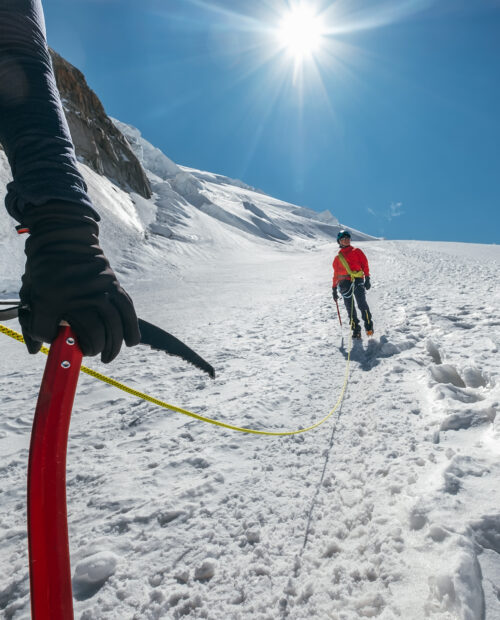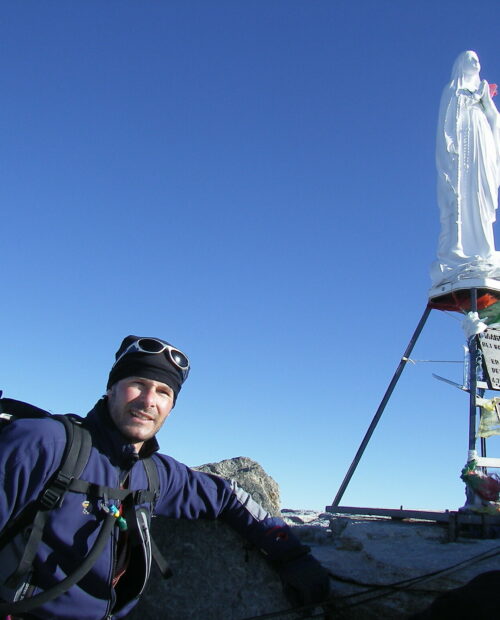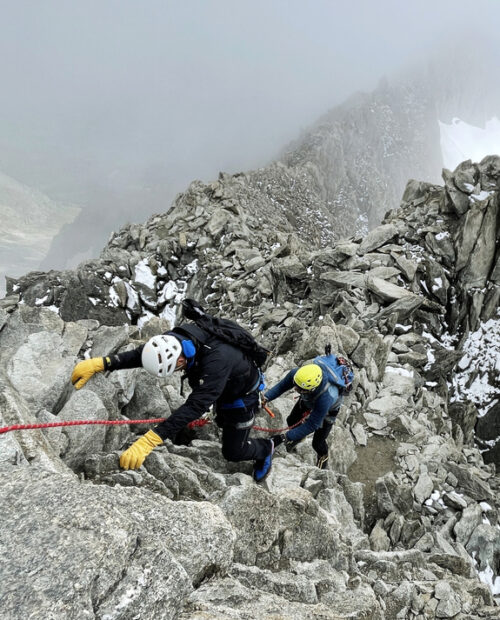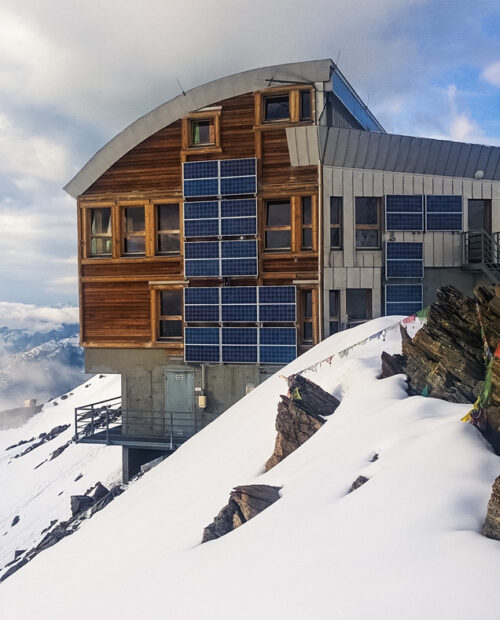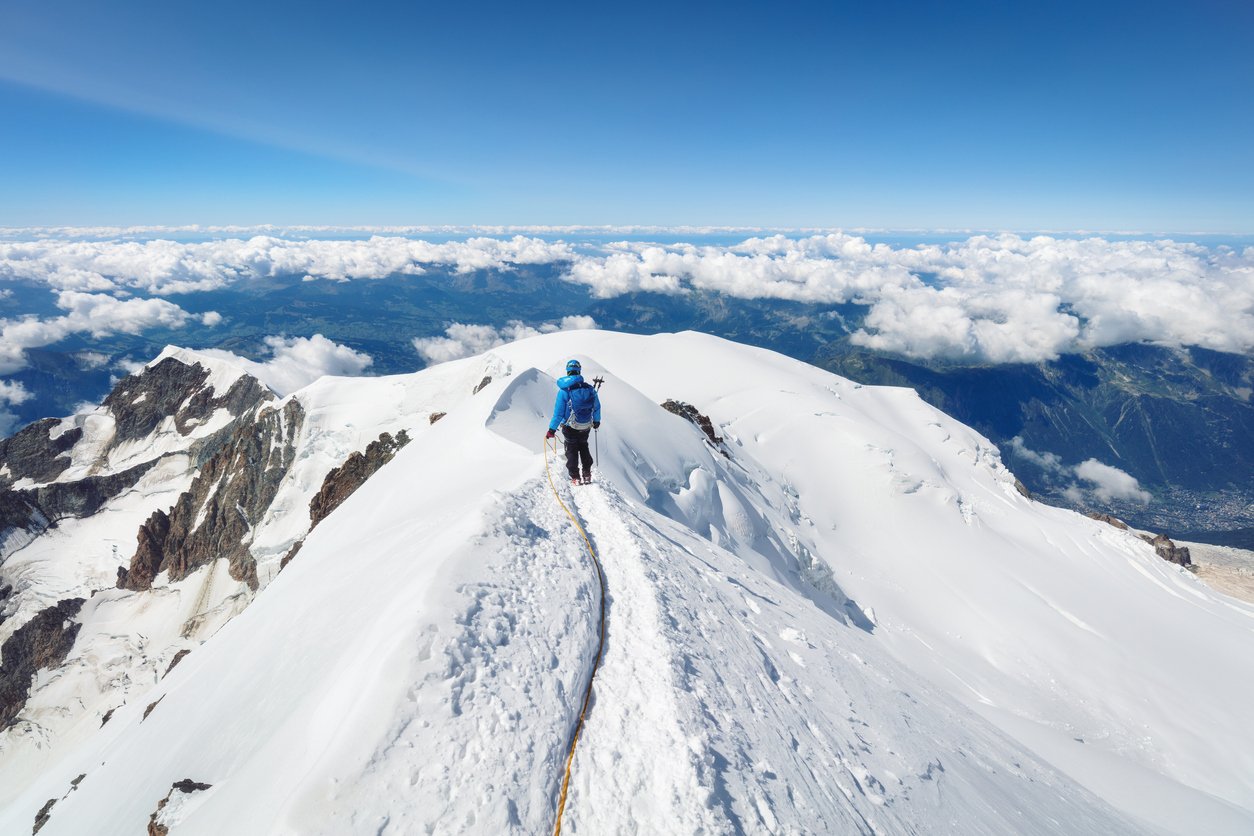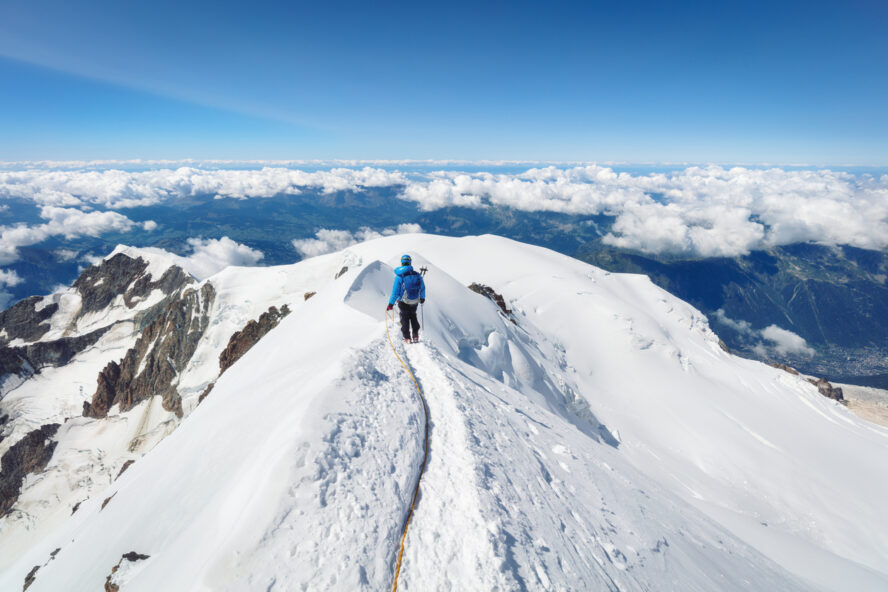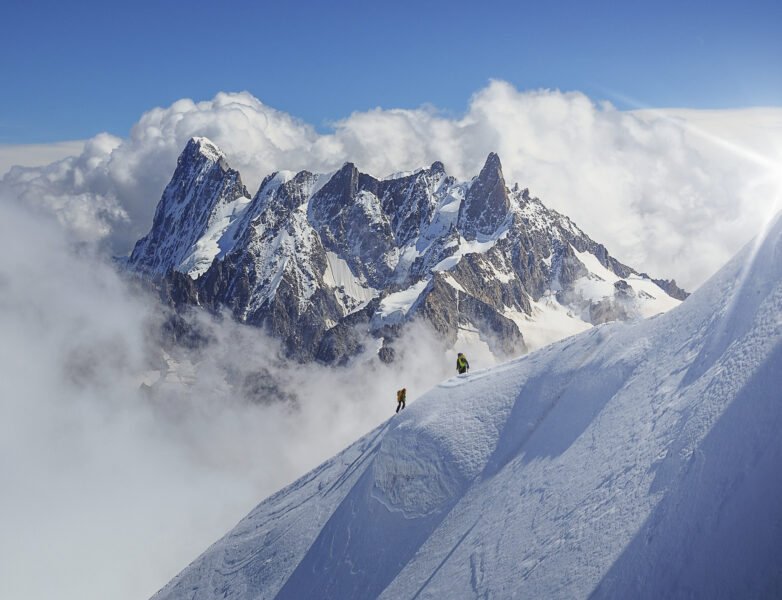 Alpine Climbing Mont Blanc with a Private Guide
Season
Late spring and early fall
Nearest city
Geneva, Switzerland is 1 hour away
The dream of summiting Mont Blanc has been shared by mountaineers all over the world for well over 200 years. For many, this daring objective remains in the planning stage—but it doesn't have to. Following the footsteps of alpinism pioneers, reaching the 15,780' summit has never been more palpable. Starting in the cradle of mountaineering, Chamonix, you'll first acclimate and climb the Italian giant Gran Paradiso—arguably the most accessible of the +13,100' Alpine peaks. After getting multiple days of preparation, you'll be burning with anticipation to finally stand at the top of the highest mountain in Western Europe. Turn this dream into reality with one of the best IFMGA mountain guides—on an adventure designed for a successful ascent. 
Experience the thrill of climbing Mont Blanc with the help of an experienced guide

Increase your odds by acclimatizing and climbing Monte Rosa beforehand

You'll be joined by an IFMGA Mountain Guide with 20 years of experience
Itinerary
Test your limits and make lifelong memories on a private guided alpine climbing adventure taking you to the top of Gran Paradiso and Mont Blanc! Starting in Chamonix, you will leave civilization for uncharted Alpine wilderness made up of thrilling climbs and cozy mountain huts. In the first part of the trip, your focus will be to acclimatize, train, and scale the Italian giant Gran Paradiso, while the last 3 days are reserved for a face-off with the highest peak in Western Europe. 
Arrive in Chamonix and go to your hotel. You'll meet your Mont Blanc climbing guide in the evening to discuss the plan for the week and do an extensive gear check. Get to know your guide a bit more over dinner and retreat to your room to get a good night's sleep—adventuring begins tomorrow. 

After breakfast, you'll leave Chamonix, cross the border with Italy and get to the Valsavarenche valley. After enjoying lunch in an Italian restaurant, walk up to the rifugio Chabod, which will take you between 2 and three hours. You'll spend the afternoon training with your equipment. Your guide will teach you the necessary techniques that will help you in the days to come. You'll spend the night in the hut. 

Wake up early, eat breakfast and begin ascending Grand Paradiso. Standing at 13,323 feet (4,061 meters), it's the highest peak in Italy. The climb begins with a glacier trek and finishes on a spectacular ridge. The ascent boasts an altitude gain of 4,430 feet (1.350 m) and will take you and your guide around 5 hours. Apart from Madonna waiting for you on the top, from here it's also possible to see Mont Blanc in the distance (on a clear day). Descend back to the hut (around 3.5 hours) and spend the second night there. 

After breakfast, you'll leave the Chabod hut at 7:30 am, descend back to the valley and drive back to Chamonix. Spend the afternoon getting some well-deserved rest and exploring this charming town before retreating to your hotel room. 

​​After a relaxing morning, do a gear check and make some last-minute purchases. Afterward, take the Bellevue cable car to the Col de Voza and board a pinion to the Nid d'Aigle. From here, you'll walk with your guide to the Tete Rousse. After approximately 2 hours, you'll have reached the hut. Retreat early—a long and strenuous day is ahead of you. 

Your climbing attempt starts at 2.00 am. You will follow the route taking you to the Gouter refuge and along the Bosses ridge. After 7 to 8 hours, you should be standing at the top of Mont Blanc! Take in the spectacular views and celebrate this tremendous achievement with your guide. There won't be a lot of time for celebration though, because what follows is a descent along the same route, which can be just as difficult as the ascent. After reaching the hut, get something to eat and hit the sack. 

Leave your hut at 7.30 am, descend back to the valley and the town of Chamonix. Today it's time to properly celebrate your achievement with your guide. You'll also get a chance to explore the city some more and sample many of its culinary delicacies. Spend another night in a hotel in Chamonix—the adventure ends tomorrow. 

Your Gran Paradiso and Mont Blanc guided alpine climbing trip has come to an end. Say goodbye to your alpine climbing guide and to the Alps—or continue touring on your own. 
Get free trip brochure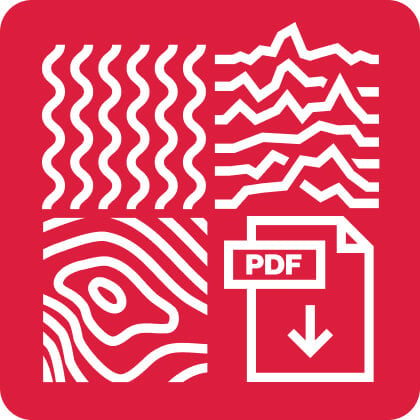 The brochure contains:
Adventure and location overview, itinerary, available dates, what's included, how to prepare, and much more.
Brochure sent, check your inbox
Talk with us
and let one of our adventure experts help you plan your perfect adventure.
Meet your guide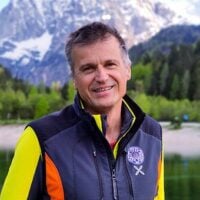 Slovenian IFMGA Mountain Guide Klemen Gricar has 20 years of experience guiding rock and ice climbing, backcountry skiing, and mountaineering tours. Based out of the Julian Alps, he's also an avid mountain photographer, a member of the Kranjska Gora mountain rescue team, and was even president of the Slovenian Mountain Guide Association between 2009-2013.
Things to know
What you get in this adventure:

An experienced IFMGA mountain guide with extensive knowledge of the area

Six days of alpine climbing, including summiting Gran Paradiso and Mont Blanc

What's not included:

Transportation to and from Chamonix

Airport transfers — we recommend Mountain Drop-Offs

Transportation during the adventure

Gondola return ticket

Accommodation (huts and meals are usually 50 to 75 euros per day)

Meals and snacks

Personal expenses

Trip insurance

All alpine climbs are physically demanding and this is especially true of climbing Mont Blanc. For example, the effort needed on the summit day exceeds that of running a marathon. On top of that, it requires a specific skill set, such as usage of equipment, efficient travel strategies in glaciated terrain, basic snow/ice movement skills, and basic crevasse rescue techniques. You should work on your fitness by walking up the hills or in the gym. Mountain days are long, low-intensity exercise, which is hard to replicate in short gym sessions, so strength exercises (squats, step-ups, stair-climbing with a rucksack) are more useful than speed exercises (running, spinning). 

Recommended additional training includes hiking for three days per week at least 12 weeks prior to your trip. The alpine terrain can be challenging and the weather unpredictable. Also, the altitude can really catch people off guard, so for a 72-hour period before your trip begins, ensure that you are consuming sufficient amounts of sodium and fluids. Participants should arrive with a healthy desire for enduring mountain conditions. 

Keep in mind that your guide will make sure that you are in the best possible condition before climbing Mont Blanc.You will spend several days acclimatizing, learning new skills (if necessary), and climbing the less demanding Gran Paradiso in preparation for Mont Blanc. You should also take into account that reaching the summit is not always guaranteed, despite a high success rate.

This Mont Blanc guided alpine climbing trip is best suited for advanced mountaineers. Excellent physical condition, a knowledge of mountaineering techniques and previous alpine climbing experience are ideal. As a preparation for summiting Mont Blanc, you will spend several days acclimatizing and climb the less demanding Gran Paradiso. 

Climbers should be comfortable on 40-degree snow and ice slopes and climbing on exposed ridges. There will be snow on the approach that will require ice axes and crampons, and exposed alpine terrain. Basic rock climbing (grade II and III) is expected in some sections. 

Keep in mind that your guide will follow you every step of the way, determine your skills and fitness level, teach you some techniques that you lack prior to the ascents, and make the experience safe.

For technical alpine climbing equipment, you'll need to bring:

Helmet

Headlamp

Trekking/ski poles

Harness with a locking carabiner, belay device, and chalk bag

Light rack

Crevasse rescue kit

Ropes

Climbing hardware (quickdraws, cam devices, stoppers, etc.)

This is a list of clothing we recommend bringing:

Fleece or wool hat

Balaclava and a buff

Neck gaiter

Hardshell jacket with hood (Gore-Tex or equivalent)

Expedition-weight bottoms

Lightweight wind shell

Down or synthetic jacket with hood

Long-sleeved base layer

Gloves — lightweight synthetic, windstopper gloves, big mountain gloves and mittens

Long base layer pants

Lightweight trekking pants

Expedition-weight bottoms

Hardshell pants

Softshell pants (wind-proof or wind-resistant)

Quick-dry shorts

Leg gaiters

Liner socks, hiker socks and warm socks

For other personal items, we recommend bringing:

Mountaineering boots that work with crampons

Hiking shoes

An internal frame backpack (35-45L)

Compression stuff sacks

Chemical hand and toe warmers

Glacier glasses and goggles

Water bottle or hydration pack

Plastic bowl, spoon and coffee mug

Food you can eat on-the-go

Pocket knife

Toiletries (sunscreen, hand sanitizer, blister kit, toilet paper, pee bottle, etc.)

Camera — optional

Keep in mind that this list includes everything you might need, but the gear list is dependent on weather conditions and other factors. You'll get a chance to talk about the required equipment with your guide prior to the trip. In addition to that, you'll also do an extensive gear check with your guide before climbing Gran Paradiso and before climbing Mont Blanc.

Group sizes and pricing:

For this private adventure, the usual client-to-guide ratio is 1:1. The price is per person.

Climbing Gran Paradiso and Mont Blanc can be arranged for larger groups. Contact us to make arrangements.

Min. age requirements:

If you are older than 18, you're good to go.

Minors aren't permitted to join this tour.

A 30% deposit to secure your place is due upon booking. The remaining amount is paid 2 months (60 days) prior to departure. Once the trip is confirmed by the guide, the cancellation policy stated below applies. 

If Client cancels the Booking anytime prior to thirty (30) calendar days in advance of the trip contemplated by the booking, Client is entitled to a refund in the amount of fifty percent (50%) of the total amount paid when Booking. 

After that deadline, Client is not entitled to any refund. Any reimbursable expenses arising out of the Booking incurred by Guide prior to the date of cancellation (including but not limited to plane tickets, car rental payments, and lodging or transportation fees) are non refundable as soon as they are incurred by the Guide.

To get to Chamonix, most people fly into Geneva International Airport (GVA), one hour away. Once you arrive, there are several ways to reach your destination, including public transport. Looking to make the airport transfer hassle-free? Check out Mountain Drop-Offs—they provide door-to-door service in their comfy and spacious shuttles. Another option is to take a shuttle bus.

Once you and your guide agree on the details of your itinerary, your guide will suggest the best place to meet, which will be at a hotel in Chamonix on Day 1 of the tour in the evening, so make sure to arrive before 6 pm.

57hours is committed to providing safe outdoor adventure experiences. We require all guides using our platform to have a COVID-19 safety plan and to make the details of that plan accessible to travelers. In most cases, group sizes will be reduced, guides will avoid overcrowded locations, and other safety measures will be met depending on the location and activity.

We also expect clients to respect local regulations and take measures to protect themselves, guides and the communities they're traveling to. For more information on COVID-19 measures around Gran Paradiso in Italy, in Chamonix in France, and in Geneva, Switzerland please refer to the Official Italian Tourism Website. The Website of the French Ministry of Internal Affairs, and the Swiss Information Website.

Please contact us if you have any questions or require further information. We are happy to provide you with the most up-to-date information!
Get free trip brochure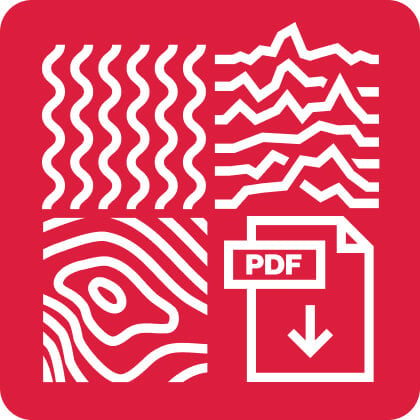 Adventure and location overview, itinerary, available dates, what's included and much more.
Brochure sent, check your inbox
Talk with us
and let one of our adventure experts help you plan your perfect adventure.
Other things to do in France