3. Paintbrush Canyon and Cascade Canyon Loop
What I love about Grand Teton National park is that canyons provide the setting for many of the park's incredibly scenic hiking trails, and the celebrated Paintbrush Canyon Loop Trail might just be the most epic of them all. Make no mistake, this is one pretty tough hike, no matter how fit you are. So tough, in fact, that some folks opt for backpacking it in two or even three days. Others eager to test themselves undertake this 20-mile (32 km) journey in a single day. Whatever you choose, you can be sure that you're in for an unforgettable experience. Jenny Lake, Holly Lake, Inspiration Point, Lake Solitude, Cascade Canyon, Paintbrush Canyon — the list of spots you'll visit on this trail reads like a "best of" compilation of the Tetons in and of itself.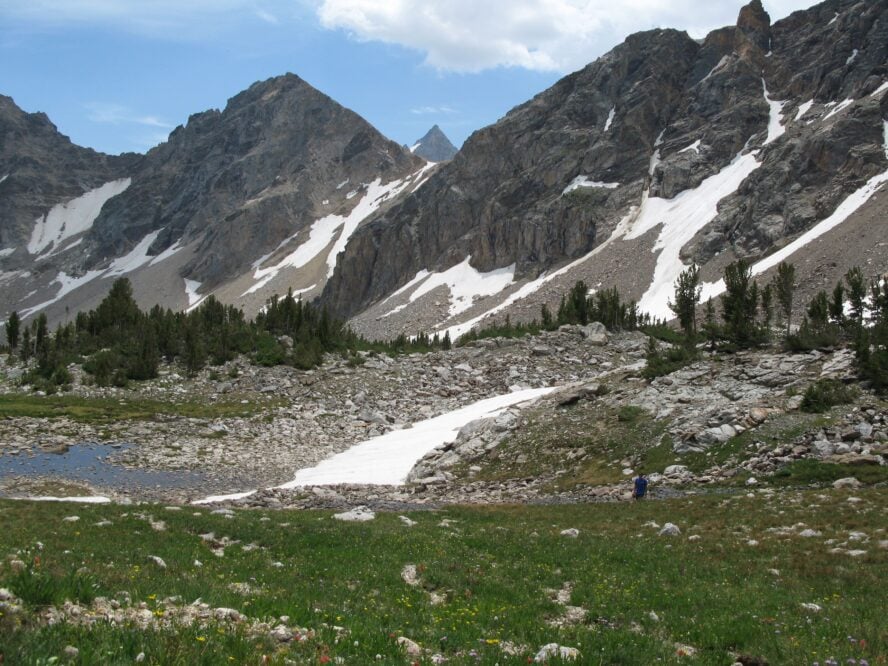 Consider Hiking This Loop Trail Counterclockwise
Since this is a loop trail, it can be hiked both ways. If you're worried about the difficulty, I'd suggest hiking counterclockwise because that way you'll get most of the climbing done early in the day. You'll start at the String Lake Trailhead going towards Jenny Lake, where you'll have great views of the Gros Ventre mountains to the east. As you make your way up Paintbrush Canyon, you'll be able to enjoy its beautiful wildflowers and foliage, especially in the fall, when the trees are flush with colorful leaves. You'll definitely want to have your camera with you, because the higher you climb, the more spectacular the views become. After passing Holly Lake, the elevation starts to take its toll. Vegetation gives way to rock and the zig-zagging trail becomes steeper as you near the 10,700-ft (3261 m) summit. Once there, take in the panorama with all your senses, but watch out for the strong winds!
Hiking to Cascade Canyon: One of My Favorite Places in the Park
Then it's time for the descent. Carefully proceed down towards the remote Lake Solitude nestled up in the heart of the Tetons and rest up a bit before moving on to Cascade Canyon, one of my absolute favorite places in the park. If you're lucky enough, you might see some moose near the streams or the odd fox going about its business. The last stretch towards String Lake is not going to be easy. Be sure to drink plenty of water and take quick breaks. When you're coming back down the steep trails on tired legs, it can really push your leg muscles to its limits. I personally prefer going clockwise, up Cascade and down Paintbrush Canyon, being surrounded by the towering rock walls of Mount Woodring, Rockchuck Peak or Mount Saint John as I near the finish line. The entire loop takes 8 to 12 hours, so be sure that you're well prepared before deciding to hike it in a single day.