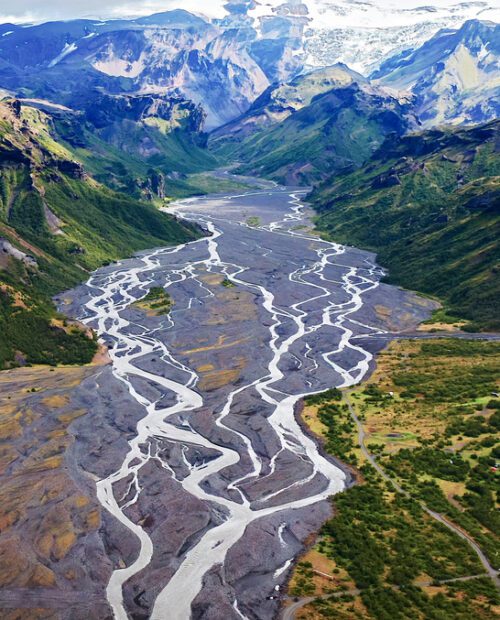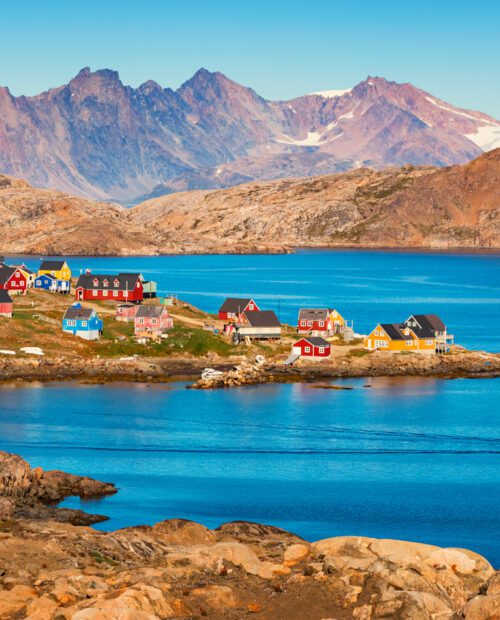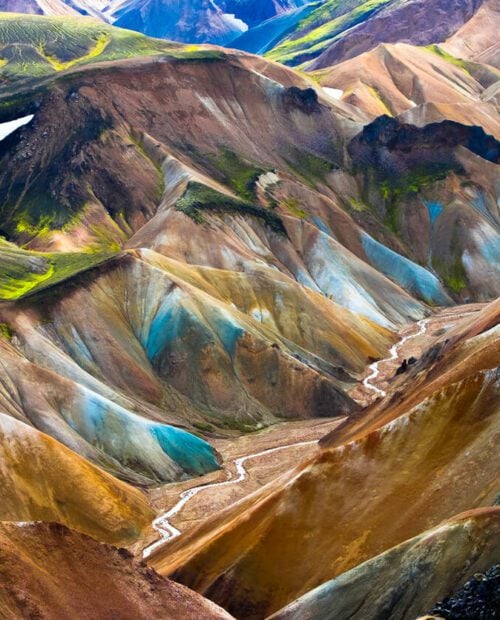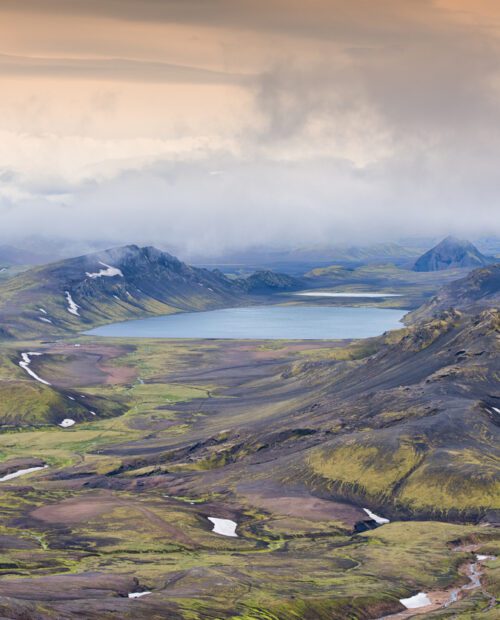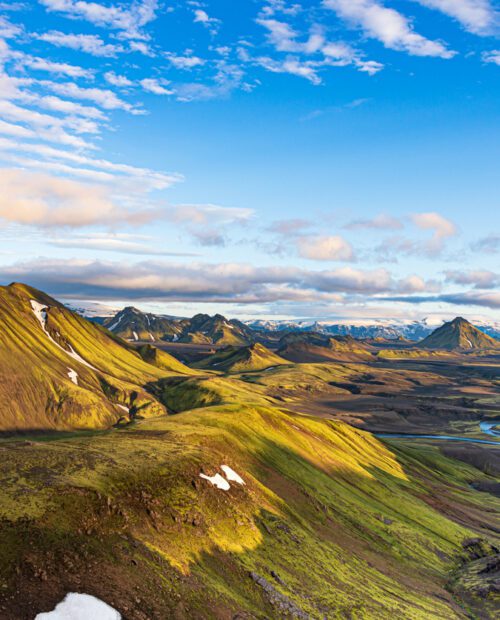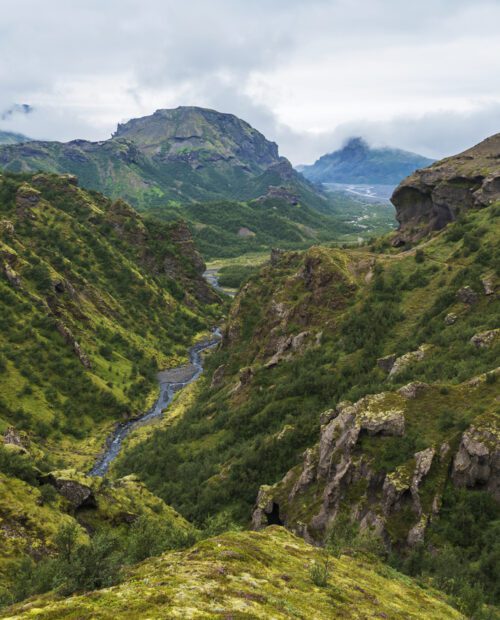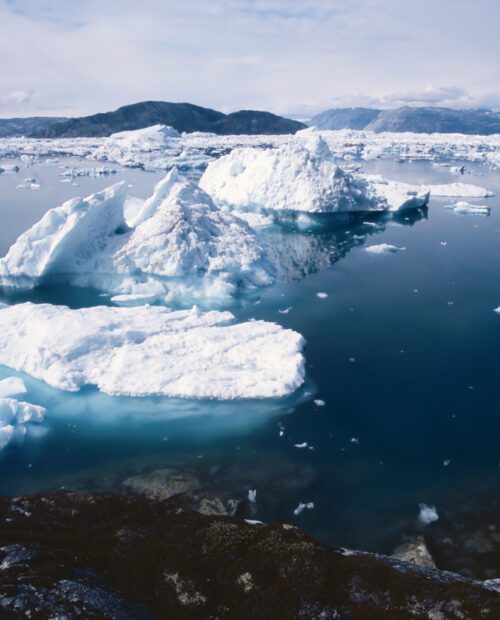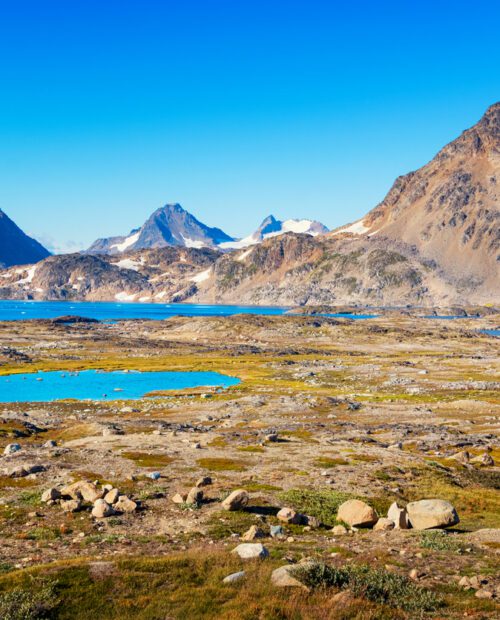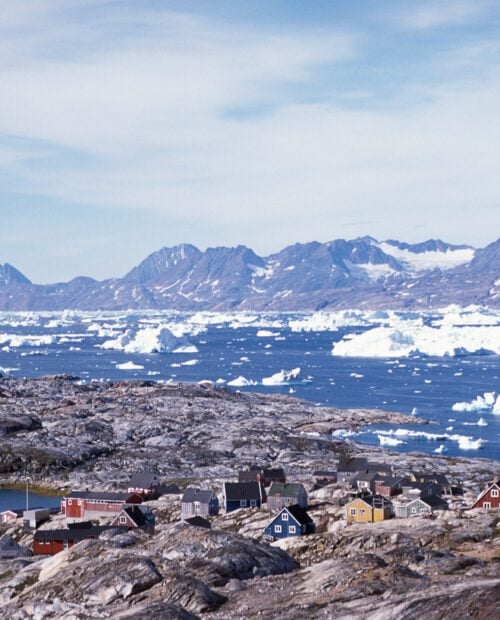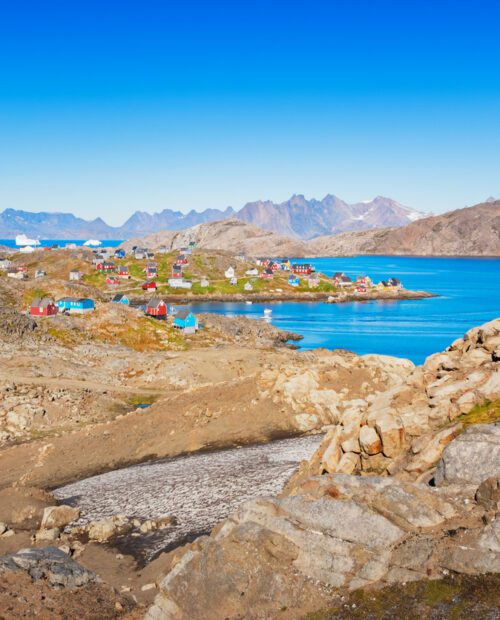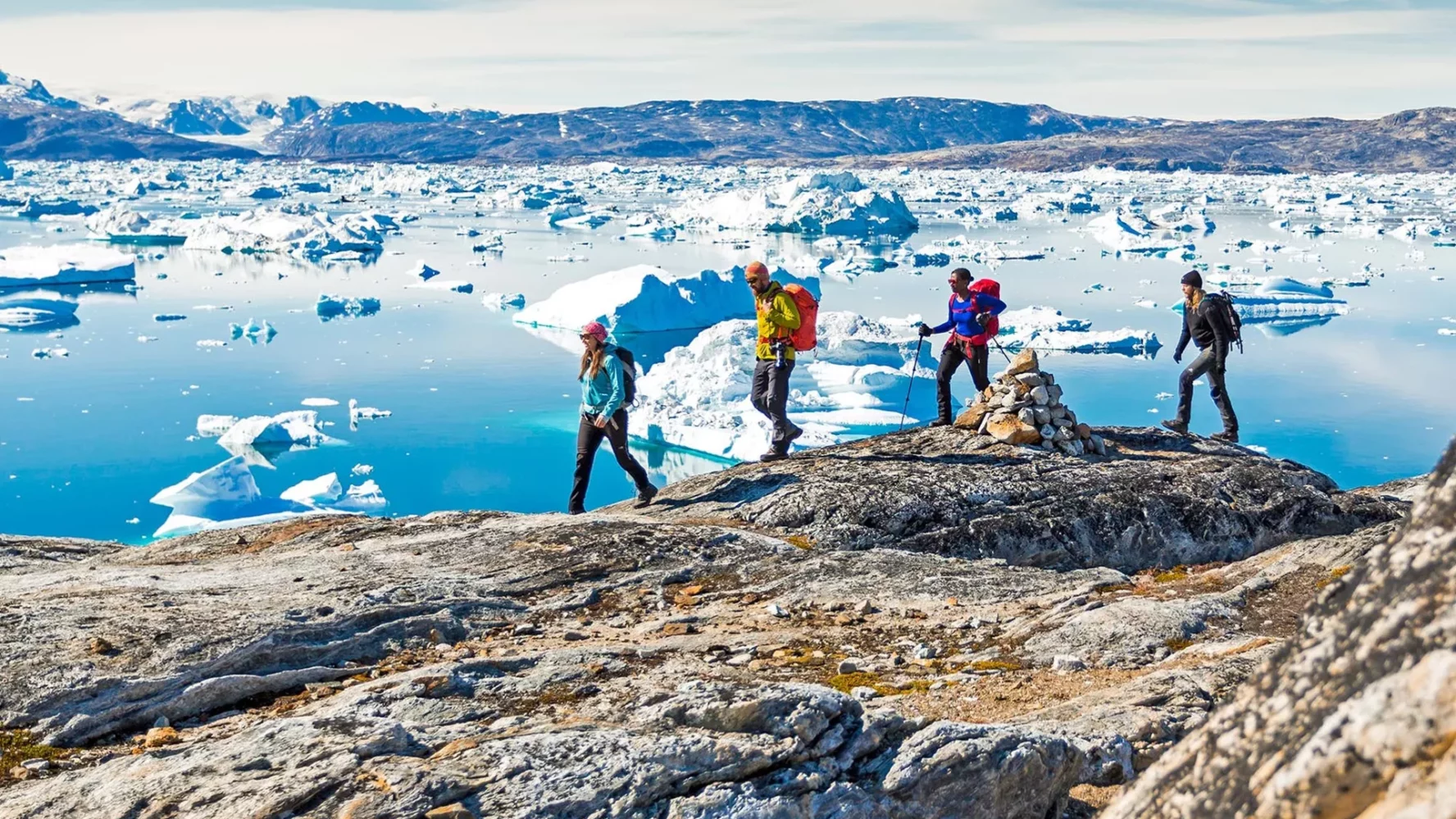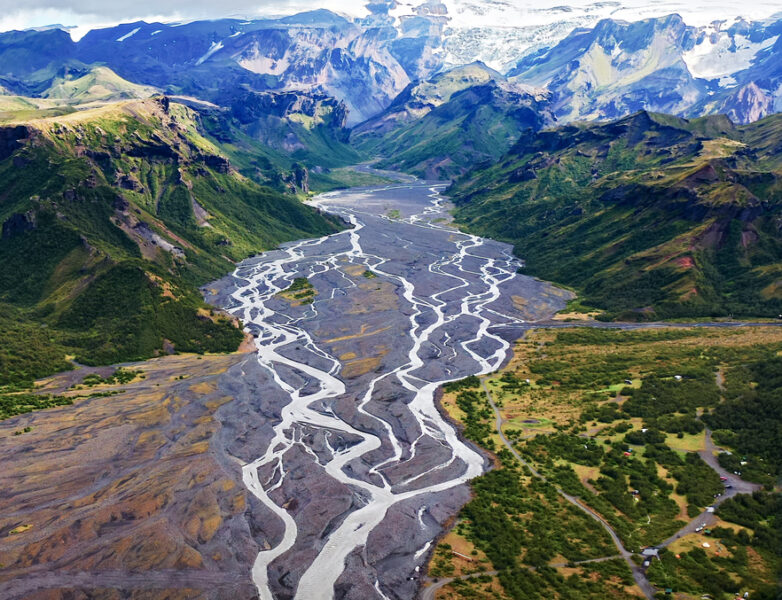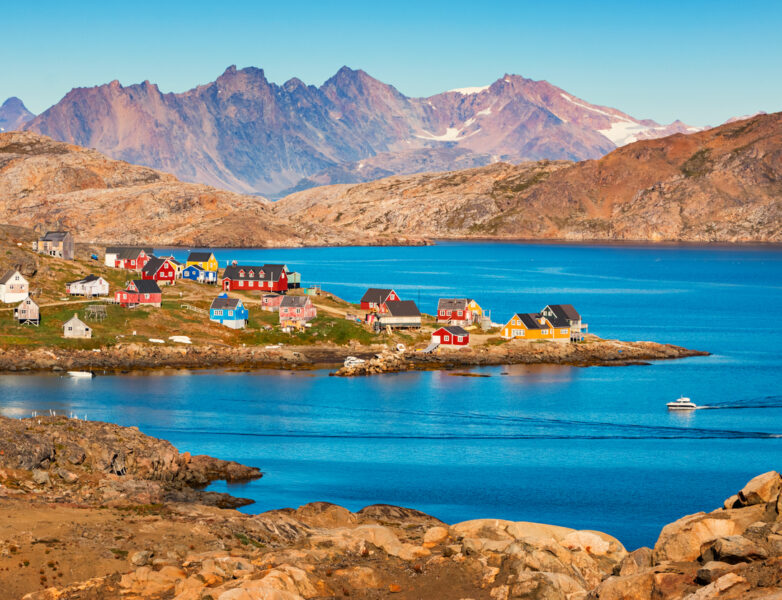 Absorb the remoteness of our planet's northernmost frontiers with a combined journey to Iceland and Greenland. Eleven days of pure hiking bliss are ahead of you, with the first portion reserved for the volcanically and geothermally active Iceland and the second for the 4-billion-year old Greenland, the largest island in the world. Starting with the world-renowned Laugavegur trek—named one of the most beautiful hikes in the world by National Geographic—you'll cross moss-carpeted lava fields, black deserts, and rhyolite mountains. Continuing onto Greenland, you'll explore its untamed East Coast: deep fjords, calving glaciers, granite peaks, turquoise lakes—just to name a few of them. Find out more about hiking the Laugavegur Trail by Saga Líf, a local Iceland Hiking Guide and exploring East Greenland by Albert Ojembarrena, AIMG Mountain and Glacier Guide.
A journey skirting along the edge of Arctic Circle

Discover the intrepid lifestyle of Icelanders & Greenlanders

Experience southwestern Iceland's and eastern Greenland's best-ofs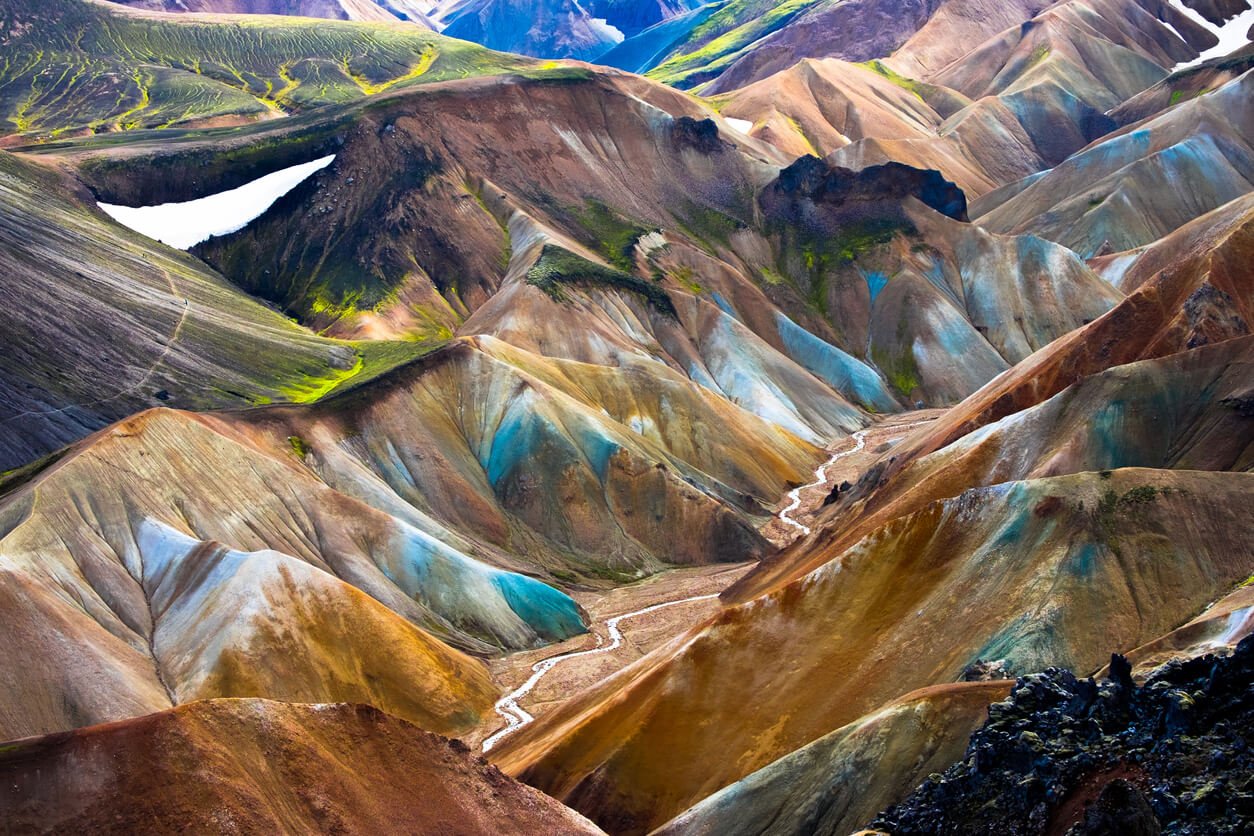 Having been with IMG for over 20 years now, Ívar is one of the more experienced guides there and he's been on most of their ski and mountain biking tours, hiking, climbing and ice climbing trips, and expeditions in Greenland, Asia, and Antarctica. Ívar...
View details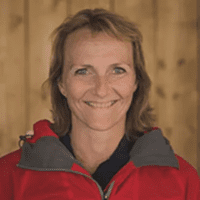 Þóra Jóhanna Hjaltadóttir
Þóra Jóhanna Hjaltadóttir
Þóra is a native Icelander who's been working as a guide for more than 20 years. She became a guide because of her passion for outdoors exploring and love for Iceland's unique nature. Þóra's hobbies include running, tennis, biking, and knitting. She is...
View details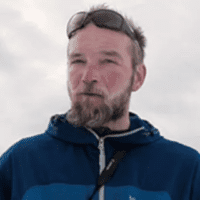 Jón is a very experienced summit and glacier guide for both summer and winter. He's been leading and co-leading expeditions in Iceland and Greenland and he has been an instructor to junior grades. Jón is an IMG and AIMG-certified glacier guide, a level...
View details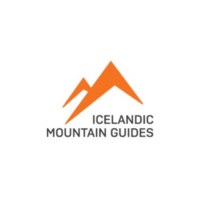 Icelandic Mountain Guides
Icelandic Mountain Guides
Hiking Guides
Icelandic Mountain Guides offer the perfect variety of experiences to satisfy anyone's desire for adventure. Whether you want to relax in the unparalleled beauty of Iceland's nature or take a more challenging adventure, they've got you covered. The pos...
View details
shellzy2014
about
Icelandic Mountain Guides
on Tripadvisor
Just spent 11 days on the most amazing adventure with Icelandic Mountain Guides. Part one was the Laugavegur Trek, 5 days of hiking from hut to hut with our guide Greta. The scenery was so beautiful and Greta was an amazing guide, cooking and watching out for 15 of us. Her and her husband did an excellent job of making sure all of our food and necessities were transported between huts.Part two started with a flight to Kulusuk, Greenland. This is where the adventure part started to get real. As we walked away from the airport towards the small village, we were greeted by howling sled dogs and colorful houses. Here you start to realize you're in a whole different culture. This part of the trip involved quite a bit of labor as your gear is transported between campsites by boat. Luckily the nine of us in our group were always ready to jump in and get things moved around so camp could be setup quickly and efficiently.
Our guide Thora was awesome. You could really see her passion for Greenland and that she loved every bit of her job. Greenland is very rugged and untouched, and Thora had no problems leading us over all the different types of terrain. The hiking was very challenging and also very rewarding at the end of the long days. You will not see another person for the entire time you are hiking and camping. We were also lucky to meet some other members of the Icelandic Mountain Guides team while in Greenland. This company is top notch and based on all my experiences, I wouldn't hesitate to recommend them for adventure travel while in Iceland or Greenland.
Mark W
about
Icelandic Mountain Guides
on Tripadvisor
We (15 of us from Miami University) visited Kulusuk with Icelandic Mountain guides (this is our 3rd tour with them, the first 2 were in Iceland). The trip was fabulous. The scenery was great and the location was remote. If you want to get away from the beaten tourist path this is the place to be. Our guide was Einar. He shared a wealth of information with us. He also connected well with the students and became part of our group. Thanks to Einar my students and I not only had a wonderful trip but learned a lot on the way through. I lead two study abroad trips a year and I'm going to make this trip part of my regular rotation. It was a truly awesome experience.
Debbie Worner
about
Icelandic Mountain Guides
on Tripadvisor
Walking in Greenland was wonderful. Icebergs, glaciers, whales, summer flowers, fabulous views and the local Thule culture. It was almost a wilderness experience as there are no paths and no grazing animals to damage the vegetation and soil. One of the best walking trips ever. We walked the Sun-gate to Icefjord route in late July, guided by Solvi from Icelandic Mountain Guides. Our camping equipment was transported by boat so we only had to carry a small backpack each day. We were extremely well supported, and all of the arrangements from our meeting point at Reykjavik domestic airport to departure from Kulusuk airport went well. Solvi is a great guide, highly competent, ever cheerful and great with people. Even though it's a long way from Australia, my friends and I will be back!
Things to know
What you get on this adventure:

An experienced, local hiking guide with extensive knowledge of the area

11-day hiking tour in Iceland and Greenland

Flights between Iceland and Greenland

Accommodation during the tour

Mountain huts with shared dormitories and sleeping bags in Iceland (4 nights)

Guesthouse in Reykjavík (1 night)

Camping accommodation in 2-person tents in Greenland (4 nights)

Hostel in Kulusuk (1 night)

Bus transport at the beginning and end of the trek in Iceland

Transfers between your guesthouse and Reykjavík Airport on day 6

Boat transfers in Greenland

10 breakfasts, 10 lunches, 9 dinners

Transfer of luggage

What's not included:

Transportation to Iceland

Sleeping bag (available to rent)

Showers in huts (payable on site)

Dinner in Reykjavík

Pick-up and drop off to your accommodation in Reykjavík or nearest bus stop (available at an additional fee)

Guide gratuities — optional

In order to join this hiking tour in Iceland in Greenland, you need to be in good shape. Some experience in basic travel in mountainous terrain is a big plus. This tour suits those that are physically active, as you'll be walking between 4 and 7 hours a day, 11 days in a row. 

If you'd like to go on a beginner-friendly tour in Greenland, we recommend this sailing and exploring adventure in Greenland. or a guided multisport tour in Greenland.

Here's a list of the equipment you need to bring:

Day pack large enough to carry all the items listed (around a 25-40L bag)

Hiking poles — optional

Water bottle or hydration bladder (2L capacity)

Lightweight hiking boots or shoes

Thermal underwear & hiking socks

Fleece or wool sweater

Spare clothes for layering

Waterproof rain jacket & trousers

Sleeping bag (can be rented)

Lightweight, microfibre towel

Sunhat

Toiletries (sunscreen, hand sanitizer, bug spray, toilet paper, etc.)

Headlamp or flashlight

Sunglasses

Camera — optional (but recommended)

Dress comfortably and for the weather in clothes you can move in. We suggest bringing clothing appropriate for the season. Layers are best and don't wear jeans.

Group sizes and prices:

For this hiking adventure in Iceland and Greenland, the usual client-to-guide ratio is 16:1. 

It takes a minimum of 5 people for this tour to operate. 

The cost does not decrease as the group grows. 

Hiking in Iceland and Greenland can be arranged for larger groups. Contact us to make arrangements.

Min. age requirements:

If you are older than 18, you're good to go.

Minors older than 16 may be permitted to join the hike on a case-by-case basis, but must be in the presence of a parent or legal guardian.

If your group has hikers under the age of 18, contact us prior to booking to make arrangements.

A 50% deposit to secure your place is due upon booking. The remaining amount is paid 3 months (90 days) prior to departure. Once the trip is confirmed by the guide, the cancellation policy stated below applies. 

15% of the tour price is non-refundable.

For cancellations fifty-nine (59) to thirty (30) calendar days in advance, Client is entitled to a refund in the amount of fifty percent (50%) of the total amount paid when Booking. 

For cancellations twenty-nine (29) to sixteen (16) calendar days in advance, Client is entitled to a refund in the amount of twenty-five percent (25%) of the total amount paid when Booking. 

After that deadline, Client is not entitled to any refund. Any reimbursable expenses arising out of the Booking incurred by Guide prior to the date of cancellation (including but not limited to plane tickets, car rental payments, and lodging or transportation fees) are non-refundable as soon as they are incurred by the Guide.

Icelandic Mountain Guides reserve the right to alter tours and itineraries due to weather or road conditions. All programs can be changed or canceled at any moment during the trip to assure the safety of the clients and staff. 

Clients take full responsibility for meeting the physical fitness level requirement of the trip. Clients that are physically unfit or not equipped for their tour can be dismissed from the tour at their own expense. 

No responsibility is accepted for losses or expenses due to delays, changes of flights or other services, as well as because of strikes, accidents, sickness, damage, negligence, weather, war, changes in schedules, or other similar causes. Icelandic Mountain Guides do not assume responsibility for accidents or death that can be traced to the participant´s negligence, acts of third parties or exterior circumstances, such as weather, natural occurrences, war or other similar causes.

To get to Reykjavík, the starting point of your adventure, most people fly into Reykjavík–Keflavík Airport. From there, you can take a bus or a taxi to the city.

You'll meet your guide on day 1 of your tour at BSI Bus terminal at 7:15 am, meaning that you'll have to fly in at least a day earlier. If you need any help with booking your accommodation before or after the tour, your guides will gladly help you.