Hiking Tour of New Zealand's North Island
North Island | New Zealand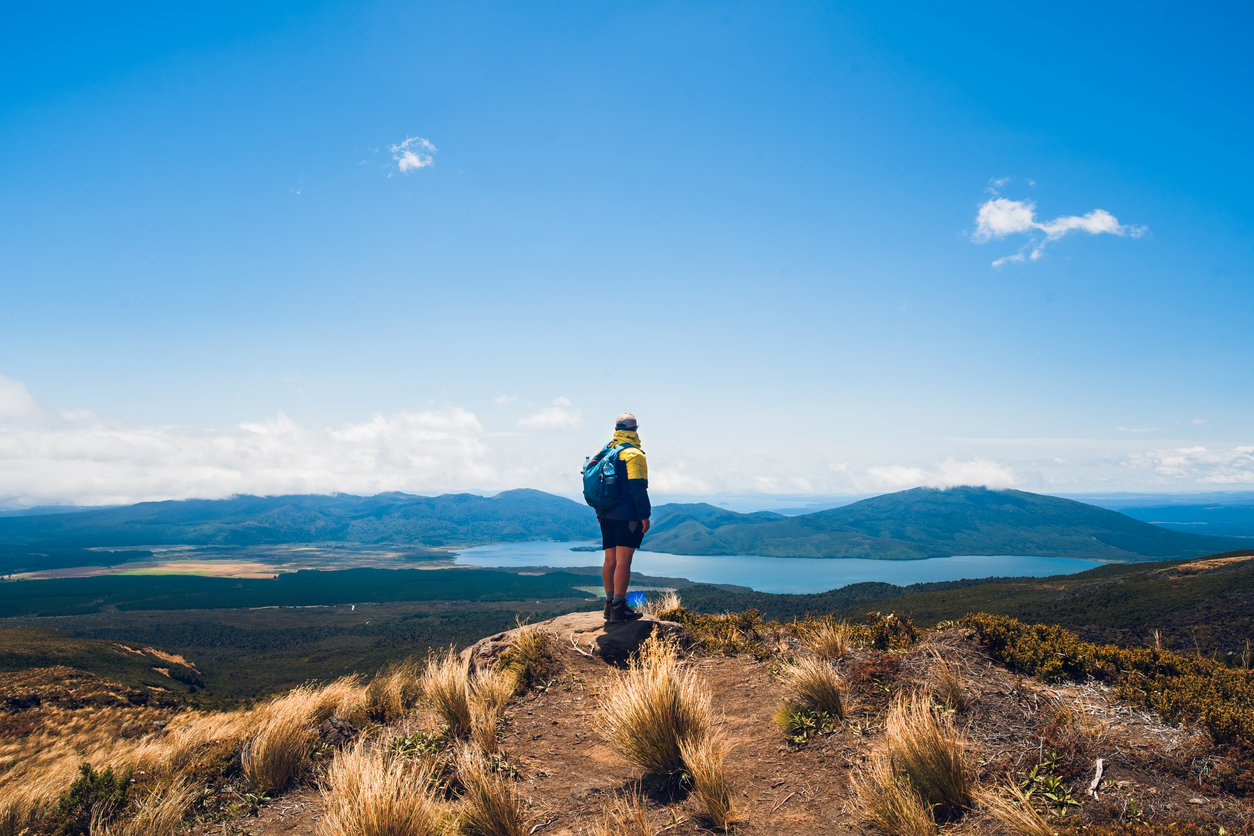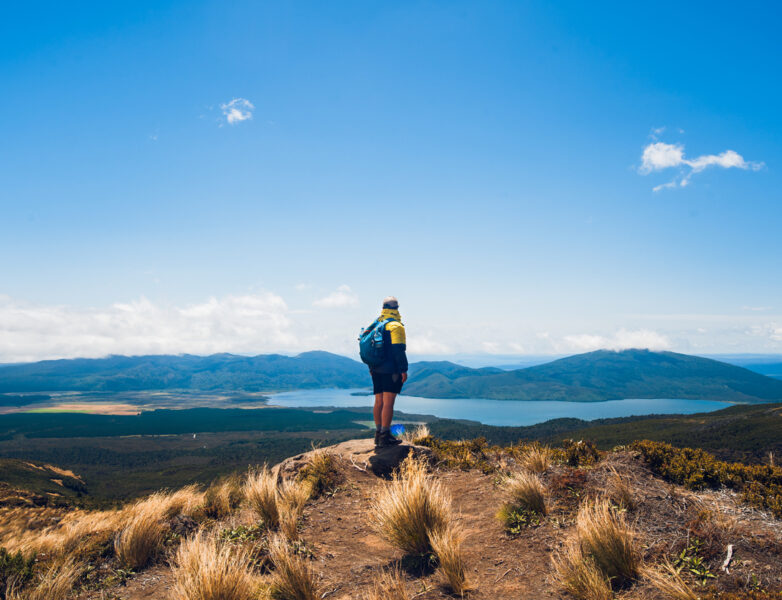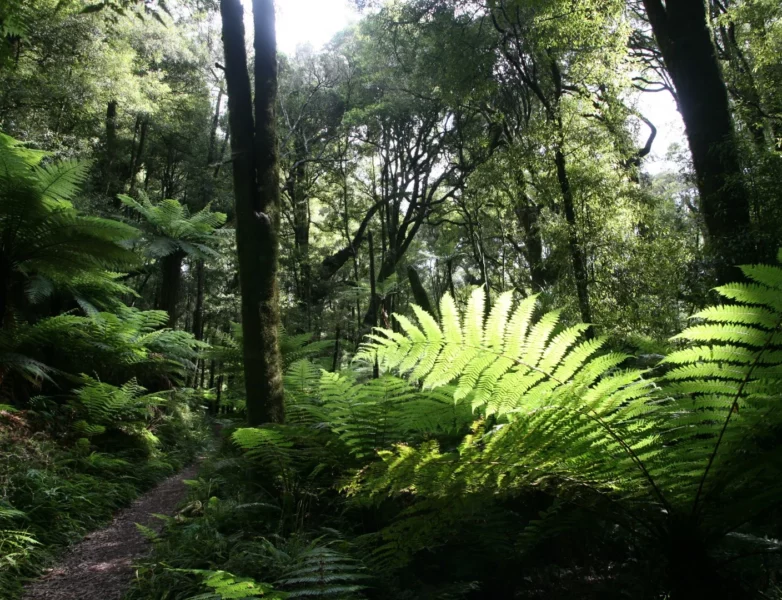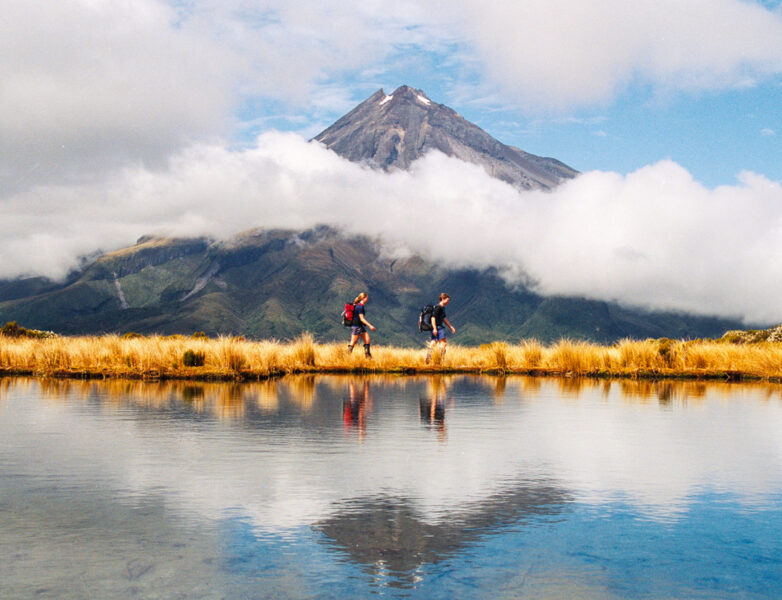 Top three reasons to hike New Zealand's North Island
Hike the Jurrasic-era wetlands and rainforests of Whirinaki

See the otherworldly volcanoes and soaring vistas of Rotorua

Sample the iconic Tongariro Alpine Crossing, one of the greatest day hikes in the world
It may be the smaller of the two main islands making up new Zealand, but the North Island hides some of its greatest adventures. What makes this island a hiking mecca is the sheer natural variety it offers, with legendary hikes such as the Tongariro Alpine Crossing boasting massive volcanoes and tons of geothermal curiosities. You'll find steaming vents, bubbling mud pools, and warm lagoons to take a swim in.  You'll explore the dense rainforests of Urewera and Whirinaki, and wind along bright green Tawa and beech forests. The walks will be accompanied by the soothing songs of New Zealand's unique birdlife, including, of course, the kiwi. Whether you're out for sightseeing strolls, hardcore hikes, or some traditional tramping (as the Kiwis call it), you'll love the North Island.
Nearest city

Auckland, NZ, is 3 hours away from Rotorua, the starting point of the tour
Book this adventure
Ultimate Tour of New Zealand's North Island
Experience the varied natural wonders of New Zealand's North Island with a local guide. Explore the peaks, jungles, volcanoes, and waterfalls of Whirinaki and other iconic areas along New Zealand's bucket-list trails. Spend your evenings in cozy campsites and bustling huts, swimming in pristine lakes, eating delicious food, and sleeping under the starry skies.
Itinerary
Day 1: Auckland to Whirinaki
Meet your guides in downtown Auckland before heading south to Rotorua, renowned for its steaming thermal vents, bubbling mud pools, and stunning lakes. Learn about the rich history of the area, before heading out southeast into the Whirinaki Forest. After a picnic lunch, take a hike in the rainforest before driving to the south end of this park. Your first hike is an
easy one, on a descending track through native beech forest, to a cozy forest hut beside
the Whirinaki River. Cook dinner as a crew and either stay in the hut or camp nearby, with an evening campfire and time to relax and enjoy the surroundings.
Distance covered: 9.5 km/ 5.9 miles
Hiking time: 3 hours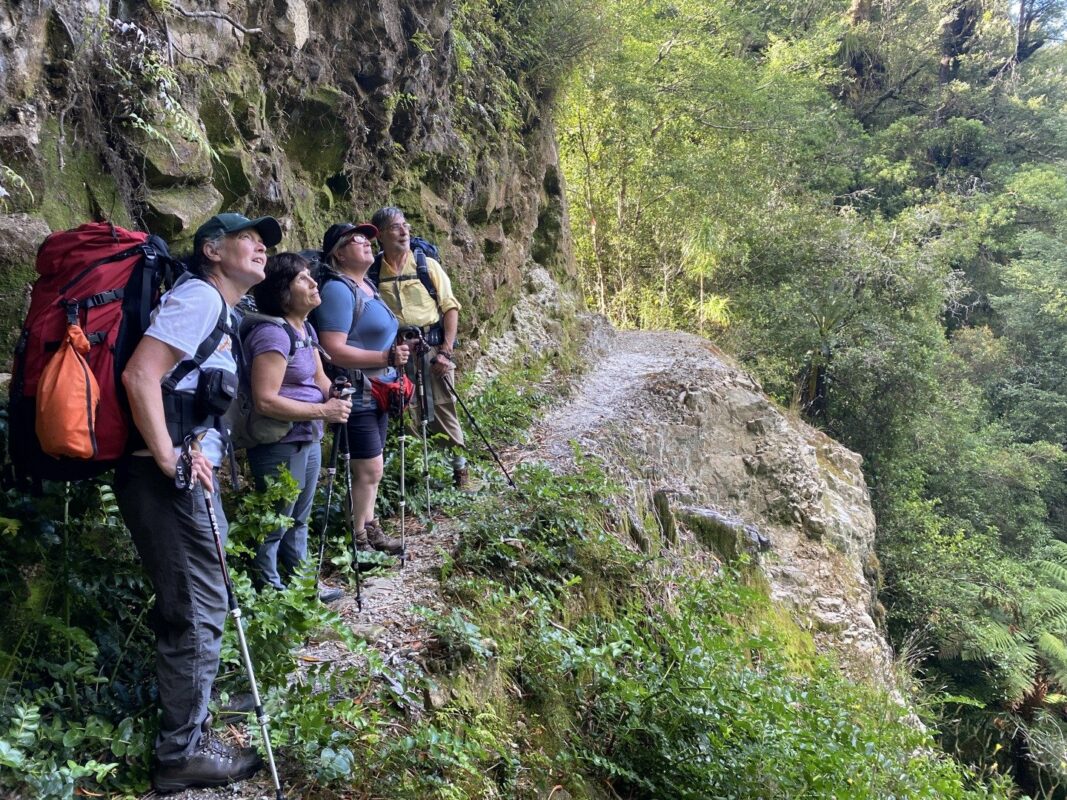 Day 2: Whirinaki to Te Urewera
Continue down the valley track and off the tourist trail, meeting the local blue ducks and robins. Pass beneath giant tree ferns and New Zealand's iconic podocarp rainforest trees. Later, drive east into the rugged forest ranges of Te Urewera, the traditional home of the Tūhoe (Māori tribe) and one of the last places to have been reached by European settlers. Explore the rainforest for two hours before reaching the northern arm of the remote Lake Waikaremoana. Continue around the lake before stopping at a camping area. After a meal cooked together, spend the night in the simple cabins or in nature.
Distance covered: 15 km/ 9.3 miles
Hiking time: 5 hours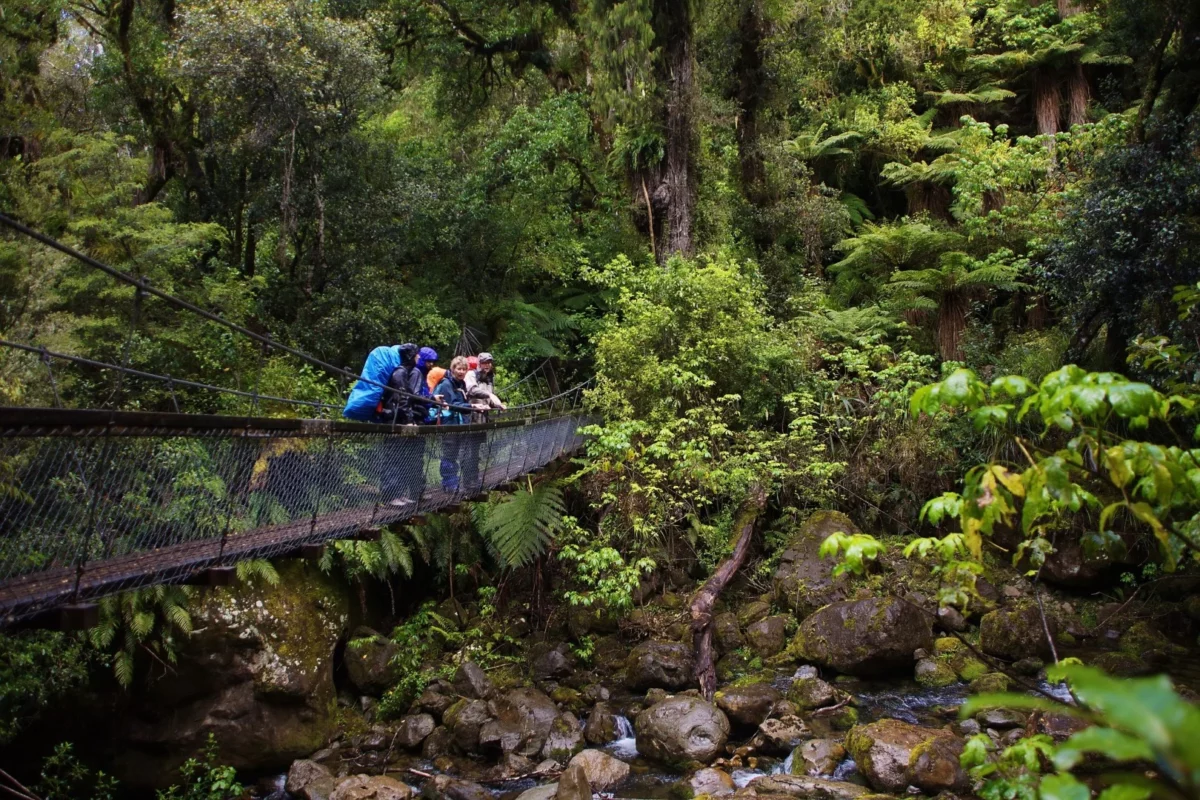 Day 3: Lake Waikaremoana
Get ready for spectacular views as you drive to a trailhead at the south end of the lake. Start climbing the gnarled beech and bright green Tawa forest up the Panekiri Range, to a point over 500 m (1,640 ft) above the lake. Take in the vistas and enjoy lunch before heading back down the trail. If time permits, you'll also get to explore the fascinating Onepoto Caves trail. Spend another night at the cabins.
Distance covered: 14 km/ 8.7 miles
Hiking time: 7 hours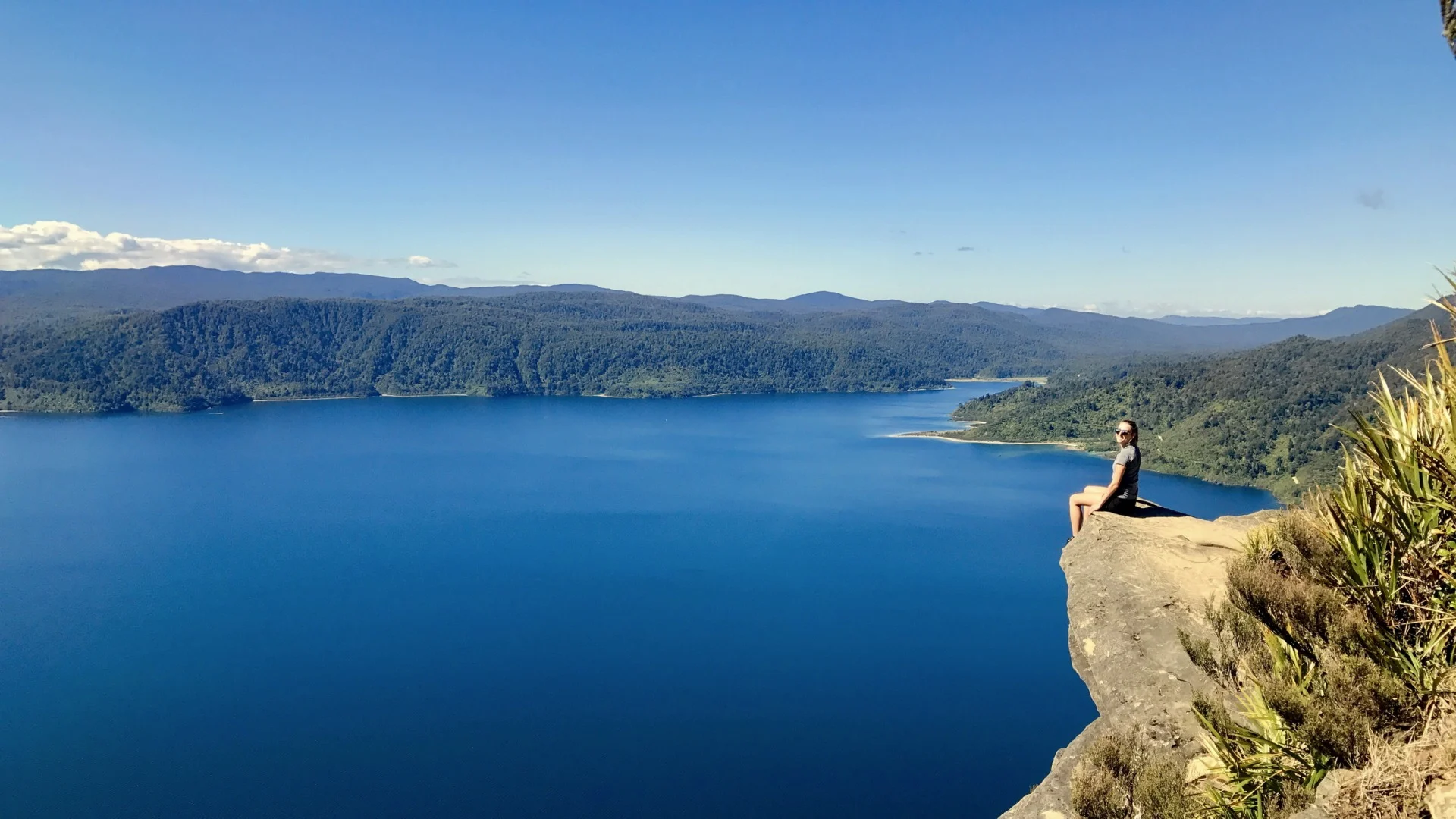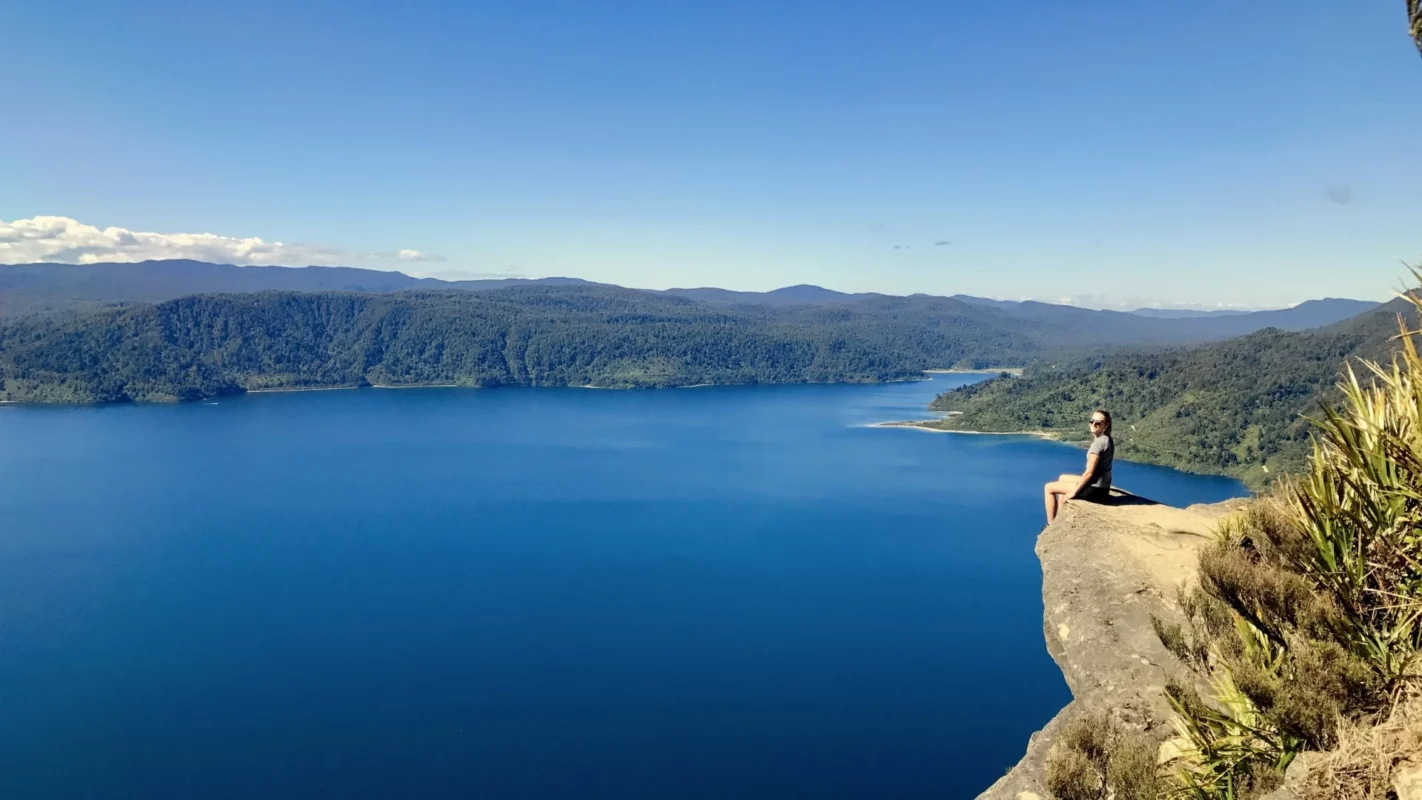 Day 4: Lake Waikaremoana to Whakapapa
Kick the day off with a drive to the Volcanic Plateau. Explore an extraordinary thermal park, bathe in a natural hot river and experience the imposing Huka Falls and Waikato River.
Later, arrive at Lake Taupo, the largest lake in New Zealand formed by the most powerful volcanic eruption in recorded history. At Taupo, grab your takeaway food and head to an unusual pumice beach. Relax here and, if you want, enjoy an evening swim before continuing to your lodge accommodation in Whakapapa Village, Tongariro National Park.
Distance covered: 4 km/ 2.5 miles
Hiking time: 2 hours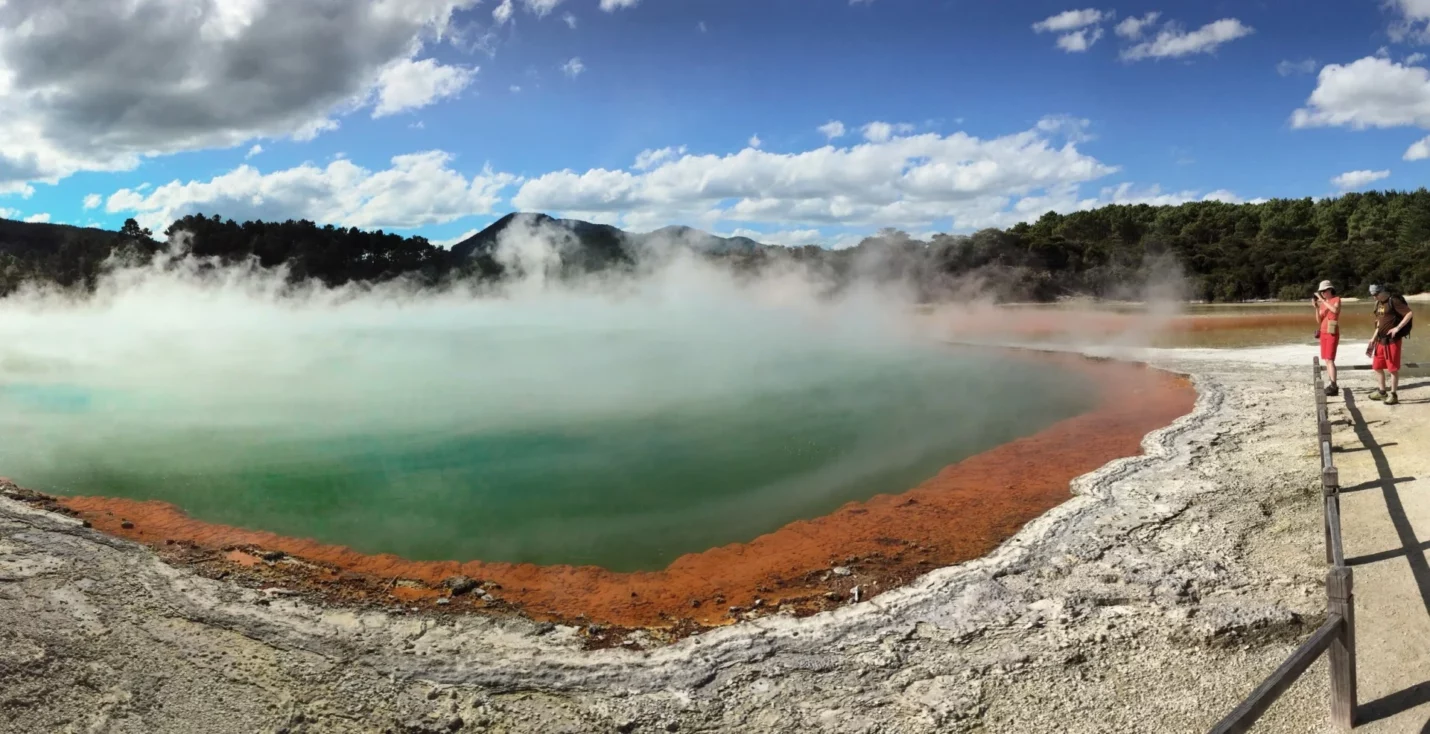 Day 5: Whakapapa to Waihohonu Hut
Explore Tongariro, the oldest national park in New Zealand. You'll take some secret side trips, but you'll also hike the famous Tongariro Alpine Crossing, considered one of the world's finest day walks. Sort out gear and pack our backpacks, then hike out of Whakapapa through tussock grasslands and over the low saddle that cuts between the Ruapehu and Ngauruhoe volcanoes. Spend your late afternoon at the modern Waihohonu Hut among patches of mountain beech forest beside a quiet stream.
Distance covered: 15 km/ 9.3 miles
Hiking time: 6 hours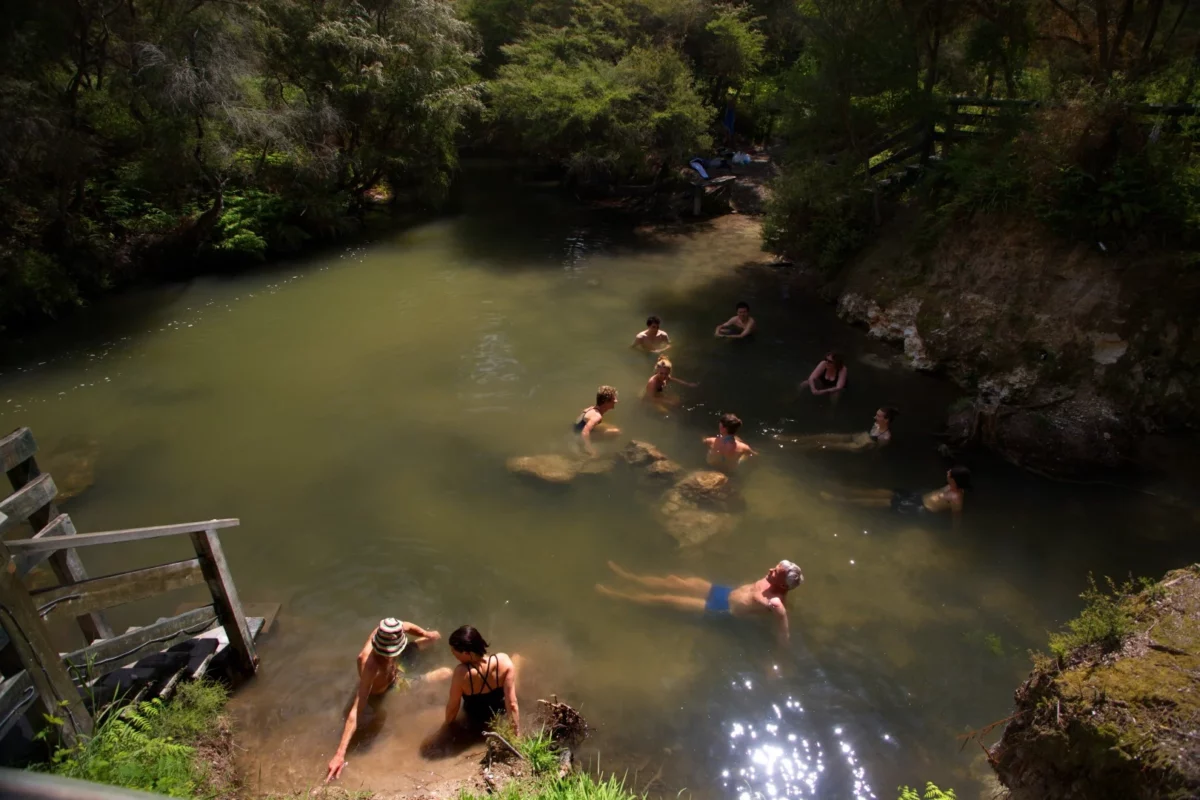 Day 6: Waihohonu Hut to Oturere Hut
The trail to the next hut takes just 3 hours, so we have the morning to explore. You can
amble (about an hour) to the splendid Ohineopango Springs and visit a historic hut and
then return to the hut for lunch. Or, you can take an adventurous off-trail hike over ash-moraine ridges and skirt lava cliffs to reach a viewpoint high above a lake. Enjoy fantastic views of the park's three peaks, one of which starred as Mount Doom in the Lord of the Rings films. Then, retreat to the Oturere "sardine tin" hut where you'll meet adventurers from all over the world.
Distance covered: 8-15 km/ 5-9.3 miles
Hiking time: 3-8 hours
Day 7: Oturere Hut to Whakapapa
Hike through a moon-like valley of lava flows and ash fields before climbing steeply to
the remarkable Emerald Lakes. From there, join the Tongariro Alpine Crossing. Spend the next few hours hiking an unforgettable wonderland of lava valleys, steaming craters, and brooding volcanoes before descending through bonsai-like alpine foliage and alongside mineral-infused streams. An evening drive will take you back to the heart of the National Park, where you can relax with a beer and enjoy some epic volcanic views.
Distance covered: 12 km/ 7.5 miles
Hiking time: 6 hours

Day 8: Whakapapa to Wellington
Drive south, leave the volcanoes behind, and descend through the beautiful river valleys of the Rangitikei and along the coast to Wellington, where you'll have a coffee break. Explore the cultural and café hub of New Zealand at your leisure—visit the National Museum, watch the parliament, or check out the downtown area, ending the tour.
Distance covered: 1 km/ 0.6 miles
Hiking time: 1-2 hours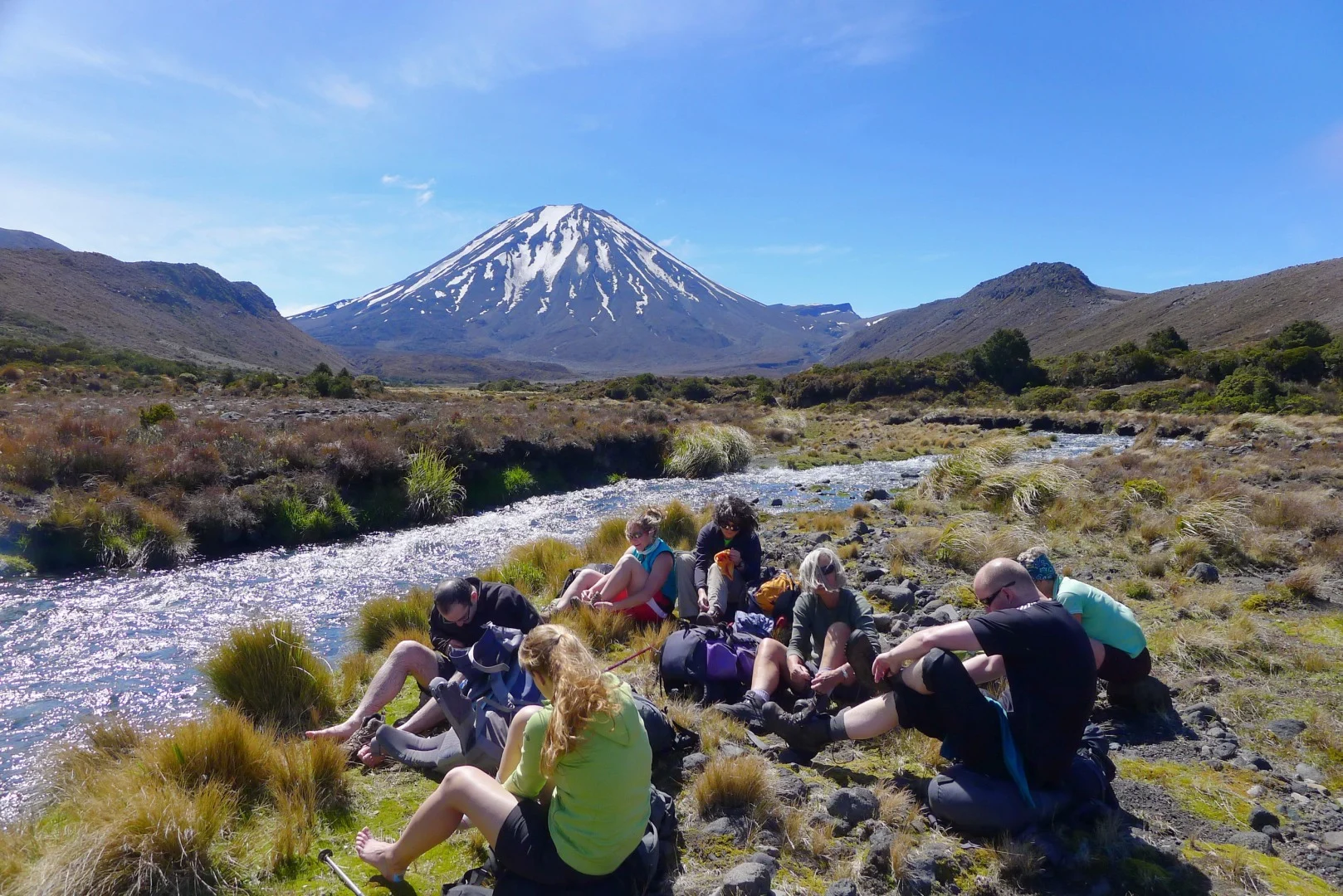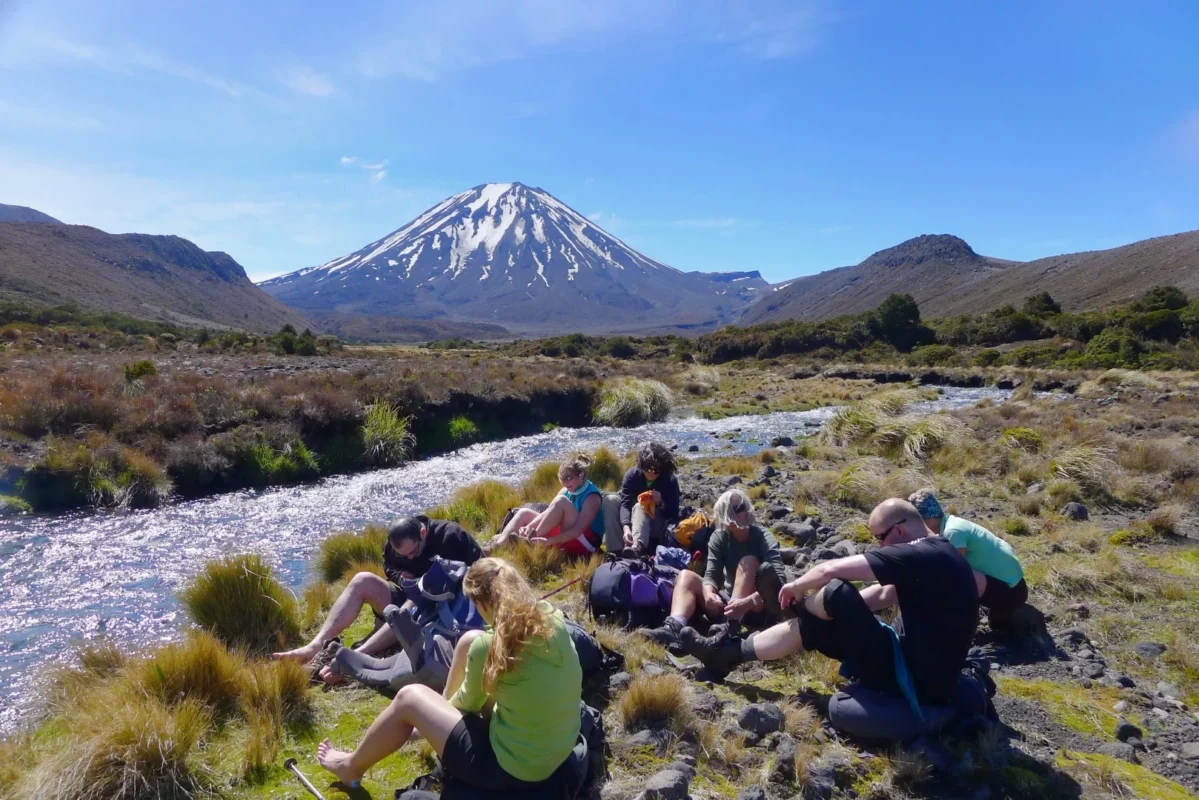 Meet your guide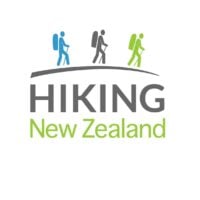 Hiking New Zealand
Hiking New Zealand is a small, but very dedicated team specializing in matching adventurous travelers with their dream holidays, both in New Zealand and beyond. They are passionate about active travel, wild places, and their conservation, and extremely enthusiastic about sharing their wilderness discoveries with their guests.
Stuart C.
about
Hiking New Zealand
on Tripadvisor
This is a week-long trip around the North Island of NZ with three long day walks and some shorter walks (2-4 hours) and a bit of site seeing at thermal pools, waterfalls, etc. The long walks are
1) Part of the lake waikaremoana track (the tough part over the bluffs), and 2) Two days on the Tongariro Alpine Crossing. The scenery is spectacular and we were lucky to have perfect weather. Hiking NZ is really well organized with a bus and custom-built trailer carrying food, tents, and other gear. The guides are great and very knowledgeable. I can totally recommend this for anyone who likes to get out there, push themselves a bit with some fairly tough walks, and doesn't mind sharing a Department of Conservation Hut for the night with about 30 other people.
Amarie
about
Hiking New Zealand
on Tripadvisor
An excellent holiday over both islands. Exceptional leaders in Cath (North Island) and Jeremy (South Island). They were knowledgeable, enthusiastic, encouraging and intelligent, fun leaders. They were very keen on making sure we had a good experience. Would heartedly…
Jaspersize
about
Hiking New Zealand
on Tripadvisor
I just completed the 7-day Ultimate North Island tour. It was an amazing adventure that was made even better by our knowledgeable guide Justin. He is a former park ranger who kept us well informed (and entertained) on such subjects as local history, Maori culture, flora, fauna, and politics. He also had lots of options available whenever the volatile New Zealand weather decided to take a turn for the worse. It was an immensely enjoyable trip and I learned a lot.
Old-guy-and-wife-11
about
Hiking New Zealand
on Tripadvisor
Having made other plans for the South Island, we were thrilled that Hiking NZ offered a separate trip in the north. Our trip could not have been better. Because we are older (in our 70's), we had some anxiety about whether we could do the hiking and whether we would hold others up. These concerns turned out to be unwarranted. Yes, on some hikes we were slower than some of our companions. This didn't seem to phase either the other guests or our guides. Eva served as "sweep" and saw that we made it to the end of each hike without incident. For those of us at the back, she served as a lovely companion. The Tongariro Alpine Crossing was the highlight for us, and, with Justin and Eva guiding, we managed the hike, including the few hundred yards of scree that had been on our minds for days. Hikes and activities other than Tongariro exceeded our expectations. We enjoyed keeping very busy. The food and accommodations were terrific. We hadn't expected such luxury.
Download hiking gear checklist
Prepare for the trip.
Get complete checklist for hiking and camping equipment.
Check your inbox
Things to know
Covid measures in New Zealand's North Island
57hours is committed to providing safe outdoor adventure experiences. We require all guides using our platform to have a COVID-19 safety plan and to make the details of that plan accessible to travelers. In most cases, group sizes will be reduced, guides will avoid overcrowded locations, and other safety measures will be met depending on the location and activity.
We also expect clients to respect local regulations and take measures to protect themselves, their guides, and the communities they're traveling to. For more information on COVID-19 measures in the North Island, New Zealand, please refer to the official New Zealand immigration and travel website.
Please contact us if you have any questions or require further information. We are happy to provide you with the most up-to-date information!
What's included?
What you get on this adventure:
An experienced, local hiking guide with extensive knowledge of the area
Eight days of hiking and exploration
Cabin, camping, and backcountry hut accommodations
Visit to the Wai-o-tapu Thermal Wonderland
Minibus transportation for the duration of the tour
Most meals for the duration of the tour (prepared as a group)
What's not included:
Transportation to Auckland
Breakfast on day 1, dinner on days 4 and 7, lunch and dinner on day 8
Bus or train transportation from the endpoint of the tour to Auckland
Accommodations before and after the tour
How fit do I need to be?
Although this trip requires no multi-day hiking experience, you still need to be reasonably fit, agile, and enthusiastic. You'll be walking for an average of 4-5 hours a day—8-9 hours on longer days—while carrying packs weighing up to 10-12 kgs (22-26 lbs). You'll also overcome altitude gains of up to 800 m (2,620 ft), covering some uneven terrain and river crossings. Finally, some tracks can be slippery or rough and there will be some off-track hiking and river crossings.
What do I need to bring?
Here's a list of the equipment you need to bring:
Backpack with a minimum 60L capacity
Small day pack
Walking pole — optional
Gaiters — optional
Water bottle or camel pack (1L capacity)
Hiking boots or good hiking shoes
Spare lightweight shoes or sandals
Spare clothes for layering
Thermal underwear (top and bottom)
Shorts or lightweight hiking trousers (preferably quick-dry)
Short-sleeved shirts (quick-dry, polypropylene, or wool)
Warm fleece or wool jersey
At least 3 pairs of socks
Raincoat (Goretex or similar)
Sunhat
Warm hat or balaclava
Gloves or mittens (wool or fleece)
Swimming costume
Toiletries (sunscreen, hand sanitizer, bug spray, toilet paper, etc.)
Lightweight travel towel
Personal medication and first aid
Headlamp or flashlight
Sunglasses
Sleeping bag (minimum 3-season, preferably down, lightweight)
Camera — optional (but recommended)
Your guide offers hiking gear rentals. If you need a hiking backpack, sleeping bag or liner, fleece, thermal clothes, raincoats, or a walking pole, contact us and we'll help set you up.
Dress comfortably and for the weather in clothes you can move in. We suggest bringing clothing appropriate for the season. Layers are best and don't wear jeans.
Group sizes and age requirements
Group sizes and prices:
For this adventure, the usual client-to-guide ratio is 11:1.
The cost does not decrease as the group grows.
Hiking in New Zealand's North Island can be arranged for larger groups. Contact us to make arrangements.
Min. age requirements:
If you are older than 18, you're good to go.
Minors younger than 18 may be permitted to join the hike on a case-by-case basis, but must be in the presence of a parent or legal guardian.
If your group has hikers under the age of 18, contact us prior to booking to make arrangements.
Deposits and cancellation policy
A 25% deposit to secure your place is due upon booking. The remaining amount is paid 95 days prior to departure. For bookings within four (4) months of the departure, full payment is required.
Once the trip is confirmed by the guide, the cancellation policy stated below applies.
If Client cancels the Booking anytime prior to twenty-one (21) calendar days in advance of the trip contemplated by the booking, Client is entitled to a refund in the amount of eighty percent (80%) of the total amount paid when Booking.
For cancellations twenty (20) to eleven (11) calendar days in advance, Client is entitled to a refund in the amount of fifty percent (50%) of the total amount paid when Booking.
After that deadline, Client is not entitled to any refund. Any reimbursable expenses arising out of the Booking incurred by Guide prior to the date of cancellation (including but not limited to plane tickets, car rental payments, and lodging or transportation fees) are non-refundable as soon as they are incurred by the Guide.
Getting there and meeting location
To start this tour, most people fly into Auckland International Airport serving Auckland, NZ. From there, you can take a bus or taxi to Auckland.
You will usually be meeting your guide in the Sky Tower in downtown Auckland. The guide will choose the appropriate terrain dependent on conditions and the ability of the group.