Partner Very few feelings in this world compare to climbing your first rock. Pressing your body to its rough surface, feeling your muscles tense up, your heartbeat quicken, then seeing yourself rise solely through your own strength and willpower. It's exhilarating, it's liberating, but most of all—it's so much fun! And if you think climbing is reserved only for the biggest and the strongest, you couldn't be further from the truth, because climbing is for everyone. Here to welcome you into the world of rock, sweat and cheers is a fierce group of female rock guides who hold all-women weekend camps in the country's top climbing locations.
A group of female rock guides from The Mountain Guides; Aimee, Szu-ting, Izzy and Jess have it all covered—from multi-pitch meetups in Eldorado Canyon, through learning trad and crack climbing in Red Rock and Moab, to pushing for harder grades in the City of Rocks. So whether you're just starting out or working on proper gear placement in lead scenarios, they're here to show you the ropes. Check out this one-hour free webinar and learn from some of the best rock guides in the business and, who knows, maybe even find your next climbing partner.
Webinars hosts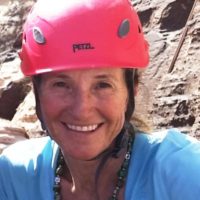 Aimee Barnes
AMGA-Certified Rock Guide
Aimee started climbing in 1980 and guiding in 1985. She was a member of the 1990 U.S. Women's climbing team and has competed at a World Cup level. Her professional career has been dedicated to developing the skills of new climbers, while inspiring seasoned climbers to achieve their goals. In 1995, Aimee launched the Women's Network with the "City Girls" event in City of Rocks, Idaho. Since that first event, the Women's Network has been empowering women in climbing ever since. In the spring and fall seasons, Aimee can be found in the canyons of southeast Utah, overseeing Jackson Hole Mountain Guides' Moab Branch.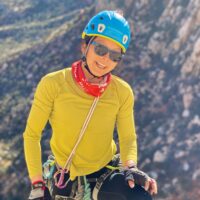 Szu-ting Yi
AMGA-Certified Rock Guide
Szu-ting Yi is an AMGA-certified Rock Guide who also has her PhD in computer science.
Born in Taiwan, she came to the US to study, but fell in love with the sport of climbing. She's been profiled in Gripped Magazine, has climbed 40 desert towers in one season, and in 2017, Szu-ting successfully completed a north to south traverse of the Wind River Range and summited 33 peaks along the Continental Divide. Besides working as a climbing guide, Szu-ting is the author of four books and has completed multiple first ascents in Asia and Patagonia. Guiding climbing in Red Rocks for many years, she and her husband settled down in Las Vegas in 2019.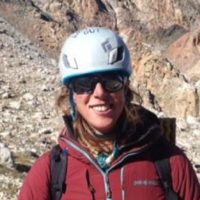 Izzy Lazarus
AMGA-Certified Single-Pitch Instructor and AMGA Apprentice Rock, Alpine and Splitboard Guide
Izzy grew up in the heart of NYC but found a passion for climbing when she moved to Vermont for college. While balancing in-classroom education and outdoor adventure, Izzy started working for a local climbing gym and guiding service and for her college's outdoor program. That road led her west to work for the Colorado Outward Bound School, teaching mountaineering, skiing and rock climbing programs year round. After several years of extended wilderness expeditions, she has found herself in the Tetons to take people on their high alpine adventures.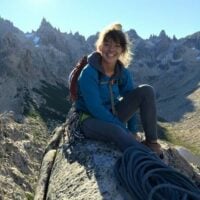 Jess Worley
AMGA Single-Pitch Instructor and Apprentice Rock Guide
Jess grew up playing in the heart of the Elk Mountain in Carbondale, Colorado. She now calls Denver home. Jess's background is in outdoor education at Colorado Outward Bound School, leading rock climbing trips and coaching the climbing team at Colorado Rocky Mountain School, as well as teaching adaptive skiing for Challenge Aspen. Jess is excited to share her love for all things rock climbing with others, from helping new climbers feel comfortable on the rock to working with more experienced climbers to expand their skill sets and tackle more challenging objectives. Jess's favorite local climbing area is Eldorado Canyon, but there is nothing she loves quite as much as the splitter cracks in Bear Ears National Monument.