Lindsey will cover:
Why more women should try mountain biking
Lindsey's MTB camps and what to expect from them
How a biking trip can help you grow as a person
Connecting with other women in the great outdoors
Pro tips for your first rid
Mountain biking is one of the most enriching ways to experience the great outdoors. 
The confidence boost, and sense of achievement you feel as you're speeding down gnarly singletracks or nailing turns on tight switchbacks stand unmatched in the adventure world.
However, much like mountaineering, mountain biking is a domain dominated by men. Meet the trailblazer who's fighting to change that!
Through her MTB camps, Lindsey Richter has spent years introducing women to the thrills of the trails and helping them upshift their biking skills. More importantly, she shows how mountain biking can help you find hidden strength, overcome obstacles, and make life-long bonds with fellow riders. 
If you want to learn about Lindsey's efforts to bring more women into the MTB world and how biking can better your life, don't bail on this educational hour-long session.

Live Q&A sesssion
Lindsey will follow up with a live Q&A session, where you can ask her anything you want to know about her life-changing women's mountain biking camps. Get free professional advice from a seasoned MTB guide and a pioneer in the fight for equity on the trails.
Webinar host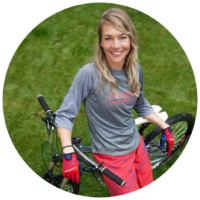 Lindsey Richter
Founder and lead inspirer of Ladies AllRide
Since 2010, Lindsey has made it her mission to change women's lives with two wheels and some dirt. After a run on the reality tv show Survivor, mountain biking taught her that life is about CREATING yourself, not finding yourself. Lindsey is now a world-renowned leader in the women's mountain bike movement and spreads her passion for biking across the globe through innovative and inspirational skills camps.