Raul shared:
Why the Inca Trail is one the world's greatest treks
Stories from his 300 trips to Machu Picchu
How to prepare for hiking the Inca Trail
The best sights along the trail to Machu Picchu
Detailed logistics of the trip
Extraordinary photos and videos from the Inca Trail
Alternative hikes in the area
There are places in this world that become legend—far-off locales whose splendor, history and air of mystery ensnare the imagination. Above them all stands Machu Picchu, the sacred city of the Inca civilization perched 8,000 feet above sea level. To hike to the mythical metropolis once would be the achievement of a lifetime.
Yet Guide Raul Ccolque has crossed the threshold of the Sun Gate and set foot in the ancient city over 300 times! For Raul there is no question—the best way to fully experience Machu Picchu is to hike the Inca Trail.
26 miles and four days long, the Inca Trail hike is a life-changing journey across the Andean Mountains that winds through lush jungles, past embanked ruins and high up into the heaven-piercing Inca citadel. If you've ever wondered what it's like to walk among the remains of this fascinating culture, now is the perfect time to find out.
In this one-hour webinar, Raul shared stories from his many journeys and offered invaluable insight into the unforgettable adventure that is hiking the Inca Trail.
Webinar host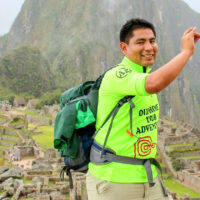 Born and raised in a small farming village near the Sacred Valley, Raul is proud to call the Andes his home. After witnessing the beauty of the Inca Trail and the joy it brings to people's faces, he decided to become a guide. Today he's the founder and director of Alpaca Expeditions, a 100% local guiding company dedicated to providing sustainable tours and sharing the beauty of the Peruvian Andes with the world.