Partner Jayson covered:
What makes the Haute Route so amazing
A day-to-day overview of an Haute Route ski tour
How difficult is it to make it to the end
How to train and prep for the challenges ahead
Choosing the right gear and why it's absolutely crucial
Pro tips for planning your ski traverse
A 120-km high-alpine spectacle connecting Chamonix and Zermatt, the Haute route is the most famous ski traverse in the Alps, if not the world. But beyond the laurels and the luster, it's also one of the greatest milestones in a tourer's career.
Enthusiasts have been making their rounds on the route for over a century, drawn by the promises of impeccable pow, fantastic views, and high-mountain glory. Rushing from refugio to refugio, traversing the tallest sections of Mont Blanc and the Swiss Valais, they slowly climb the ladder to the realm of touring legends.
However, the challenging climbs, changing snow texture, and complex glacial terrain prove too much for many tourers, as over half of them fail to finish the route.
Want to know what it takes to be in the other half? Tune in to this FREE WEBINAR!
In this free hour-long session, you'll learn why the Haute Route deserves a spot on any skier's bucket list, as well as how to plan and successfully execute your own traverse from seasoned mountain guide. This will all be followed up by some epic pics and cool anecdotes.
Webinar host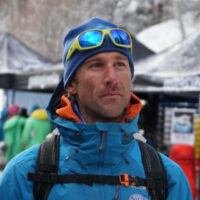 Jayson Simons-Jones
IFMGA/AMGA Certified Guide
Jayson is an IFMGA/UIAGM Licensed Mountain Guide with over 18 years of guiding experience around the world. Currently, Jayson splits his time guiding, photographing, and managing guiding programs between Colorado and Chamonix, France.