Everything You Need to Know About Climbing Mont Blanc
EPIC ADVENTURE WEBINAR BY
This webinar is finished. Sign up to get the free recording.
Centuries of mountain climbing history await you in the heart of Europe
Join us on July 29th for a live chat with IFMGA Guide Mark Puleio about summiting one of Europe's most iconic mountains.
Since Dr. Michel-Gabriel Paccard and Jacques Balmat first summited the mountain in 1786, many have accomplished the feat—but who could possibly boast of bagging it a whopping 50 times? Believe it or not, Mark Puleio has been there and done that, and this is the perfect chance to hear all about it. Join Mark, an IFMGA-licensed mountain guide, as he shares tales from Mont Blanc over his 30-year climbing career and offers invaluable advice on how to elevate your experience in and around Chamonix, France. Find out why so many aspiring alpinists still come to hone their craft here with Mountain Guides, on this 200 year anniversary of guiding.
In this one-hour session, Mark will pay special attention to one of the most sought-after adventures in the area—climbing Mont Blanc via the Gouter route. If you're itching to follow in the footsteps of history and become a part of Mont Blanc's long-standing legend, consider this webinar the very first step of your trip. After his presentation, Mark will hold a Q&A session to answer any of your eager questions.
WHAT YOU GET IN THIS ONE-HOUR SESSION
MARK WILL COVER
Best ways to find and select a guide for your trip
How to prepare for Alpine weather conditions and terrain
What you need to do before coming to the Alps
Resources on Mont Blanc and the huts you can find there
How to acclimatize to the Alpine environment
Tips on training yourself physically and mentally for your trip
Various techniques for ascending and descending
Alternatives in case of unfavorable weather conditions
LIVE Q & A SESSION
Mark will follow up with a live Q&A session, where you can ask him anything you want to know about climbing Mont Blanc. Get free professional advice from an IFMGA-certified guide who's stood on that snow-capped peak more times than he can count.
After hearing Mark's story, you'll be inspired to start planning your own big adventures.
Webinar host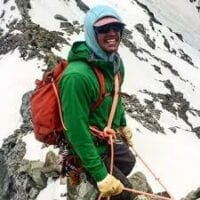 Mark Puleio
IFMGA-certified guide with 50 Mt. Blanc summits
Mark is the owner of Alpine Guides International based in Vermont. A hearty, and uncommonly amiable, New Englander, Mark has been immersed in rock, alpine and ski guiding for over 20 years, He is passionate about sharing his knowledge and expertise with countless aspiring adventurers, both through his guiding and as part of outdoor education programs. His specialties are ski mountaineering and alpine climbing, most notably in Switzerland, Italy and France.
By signing up you will also subscribe to the 57hours newsletter. You may opt out anytime.