Mark covered:
Best ways to find and select a guide for your trip
How to prepare for Alpine weather conditions and terrain
What you need to do before coming to the Alps
Resources on Mont Blanc and the huts you can find there
How to acclimatize to the Alpine environment
Tips on training yourself physically and mentally for your trip
Various techniques for ascending and descending
Straddling the craggy border between Italy and France, Mont Blanc's iconic peak has been the candescent dream of budding mountaineers the world over. Since it was first summited in 1786, many have accomplished the feat—but who could possibly boast of bagging it a whopping 50 times?
Believe it or not, Mark Puleio has been there and done that, and this is the perfect chance to hear all about it. Check out this free webinar where Mark, an IFMGA-licensed mountain guide, shared tales from Mont Blanc over his 30-year climbing career and offered invaluable advice on how to elevate your experience in and around Chamonix, France. Find out why so many aspiring alpinists still come to hone their craft here with Mountain Guides, on this 200 year anniversary of guiding.
In this one-hour session, Mark paid special attention to one of the most sought-after adventures in the area—climbing Mont Blanc via the Gouter route. If you're itching to follow in the footsteps of history and become a part of Mont Blanc's long-standing legend, consider this webinar the very first step of your trip.
Webinar host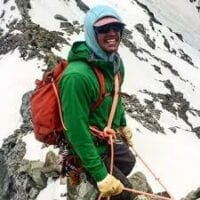 Mark Puleio
IFMGA-certified guide with 50 Mt. Blanc summits
Mark is the owner of Alpine Guides International based in Vermont. A hearty and uncommonly amiable New Englander, Mark has been immersed in rock, alpine and ski guiding for over 20 years. He is passionate about sharing his knowledge and expertise with countless aspiring adventurers, both through his guiding and as part of outdoor education programs. His specialties are ski mountaineering and alpine climbing, most notably in Switzerland, Italy and France.