Backcountry Skiing Safety for Beginners
EPIC ADVENTURE WEBINAR BY
This webinar is finished. Sign up to get the free recording.
It's time to take your first ski turns in the backcountry
This webinar was presented on Thursday, November 12th with AMGA/IFMGA Mountain Guide, Rob Coppolillo, where he covered how to safely take the plunge into backcountry skiing.
With the backcountry ski season quickly approaching, now is the time to learn everything you need to know to transition your skills off the resort and onto untouched backcountry powder. Rob is here to teach you how to do it. In this education session, Rob will share how to safely get started, covering everything from the gear you need to how to plan your first adventure. Consider this Backcountry Skiing 101 — a crash course in backcountry basics to help you carve your first backcountry lines on untouched powder.
With a little effort, humility, and willingness to learn, Rob will teach you how to stay safe while having fun. Rob is an internationally licensed mountain guide and author of the soon-to-be-released The Ski Guide Manual: Advanced Techniques for the Backcountry, as well as an AIARE Level 1 & 2 Instructor. His guidebooks are what guides turn to for info, so there is no better teacher than him!
Leave the chairlifts behind and experience the best that nature has to offer, with the help of Rob Coppolillo. Tune in, Thursday, November 12th, and find out how you can safely experience the magic of backcountry powder.
Register for the webinar and you'll be entered into a draw to win a copy of Rob's new book!
WHAT YOU GET IN THIS ONE-HOUR SESSION
ROB WILL COVER
Alpine touring basics
How to plan your backcountry adventure
The gear you need for backcountry touring
How to ski safely in backcountry conditions
Where to go! Rob will set you up for finding the best snow
What is "off-piste" skiing?
The difference between "backcountry" and "slackcountry"
How to mitigate risk in backcountry conditions
Rob will also share photos and videos of his amazing backcountry adventures!
LIVE Q & A SESSION
Rob will follow up with a live Q&A session, where you can ask him anything you want to know about how to safely ski in the backcountry. Get free professional advice from an internationally recognized mountain guide.
This is going to be one the biggest backcountry ski seasons to date, and you can be a part of it. After this free one-hour session, you'll have all the info you need to plan your first backcountry adventure this year!
Webinar hosts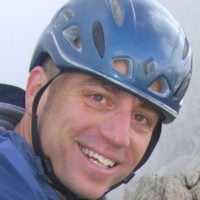 Rob Coppolillo
IFMGA/AMGA Rock, Ice and Alpine Guide
Rob Coppolillo is an AMGA and IFMGA Mountain Guide, and the owner of Vetta Mountain Guides. In fact, Rob's one of the first 100 Americans to have earned international certification through the International Federation Mountain Guides Association (IFMGA). Having lived in Boulder, Colorado, for 30 years, he now bases in Chamonix, France, with his wife and two sons. He's a freelance writer who speaks English, Italian and French, and his most recent book, "The Ski Guide Manual", will be published by Falcon Guides in November 2020.
Missed the webinar? We've got you covered.
Sign up and receive a free recording of the webinar to watch on your own time.