Bellingham: Come for the Mountain Biking, Stay for the People
I moved 3,000 miles to be close to some of the best trails in America—but I discovered a lot more. Bellingham is amazing, not only for mountain biking and outdoors, but for the people: there's a culture of adventure!
Bellingham offers world-class riding right outside your front door. 30 minutes from the Canadian border, I initially landed here because it was close to Vancouver's technical North Shore terrain and Whistler's insane bike parks. Some might think the PNW is overshadowed by its northerly neighbors, but what I quickly learned is all of that kind of biking—and the community that lives and breathes it—extends to Bellingham too. A quick ride through town, and ten bike retailers later, makes it clear this bustling little city operates on two wheels.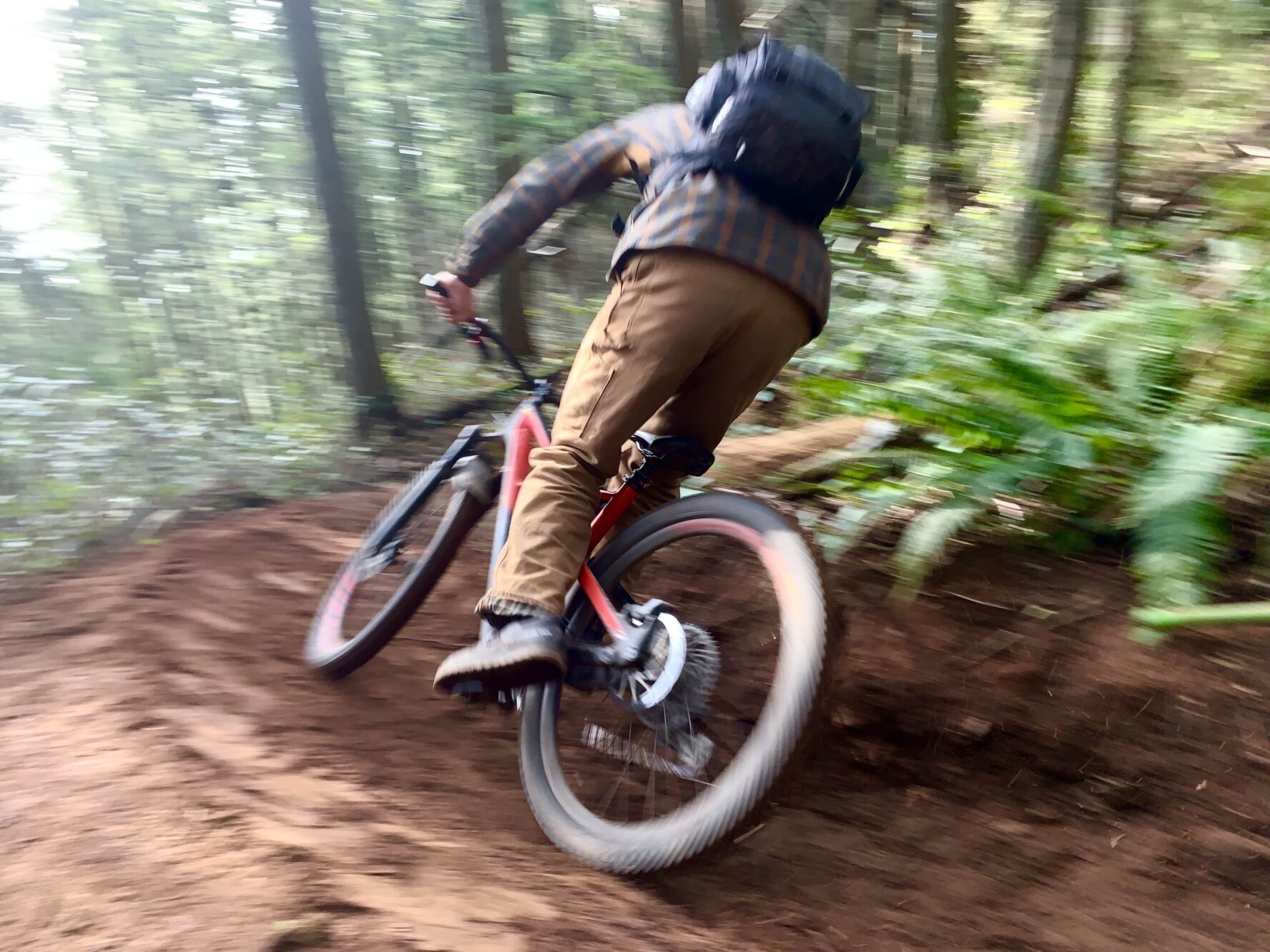 Pros and Cons of Mountain Biking in Bellingham
Tons of variety for trails and features for all ability levels
Four different mountains to ride, all within 20 minutes of town
Super long descents that are shuttle-accessible
It's easy to get lost if you don't know where you're going
Galbraith Mountain can get crowded in the summer months with the southside parking lot usually filling up by 10 a.m.
I was stuck in a mountain biking rut and didn't even know it
I'm definitely a product of my environment. 20 years ago I was introduced to mountain biking in my home state of North Carolina and for the next 10 years or so, I basically stuck to cross country singletrack. Why? Because that's what was available!
It wasn't until my first bike vacation to Sedona, Arizona, that I rode steep downhill. The riding style—drastically different than anything I'd tried before—required a whole new set of skills and terrain to apply them. That trip kicked off my search for the most challenging and diverse MTB in the States, from Vermont to California.
I became aware of British Columbia's thriving bike culture and wanted to be as close as I could to that kind of terrain and community. With the difficulty of earning Canadian residency, though, I started looking south of the border. Which is how I discovered Bellingham.
Bar None, Bellingham Is the Best Place I've Ever Lived
Just 20 miles from Canada, I fell in love with the area the first time I visited. If you've never been, Washington state has a diverse natural landscape—from its sprawling coastline beaches, to the towering peaks of Mt. Rainier and the Cascades, to the depths of its evergreen forests—but for riding? I wasn't sure.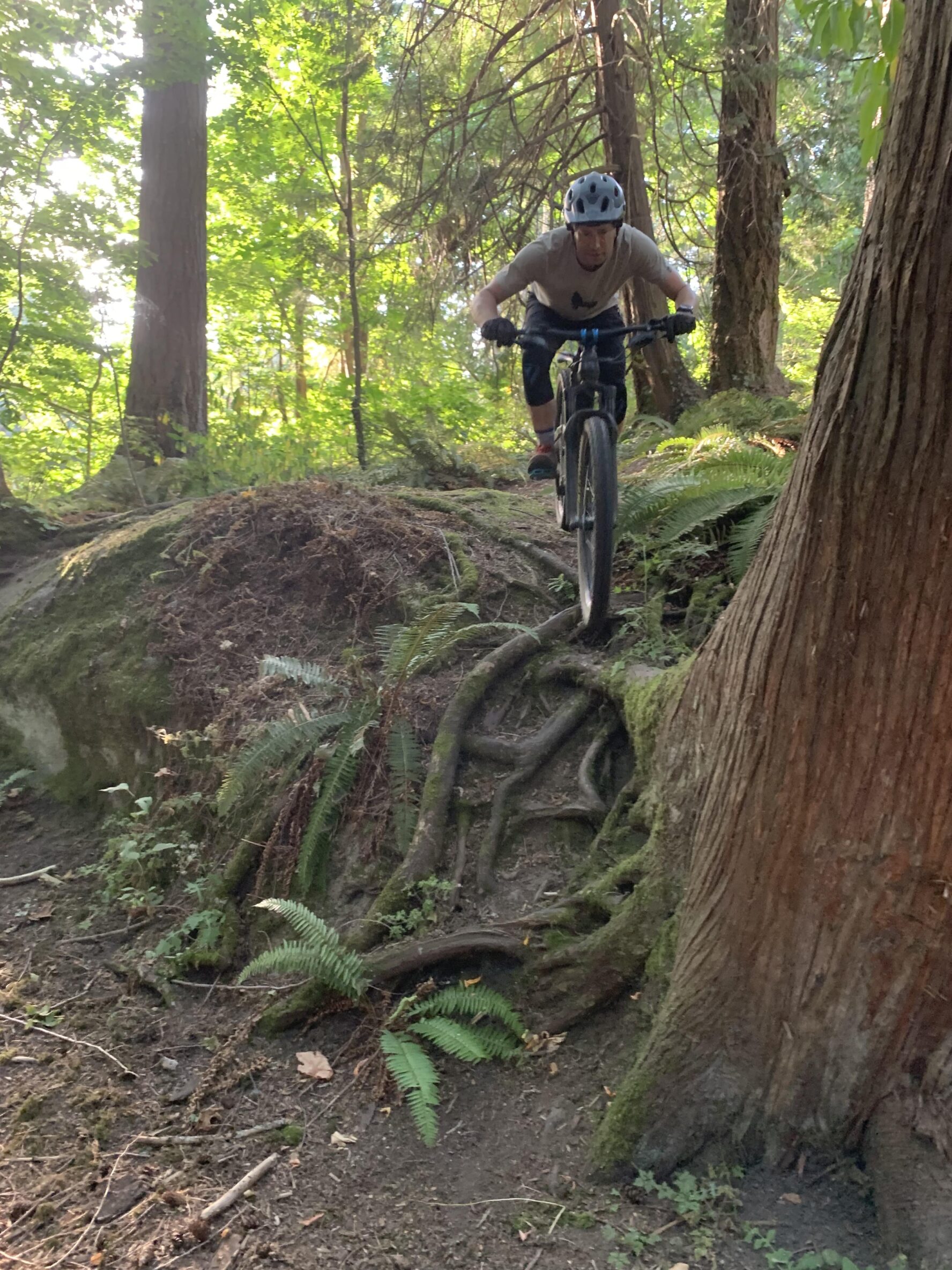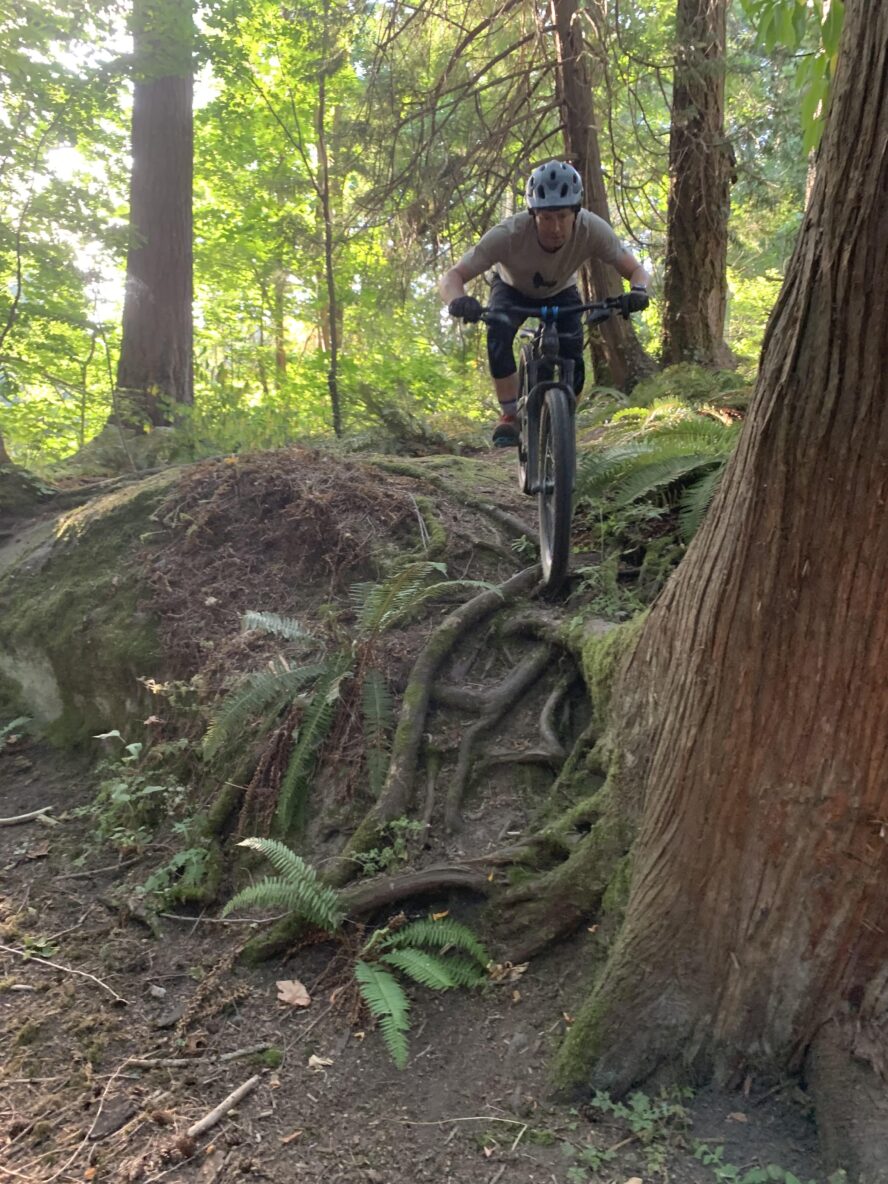 B'ham's got the mtb'goods
There's simply nothing that makes me feel the way I do when I'm on a bike. The fact that Bellingham has world-class riding minutes from my home, well, I couldn't ask for much more.
Here you'll find everything from maintained beginner flow trails, advanced drops and jumps, to extreme singletrack riddled with natural hazards. As I got familiar with the terrain I also was taken with the community. Everybody here is super outdoorsy, so even if they aren't into your exact kind of crazy, they get it, which means you'll always find someone down for an adventure.
The best part is the huge trail-building community. I grew up on raw singletrack that was haphazardly maintained. Out here it's all man-made with bumps, berms, jumps and wooden features, and many of the riders are active in keeping these cared-for. Because you can ride year-round—the low elevation means winters are not nearly as soggy as other areas across the state—there's a constant need for upkeep. Luckily, there are a lot of people here who genuinely love to help improve the riding experience for all.
For the last decade, I've been riding, guiding and building bike trails all over B'ham, which gives me unique insight into everything this mountain bike mecca has to offer. And with that, I'm happy to share my top picks for the best places to learn and develop as a mountain bike rider in Bellingham.
Bellingham's Four Best Areas for Developing Your MTB Game
Mountain biking in Bellingham can be divided into four areas: Galbraith Mountain, which is based right in town; Chuckanut Mountain, which is part of nearby Larrabee State Park; Blanchard Mountain and Stewart Mountain which are a short drive on the highway. Between these four, the city boasts nearly 180 miles of rideable trail with about 40 easy, 99 intermediate and 26 difficult lines to choose from. Because of the wide variety, mountain bikers of all ability and fitness levels are guaranteed a good time.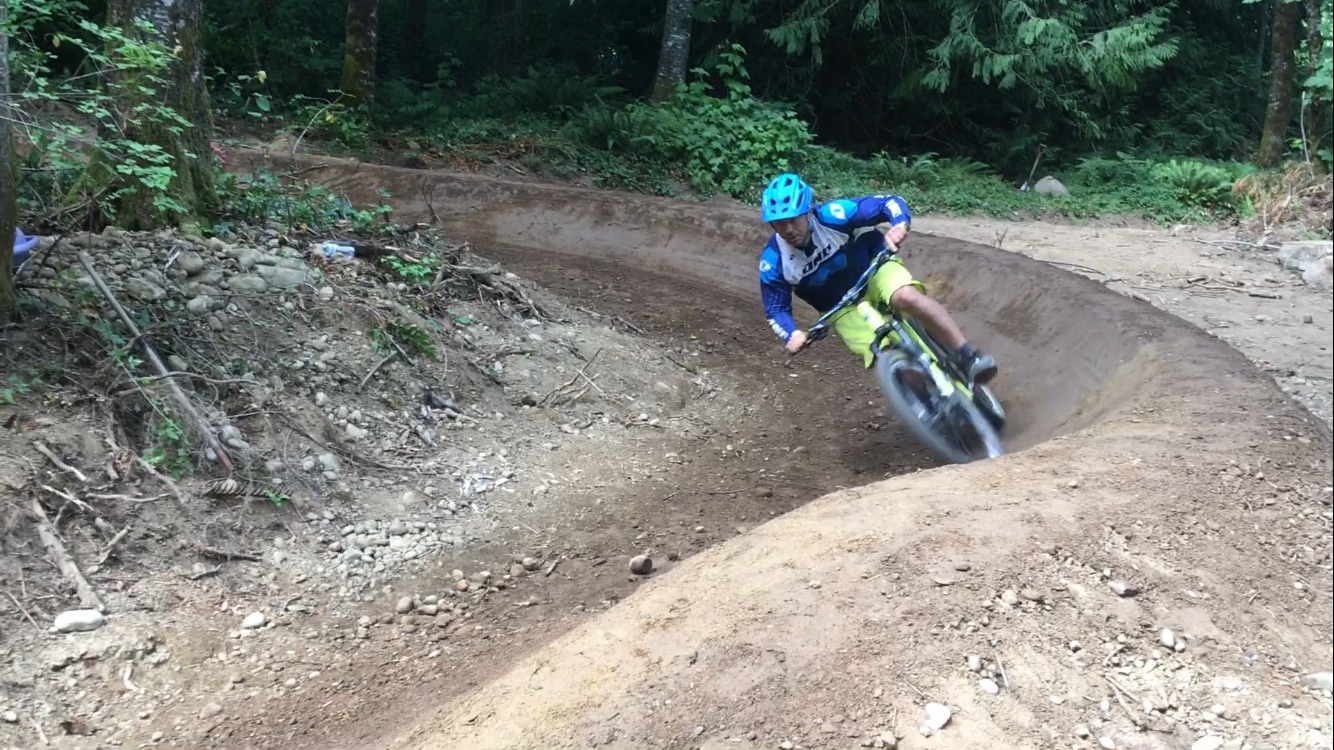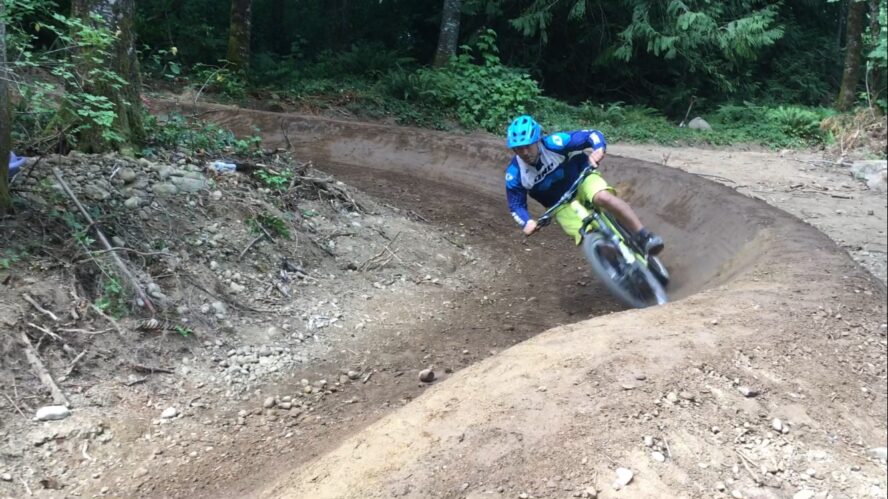 1. There's something for every mountain biker at Galbraith Mountain
Whether I'm with a beginner who is looking for easy flow or an advanced rider with a penchant to catch some air, Galbraith Mountain has it all. With over 60 miles of ridable trail and accessibility right from town, Galby, as the locals call it, is Bellingham's most popular mountain bike destination.
It's also my favorite place to take developing riders. A quick aside: Learning something new comes with a unique set of challenges. Especially as an adult. As I was approaching 40, I finally bought a full-suspension bike and tried expanding my skill set to include things like jumping off features. Crazy, right?
It was fun until I sent myself to the hospital three times in two months. I realized my approach wasn't working but I had nowhere to go for coaching. After a few years of painful trial and error, and the long process of obtaining my Level 2 IMBA certification, I opened Intrinsic Flow to help riders of all ability levels safely progress in the sport. Now, I usually take clients to Galby first because it's the perfect training ground.
The mountain biking trails at Galbraith look and ride like they've been manicured by man and machine. Say what you will about aesthetics, but this a great place to start if you don't know how long or hard you want to ride. With the secret getting out about Bellingham's mountain biking, crowds are starting to flock. That's no problem at Galbraith, though: the 108 established trails across 3,000 acres helps keep everyone spread out.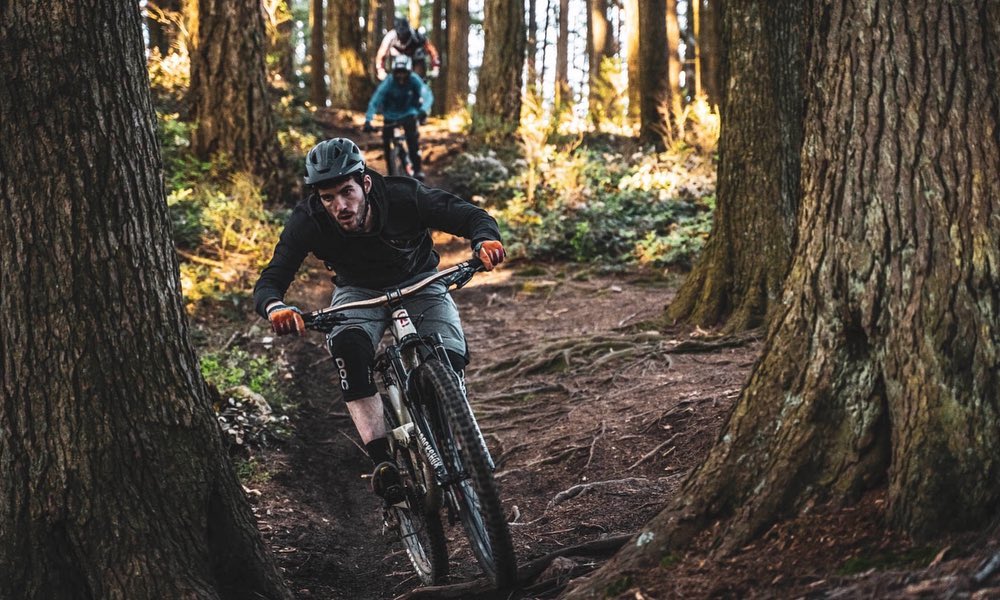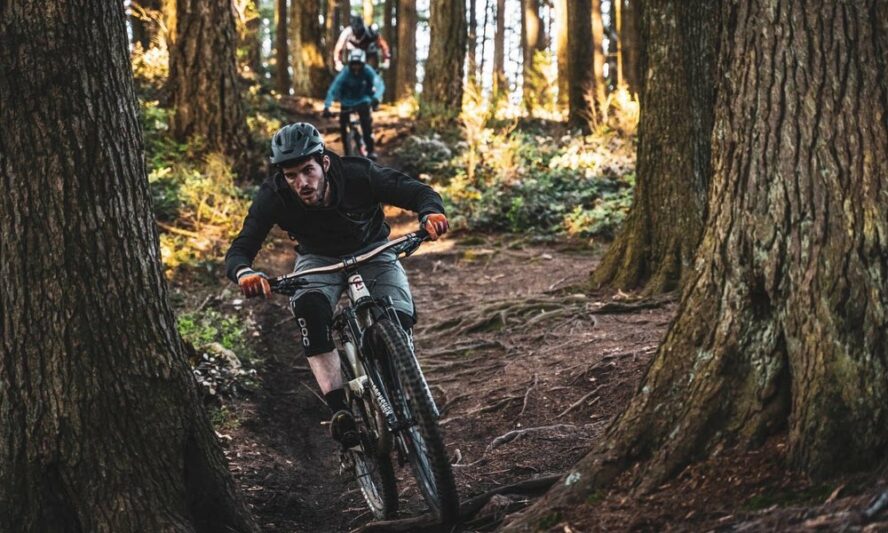 2. Check out Chuckanut Mountain for screamin' steep downhills
Twice the elevation of Galbraith, Chuckanut is chock-full of long and steep downhill trails nut unlike you'll find mountain biking in Colorado, with a total descent of about 1,800 vertical feet. Advanced mountain bikers revel in the technical terrain, exposed ridges and fast descents here, which on the flipside means this is not the place to go for short or beginner-friendly rides.
The mountain is located within a state park just 10 minutes south of town, and the biking is what I like to call an "immersive experience." Here you'll rip and wind down extended lines through lush old-growth forest and scenic trails, most of which begin or end straight out of the ocean.
Of the 40 or so trails on Chuckanut across 60 plus miles, my other favorites are Double Black Diamond (full of roots and rock faces), Double Down (an extension of Double Black with ravine exposure), Chuckanut Ridge Descent (a signature Bellingham ride that's over 6 miles long), and Hush Hush (a fast-clip descent full of tight corners).
3. Mountain biking at Blanchard Mountain feels like surfing on two wheels
Blanchard Mountain is where I go for a smooth, flowy cross-country ride—like all that time spent years ago! It starts with an hour and a half of pedaling up mostly mellow roads and occasional steep sections of singletrack. If you're a beginner-to-intermediate rider with a good level of fitness, Blanchard's slow climb should be no problem.
Once at the top, the ground gives way to a buttery-smooth descent that drops enough to carry speed but still let's you enjoy the surroundings. I like to say that Blanchard mountain biking is like catching the perfect wave.
Blanchard Mountain has about 40 trails over 38 miles. As for favorites, Oyster Dome Lookout provides an incredible view of the bay but my favorite trail to ride down is definitely the Lizard Lilly Connector (a tough riddle with some awkward switchbacks). If you'd like to make a weekend of it, there are a lot of wilderness campsites along the lakes which makes this a great overnight option for a bikepacking trip.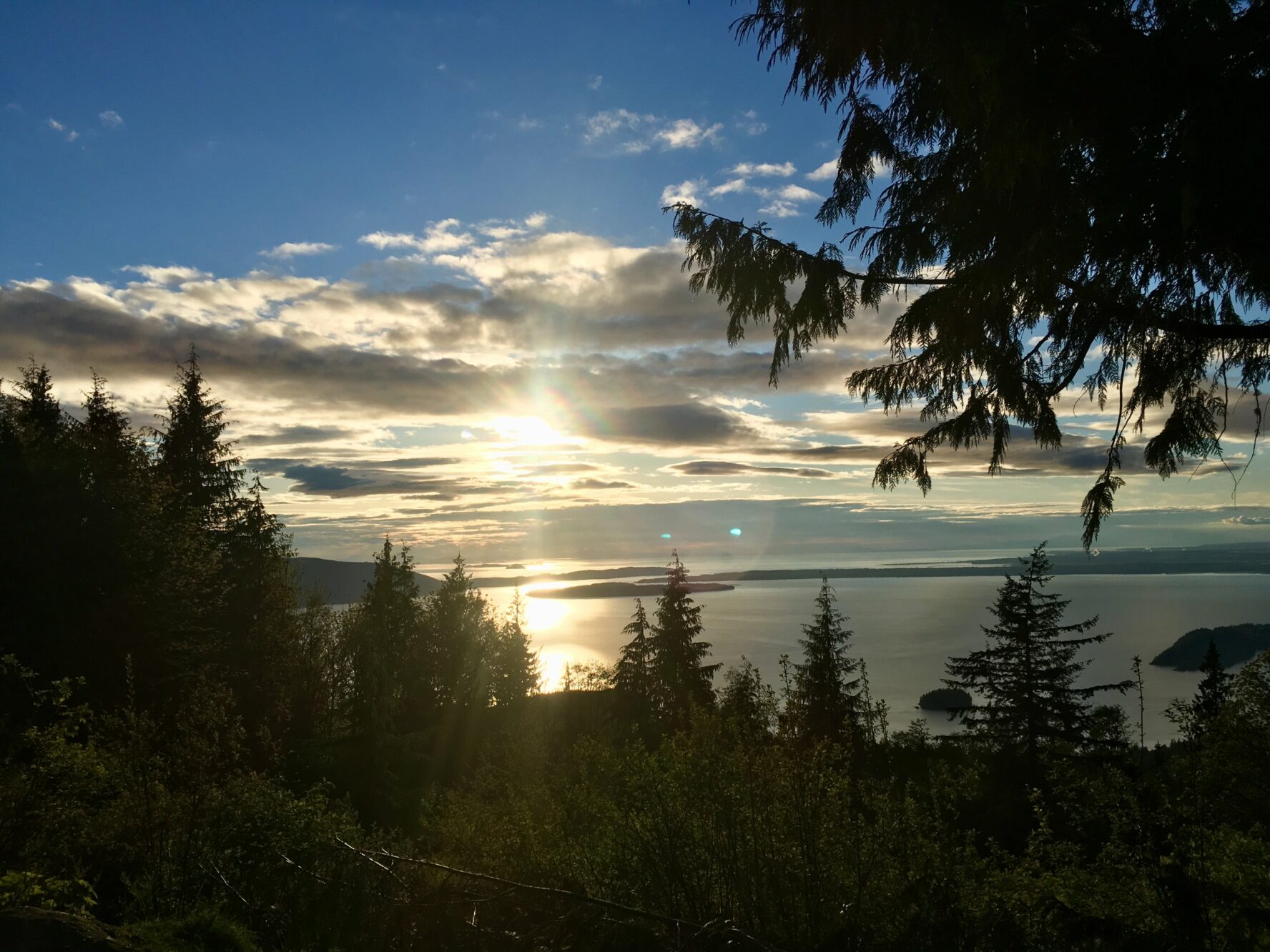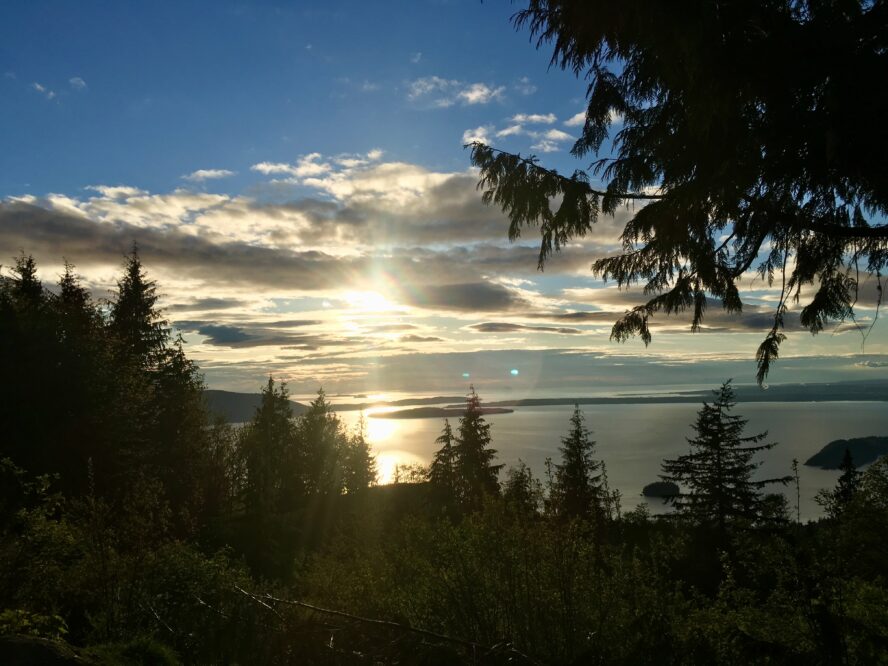 4. The rollercoaster flow of Stewart Mountain
Stewart Mountain, also known as Lake Whatcom Park, is a work-in-progress mountain bike area in Bellingham. It's so under development that it only has one completed trail—but an excellent one at that!
What has been established is proving to please intermediate and advanced riders. The climb is one of my favorites around for its rolling hills and the views of Lake Whatcom, about two-thirds of the way up.
Where Stewart mountain biking really shines is the rollercoaster descent, with rapid drops that are both natural as well as bermed. The overall flow is sweet but there is still work to be done to the lasso-shaped loop, including fixing the movement at the very top and improving drainage at the bottom. All in all, it's a ride you'd gladly wait in line for (but luckily don't need to).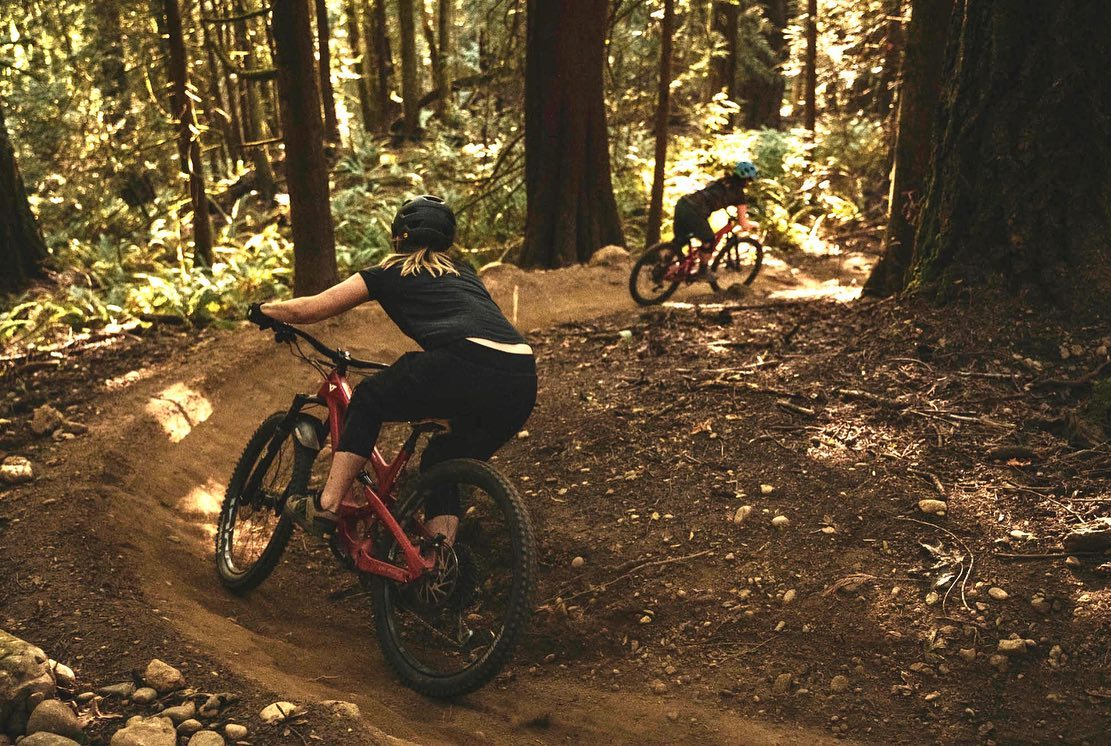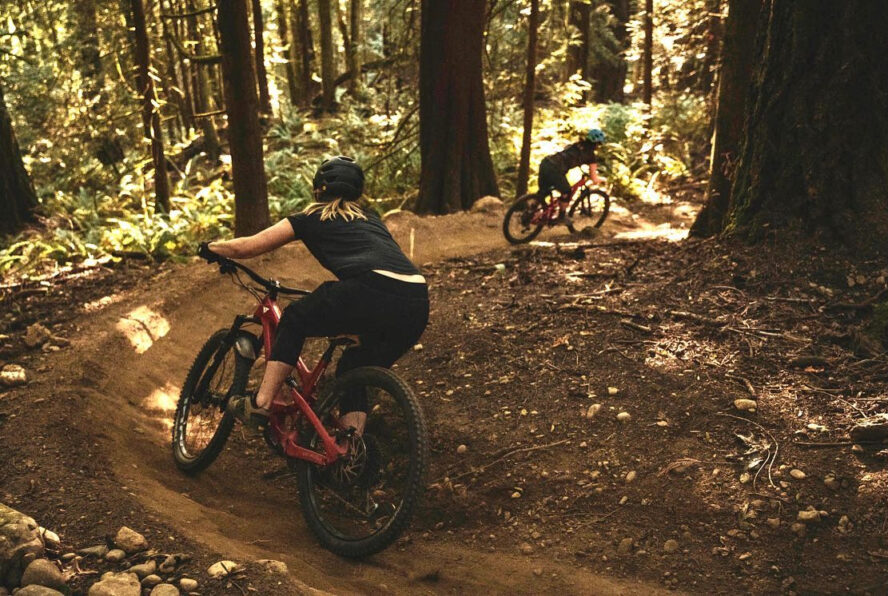 Tips To Enjoy Your Bellingham Mountain Biking Trip
Below are a few things you should know when mountain biking in Bellingham to make the most of your time here.
It's always mountain biking season in Bellingham
What is the best season for riding here? Summer carries our driest months, but my personal favorite times to ride are late spring and early fall. Summers tend to be glorious, just not always for riding since hot days get up to 80 or 85 degrees F (though the average temps are in in the 70s). There's riding to be had in the winter, too, if you're up for it.
The best spots for a bite and drink
If you're into burritos, there's Super Mario's Salvadorian restaurant. They call them wonder burritos and it's true: the thing is huge, filled with all your favorite foods (I highly recommend the pork), and wrapped up extremely tight so they don't leak—making them great to eat on the go. Their food truck is based downtown so it's easy to grab a bite and then head back to the mountain.
For something a bit more upscale, Anthony's Hearthfire is so good.
Where to catch some shut-eye
If you're not lucky enough to live here yet and are just visiting, you'll be able to find a range of accommodations. There is camping around Bellingham such as at Larrabee State Park, which is where Chuckanut is, and some options north of town. As for hotels, Heliotrope is great because they cater specifically to mountain bikers; they have a storage locker for bikes, as well as a bike wash. Of course, Airbnb's are also in abundance here.
Shops to meet all of your bike needs
I have a relationship with The Kona Bike Shop and they're a great store with knowledgeable people. They don't, however, have rentals, though it's a possibility next year. The best place to get a rental for a specific date is Fanatik Bike Co. If the day and time doesn't matter so much, Jack's Bicycle Center offers great deals on multi-day rentals, but they don't take reservations.
Parking and bike passes
At the moment, you can ride any of the four areas without having to pay for it. There is a parking fee for Chuckanut since it is within a state park, requiring the Discover Pass for entrance into any of Washington's State Parks.
Mountain biking in Bellingham is an easy choice for a bike-cation or a long-term stay-cation
With primo areas to explore on two wheels, the community of Bellingham lives and breathes mountain biking. Still, our burgeoning city maintains a small town feel with a collective love of bikes and trails that creates a common bond for riders of all stripes. Come visit, whether for a short stay or longer-term, and bring your stoke for riding!
Feeling inspired to explore Bellingham on two wheels? Sign up for a guided tour of some of the best mountain biking in the area!