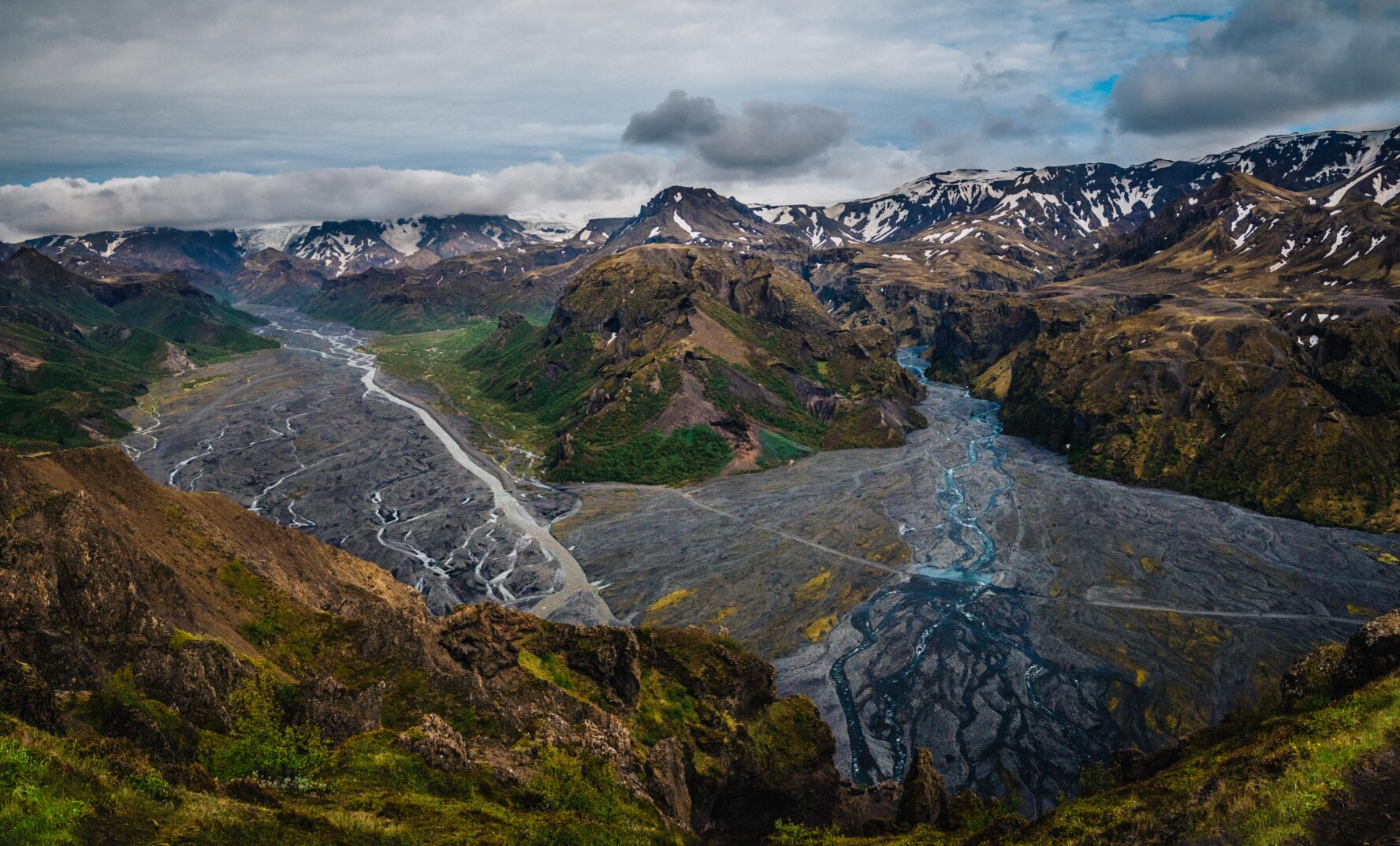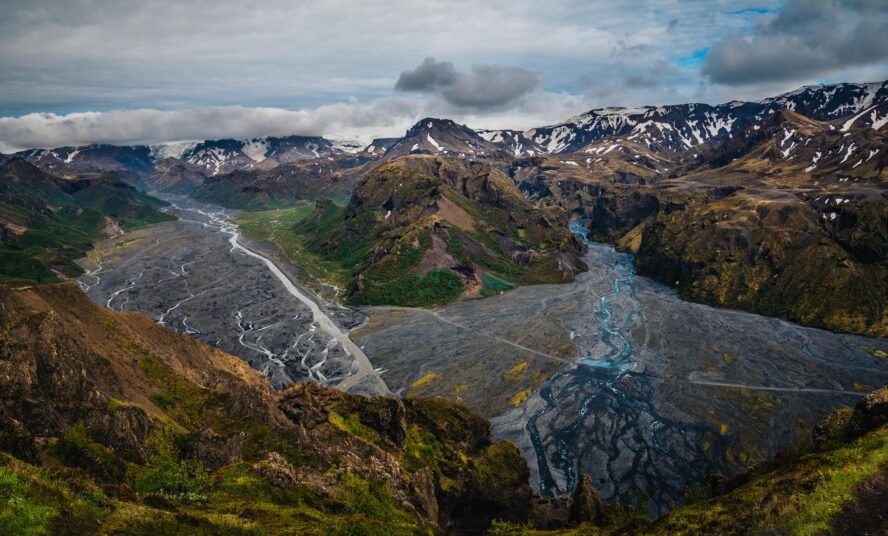 Jagged black mountain ridges veiled in lush green moss. Electric blue rivulets set against black sand deserts. Powerful waterfalls overshadowed by mighty volcanoes. All on a backdrop of ever-white glaciers resting in the distance. Which is to say, Thórsmörk is probably the place that best encapsulated what people might imagine hiking in Iceland would look like.
One of the most striking aspects is how the landscapes change over the course of a year—something that is not as pronounced in other parts of the country. Here you can observe how native forests turn red during fall, search for wildflowers in spring and summer, and enjoy the most serene and downright gorgeous winter wonderland (good luck reaching Thórsmörk past October though).
Don't I know that name from somewhere?
The story goes that Thor struck his hammer and—boom!—Thórsmörk was created. The common misconception is that its name translates into "Thor's Valley," but it is actually "Thor's Forest". It is located in the southern Highlands—at the end of a fjord and enclosed by mountain ridges. It is not particularly easy to reach as driving to it involves a few river crossings. However, it is one of the most popular hiking destinations in Iceland—also being favored by Icelanders themselves.
Inside the valley there are two mountain huts, but you can also find the "Volcano Huts" located on the other side of the valley. In my opinion, staying
inside
is a must if you want to truly experience this Icelandic gem.
Thunderstruck by uniquely gorgeous landscapes
Hiking here offers everything from easy half-hour strolls to moderate or even challenging climbs. One of the best hikes I recommend to everyone is the Útigönguhöfði peak from the Básar hut. The hike is not very technical, but it is quite steep and might take you a total of 4 hours or more to complete. Your reward will include some of the best vistas of the surrounding deep canyons and braided rivers.
For those with a bit more time, I highly recommend the 15-mile Fimmvörðuháls trail, which includes hiking up to the craters Magni and Móði (both were created in the 2010 eruption—the one that caused chaos in air travel). A general piece of advice is to seek hikes which allow you to experience the canyons (Stakkholtsgjá canyon in particular) and waterfalls (for example, the Skógafoss waterfall), and see the native forests and hanging glaciers.